5 Ways I'm Getting Organized for Back to School
It's the big day – Jackson heads back to school today and we are SO READY! I'm still struggling to process the fact that I have a third grader, but we all love the back to school season around here. It's full of excitement and promise and anticipation.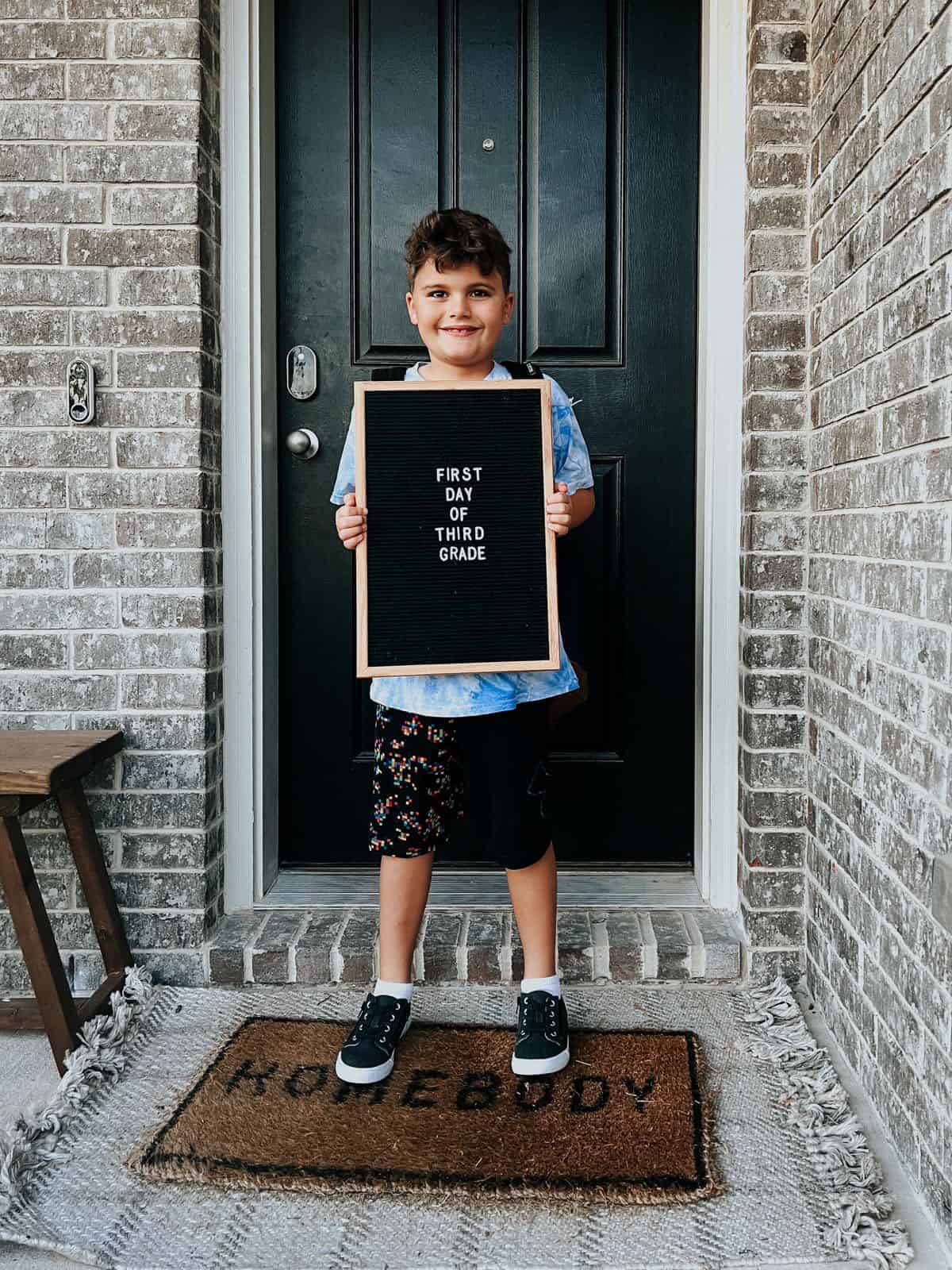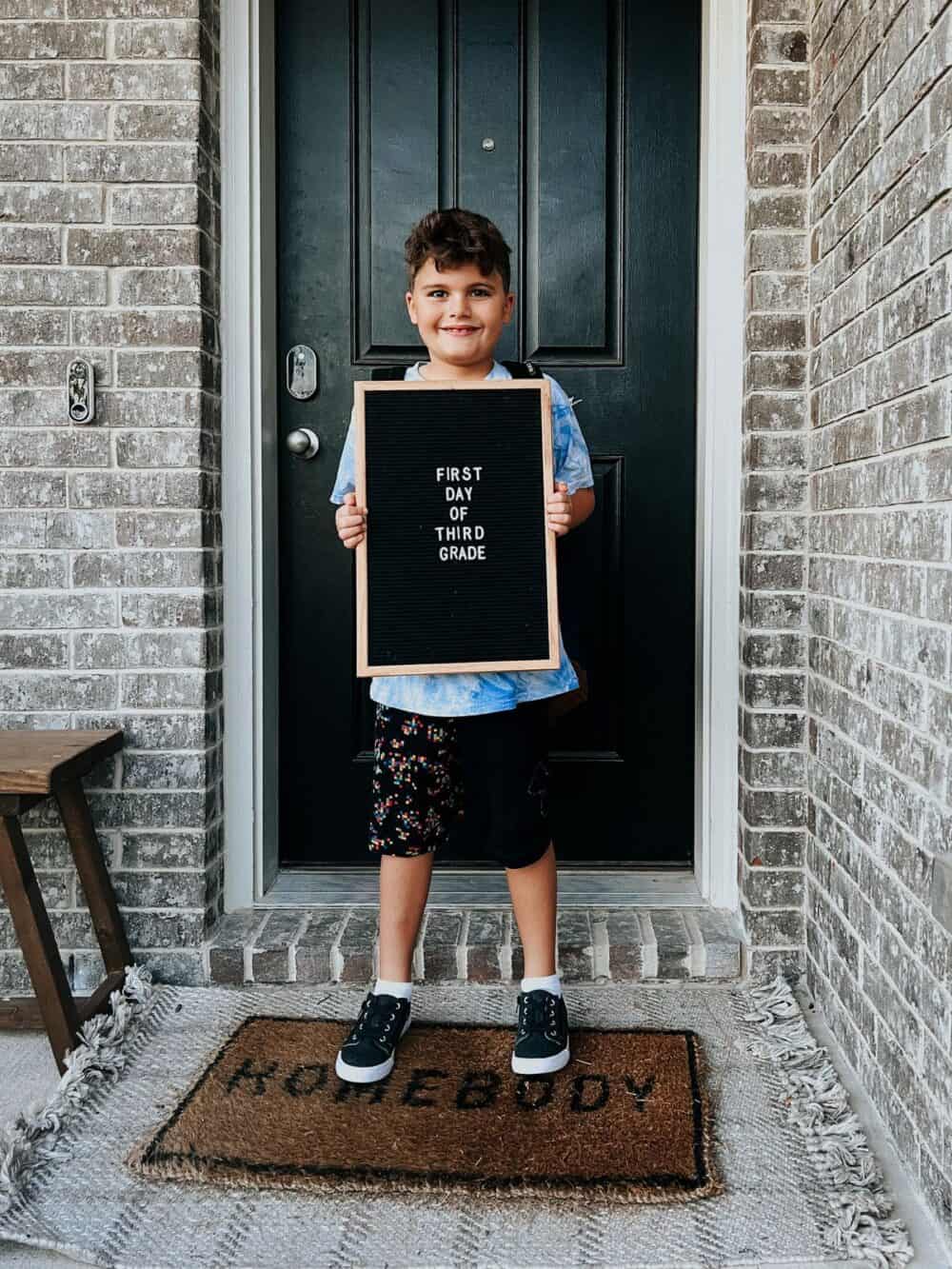 I always get a bit of a second wind this time of year. It feels like a fresh start and a chance to get organized, meet my goals, and just generally get everything back on track for the second part of the year. So, it should come as no surprise to you that I've been spending a lot of time thinking about organization lately!
I always approach the school year as if it's the year I'm finally going to get organized and stay that way all year long. I'm not naive enough to actually think I'll keep up with all of my efforts all year, but I've found that the more effort I put in upfront, the better I do.
So, I thought I'd share a few of the things I've been doing over the last couple of weeks to get us all organized and ready to dive back into the school year!
Organizing the Entry Closet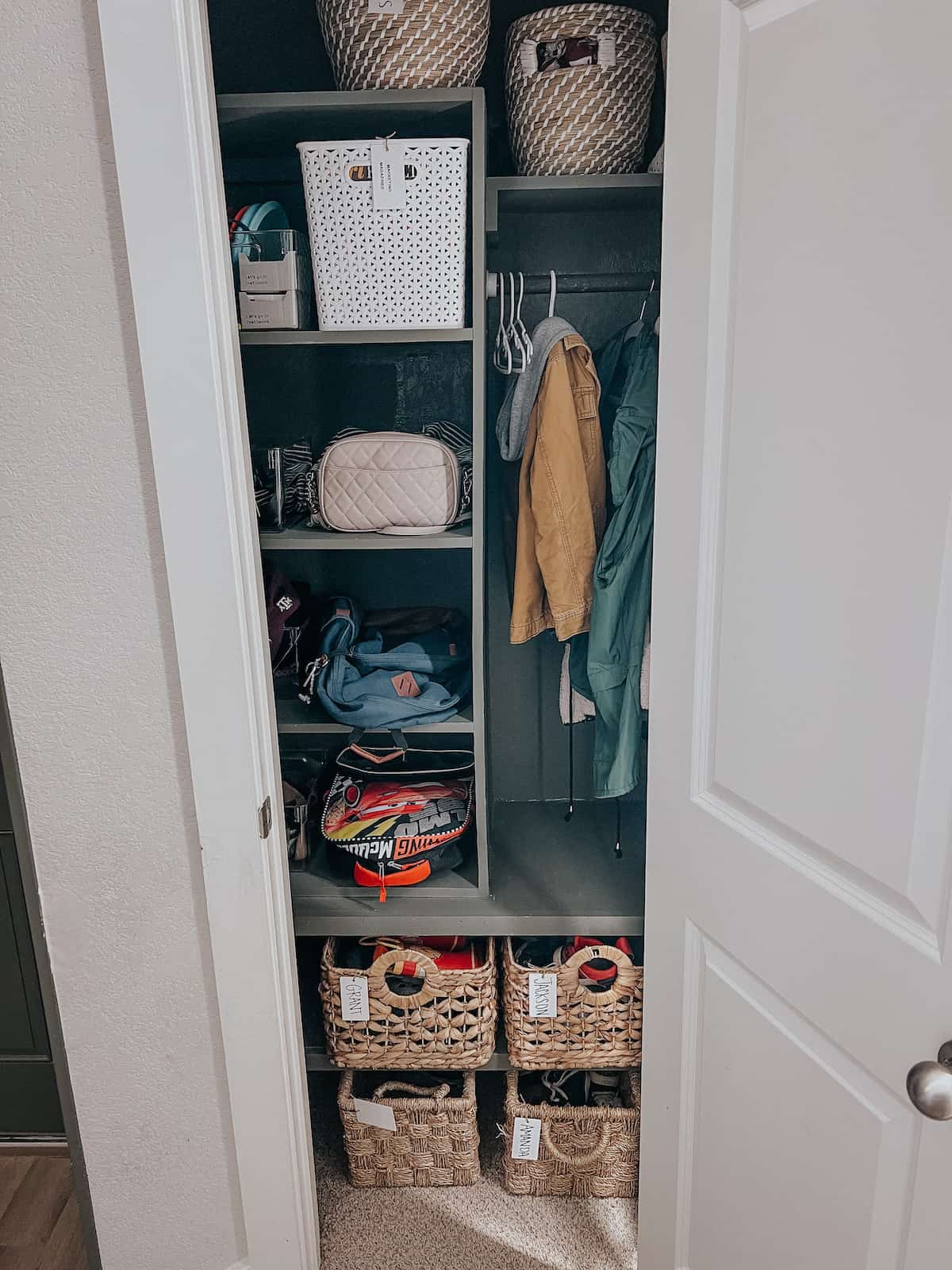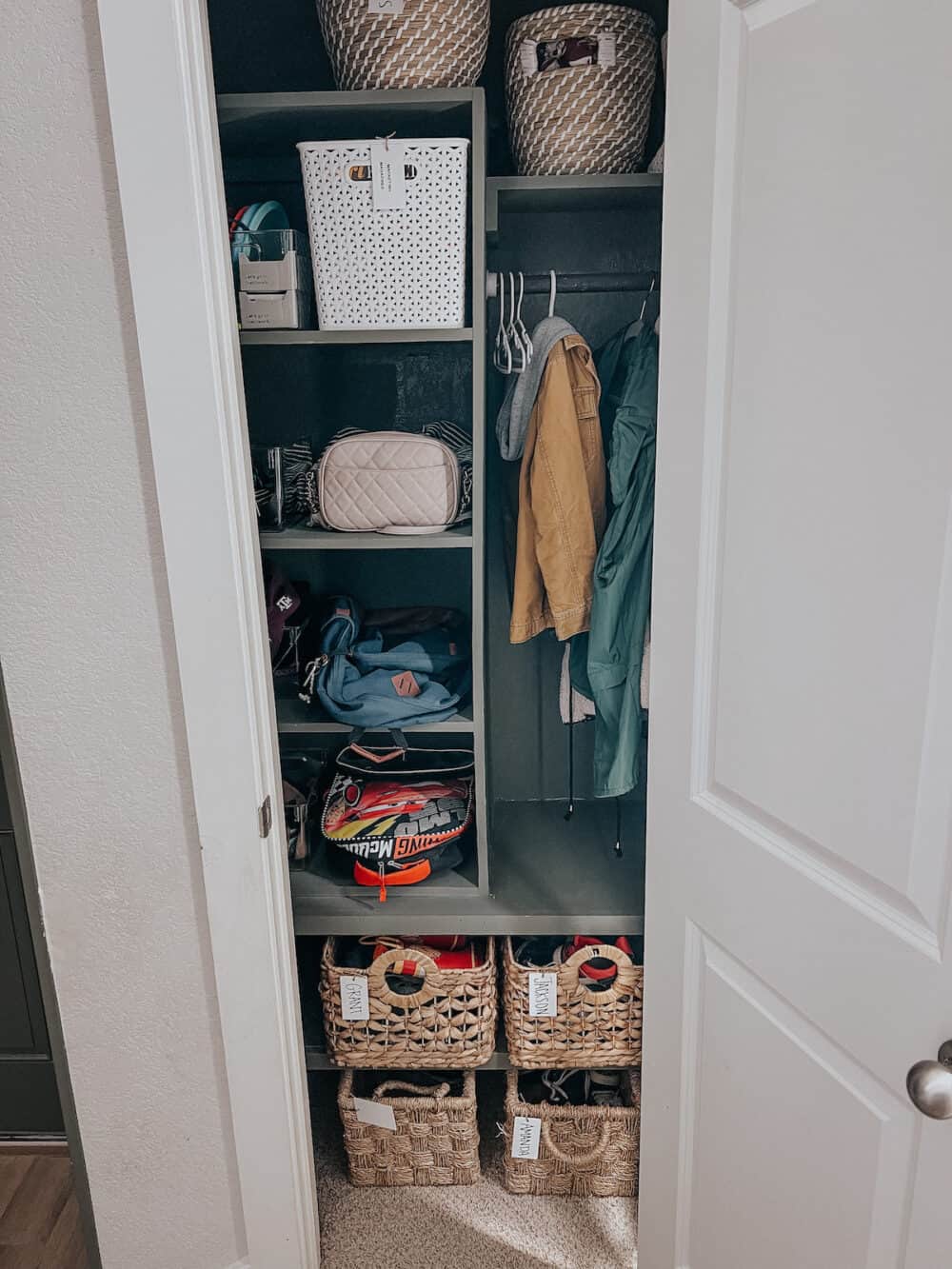 The biggest thing I needed to do to get us ready for school was organize our entry closet. We added some really great shelving to it a while back and it makes a huge difference. But, without proper labels and baskets and an actual system, it still falls into disarray.
I labeled our shoe baskets with these really simple basket labels, and I added a bin on every shelf for each person to toss their random items. Hopefully this will help keep the boys' hats and sunglasses from floating all over the closet.
Just those two little changes (plus some purging) were enough to make a big difference in how the closet looks…we'll just have to see how the kids keep up with it now!
Prepping for school lunches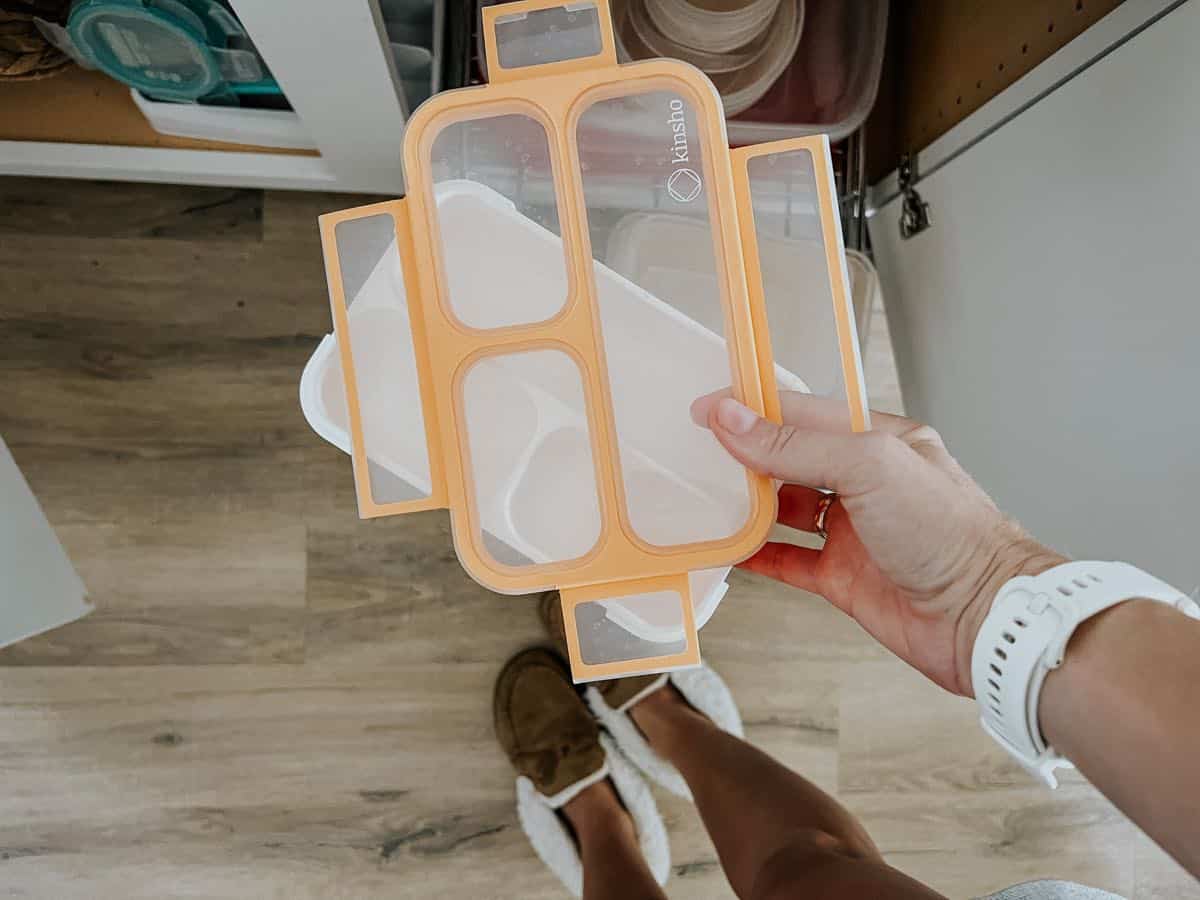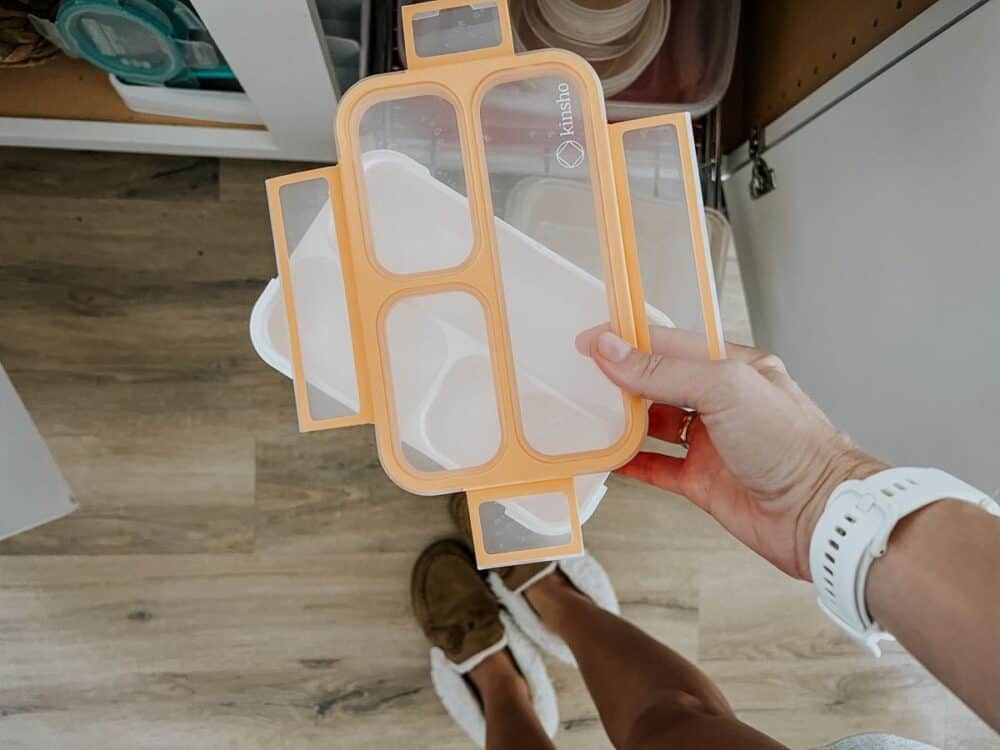 Jackson buys lunch in the cafeteria every day – and thank goodness, because I hate making school lunches. But, Grant is starting preschool this year. So, I'm going to have to suck it up and be ready to make him lunches on the daily.
When Jackson was in preschool I was a school lunch making pro, but I'm definitely out of practice. I've been gathering some ideas for really simple and healthy lunches that I can prep at the beginning of each week, and I'm feeling okay about the situation.
We have two of these bento boxes and three of these. I love lunch boxes that are compartmentalized – it makes lunch prep so much easier! My plan is to prep lunches for the whole week on Sunday afternoon. That way, each day we can just grab and go. This is what I did for years with Jackson and it made things a lot more seamless!
Here are my lunch-making essentials:
I still have a couple of weeks before I have to get back in the lunch-making grind. But, I'm dreading it a little less now that I've gathered up all of my supplies!
Labeling all the things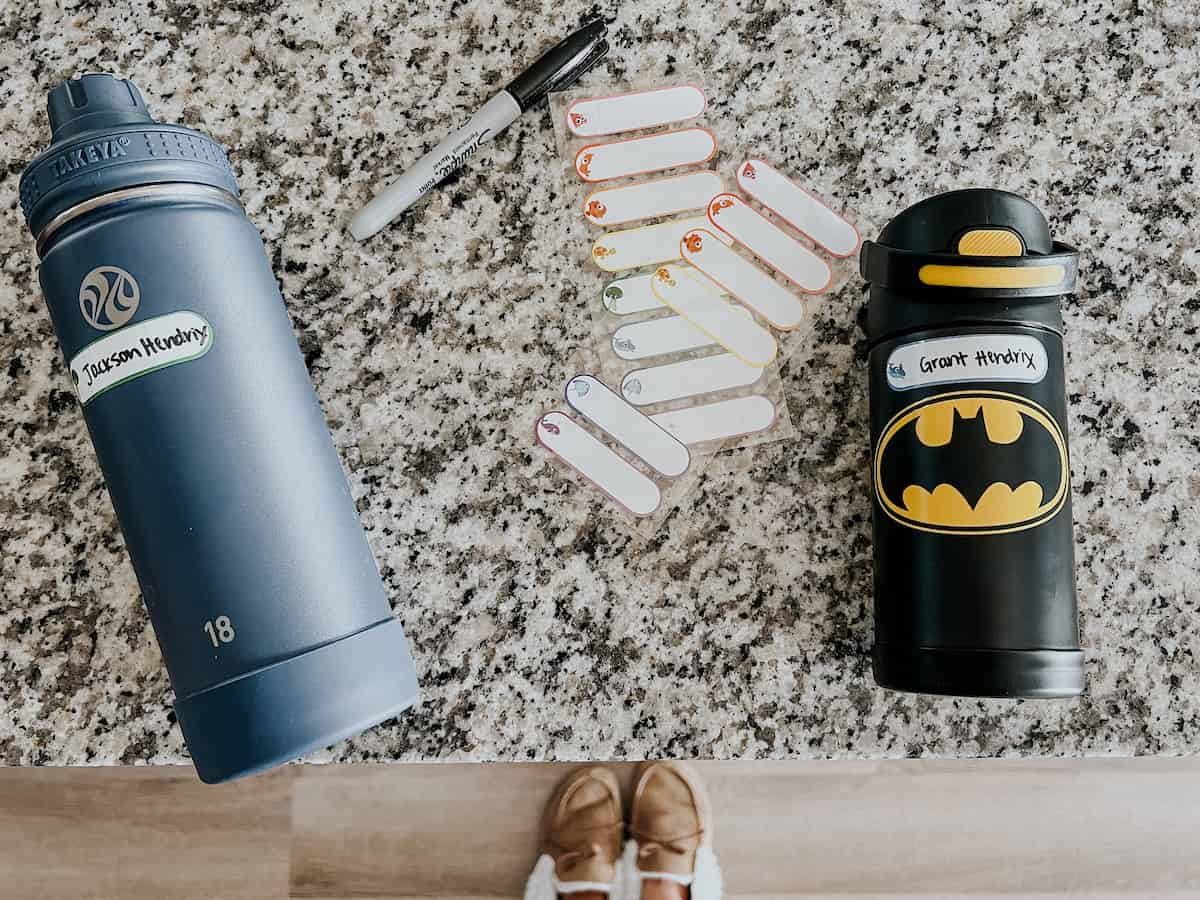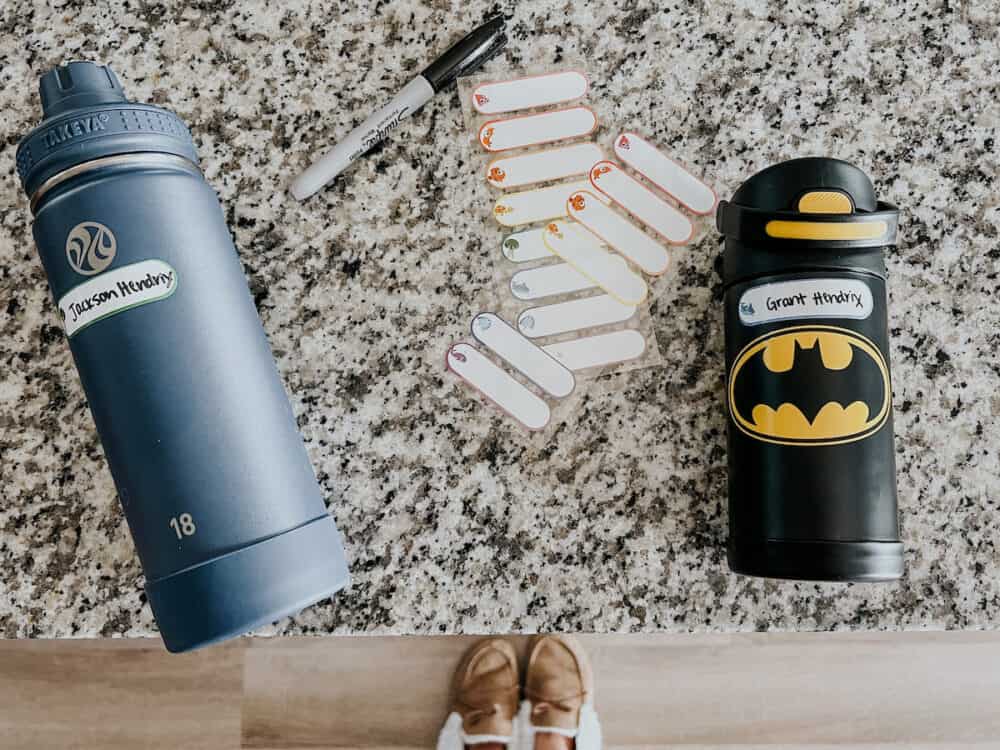 Listen, if you've ever had a kid in school then you know the importance of labeling everything. Backpacks. Sweaters. Water bottles. Lunch boxes. Heck, kids can lose just about anything at school and your life will be easier if it's labeled!
Back when Jackson was in preschool I swore by these waterproof labels. I used them on his bottles, lunch boxes, and snack containers. They lasted through the chaos of preschool, and they can handle going through the dishwasher, too! It's been years since I used them, but with Grant going to school this year too I decided it was time to try them again.
I got all of the boys' stuff labeled this week, and I'm feeling great about it. We can't seem to keep a water bottle to save our lives. So, I'm cautiously optimistic that they'll at least make their way back to us if they're labeled.
Right?!
planning our routines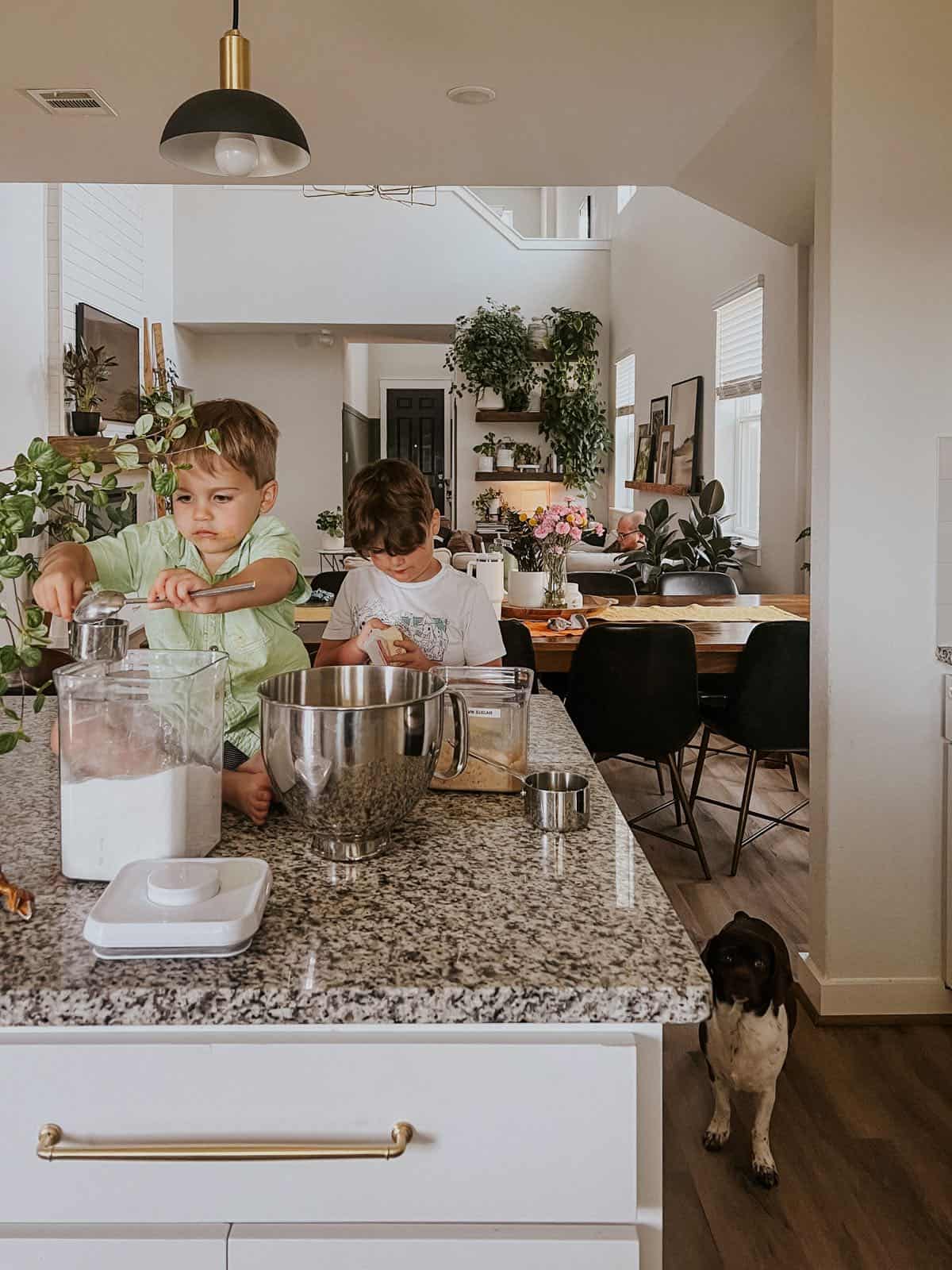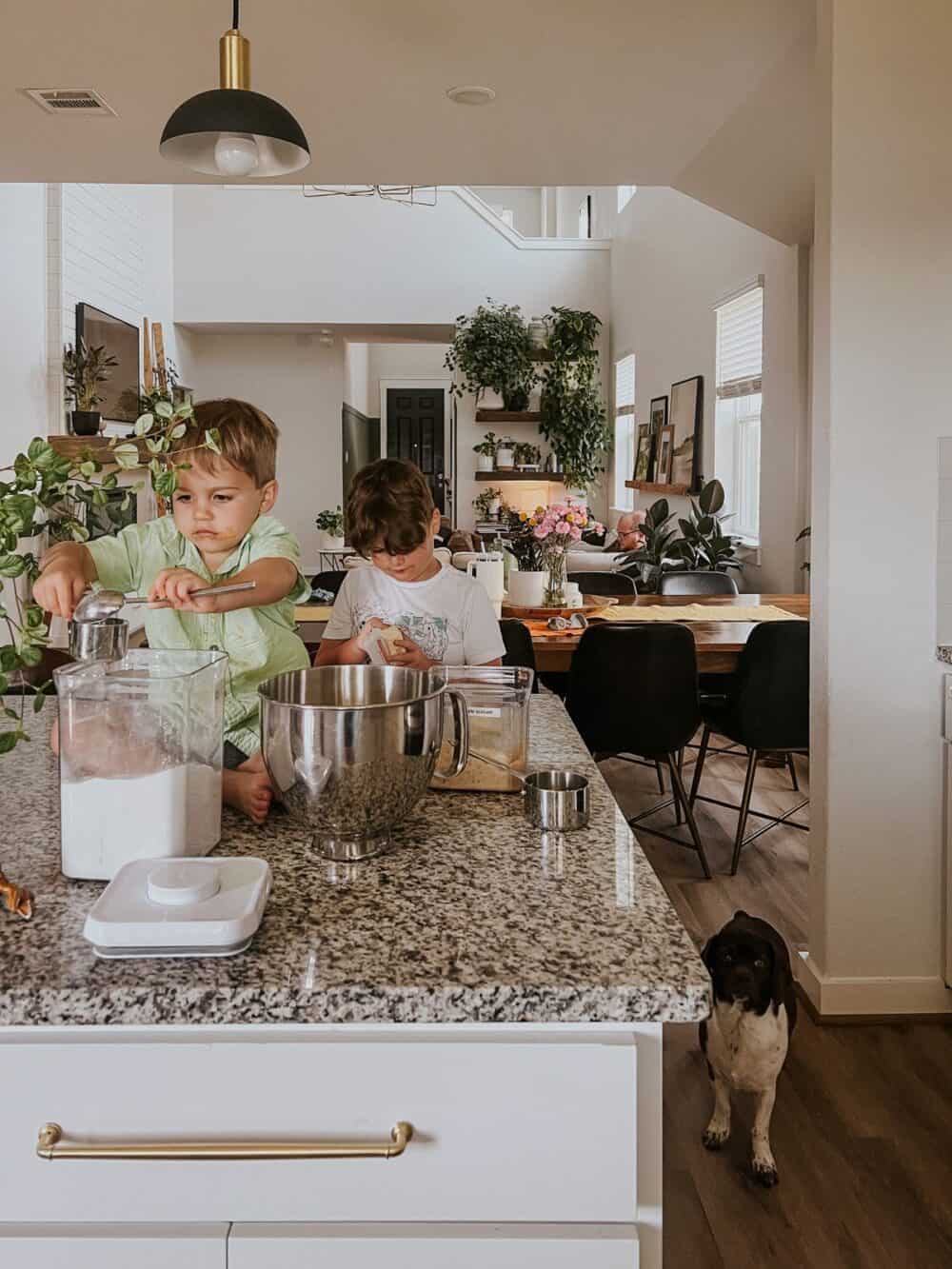 I'm huge on rituals and routines. I think they're important to help find rhythm in the week, and they always make our weeks flow so much better. With both boys in school this year, I think it's going to be more important than ever to find some routines that work for us and help the daily grind feel a little more enjoyable.
Here are a few things we always do during the school year:
We don't do screen time Monday through Friday afternoon. It keeps attitudes better in general, and makes our evenings run a lot more smoothly.
To celebrate the end of the week, we always head to a nearby gas station on Fridays after school with some friends for slushes and snacks. We all pile into one car, and the giggles from all the kids in the backseat is the best sound to start the weekend off with.
We bake together weekly. We don't necessarily do it on a set day, but at least once a week I try to gather the kids in the kitchen with me to make something from scratch. Usually cookies.
Every day after school, I have Jackson take a minute to go through his backpack and pull out trash, remove any papers we need, and get organized for the next day. If we can tackle this before he even settles in, we're a lot more likely to not forget!
This year, Jackson asked if we can add in Monday evening ice cream to our routines. He's a kid that loves tradition. So, we're now officially going to be starting the school week off with ice cream after dinner!
I don't know about you, but I find that when we let our days fall into a rhythm that repeats itself, our days feel easier and our attitudes are all much better. This post (and all the comments) on rituals made me want to spend a lot more time thinking about our daily rituals!
plan for a QUIet weekend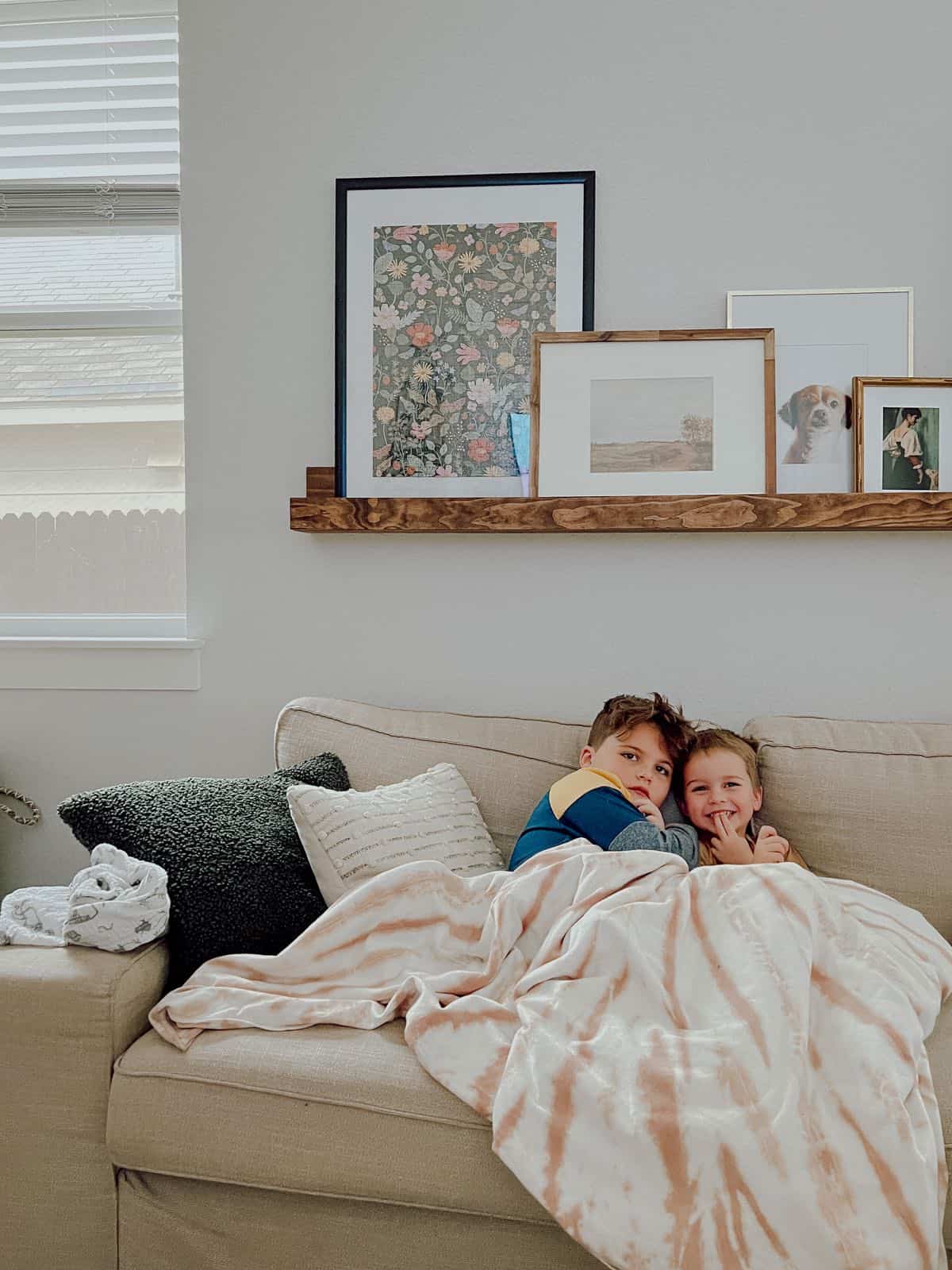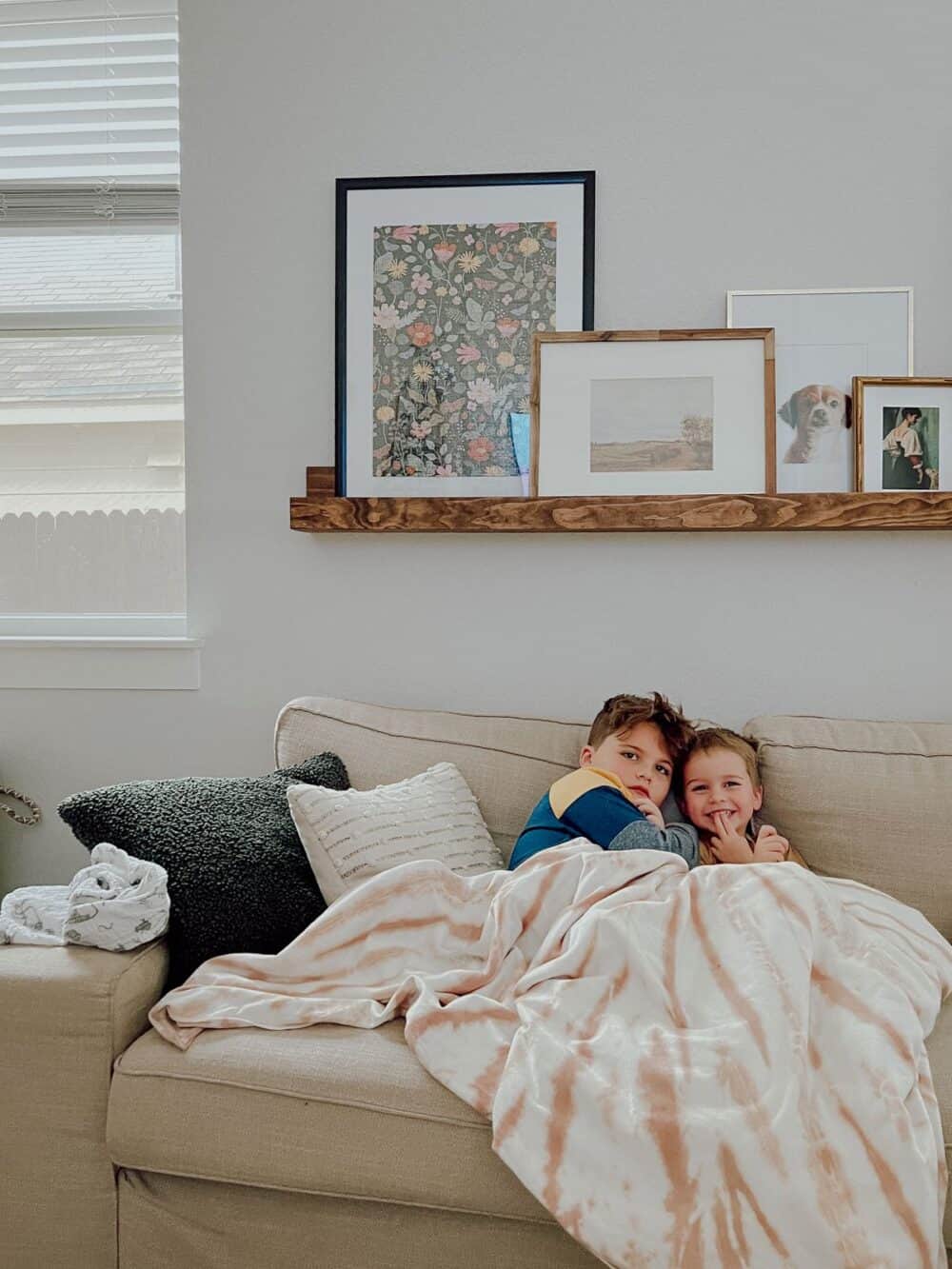 Have you ever read this post from Jen Hatmaker? I think about it at the beginning of every school year – and it's so true. That first week of school, it's so tempting to plan a big, fun event to kick off the weekend. But, your kids will be exhausted. EXHAUSTED! You're just asking for trouble if you plan anything other than pizza and a movie on the couch.
In our case, school starts mid-week this year. So, not only will we need to plan a quiet weekend this week, we'll also want to keep things chill next weekend too. Because, that will be the first full week of school and goodness knows it'll be a doozy too!
It's always a good idea to keep in mind that the first week of school is a lot for those tiny little brains. They need rest, and you'll all be happier if you don't push it!
other back to school organization ideas
Here are a few other ideas to help you get things organized and ready to go for the upcoming school year:
Plan and set out clothes for the week on Sunday evening. You can toss one of these in the closet!
Designate a bin or two in your pantry for school-specific snacks. It'll make it way easier for your kids to grab a snack on the way out the door.
Have a rotating plan for make-ahead breakfasts. If you spend an hour or two prepping on Sunday afternoon while you're making lunches, you can have healthy breakfasts ready to go all week long.
Create an easy-to-access homework station with everything your kids will need to get homework done right when they get home from school.
Create morning schedule. Having a detailed routine every morning is a great way to ensure that things go smoothly every day. For bonus points, you can print it out and stick it to the fridge to keep the kids on track!
And with that, we're officially back to school! How long do you think I'll stay on top of things and organized? I'm usually good until Halloween or so but this year I'm determined to make it all year. Or at least until spring break…