A while back, I wrote a post testing out aaaaaaaall of my favorite stain colors on various types of wood. It was a really fun post to write, and it's still one of my most popular posts. Why? Because people love not having to buy and test out things themselves! And I totally get it – it's a pain to test out a zillion different stain colors before you land on one you love. That's why I decided to do it again…this time, we're testing three of the best black wood stains. I tested the black wood stains on three different types of wood commonly found at the hardware store, so you can see a variety of options.
And now, you don't have to test it out. You're welcome.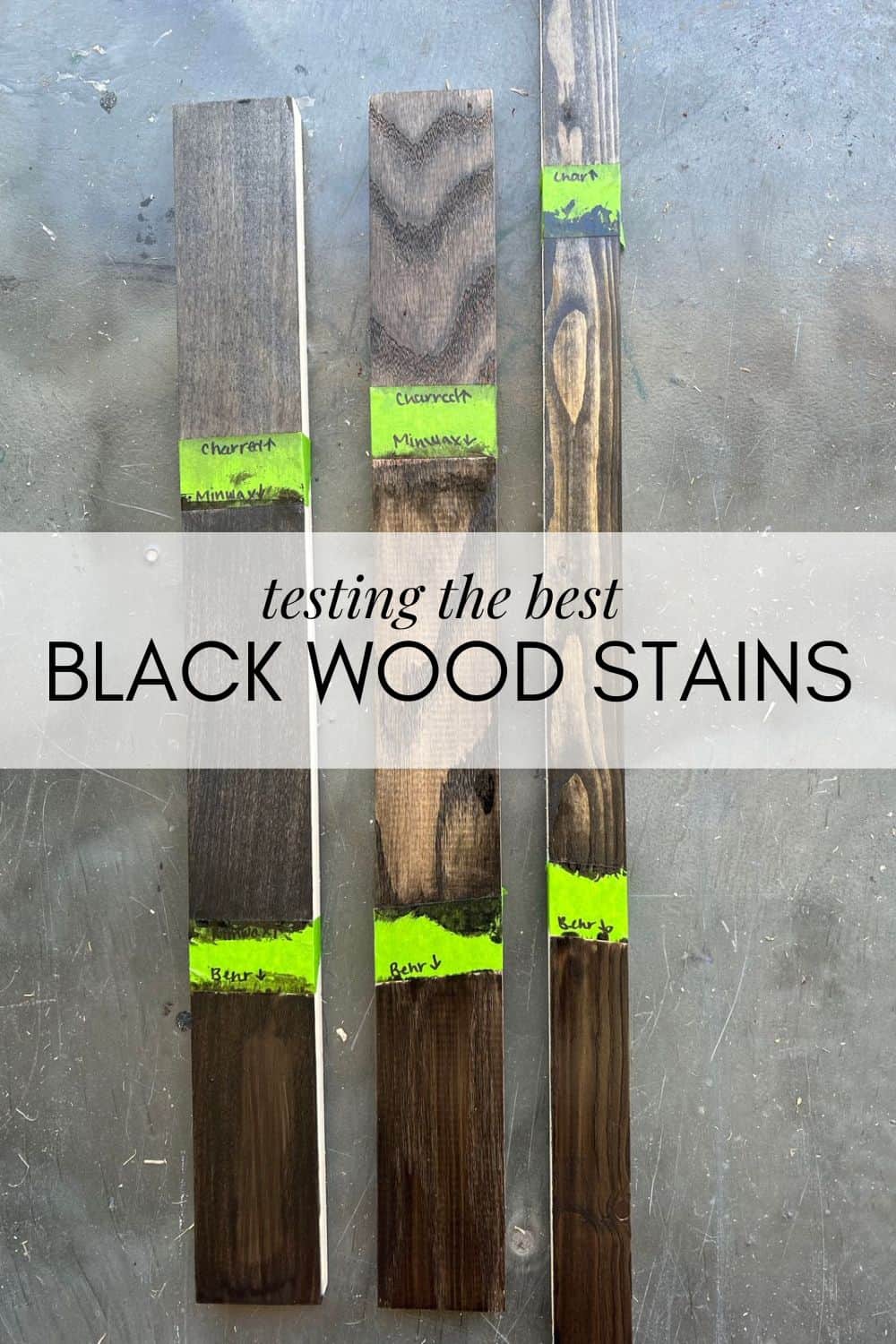 Black wood stains i tested
The black wood stains we're using are:
These are all easily found at your local hardware store (in fact, they were the only black wood stains I could find at the hardware store). One of them – Varathane's Ebony – I wasn't able to track down, but I had photos from my last stain testing post. So we're using those!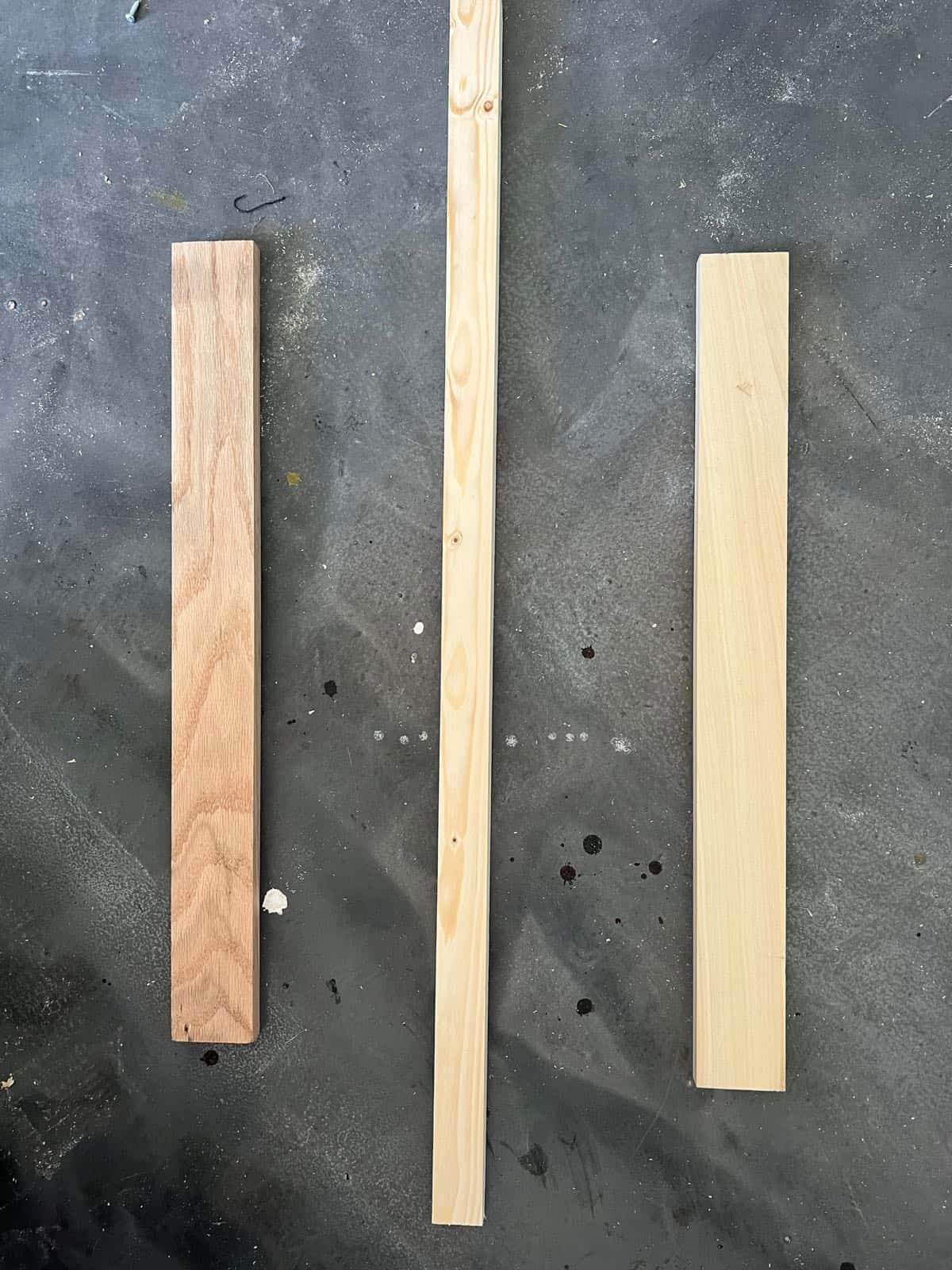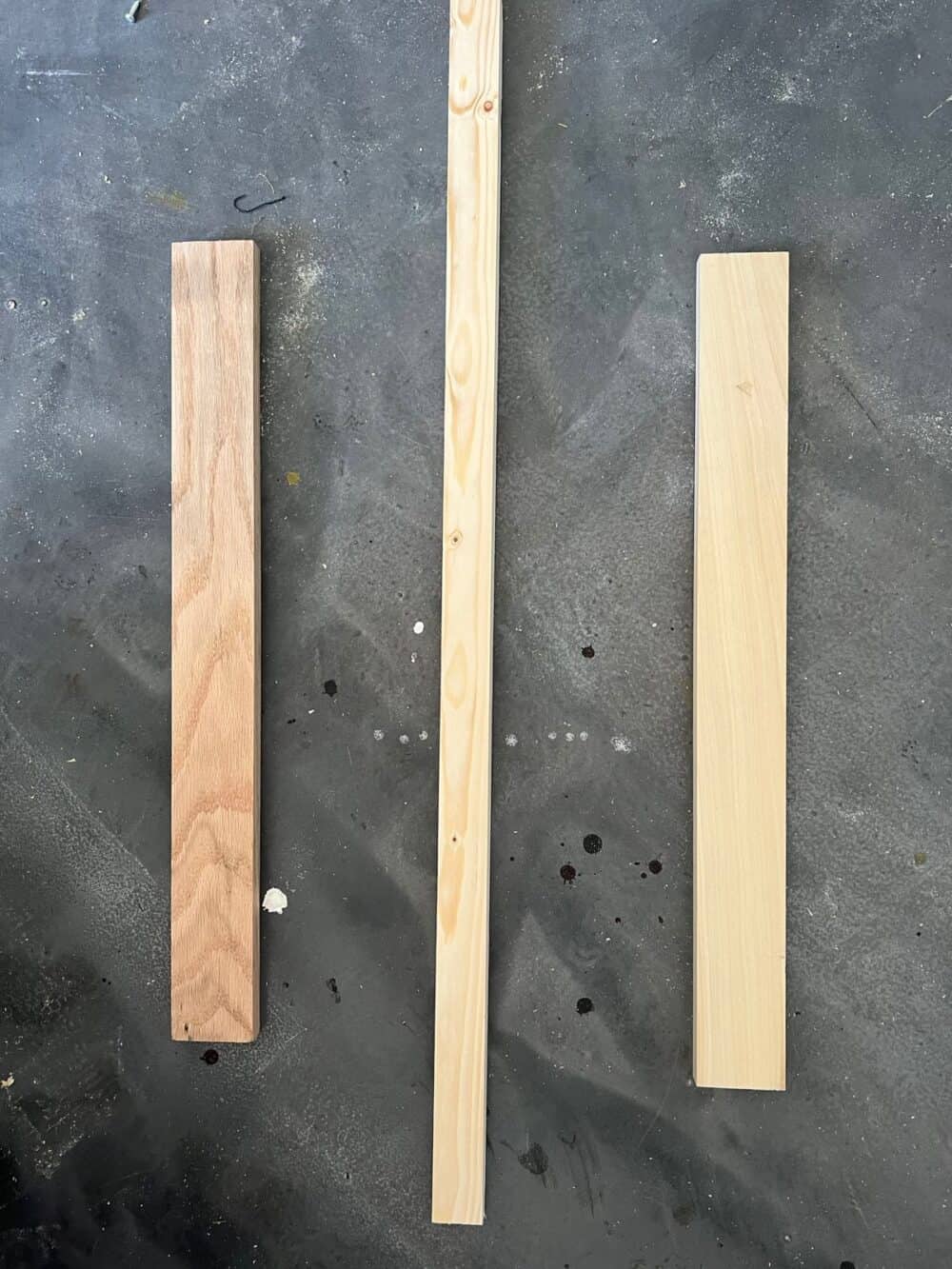 Here's a look at the wood we're working with before staining. The types of wood are red oak, pine, and poplar. Those are the three woods I most commonly work with, as they're all easily found at both Lowe's and Home Depot. I didn't grab harder-to-find wood like maple because they're not as common for the average DIY-er to use.
Before staining, I sanded all three of them, and I didn't use wood conditioner prior to staining – this is just the true look at how the stain interacts with the wood. I also didn't edit the following photos in any way. These are straight from my camera!
Ready to do this? Here we go!
testing black wood stains on different wood species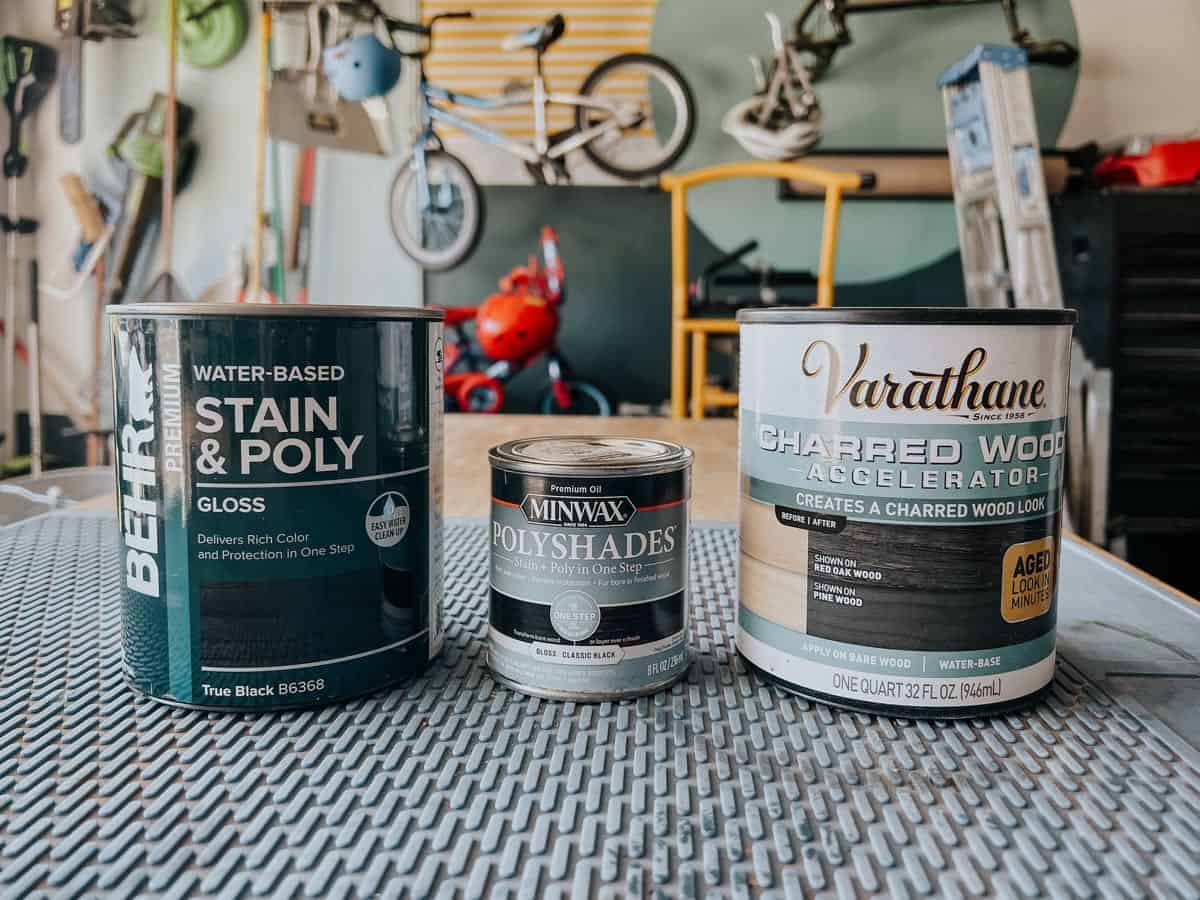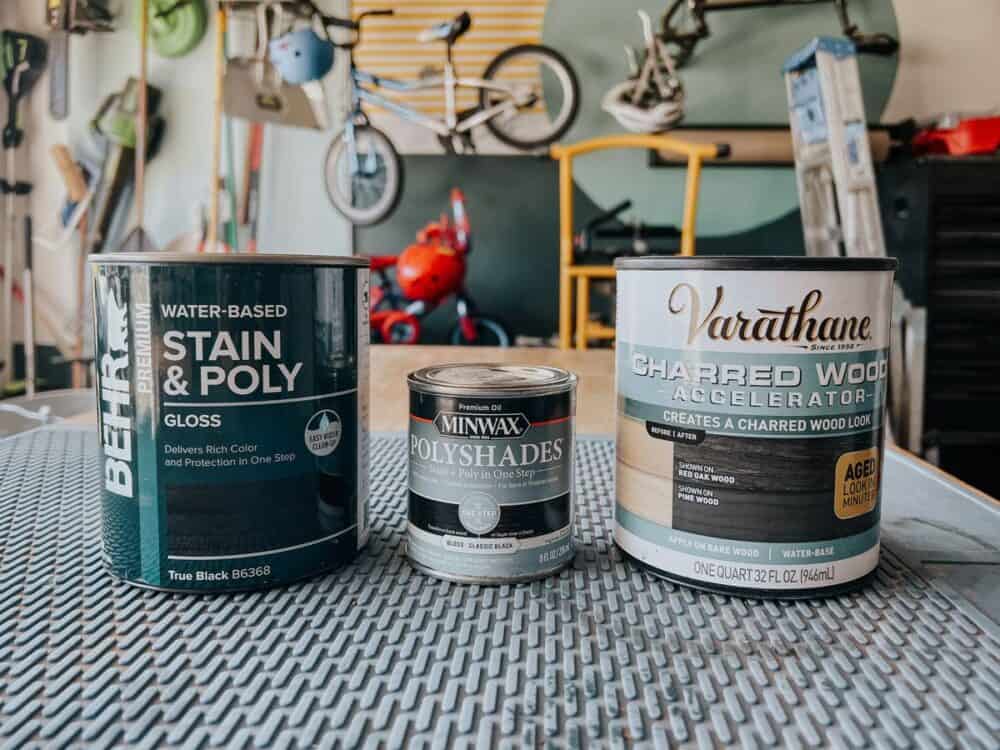 Varathane charred wood accelerator
While this isn't technically a wood stain, I included it because it's one of my favorite products to use! Varathane's wood accelerators are a really fun tool to use when you want something a little simpler and easier to use than regular stain. They interact with the wood surface differently than stain, and create a really unique look. I did a deep dive on what these are and how they work, so click here if you want to learn more.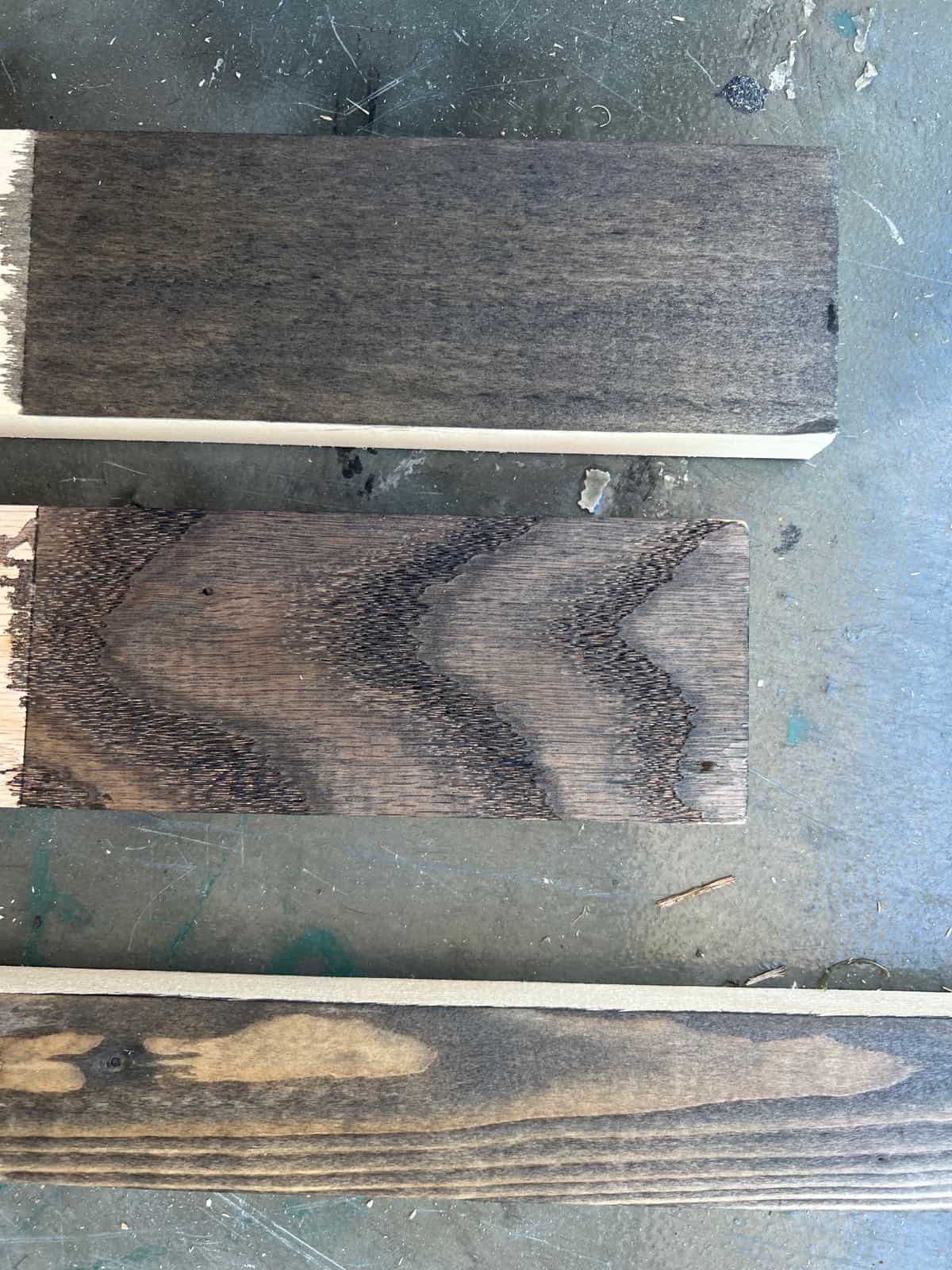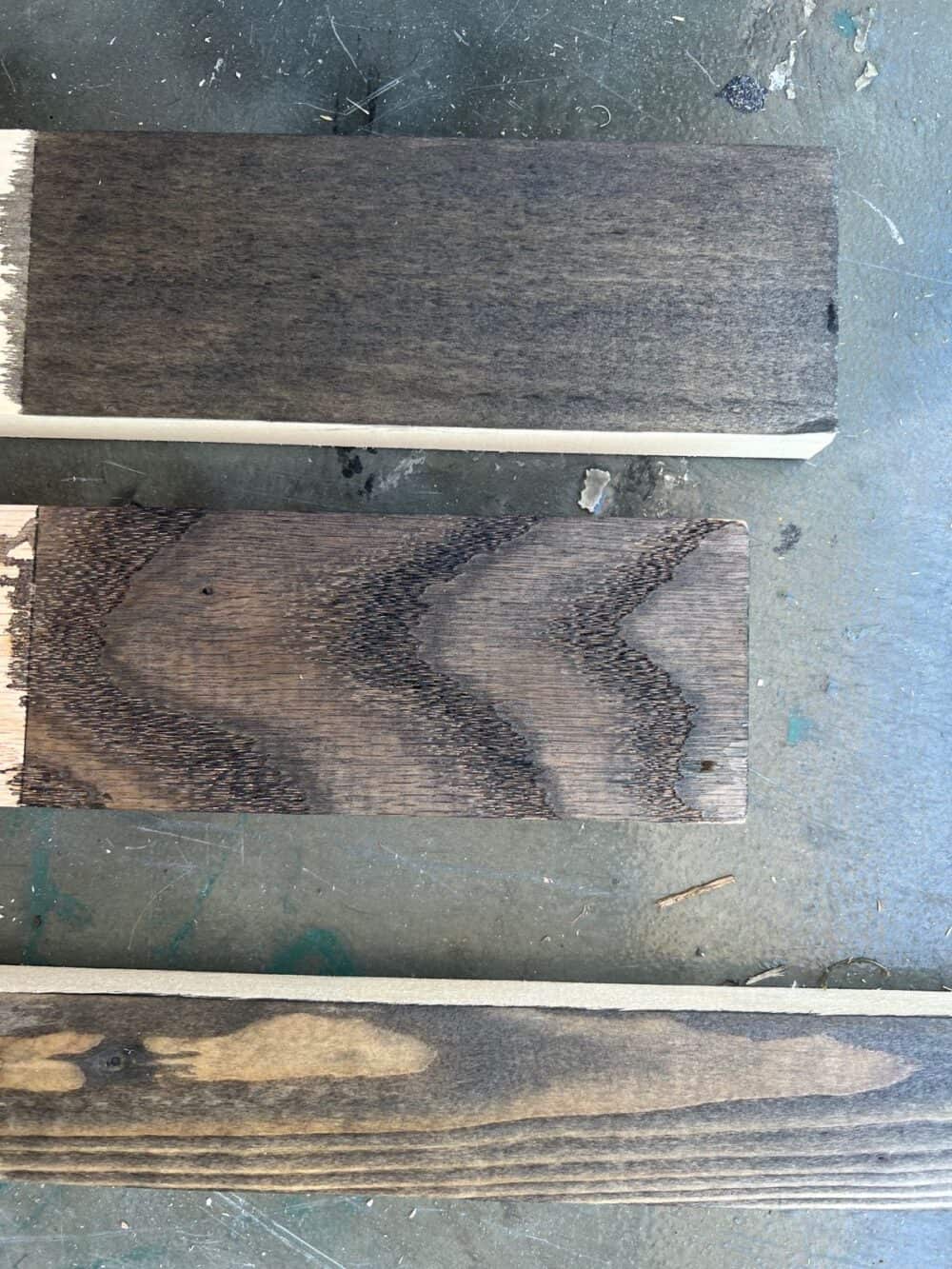 (Top to bottom: poplar, red oak, select pine)
Varathane's Charred Wood Accelerator creates a charred wood look on any piece of wood. It's not a true, deep black, but the formula creates a really cool effect that feels aged and weathered. You can see this product in real life on this raised garden bed I built a couple of summers ago!
This product works on all wood types, and your finished look is going to vary quite a bit by wood species and even specific piece of wood. The dry time is just one hour. I like that it allows the natural wood grain to really shine through, and it's a great finish for a more rustic piece. This is a lighter option and is good if you want to let some of the natural wood color shine through. It's also water-based, which means it has lower VOCs than oil-based stains do, and is also low odor.
It's also worth noting that this stuff goes a LONG way. One quart will cover approximately 275 sq ft!
You can generally find Varathane Charred Wood Accelerator at Home Depot. You can also purchase a two-pack on Amazon!
Minwax polyshades classic black
This product is a stain and poly (or sealer) in one step. It makes your job a lot easier because you don't need to apply any sort of sealant on after you're done. A bonus of that is that sometimes sealers can tint the stain slightly, so with it built in you can avoid that. It claims that it can also be applied over previously-sealed surfaces without sanding, but I haven't tested that personally!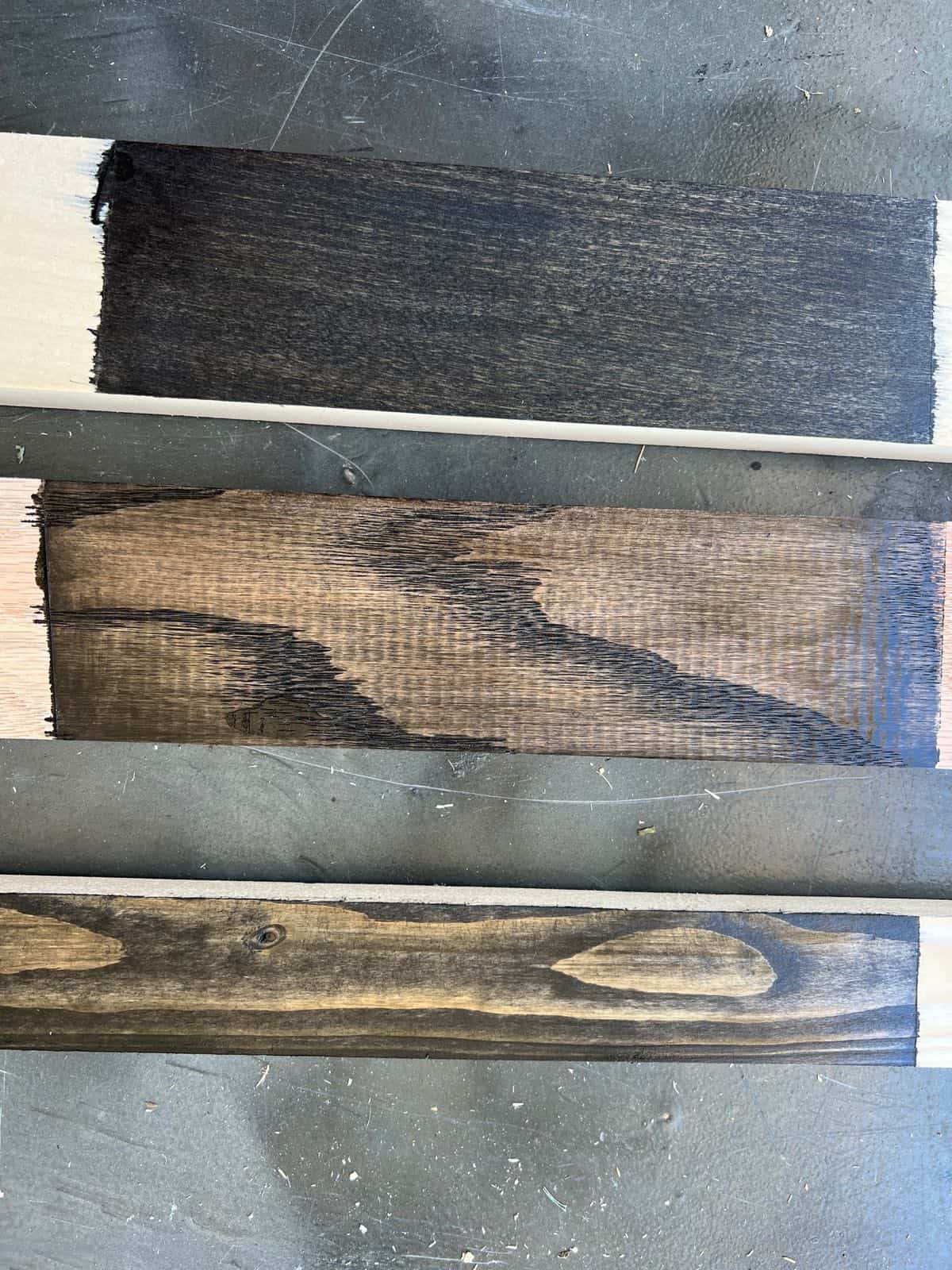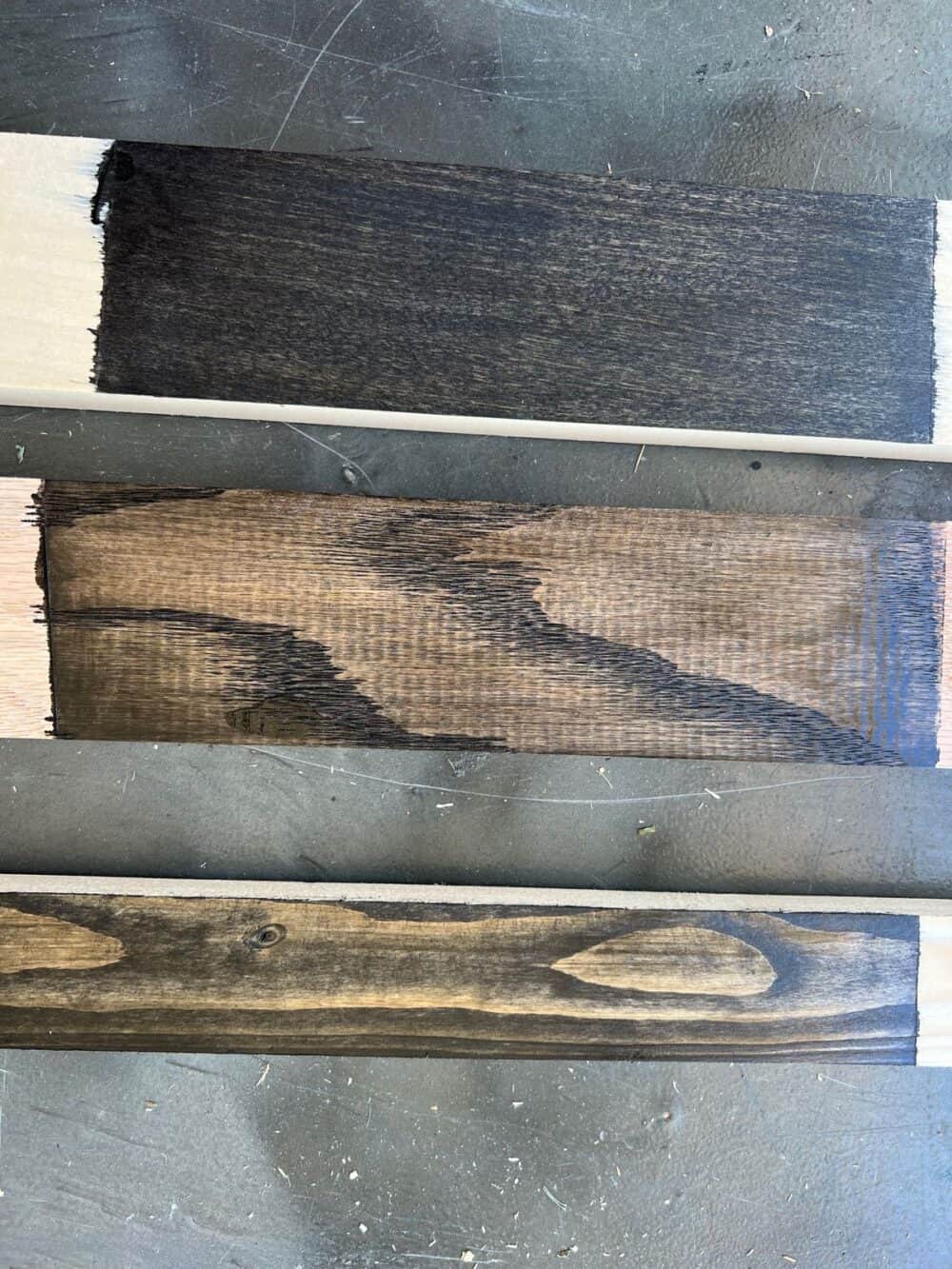 (Top to bottom: poplar, red oak, select pine)
I really love the richness of this hue, and it worked really beautifully on all three wood species. It showed up the darkest on the poplar, which is interesting because poplar doesn't always stain very well!
You'll notice a slight sheen with this product because of the built-in poly. The version I got is gloss. This didn't really feel like a true black to me until I applied a second coat. It definitely has a lot of brown tones in it, but it's a truly beautiful color. I wasn't a huge fan of how grain-y it looked on the pine, and would probably choose a different product if I was working with pine.
Minwax Polyshades should be applied with a high-quality paintbrush (not a clean cloth or foam applicator like most stain), and you don't need to wipe off excess.
You can find Minwax Polyshades at Lowe's, and you can also find it on Amazon.
behr stain + poly true black
This is another stain and poly combo. I found this one to be much thicker than the Minwax Polyshades and, as you can see, it leans a lot more brown than black. It seems quite a bit lighter than the other stains.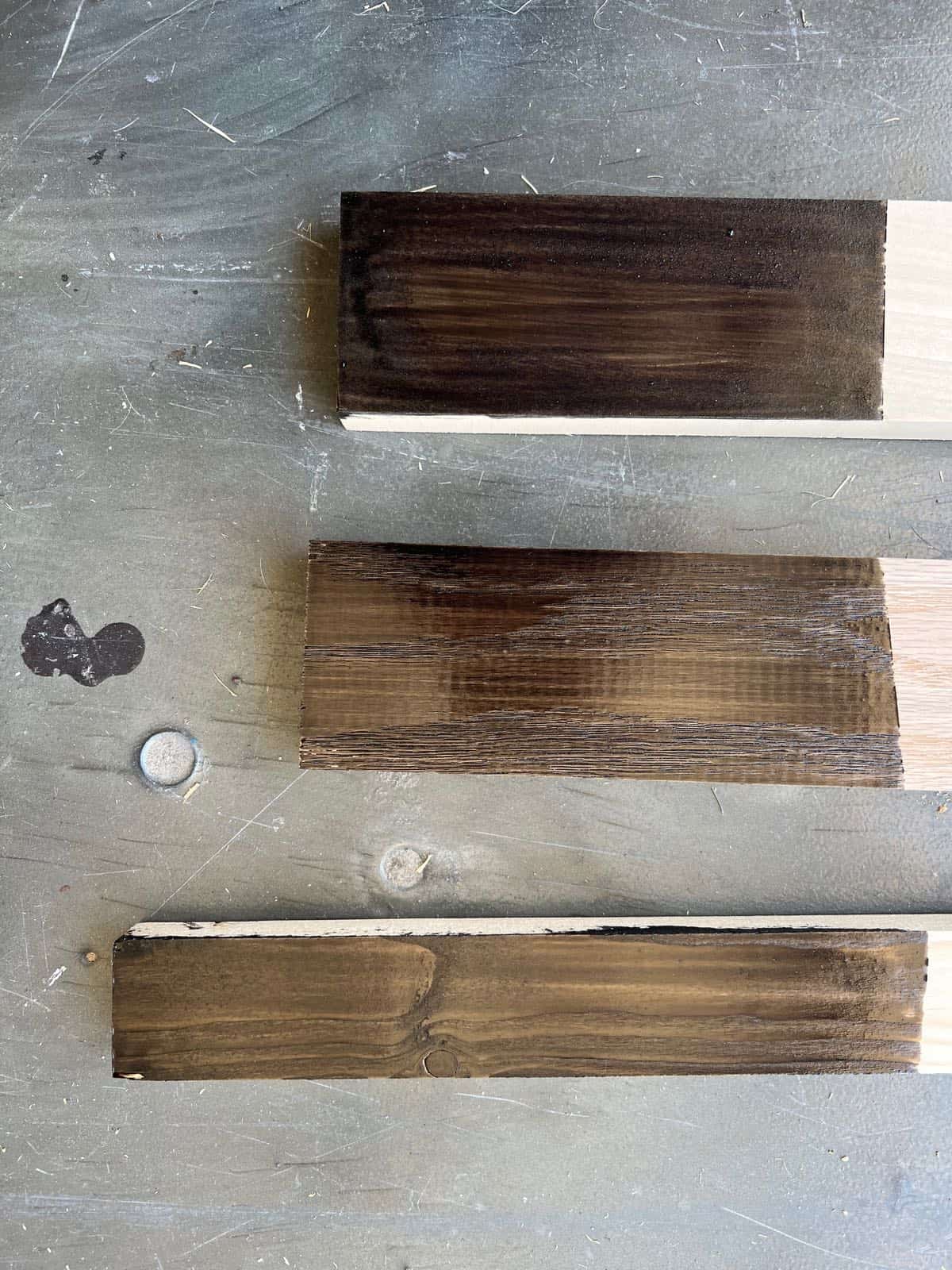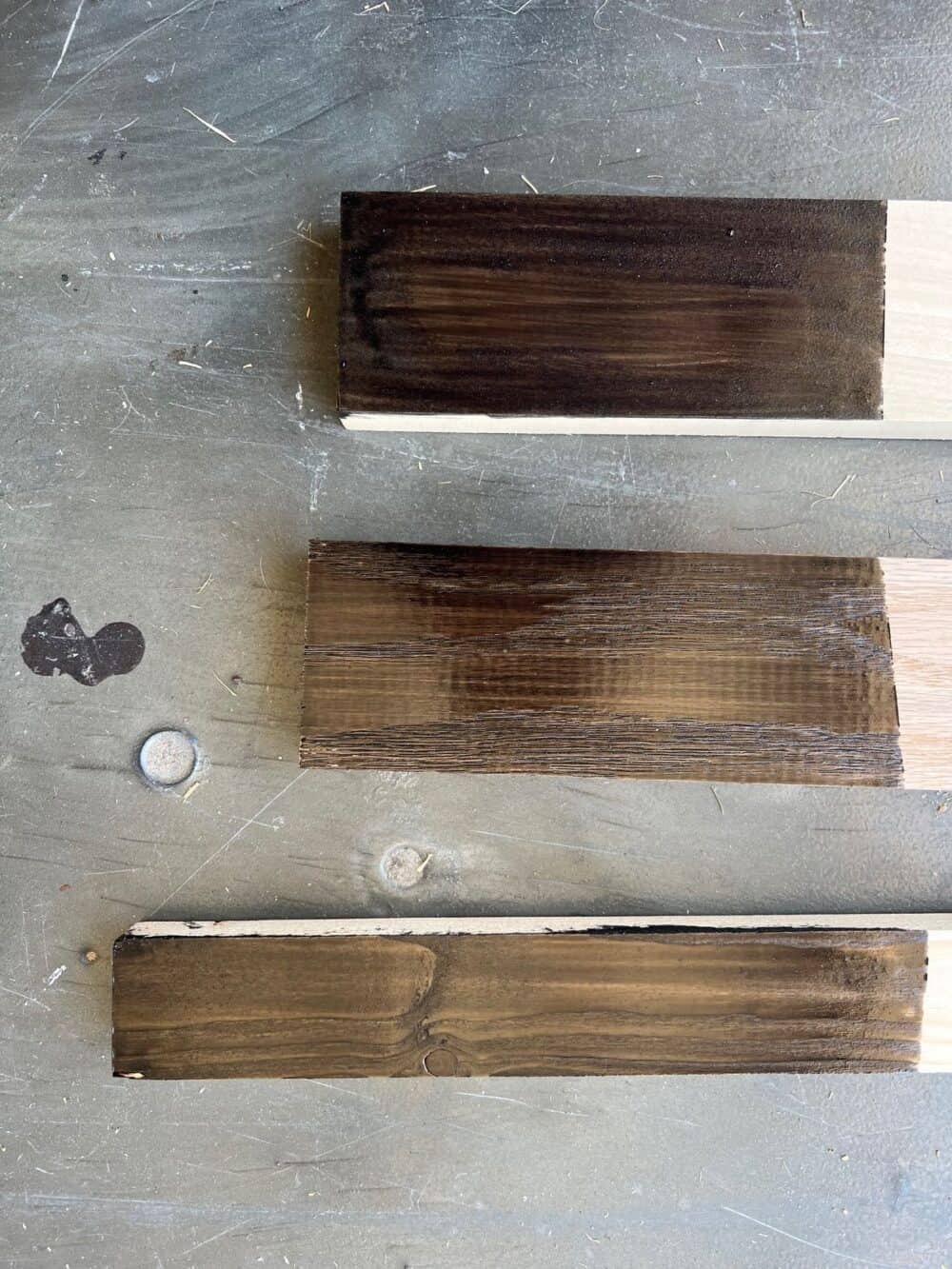 (Top to bottom: poplar, red oak, select pine)
This product should also be applied with a paintbrush instead of a cloth. It dries in just an hour, and again has the added benefit of combining two steps in one. You don't need to apply a top coat after using this stain. It also claims to be able to be applied over an existing finish, which makes things really easy!
This stain has more of a full coverage than the Polyshades, and I felt like it was a little more consistent between the different species of wood. I had a hard time avoiding brush strokes in the stain, but with a light sanding with a fine-grit sandpaper in-between coats, it should be fine. I really liked the color of this one, but if I'm behind honest the stain color doesn't feel terribly black to me. It's more of a really deep and rich brown.
You can find Behr's True Black at Home Depot.
varathane ebony
After trying all of the wood stains, Varathane is (as usual) my favorite. I really love the deep, rich color and I find it to be very consistent and the most true black color of all the ones I tested.
I couldn't find it at the store when I was shopping, but I had this photo from a previous stain experiment.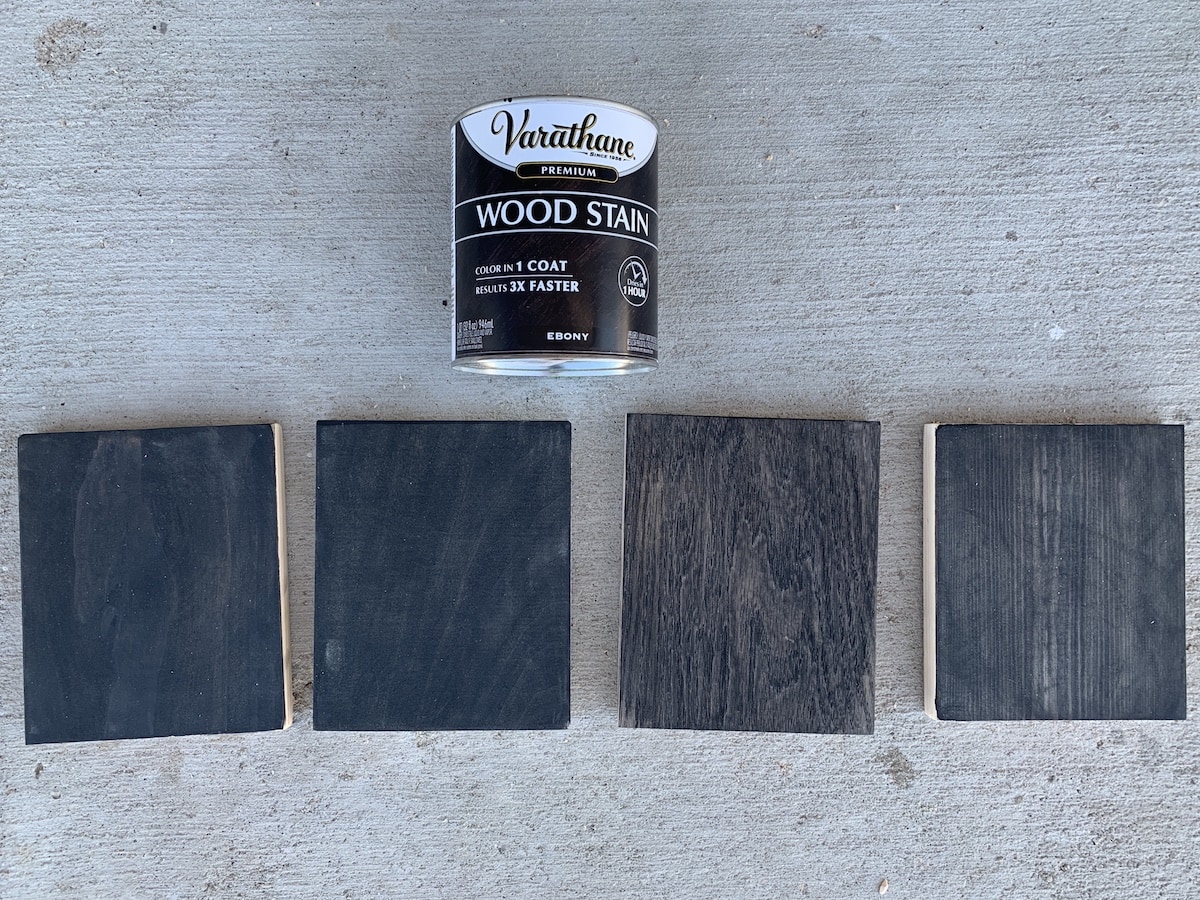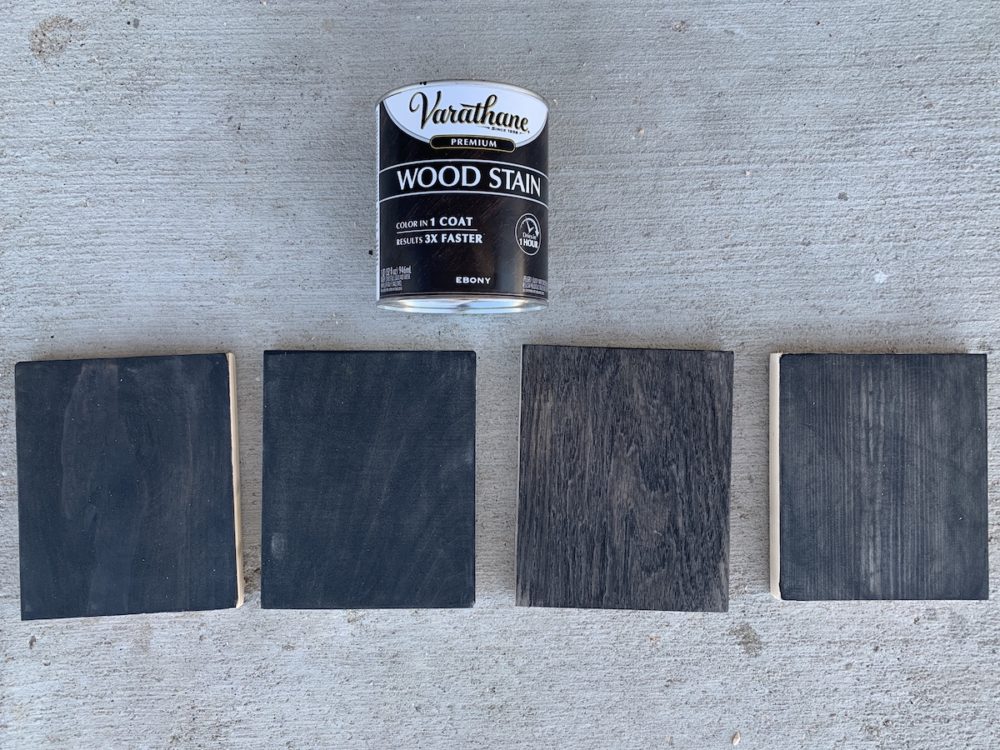 From left to right in the photo above, you have: select pine, poplar, red oak, and common pine.
This is a really rich and beautiful black stain that really feels like a true black stain. You can barely see the grain on any of the wood, and it looks like a true black wood stain on all of the types of wood.
Of all the black wood stain colors I tried, Varathane's Ebony is definitely my personal favorite. But, they could all be gorgeous on different projects, depending on what you're looking for!
You can see this stain in action on this DIY outdoor sofa table, and this raised garden bed. It's the stain I reach for most often when I need a black wood stain!
You can find Varathane Ebony at Home Depot, and you can also purchase it on Amazon.
black wood stain versus black paint
You may be asking yourself, why would I stain wood black when I can just paint it?
Good question! Black wood stain, generally speaking, is going to leave you with a finish that feels a little more traditional and a little more like real wood. You can generally still see a bit of the wood grain, and it's a lighter feel. It often won't be as dark as black paint would be. But, depending on what you're looking for, that can be a great thing! Dark wood stains are a really beautiful way to add some richness to wood projects, and they keep a lot of the character and traditional feel that might get covered up with paint.
how do you stain wood black?
Generally speaking, to stain wood you want to use a lint-free cloth, or a foam brush. Simply brush the stain on in the direction of the grain, allow it to soak in for about 5 minutes, then wipe it off.
Of course, there can be more to it than that – I have a full blog post with a really detailed tutorial for how to stain wood. So, if you're looking for a deep dive, that post will be your best friend!
You can also spray wood stain if you have a sprayer. I used a sprayer on our wood fence and on the plant wall at our last house!
other popular black wood stains
I, obviously, didn't test every black wood stain out there! If you're looking for a black wood stain and don't feel like any of the above speak to you, here are a few options that are also really popular.
project ideas with stained wood
There are so many wood projects you can stain. Everything from wood decks to hardwood floors to staining furniture black! Here are a few of my favorite stained wood projects from the archives: