One of the spaces I haven't shown you much of yet in this new house is the backyard. You saw it when we first did a tour introducing you to the new home, but that's about it so far. Now that the weather is starting to warm up, I've been putting some thought into what we want to do to the yard this spring and summer – we don't have major plans this year because we have a lot of stuff happening inside, but I'd like to at least do a few things to make the space a little more functional for us.
(Fair warning – our yard is a mess and I didn't really clean it up prior to snapping photos. Just keep in mind these are the "before" photos, and we have a long way to go!)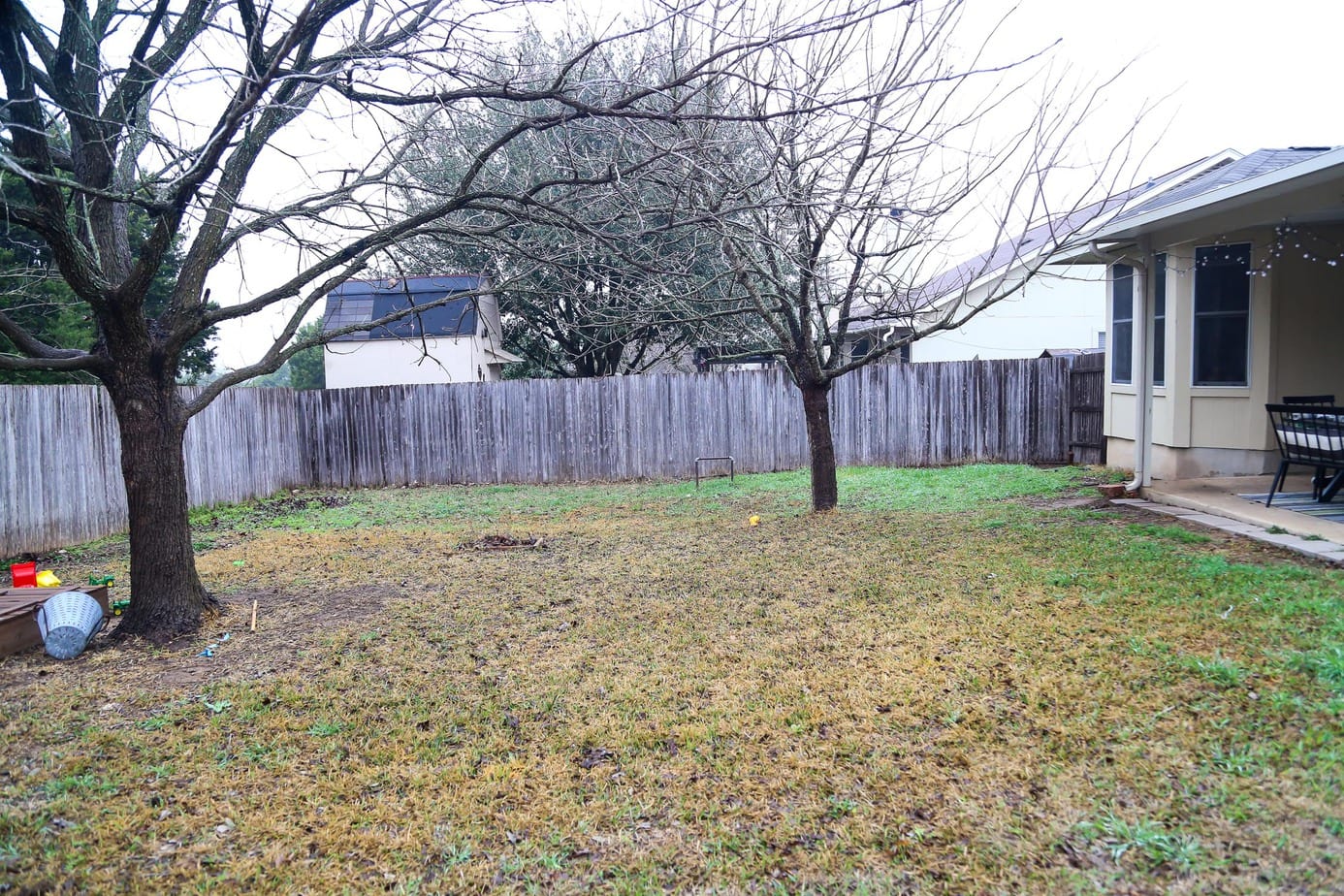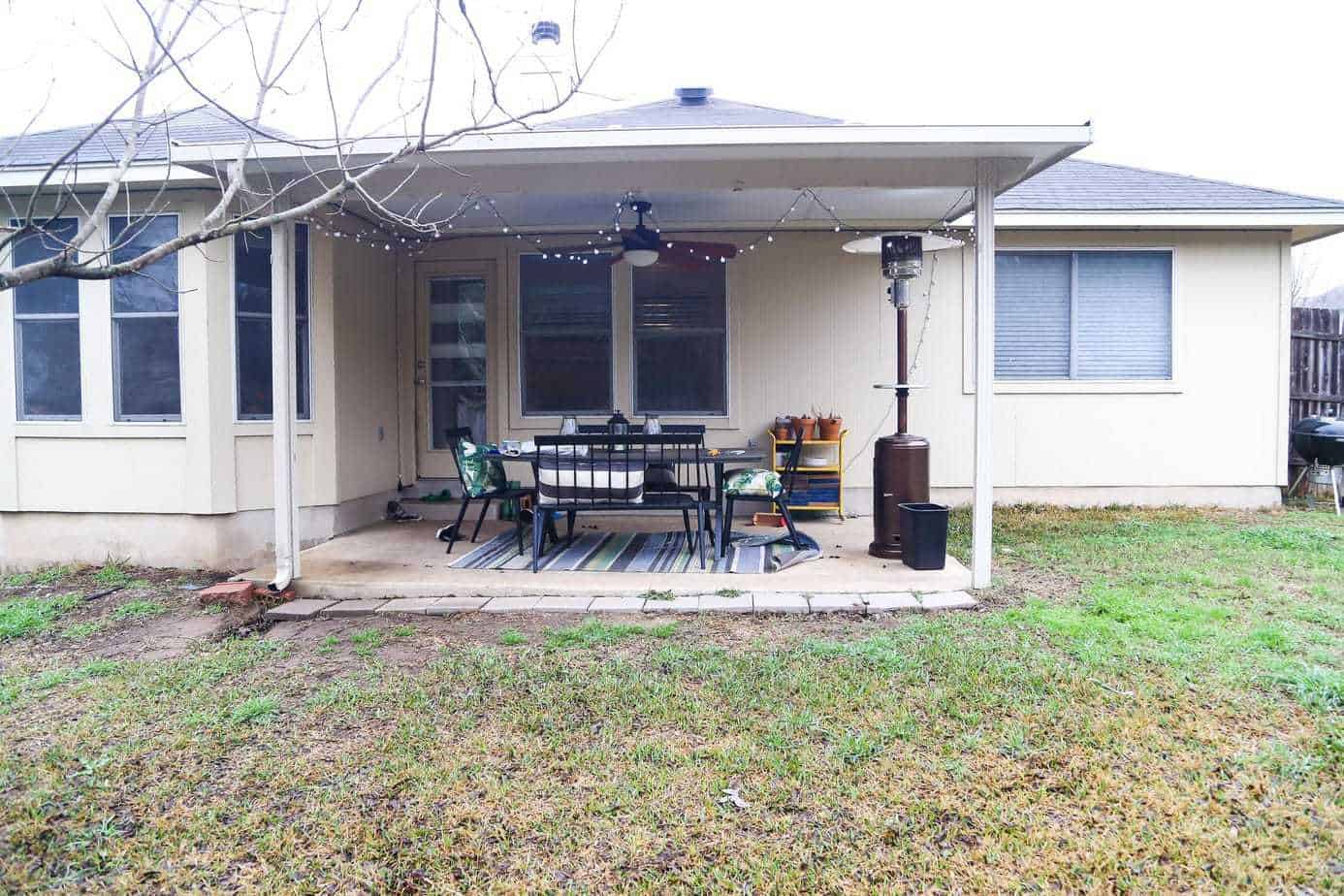 My very favorite thing about our backyard is that we have a covered patio – it's so nice to be able to hang out back here without worrying about the sun beating down on you, and it's a really spacious area. We've currently just got a jumble of furniture out there (along with a giant space heater), so we need to do some arranging and playing with things to figure out what's going to work best. I'd love to add some art to that big blank wall by the back door and maybe get some storage out here to make it easier to keep our outdoor dishes a little closer to where we'll use them.
As you can see, we have a bunch of dead plants on the patio (cute, right?) because I failed to bring them inside during the multiple freezes we had over the winter. I'm a terrible plant mom. Obviously one of the first orders of business will be to clean all of that up and grab a few new plants that I hopefully won't immediately murder.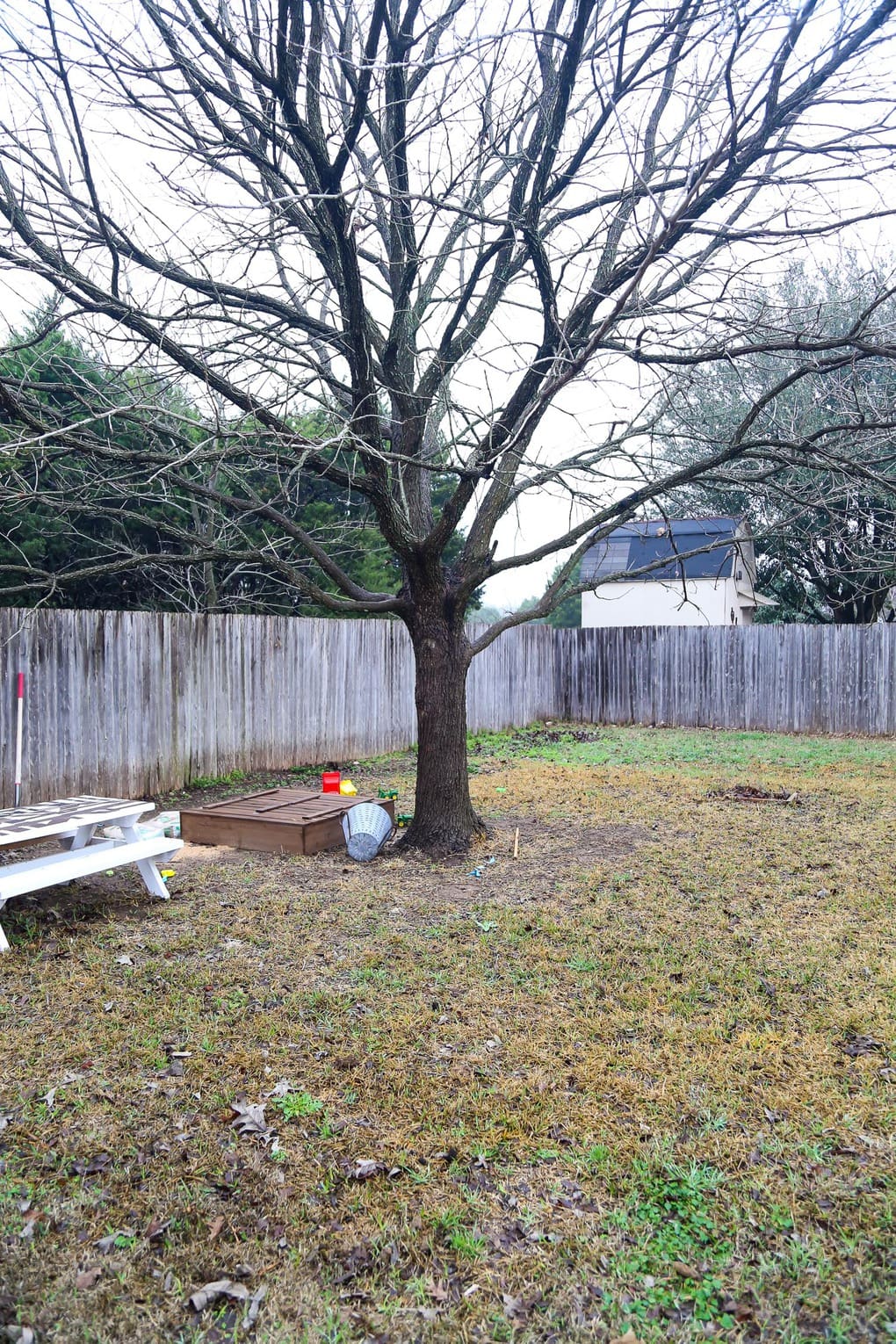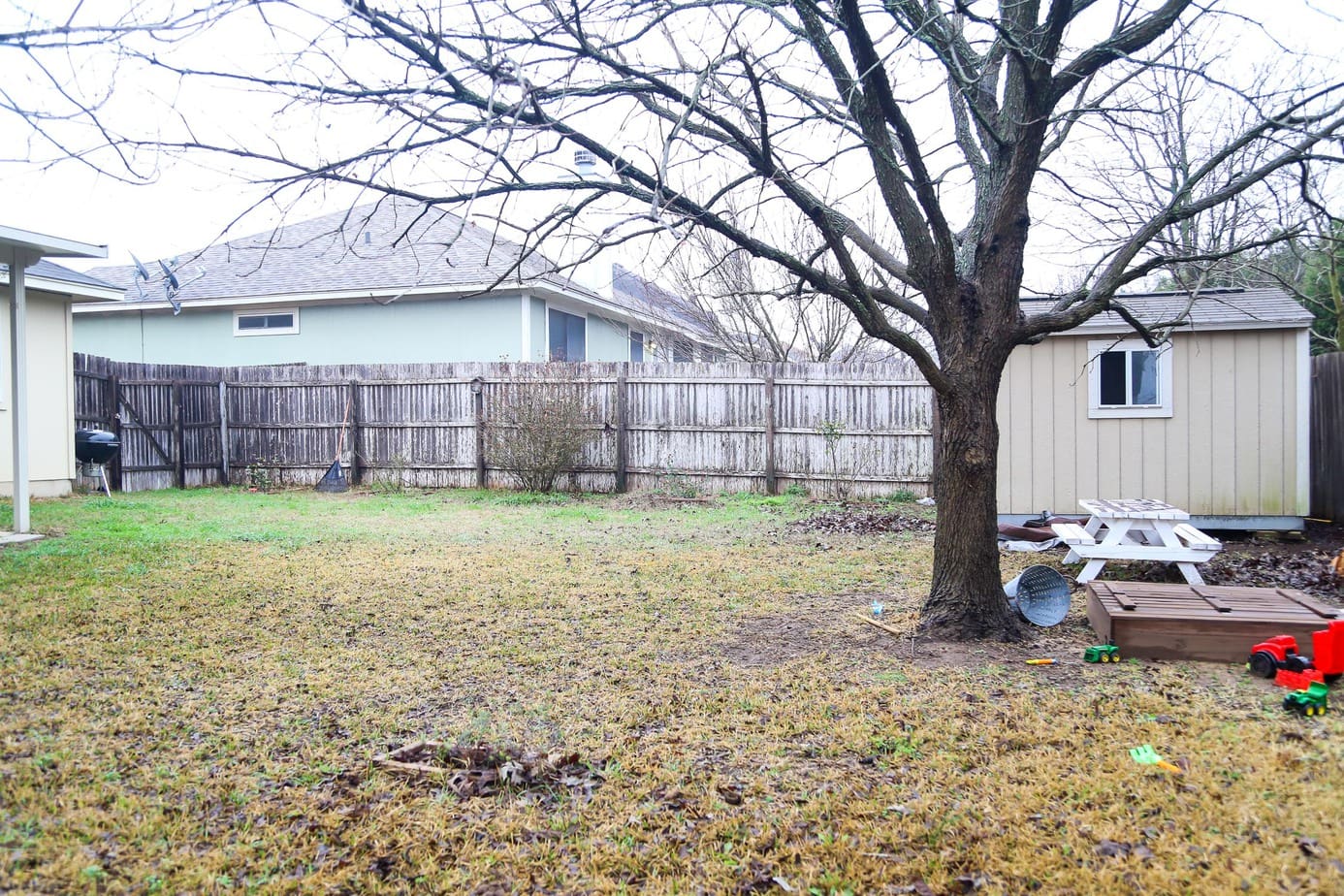 Speaking of cleaning up…there's quite a bit of that to be done out here. The weather has been mostly awful lately (I ran out to snap these photos in-between rainstorms one afternoon), so Corey and I haven't been motivated to get out here and deal with all of the random junk that needs to be dealt with. Like the supplies left over from setting up Jackson's sandbox, the leaves that we raked into a pile but never put into a bag, and the toys that Jackson has left lying all over the place.
What can I say? This is the "before" post – it's supposed to look bad.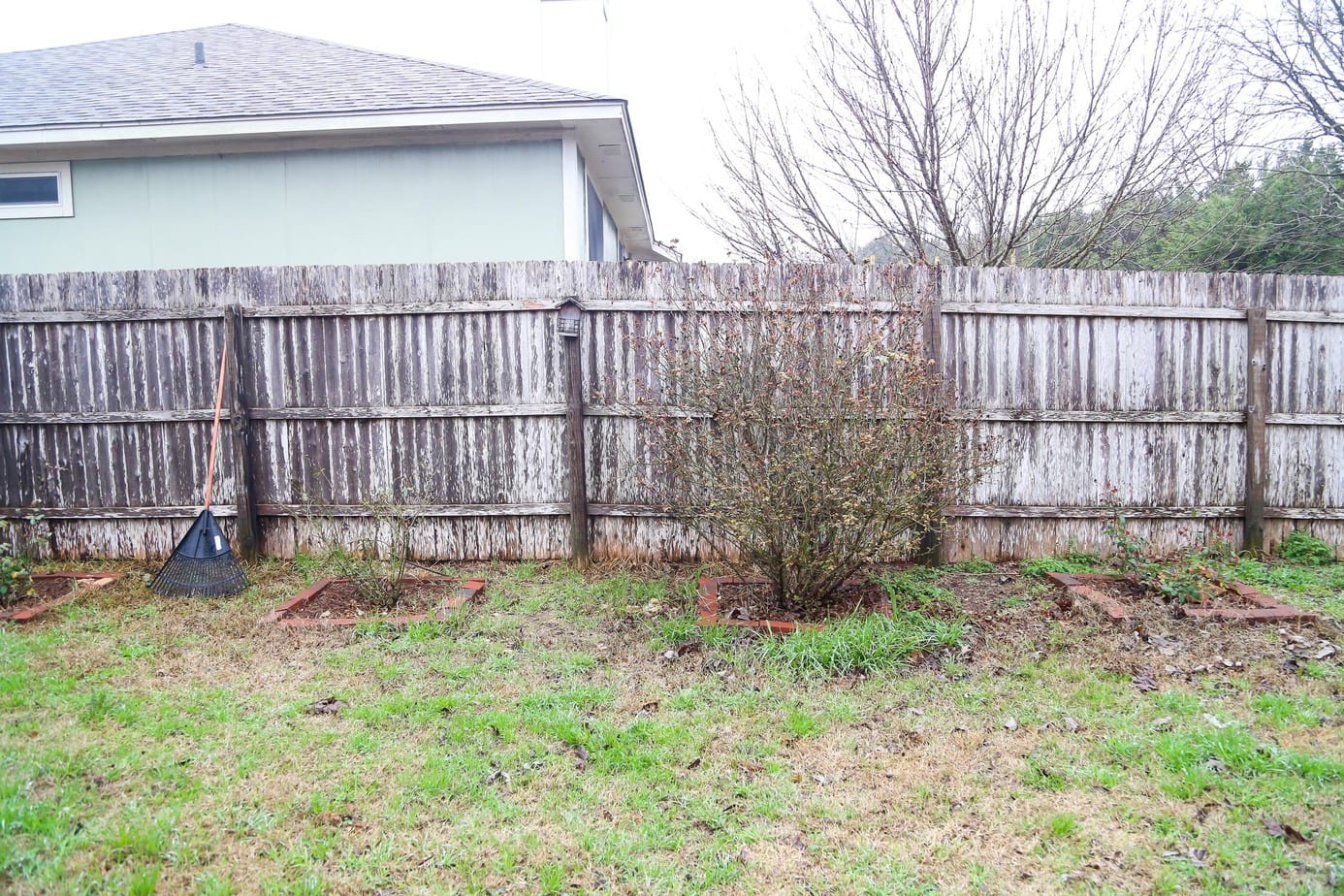 We have a few rose bushes lining one side of the fence – I know nothing about maintaining them so it's quite possible that I've already killed them (to be honest, I haven't touched them since we moved in November). Is anyone a rose expert? Should I do something to them or are they already beyond all hope?
We'd like to add a garden back here – we've been talking about doing a raised garden bed for a few years now and just haven't gotten around to it. But, this will be the year that we finally take it on and get serious about growing our own food. I'm starting to do some research and figuring out what we want to start with, but you know I love your tips so if you have any, throw 'em at me!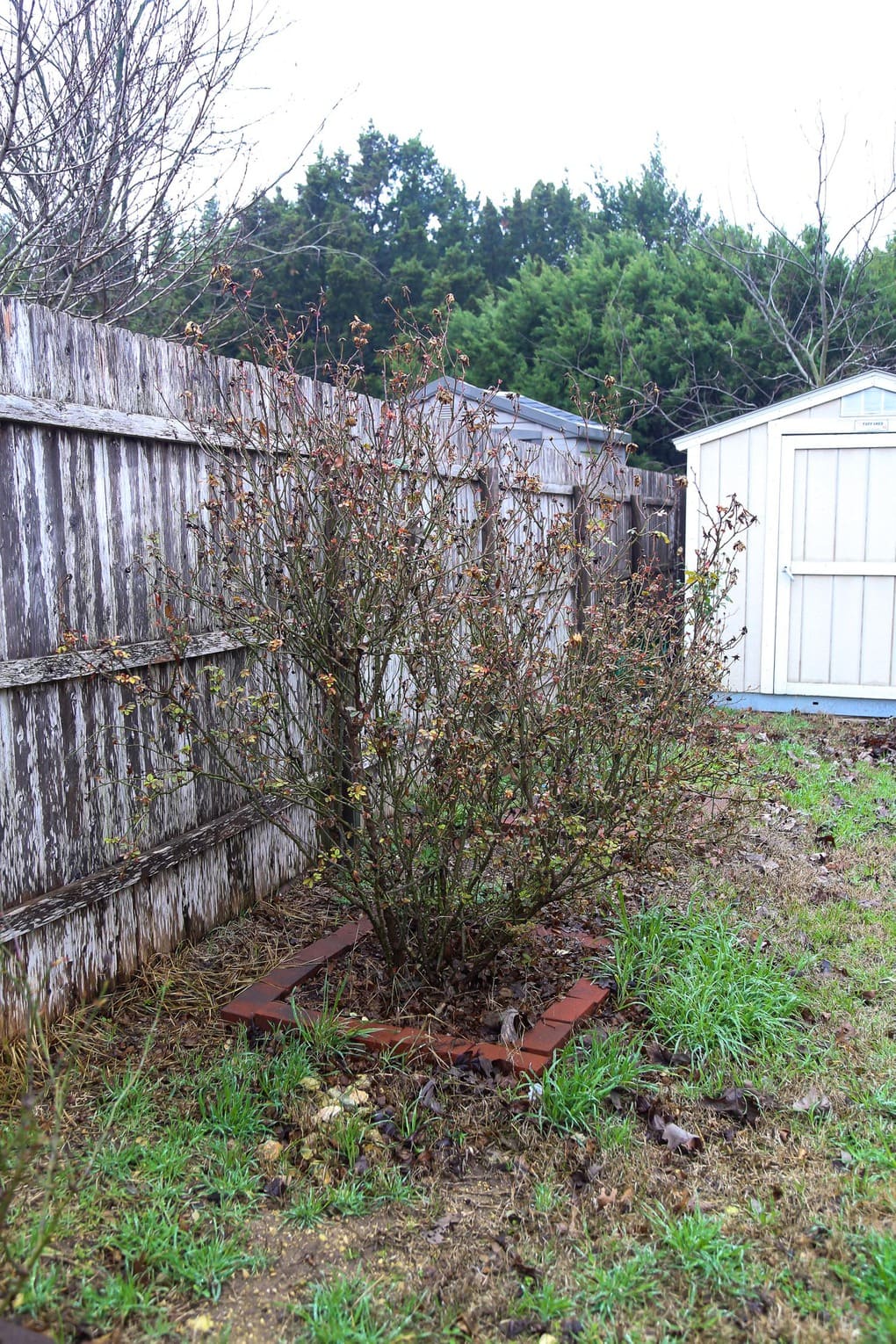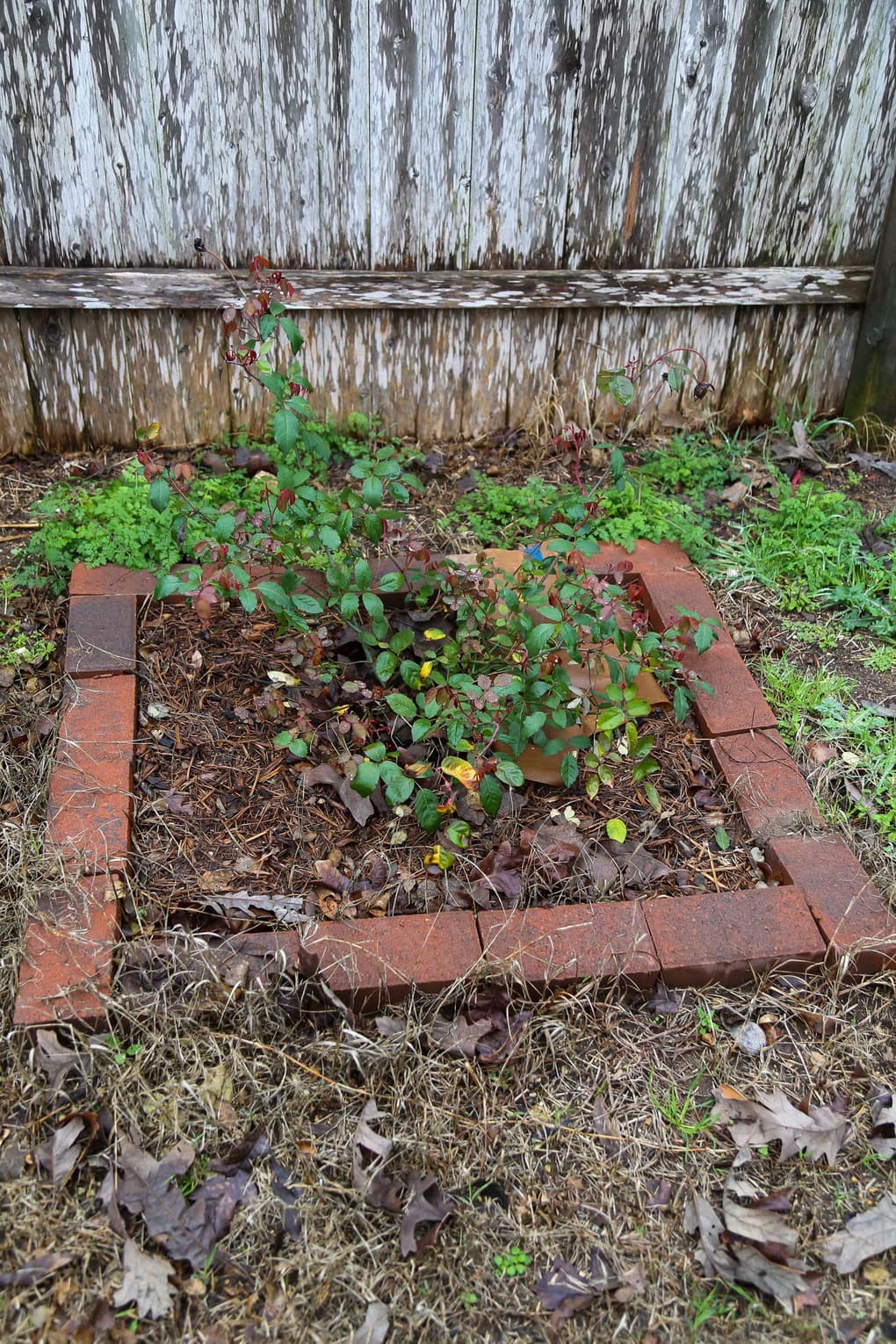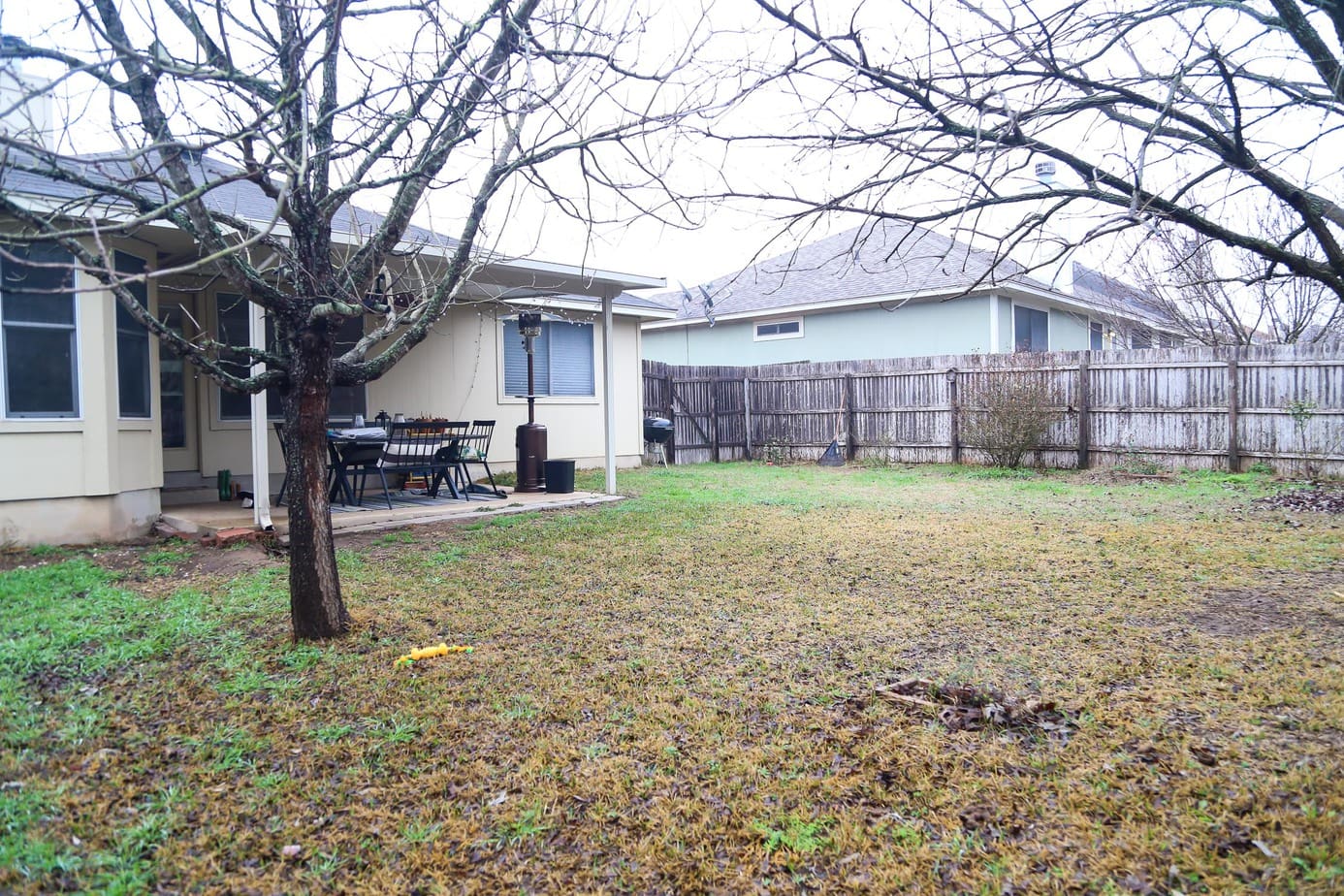 Overall I think we have a really great yard that has a good amount of potential. Despite being smaller, this space is much more functional for us than our old backyard – Jackson spends much more time out here playing by himself than he ever did before, and I can see him easily from the house when he's playing in the backyard. Once the weather warms up, I can see myself working on the patio while he plays in the sandbox – something I rarely did in the old house because of the lack of shade.
So, what's actually on the agenda this year? Here's my quick list of what I'm hoping we can accomplish in the yard this spring and summer:
Do a thorough clean-up and get grass growing by the back fence
Figure out if we can save the rose bushes – if not, pull them out and clean up that side of the yard
Build a raised garden bed and actually grow something
Paint the back door
Get some storage for Jackson's toys and other outdoor supplies
Add some art to the wall by the back door
Replace all of the dead plants, find a better way to display them
It's all pretty minor stuff, but I think it'll be a good start and help us start to get a feel for what we'd like to do out here long term. I have a vision of someday adding a fire pit (maybe even with a small rock patio) in the back corner, but we'll see what happens. For now, I'm just thrilled to have a backyard that functions well for our family and that my kid loves to play in.
Also, we're constantly entertained by the family of squirrels who loves to chase each other across our roof and wrestle on the trees.
And by entertained, I mean our Doberman, Hadley, wants to eat them. Desperately.
What do you think about my rose bushes? Are they salvageable? Any first-timer gardening tips?