This DIY wood sign is perfect for your kitchen or dining room! Here's a quick rundown of how to make wooden signs for your home. This "Gather" wood sign is simple, beautiful, and super easy to make!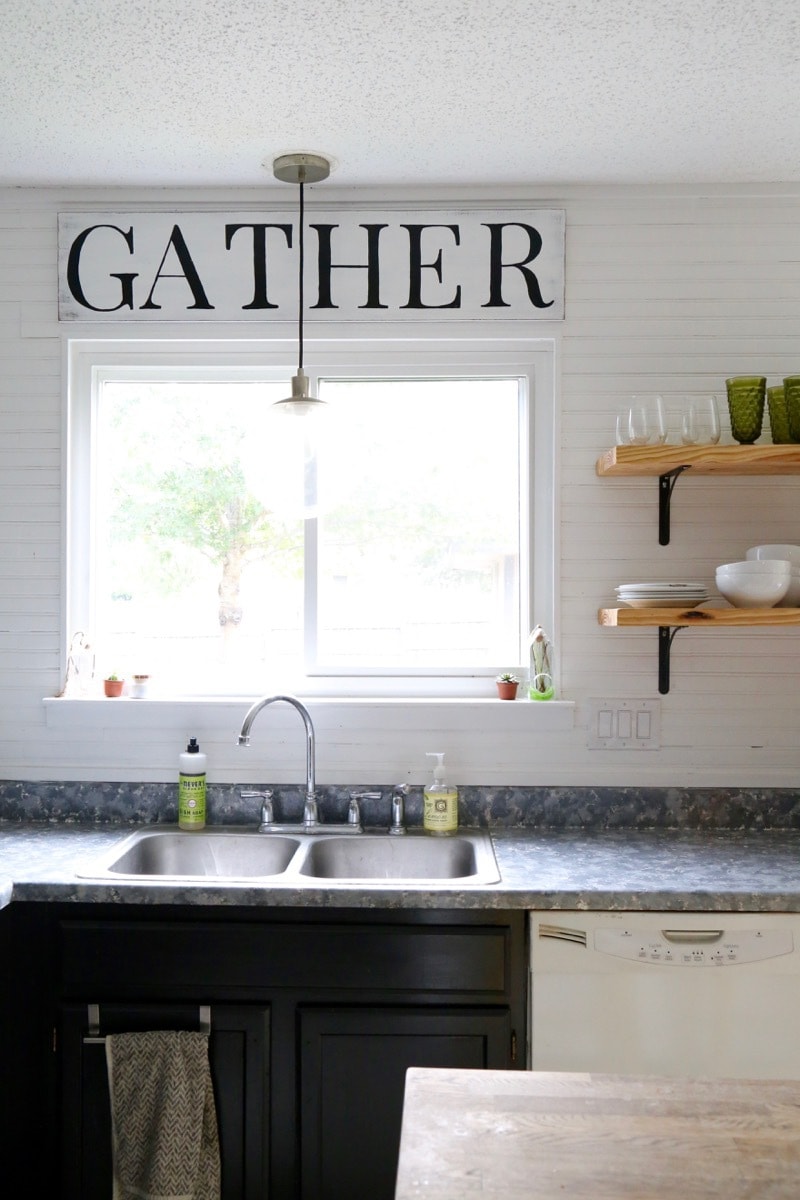 Y'all…I've gotta admit, I was a bit late to the Fixer Upper train. I heard everyone talking about it for months and months before I even attempted to watch an episode. I tend to do that with things that are mega-popular – I avoid them like the plague until I just can't handle the curiosity anymore, and then I finally give in.
Well, I gave it a shot a few months back and was instantly addicted. Chip and Joanna are exactly who Corey and I want to be when we grow up, and we're more than a little in love with their style, personalities, and everything about their Magnolia empire. Of course, since we live in Texas it's a little bit easier to get addicted. We're only an hour and a half from Magnolia Market so we took a trip there this summer and fell even more in love.
But, I digress.
When Corey and I visited Waco a few months back, one of the things that caught my eye immediately was their "Kitchen" sign. It was gorgeous but it was $85 and I knew I could create that on my own for a lot less. Corey and I spent some time brainstorming what we might like to do for our sign, and we were able to create our "Gather" wood sign for free using stuff we already had around the house. If you don't have a workshop full of project remnants to pull from, I'd estimate this project might cost you a whopping $20 to make yourself.
Ready to hear how to do it?
HOW TO MAKE A DIY WOOD SIGN:
(This post contains affiliate links for your convenience. Click here to read my full disclosure policy.) 
MATERIALS: 
One 1X12 pine board (cut to whatever size you need, we measured ours to fit with the window)
French cleat for hanging
DIRECTIONS FOR WOOD "GATHER" SIGN:
I started by staining and then painting my board. You could just paint it, but I knew that when I distressed it I would prefer the dark colored wood to be showing, so I went ahead and stained it first.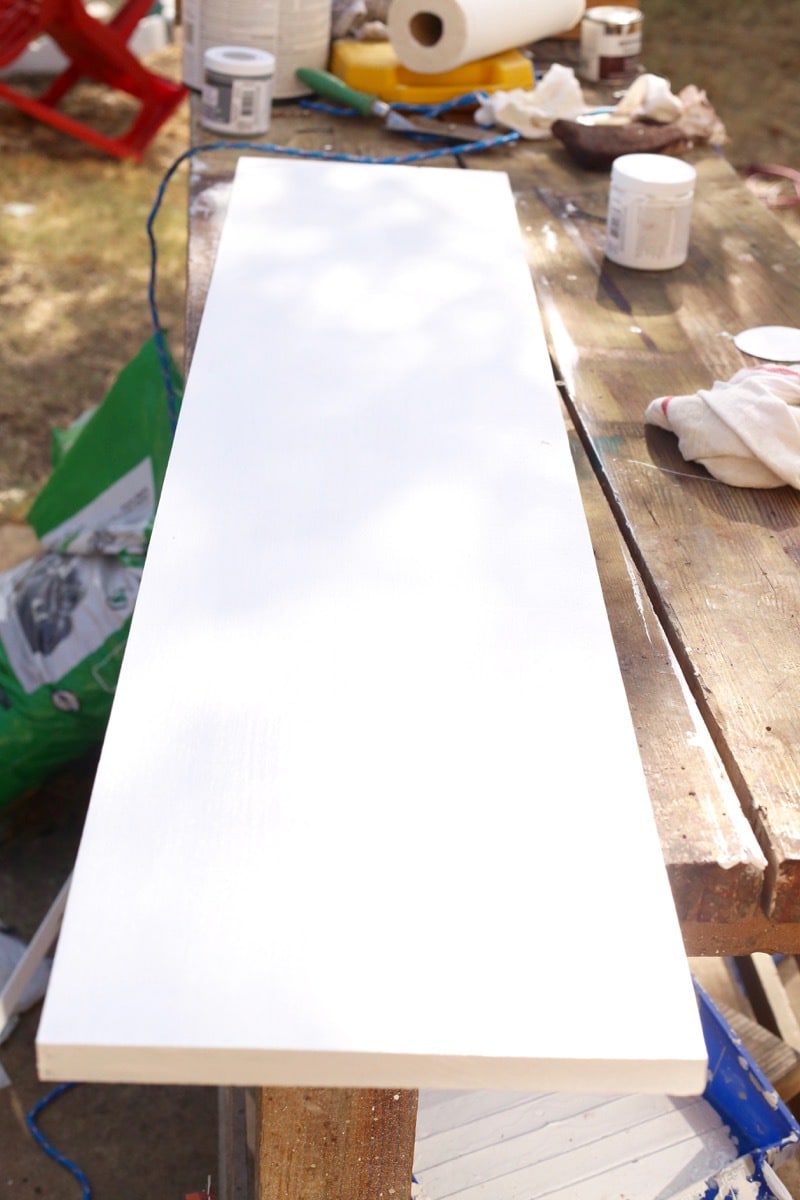 Once it was painted and completely dried, I did my distressing. I've never done a distressed project before, so this was entirely new to me! I'm not big on the super distressed look, and that just wouldn't really fit in our house, so I did some light sanding all along the edges of the board. I focused on the corners and the ends of the board and just lightly sanded until the paint started to come up and the stain was visible. There's no "right" way to do this – just try a few different techniques until you land on what you like. It's almost impossible to mess it up!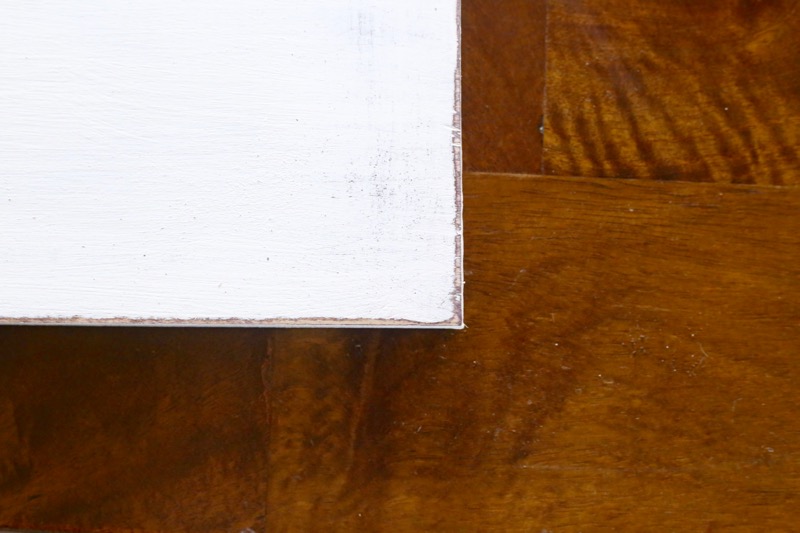 Once I had my boards properly distressed, it was time to add the lettering. I decided to try a new lettering technique (I've been using a shading/pencil transfer approach) and it worked so well. Here's how I did it:
How to transfer letters onto wood
I started by printing all of the letters for my board backward. To do this in Word, you just put the phrase you're typing into a text box and then right-click the text box and select "Format Shape". Choose 3-D rotation and rotate the text box 180 degrees. Then, just print and you're good to go!
I laid out all of the letters on my board upside-down. Meaning, the printed side was touching the board and the back of the paper was facing up. So, looking at the board the letters were facing the right way.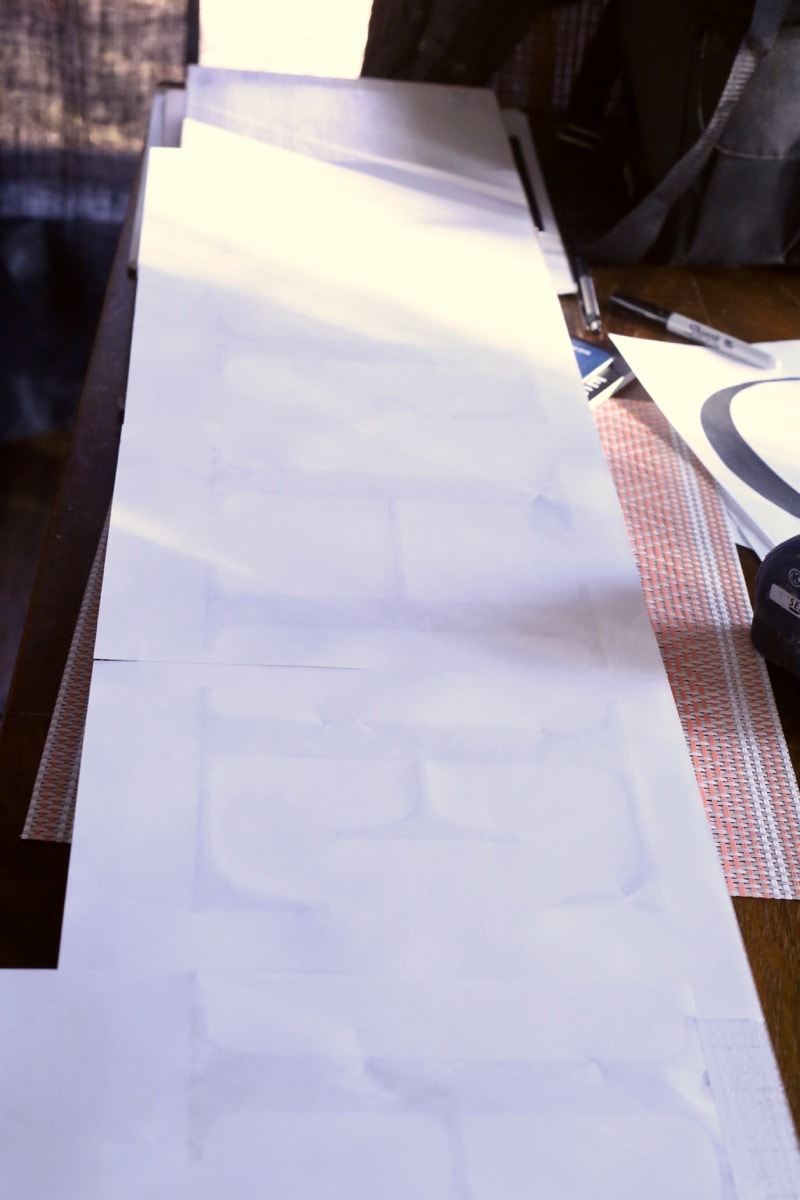 Then, I took a Sharpie (with the lid still on) and used a good amount of pressure to trace around the outside of each letter.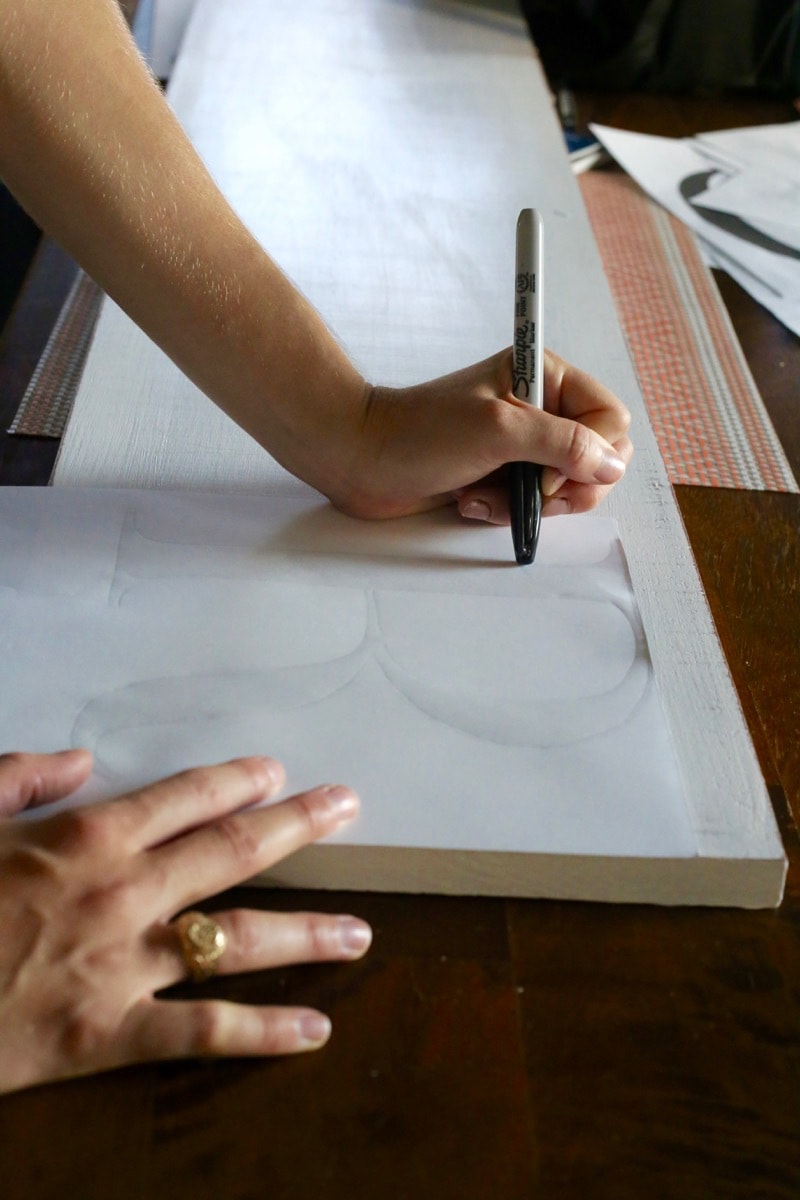 Then, I pulled the paper back and …. voila!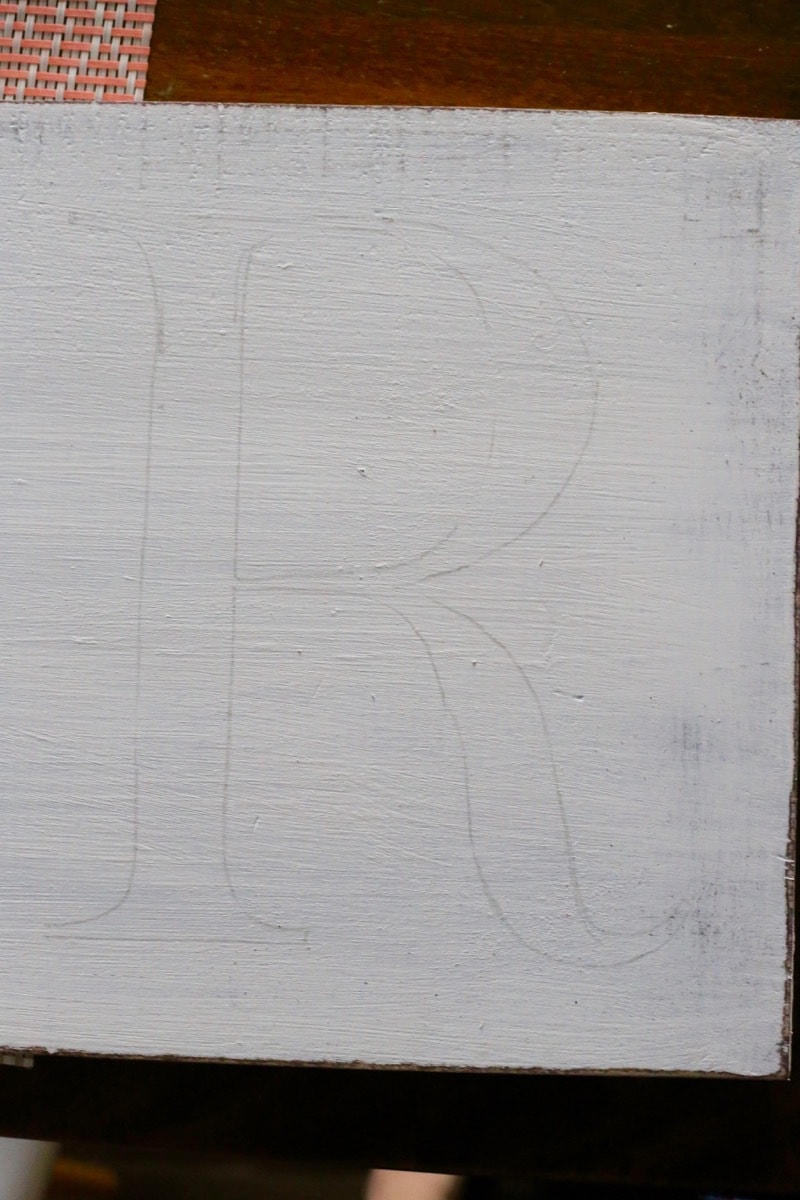 The ink from the paper transfers over to the board, and you've got a SUPER clear outline to trace! It's a lot quicker than the other technique, but it doesn't work on every material, so you may have to test it out. It works really well on wood, though!
Then, all that was left was to use my trusty paint pens (y'all, these things are the BEST) to trace and fill in the letters.
Hanging the Wooden Sign
Once we were done, we hung it up. Corey grabbed a metal French cleat system to hang it. All you have to do is screw in one side to the board…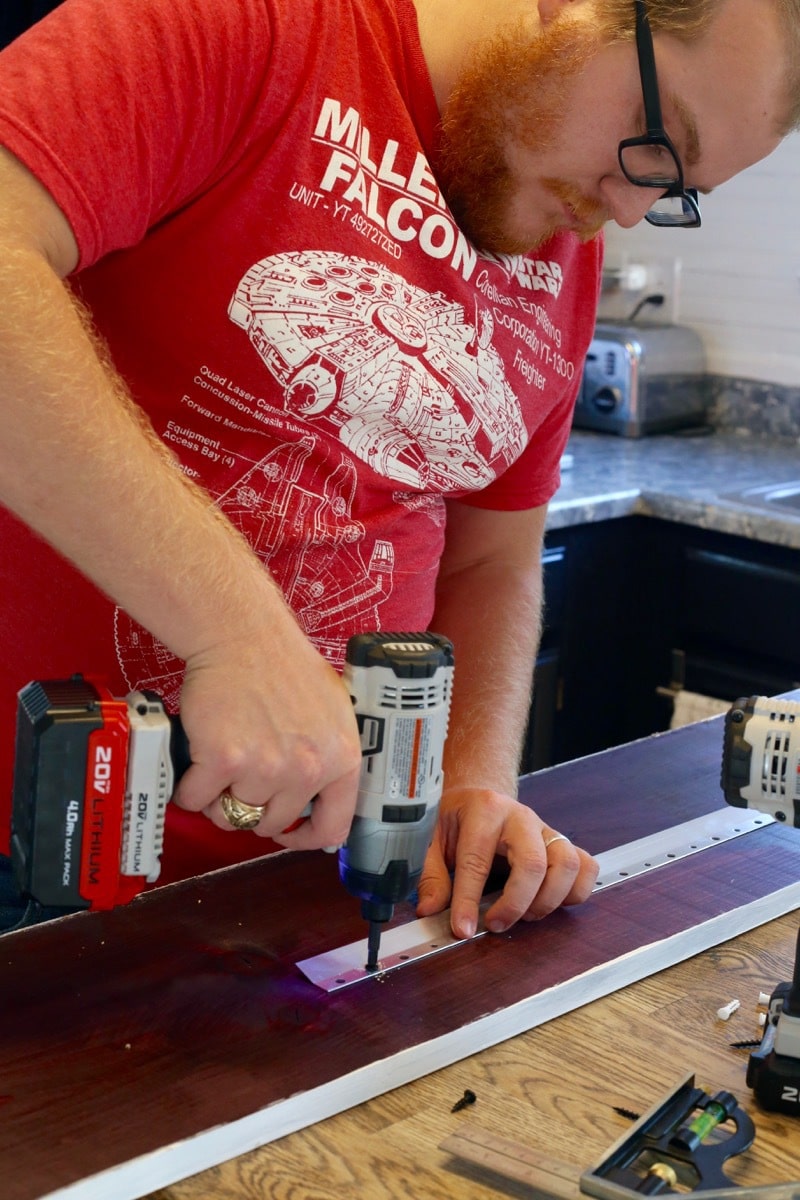 and screw the other side into the wall…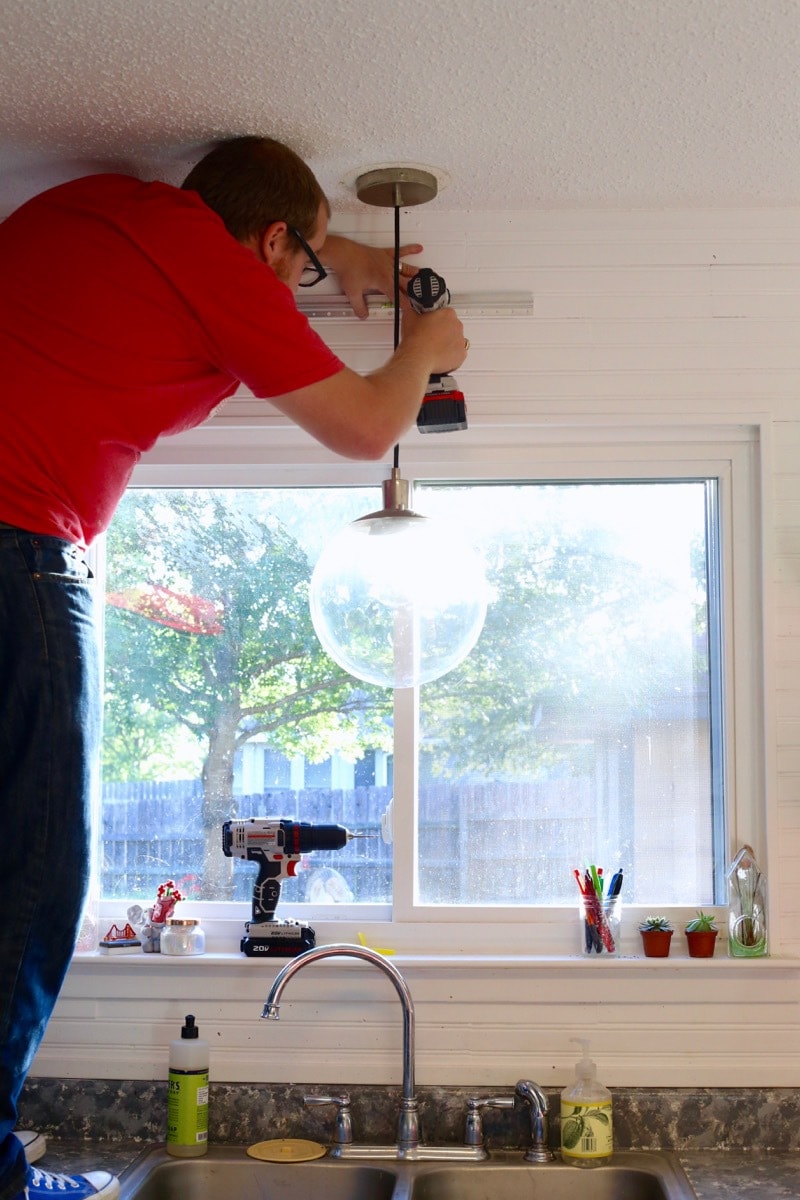 and then hang it! You can see how they fit together here:
It's crazy simple and very sturdy.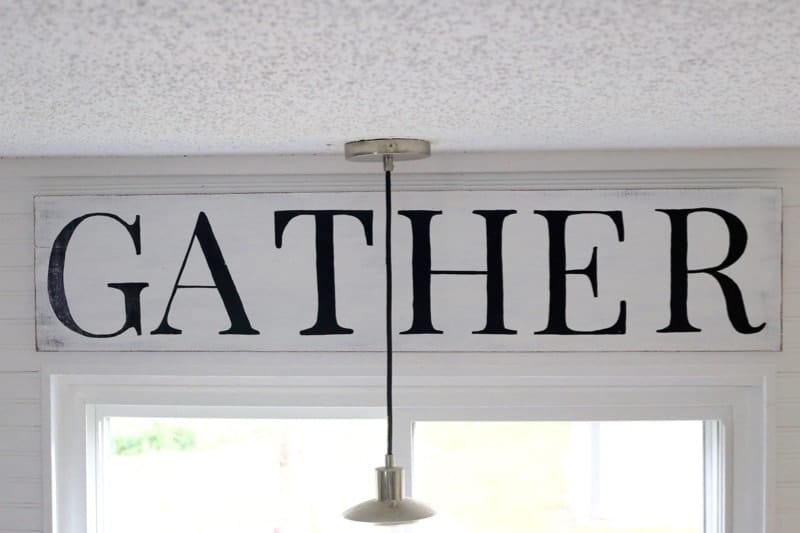 I'm so impressed with how this quick little Gather wood sign turned out – I love how it transformed my kitchen. It's visible from almost everywhere on the first floor of our house, and it makes me smile daily.
Our kitchen still needs quite a bit of work, but we have come a LONG WAY in the last year or so, y'all! From the painted cabinets to the painted countertops to the backsplash and open shelving, this room is a totally transformed area. We've still got a few minor things on our to-do list in here, but it feels good to start adding in some fun accessories like this sign!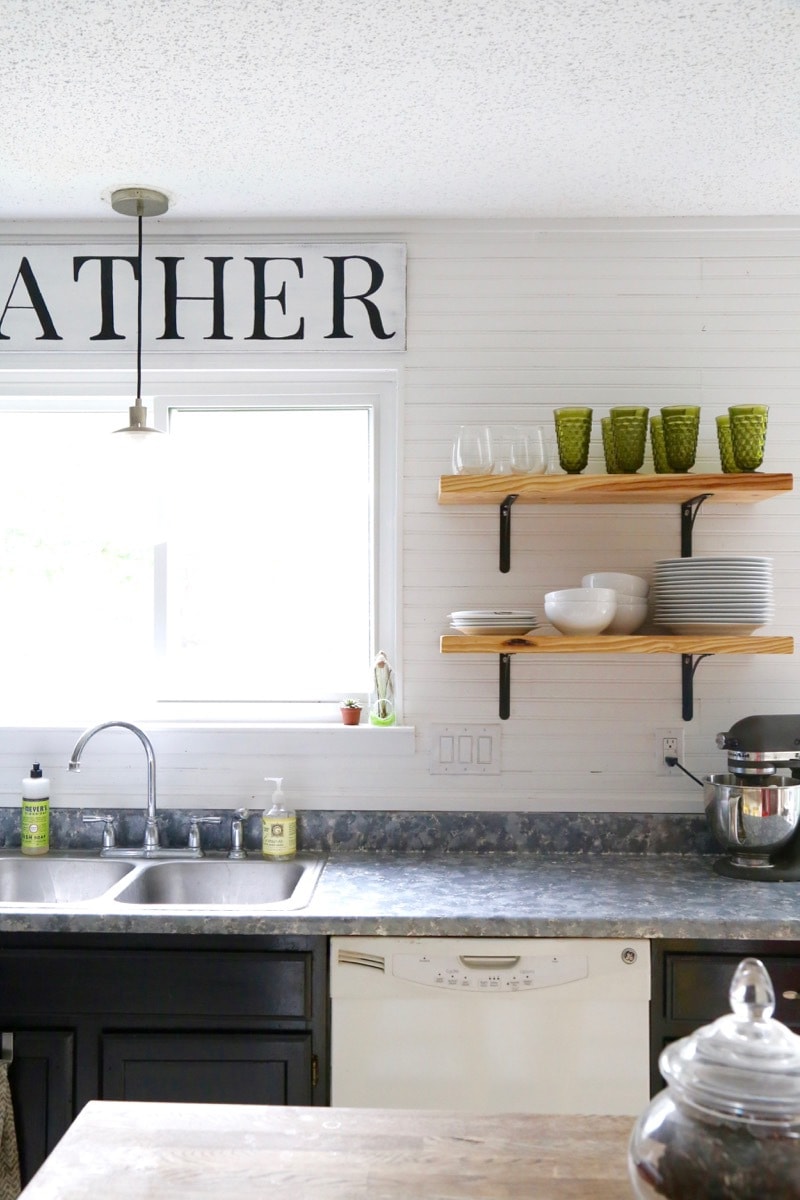 One of my favorite things about this sign is it lets me leave the window above my sink naked! We used to have a bamboo shade here, but I love the light that streams in at all hours of the day. I hated to have anything take away from that! The window didn't look quite right without anything around it, though, so this was the perfect solution. Now it looks intentional and not like we just forgot to add shades, and I can still soak up the late afternoon sun while I'm cooking dinner.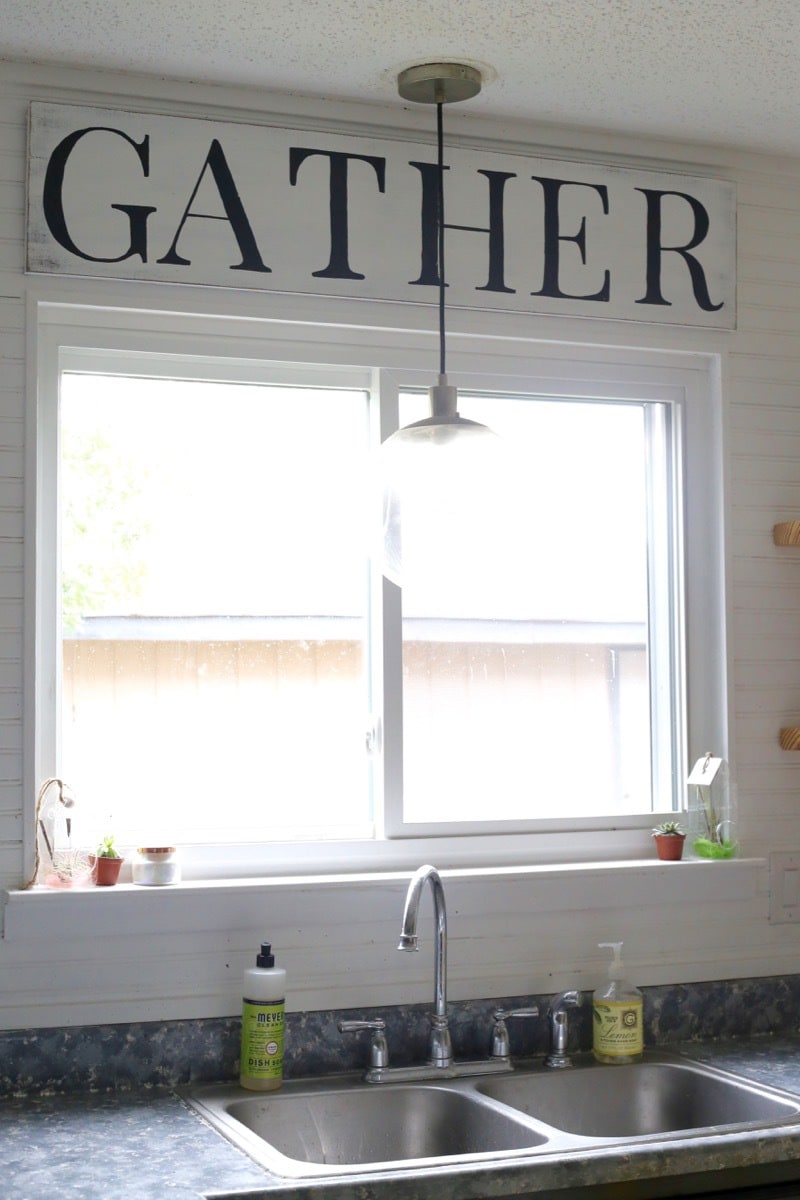 Shop the Post! 
If you see something you love in our kitchen, just click around below to find the source!

Next up in the kitchen? I'm determined to finally get some hardware back on our cabinets!
Have you jumped on the Fixer Upper bandwagon yet? What would you love to copy from Joanna's designs?!
Psst – Want other DIY sign idea? This wood carved sign is simple and so gorgeous, and here's a great way to make DIY signs for your front porch!