Ahhhhh!! We've been waiting, and anticipating, and building excitement, and going absolutely crazy over here for the last few months waiting to reveal our new house to you, and the day has arrived. We're all moved in (we've been here for just over a week, and if you follow me on Instagram, you've probably already seen some sneak peeks) and it's time to dive in and show you all of the details of our new house.
Get excited.
(I know I am.)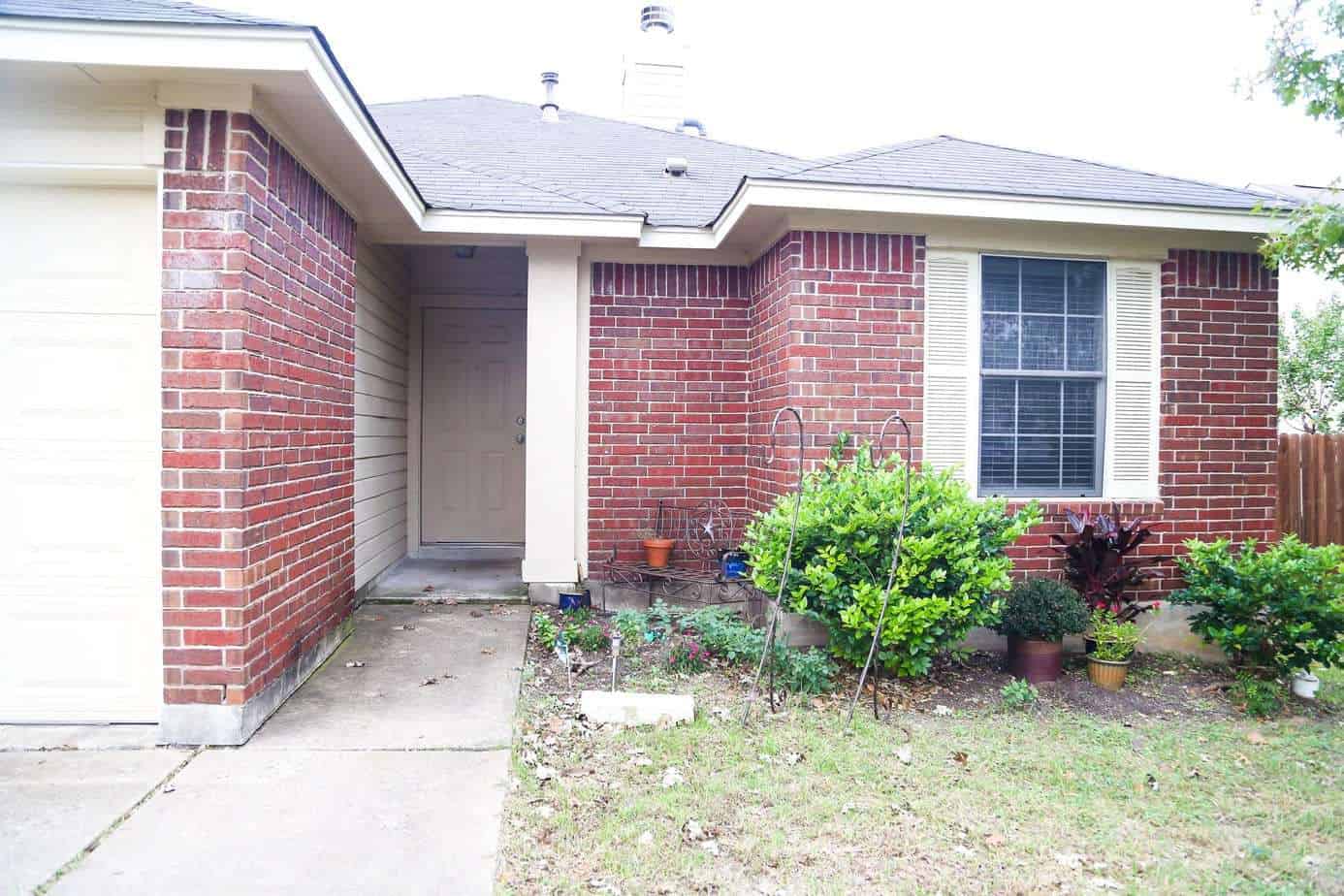 Here's the exterior of the house. One of the things I was really hoping for with this move was a larger front porch area (our entry in the old house was basically nonexistent). We don't have a full front porch here, but the entry is significantly better than it was in the old house – the previous owners left this little bench and a bunch of plants, so we still need to clean up and decide what we're going to do out here. I'm thinking we'll fill the area next to the sidewalk (where the bench is) with rock and use that area for seasonal decor and some plants. We'll see where we land on it, though.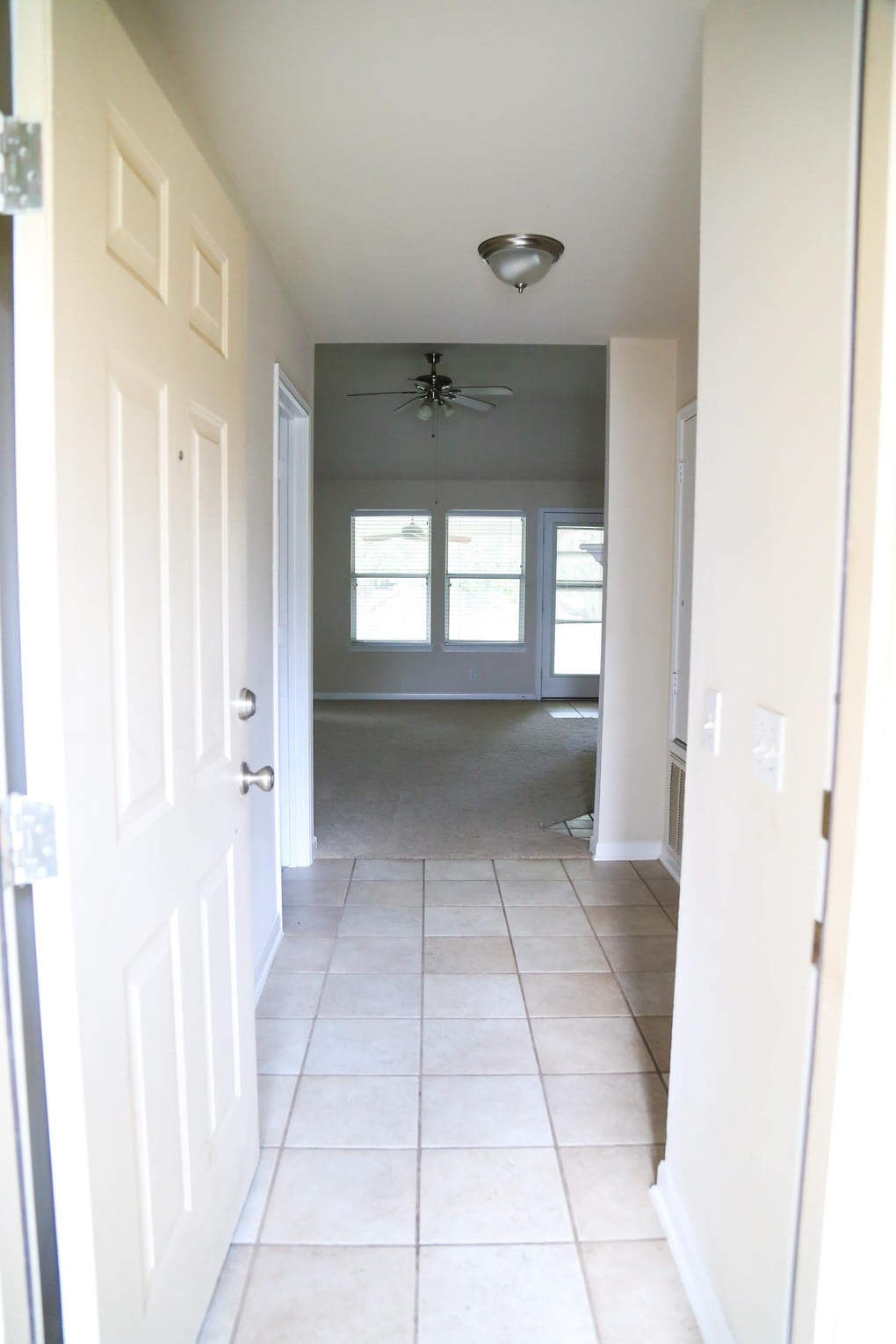 When you open the door, you see a small entry that opens up into the living room. The very first thing we did upon moving in (yes, we've already started the renovations!) was to replace the flooring. The previous owners had cats and it's just about impossible to get that smell out of carpet – plus, the carpet was clearly very old and was stained in multiple places throughout the house, and even had a couple of holes. Needless to say, it had to go. I'll share details of what we did for the flooring (and, of course, photos) soon – but if you want a peek, I'll share a bit on my Instagram story today!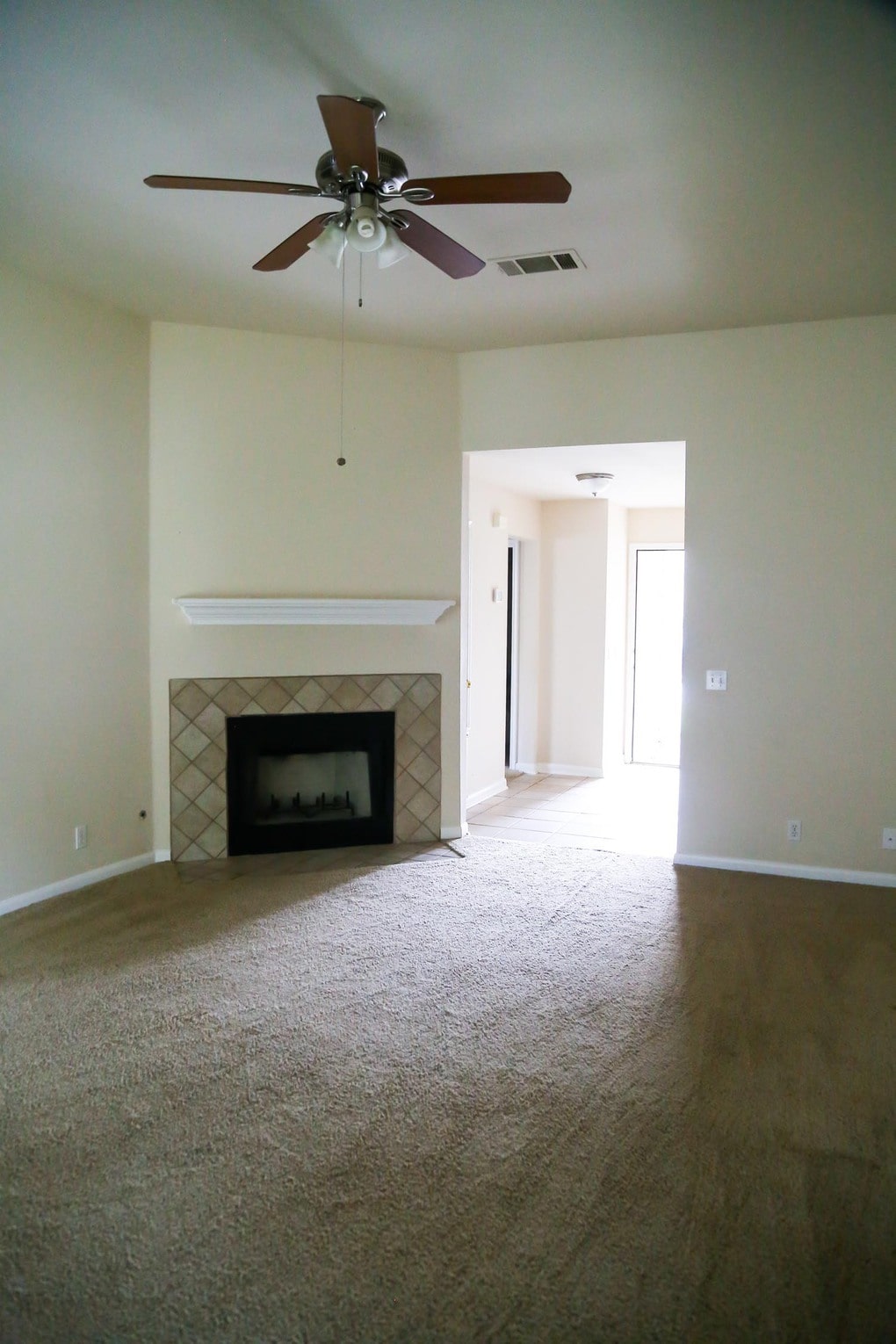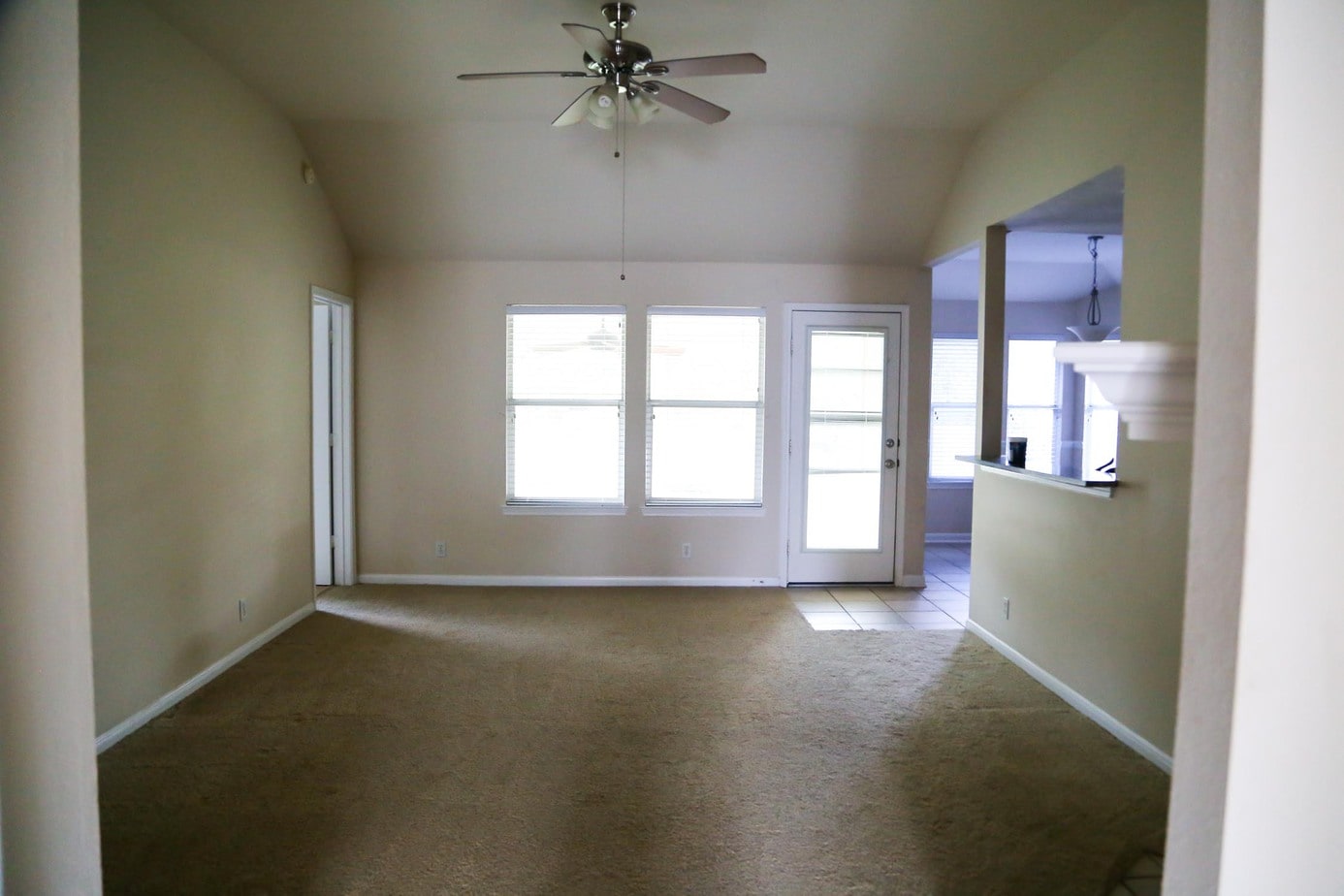 The living room is significantly smaller than what we're used to (which is going to be a theme in this house – it's about 500 square feet smaller than our old house) but I love how open it is to the kitchen. We've got a fireplace (which I desperately wanted), and vaulted ceilings. We're still playing around with the layout of furniture in here, but we've got a new couch on the way and we're hoping to squeeze in some armchairs too. We'll see!
The kitchen is tiny but totally functional. We've got granite counters, which is a major upgrade from the painted laminate counters in our old house. This definitely isn't the color or pattern that I would have chosen if I was buying it, but I won't look a granite gift horse in the mouth – we've got nice counters, and we'll be keeping 'em. We will, however, be painting the cabinets, replacing the backsplash, and maybe even a few other large-scale projects in here down the line.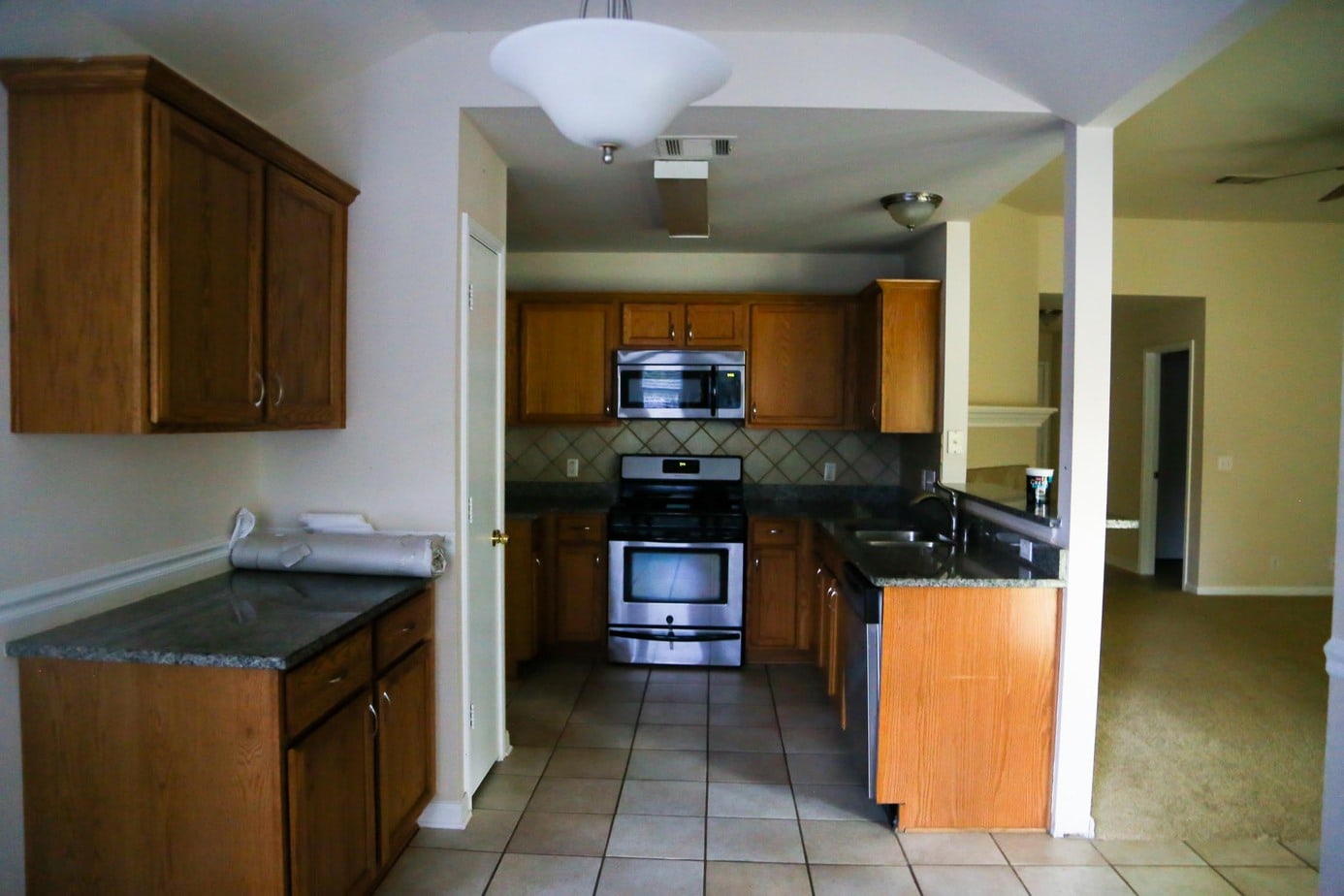 If you turn around from this view of the kitchen, you'll see the dining area. We were seriously spoiled in our old house with a large formal dining room (that we used regularly) and a breakfast nook, so this is probably the biggest adjustment we're dealing with right now. My vision for this space is to build a banquette under the windows and get a larger round dining table so we can seat at least 6 people in this area. It'll be a tight squeeze, but it's totally doable, and I think it'll look beautiful.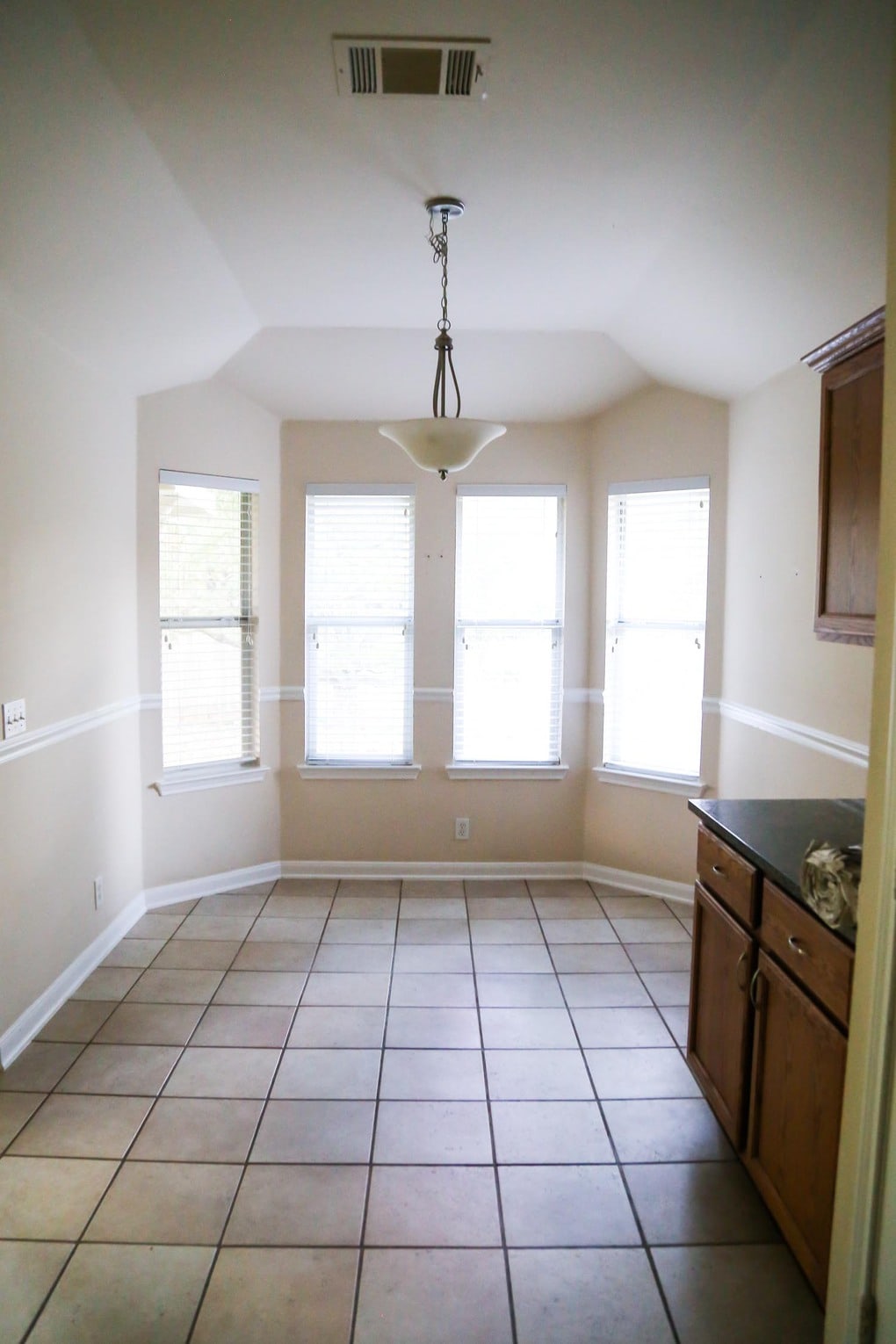 Right off the living room, you'll find the master bedroom. It's a good size and has vaulted ceilings – and a pretty little window that looks out onto the backyard (which is way better than the street view at our old house). We're planning on tackling this room sooner rather than later – we hated that we never really loved our bedroom in the old house, so we're determined to do better this time around. We've already painted the room and made a few updates to our bedding that I can't wait to share – we're going in a pretty different direction this time around and I'm loving it so far!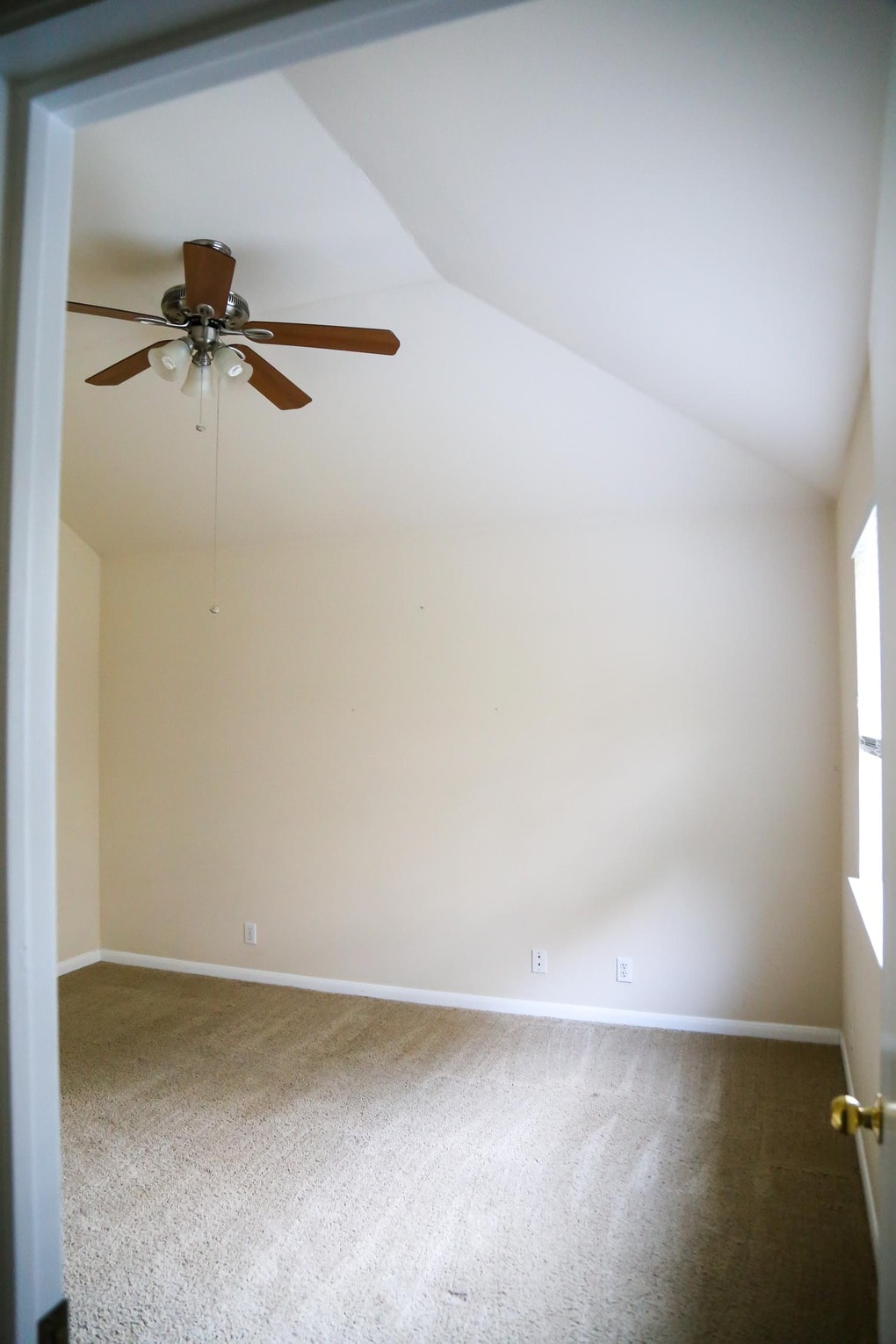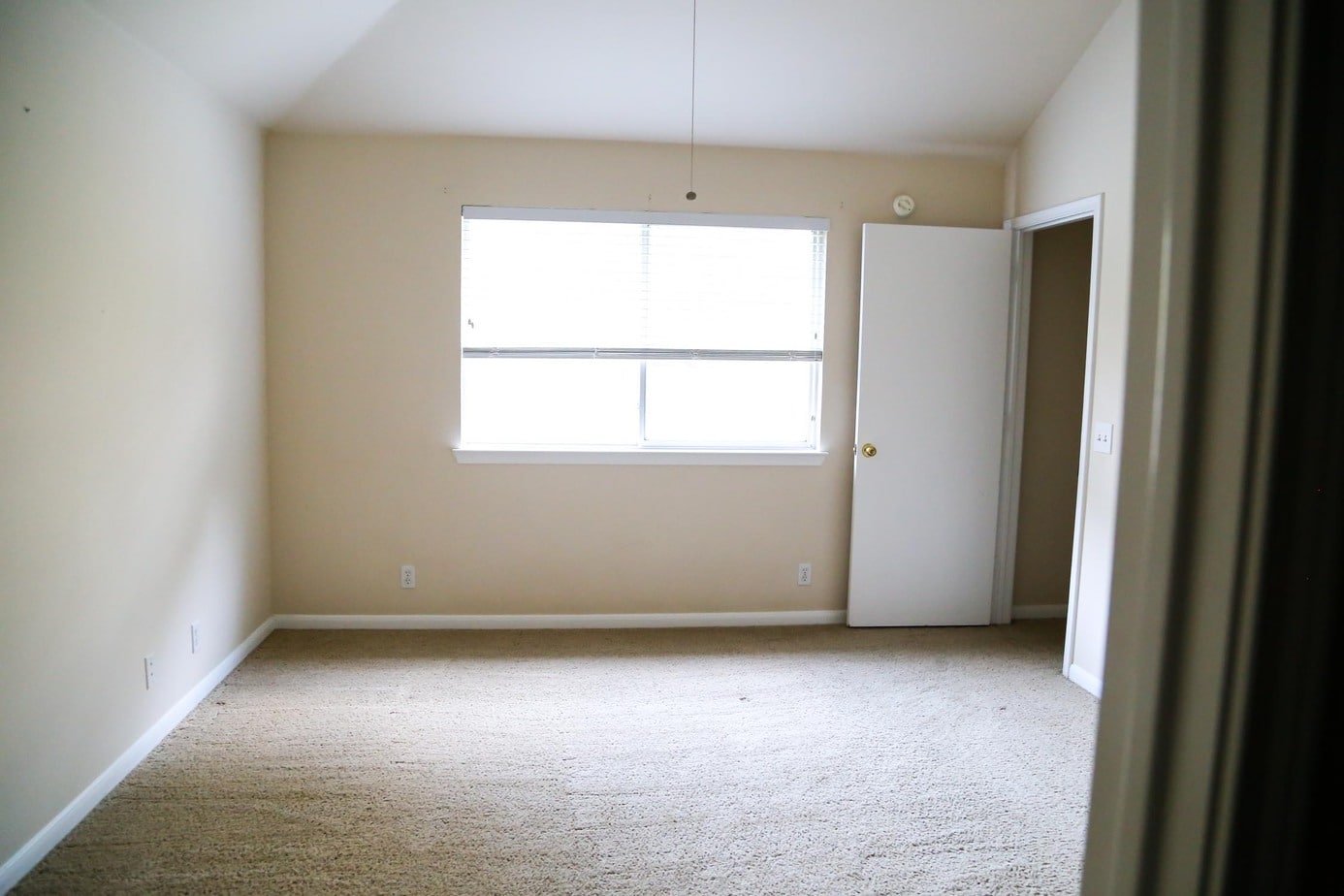 Right off the bedroom, we have the master bathroom. I'm really excited about this space, and I think it really has a ton of potential. It's a great size, gets pretty good natural light from a small window, and has a large closet. If we really wanted to go crazy someday, we could knock the closet out and re-arrange things in here a bit, but I think it'll probably work for us as-is. It just needs some fresh tile and a little love!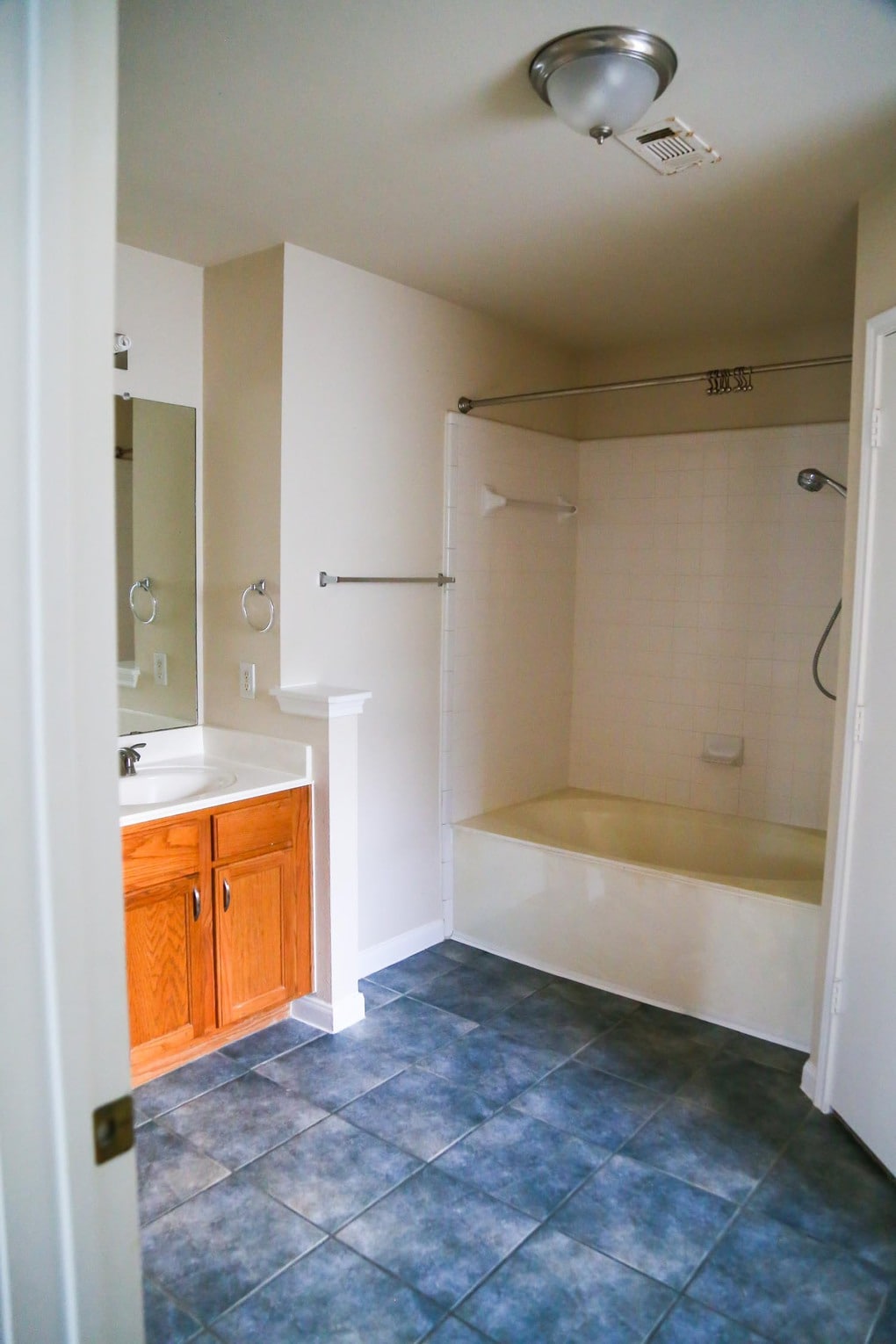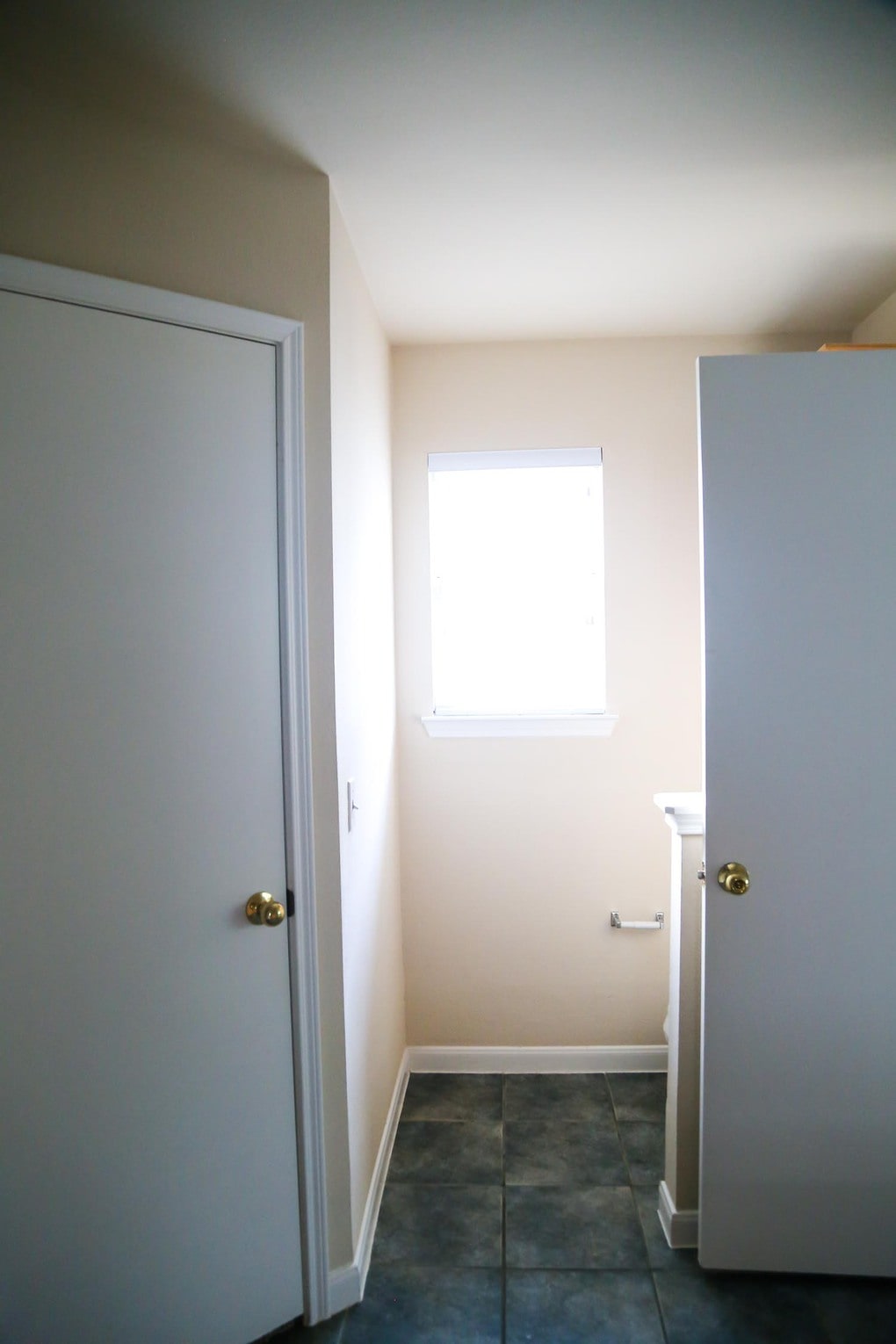 Back in the entryway, if you would have turned to your right instead of heading into the living room, this would have been your view: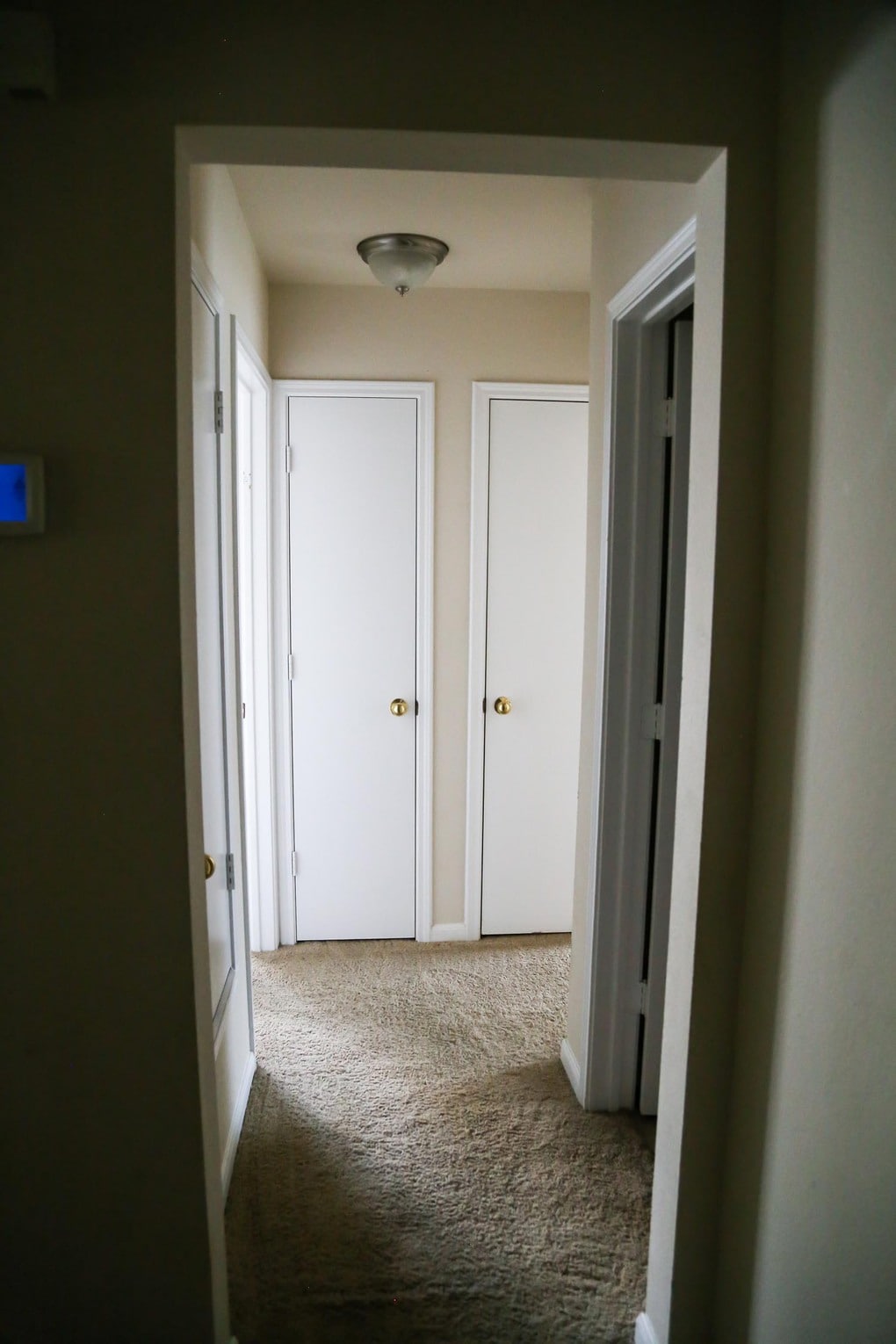 This tiny little hallway leads to Jackson's bathroom and the other bedrooms, with two small closets at the end. The first door on the right is the bathroom – it's nothing special, just a small guest bathroom.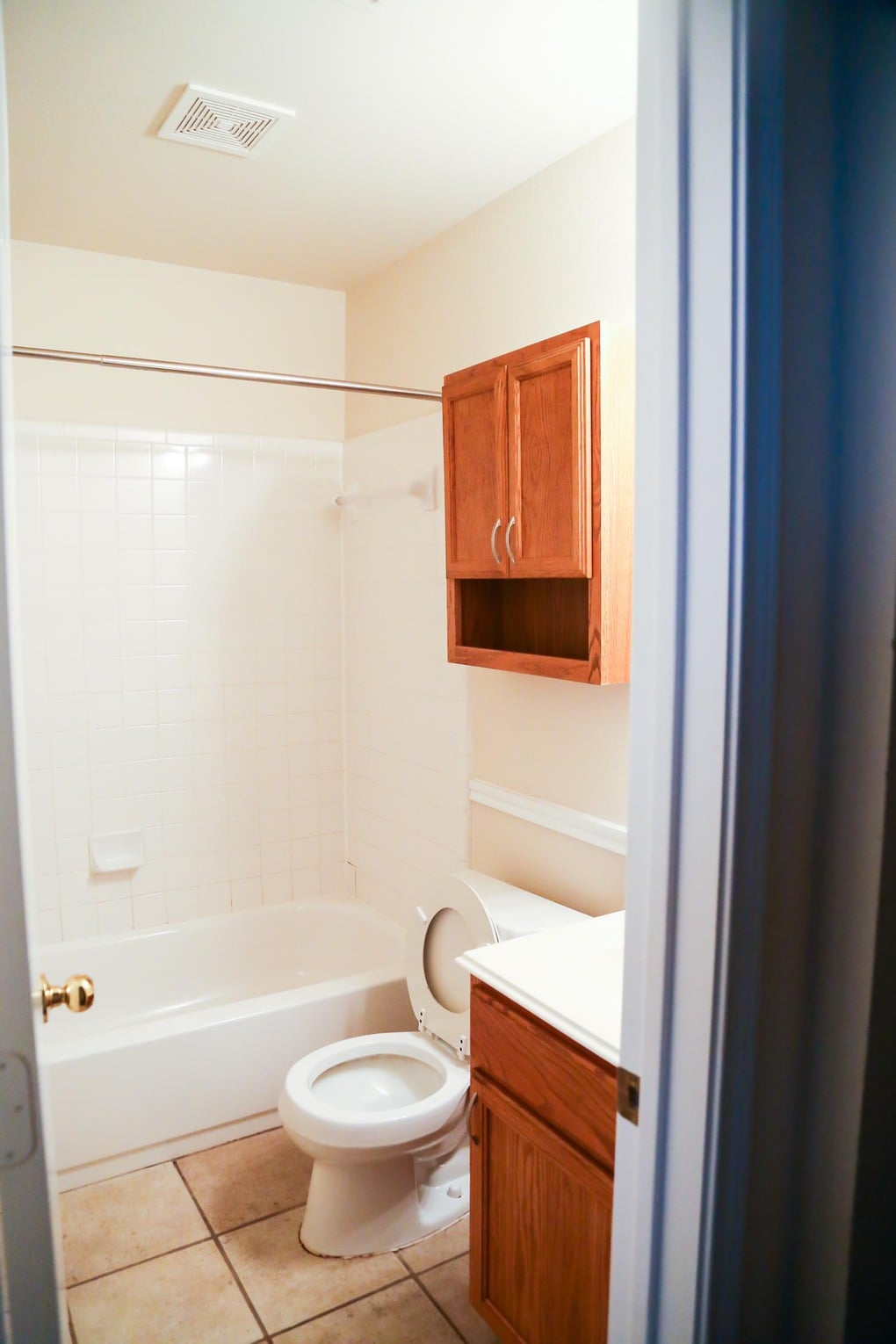 Beyond that are two almost identical bedrooms. One of them is currently an in-between room (part office part storage part playroom) and will eventually be a nursery…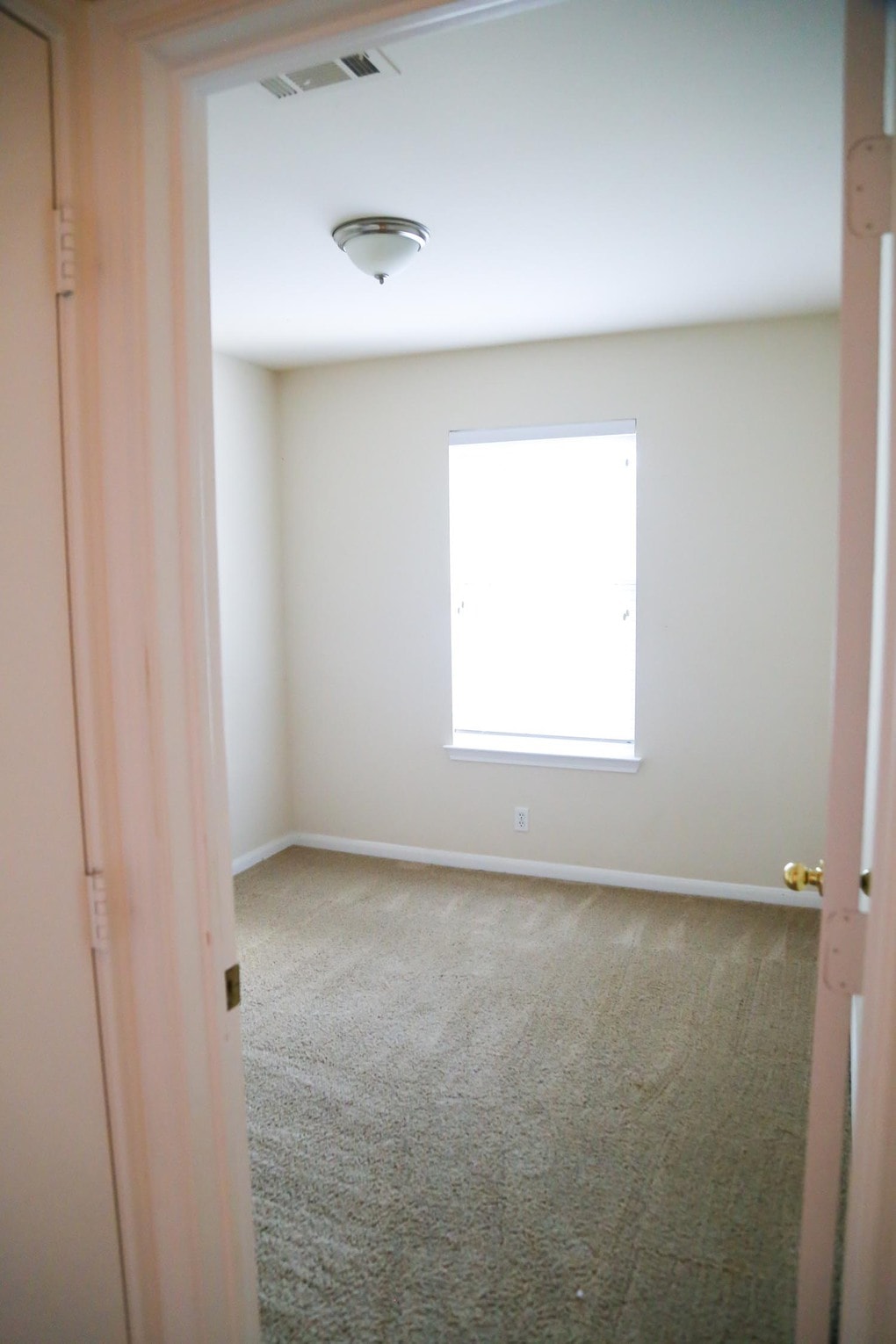 And the other is Jackson's room. As you can see, he made himself right at home and started playing before we even started moving in.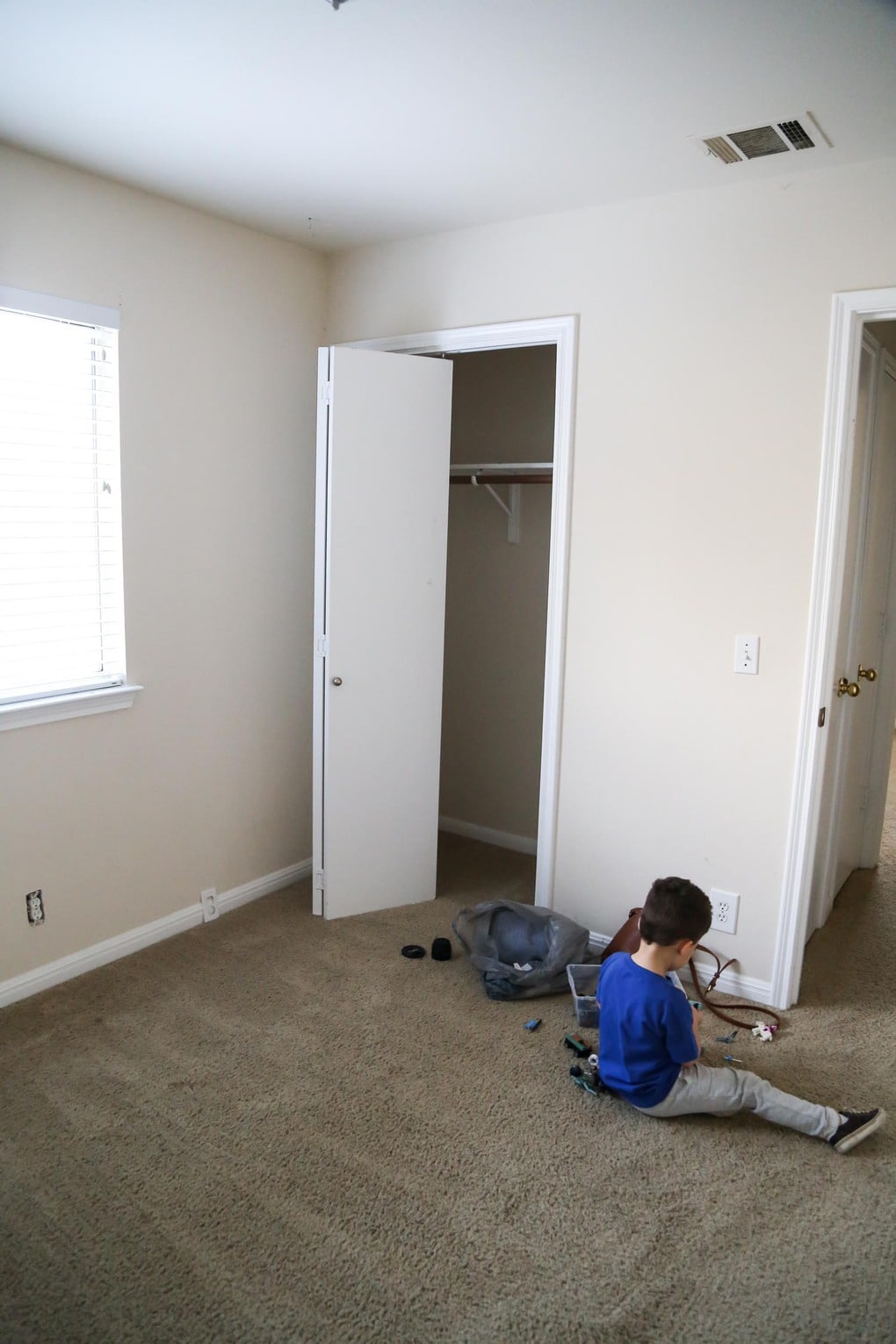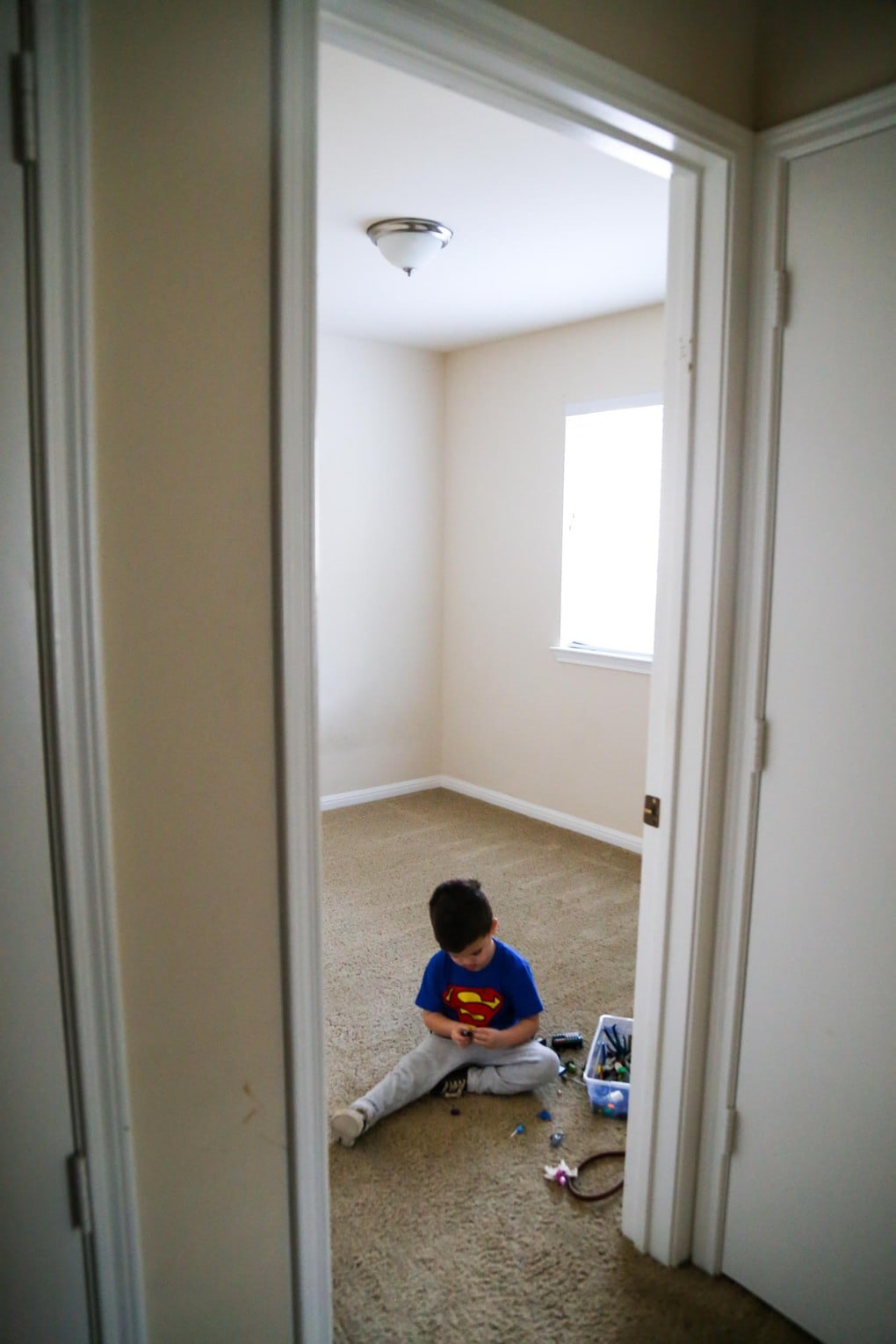 He is really excited to have a say in designing his bedroom, and we've already got some really fun plans in the works. I'm excited to see how it all turns out in here – his room is going to be seriously adorable.
Last but not least, we have the backyard.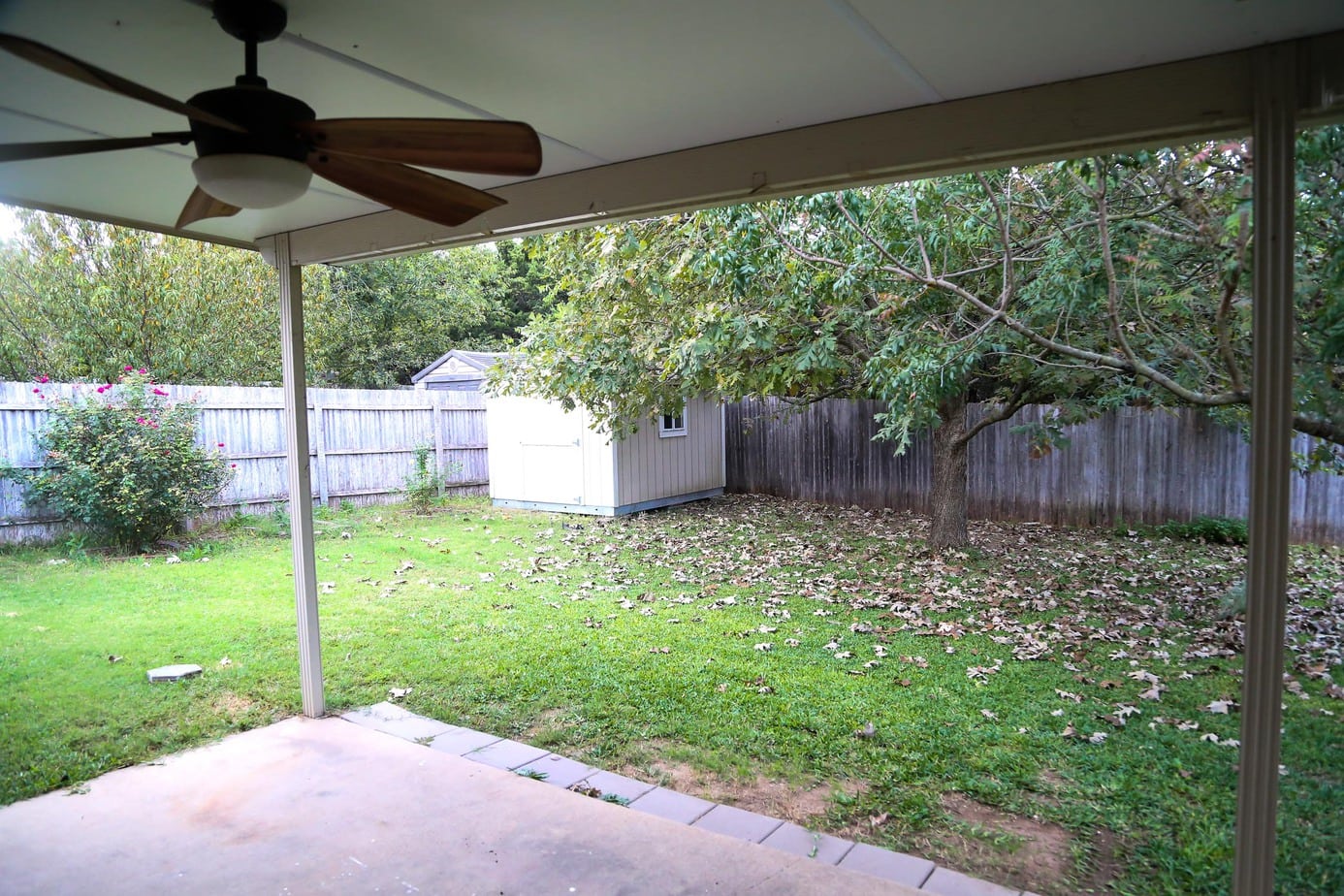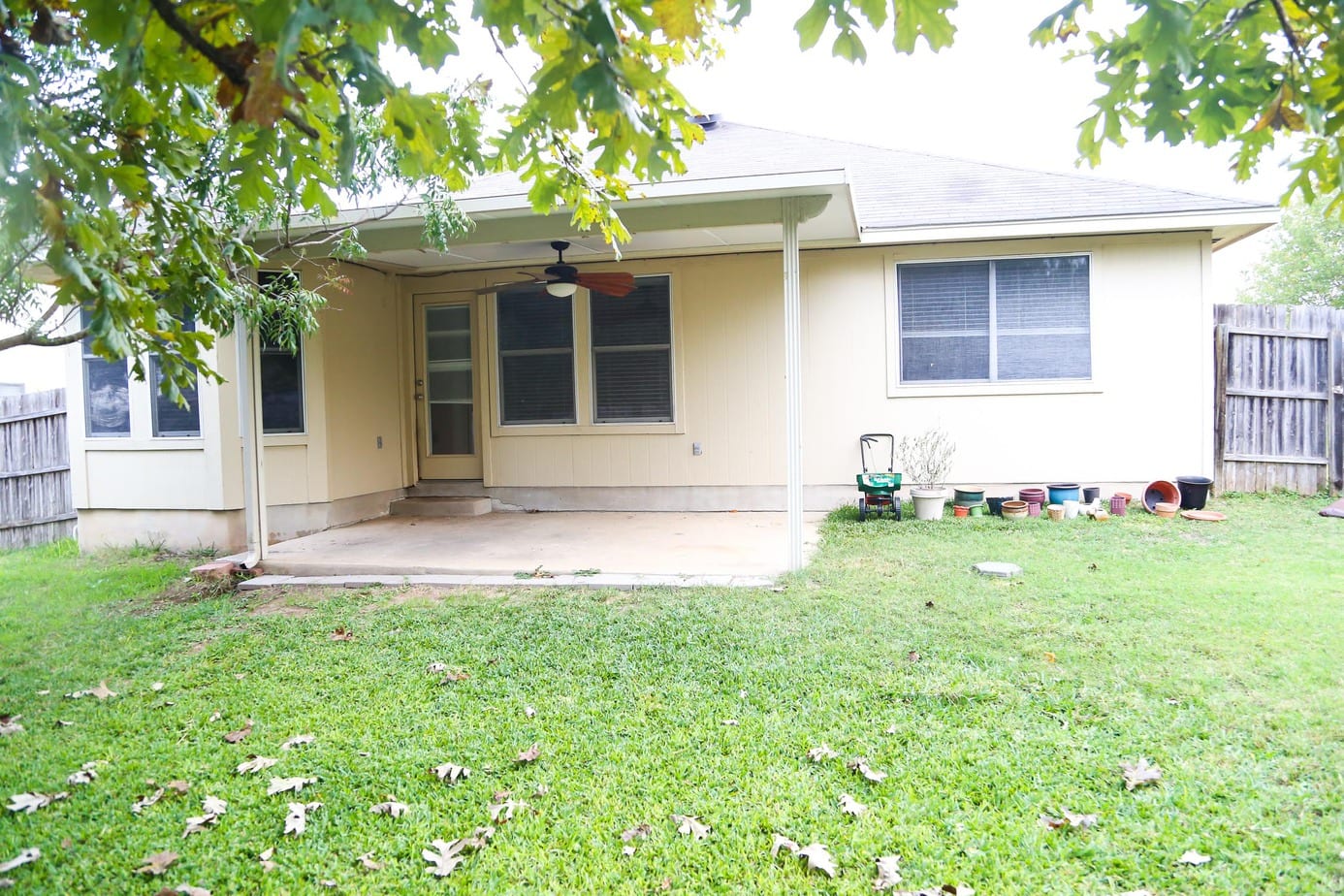 This yard is significantly smaller than the backyard at our old house, but I can't even begin to tell you how much I love it. There's a small storage shed (!), a covered patio (!!), several rose bushes (!!!), and it backs up into nothing but trees – no neighbors behind us at all (!!!!).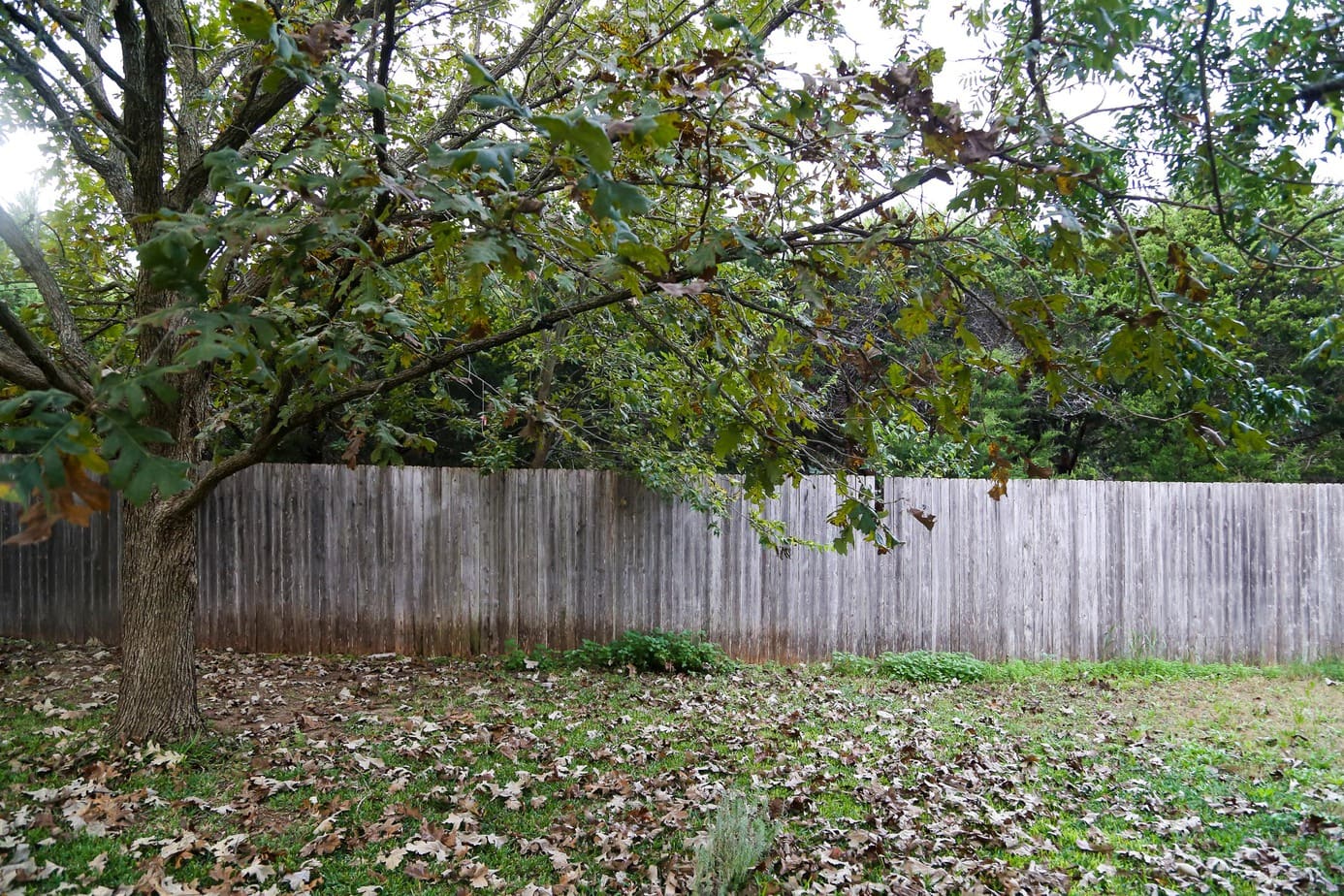 I can't wait to get my hands on this backyard and start giving it some love. It really has a ton of potential – and I think the covered patio will encourage us to spend a lot more time outside than we have in the past (beacuse nobody wants to hang out in a full sun backyard with no shade when it's 100+ degrees outside).
And that, my friends, is the new house. Corey and I are so excited about the possibilities in this home, and we've been settling right in. There are a ton of little perks that we keep discovering (no window facing the street, so the dogs aren't constantly barking at pedestrians! no stairs! a dish soap dispenser built into the sink!) and we're so pumped to dive in and get started.
If you're curious what's coming up first for this home, we've obviously got lots of painting on the horizon, and we've already taken on the flooring. My dream would be to get the banquette built and at least functional before Christmas (since we love to host), but that may be lofty. Other than that, the first major project we plan on tackling is the garage – we're converting it into our new workshop and we figure it'll be much easier to get everything else done once that's all in order.
Thanks so much for all of your sweet encouragement and well wishes throughout this move. I mentioned when we first talked about moving that Corey and I were doing this with the goal of paying off our debt, and I can proudly say that we are now debt-free, aside from our mortgage. I can't even tell you how much peace of mind it brings us to be here, and we're so glad we decided to make this move.
I'll be sharing a few snippets of the house with our furniture in it as we continue putting it together over the next few weeks – and I promise I'll do another full tour once we're a little more settled.
But for now? I'm off to unpack another box or two. Wish me luck!