Our New Cookie Sheet & Cutting Board Organizer
I LOVE getting my cabinets organized. There's something that feels so satisfying about working through our kitchen cabinets one at a time and getting them hyper-organized. We've knocked out several cabinets so far, and this time, I'm turning my attention to the cookie sheets and cutting boards!
First up, let's review what we've organized so far in our kitchen:
It's a lot of progress! But, of course, we still have a ways to go. Despite the fact that all of the above-listed categories are fully organized in my home, this is what my cookie sheet cabinet looked like: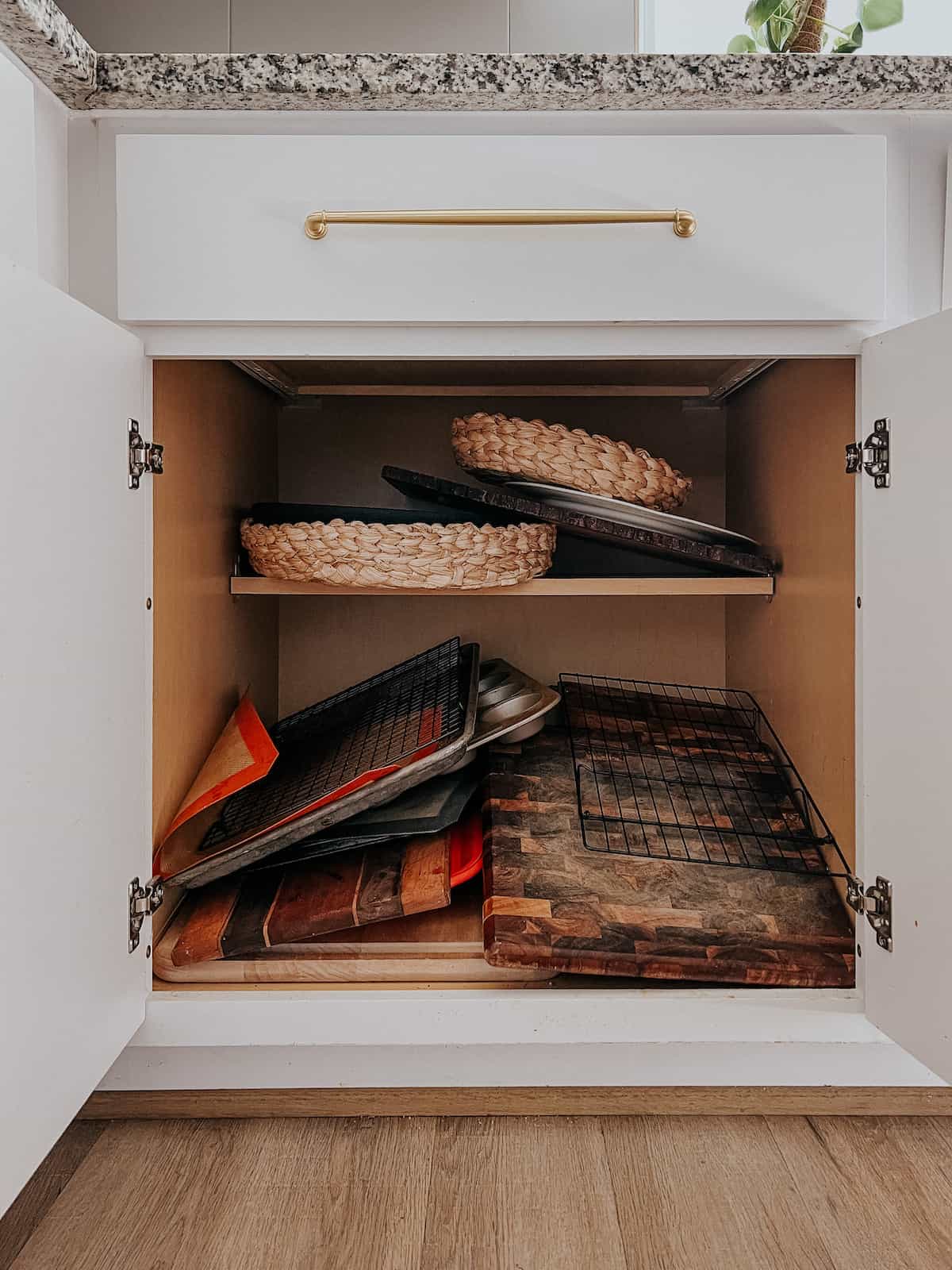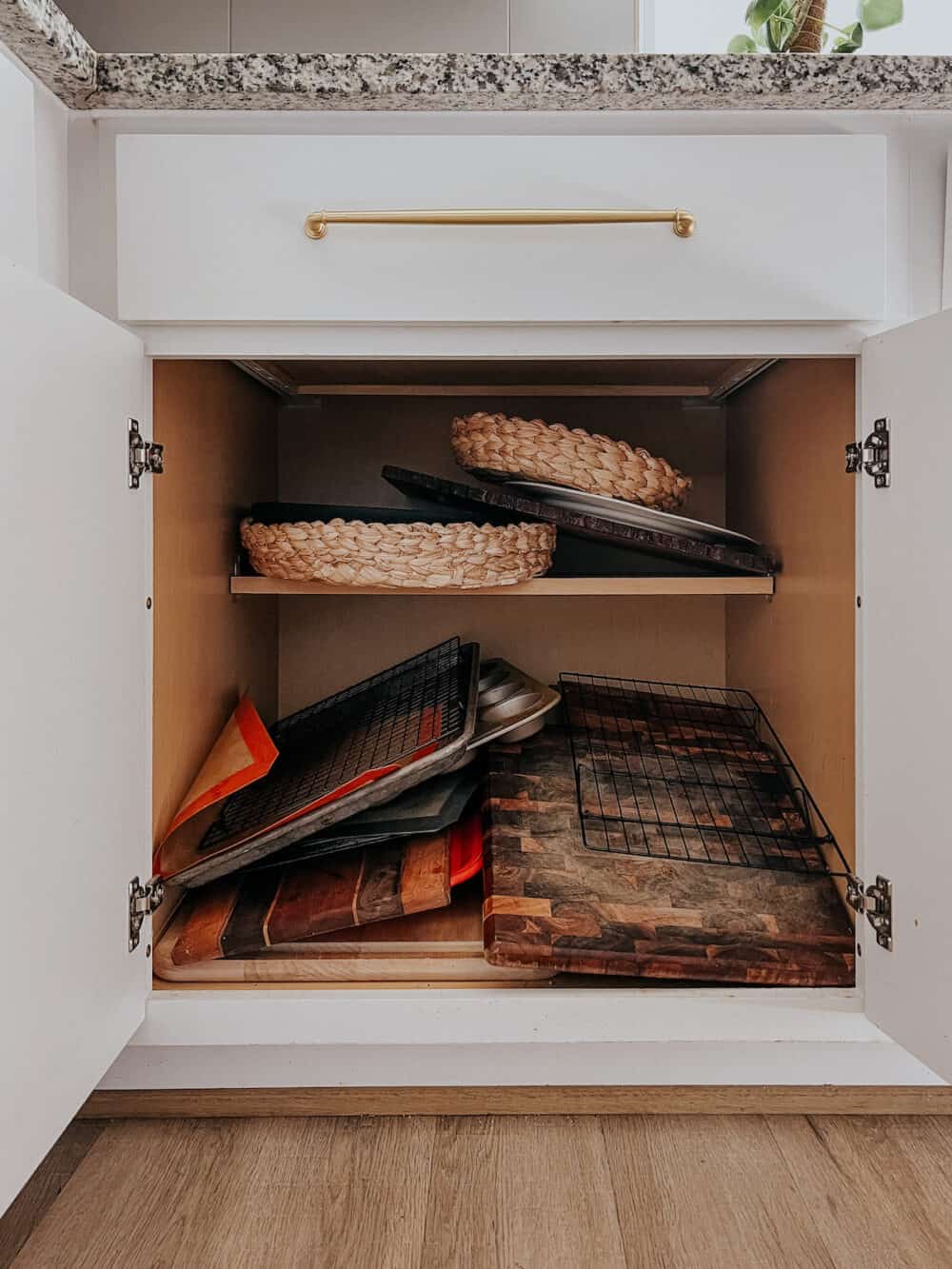 I was literally embarrassed to open it when we had guests because it was SO RIDICULOUS.
I've spent a long time debating how I wanted to organize the cookie sheet and cutting board cabinet. For a while, I had planned to build my own DIY pull-out drawer for the cookie sheets. But, I kept putting it off because building something feels like a lot of work, especially when it's cold outside.
Hey, I'm just being honest.
I finally decided that done is better than perfect. So, instead of building my own cabinet organizer I decided to buy something. It worked out really well for my tupperware cabinet! Plus, it saves a lot of time.
Our new cutting board organizer
I ordered two of these slide-out bakeware organizers on Amazon. I splurged a little on the ones that pull out because having pull-out storage options makes the biggest difference. In fact, if I was redesigning my kitchen, we'd have almost all drawers on the lower cabinets. They're so much easier to organize and access, and they just generally function a lot better.
But, I digress.
They sell really simple cookie sheet organizers that fit in your cabinet that don't pull out. Those are a lot cheaper than these, and even easier to install. But for me, it was worth the extra to have them pull out!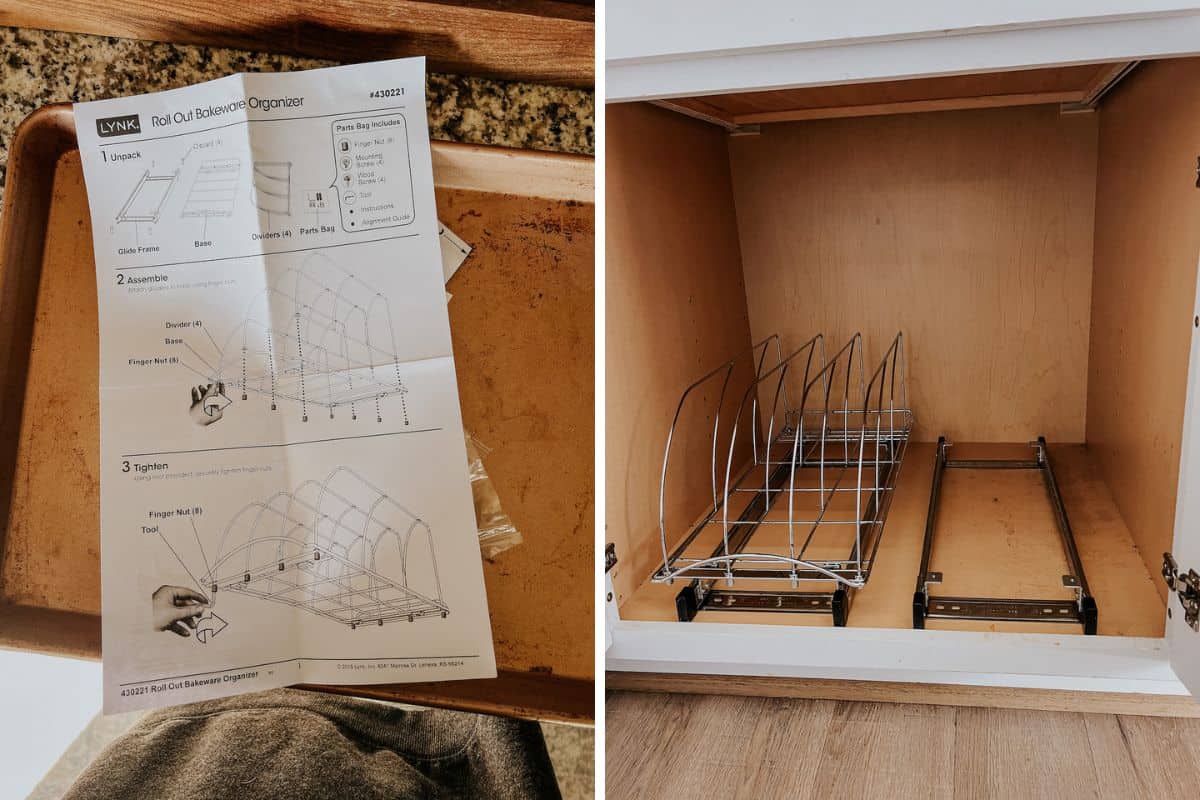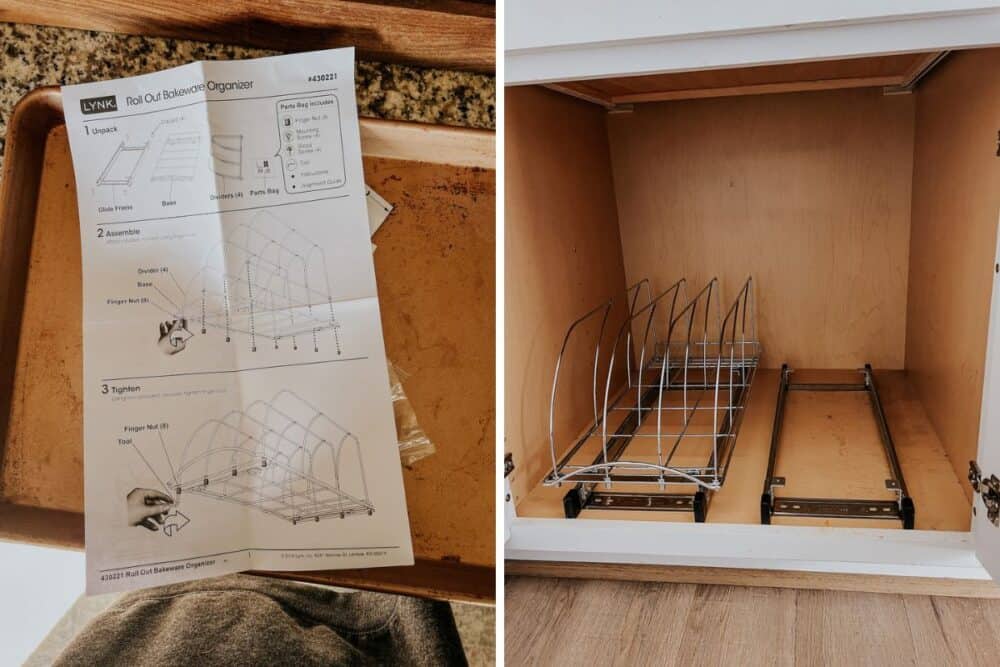 Installation took just a few minutes. The kit comes with a template to tell you exactly where to drill the screws in, and it's basically foolproof. I had to remove the shelf in the back of the cabinet, and that was the hardest part! After taking the dimensions, I realized I could fit two in my cabinets. So, there's plenty of extra room for cookie sheet and cutting board storage. The slots are nice and large, so I can fit several things in each one.
So, within the span of about 15 minutes, my cookie sheet cabinet went from looking like the picture above to looking like this.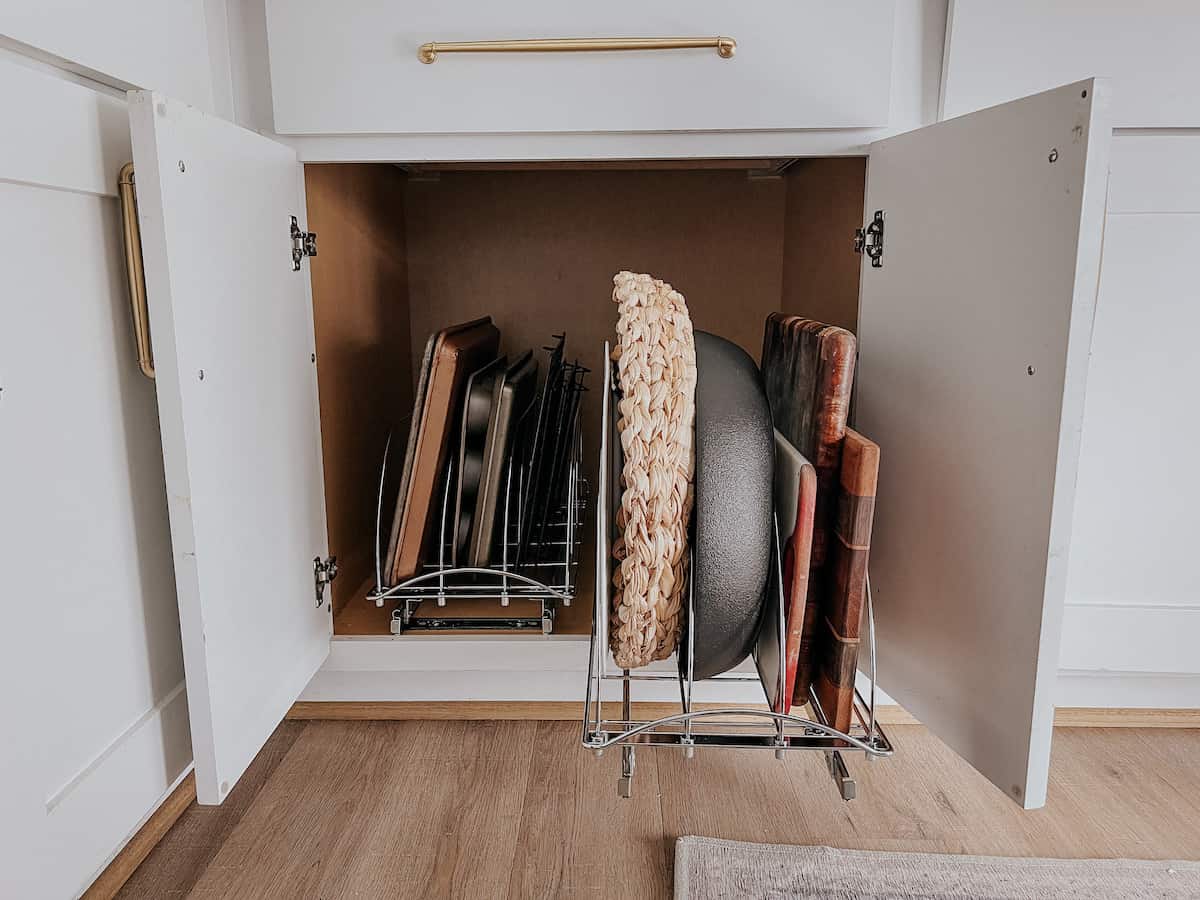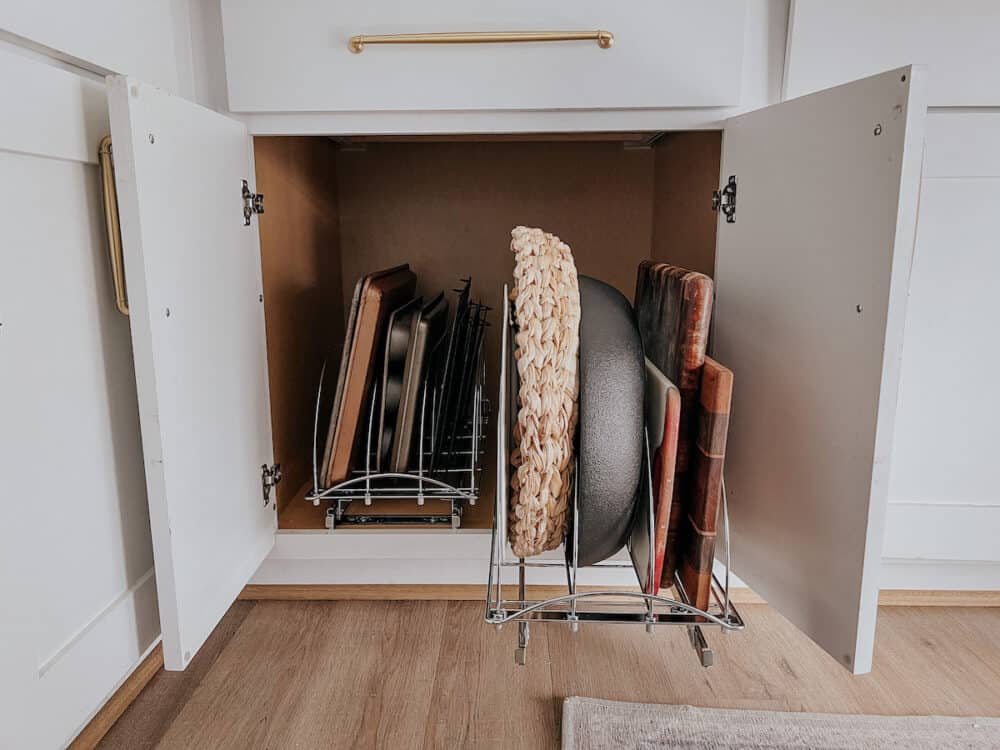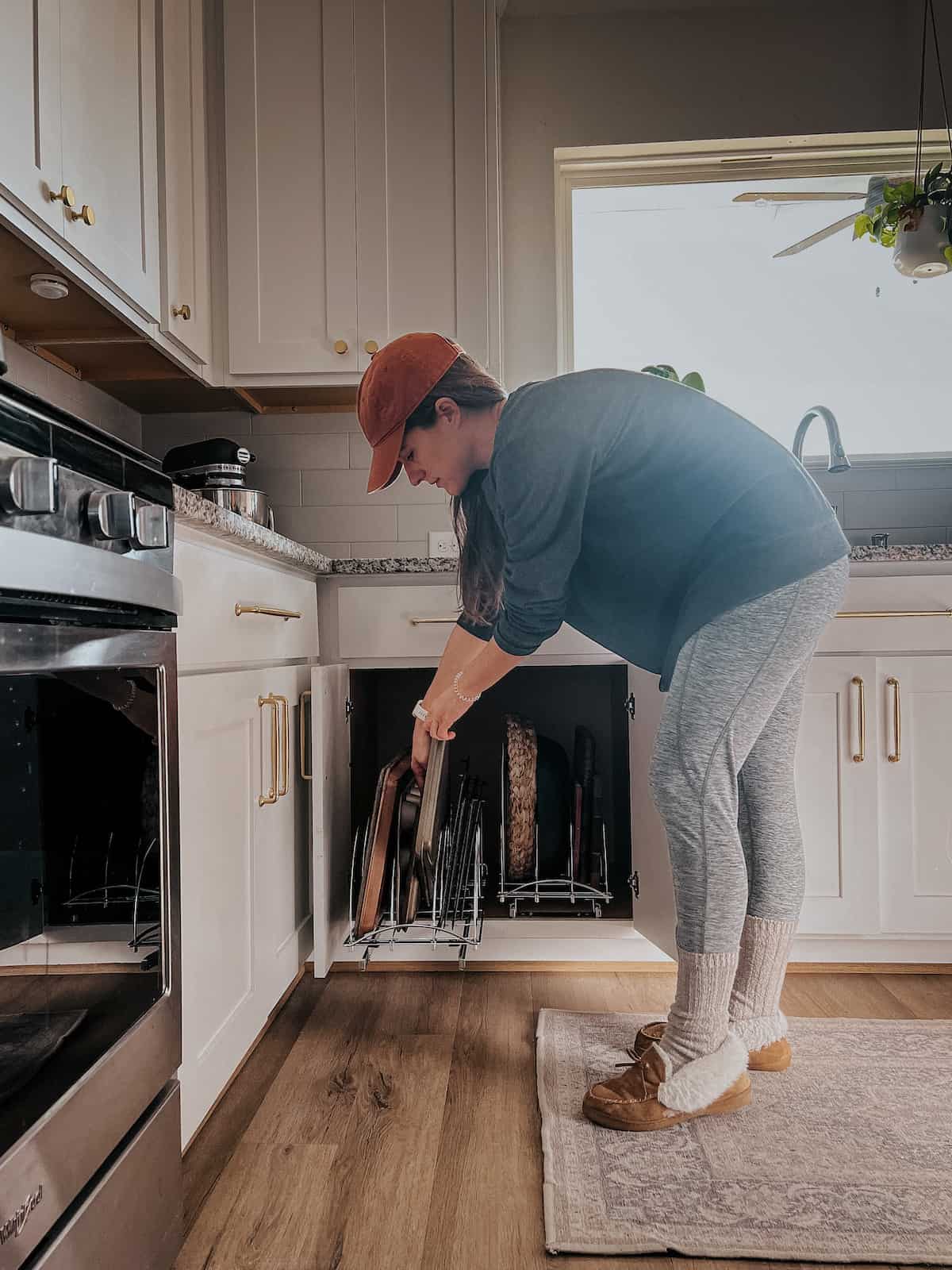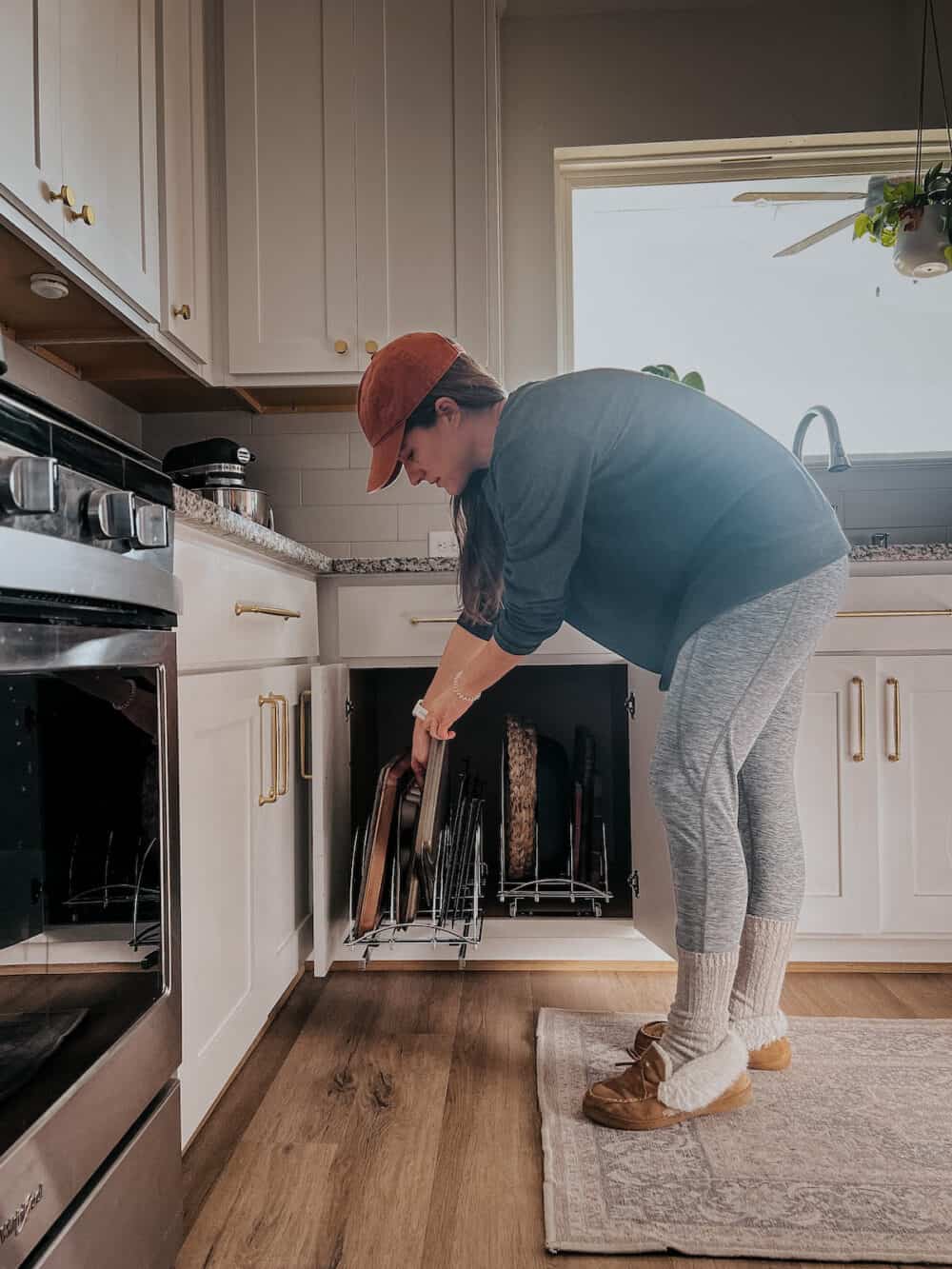 So! Much! Better!
Now, I don't have to feel any sort of shame to open this cabinet. And, nothing comes tumbling out at me when I pull out a cookie sheet or a cutting board. And I can actually see everything all at once. It feels like the storage space in here has basically doubled.
It's maybe a little bit life-changing.
There's nothing I love more than a really simple fix to a super annoying problem. If I can spend 30 minutes or less changing something that bothers me on the daily, it feels like the biggest win ever!
Cookie sheet organization tools
If you're also struggling to keep your cookie sheets in check, I gathered up a few other options for you. There's everything from racks to add to your cabinets to cutting board sets and more!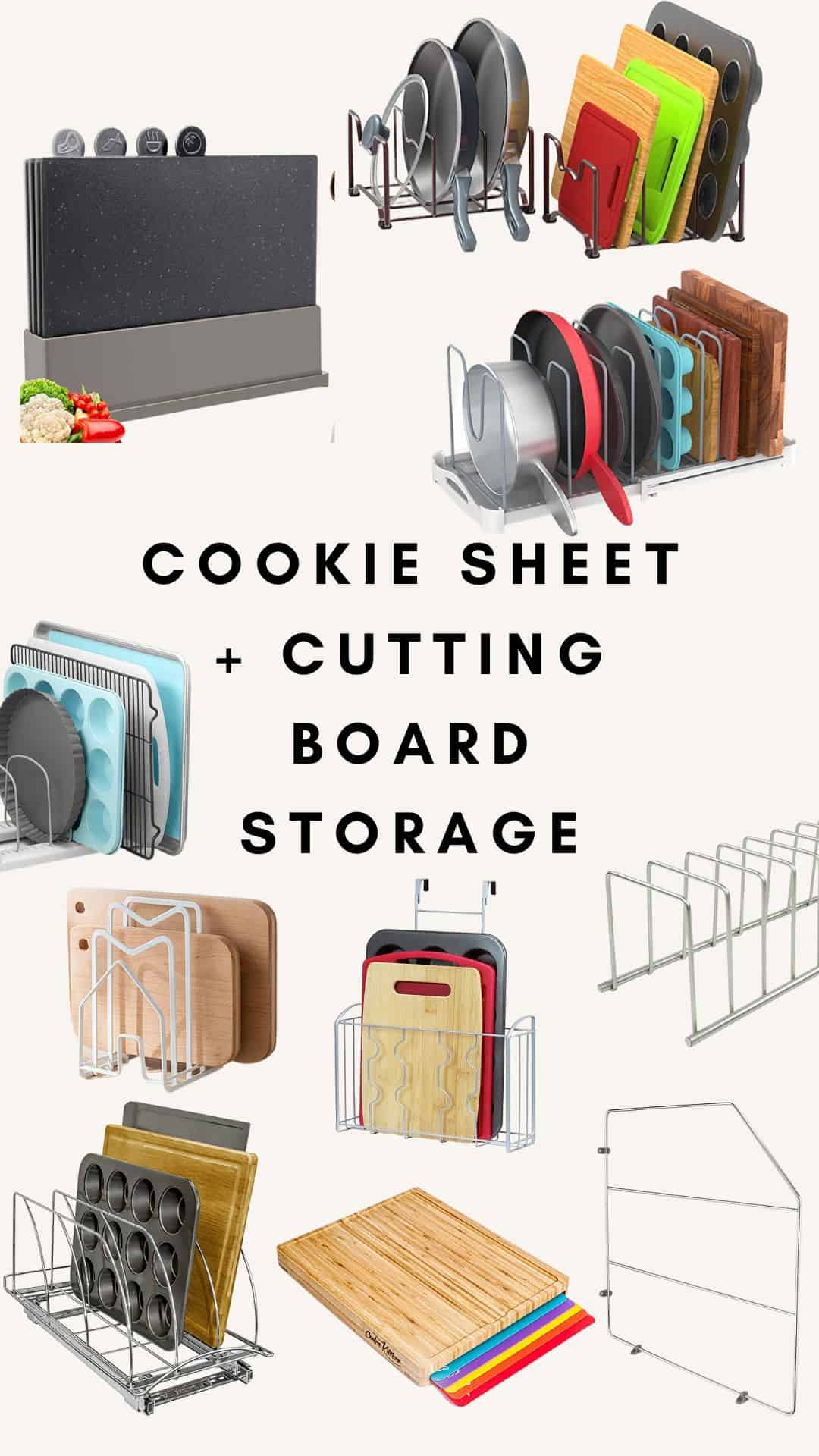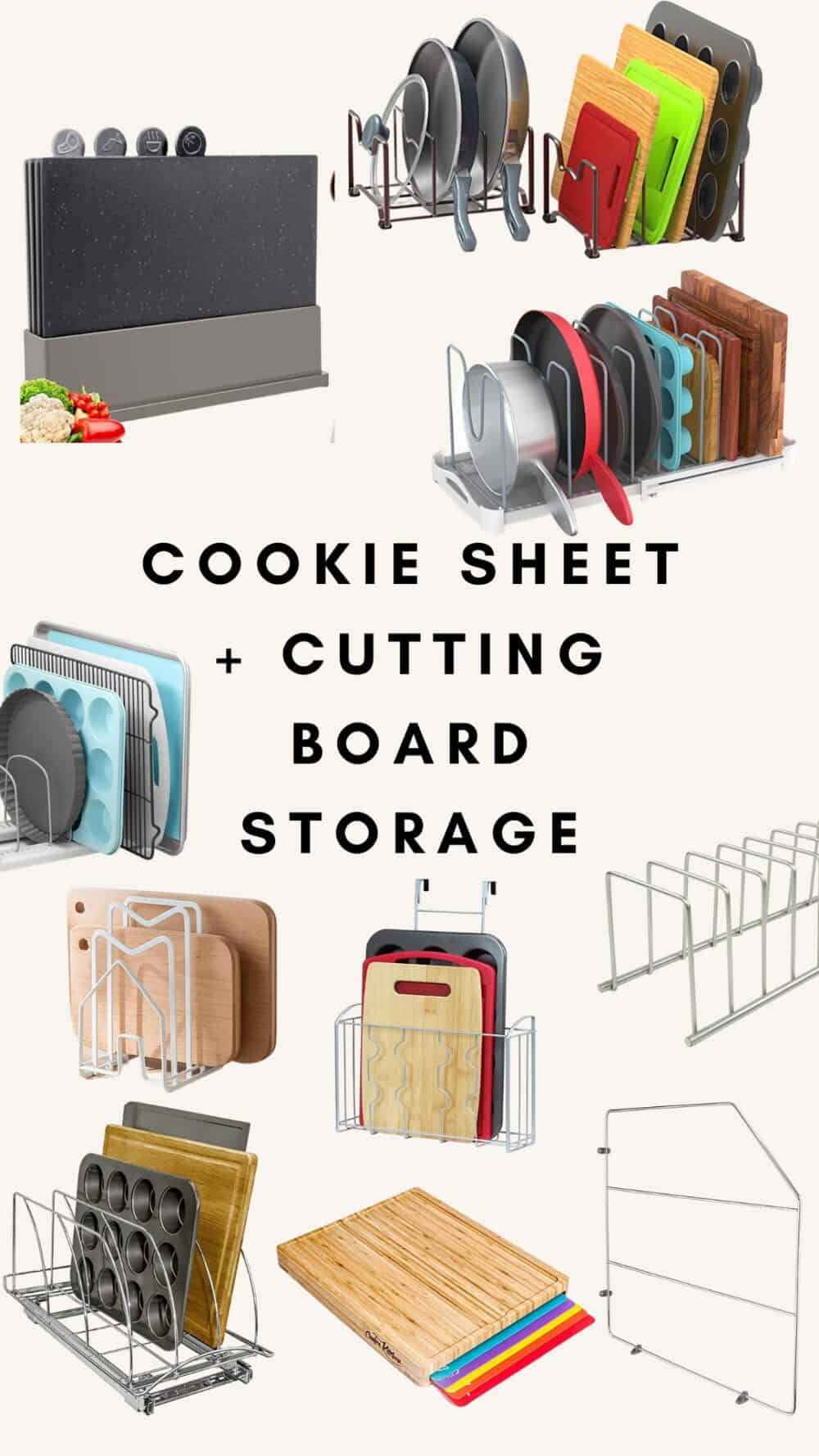 See even more cabinet organization tools right here!
I'm in love with how this turned out, and I can't emphasize enough how big of a difference this sort of project makes. It feels small and manageable, but getting the cabinets organized frees up space on the kitchen counters, makes things easier to find, and just generally makes your life easier.
Now to choose the cabinet to take on next!