My Home Organization Must-Haves
I used to believe that I could get my home organized with items I found around the house. You know, grab an old Amazon box and turn it into a basket and boom – your house is organized! But, I've learned it doesn't work quite like that. Home organization is a tad more complicated and, for me at least, requires a purchase or two.
I haven't ever had success at keeping the spaces in my home organized until I got intentional about finding and buying organizational tools intended specifically for the space I was working on. No more one-size-fits-all baskets or random bins scrounged from the house. It's all about making intentional choices if you want it to last.
I've had a lot of success over the last couple years in getting and keeping several important areas of our house clean, so today I thought I'd share my absolute top must-haves. Some are things you'll only need to buy once, and some will be products you go to over and over for various parts of your house. Or, at least, I know I do!
So, if you're looking to organize anything from a closet to a fridge to your jewelry or anything in-between, today's post is for you!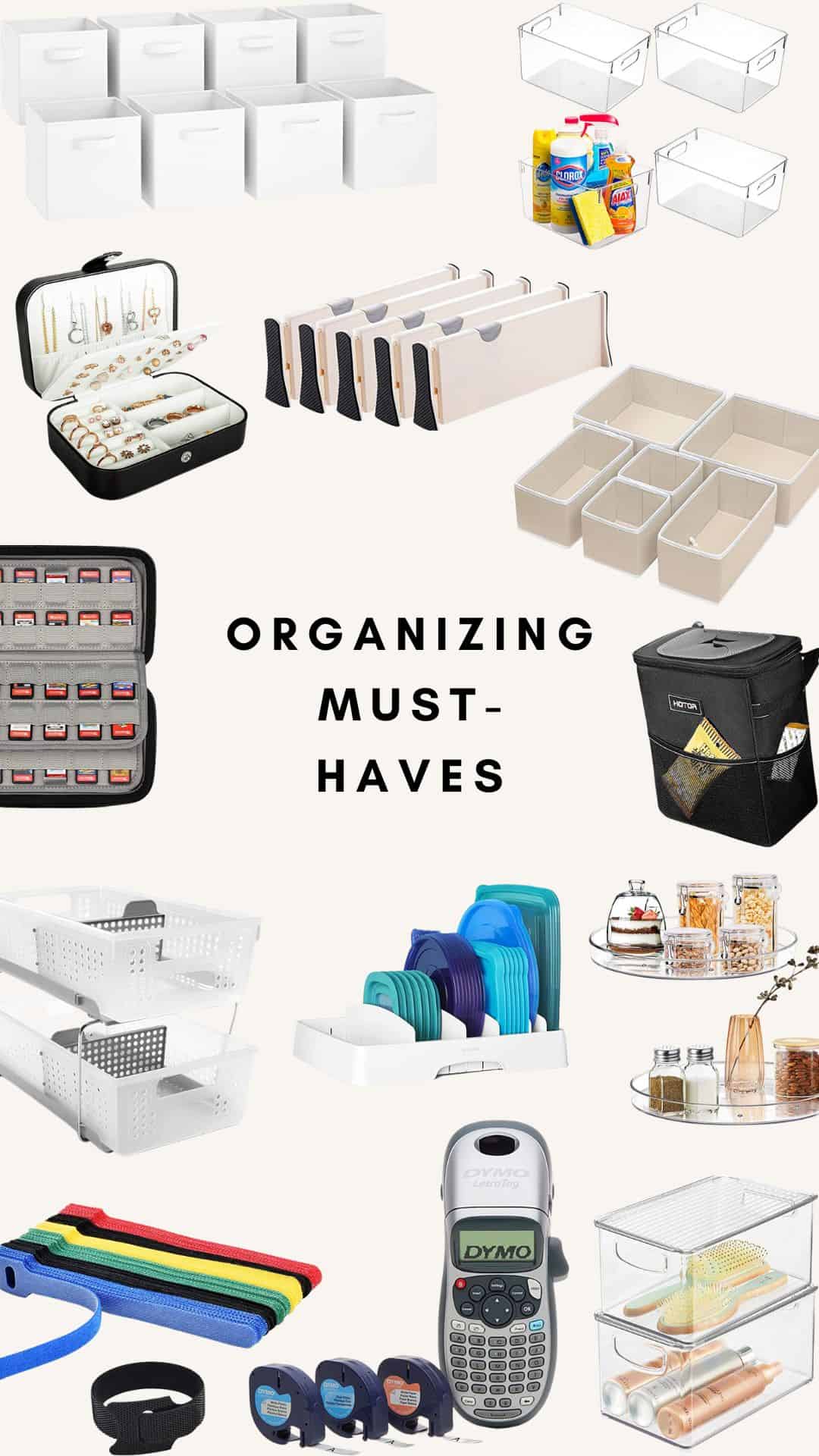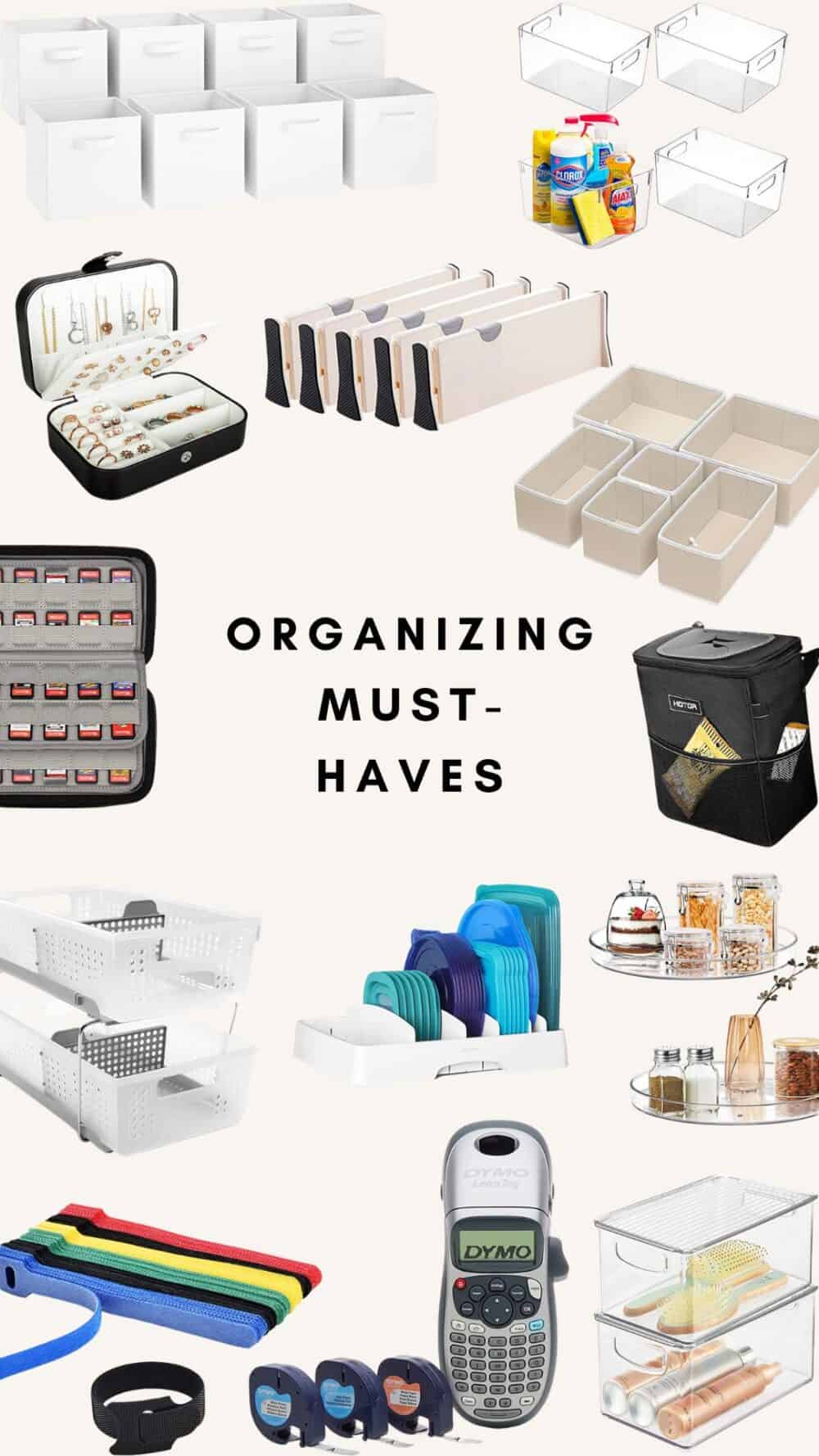 My organization must-haves
I have bought these multiple times for various parts of my house, and they're always so useful! I store seasonal clothes in them, extra home decor, the kids' Easter baskets…just about anything! My favorite place for these is the top shelf of a closet. I also love pairing them with these clip-on basket labels so I always know what's inside.
These clear acrylic-style bins are 100% my most-used (and purchased) organization tool. I also love these divided ones, these small ones, and this 10-piece set. Basically, if it's clear plastic and any shape, I'm in. I use them all over my house. They're in the art closet, in my vanity, in the fridge, in the pantry, and in my linen closet. They're so versatile and I can't recommend them enough.
A few places I've used them:
This is my newest organization purchase and it immediately became a favorite. I've always struggled to keep my jewelry organized. I don't have a ton of it, but what I do have was just tossed in a large ring dish. I'd have to sift through every day to find what I need and it quickly became a disaster. This jewelry organizer easily holds all of my regularly-used jewelry and I don't have to do any digging. It's a life-saver!
I got some of these for the dresser where I keep all of my clothes and it's been the number one tool that has helped me keep those drawers organized. An example of how I use them? In the drawer where my jeans are, I have dividers to separate jeans from leggings from shorts. Each gets their own section of the drawer and it all stays in place! See how my dresser is organized here!
This is my other go-to organizational tool for drawers. I use them for socks, underwear, bras, and anything else that's small and can be easily corralled. I've learned that having organization within your dresser drawers is a total game-changer, and it makes it so much easier to find what you need!
This one is a little specific, but for our family it's been so nice to have! My kids are terrible about remembering to put their Switch cartridges back into the boxes they belong in, and as a result they'd often get misplaced. We'd have to spend 10 minutes searching anytime they wanted to play a game! It's much easier and simpler for them to put them back in here, and all of the games stay in one place. We haven't misplaced a game since we got it!
A messy car makes me nuts. But, I live with three messy humans so sometimes it's inevitable. Having a dedicated spot in the car for trash has really cut down on the issues, and makes everyone at least marginally less likely to toss their trash on the floorboards. I'll take it.
Aside from the clear bins, this is my most-used organization tool. I have 5 or 6 of these now and I feel like I could use a few more! It's such a simple organizer that's perfect to put under the vanity (Corey and I each have one) or to organize things like medicine. We love these things so much, and I'm constantly finding new uses for them!
Click here to see how I organized our medicine with these.
My tupperware container cabinet was always a mess until I got this and paired it with a pull-out drawer for our food storage containers. It was a total transformation and for the first time in my life that cabinet stays fully organized all the time! You can see our organized food storage container cabinet right here.
I think we all know the power of a Lazy Susan by now, right?! I have a couple in my linen closet (perfect for holding sunscreen!), a few in my pantry (great for vinegars and oils), and one in my fridge (for all of Corey's hot sauces). They're so handy and they're the perfect way to organize things in tight spaces!
I don't know about you, but all of the cords in my house used to be the bane of my existence. I feel like we have way more than we need but I still can't manage to find what I need when I need it. Enter these guys. They're super simple little velcro ties that you can use to wrap up cords. I use them for everything now and it makes it so much easier to keep cords organized! They're no longer a tangled mess, and it's easy to toss specific cords into bins so that they're all grouped together.
Maybe the most important item on this list?! I'm a big believer in labeling everything when you're trying to organize a space in your home. Why? Just because it makes sense to YOU that something goes in a specific spot, it doesn't mean the rest of your family will keep up with it. Also, cuts down on your partner constantly asking you where certain things are. Win-win!
And finally, one more version of the plastic bins – this time with a lid! I have several of these in my linen closet with all of our medication and it's so nice that they're stackable and keep things contained. I use them for things we don't reach for as often, and they're the perfect size and shape for so many different things.
And that's that! All of my favorite home organization tools, gathered up in one spot.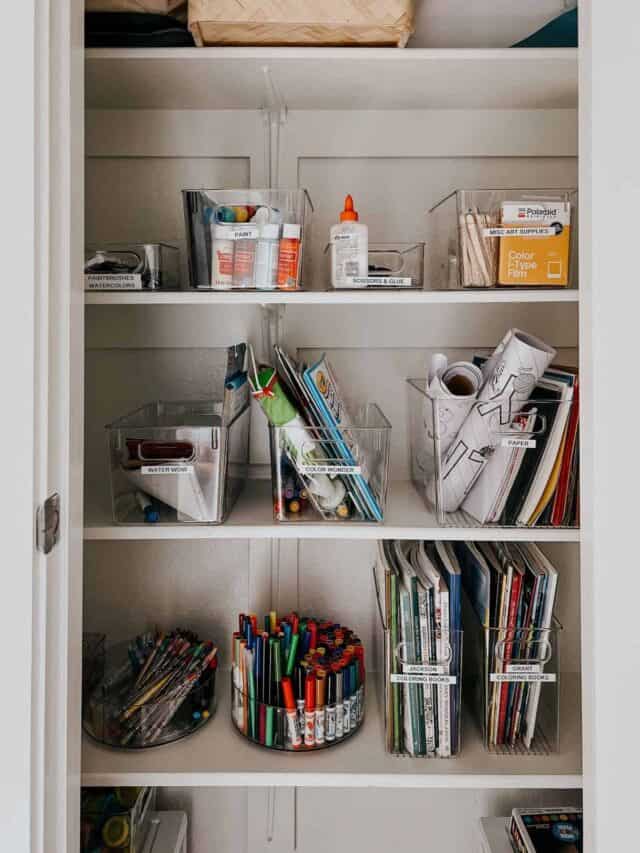 If you're looking for some other organization ideas, I've got you covered. Here are a few of my favorite posts.
other posts you may love