DIY Pull Out Cabinet Drawers
We just wrapped up some simple DIY pull-out drawers in our kitchen cabinet – here's the full tutorial and all the details on how we got it done! This post is sponsored by Rockler. This post was originally published in May of 2020 but is being updated and republished in an effort to breathe some life into some old projects and posts!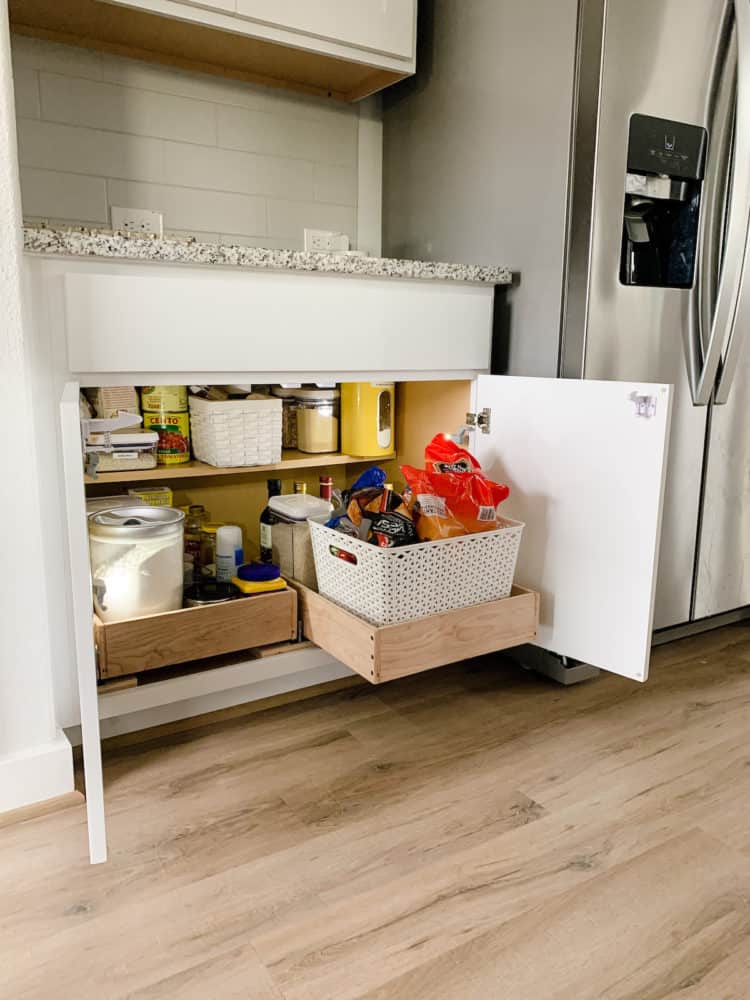 When we moved into this house one of our biggest initial complaints that we knew would create a unique challenge for us is that the pantry is awful.
It's AWFUL.
It's tiny, the door is off-center so you can't really reach everything, and it's just not super functional as an actual pantry space.
But! We do have more cabinets in this house than we even know what to do with, so I knew that it wouldn't be too big of an issue to designate this little section of cabinetry next to our refrigerator as the pantry.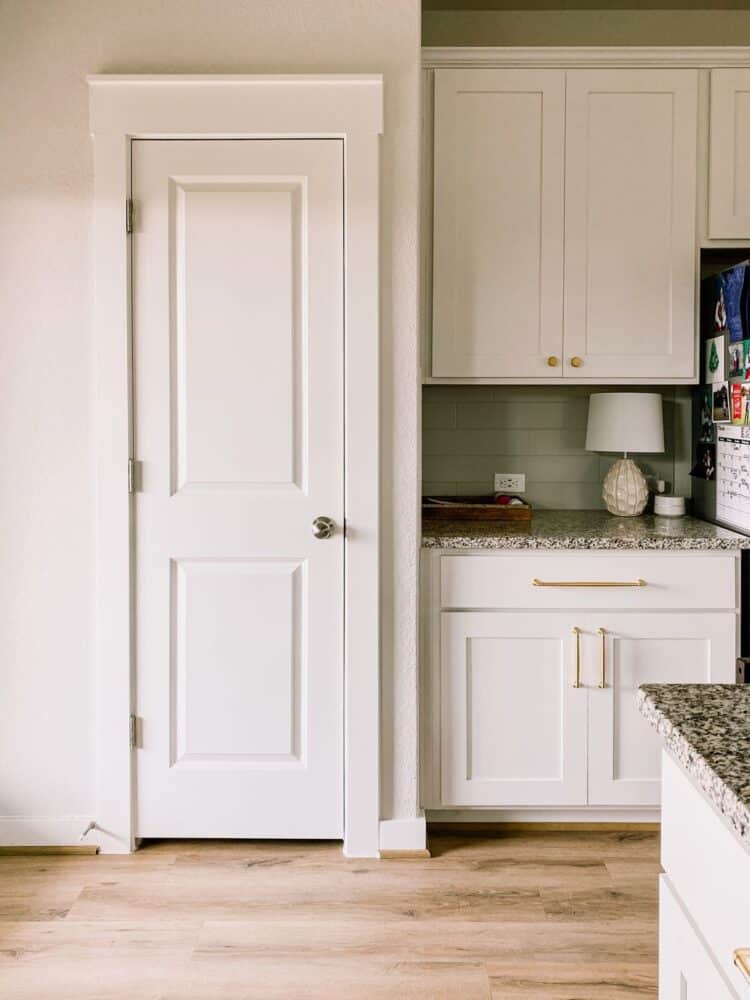 It has worked out for us really well so far, because we're able to use the actual pantry as a storage closet for all of our small appliances and other random kitchen gear that doesn't get used on the daily (which, in turn, frees up more cabinet space!). I feel like it's kind of the best of both worlds, and the cabinet space has really been plenty for us.
The only problem? It's hard to keep a cabinet pantry organized! And to compound things, Corey has a unique condition that triggers intense headaches if he bends over often to grab things. Since he's the main cook in our house, it was always really annoying for him to get anything out of here (since you had to get down on the level with the cabinet and dig), and something really had to give.
So, we decided that we needed some pull-out drawers that would help keep things a little more organized and make it (way) easier for us to get what we need out of here!
You can easily purchase kits for this sort of thing, but it can be pretty pricey so we decided to make our own – it was definitely a project with some ups and downs but overall it was pretty straightforward and we're so happy with how it turned out!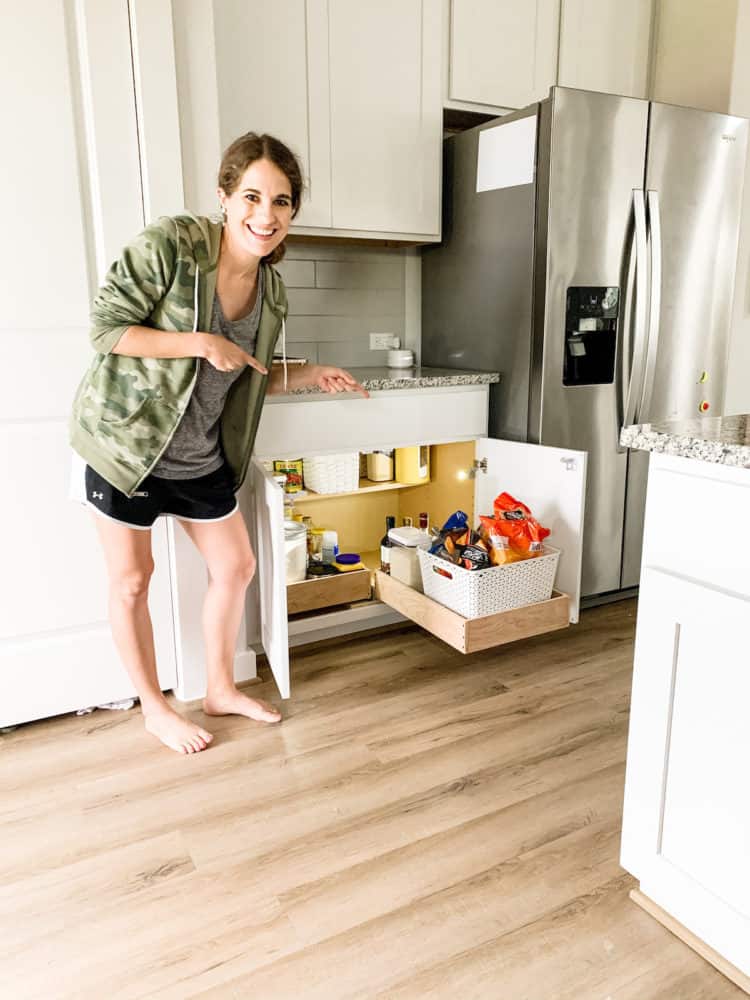 Here's the full tutorial for how we built these DIY pull-out cabinet drawers, and the details on the super genius automatic lights we installed to make it even easier to see what we need.
DIY Pull-Out cabinet drawers
*Note: As usual, I shared a lot of this process (including some, ahem, learning moments) in my Instagram stories. If you want to catch up on the highlights and see it all play out in real time, you can click here to watch how it all went down!
Materials Needed
1/2″ plywood (A quarter of a sheet was plenty for the two drawers we made!)
1/4″ plywood (A quarter of a sheet is great here too)
Wood glue
Drill/driver + screws
Clamps (always helpful to have in any project like this!)
Full-extension undermount soft-close drawer slides (we used the ones linked here, but any brand will work, the process may just look slightly different, depending on what you purchase).
Determine your drawer size
Start off by measuring your cabinet and determining how large you want your pull-out drawers to be. We wanted to do two drawers in ours, because our cabinets are super wide and it feels much more organized to separate things out a bit.
This is where things start to hurt my head a little bit, but stick with me, we'll get through it together.
Start by deciding how wide you want each of the sides to be. For example, if you're doing two drawers, take the hinge-to-hinge measurement in your cabinet (to account for any lips in the cabinet or space the hinge takes up) and divide that by two. That's how wide you want each drawer set-up to be – I'd recommend subtracting 1/2″ or so just to account for any measurement errors.
Note that this measurement includes the drawers plus the drawer slides. The instructions that come with your drawer slides should clearly detail the spacing between the drawer slide and the drawer itself. You'll want to subtract this spacing (times two – to account for each side!) into the measurement for your drawer.
You still with me?
Most cabinets are a standard depth, so in terms of how deep your drawer can be, you should be safe sticking with 21″ like we did!
I found that the math/measuring part of this process was by far the hardest part for me, so just be sure to take it slowly, think it through, and be prepared to make a mistake or two. You'll get there eventually!
Our drawers are 4″ tall (tall enough to hold everything in place, but not so tall that we can't see things), 21″ deep, and 16″ wide.
Cut the four drawer pieces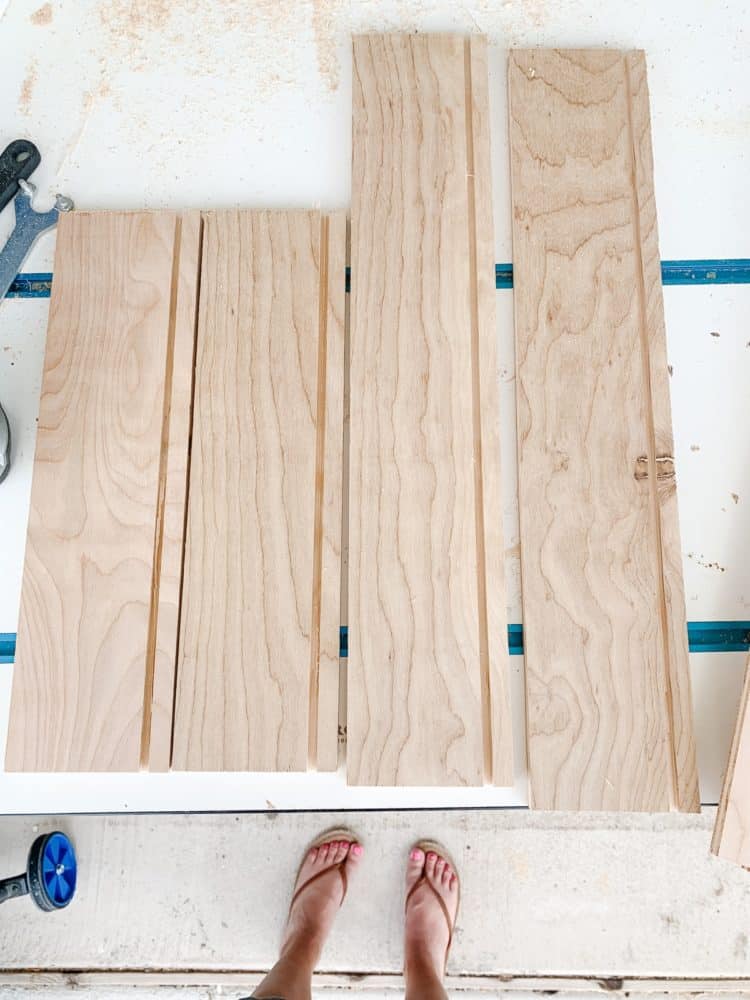 Grab your 1/2″ plywood and cut the four drawer sides. Start off with strips of plywood that are your drawer height (in our case, 4″) – we used our circular saw to rip them down to the right size – a table saw would work too.
Then, cut them down to the right length. You'll (obviously) need two pieces for the long sides and two for the short sides.
Remember that there will be a slight overlap in each of the corners! I recommend cutting your longer pieces to the full length of the drawer (21″, in my case), and then for the shorter pieces you'll want to subtract the thickness of the plywood (it should be just under 1″ – I recommend using my favorite, super easy-to-use tape measure to help you get an exact measurement!). This may not fully make sense now, but I promise it will once the drawer comes together!
Once you have your pieces cut to size, you can use your table saw to create a dado (a fancy woodworking term for a groove!) 1/2″ from the bottom of the drawer – we had to run ours through the table saw twice (moving it over 1/8″ the second time) to get it thick enough for the 1/4″ plywood to fit. I recommend using a scrap piece of wood as your test piece as you work on that!
If you don't have a table saw (or don't feel comfortable using one), you can always nail the drawer into the plywood from underneath. It won't be quite as sturdy, but with the undermount drawer slides it should work fine!
While you're at it, go ahead and cut the 1/4″ plywood for the base of your drawer. I recommend using a table saw or circular saw to get it done! If you're using a dado, this should measure the interior size of your drawer, plus about 1/8″ so that there's something to sit in the groove.
assemble your drawer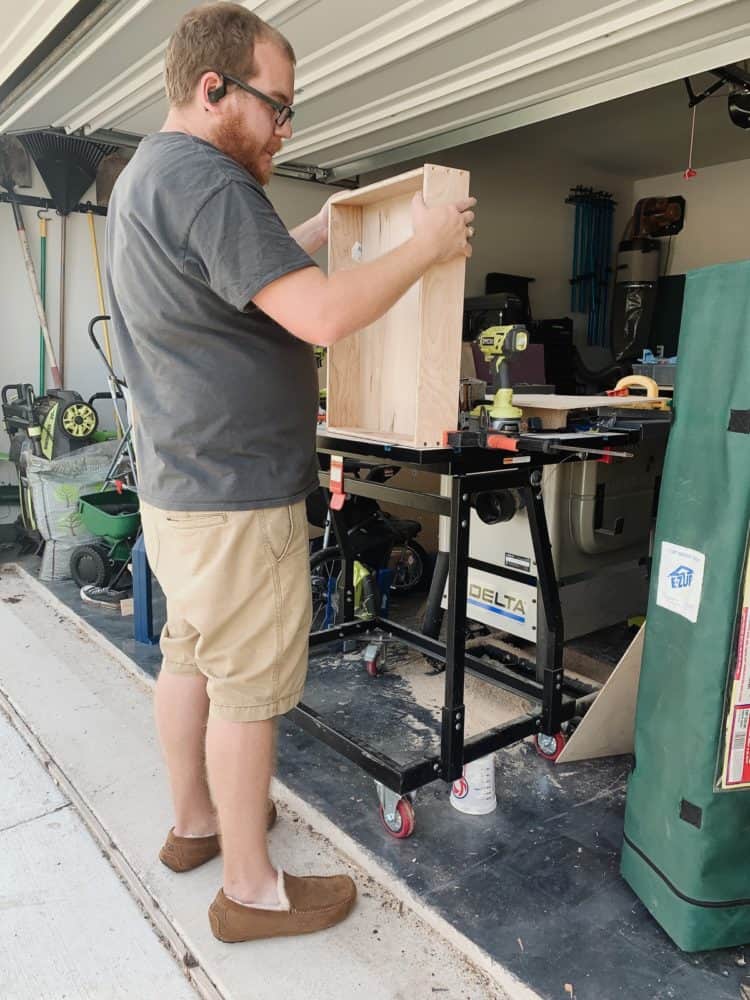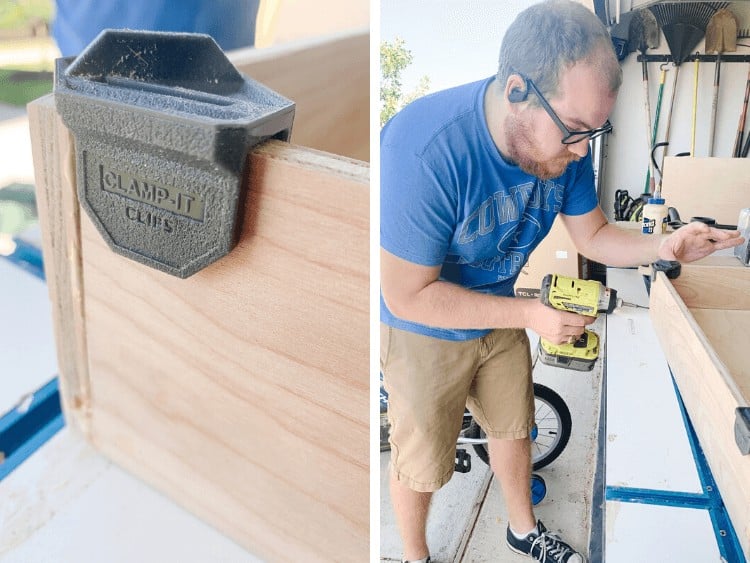 Now you're ready to put the drawer together! We used wood glue and simply screwed into the sides of the drawers, but if you want it to be a little cleaner you could use pocket hole screws (we just didn't have the right size and didn't want to go to the store).
One thing that was hugely helpful in putting the drawers together was this set of Rockler Clamp-It Clips – they're meant for perfectly lining up 90-degree angles and holding things in place for you, and they were a total life-saver for us. You can also use regular corner clamps to help hold things in place!
You'll need to also create two notches on the back of the drawer for the slides to sit on. We just used our jigsaw to cut out a little piece, and we used the jig referenced in the next step to know exactly how big to make it!
Attach drawer slide hardware
Once you've got your drawers assembled, it's time to put them in your kitchen cabinets!
You'll want to start by attaching the hardware to the bottom of the drawers. We used this Rockler Jig-It Undermount Drilling Guide and I honestly don't know how you'd even do this without it – it made the process so incredibly quick and easy.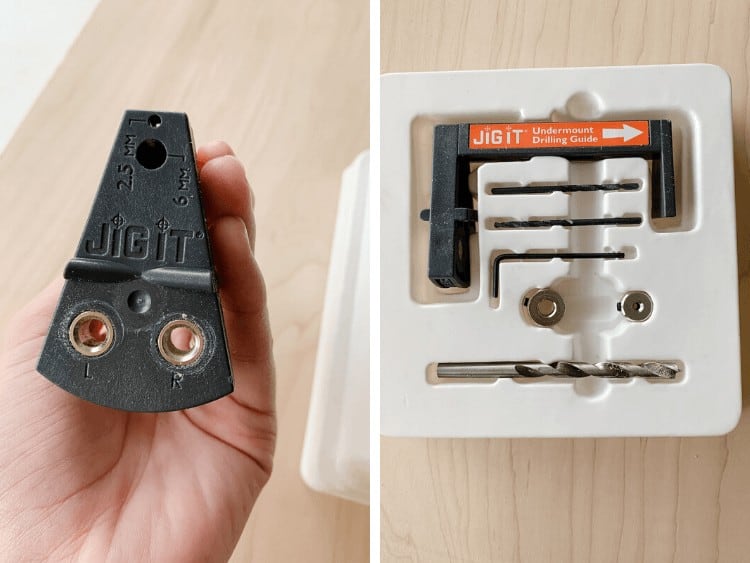 I highly recommend watching my Instagram stories highlight for this project to see a closeup look at how this works (along with some of the mistakes we made). I won't get into every detail of how this works because the instructions are very detailed and should walk you through it step by step.
The jig helps drill the holes for the hardware that helps the drawer attach to the slide, and also drills the perfect holes for the pin on the drawer slides to fit into the wood. It would have been so challenging to measure perfectly for all of that without the jig, so I'd absolutely recommend it if you're going to try this project!
install the drawer slides in the cabinet
Finally, you're ready to put the drawer slides in your cabinet!
I was worried that this part would be really stressful and challenging, but overall it actually ended up being super simple! We had to attach a strip of wood to the base of our cabinets to raise the drawer slides off the base a bit (since our cabinets have a lip) – I just used some scrap plywood and it worked perfectly.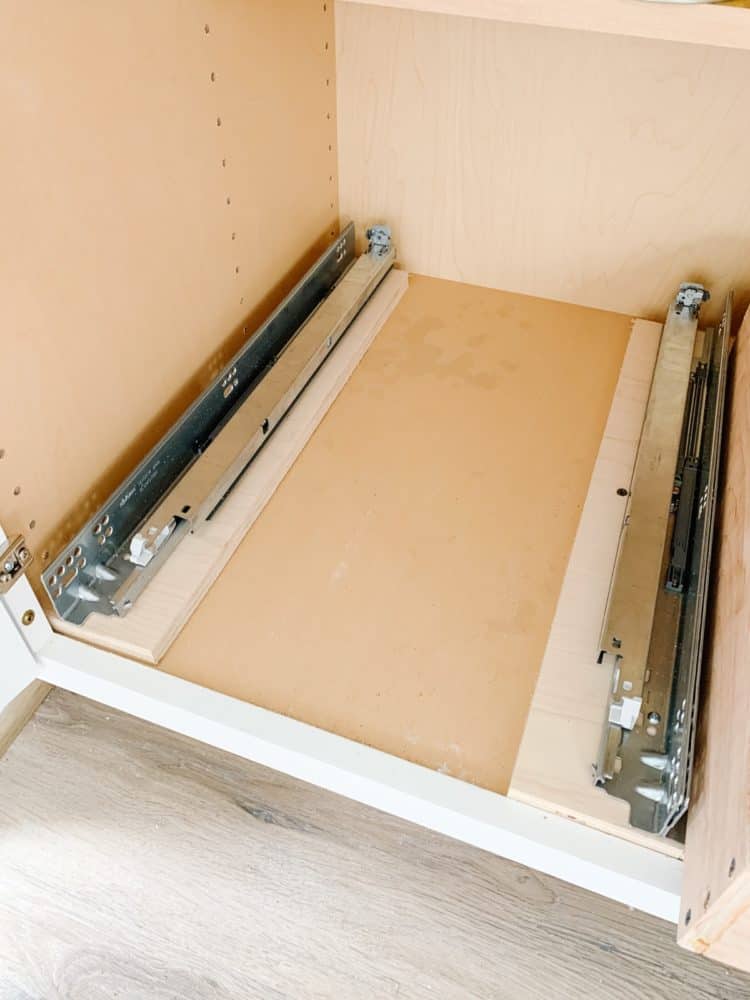 I recommend closely following the directions for the undermount drawer slides, but they can be a bit overwhelming to take in so here are the highlights (and note: this really only applies if you're doing the same layout we did – if you're doing one big drawer or a drawer higher up in the cabinet, the process is different!).
If you have a framed cabinet like we do, you'll need to measure the depth of your frame (and door hinge if it's in the way like ours was) and push the drawer slide away from the wall by that much to make sure it opens. You may also need to add some wood along the bottom to raise them up.
I found it was easiest to drive in the front screw for the slide (we used the screws that attach to the bottom of the cabinet, not the ones in the side), then adjust the back part so it was perfectly straight, then screw in the back screw.
Placing the second drawer slide is the part that really hurts your head. Here's how we did it for our particular slides and drawers: take the measurement for the interior part of your drawer, then add 42mm (or 1 5/8″) to that to get your spacing. Measure from the outer side of one drawer slide to the outer side of another.
Remember that you can always try again if you don't place it perfectly the first time!
Again – if you're just doing one big drawer, it's much easier and there's a little less brain-breaking math involved. Just reference the directions often, take your time, and you'll get it!
celebrate!
Once your drawer slides are in, all that's left to do is place the drawer on top! This is the most satisfying part because the little click you get when it all pops into place will make you want to do a happy dance.
Just pull the drawer slides out all the way, set the drawer on top, and push it back until it clicks.
And just like that, you have pull-out cabinet drawers!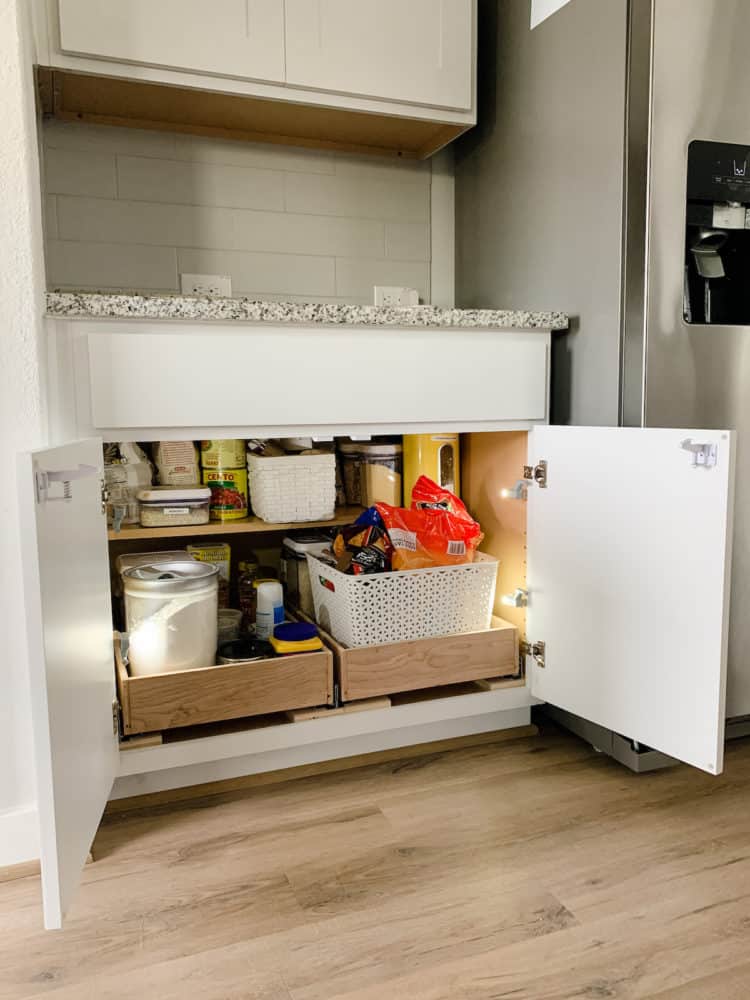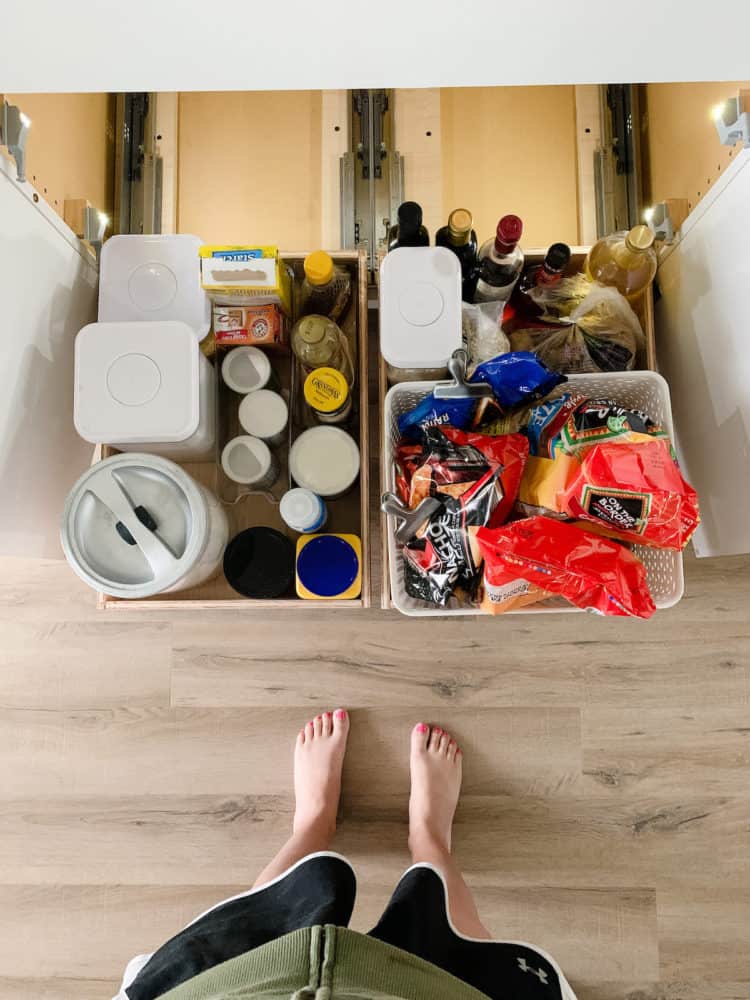 I feel so fancy with these drawers in my kitchen, and I can't even begin to tell you how much I love them. My cabinet instantly feels a zillion times more organized, and I'm not sure how this happened but I swear I can fit more things in there now!
The final piece of the puzzle for me was adding these little LED Cabinet Hinge Lights – the lower cabinet gets pretty dark and I loved the idea of having some lights that automatically turn on when you open the doors! We actually realized at the last second that our hinges aren't actually compatible with these (boo!) but I managed to rig up a system that works just fine. You can see how I did it in my Instagram stories highlight if you want to try it yourself – but, if you've got compatible hinges they're incredibly easy to install!
It was totally worth the extra effort needed because these little lights might be my favorite part of the whole project. I want to install them on every cabinet we have!
Want to see more projects from our kitcheN?