Transforming a Rusty Old Bar Cart
This post is sponsored by one of our very favorite brands, Rust-Oleum. As usual, all opinions and gushing are 100% me. Click here to read my full disclosure policy. Thanks for supporting the brands that support Love & Renovations! 
Today, I'm going to perform a magic trick.
Seriously. I do magic now.
What's my trick, you ask?
I'm going to take a disgusting, dirty, completely rusty old bar cart…and I'm going to turn it into this: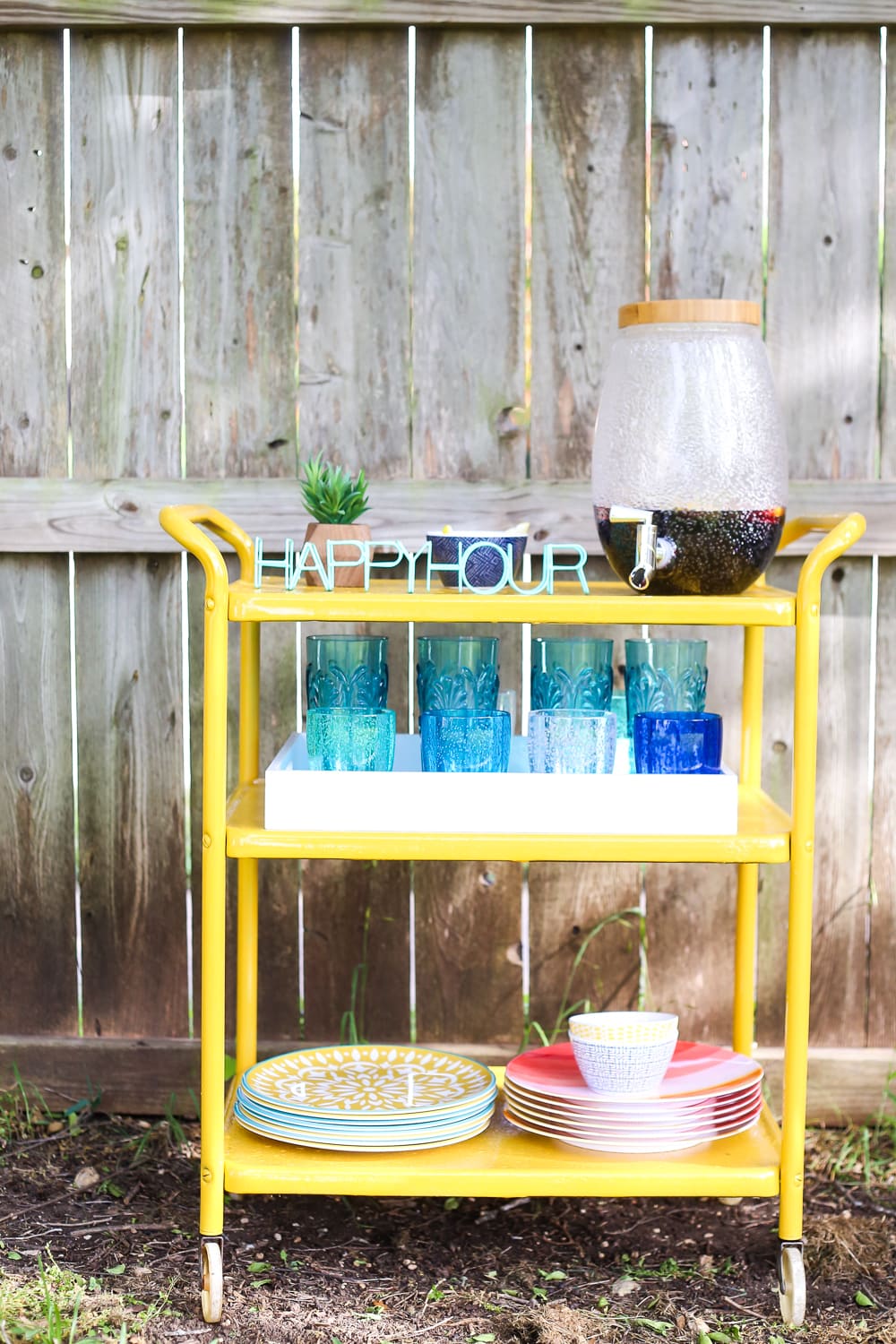 This post contains affiliate links. Click here to read my full disclosure policy. 
I know, right?
Your mind is blown.
Mine too.
I'm sure you'll be thrilled to know I'm not one of those stingy magicians who won't share my secrets. I love to share my secrets with you. And today's secret?
Rust-Oleum.
(Isn't it always Rust-Oleum that saves the day?!) 
You see, Rust-Oleum is kind of known for stopping rust. It's what they do and it's what they've always done – their very first product ever was a Rusty Metal Primer. The very same stuff I used for this project. Now, they have an entire line of amazing products meant to stop rust in its tracks, and I think we all know by now that they're my absolute favorite brand for spray paint, primer, and just about everything else.
So, when they reached out and asked if I'd be interested in giving a makeover to a rusty old piece of furniture, I jumped on board fast enough to make your head spin.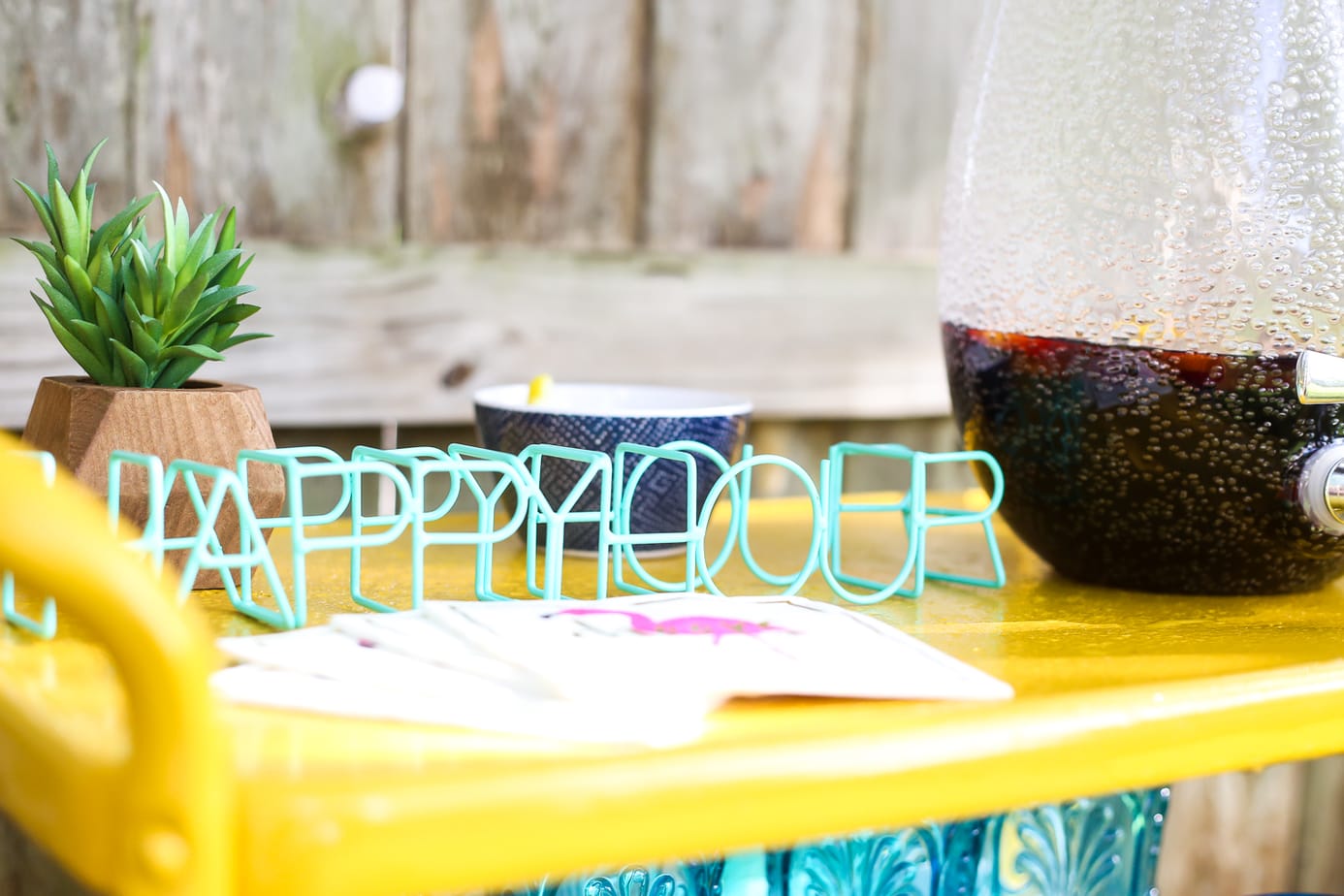 And goodness, am I ever glad I did.
When Rust-Oleum first asked me to participate in this, I didn't really have anything that fit the bill. So, twist my arm, I had to hit up my local flea market to see if I could find something appropriately rusty and in need of love. I looked for something with extra rust because I figured if I was going to try this rust-stopping primer out, I'd make sure it really works.
So, I found the rustiest thing I could find. To be honest, I was a little worried I was stretching the abilities of this stuff.
I mean…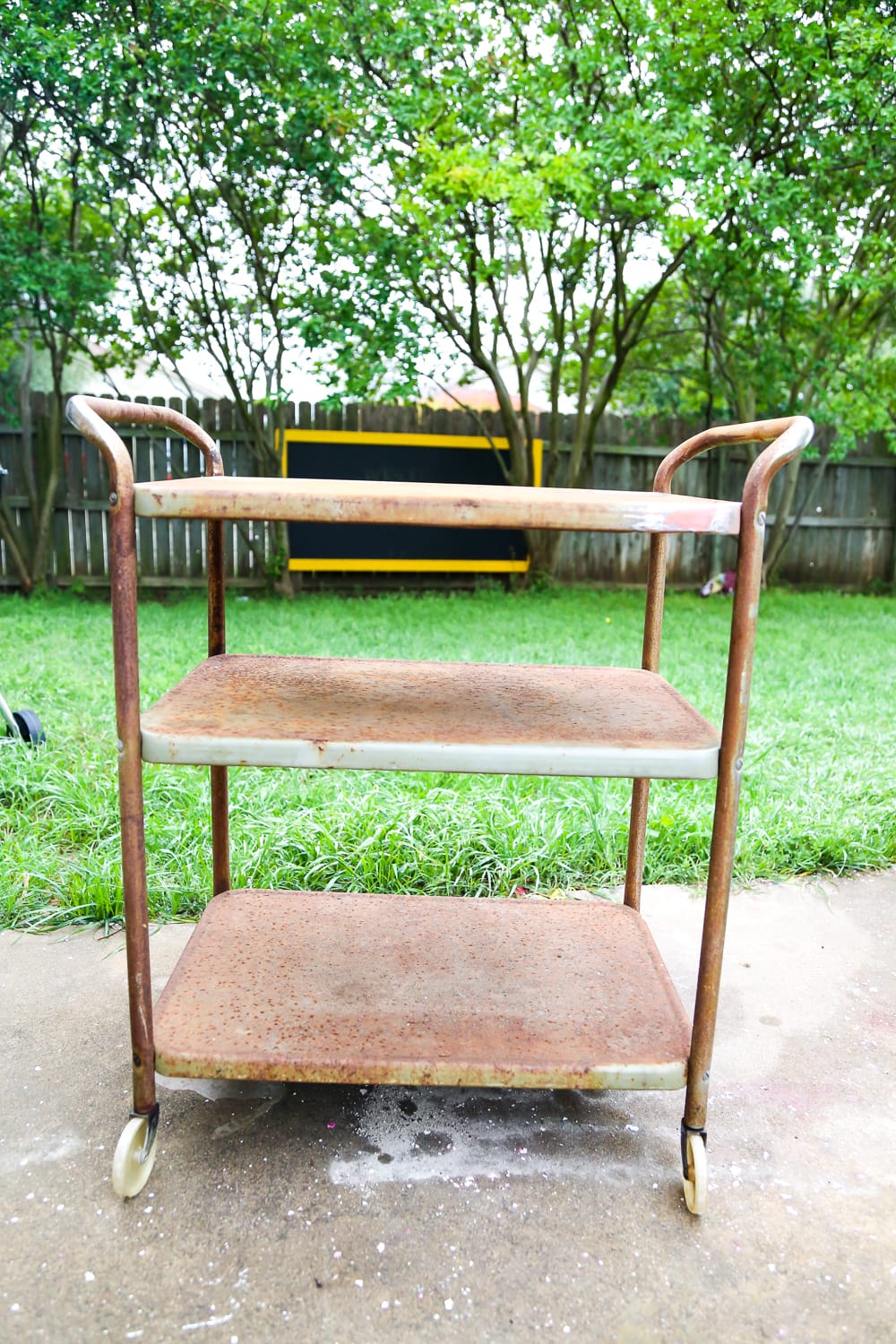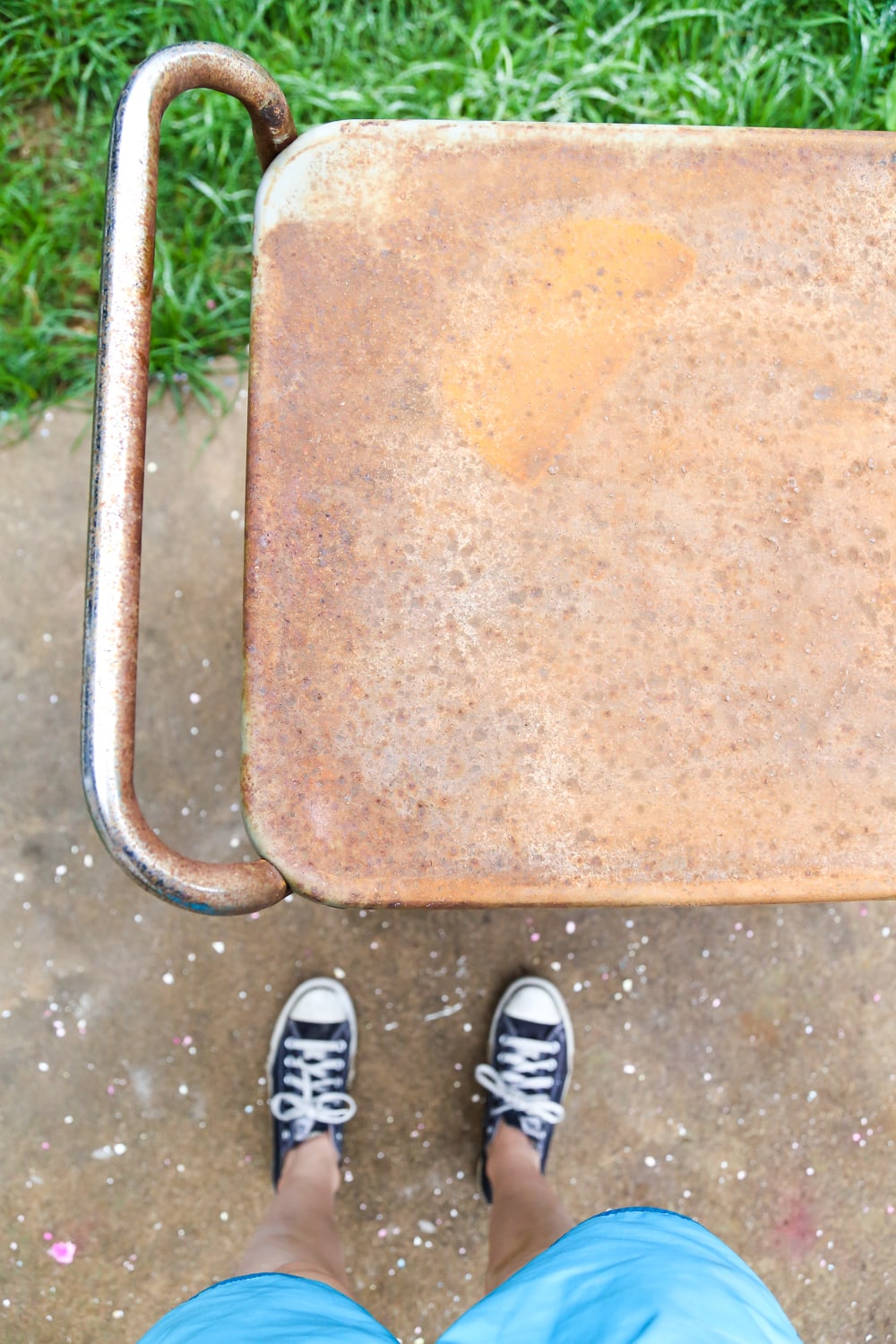 Hello, rust.
It even had a spot where there was a hole in it due to the rust. But, the bar cart was exactly what I wanted and will be perfect for our backyard makeover, so I didn't let that stop me. I enlisted my dad to help fix it up, and a couple of days later it was looking as good as new.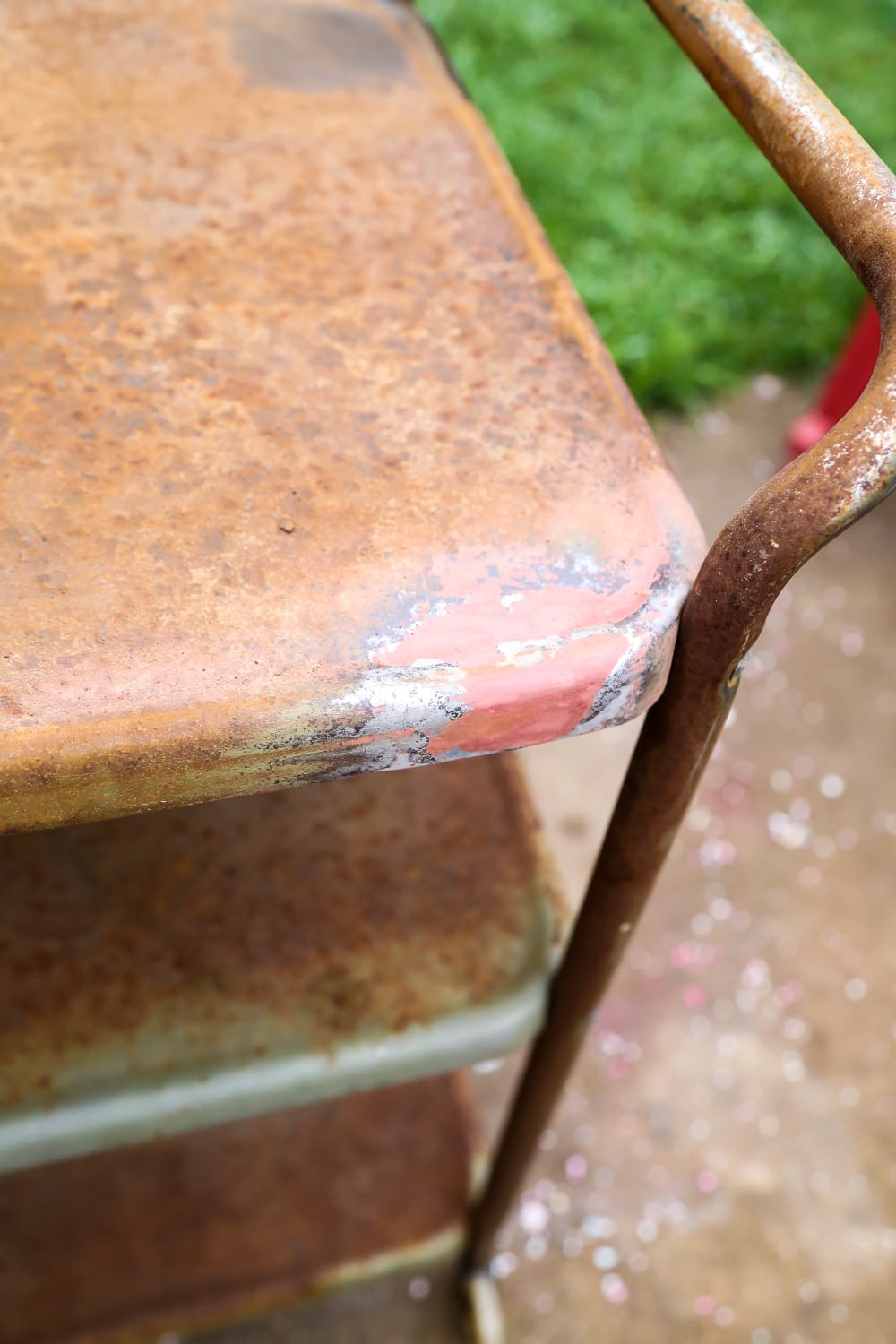 He's my hero.
Seriously, y'all. There was a straight up hole there before. He's a miracle-worker.
Anyways. Once the hole was all patched up, my first step was to sand the cart down a bit. The directions on the primer state that you just need to get rid of any loose rust or paint and clean it with soap and water, so I just used a sanding block to lightly get up any areas where there were loose bits and then I cleaned it up as much as I could.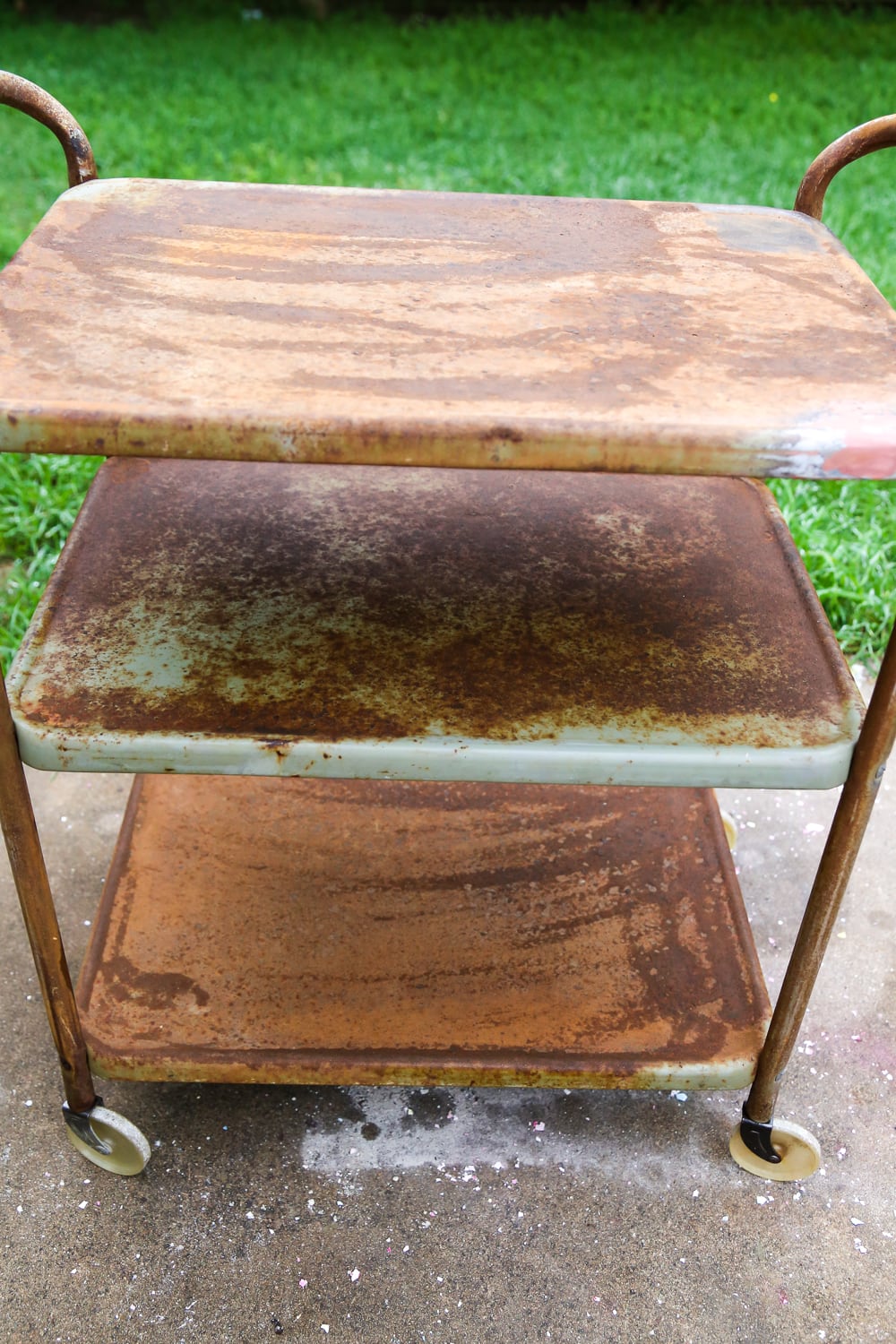 It looked…better?
I was feeling a little worried at this point and thinking maybe I was in over my head with this one, but I forged ahead. First up? Primer!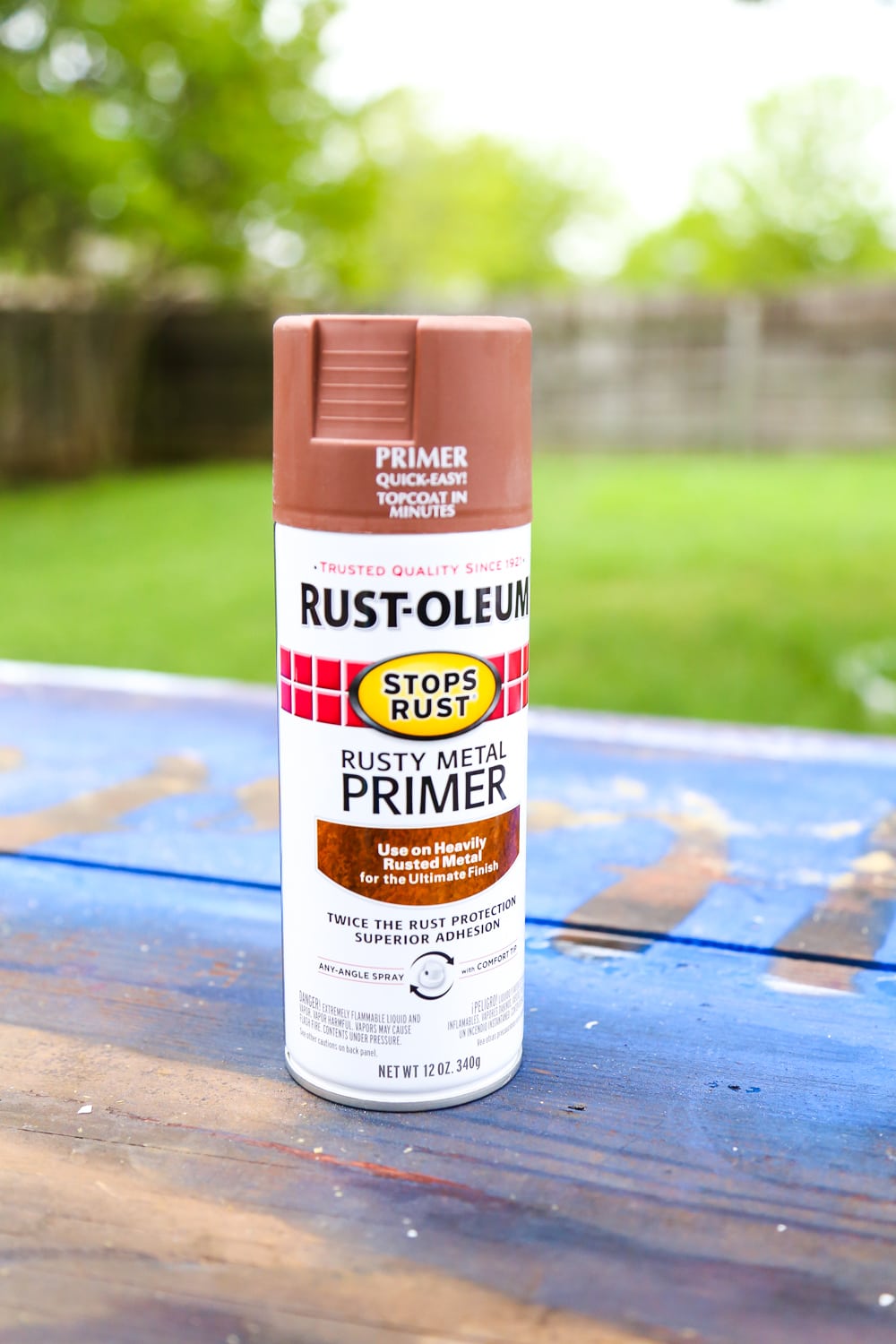 The fact that the can says "use on heavily rusted metal" made me feel slightly better.
But I feel like "heavily rusted" might be an understatement for what I was working with.
After two coats of primer (I like to be thorough!), it was looking better already.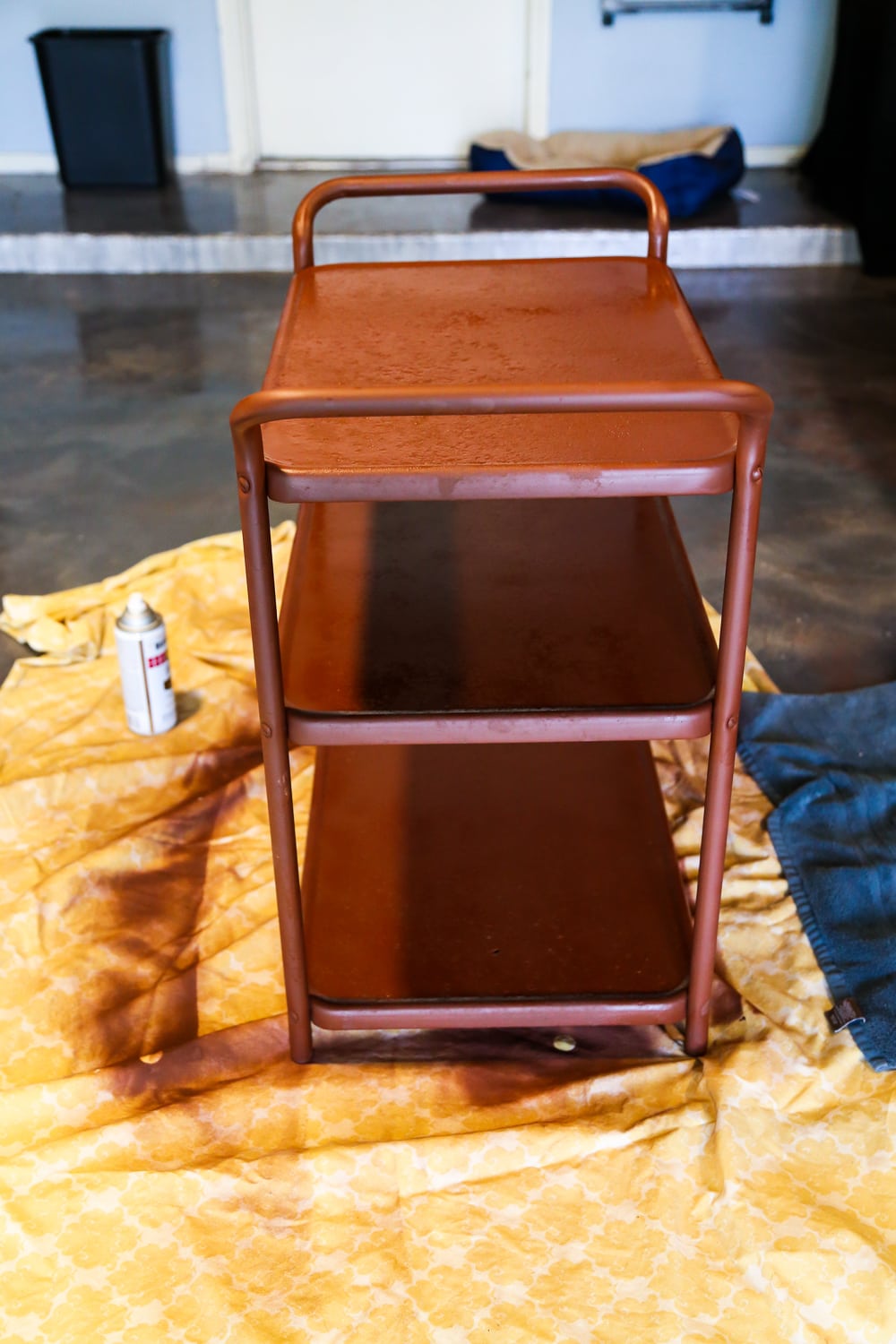 Next up was the paint. I chose Primer because, hi, I'm Amanda and I paint all the things yellow.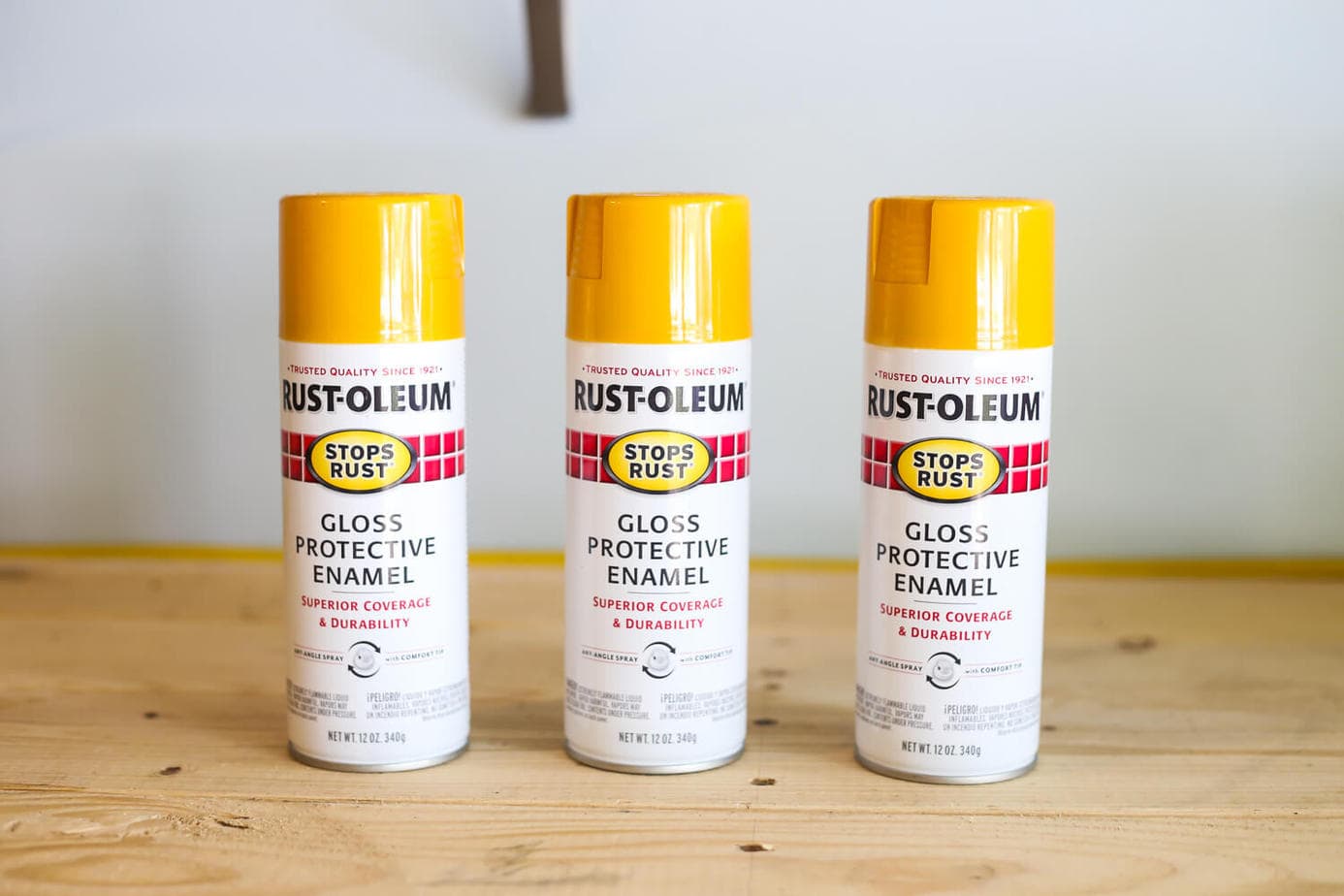 It only took two coats of yellow to cover up all of the primer (I love how well Rust-Oleum's spray paint works!). If you haven't ever used spray paint before, it's super easy. Just work slowly and steadily, about a foot away from whatever you're painting. Slowly move the paint in a back-and-forth motion, going slightly off the edge each time (so you don't have any paint pooling up on the edges of your piece). Overlap your lines slightly to ensure an even coverage, and don't over-do it – it's better to do multiple thin coats than one thick one.
I gave the whole thing a couple of days to thoroughly dry and then I got it all set up.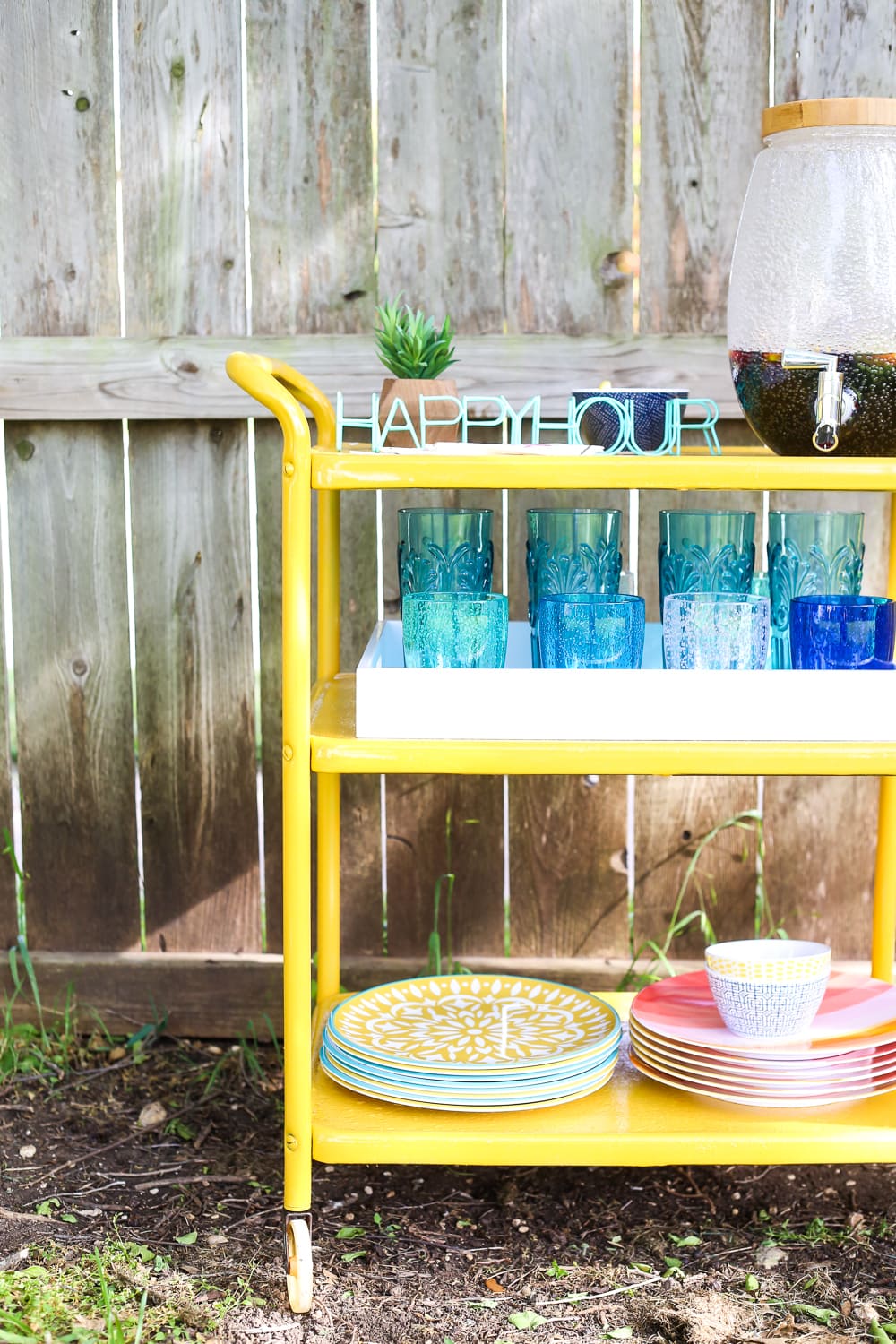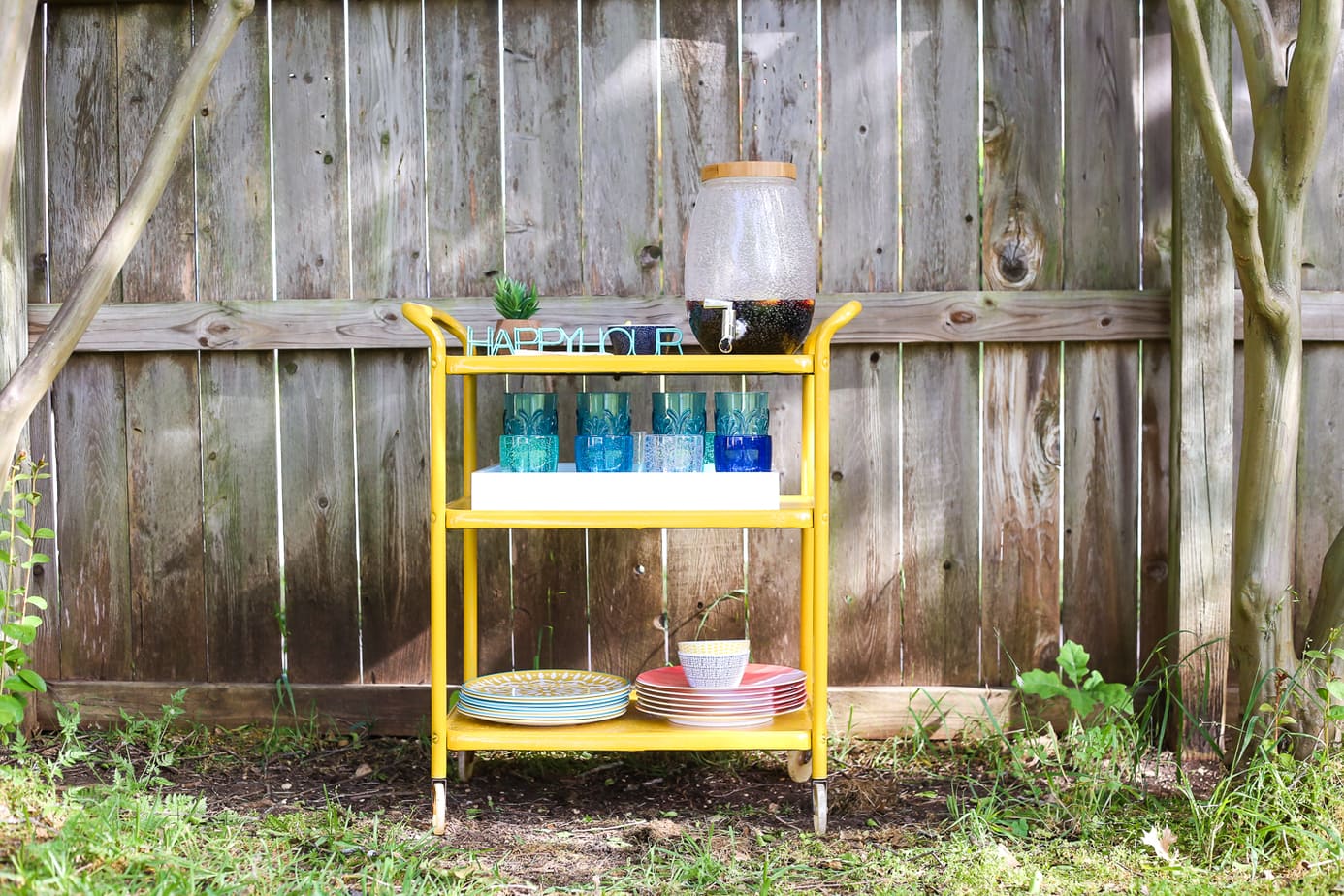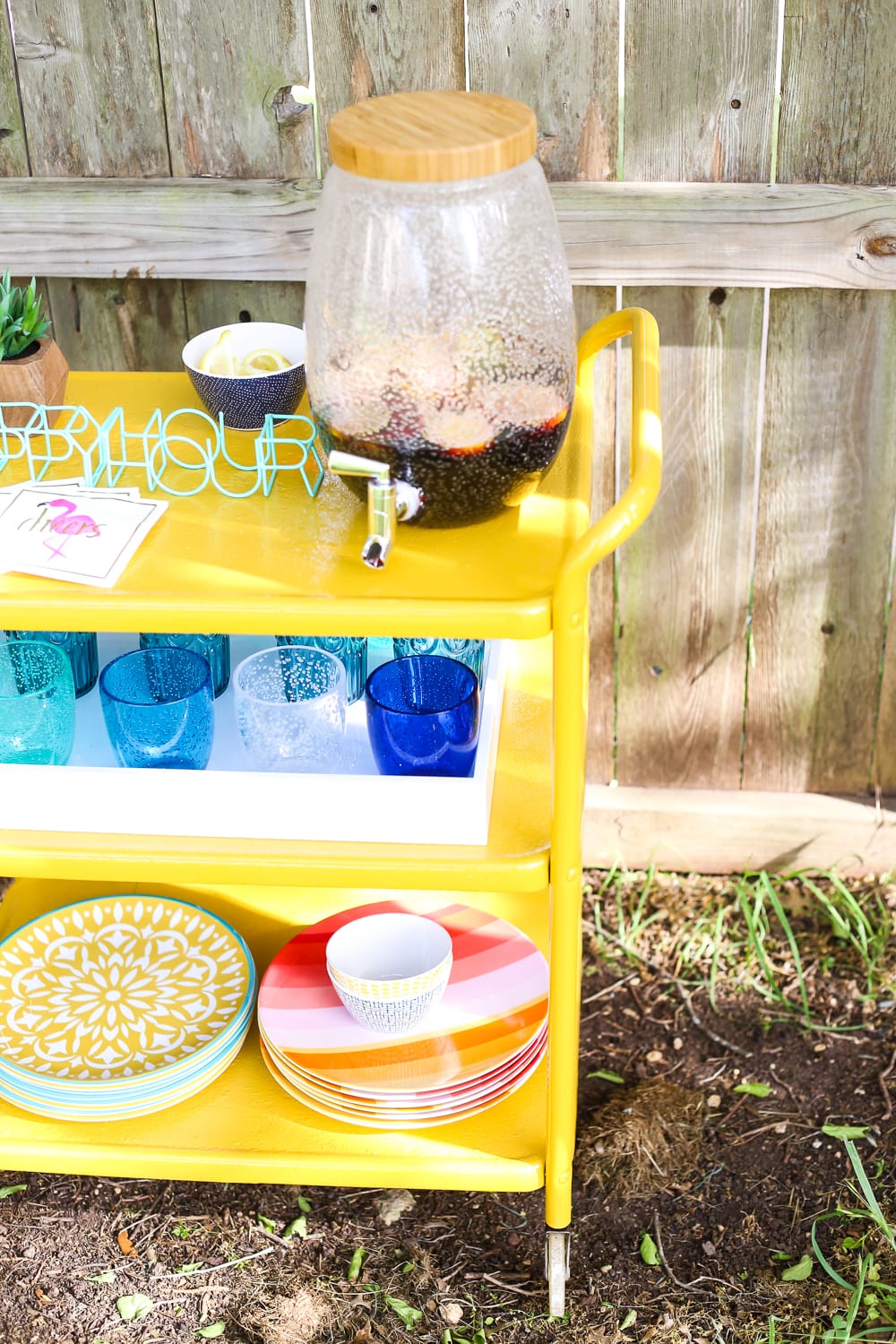 We don't actually have our outdoor eating area set up yet (soon!), so we're just pretending at this point.
But just because I don't have a table doesn't mean I can't drink some sangria in the backyard, right?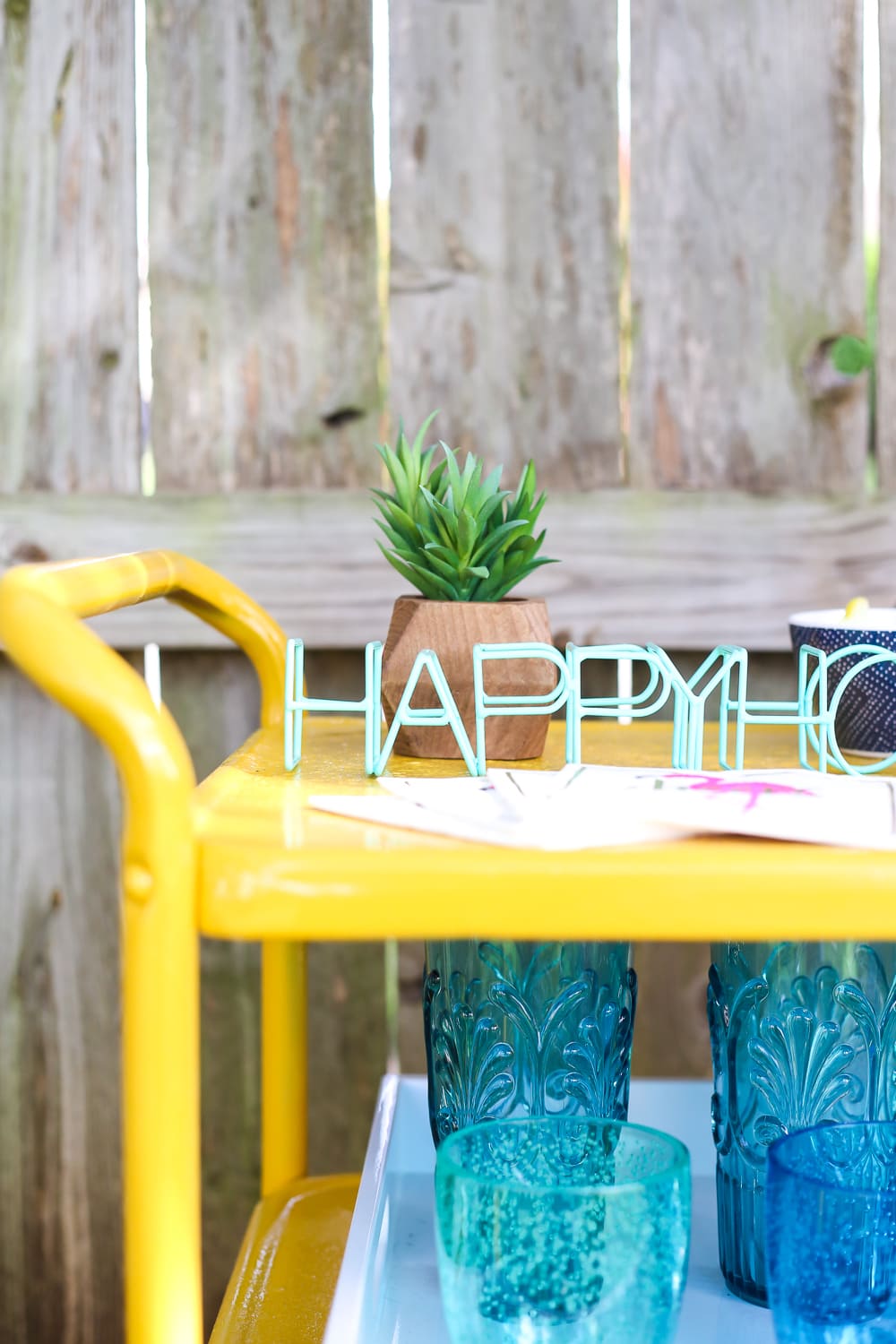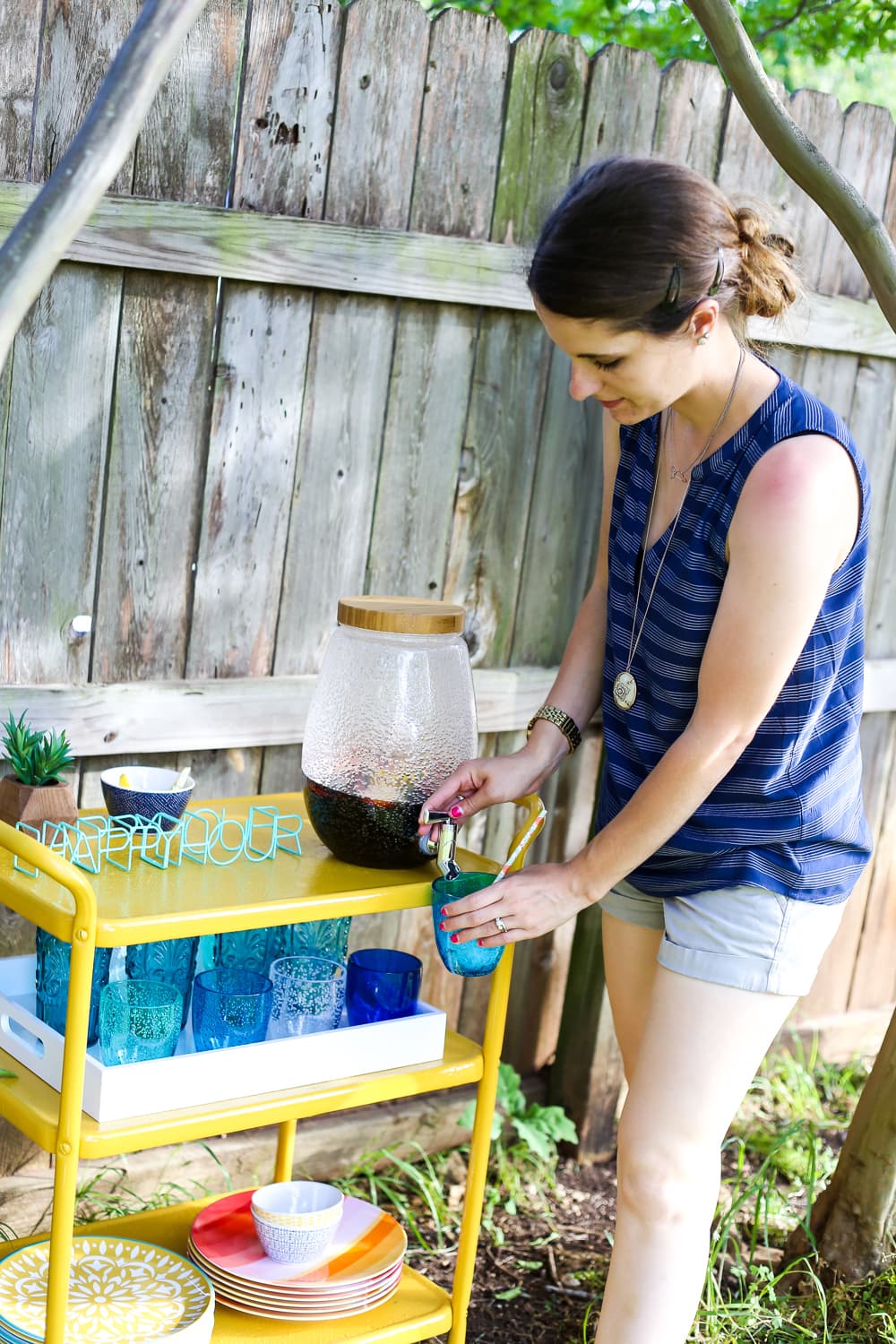 I am seriously shocked at the transformation here. I've painted a lot of furniture in my day but this might be one of the most dramatic before-and-afters I've seen. I mean, my friends were seriously side-eyeing me when I showed them photos of the bar cart before I painted it.
(I don't blame them. It was a mess.)
But now?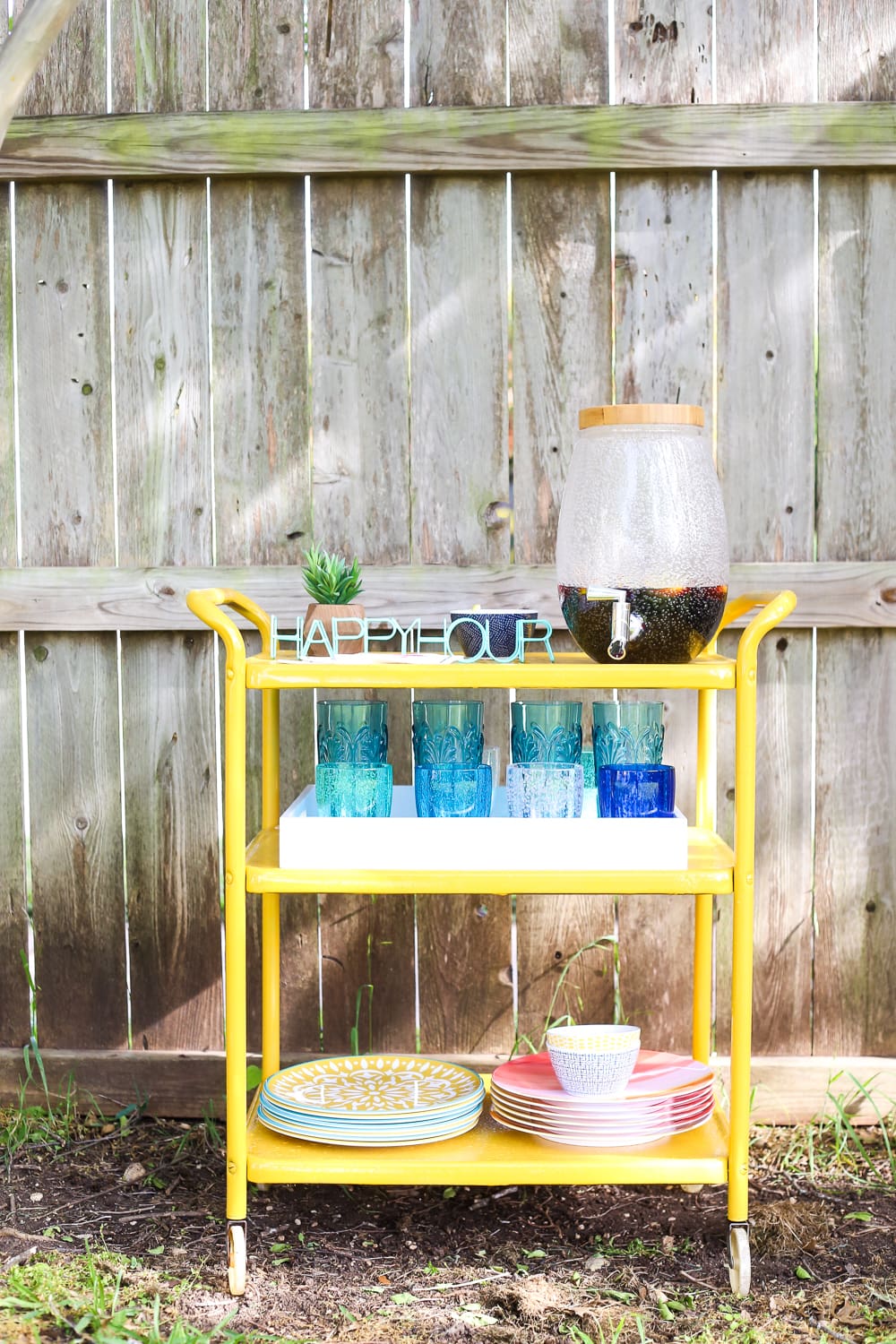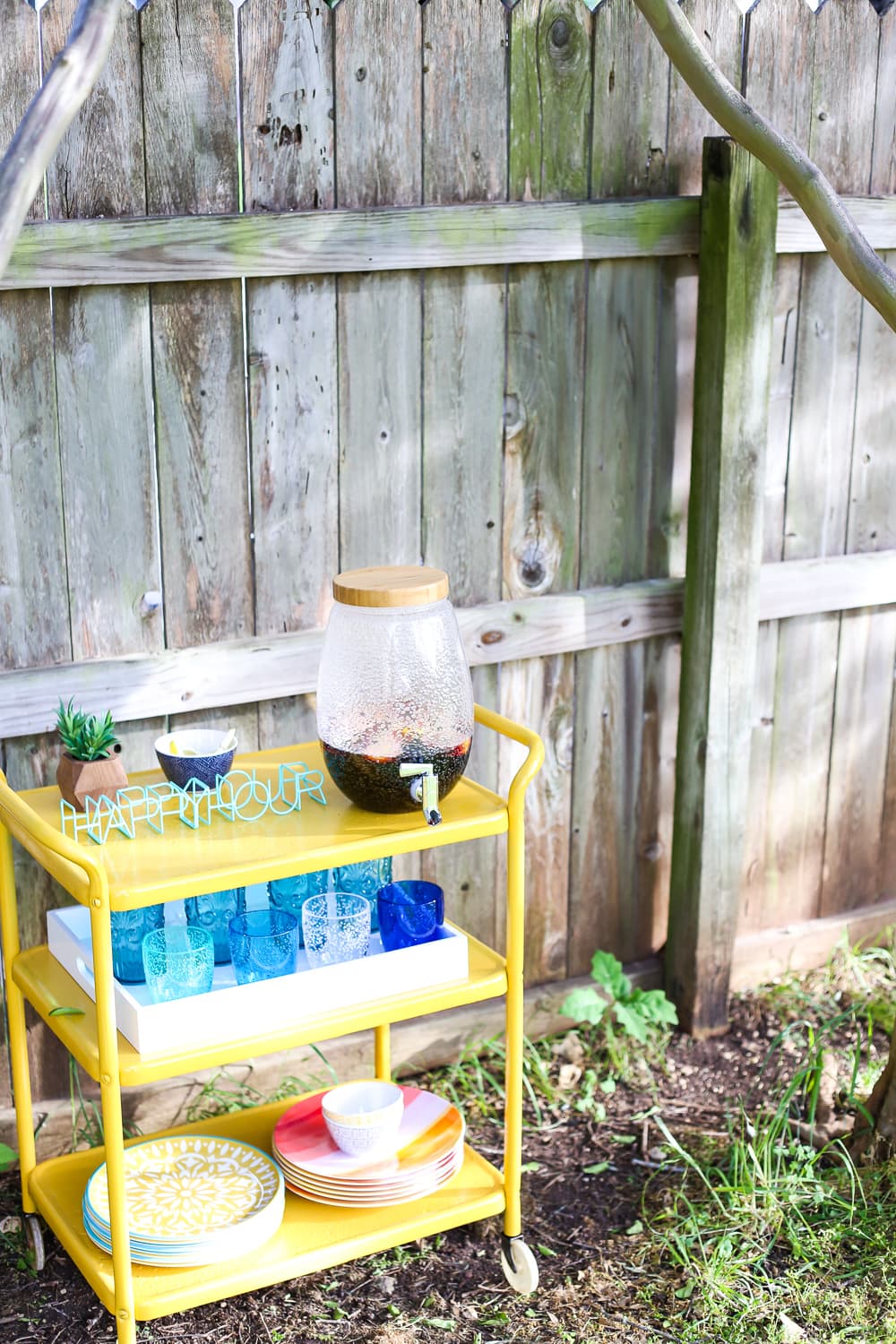 No one is second-guessing my sanity and I will never again doubt Rust-Oleum's ability to blow my mind with their awesomeness.
This stuff is amazing, y'all.
I'm really pumped to use this primer and paint again soon on another little project – my dad has this adorable old metal children's rocking chair that was at my grandparent's house, and it's completely rusty and in really sad shape. But I have a feeling it's going to look amazing once I give it some love.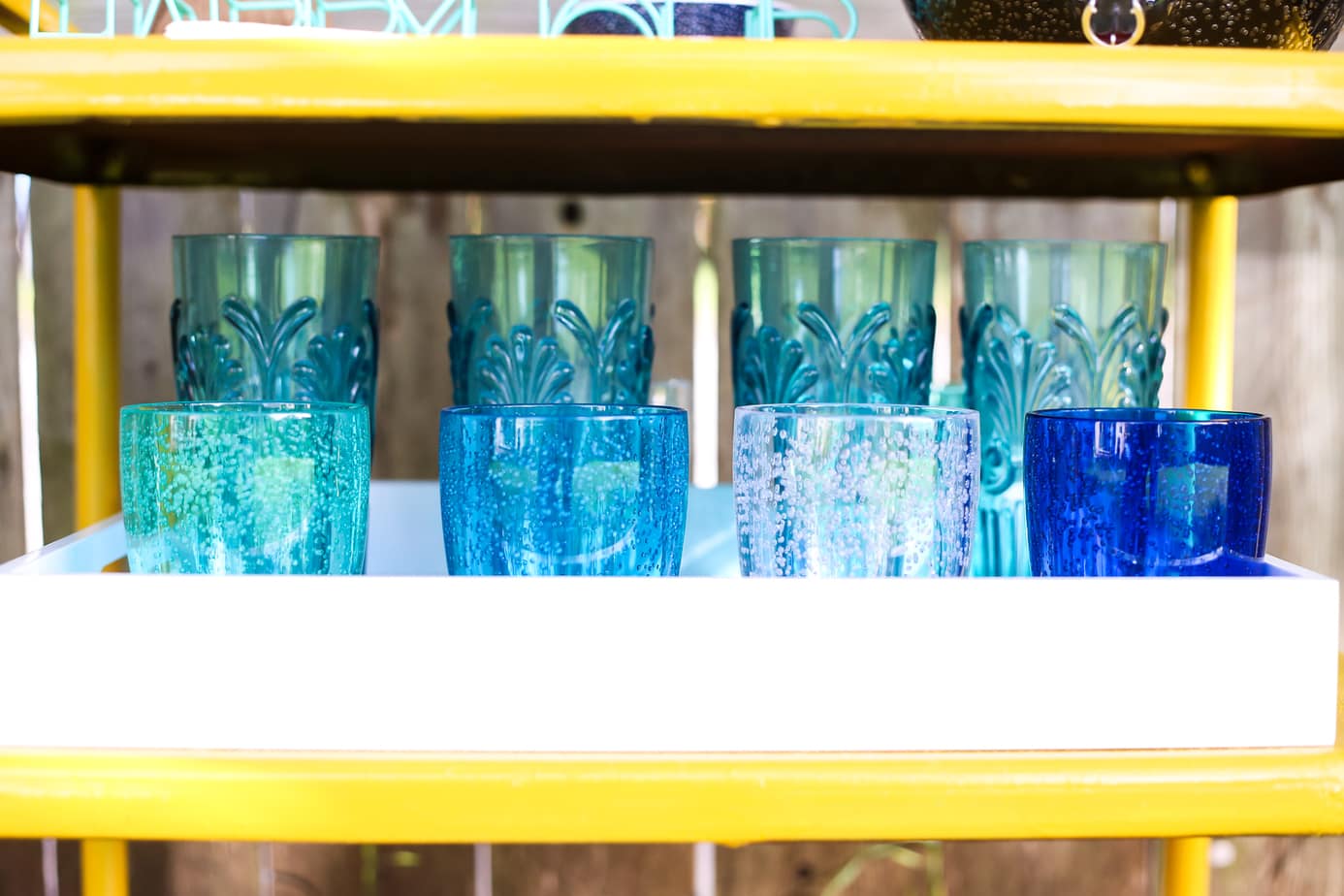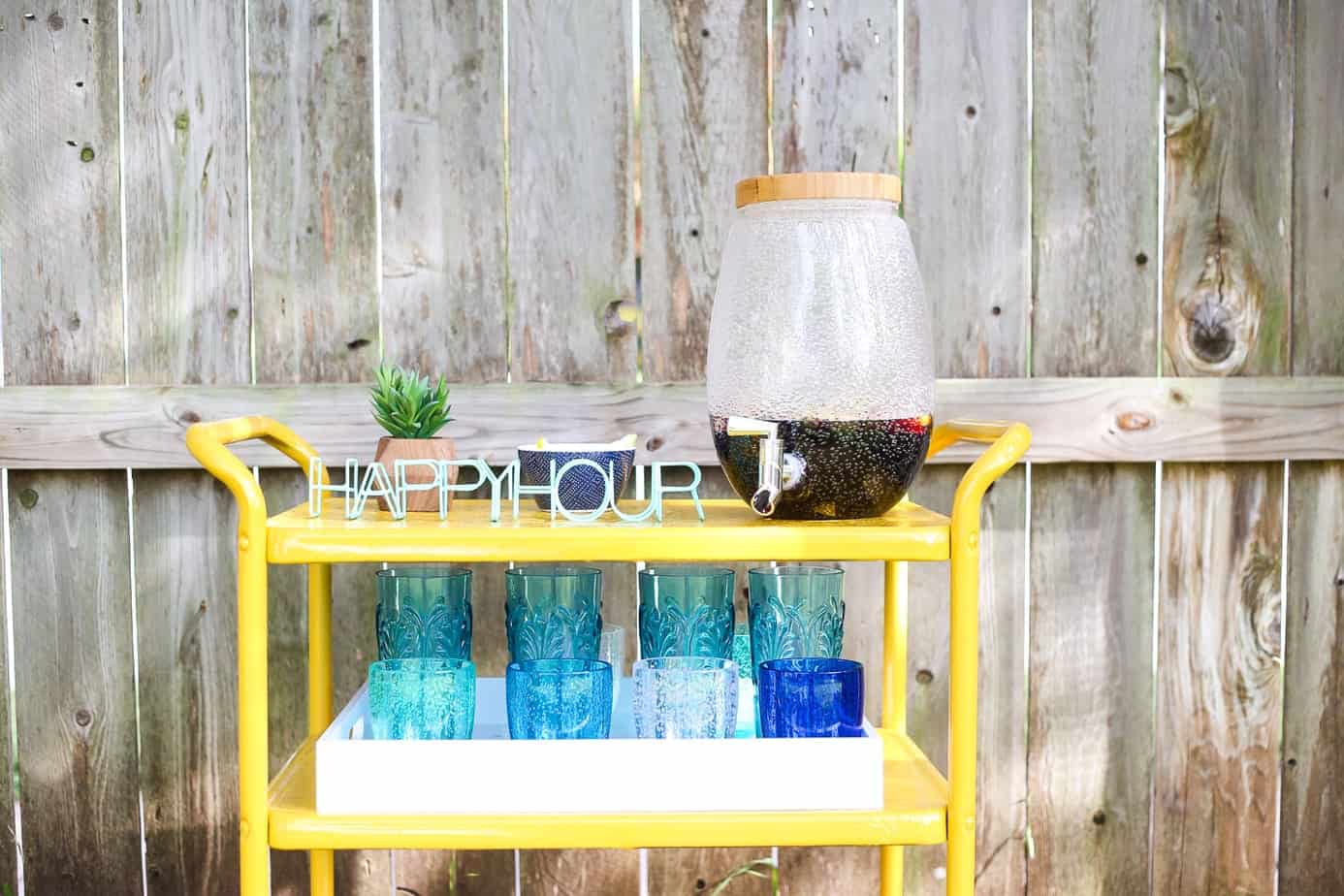 And, one more time for those of you who are still skeptics…the before and after:

Incredible!
Don't forget to go check out Rust-Oleum's amazing rust-stopping products and give them a shot the next time you've got some furniture that needs a little love.
If you're looking for more outdoor projects, here are a few of my favorites:
Anyone wanna come over for a drink?!