Looking for an easy sangria recipe? Look no further! This simple red sangria recipe takes only a few minutes to throw together, is absolutely delicious, and will be a crowd-pleaser every time!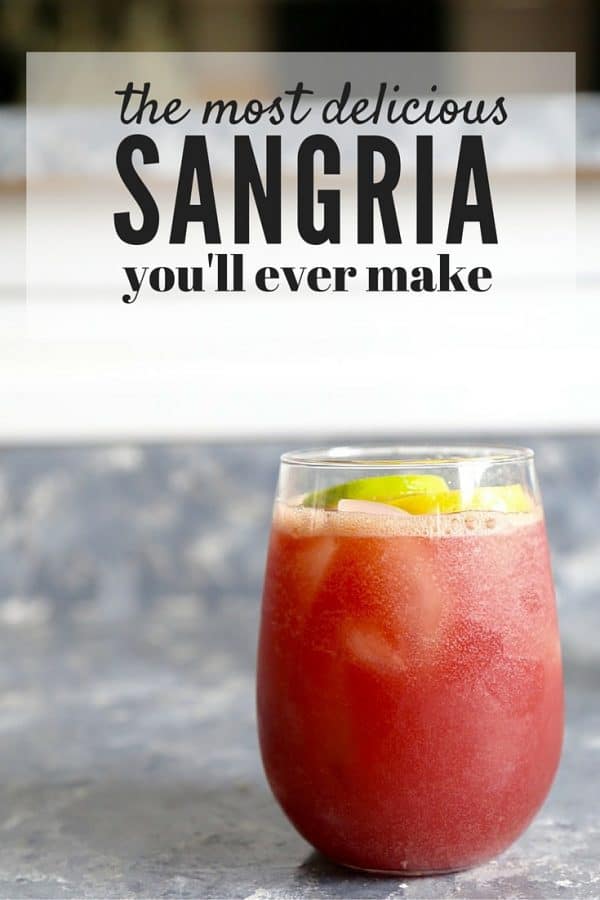 Sangria is probably one of my favorite drinks ever. It's a perfectly refreshing drink for a warm day, and it's so easy to throw together.
This recipe is an absolute staple in our home – during the warm months (which is most of the year in Texas), it is pretty much a constant presence in our refrigerator. We bring it to almost every party we attend, and it's my go-to drink for when we have people over.
Basically, it's the perfect recipe, and there's nothing I love more than setting a big ol' pitcher on our DIY outdoor bar cart and having some friends over!
I'm pregnant this summer, so I'm not able to partake in it like I normally do (what a bummer, right?!) but I'm telling you, this will be one of the first recipes I throw together as soon as our baby boy is born at the end of the summer! Longtime readers may recognize this recipe and post (the photos were taken in our old kitchen!) – it's actually from a few years back, but I've been wanting to try out sharing some more recipes here on the blog and I figured that reviving this one might be a fun place to start. Let me know what you think – if you're interested in seeing more recipe posts over here I'd be happy to oblige!
But, enough talking about why I love this easy sangria recipe so much – you're dying to know how it's done, right? Let's hop to it.
Let's start off with the cast of characters: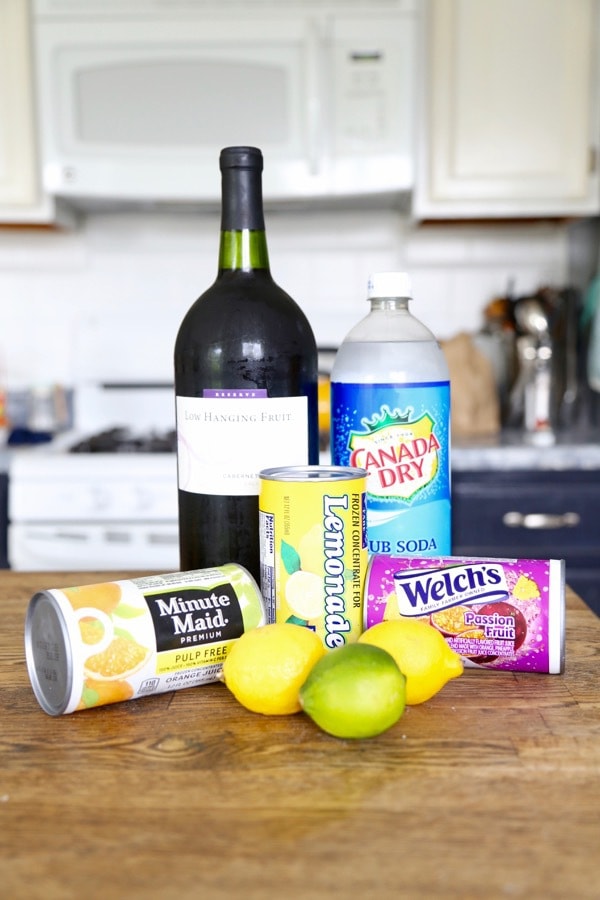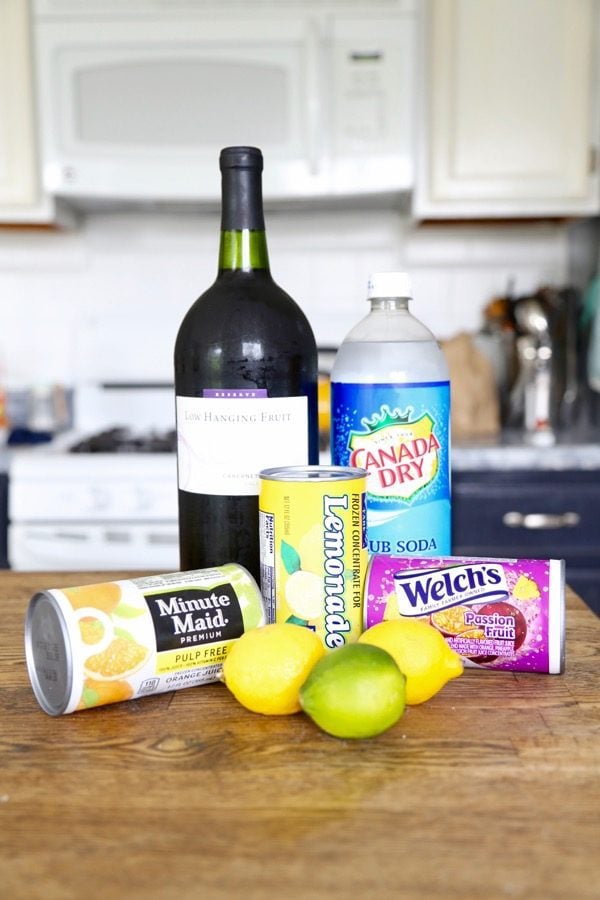 Easy Sangria Recipe: How to Make Homemade Sangria
Yield: 1 gal
A Delicious and Easy Sangria Recipe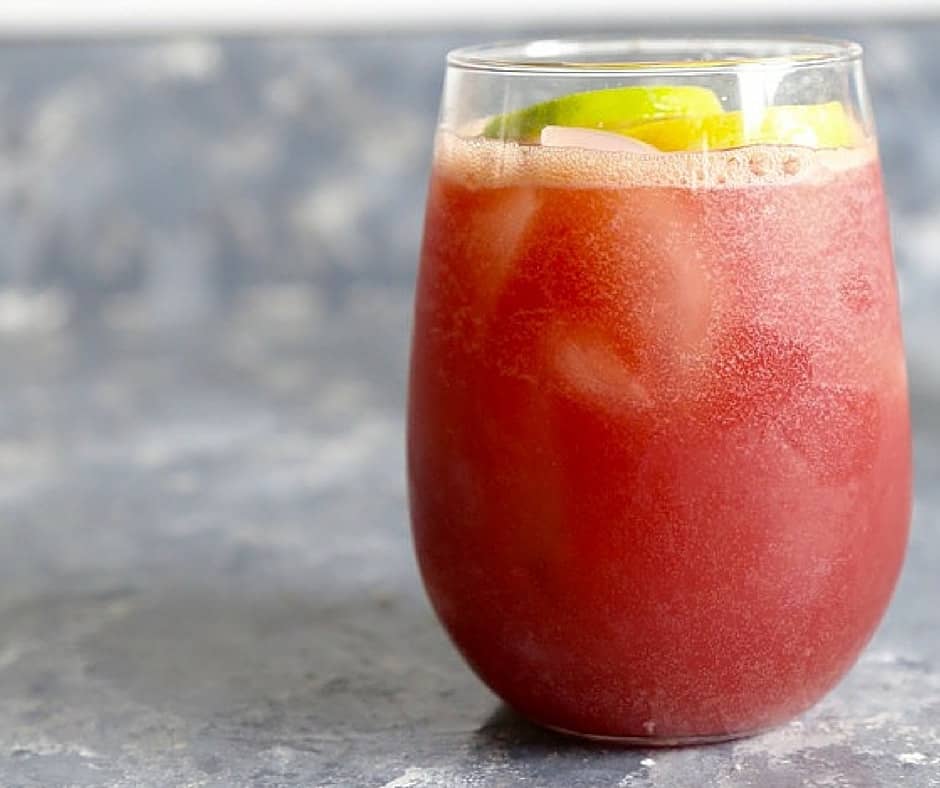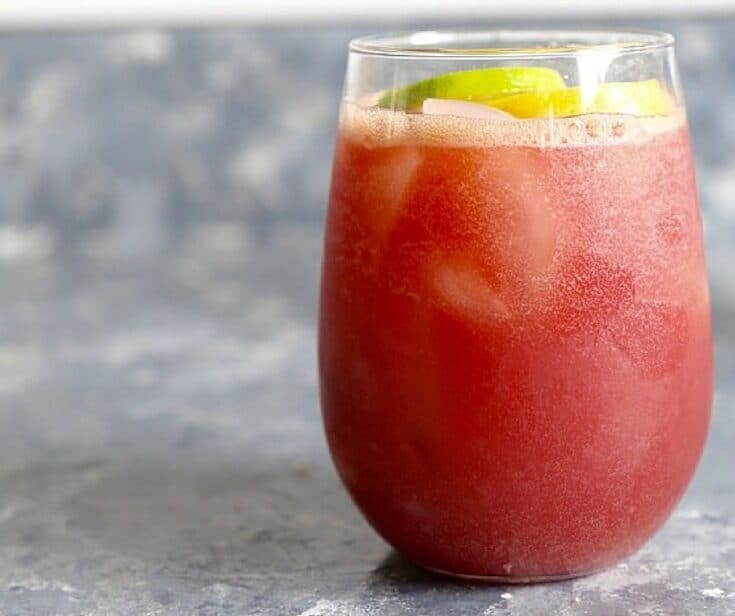 This simple sangria recipe is easy to make and will quickly become a staple at all of your gatherings! 
Ingredients
1.5 liter bottle of Cabernet
1 can of pulp-free frozen orange juice from concentrate
1 can of frozen passion fruit juice from concentrate
1/2 can of lemonade from concentrate
1 liter of club soda
A couple of lemons (limes work fine if you don't have any on hand)
Instructions
Start with the frozen juices. We usually let ours thaw out in the refrigerator or on the counter for a while before using them, because it makes it easier to mix. As noted in the ingredients, we just use 1/2 of the lemonade can and use the other half to make a pitcher of actual lemonade!
Next, add your wine and the lemons/limes.
Now you pause to stir it all together – this is important! If you wait to stir until after you add the club soda, you can mess with the carbonation and it won't be quite as wonderful and fizzy. So take a second now to get it all nice and mixed up.
Last, add in the club soda!
Nutrition Information:
Yield:
8
Serving Size:
1
Amount Per Serving:
Calories:

180
Total Fat:

0g
Saturated Fat:

0g
Trans Fat:

0g
Unsaturated Fat:

0g
Cholesterol:

0mg
Sodium:

4mg
Carbohydrates:

15g
Fiber:

1g
Sugar:

9g
Protein:

1g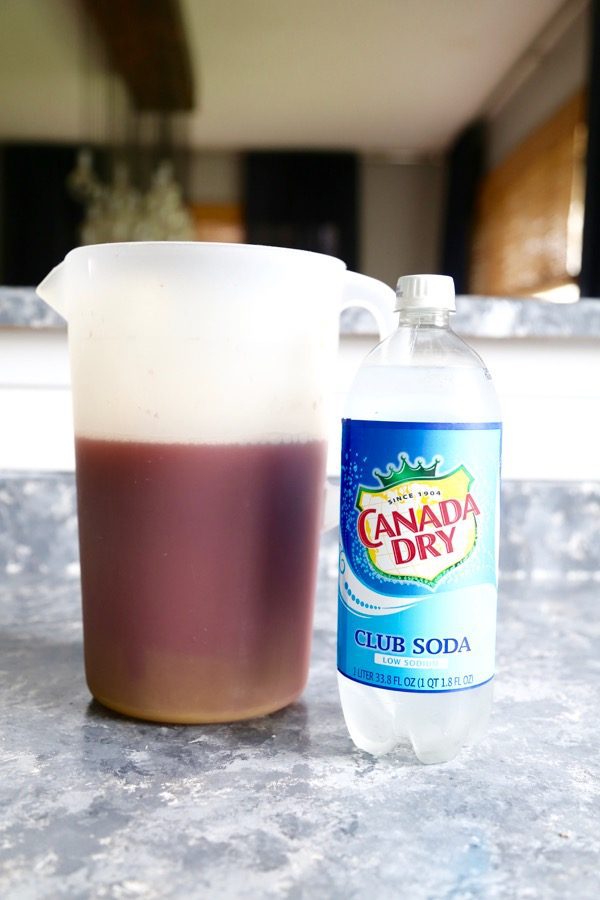 You can stop here if you want (we usually do) but if you're having people over and you want to make it a little prettier, you can add some sliced fruit. We'll sometimes add lemons and limes if we have them on hand, but you can really do whatever you want.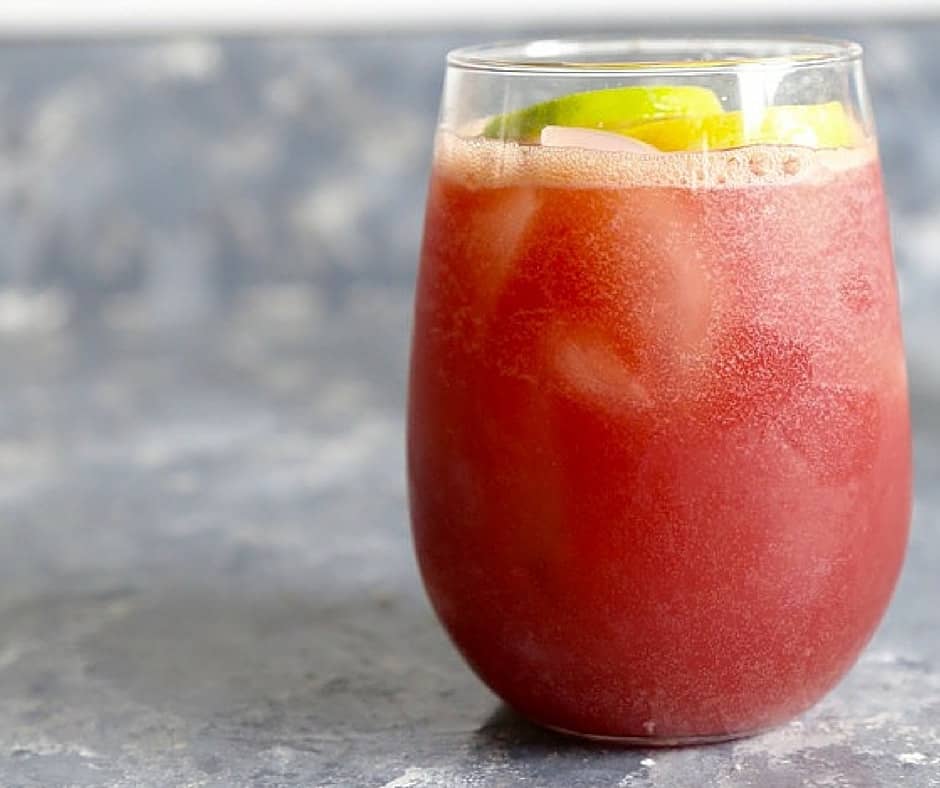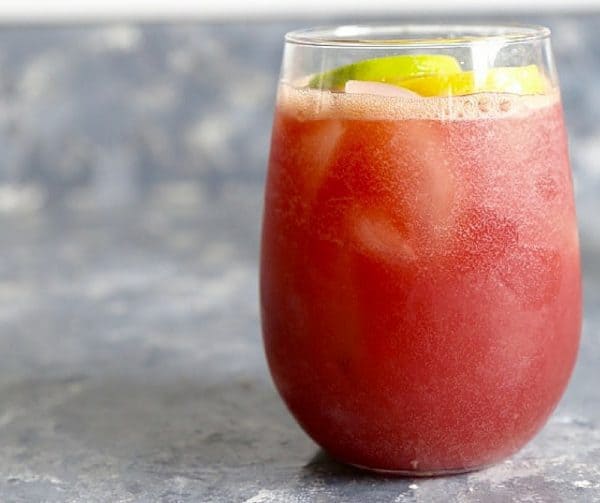 Pretty, no?
Often when we make this, we do it in an old gallon jug that has been cleaned out (we regularly buy gallons of tea, so we just use one of those, but you could use an old milk jug if you clean it out well enough) because it's the perfect size, it has a lid, and it's just all-around easy. However, if we're making it for other people, we'll bust out a nice pretty pitcher.
And that, my friends, is how you make the easiest, tastiest sangria ever!
It's addicting – don't say I didn't warn you!
Want to see some more recipes? Here are some other ones you may love: