DIY Candles + Concrete Candleholders
Have you ever wondered how to make your own candles? Well, you're in for a treat! Today I'm sharing my favorite DIY candle holders made of concrete and a simple recipe for making your own candles.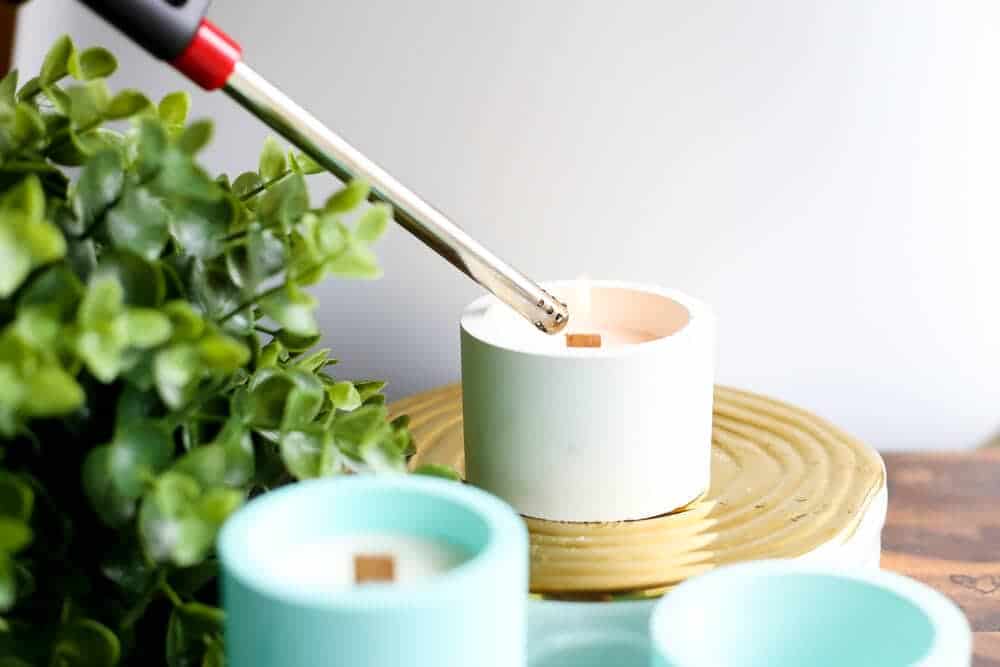 I have a really fun and shockingly easy tutorial for you today! I recently became obsessed with candles – I never used to burn them due to some childhood trauma with fire, but I gave them a shot a couple of years ago and my love for them has only grown since then. There's something so cozy and wonderful about lighting a few candles and curling up on the couch for a movie, and my candle collection seems to grow daily. I think it has taken on a life of its own at this point!
And, um, it's about to get worse.
'Cause I just learned how to make my own candles. And how to make a DIY concrete candleholder. We're all in trouble now.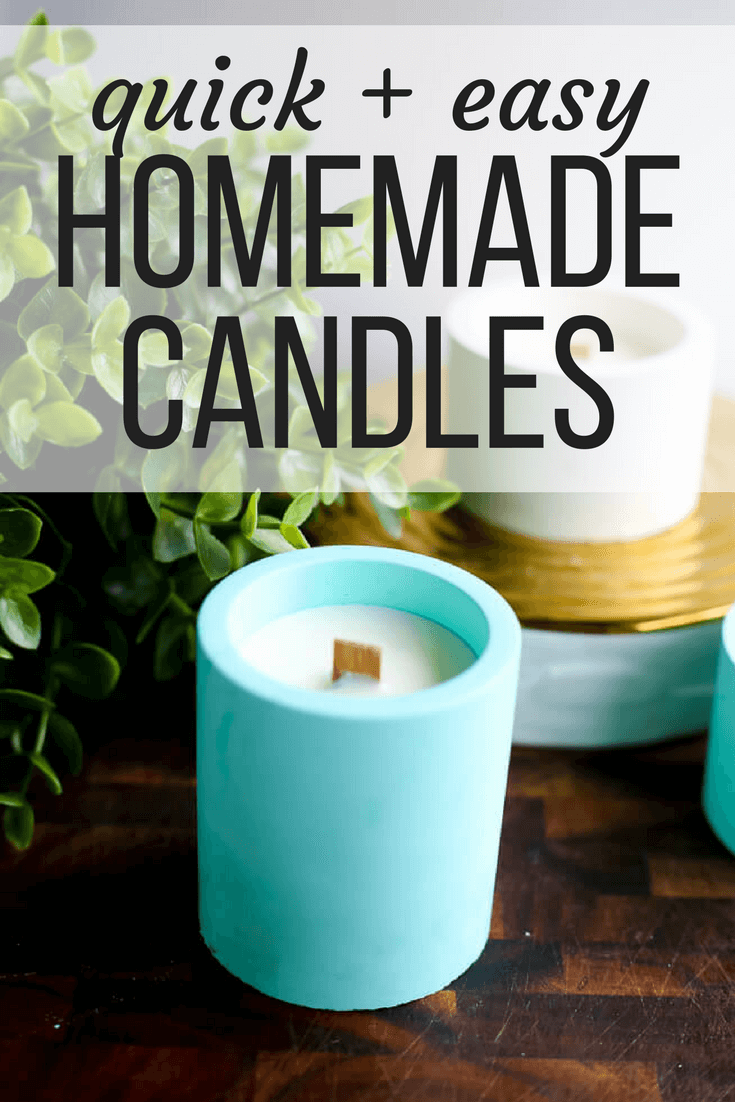 This post contains affiliate links. Click here to read my full disclosure policy.
I've been itching to try this out for quite some time now, but I was kind of nervous to give it a shot and totally convinced it was going to fail. I spent lots of time researching how to make your own candles, how to make DIY candle holders, and how likely it was that I would burn my entire house down in the process.
But, also like most things I'm avoiding, I eventually decided it was time to just do it. After all – what's the worst that could happen?!
Ahem. Let's not go there.
Easy DIY Concrete Candle Holders
First up, let's chat about the DIY candle holders. These concrete candle holders are incredibly easy to make, and they have such a unique look – they're perfect for a gift…or just to hoard for yourself. Here's how it's done:
Materials needed:
I linked a mold similar to the one I used above, but here are a few other great concrete mold options on Amazon that would be perfect for DIY candle holders:


Step One: Mix your concrete
Simply follow the directions on your concrete package to mix it up – if you'd like to use colorant, add it while you're mixing the concrete.  Depending on your concrete mix, you'll likely do something in the neighborhood of 4 parts mix to 1 part water – but no matter what mix you're using, you're shooting for a pancake batter consistency.
Step Two: Pour into mold
Once you've got approximately enough concrete to fill your mold (this is definitely a trial and error game!), carefully pour the mix into your silicone mold. Fill it to the top and then gently tap it (or even pick it up off the table slightly and drop it) to bring any bubbles to the surface. You'll see them pretty quickly, and once the bubbles stop showing up, you're good to go.
Step Three: Allow to sit overnight, then remove from the mold
And this, my friends, is the hardest part – getting the dang thing out of the mold.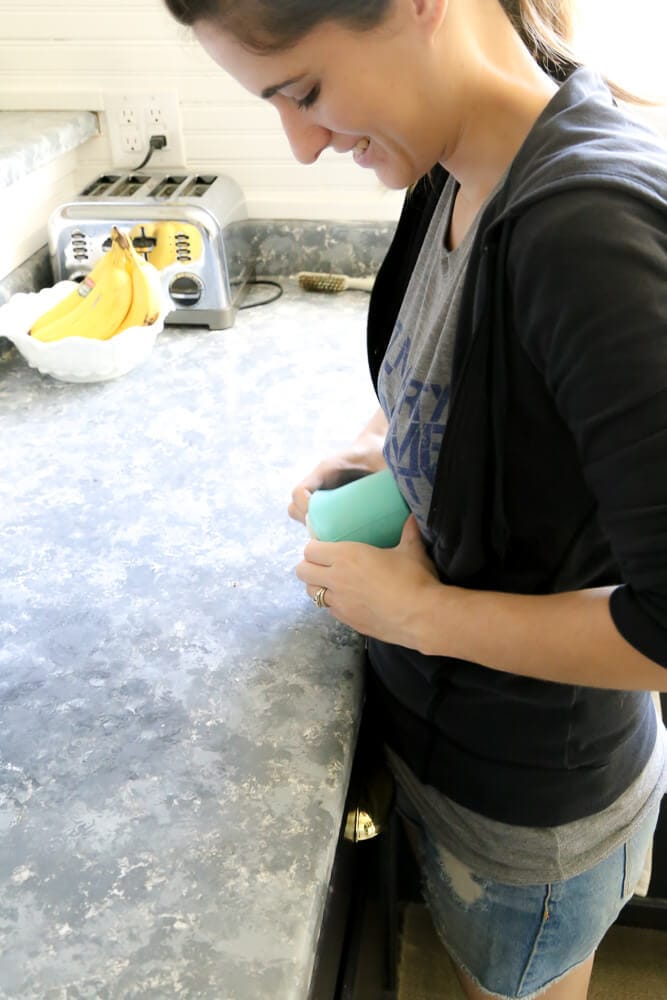 You could stop here – and just use a pre-made candle to fill your DIY candle holder up. I actually have a few that I made a while back that I just tossed a tealight candle into and called it a day. But, since I've been itching to try out the whole DIY candle thing for so long I decided to fill some of them up with my own concoction – and I'm sure you want to try it to, so let's dive into it.
How to Make Your Own Candles
Materials needed: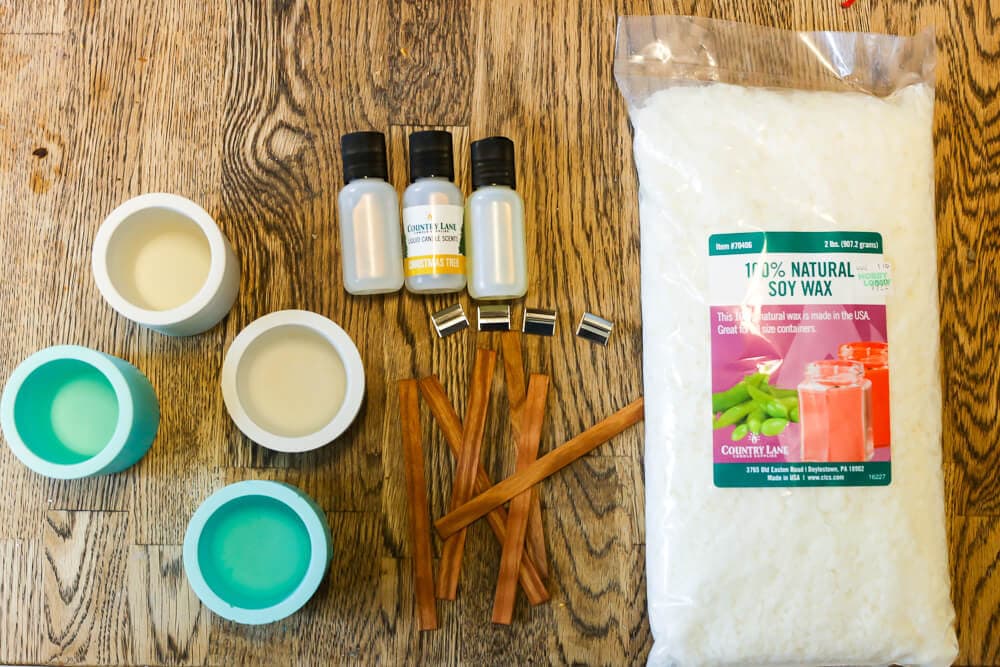 Making your homemade candles:
Measure and pour your wax into a saucepan. You'll need about 2 times the volume of your container – you can just use that as a scoop and do it twice. Heat over low heat until the wax is completely melted.
While your wax is melting, attach your wick holder to the bottom of your candle holder. You can purchase stickers for the wicks, but the wood ones come with a little metal holder. I used super glue to attach mine, but you could also just add a bit of melted wax to the bottom, pop it on top, and let it dry. Cut your wick to the desired length, and insert it into the holder (if you're using wax wicks, you can cut it afterward).
Once you wax has melted, add your scent. A good rule of thumb is 1 ounce of fragrance per pound of wax. If you're working with essential oils, you may need more because they tend to have a weaker throw when the candle dries.
Stir together, and pour into your container. Be sure not to fill all the way to the top of the container – you don't want it to spill out, and most candles have a bit of room in the top so the flame isn't completely exposed.
Set in a cool place where it won't get messed with, and let sit for several hours (overnight is ideal).
Enjoy!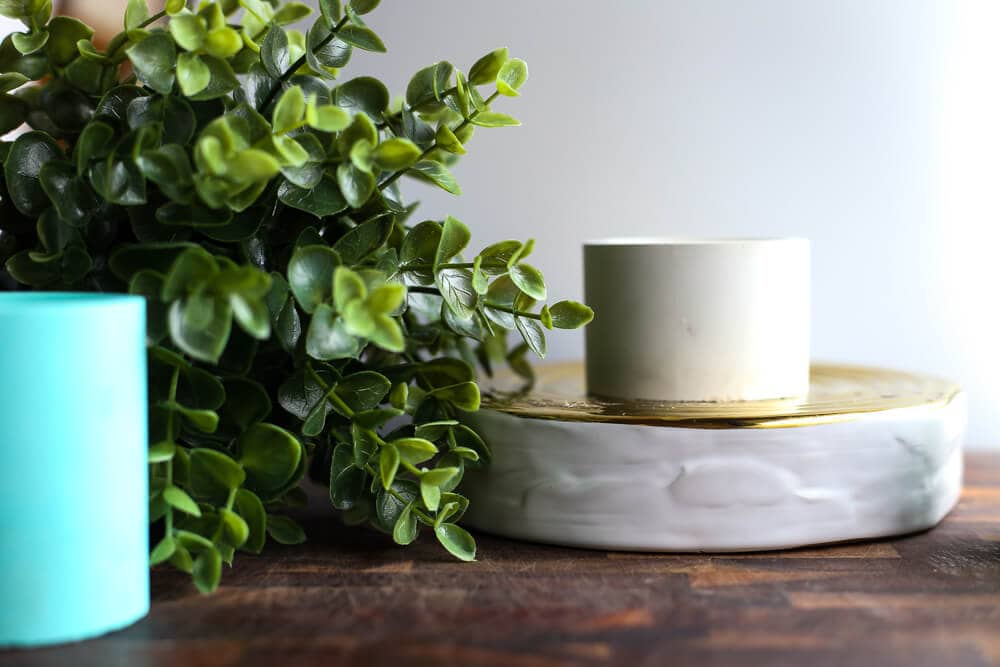 Personally, I'm a huge fan of the wood wicks. The crackling sound that they make while they burn just warms my soul, and they really feel special. I've made candles with regular wicks as well, though, and they're obviously pretty awesome as well.
Generally speaking, you're going to be making several candles at a time (I found that a pound of wax generally made at least 3 candles for me, depending on how large my container was), so it's a great idea to make a big batch of these and set them aside for Christmas gifts, Mother's Day gifts, or even as a really sweet homemade housewarming or hostess gift!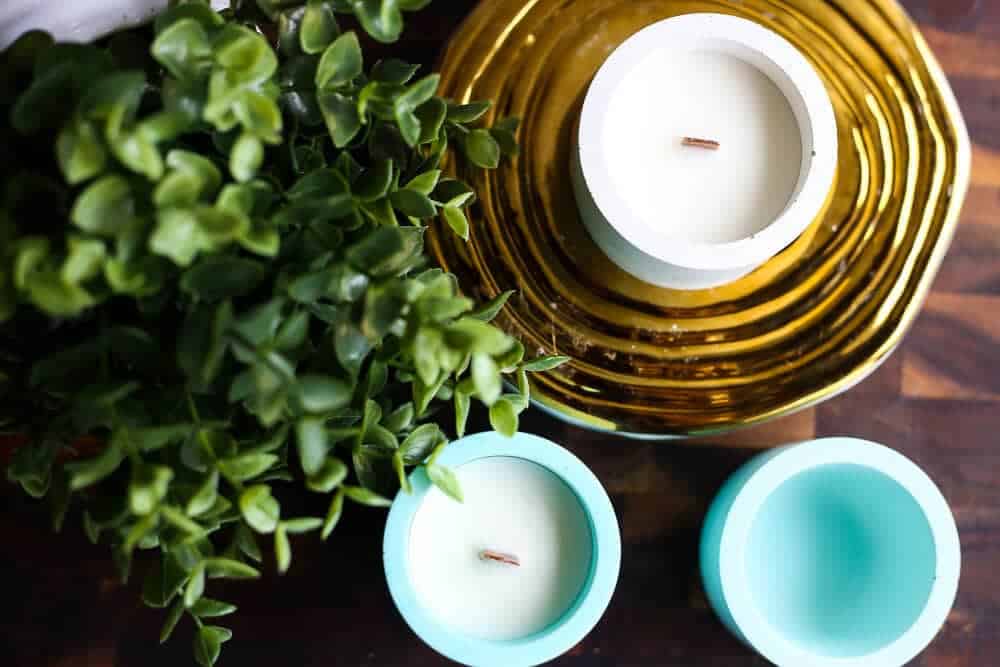 I have a feeling this will be a really fun little hobby to get into. The sky is really the limit with what you can do with this basic little recipe – you can add colors to your candles, you can play around with different scents, waxes, and containers. Who knew it was this easy to make a candle?!
If you love this project, here are a few other posts and projects that might be right up your alley. 
Have you ever tried making your own candles? I'd love any scent combo suggestions you have for me to try!