DIY Tomato Cage Plant Stands
Learn how to make a DIY plant stand from a tomato cage. This cheap plant stand idea is incredibly easy to make yourself, and will add a ton of color to your yard. 
You guys! Today I am so excited to share one of the easiest and cutest projects you will ever see in your life.
Seriously – it takes about 15 minutes, costs no more than $20, and looks like this: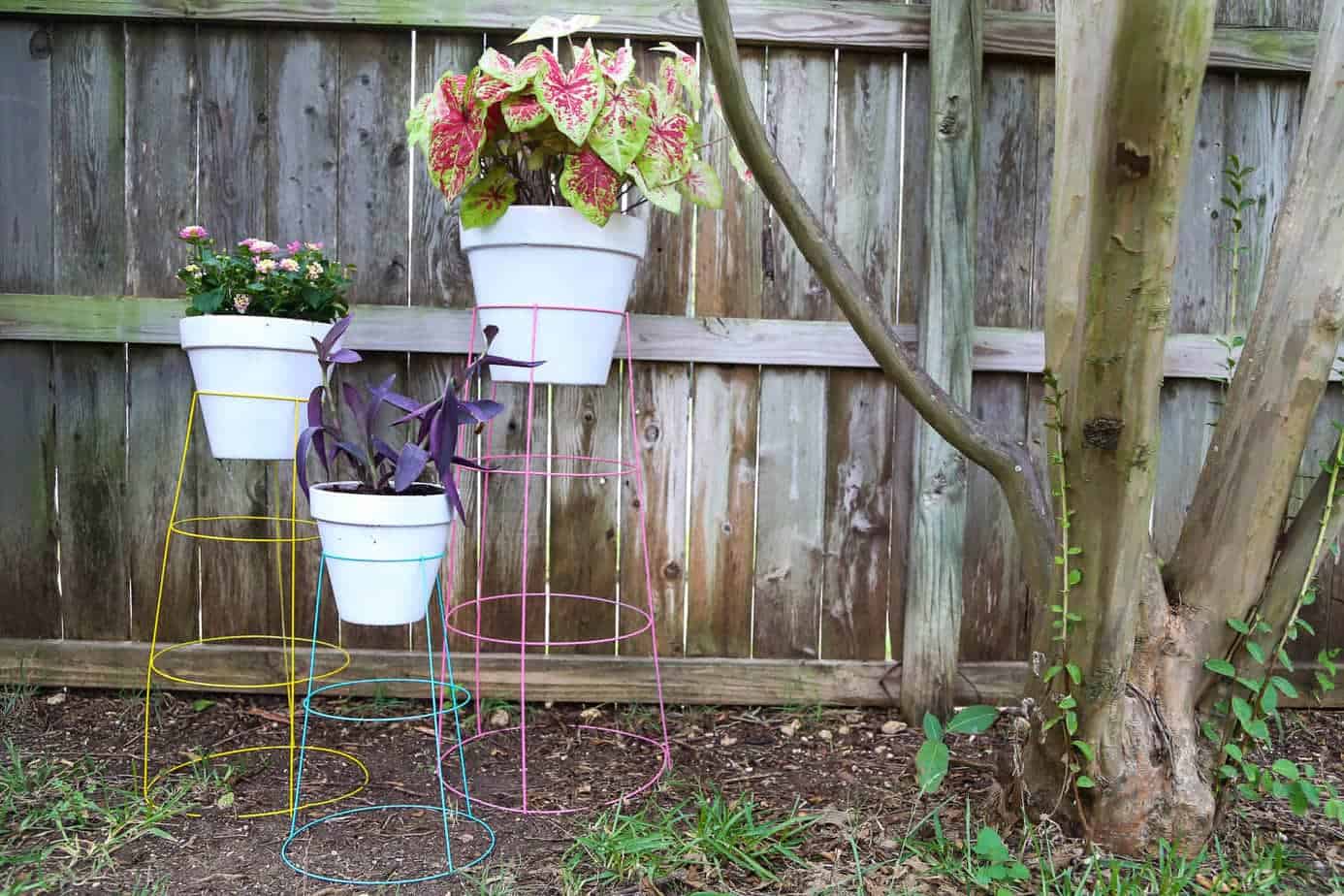 This post contains affiliate links. Click here to read my full disclosure policy.
SO CUTE, RIGHT?
Sorry. I couldn't help shouting. I'm kind of in love with this project.
This is one of the two projects that I demonstrated last month at the Harvest event I was at. I shared the first one last week (and it's just as easy!), and I'm back today to show this one off. I want to make like a million of these and put them all over my yard.
Are you ready to learn how to do it? Okay, here we go.
How to Make a DIY Plant Stand from Tomato Cages
Materials needed:
Tomato cages (I used 3 different sizes, you can get them individually at the hardware store)
Spray paint
Plants
(Seriously, that's it!)
Directions: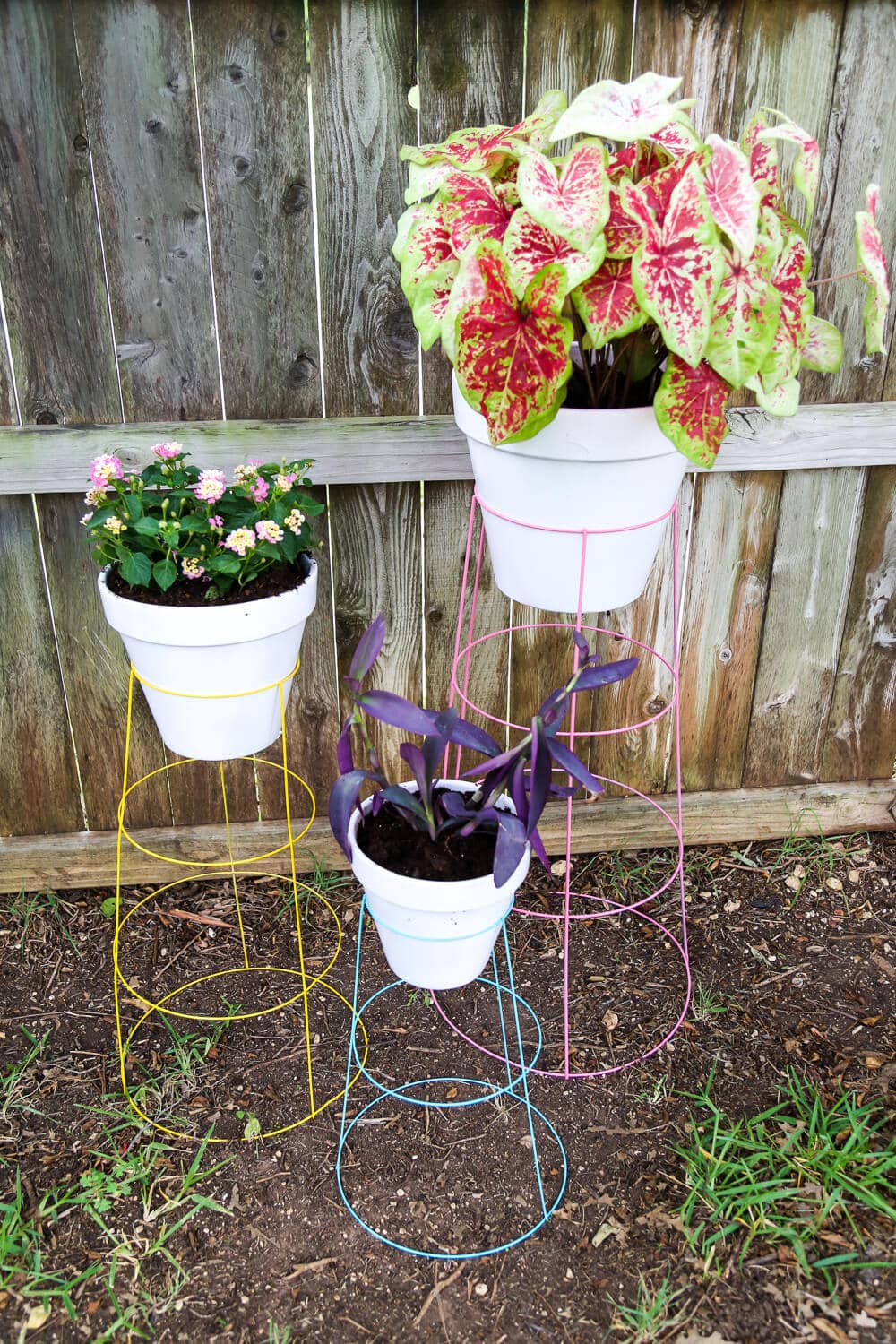 STEP ONE: 
Grab one of your tomato cages – if you aren't familiar with them, here's what it looks like: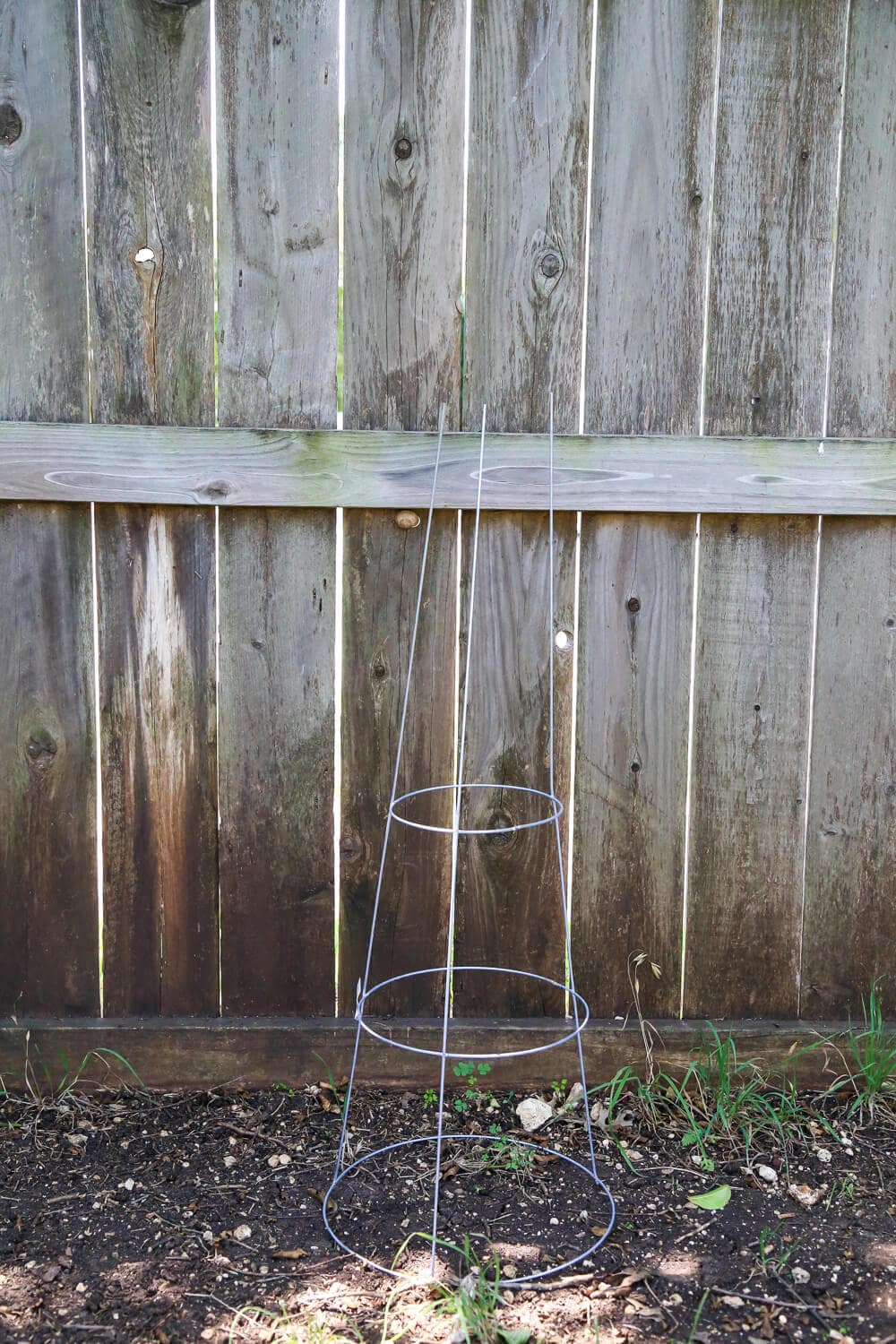 Use your bolt cutters to clip off the part that goes into the ground (the top part in the image above). It looks intimidating because the metal is pretty thick, but I promise it's a breeze to cut through it. After you cut it, use the file to smooth the edges out a bit.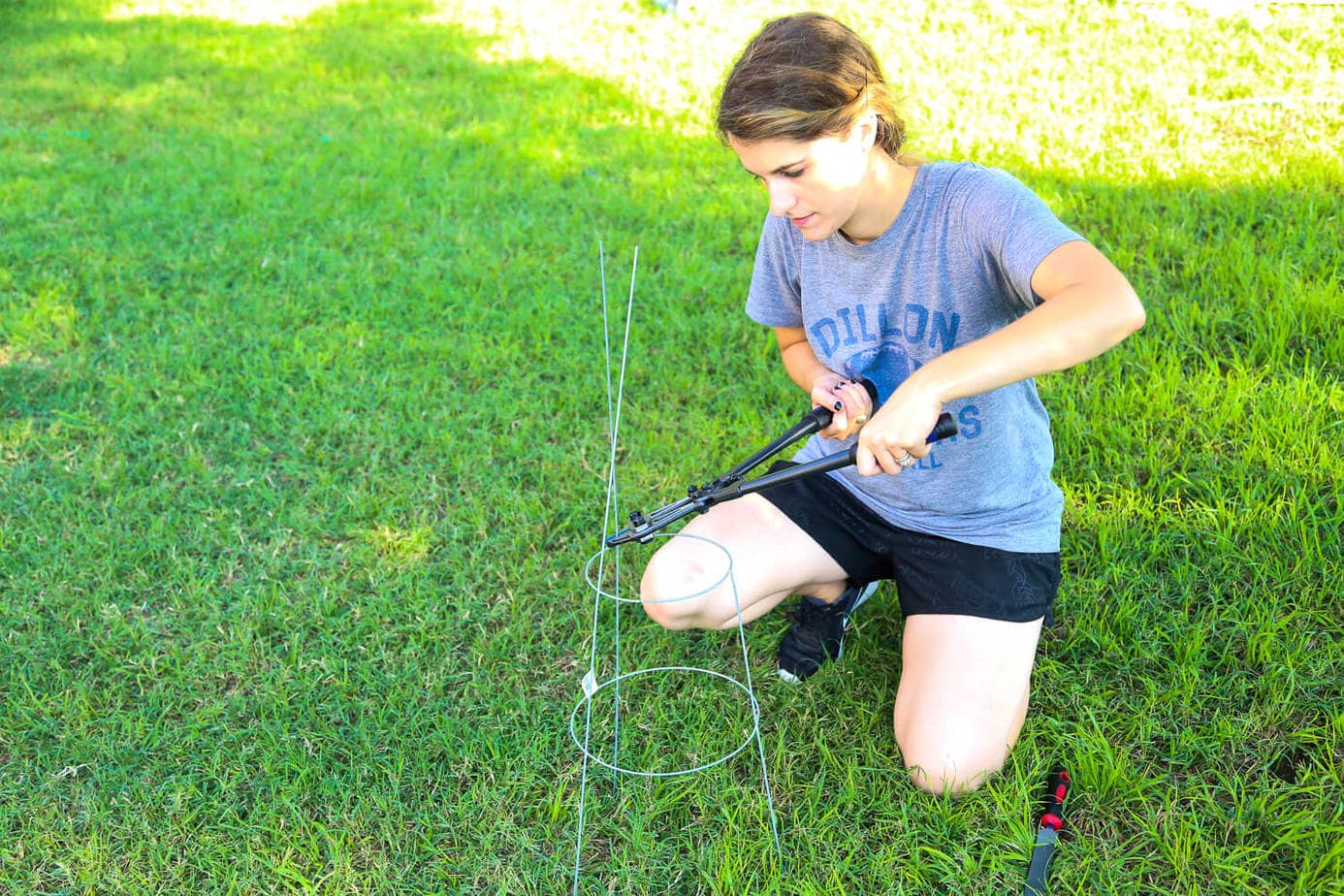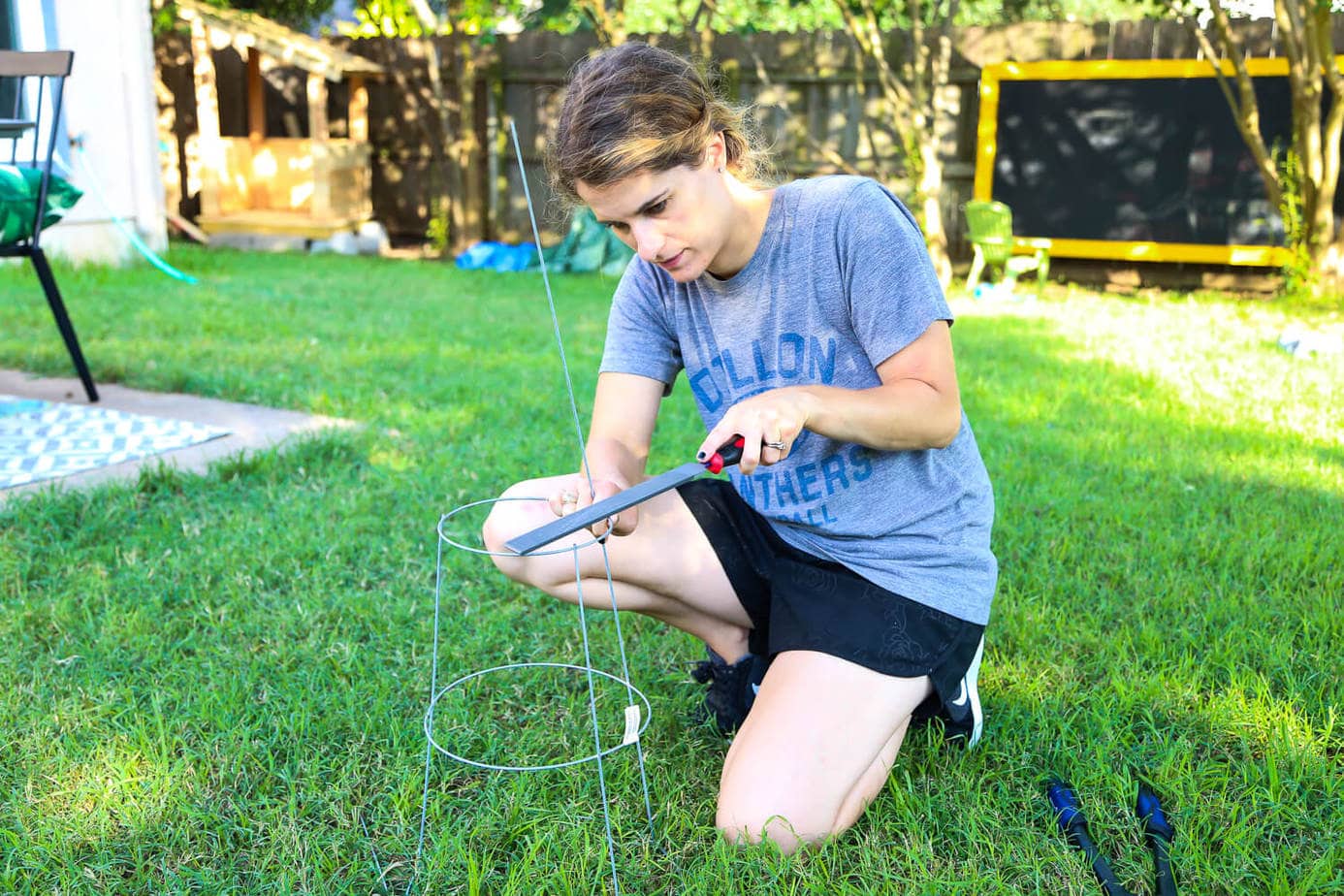 STEP TWO: 
Next up, spray paint the cages in whatever color you want. We went bright and cheery, but you could do them gold or white or just leave 'em as-is. Have fun with it!
Then? Add the plants and you're done.
Yup. That's it.
For our planters, we grabbed some cheap terra cotta pots and painted them white. Of course, you could always paint a fun pattern on them or paint them in a bright color – we just wanted the tomato cages and the plants to be the stars of the show. We picked out some shade-loving plants for these guys, because they'll live over by Jackson's play house, which gets lots of shade.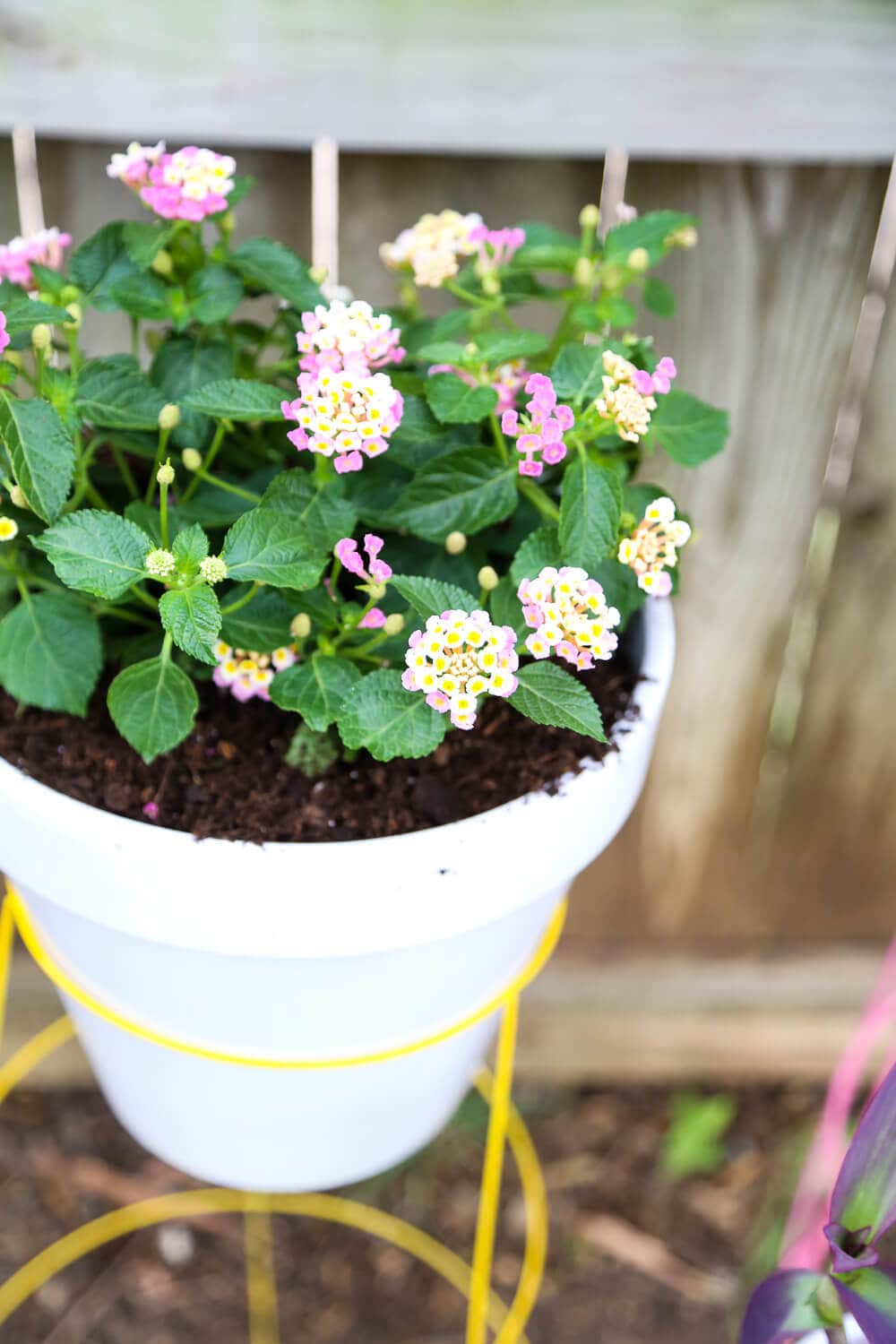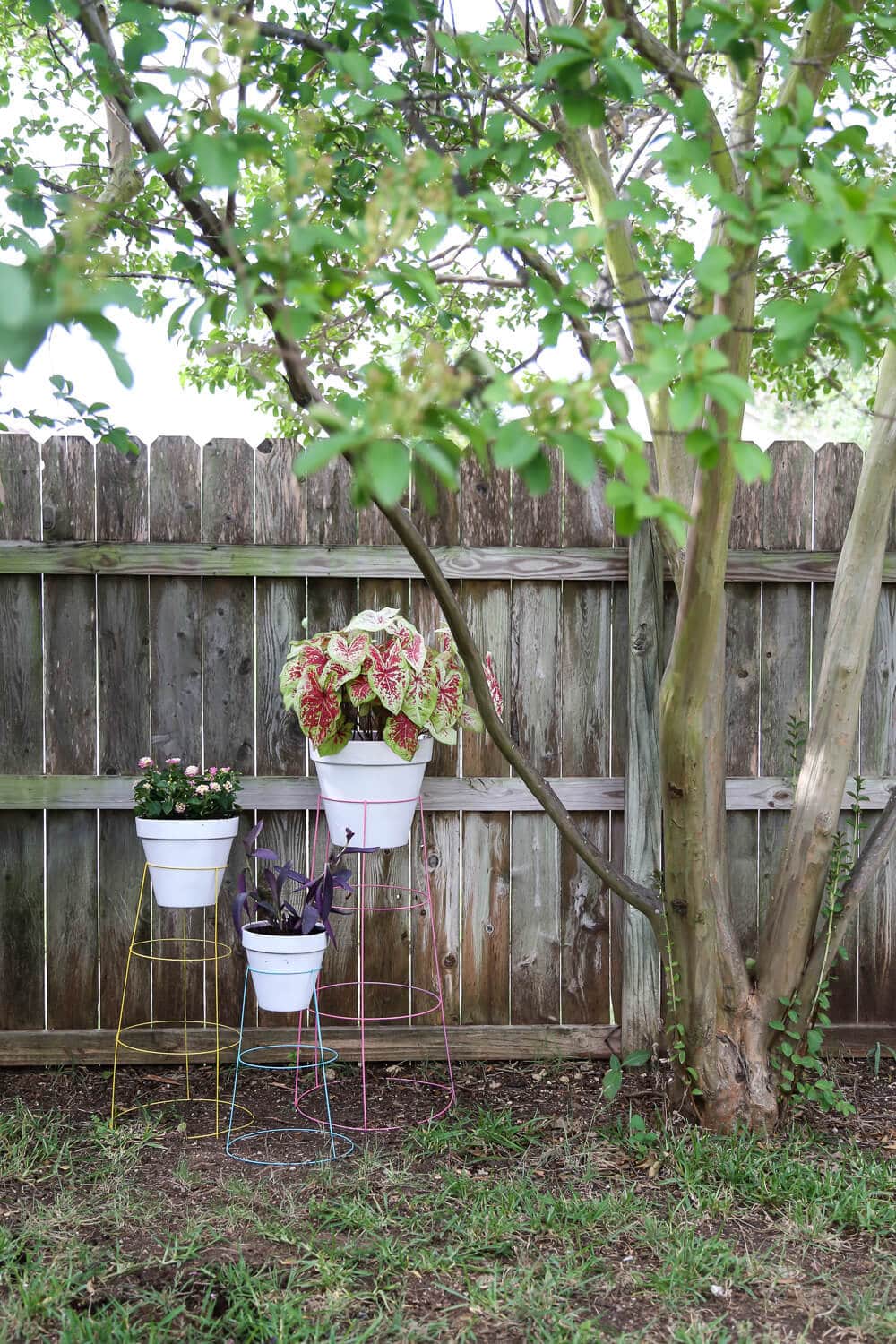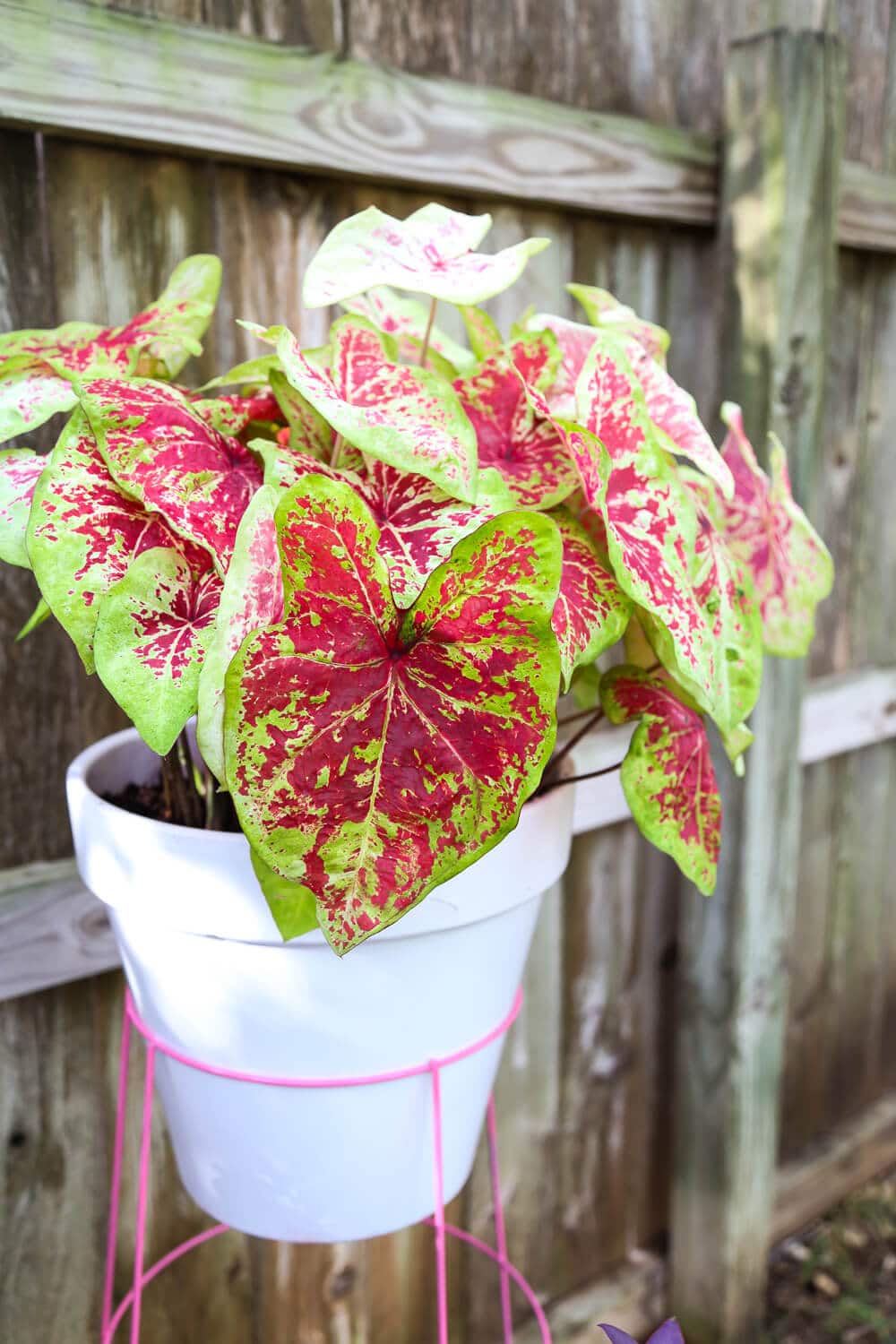 One thing to keep in mind about these is that they aren't the sturdiest things in the world. They hold the pots just fine, but we had our dogs accidentally break one when I had them sitting right in the path where they like to play. He ran right into it and the side of the tomato cage snapped. It was an easy enough fix, but I wouldn't recommend keeping these where you have dogs running around. We're keeping ours in a corner near Jackson's playhouse – the dogs don't normally play back there, and Jackson knows to leave them alone, so it's worked out well so far.
These would also look great inside, if you don't have a good spot outside. How fun would they be holding herbs in the kitchen?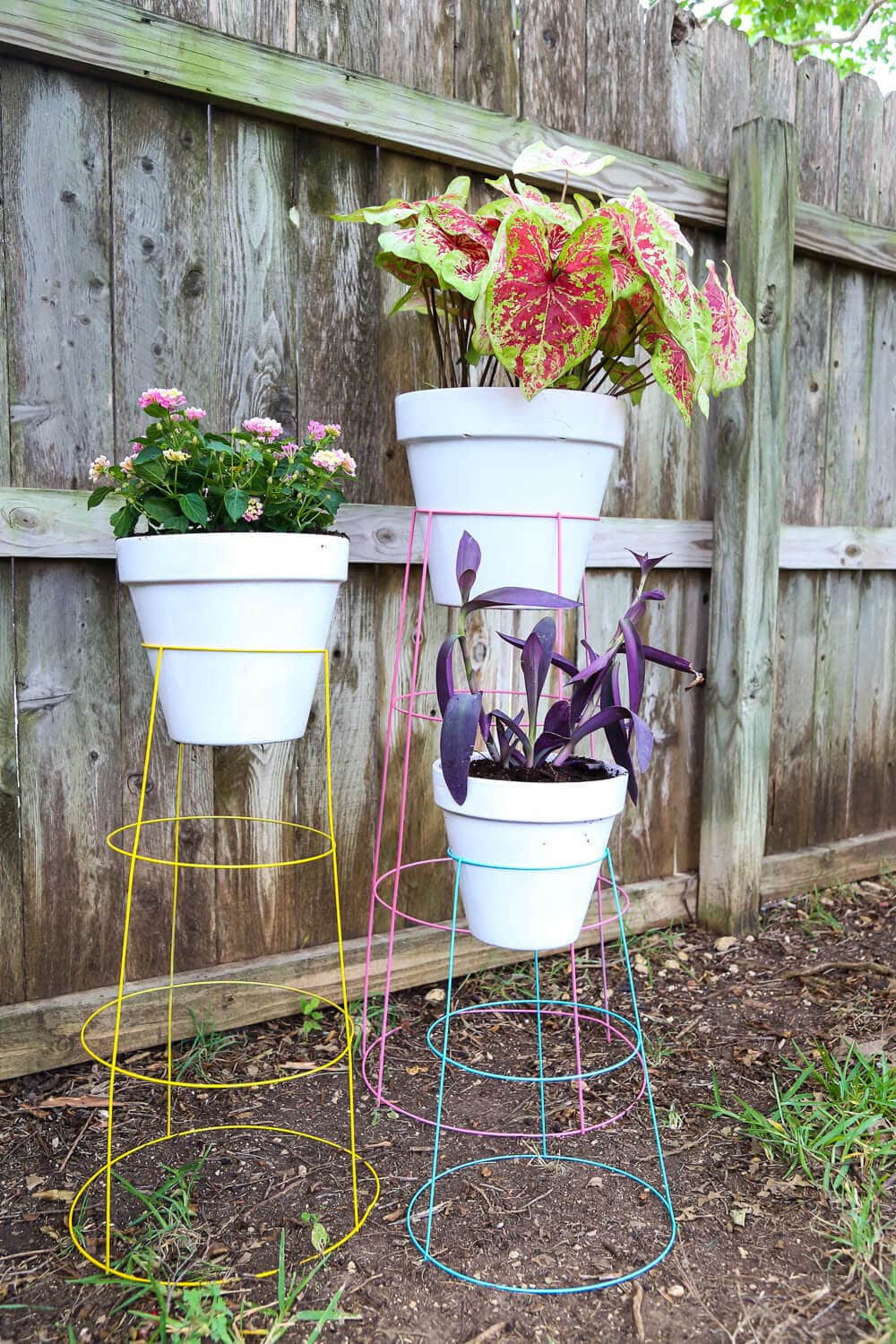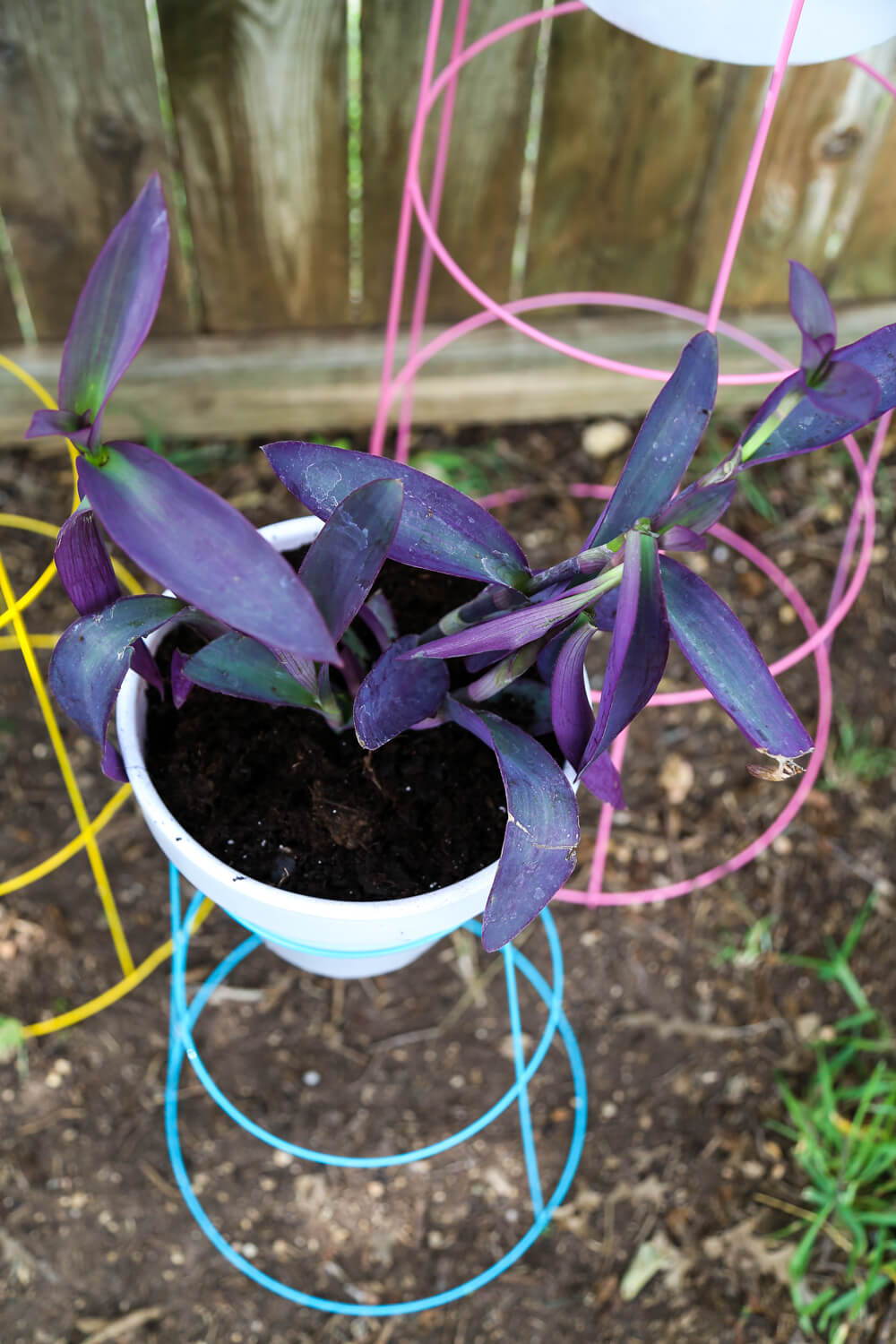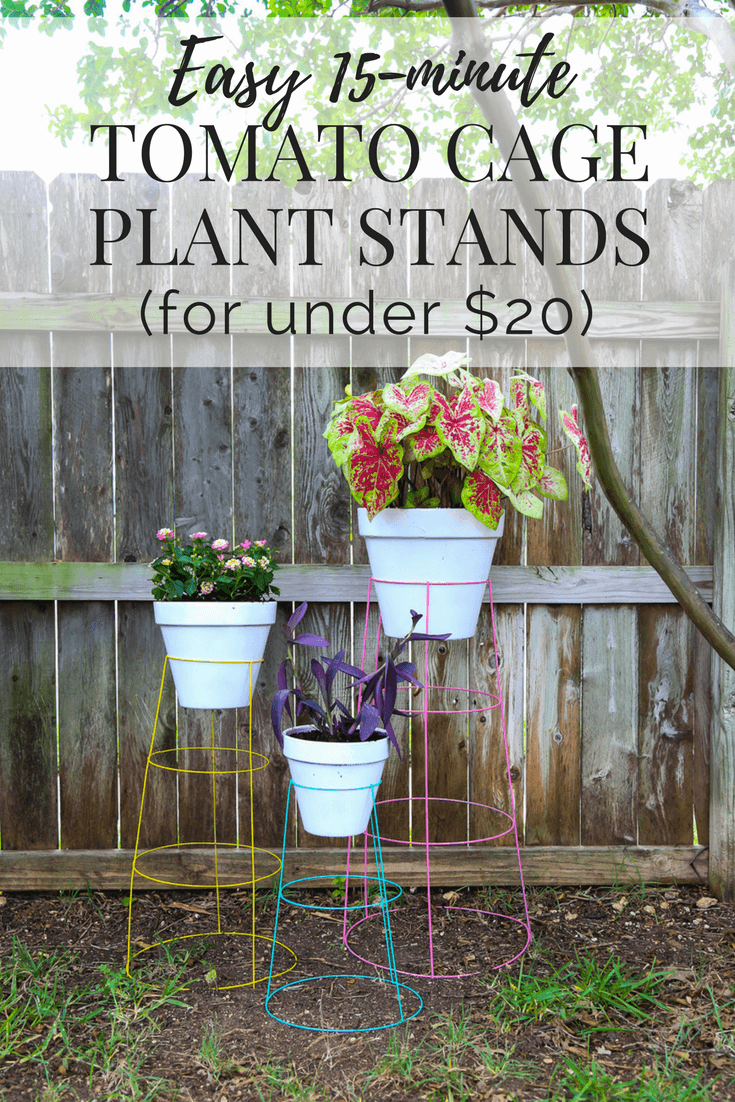 I think between our hanging planters, our ladder garden, the plant shelves, and this, I have officially turned into a crazy plant lady.
The scary part? I still consider myself a plant killer. I've somehow managed to keep all of these alive so far, but you should probably say a few prayers for my plants because I don't know how much longer I can keep this facade going.
Have you been planting anything new lately?
Here are some more DIY planter and plant stand ideas