We've made a few changes to our yard so far this spring, including a DIY raised garden bed, and we have an update on the gorgeous rose bushes in the yard! Here's a quick list of updates about our backyard. 
I always get a little nervous to talk about outdoor stuff this time of year – we've had pretty gorgeous weather in Texas for the last few weeks (not including the random cold snap last week that had me pulling my sweaters back out), but I know many of you are still dealing with snow and freezing weather.
So, if you're in an area that's still covered in snow and you don't remember what anything above 50 degrees feels like, I'm sorry in advance for the pretty, green yard you're about to see.
I mean, you could always just move to Texas.
Though, fair warning – you might not enjoy our summers. Face-melting heat isn't for everyone.
Anyways. Let's get to business – I've already shared a little update on what our patio is looking like, but I neglected to talk about the rest of the yard. A few changes have been made since the last time we talked about it, so I figured it was time for a little brain dump about the backyard.
Our DIY Raised Garden Bed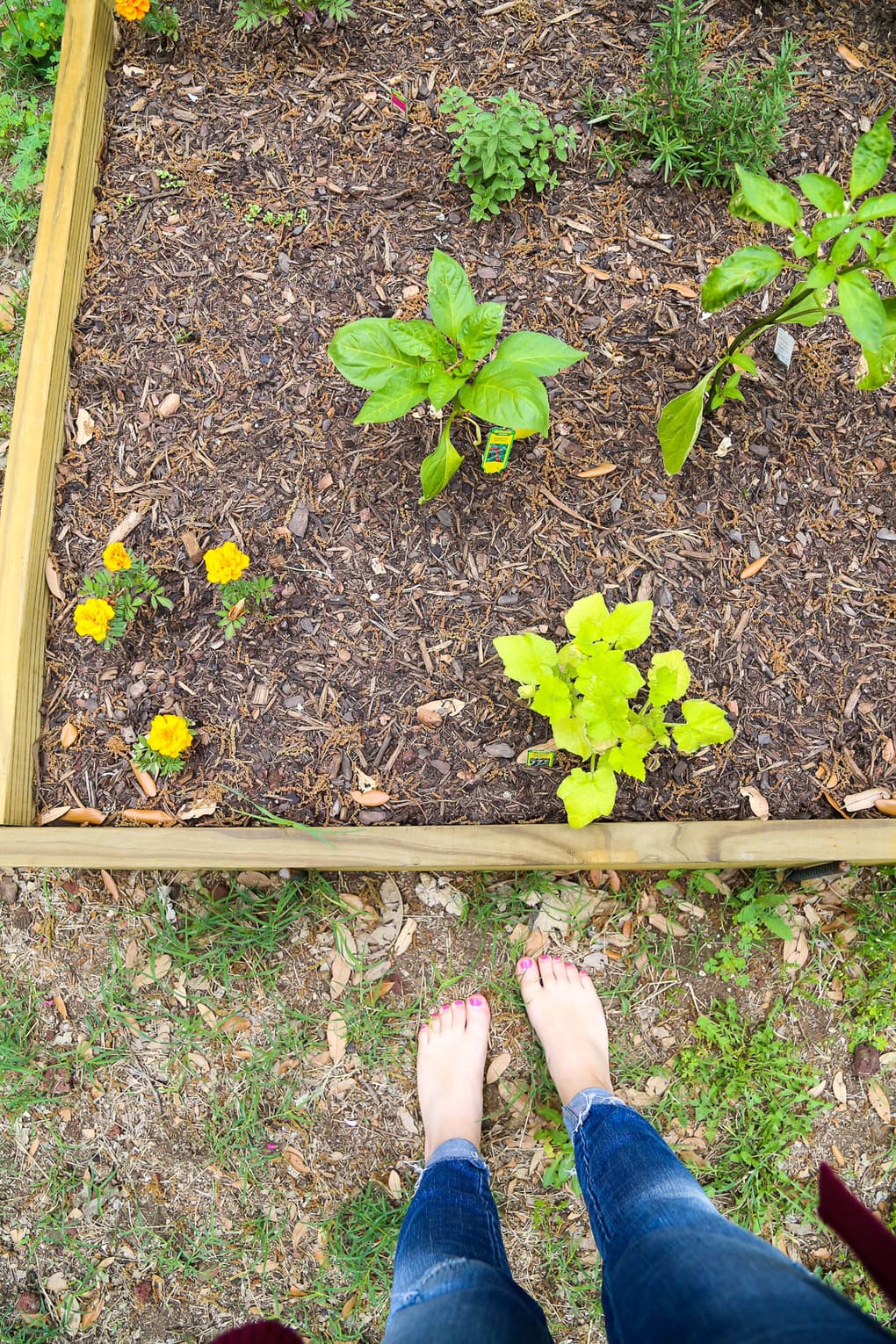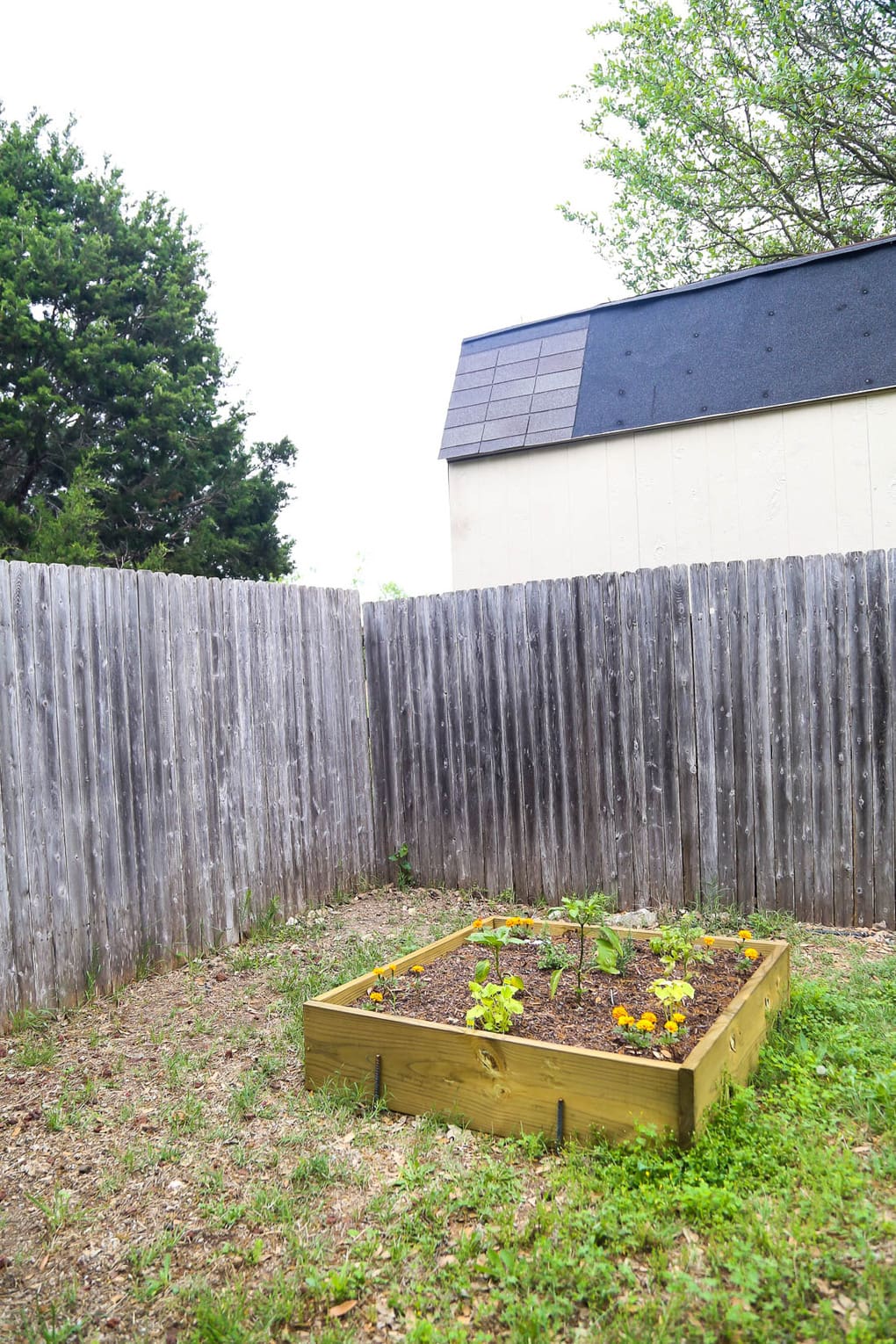 The first (and biggest) update to share is that after years of talking about it, we finally built a raised garden bed in our backyard! Corey and I have always wanted to try our hand at gardening but we've never been brave enough to just dive in. This season, though, we decided to give it a go. We built this simple 4X4 raised garden bed a little over a month ago, and so far it's still hanging in there.
Our garden hasn't actually produced anything yet (though I have to admit, I don't know exactly how long we should plan on waiting before we get some actual fruits and veggies!), but nothing has died either, so I'm calling it a win! We decided to build a square foot garden, which basically just means that each square foot of the garden has a different plant in it. It's a much easier way to plan out a garden for beginners, and I found a ton of great information about it online. If you want to look into square foot gardening for yourself, here are a few of the resources that I found the most helpful:
I promise I'll keep you updated on how the garden does over the next few months – I share pretty regular updates in my Instagram story, so you can always check that too (our garden has it's own "story highlight" section in my profile, so you can always see the updates).
The Rose Bushes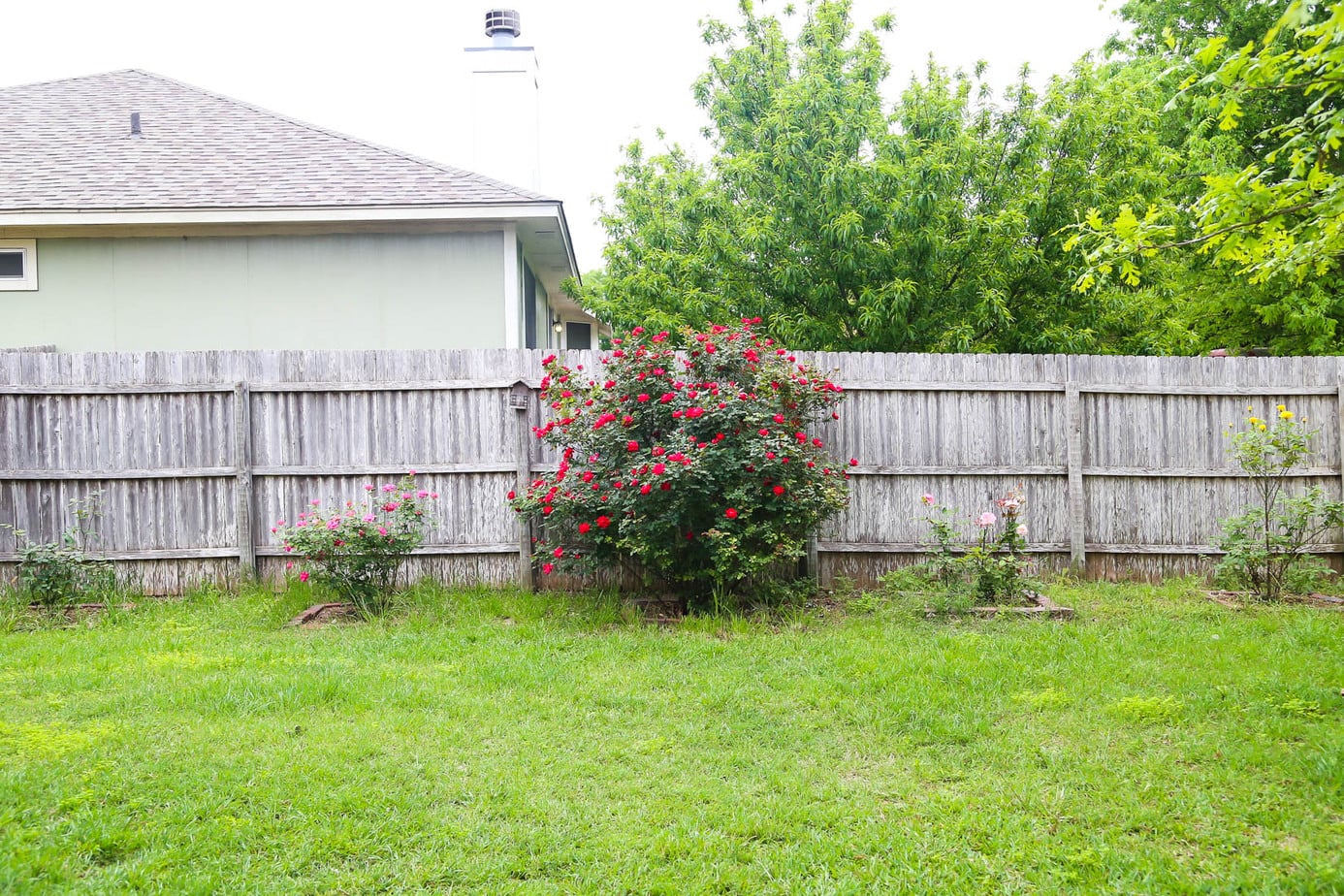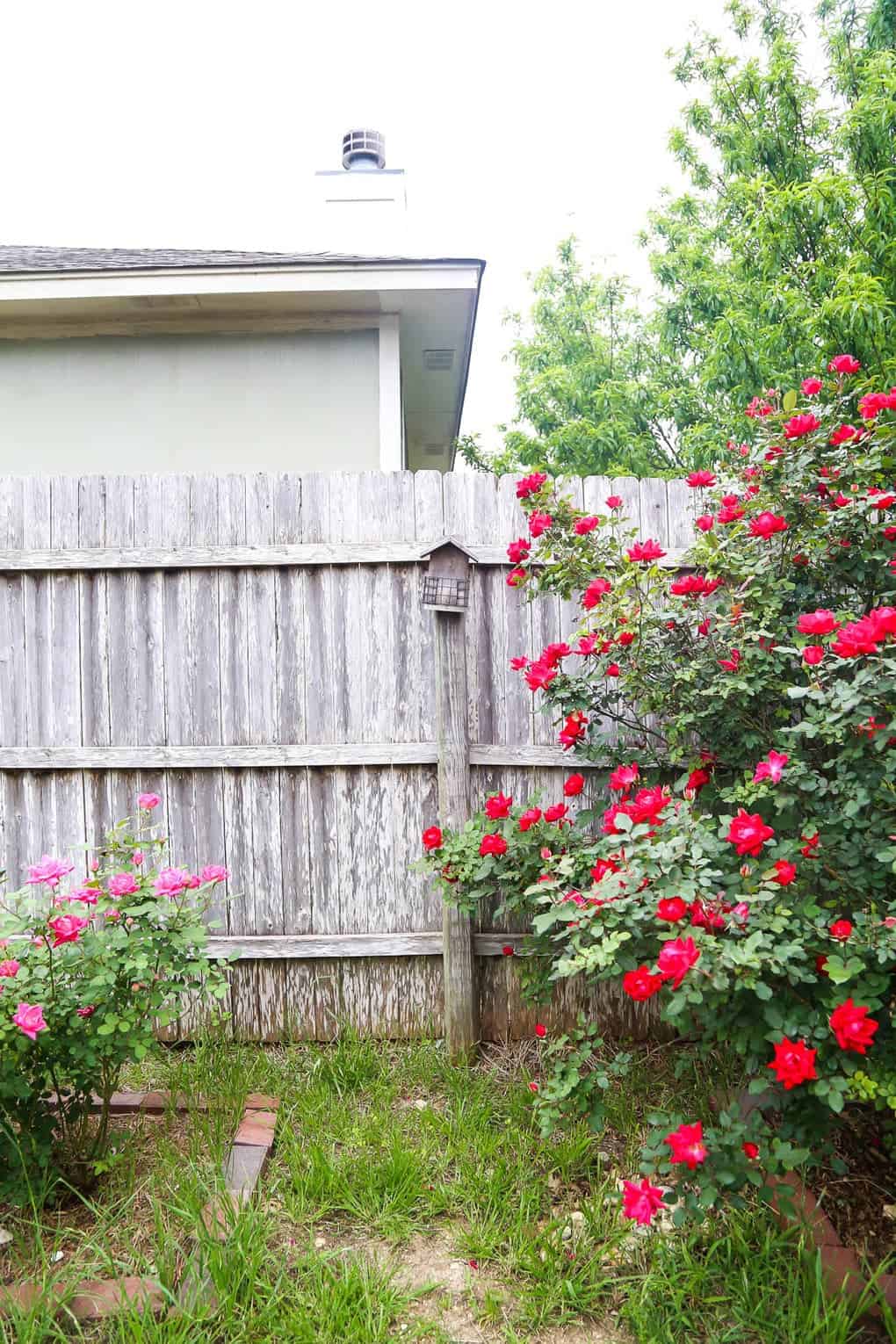 Next up, I feel like I just can't talk about my backyard without acknowledging these beauties. There are five rose bushes (I believe they're all varieties of knockout roses) that line one side of our fence in the backyard, and they've started to bloom. Holy moly, it's one of my favorite things in the entire world!
We had a couple of rose bushes in the backyard at our old house, and they fared relatively well, but we didn't tend to the rest of that flower bed and eventually ended up pulling it all out in favor of building a backyard playhouse for Jackson. These rose bushes, however, are one of my favorite things about this yard and they aren't going anywhere! One update I would like to make, though, is to change out the border so that it runs along the entire length of the fence (so the roses are all essentially in one big bed instead of five smaller ones). I think it would look a little more cohesive, and it would certainly be easier to maintain – mowing between each of those sections is a pain! I think I'd like to plant some simple ground cover between each bush (any suggestions for something easy to care for that will stay looking nice most of the year?) and add some mulch. It'll look a lot nicer and help make more a feature of these guys!
Yard Maintenance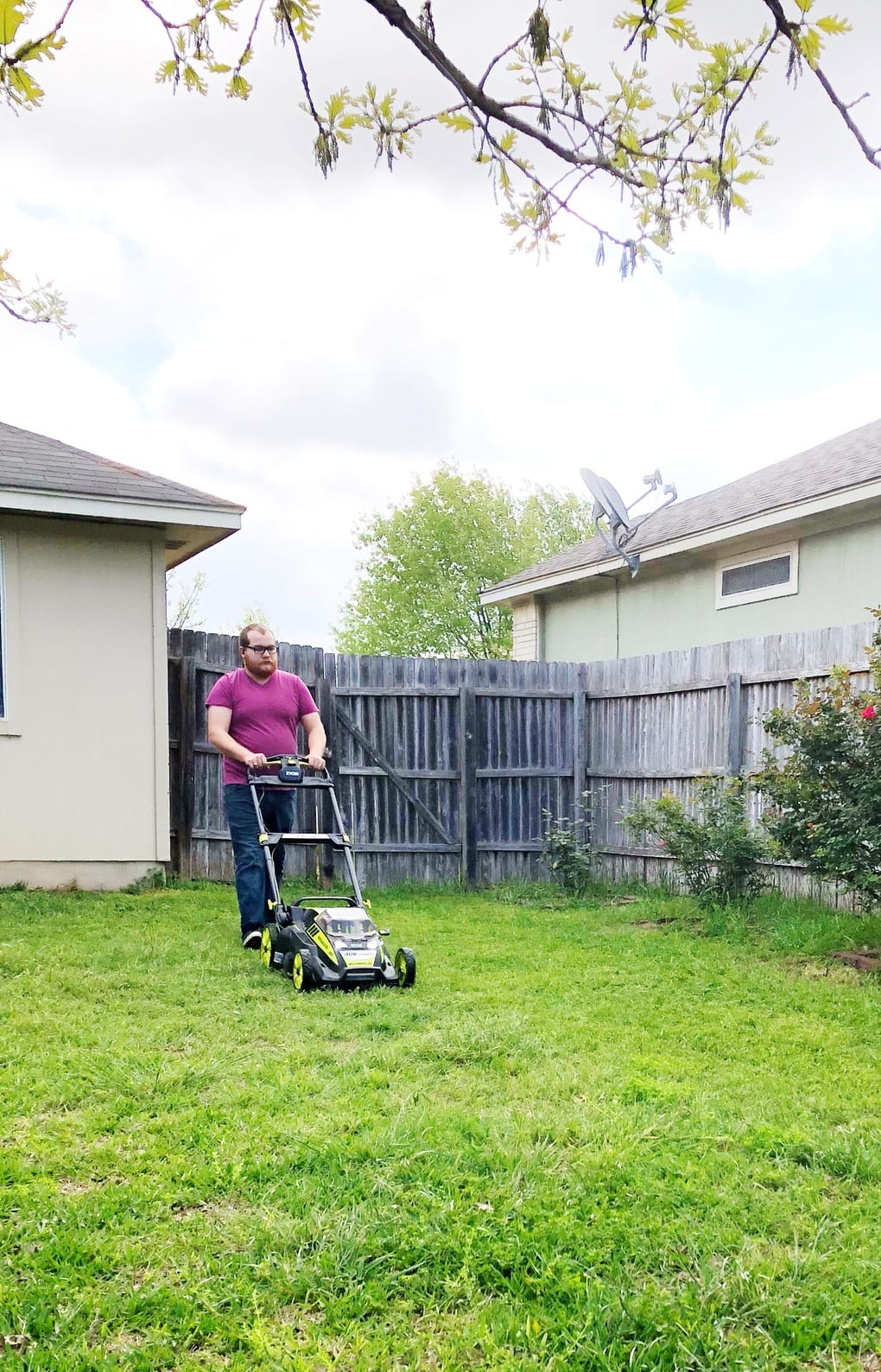 This post contains affiliate links. Click here to read my full disclosure policy. 
Since we're talking about the backyard anyway, I feel the need to tell you that we got a new mower and it's probably my new favorite thing ever. It's silly, I know, but our old mower was a hand-me-down from my parents that needed a lot of assistance to get running every time we used it (in fact, I usually wasn't able to get it running by myself, which meant that I couldn't ever mow the lawn for Corey if he was too busy to take care of it.) Ryobi offered to send us their 40-V Self-Propelled Mower and we jumped at the opportunity. This guy is battery-powered and runs on the same battery that we already use for our other outdoor tools (we have the 40-V Expand-It system for our string trimmer, leaf blower, and a few other things –  we highly recommend it!), which means we don't have to mess with gas or anything – we're good to go as long as the battery is charged! We've found that one battery can handle the entire backyard, but we need to charge or swap it out for the front – it's no big deal for us since we have a couple of extra batteries already.
Oh, and since we're chatting about backyard maintenance – we also recently grabbed this dog poop picker-upper from Amazon and it's kind of revolutionized my life. Maybe I'm just way behind the times, but we didn't really have a good tool to deal with the dog waste in our yard (and with a Doberman, let's just say there isn't a small amount of it), which meant it didn't get done nearly as often as it should have. Now, I can just head outside while Jack is already playing and it takes me less than 15 minutes to deal with the entire yard. It's wonderful!
Basically, just a PSA that if you don't have an actual tool in your life to help pick up your dog's poop, you should get one.
Toys & Games in the Backyard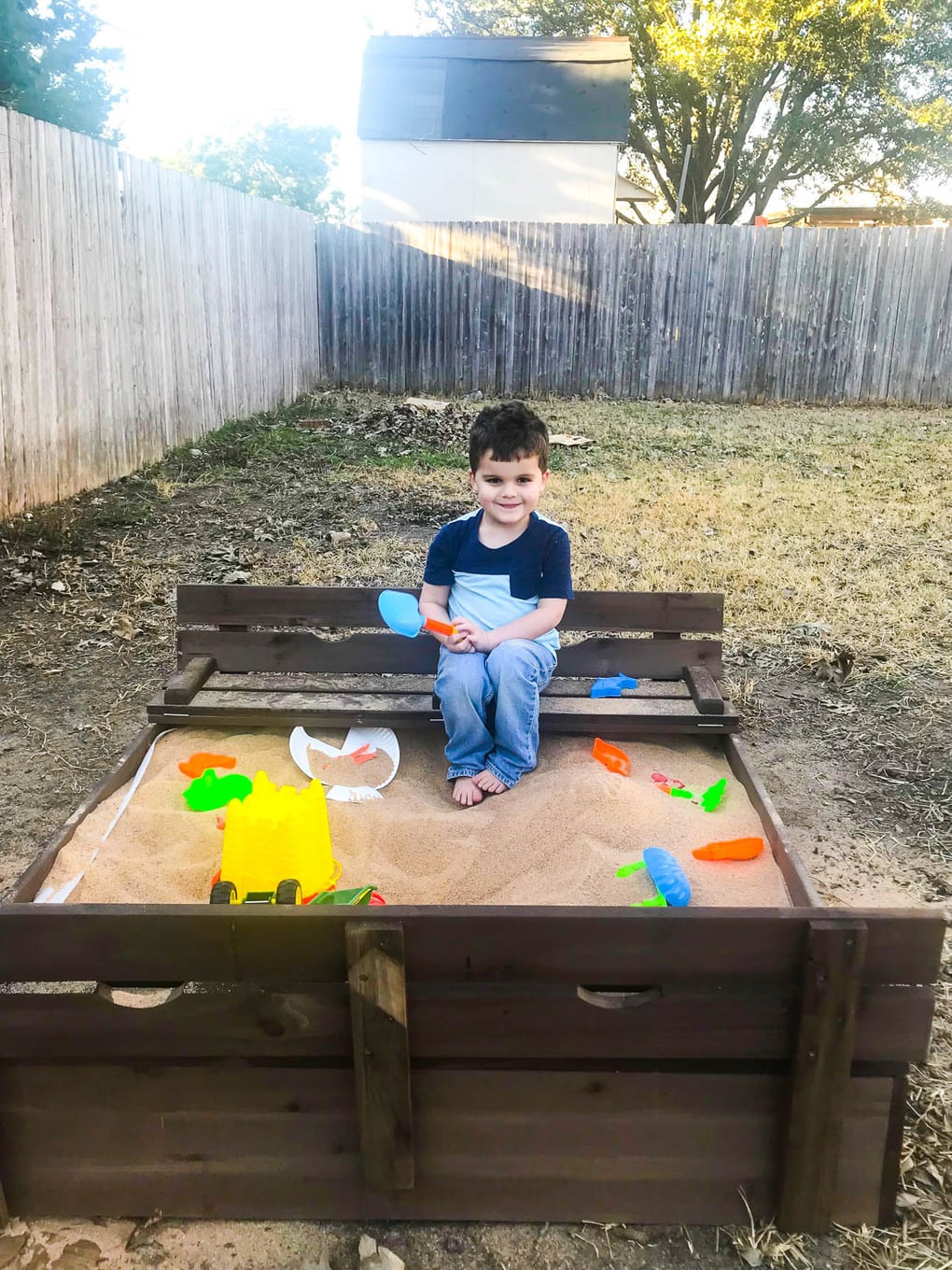 The last thing I wanted to make sure to touch on for this little backyard update is how we're keeping Jackson entertained in this yard. As soon as we moved in we noticed that he was much more prone to playing in the yard here than he ever was in the old house – I'm not sure if it's the layout, the fact that it's more shaded, or what – but even without his playhouse, he spends way more time outside here than he ever did before. We love it, and have really wanted to capitalize on that, so we've made a few additions to the yard to encourage more outside play.
First up, my parents got Jackson a sandbox for his birthday. I always swore I wouldn't have a sandbox at my house because I hate sand and didn't want it tracking everywhere inside, but seeing how happy it makes him makes up for the extra mess. We wanted something that wasn't too cheesy looking and had a good spot for him to sit so he didn't have to be in the sand at all times, and we found this wooden sandbox on Amazon. It's the kind of sandbox we definitely could have built ourselves, but it was so affordable (and saved so much time) that it was worth it to just purchase one. We have a small wooden box that we keep next to the sandbox to hold all of his toys and have a house rule that if you play in the sandbox you immediately get a bath as soon as you're done – so far it's cut down on the mess for the most part, and we haven't had any major issues!
We also have a couple of yard games that we picked up from Tuesday Morning that Jack loves to play with – that, along with our backyard Jenga blocks really help him (and us) want to spend more time outside. I still need to figure out a good solution for storing it all, though. I'm considering building some shelves that attach to the back fence to hold all of the Jenga blocks – currently, they're just spread out all over his picnic table, which isn't a cute look.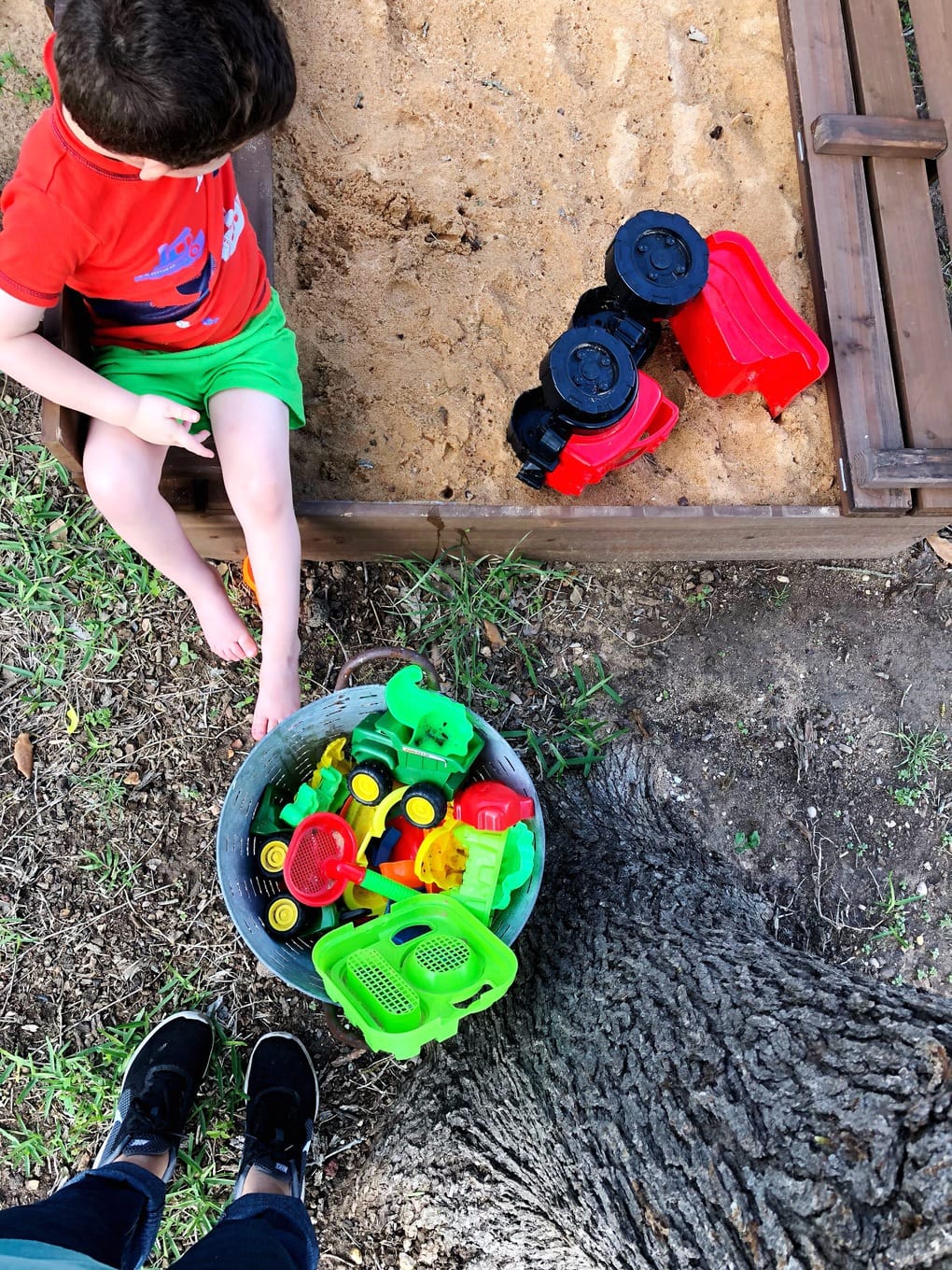 And that, my friends, is where our backyard is at mid-spring. I'm looking forward to putting more time and effort into our outdoor spaces in this house (in our last home we really ignored the yard until shortly before we moved, so we never fully enjoyed it) and I'm hoping to make the most of what we have.
I'd love to hear any tips you have about tending to knockout rose bushes (so far everything I've heard indicates you can basically ignore them, but that just seems too easy!) or vegetable gardens, as well as any backyard toy storage tips you've got!
We have a few outdoor projects on the agenda over the next few months, so I'm hoping that by the end of the summer we'll have even more to update you on!