The Patio is Ready for Spring!
This post is full of backyard patio decorating ideas to help you decorate your back patio, along with some tips on hosting a backyard gathering this spring!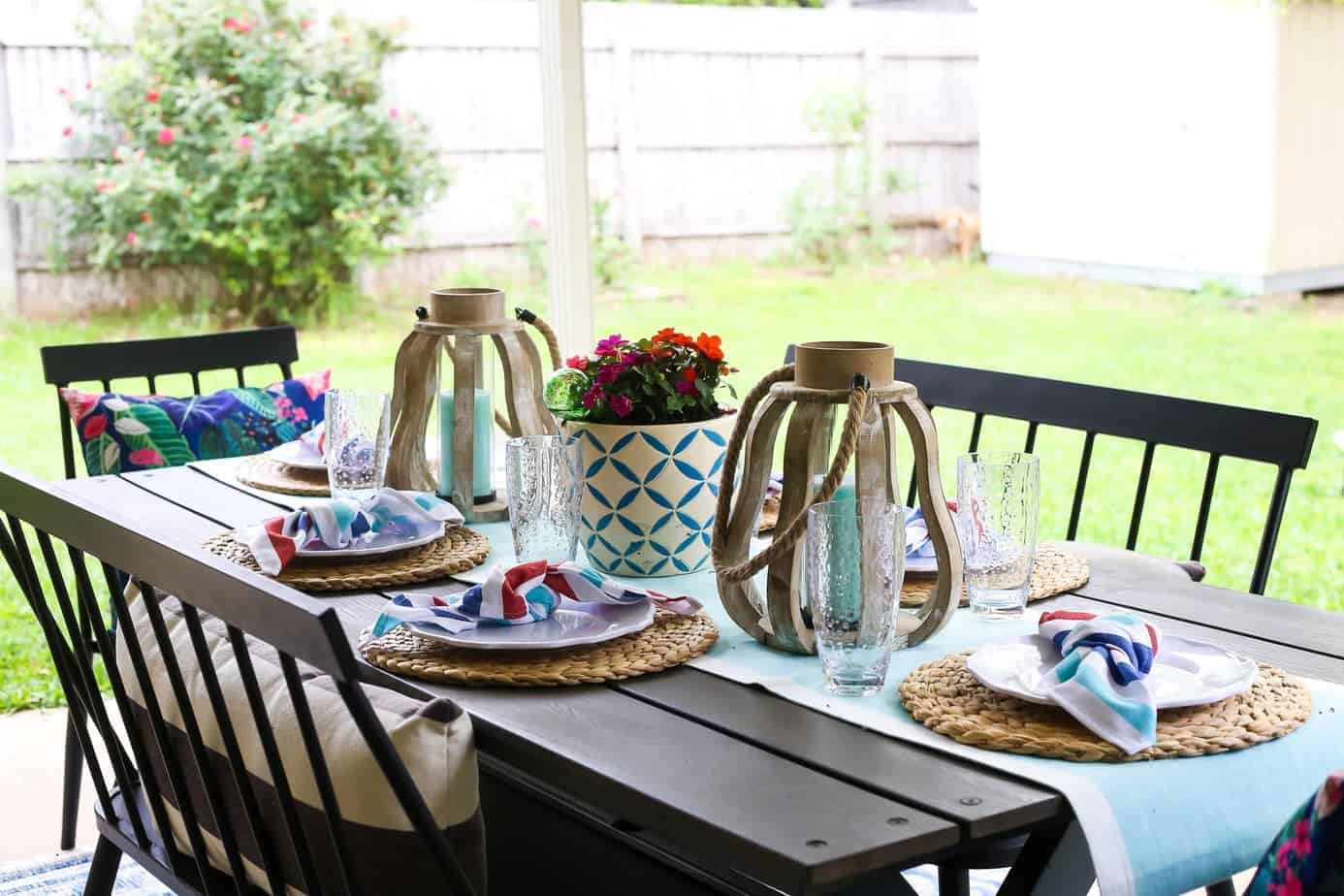 This post is sponsored by Tuesday Morning, but all opinions are 100% mine. Thanks for supporting the brands that support Love & Renovations!
We've lived in this house for just over four months now, and I'll admit – there are a lot of things we miss about our old house. We miss the extra space, we miss our gorgeous fireplace, and we miss the ginormous kitchen. But, as Corey and I were sitting outside after dinner the other night and watching Jackson run around the backyard, we both agreed that one thing we love much more about this house is the backyard. We've got a super shaded yard with nothing but trees behind our fence. We love the covered patio and the pretty views, and our street is so much quieter than our old street was.
Earlier this spring, I shared a little bit about our backyard and what we're thinking will be on the agenda this year for it, and we've officially crossed the first thing off the list – we gave our back patio a mini refresh with products from Tuesday Morning and I'm so excited about it because all of the sudden my family wants to spend all of our time back here. I mean, it could have something to do with the fact that our weather has been pretty glorious lately, but I'm gonna credit it to my styling skills instead.
I mean, who wouldn't want to hang out here?!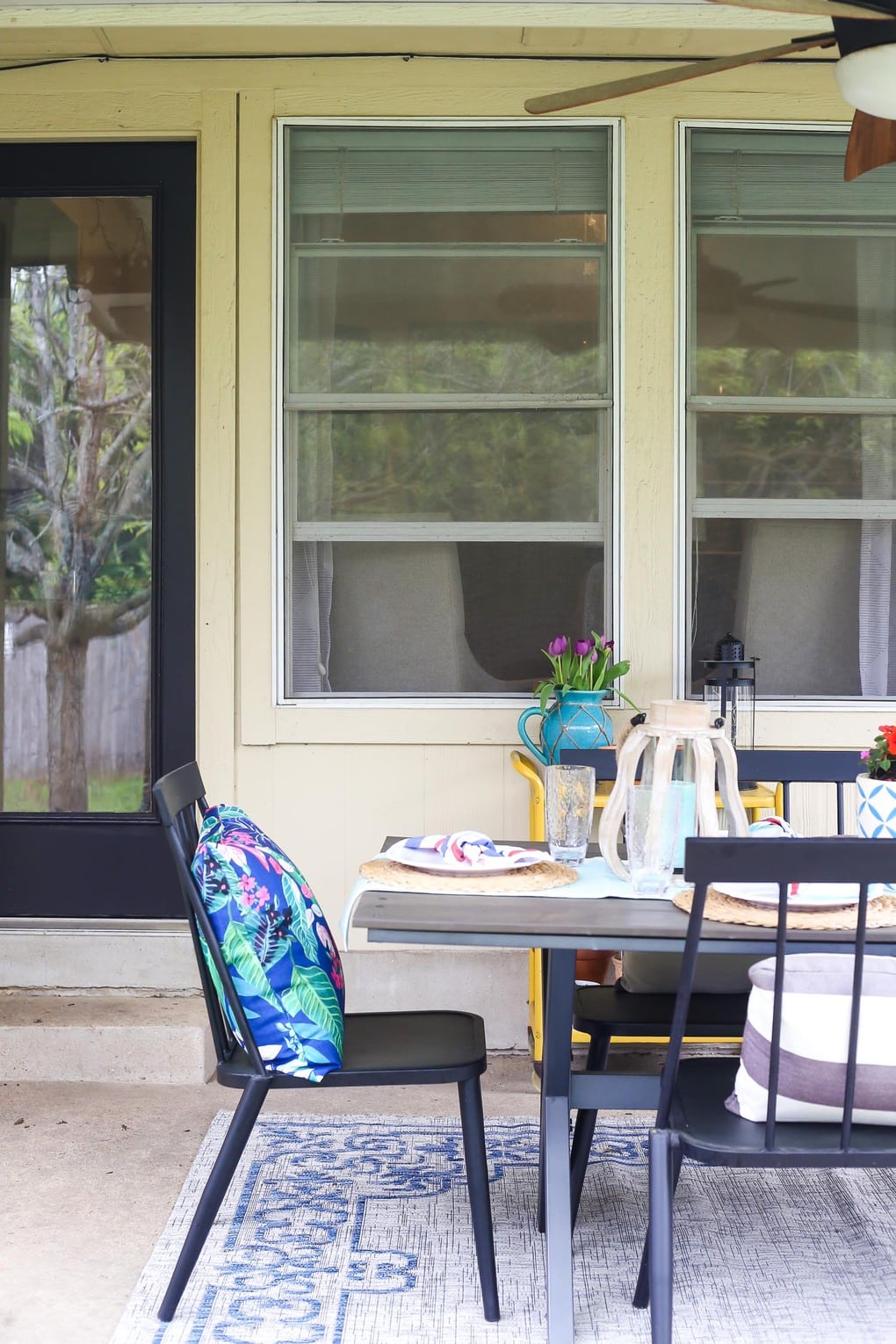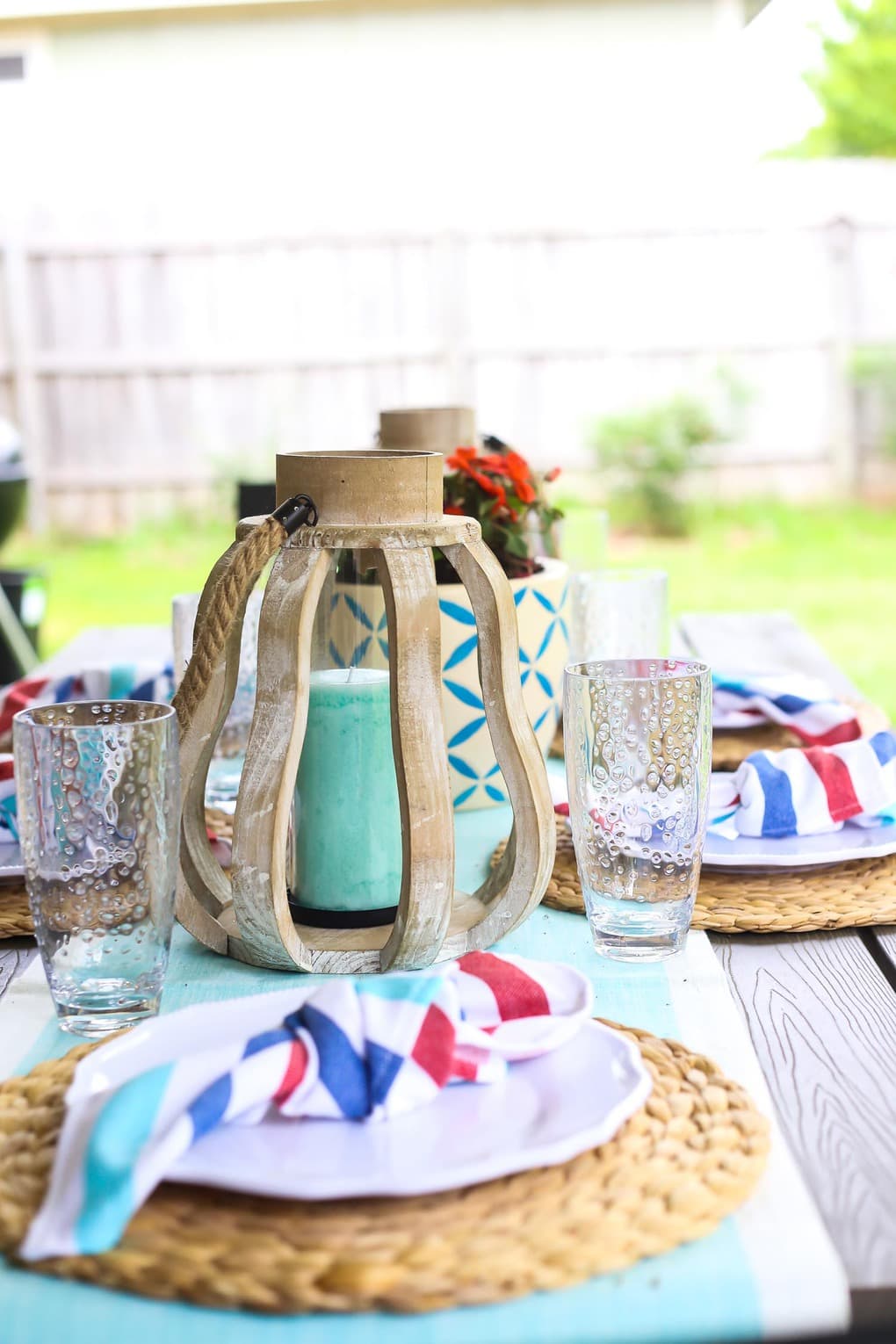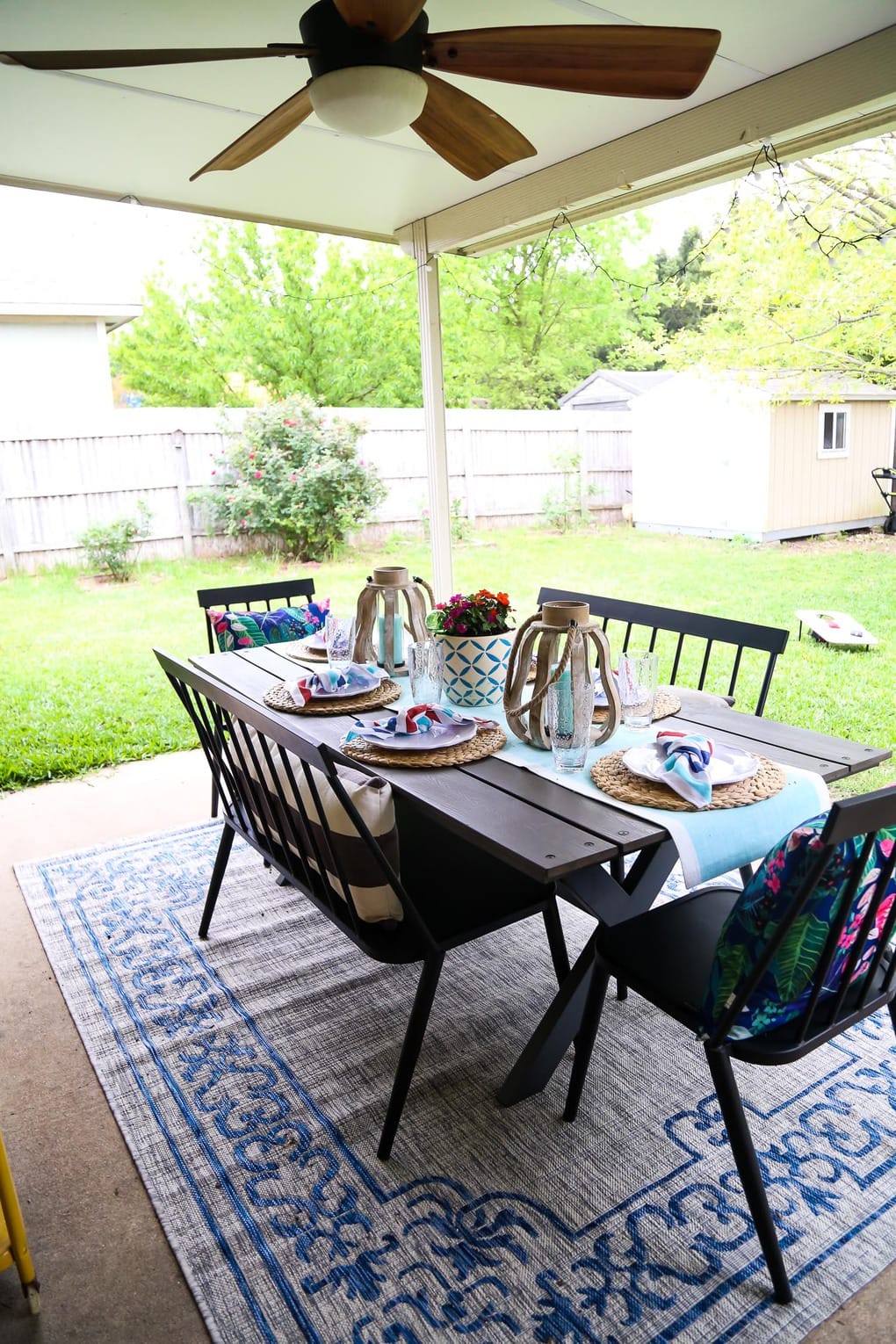 You may remember that right after we moved into this house, we worked with Tuesday morning to add a few things to help us feel a little more at home in the new place. Well, when they reached out again to see if we'd like to work together on a post about backyard entertaining and backyard decorating, I was all over it. Some of my favorite things in my home come from Tuesday Morning now, and I know that my money always goes much further there than I ever expect it to thanks to the awesime deals, so I knew they'd probably kill it in the outdoor department as well. Of course, I was right and I was (once again) blown away by the amazing deals and the vast selection at our store. I can't link to specific products as each store will have a slightly different selection that changes on a regular basis (which is half the fun!), but you can click here to find your local Tuesday Morning and go check it out for yourself!
We had a good base in our yard already – we love our back patio furniture (and because I always get asked about it – here's the post all about our backyard bar cart), but our decor was looking a little worn (our old backyard didn't have any shade, so everything was looking really sunbleached and pathetic) so we were overdue for a little freshening up.
I have lots of photos to share of the pieces we picked out, but as we chat about them I also want to throw in some backyard decorating ideas and hosting tips to help get your wheels turning for your own yard. So, get ready for a post full of inspiration, ideas, and tips – and hopefully, it'll also get you pumped for spring weather if it hasn't already shown up in your neck of the woods.
Backyard Patio Decorating Ideas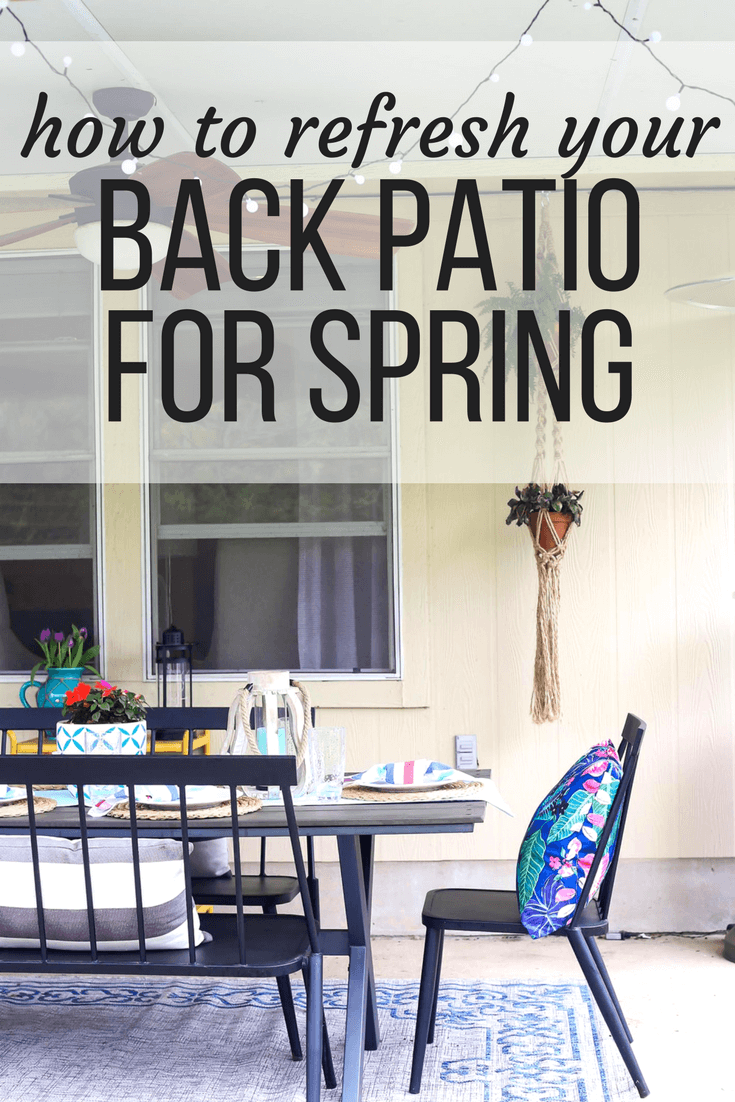 Start with a general color palette. The fun thing about decorating a backyard is that you can really go a little crazy with color and it totally works – but you still want it all to coordinate at least somewhat. For our yard, we started with this pretty blue and gray rug and knew we wanted to focus on a mostly blue palette. We found the bright floral pillows immediately afterward and they really drove the rest of the decisions. We'd just hold up each new addition to the pillows to ensure it worked and didn't compete. In any decorating endeavor, it's a great idea to have one or two focal pieces that really help guide the rest of the decisions – in this case, these pillows were really the star of our show!
Look for decor that does double-duty. When you're working with a small backyard patio, you have to remember that every inch of space counts. When you're filling your table up with all of the pretty things you want to add, ask yourself if your decor serves a purpose or if it's just there to look pretty. It's fine to have a few "it's just pretty" pieces (I mean, that's half the fun of decorating!), but in such a small space it's helpful to have pieces that can be functional and gorgeous. Take, for example, the beautiful wooden lanterns on our table – they look amazing on the table and really make a big statement, but since they hold candles they're also a great way to add some extra light to the space when it's dark outside – and if we swapped these out for citronella candles, they'd help repel bugs too! Same for the lantern we have over on the bar cart – it's gorgeous, but it's also filled with twinkly lights that automatically turn on every single night and stay lit for 5 hours. Ambient lighting is always your friend when you're hosting an outdoor gathering, so you can never go wrong with candles!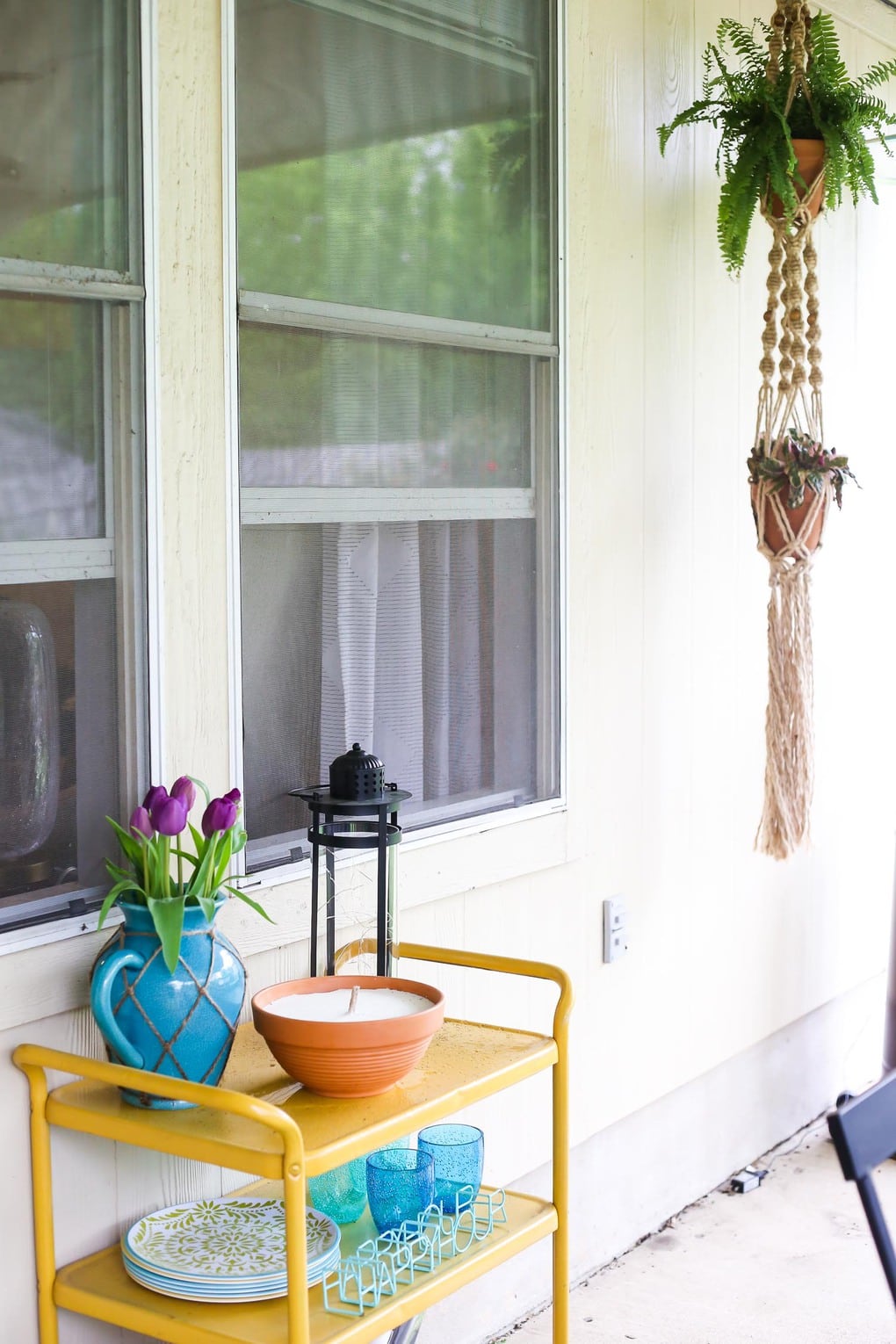 Plants, plants, plants. I know I've turned into a bit of a crazy plant lady lately, but you can't decorate your back patio without at least a few plants. I discovered that Tuesday Morning has an amazing selection of planters for a completely affordable price – usually at least 50% less than you can expect to pay elsewhere. For example, the pretty patterned planter I have sitting on the table was only $9.99 (compare elsewhere at $19.99). I think the larger planter on the ground might have cost me $12.99? I'm telling you – Tuesday Morning is the place to get fantastic planters for cheap. And if you want a cozy, welcoming, and beautiful back patio you're gonna need a few. I think my favorite plant-related find, though, is actually related to my final backyard patio idea…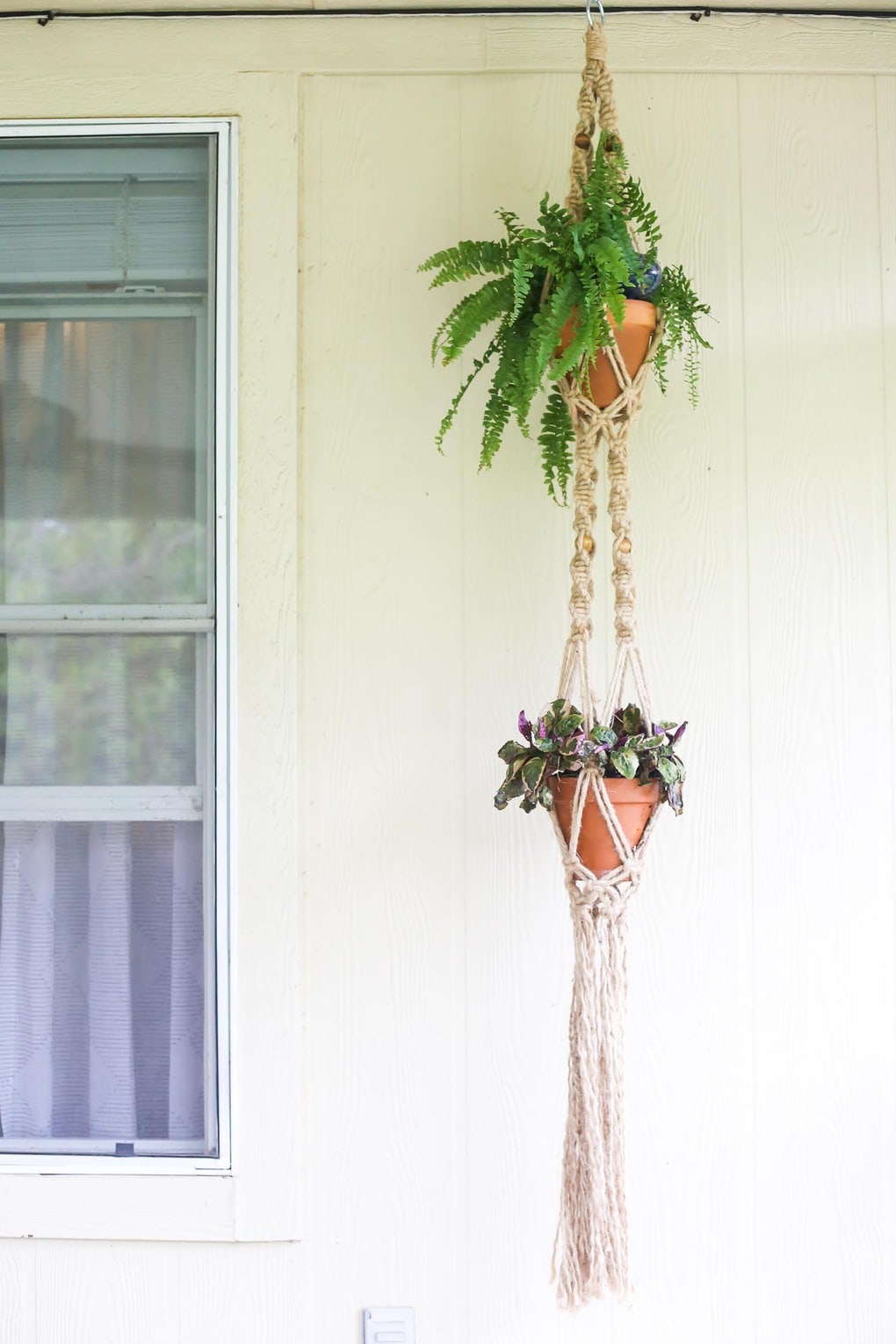 Don't forget the ceiling! If you're lucky enough to have a covered patio like we are, it's important that you remember all of that vertical space. We've had some string lights hanging around the perimeter of the patio since Christmas, but we also added a pretty capiz shell windchime (which makes the most charming sound ever when I have my windows open) and a macrame-style hanging plant holder. I'm obsessed with how it perfectly fills that dead space without taking up any valuable space, and I love that I was able to squeeze in a few more plants even though I ran out of horizontal surfaces to put them on. Even if you don't have a covered patio, you can always decorate the walls (we still want to put something on that big blank wall by the back door) or hang things from the overhang of the roof.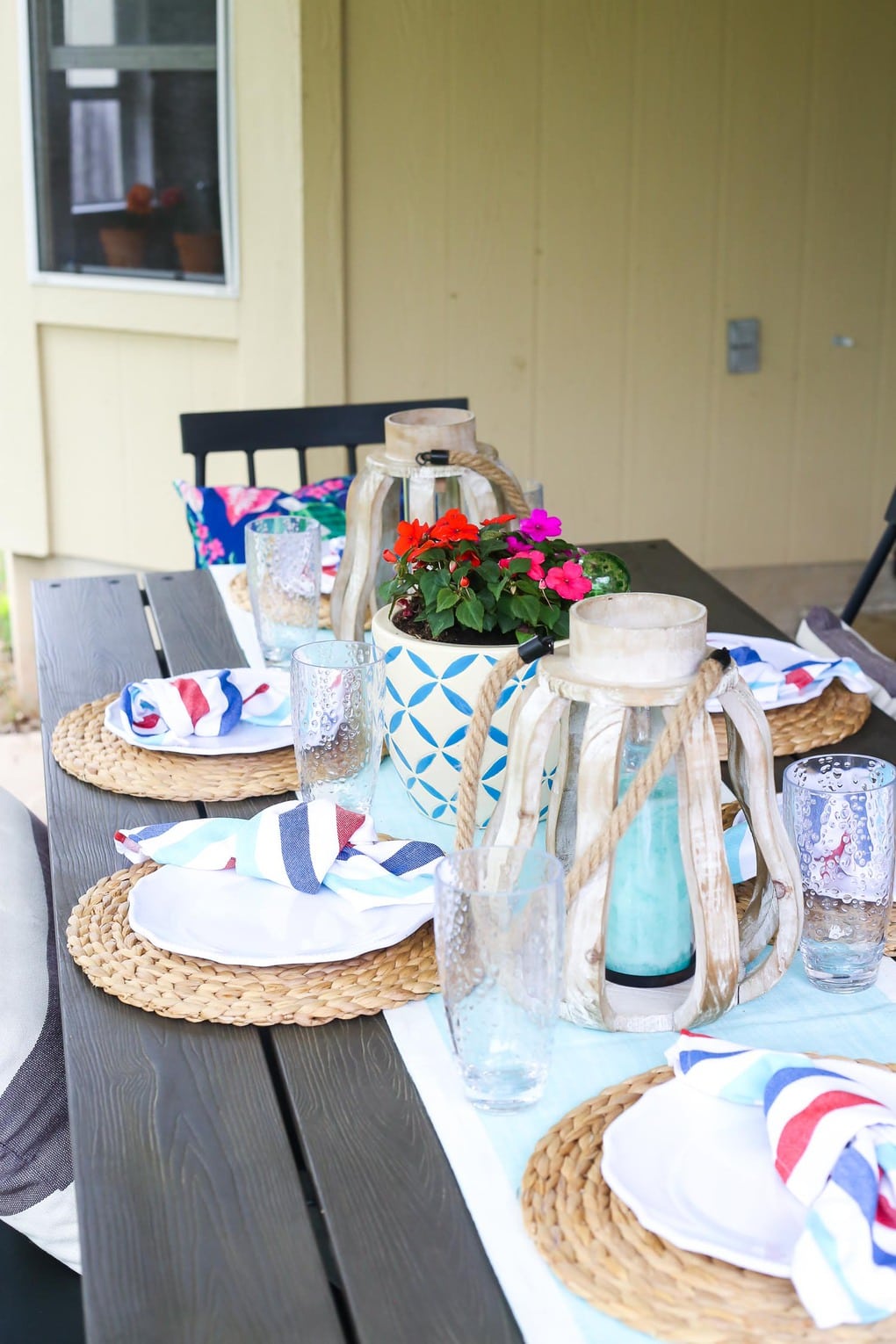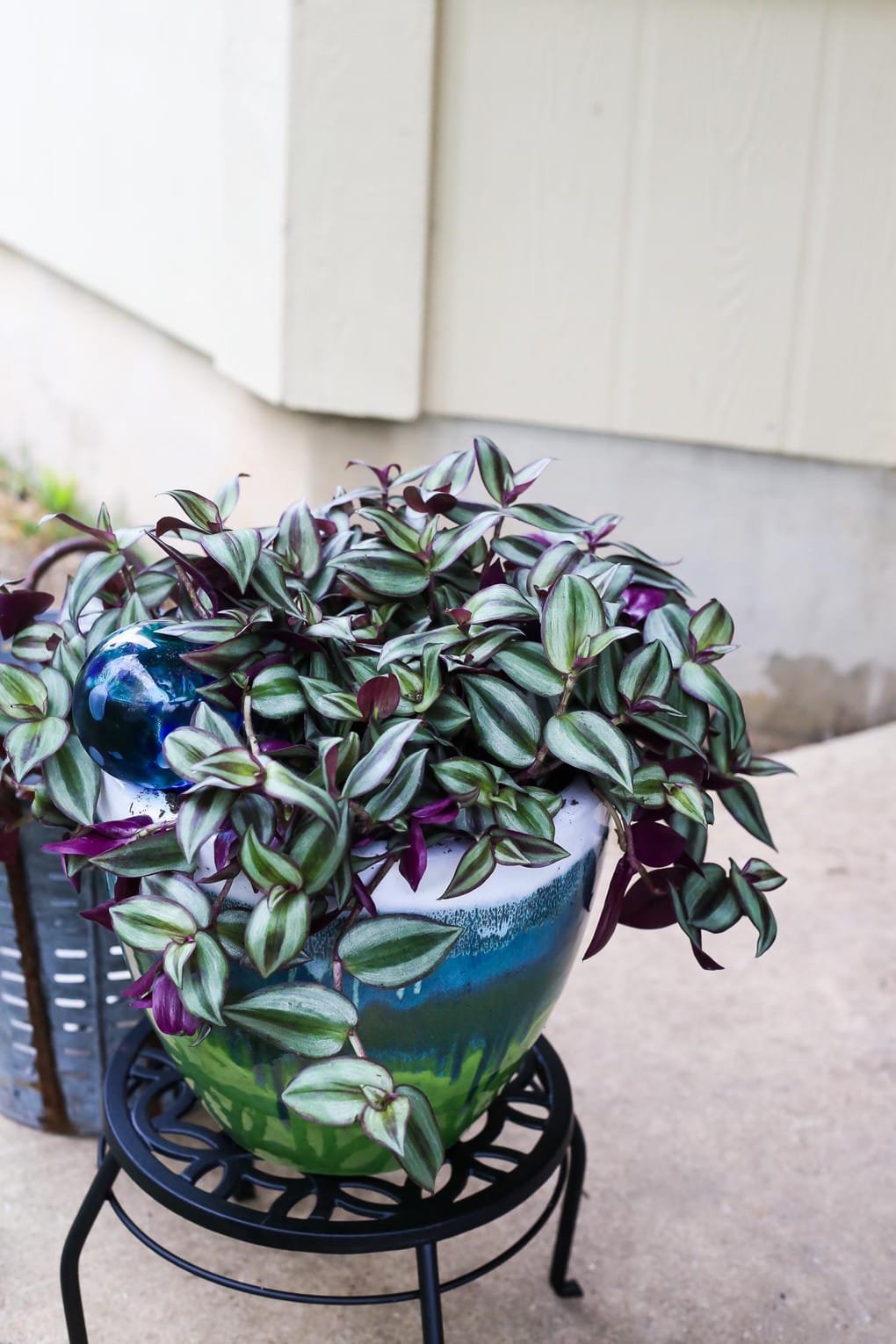 I also promised some hosting ideas, didn't I? We love to host people at our home year-round, but I think that this is my favorite time of year to have people over. There's something so wonderful about throwing open the windows and the back door, blasting some music, and hanging out in the backyard with some friends. So, here are a few quick tips to get you started.
Backyard Hosting Tips
Keep it simple. This is a somewhat obvious tip, but I'm including it (and listing it first!) because it's so dang important. Backyard gatherings are supposed to be casual and comfortable – don't overthink it! Break out the grill and toss on some meat and veggies, grab some ice cream, and ask everyone to bring a side. Let the kids run wild in the backyard and have a few bottles of wine on hand for the adults. Done! That's really all there is to it. I like to keep an extra set of melamine plates and plastic cups for backyard gatherings, but if you want to keep it even more simple just make sure you've got some disposable dishes on hand – there's no easier cleanup!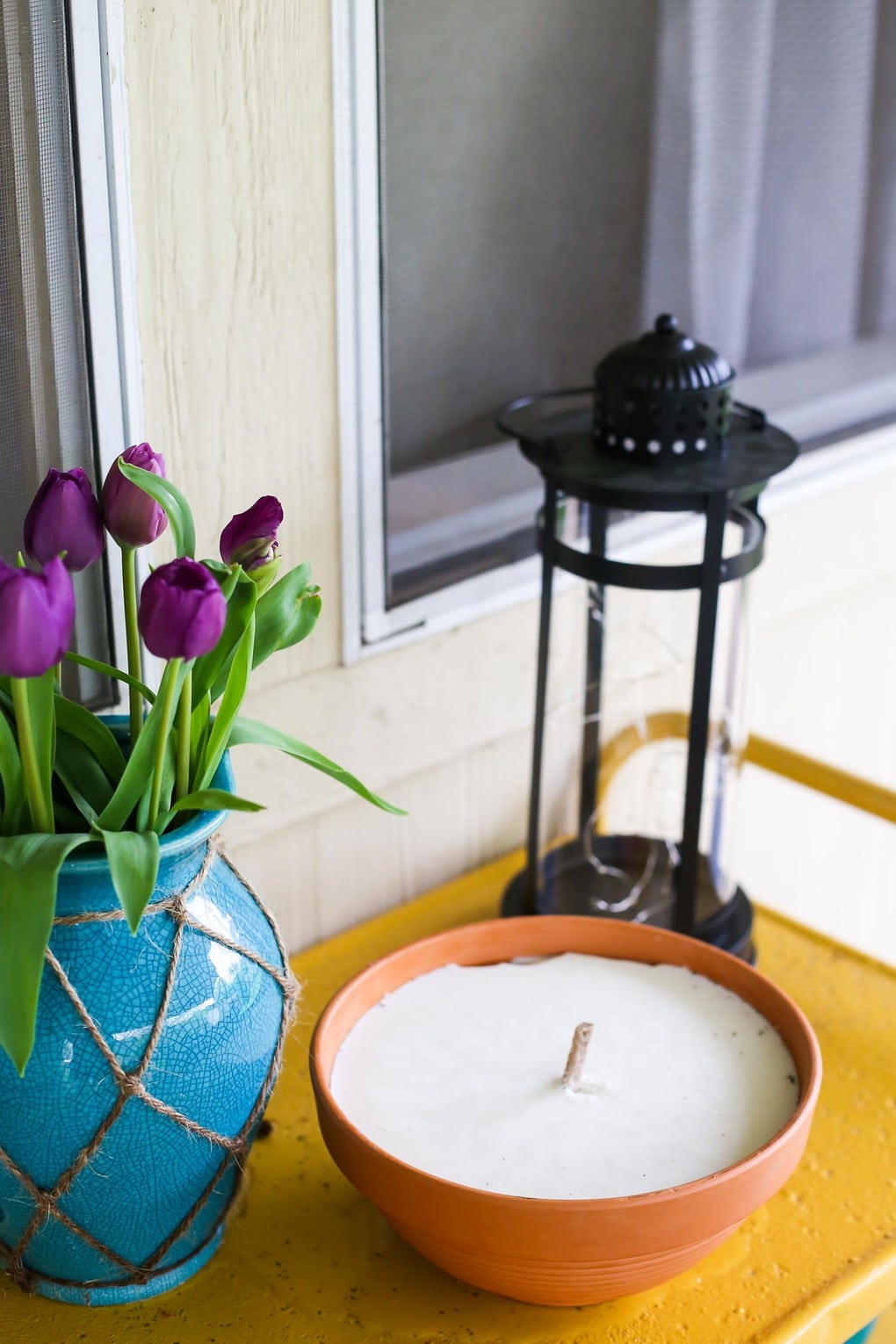 Candles and music are your best friends. Even if you're working with a tiny backyard or a small patio, if you light a few candles (I'm obsessed with my new, giant, citronella candle from Tuesday Morning!) and put on some good background music, it will suddenly feel cozy, not cramped. I always recommend either the Nickel Creek or Ed Sheeran Pandora stations – they've both got really great music for playing in the background while everyone is talking and laughing, and they have the perfect feel for backyard gatherings.
Have a few yard games for the kids (and the adults!). We already have DIY'ed backyard blocks for Jenga and giant backyard dice for these types of gatherings, but Tuesday Morning had a really awesome selection of backyard games that were really stylish and that flow right into our backyard decor. We grabbed a couple (they even come with cute carrying cases for when you're not using them) and now we have a great selection of backyard games and fun for everyone. Set them up in a few places around the yard and let everyone go to town. You'll learn quickly that kids don't need a fancy playscape or tons of toys to be entertained in the backyard – they're totally happy throwing bean bags and building giant block towers!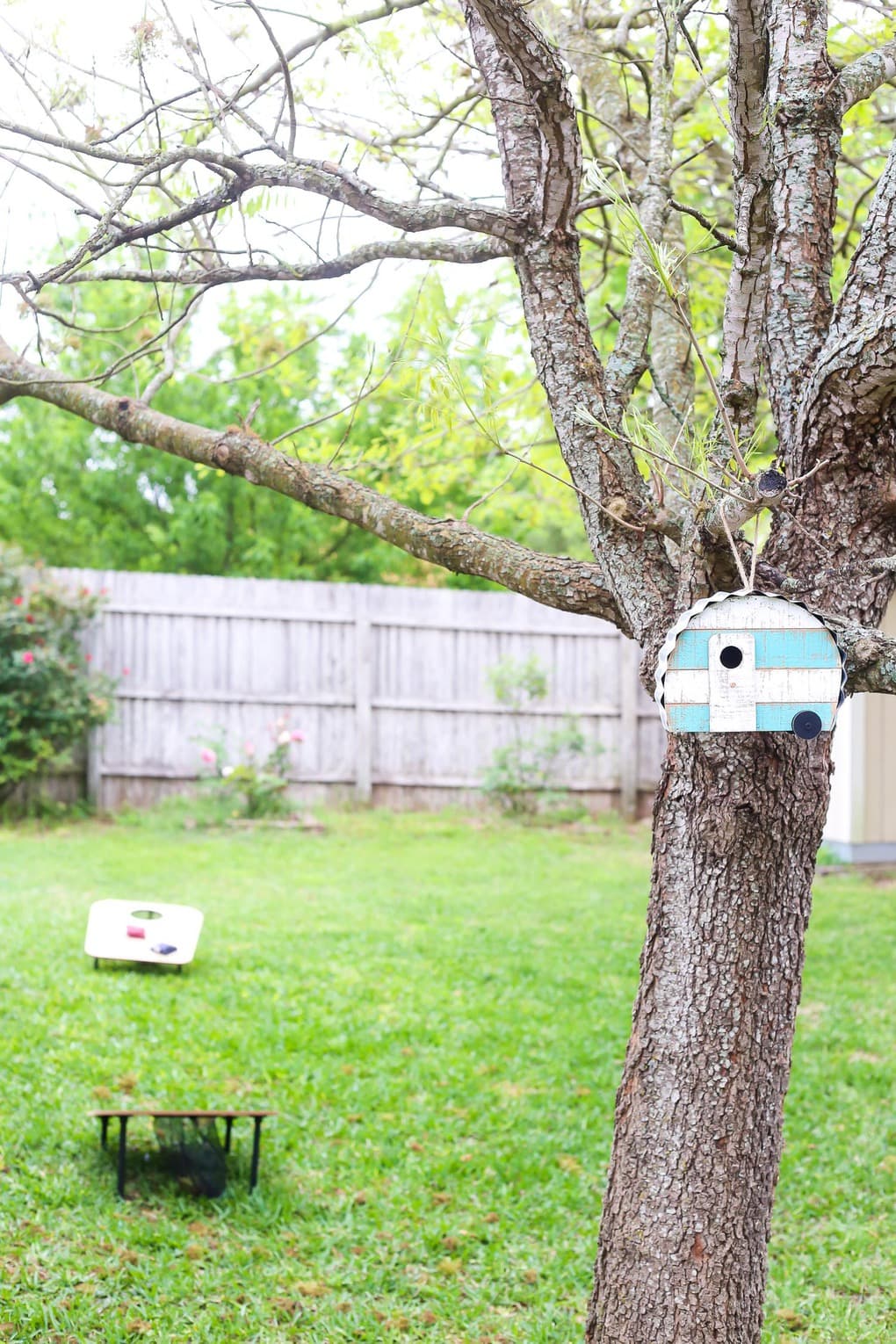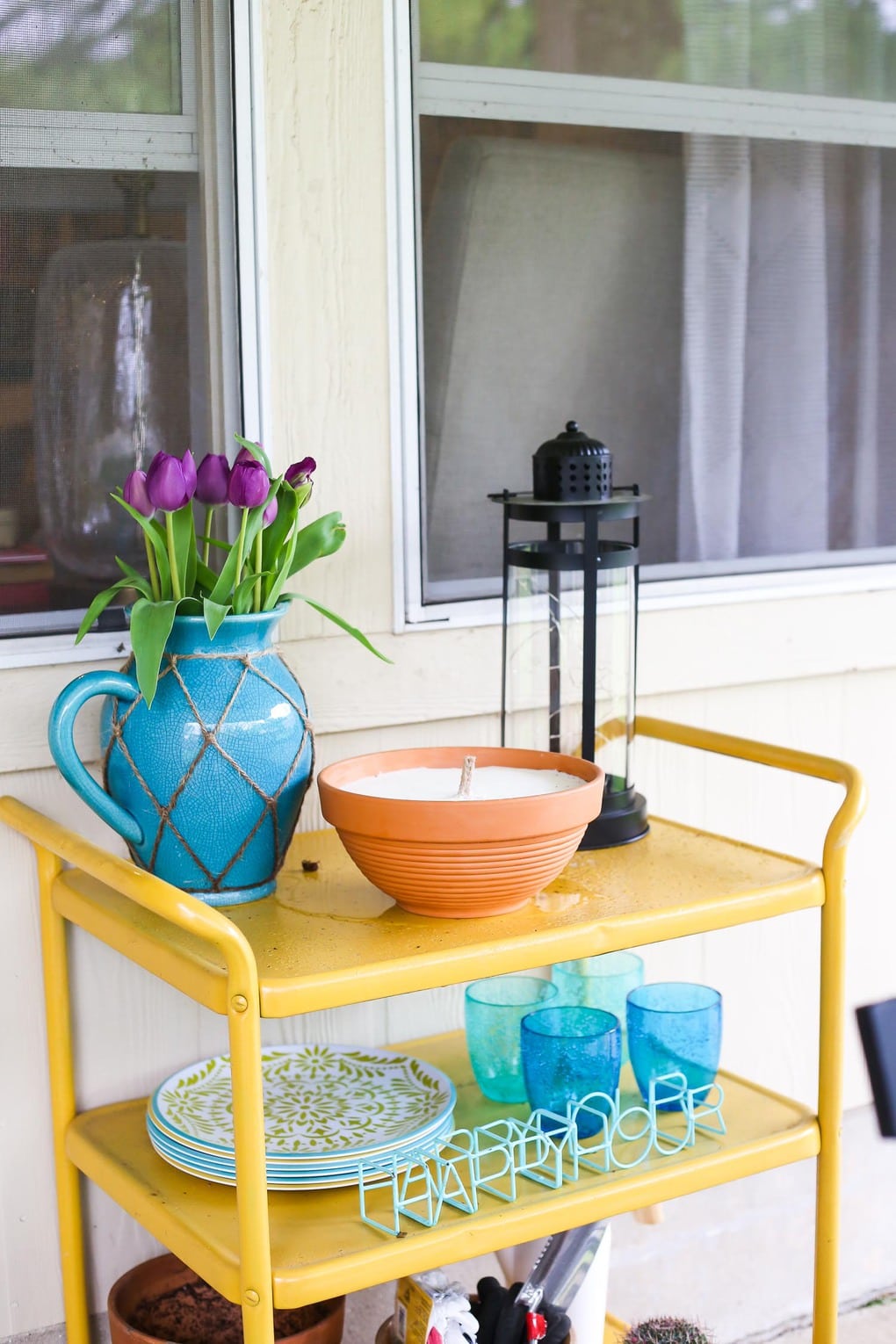 A bar cart is a great backyard addition. Right now we have our bar cart set up to just be pretty, but it can be such a functional piece to have on your back patio when you're hosting spring and summer gatherings. You can put drinks on it, use it as a spot for extra plates and silverware, or even serve food from it! Patio tables can get cramped fast and it's not always ideal to serve straight from there, so it's helpful to have things that your guests might need set up on the bar cart. Plus, who doesn't love a good opportunity to style a bar cart full of drinks and fun decor?!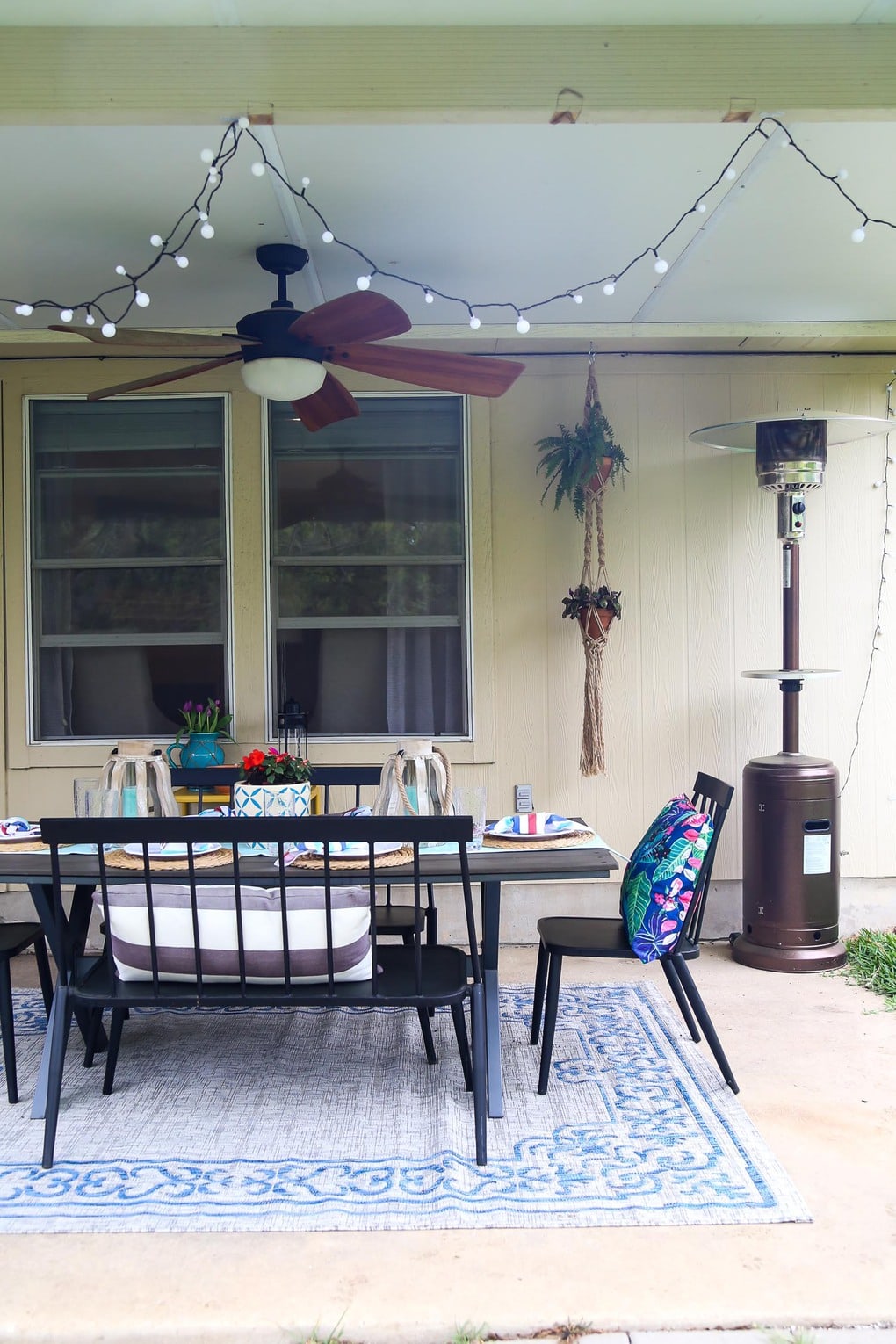 This little patio refresh has me so excited for this season and for the opportunity to start hosting a few different gatherings here. Between this and our dining room makeover, I'm thinking our tiny little house might end up being a great place to host after all!
Plus, it's going to be nice to have this space over the next few weeks while our dining room is in shambles.
I'd love to hear your best hosting and backyard decorating tips! Do you have a go-to recipe that's a crowd-pleaser every time? How about a quick decorating trick that knocks everyone's socks off?
Psst: Don't forget to check out your local Tuesday Morning and see what you can find – and be sure to share photos if you find anything amazing!
Want even more backyard decorating ideas and hosting tips?
Check out these posts!