10 Ways to Embrace the End of Winter
Y'all, are you tired of winter yet?
I know I am.
Normally I soak up the cold weather as much as I possibly can (remember, I live in Texas, so "cold weather" is a relative term and I get very little of it!), but this winter has been much colder, rainy-er, and all-around more miserable than normal.
And I'm over it.
I've been itching for spring for the last few weeks now (I'm dying to put on a dress and some sandals!), but the forecast isn't showing any sign of warming up anytime soon. I'd guess we've still got at least a few more weeks before we start getting true spring weather around these parts (and goodness knows how much longer you northerners will have to wait!), so I figure we should probably try to embrace it.
I mean, it's gonna be cold and wet whether we like it or not. We might as well at least try to enjoy it, right?
So, here are 10 quick ideas for embracing this awkward when-will-spring-come phase. If you need more ideas, this post about how to hygge might help you out. After all, I think we can agree that winter is probably the most hygge-worthy time of the year (even if we're all grumpy at it right now), and it's the perfect time to practice bringing a little more cozy into your life.
10 Ways to Enjoy Winter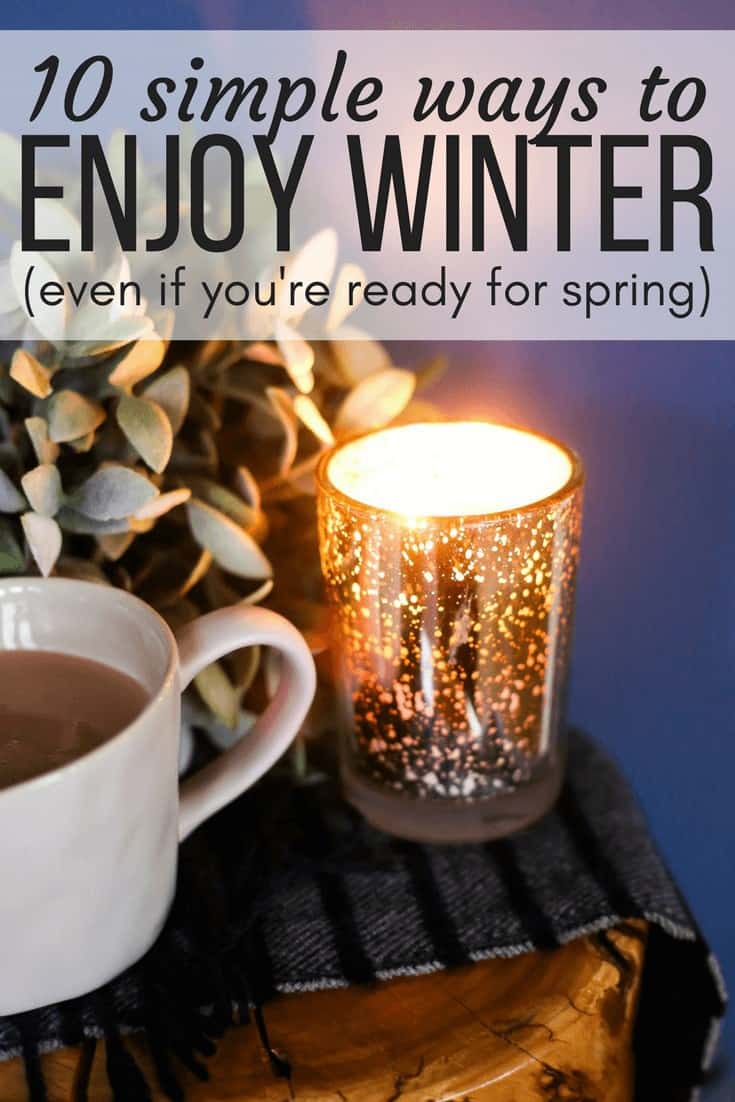 This post contains affiliate links. Click here to read my full disclosure policy.
Do some hibernating. I don't know if it's just us, but Corey and I tend to hole up in our house and be lazy for the first part of the year. Maybe it's the holiday fatigue and just needing a dang break after all of the excitement or maybe it's just the cold weather, but I love nothing more than curling up on the couch with a blanket and Netflix this time of year. It's not something you can really do all the time (I mean, we are adults with responsibilities, after all), but this is the perfect time of year to just embrace the laziness. You can be active and social again in March – for now, it's okay if you're all about the couch. Just let it happen.
Take a lot of baths. When it's 80 degrees outside, I am not interested in soaking in the bathtub for long periods of time. Baths just aren't as appealing when it's not freezing cold outside! We've only got a few more weeks of true bath weather left this winter, so we might as well enjoy it, right? I like to add some bubbles and bath oil, and I always bring my iPad so I can read a good book. You can build an easy DIY bath tray to make your baths a little more relaxing, and check out a few of these tips to make your bathroom feel like a spa.
Get some hot chocolate. You can make it at home too, but to me, there's just something special about heading to Starbucks for a quick treat. Hot chocolate makes everything feel just a little more exciting, and even a trip to the grocery store will feel a little more hygge if you add some hot chocolate to the equation. Plus, when you've got cranky kids who are tired of being cooped up in the house, hot chocolate is the perfect way to bribe them into happiness, no?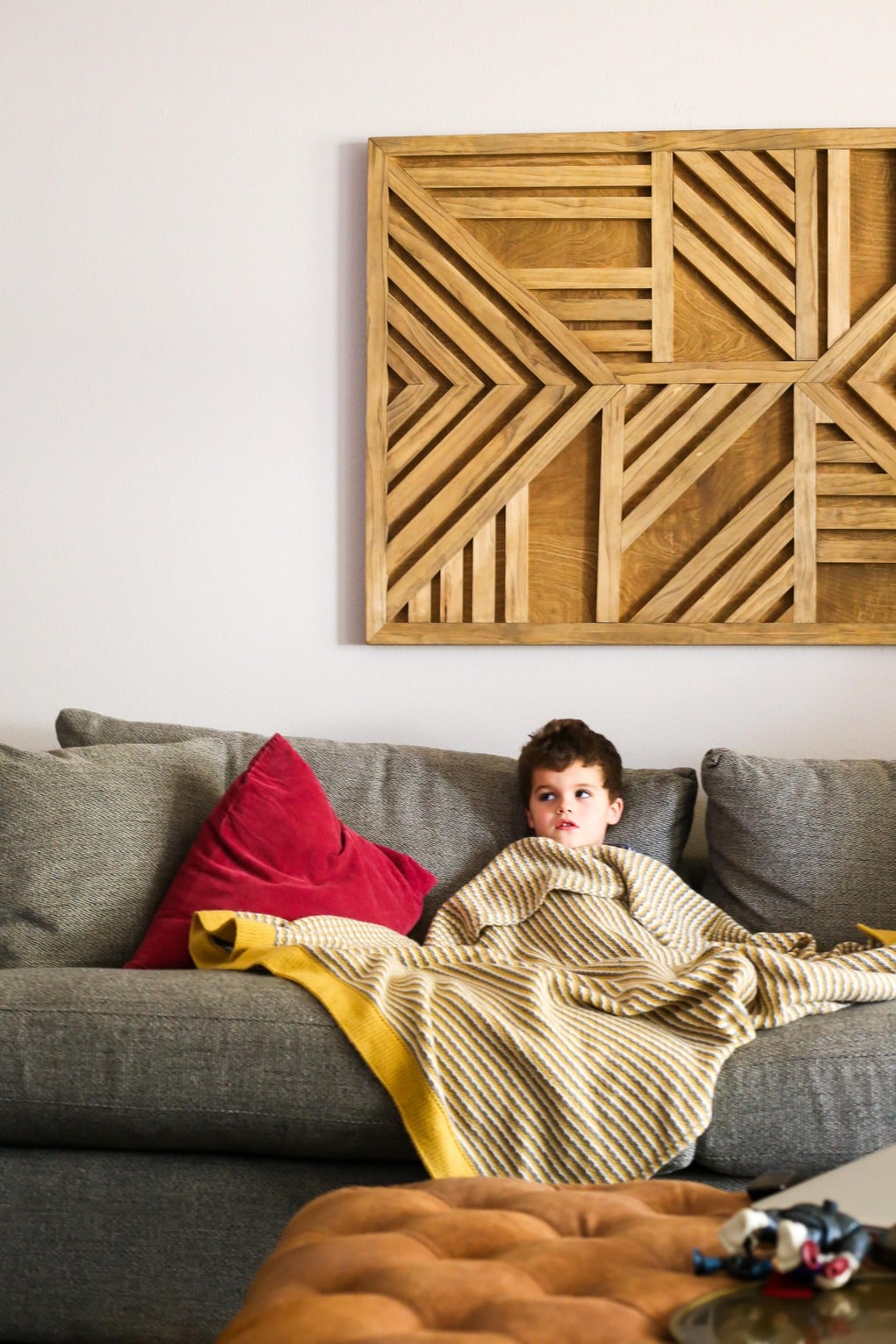 Have a family night. Since no one wants to leave the house anyway, this is the perfect time of year to do a little something special with the family at home. Maybe you make some popcorn and curl up with a movie, or maybe you play a few board games together (see our favorite family board games here). Whatever it is, now is a great time to spend some (lazy) quality time together – and to not feel guilty about giving the kids some extra screen time. Just call it a movie night and you're good to go!
Read a new book. I know we all say we don't have time for reading, but if you're strategic about it, it takes up way less of your time than you'd think! I'm able to get through a solid two or three books a month just by reading for a few minutes before bed and while Jackson is watching videos on weekend mornings (we always linger in bed a bit on the weekends and let him have some extra screen time). I typically do this year-round, but there's just something that feels so cozy about curling up on the couch with some hot tea and a good book, no? A few of my recent favorites include this one if you want something YA-ish, this one if you want something that'll keep you on the edge of your seat, and this one for all a whodunit page-turner.
Light all the candles. Winter-scented candles are my favorite. I love the deep, earthy scents that often come along with Winter and I can't get enough of the candles. I tend to hoard them and want to save them for a "special" time, but we all know I'm just going to buy 5 new candles next winter, so what am I waiting for? It's been my mission to burn through the rest of my winter-y candles before the weather warms up, and I'm loving the cozy feeling and amazing scents that are filling my house. Also? While we're lighting things on fire, go ahead and start one in the fireplace. Because nothing is cozier than a fireplace fire – and ain't nobody lighting a fire when it's 75 degrees outside, so enjoy it while you can.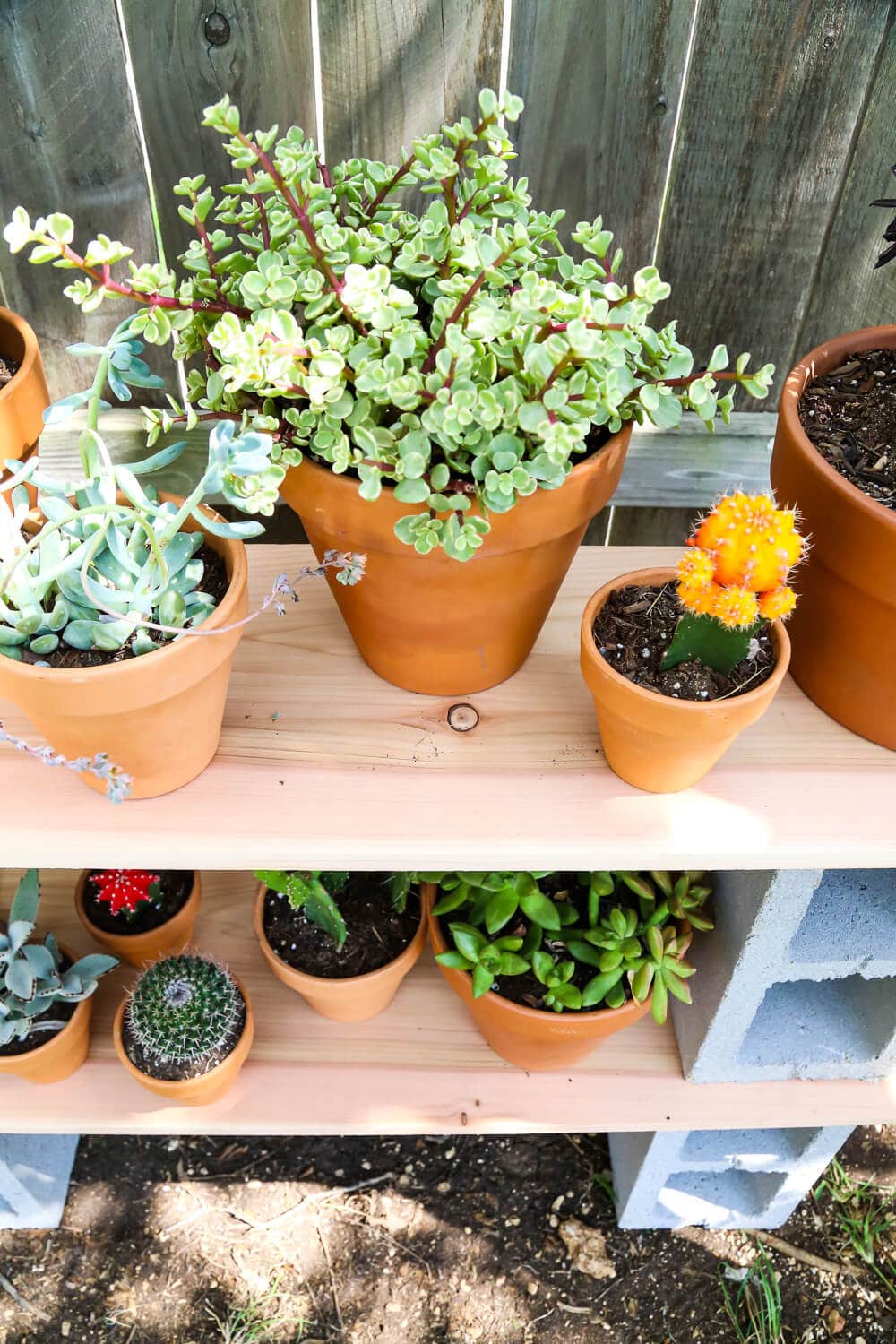 Plan some spring projects. I know – technically this list is about actually enjoying winter, not looking forward to spring. But, I find that now is the very best time to start thinking about what you want to accomplish in the spring and actually get excited about it. I always have grand plans for things I'd like to accomplish in the spring months (get the backyard cleaned up! start a garden! paint the front door!), but if I don't plan ahead, it all gets lost in the shuffle. While you're hibernating on the couch watching Fixer Upper, take some time to do some research on a new gardening technique you want to try or an outdoor project you've been itching to tackle. Not only will it get you motivated and excited about being productive again, it'll keep you busy while you anxiously await the warmer weather.
Get crafty. Jackson is at an age where he loves "art projects" (as he insists we call them), and it's so fun to get my hands dirty with him. When you're all cooped up inside because it's dreary and wet outside, it's the perfect time to bring out the paint and glitter. You can just craft with the kids, or you can wait until naptime and do some crafting yourself (my friend Amanda is sharing a fun and simple craft idea every day this month over on her blog if you need some inspiration!)
Wear that beat-up sweatshirt every dang day. Don't deny it – we all have one. That favorite old sweatshirt that's grungy and not all that flattering and perfectly broken in and the coziest thing you own. You're about to have to say goodbye to it for a good chunk of the year, so you should feel no guilt about wearing it on the daily until it gets too hot. I give you permission. I'll be right there with you (this is my very favorite sweatshirt), so let's all just commit to throwing our hair in a messy top knot, skipping the makeup, and rocking that sweatshirt every chance we get.
Bake something. Winter is my favorite time to do some baking (because it's the only time of the year where having a hot kitchen doesn't drive me nutty!), and we all know calories don't count when it's cold outside, right?! I just made these delicious banana chocolate muffins last week, and chocolate chip cookies are basically a constant in my house.
I think I'm going to take this list and use it as a bit of a checklist to help me fully embrace and enjoy these last few weeks of winter. I've been spending so much time moaning about how antsy I am for spring lately and I know I could be doing a lot more to try and enjoy the last of the winter season. If you're feeling ready for spring too, I'm officially challenging you to join me in doing these 10 things over the next few weeks – let's see if it helps us hate the cold weather a little bit less, shall we?
What are your favorite ways to embrace winter?