FAQs About Our Home: One Year In
This week is our one-year anniversary of living in this home! In honor of our home's first birthday, I shared a big home tour earlier this week, and today I'm answering some of your questions about our home, how we live in it, and our plans!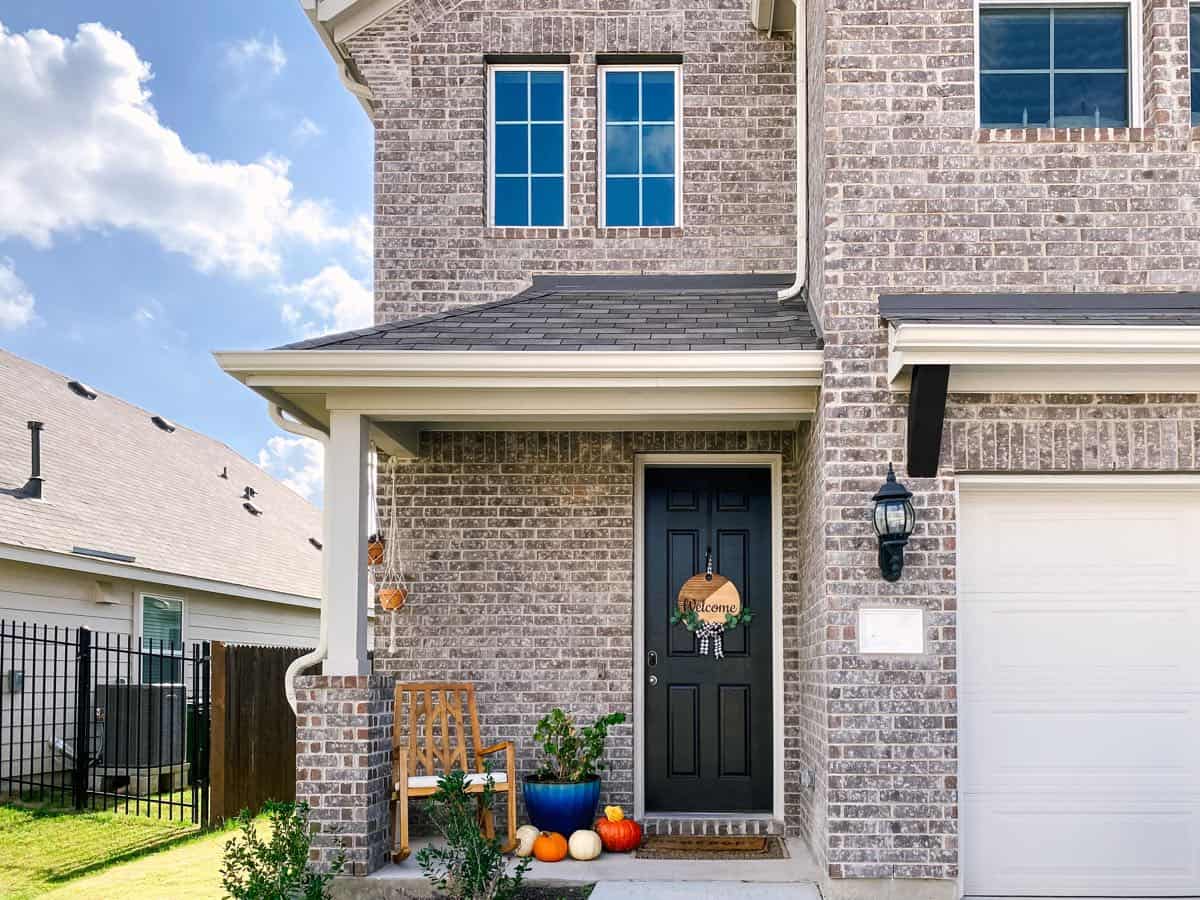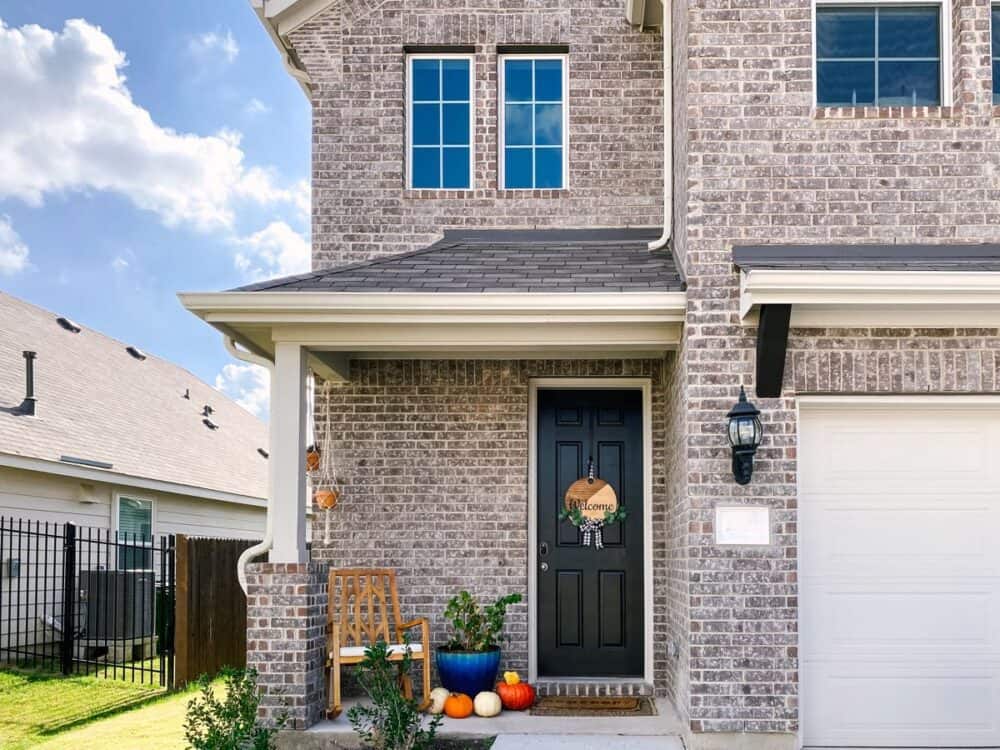 What was your experience like with a new construction home?
We had a slightly-different-than-typical experience because our home is a spec home, meaning it is a home that was already in the process of being built when we decided to purchase it. Most neighborhoods have a set number of homes they just build with popular layouts and finishes, in the hopes that someone (like us) will come along and purchase it.
So, we didn't get to make all of the design choices for this house. In fact, the only change we were allowed to make was to the flooring. We added vinyl plank to the master bedroom downstairs (it was originally carpet), changed the color and style of the vinyl plank throughout the first floor, swapped out the tile in the bathrooms and laundry room, and upgraded the carpet upstairs.
In the end, there were several other smaller changes we likely would have made if we had been able to be involved in the process from day one, but the flooring was the most important to use because it's such a pain to change down the road! So, it worked out nicely and we have no complaints!
As far as the rest of the process goes, we had a really smooth experience with very few bumps along the way. Our home wasn't delayed at all, we had a delightful experience with all of the people we worked directly with, and it was just overall a really great experience that I'd be happy to repeat. I know plenty of people who didn't have a great experience, though. I'd recommend doing a lot of research and talking with people who have built with the builder you're considering before you move forward – I find that in our neighborhood it's pretty generally well-known which builders are a nightmare to work with!
How do you feel about the open concept layout?
We were honestly nervous about having one huge great room downstairs before we moved in. It felt intimidating to design around, and it's honestly just not my favorite look.
But, it's been the most perfect layout for us in the end. I love that we can all be together while we're cooking, eating, or watching television, and for this stage of life having a huge open concept layout is just so dang practical.
My only con for having an open concept living area like this is that if one "zone" is messy, the whole house feels messy. It's a priority for me to keep the entire great room clean most of the time, because if the dining table is piled with stuff it affects both the living room and the kitchen!
It also makes it tricky to take photos of our home, because I have to clean basically the whole house to snap one photo…but that's not a problem that would affect most people.
In the end, though, I honestly don't mind that I have to keep things a bit cleaner, because I love a clean home anyways!
Open concept layouts definitely aren't for everyone, I get that. But, for us, this has been a really great setup and I would 100% do it again.
do you have any big renovations planned?
Yes!
We likely won't be taking on any huge projects in the next few years, but I envision full renovations for both of our full bathrooms and for the kitchen someday!
We also have a few windows we want to add around the house, and I'm dying for a skylight in the master bathroom.
Oh, and we still have a pergola to add in the backyard, a fireplace to add in the living room, and a ton of landscaping to do.
So, yes, it's safe to say we have plenty of big projects planned to keep us busy for a nice long time!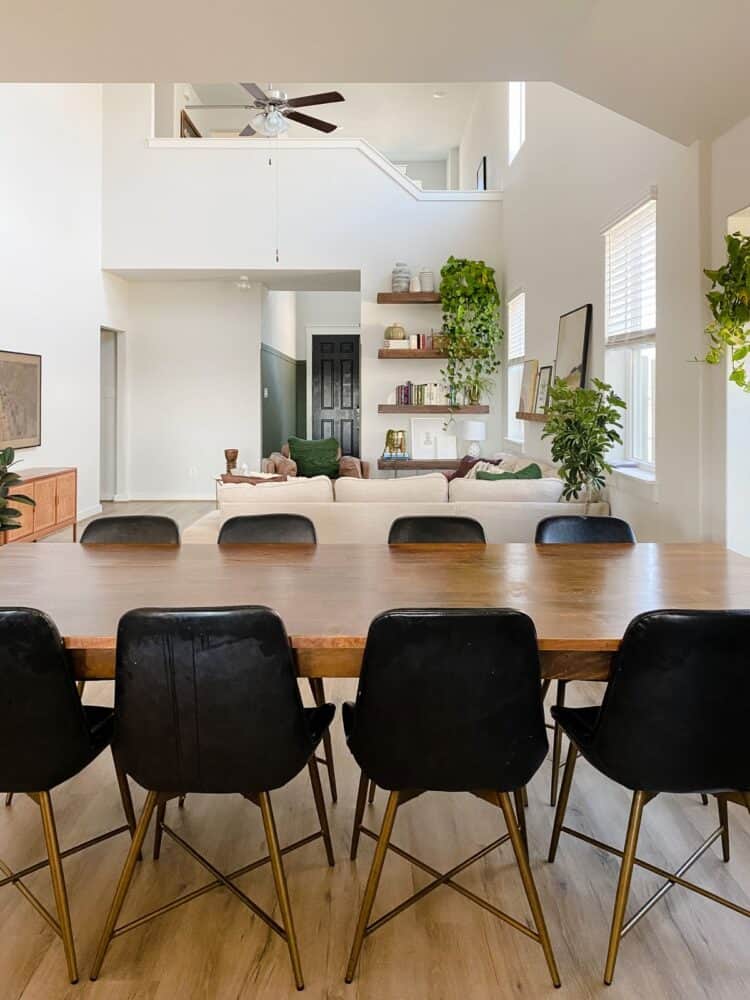 Will you ever paint the brick?
I don't like to say "never" but…no, we probably won't.
Our neighborhood HOA is pretty strict right now since the neighborhood is still being built out, and it's definitely not allowed as of now. It may be allowed in the future once the neighborhood is a bit older, but we honestly like the brick color on our home, and I don't see us changing it.
Of course, I always reserve the right to change my mind in 7 or 10 years. Who knows!
how long do you think you'll be here?
A long, long time.
We intend for this home to be the one our kids live in up until they leave for college. We're zoned for schools we love in our district all the way through high school (and the only way that would change is if they build even newer schools closer to us). It's more than enough room for our family of four (and we don't plan to expand it any more), and we just plain love this house!
Sometime in the future we do dream of purchasing some land and eventually building our "dream home" on said land…but that's more of a retirement plan than anything else!
what about when you run out of projects?
I don't anticipate that happening for a long time. But, when we do start to feel like we're running low on ideas, we've got a ton of plans for other things we can do. We have family and friends who are always begging us to come make over spaces in their homes, we'd love to renovate a camper someday, and we've both always been infatuated with the idea of flipping a house or two or even owning a rental property.
So basically, the sky's the limit here!
Do you like having a master on the first floor?
Yes. YES YES YES.
A lot of people with young kids seem to shy away from a layout with the master bedroom on the bottom floor, but we wouldn't have it any other way. We may have to trek upstairs a little more often than we will in a few years when the kids are bigger, but it's totally worth it for the ease of having our room so easily accessible. I highly recommend thinking long-term when planning your home and considering a ground-level main bedroom!
If you could change anything from the new construction process (upgrades, etc.), what would it be?
This was by far the most common question!
If we had been more involved in the process from the beginning, here are a few things we know for sure we would have done differently:
ALL THE WINDOWS. There are several window upgrades with our layout (mostly in the bathrooms), and I would have done every single one of them. I'm of the firm belief that you can never have too many windows in your house, and now we'll be going back to add in windows later rather than having them done.
"Christmas lights" upgrade. One option was to have electrical outlets added along the roofline (mostly for Christmas lights), and this is a big one that we really, really would have loved to do. We begged them to let us add it after the fact but it was too late.
On that note, all the electrical outlet upgrades! Option for a plug in the pantry? Yes, please! Extra plugs in the laundry room? Of course!
Extra can lights. We really wanted to add recessed lighting to our bedroom and to the game room – we may still do this eventually but it's much easier if it's just done the first time!
When making upgrades, my biggest recommendation is to think really critically about how easy it would be do it yourself, and if the value is really there. Also, really consider how it might change the rest of the house! For example, one "upgrade" for our home's layout is to have a fourth bedroom with an ensuite bathroom – sounds lovely in theory, but in practice it pushes the game room above the living room and gets rid of the 20-foot ceilings! For us, that was absolutely not worth the extra space, because the soaring ceiling is one of our favorite features.
Do you have a pantry? Where in the world is your food?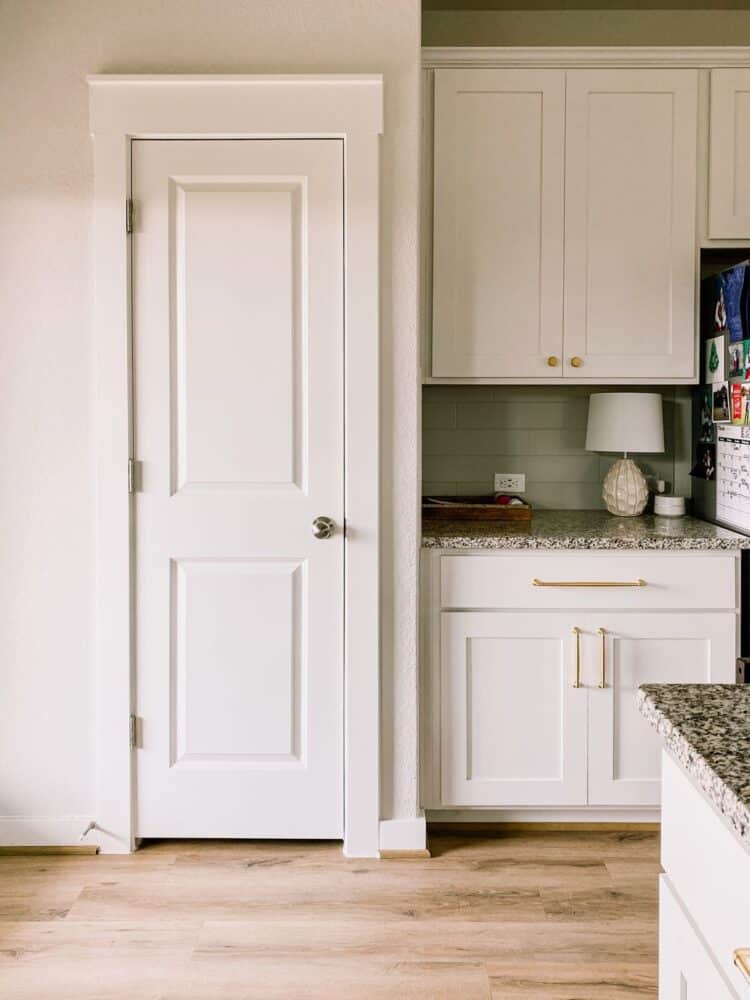 Hah! I loved this question and laughed out loud when I saw it. We technically have a pantry in the kitchen, but it's really awkwardly shaped (about half of it is impossible to access) so we use it as an appliance/kitchen tool storage space and use the cabinets next to the fridge as a pantry. Eventually, I'd love to knock this closet out and add floor-to-ceiling cabinetry here instead for more intentional storage.
Does your new construction home feel "cheaper" than an older home?
I think this is such a good question because it's something I think a lot of people assume to be true – and sometimes it can be!
Our home does not feel cheaper or less sturdy than any other home we've lived in (both of which were 20+ years old). In fact, it feels notably more high-quality and well-constructed.
HOWEVER. My big caveat to this is that it aaaall depends on the builder you go with. There are builders whose new construction homes do feel far cheaper than older homes, and who use lesser-quality materials or building techniques. Do your research about the builder you're considering building with, visit model homes, ask around, and see what other experiences have been. If you ask around in our neighborhood it's almost unanimous which builders use quality materials and which don't.
where to spend versus where to save on new construction.
I'm not an expert, but here's my personal thought process on what's worth spending a little extra on and what's not.
I'd recommend upgrading things like…
Flooring (it's hard and annoying to replace once you've moved in, make sure you love it the first time!)
Electrical (things like outlets, light placement, etc.)
Windows (GET ALL THE WINDOWS!)
Finishes you can't or don't want to DIY. For example, our home has upgraded light switches throughout – it's a small thing but I LOVE them so much and it's so nice that I didn't have to deal with replacing 7 zillion switches myself. A bigger example is that I really wish we had been able to add a seat in the shower in our bathroom – it'll be annoying to do it ourselves later!
Little things that make a big difference to you and make your home feel special. Examples in our home include an 8-foot entry door, raised countertops in our bathroom, and a door on the toilet room in our bathroom!
I don't think it's worth it to upgrade…
Lighting. It's far more expensive through the builder, the choices aren't great, and it's 100% something you can do on your own. Go with the basics and change it later.
Backsplashes. These are easy to replace and, again, the builder-grade options probably won't excite you.
Appliances. This is always more expensive than just buying what you actually want in a few years!
Countertops. This is another area where it's probably cheaper to just wait and replace them down the line. And do you really love any of the options, anyways?!
Paint. We all know it's easy to repaint rooms yourself. And the paint builders use is typically pretty cheap and not very high quality. Save the money and take care of it yourself!
Cabinet hardware. Don't worry about having them add hardware to your cabinets – it's so easy to do it yourself, and it will look so much more custom.
where did you get….?
I get tons of questions about things like our flooring wall color, or other things around the house. I have a detailed Shop Our House page with answers to everything you could possibly want to know! And, if the answer to your question happens to be missing, please let me know so I can update it!