A Tour of All the Trim in Our House
If I had to choose just one way that I like to personalize my home, it's through adding wall trim. It's something we have done increasingly more at each house we've lived in, and it's safe to say I'm obsessed. My goal for this house is to eventually have some sort of trim treatment in every room. Why? Because it adds visual interest, texture, and so much personality!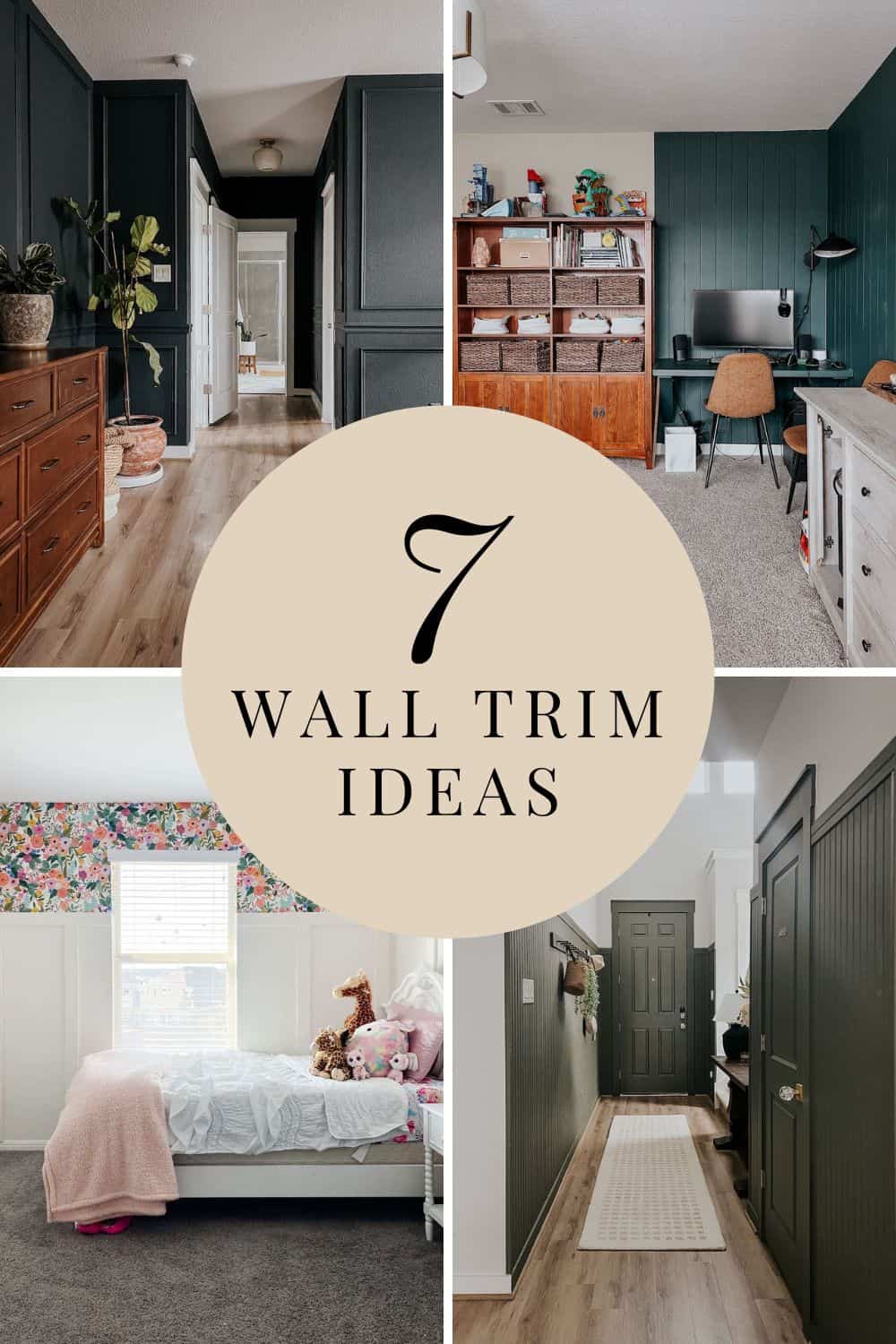 I just wrapped up the trim treatment in the powder room, and I thought it would be worthwhile to take you on a little tour of all the wall trim we've done in this house. So far. Because goodness knows I'm not done yet!
Hopefully this little tour will give you an idea of how the various trim treatments work together, and show you that you can mix and match wall trim treatments throughout your home! I often have people ask if things will feel disjointed if they do shiplap trim in one room and a geometric accent trim wall in another. And, the answer is that it probably won't! Trim treatments can really bring a home together, especially when used thoughtfully.
So, let's dive in shall we?
Wall Trim Ideas for Your Home
I'm going to take you through each of the types of trim in our house, then show you where all it's used. There are a few things that have been used in multiple places, so this way you'll get to see how things are repeated and used again intentionally.
Once that's done, I'm going to give you a little bonus and share some other wall trim ideas that we've done in the past. Because, there are so many other options! There are genuinely endless ways to customize your home with wall trim, and my goal today is to show you as many as possible.
Here we gooooo!
Beadboard Paneling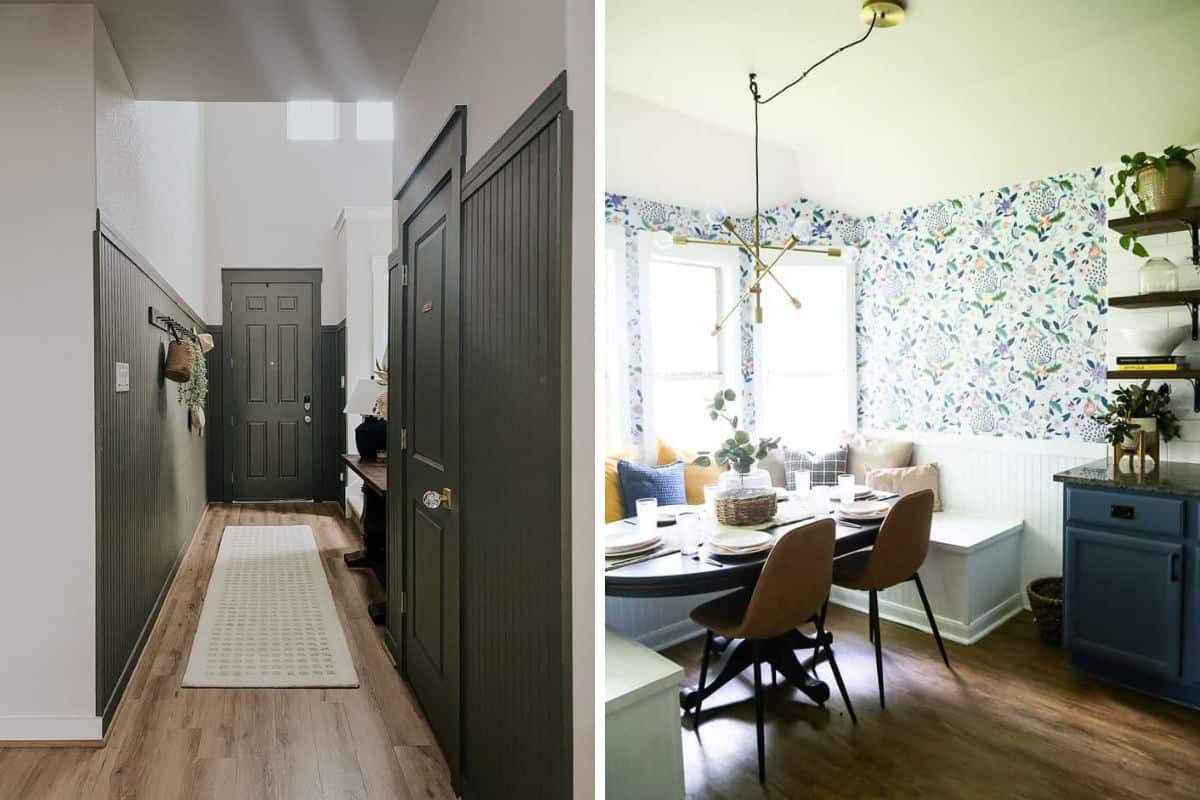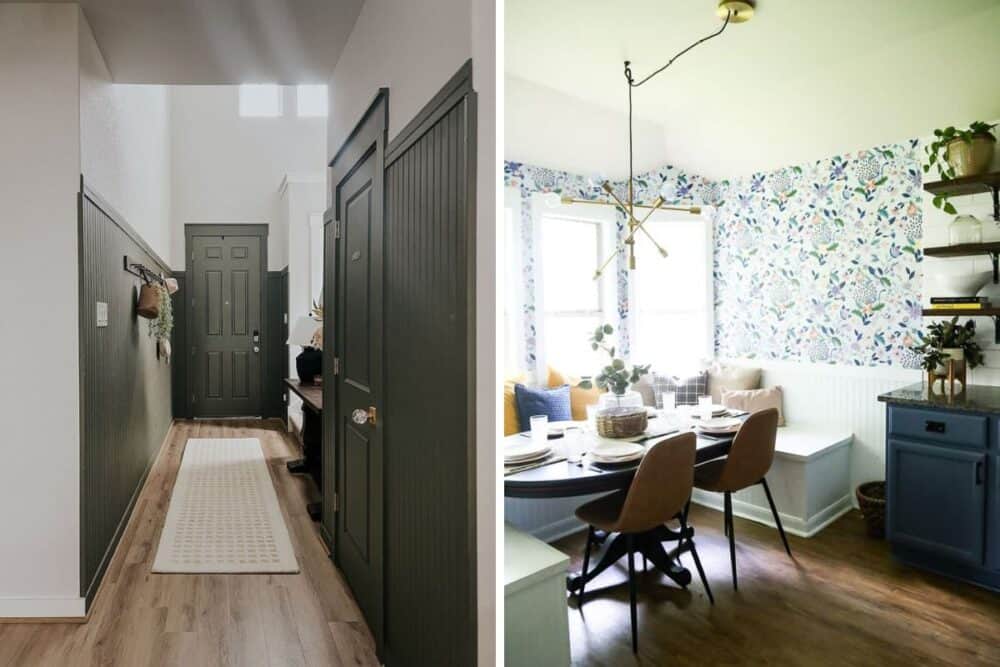 Beadboard is a wall trim treatment that I feel is fully and completely underrated. I don't see it used all that often, but it's a gorgeous treatment that's so easy to install. It makes a huge impact on a pretty small budget, and it's one of my favorite go-to options.
I've installed beadboard several times, including in two of our entryways, a bathroom, and a dining nook! When we installed this 6′ tall beadboard paneling in our entry, it brought so much life and warmth to the space. It makes the foyer ceilings feel even more soaring than they already are, while also cozying up what could feel like a cavernous space.
Shiplap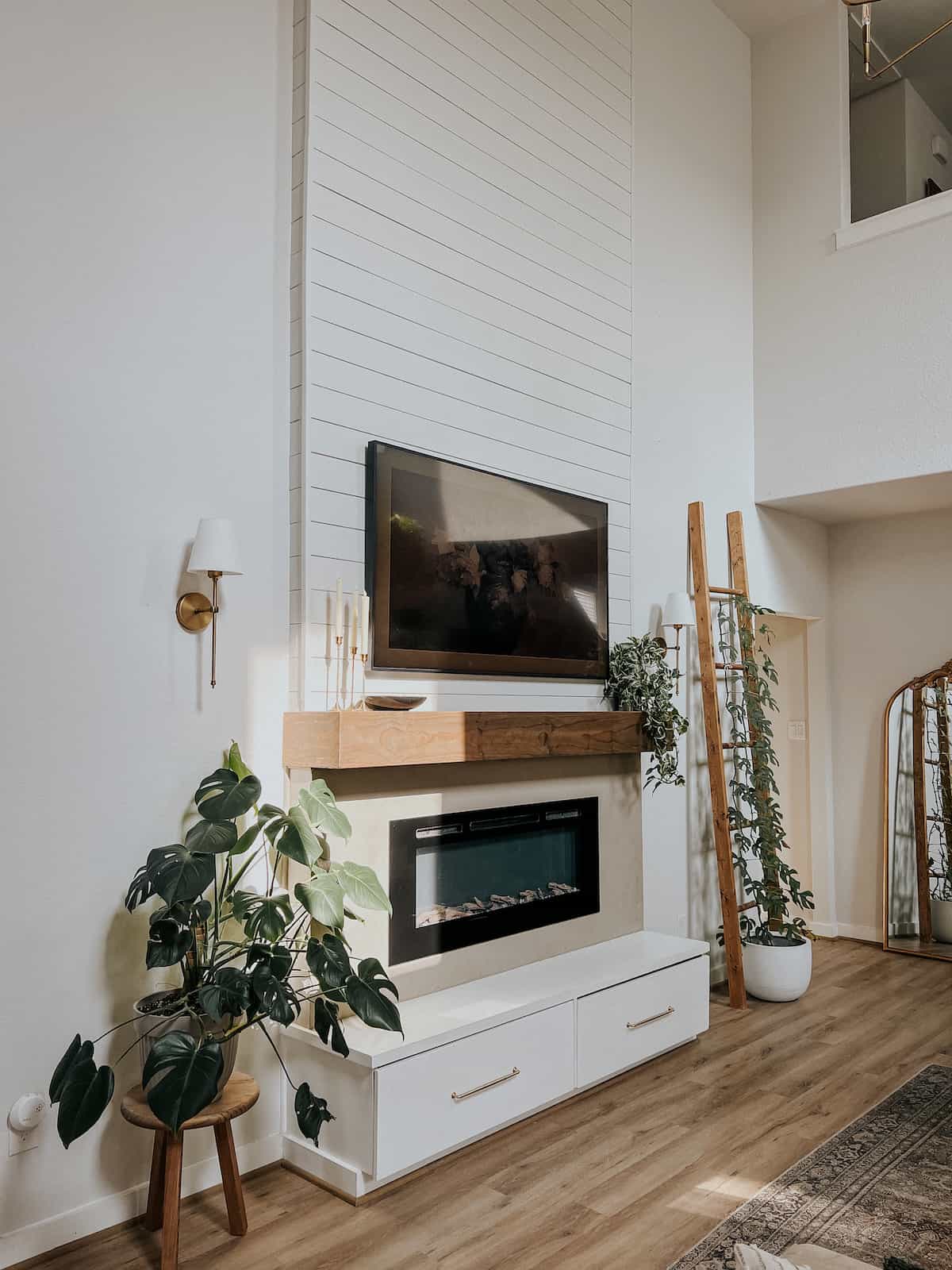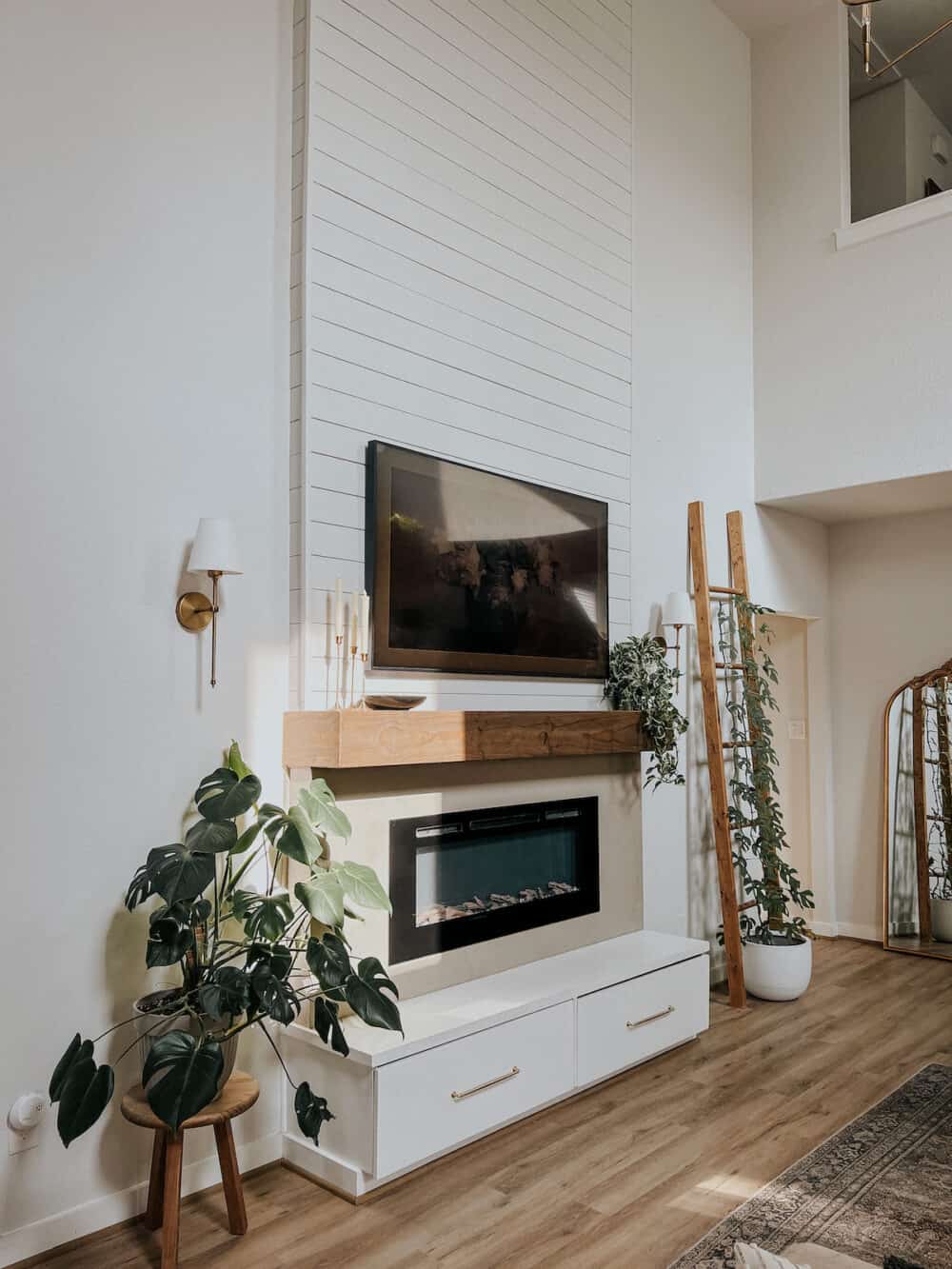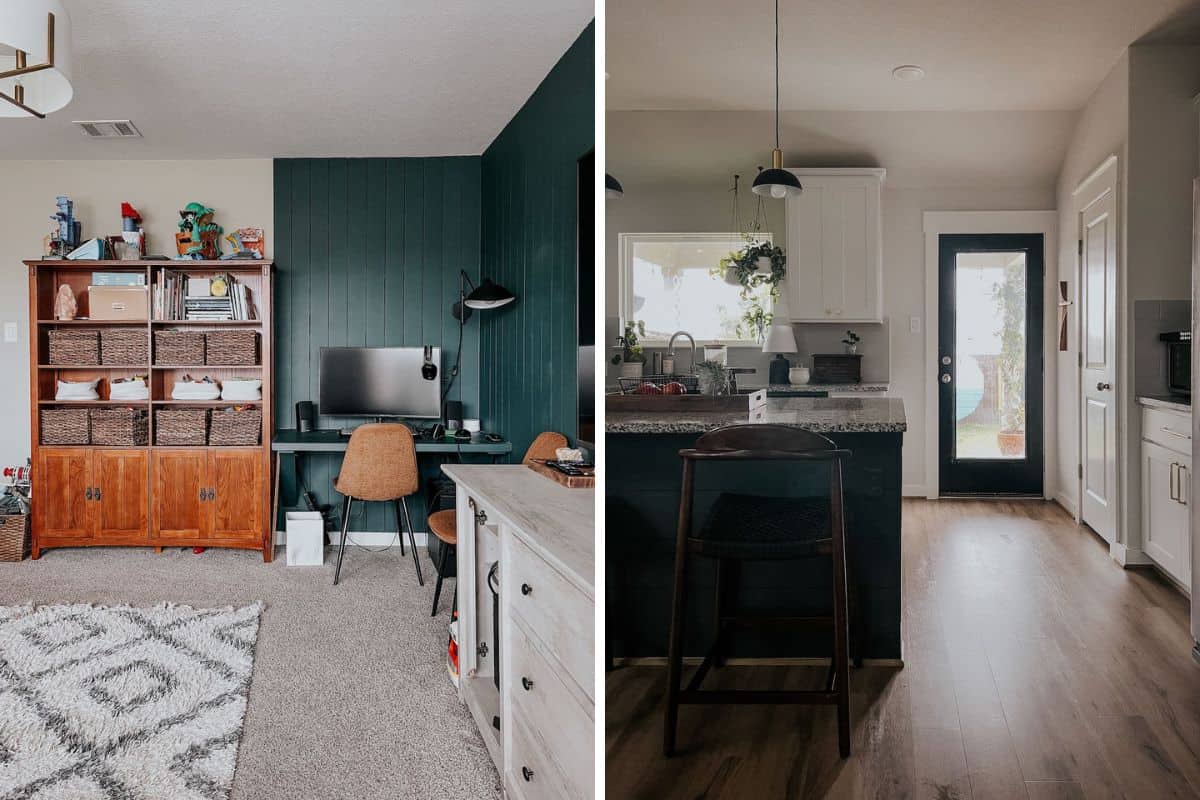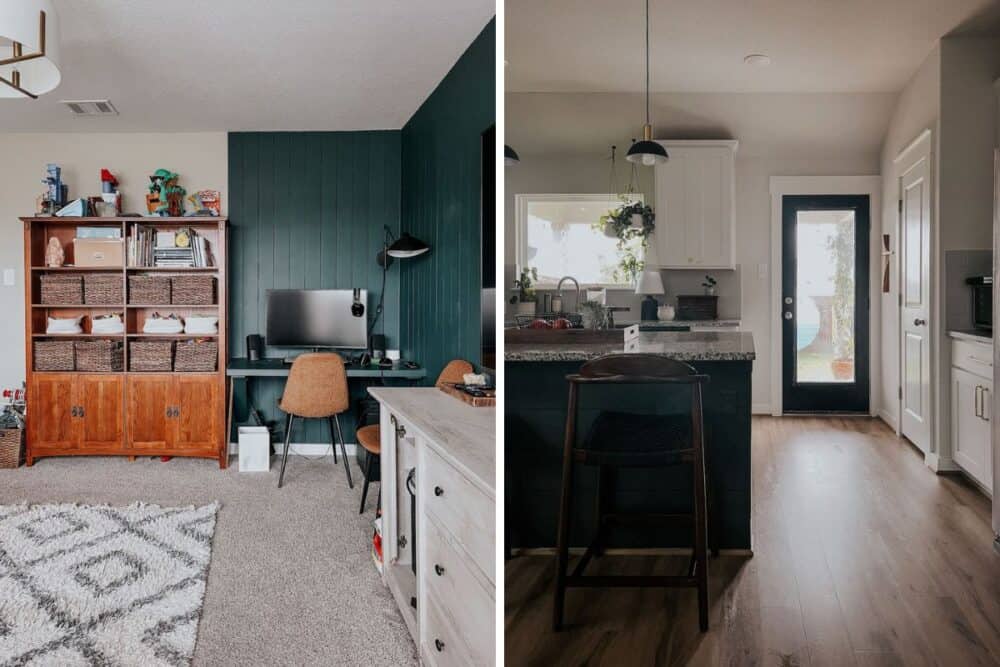 Shiplap is a super popular trim treatment these days. Some might argue that it's trendy and will feel dated in a few years, however tongue and groove shiplap planks have been used in homes literally forever, so I don't see that happening!
I think shiplap is a classic look that fits into more than just your standard farmhouse style home. It can be installed vertically or horizontally, it can be installed on the ceiling, and it can be painted any color of the rainbow!
In this home, we've installed shiplap…
And that's just so far. I can fully see myself using shiplap again in other parts of our home.
Chair Rail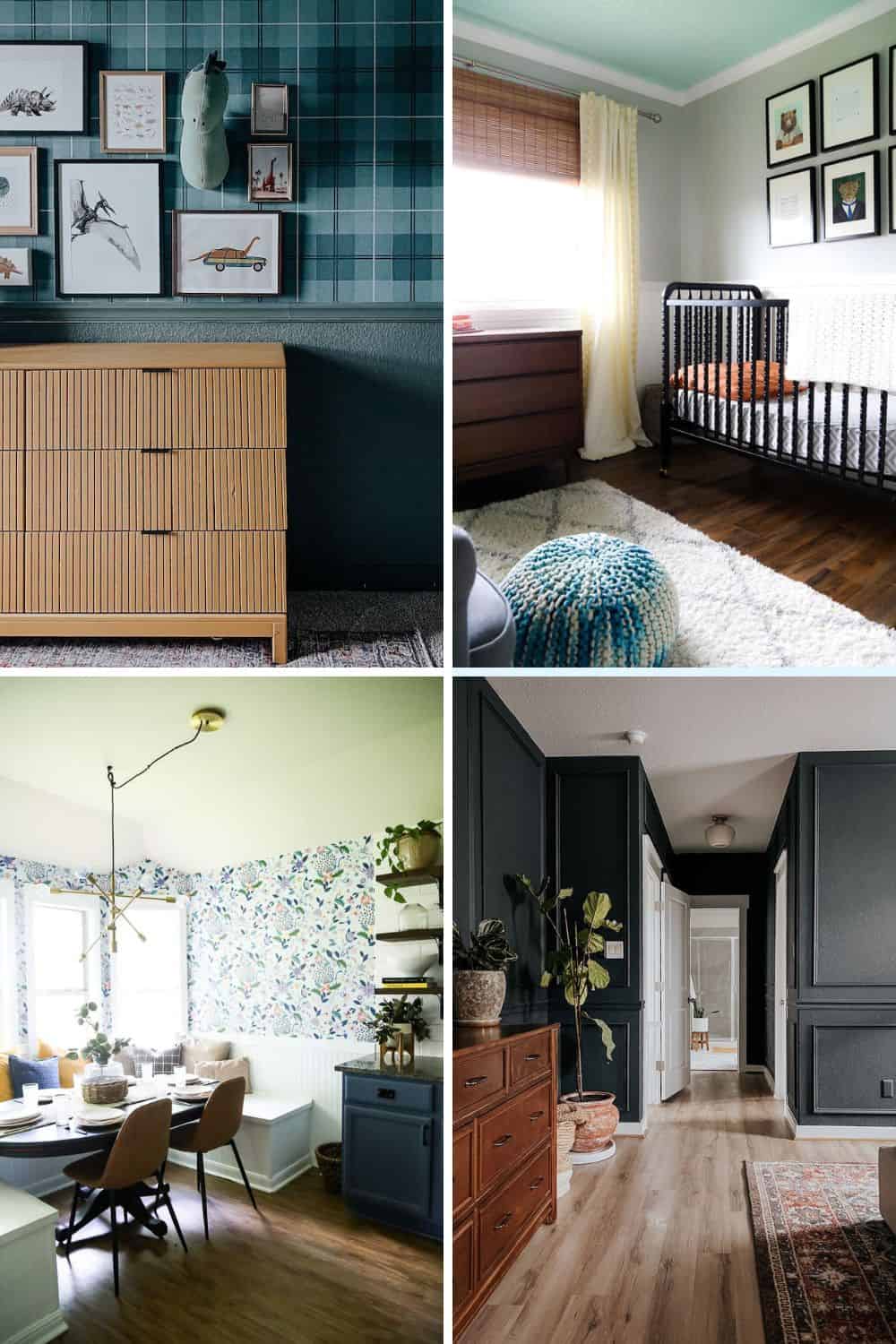 A super simple wall trim treatment idea is to install a chair rail! This is just a piece of trim that runs along the walls of a room partway up. Typically, you'll find different treatments on the top and bottom of a room with a chair rail.
For example:
The possibilities are endless with chair rail trim, and you can make it as simple or as complex as you want!
Picture Frame Wall Trim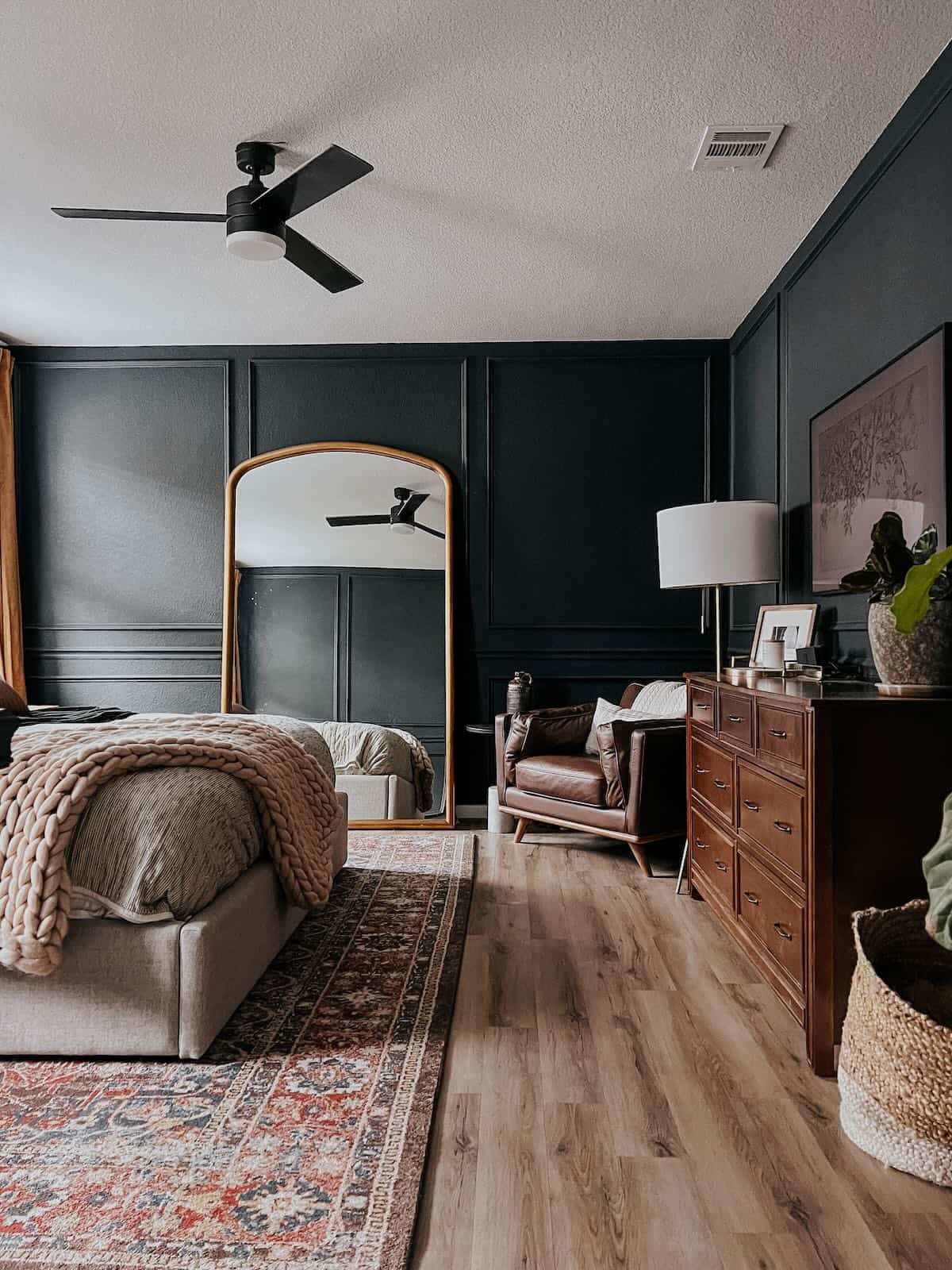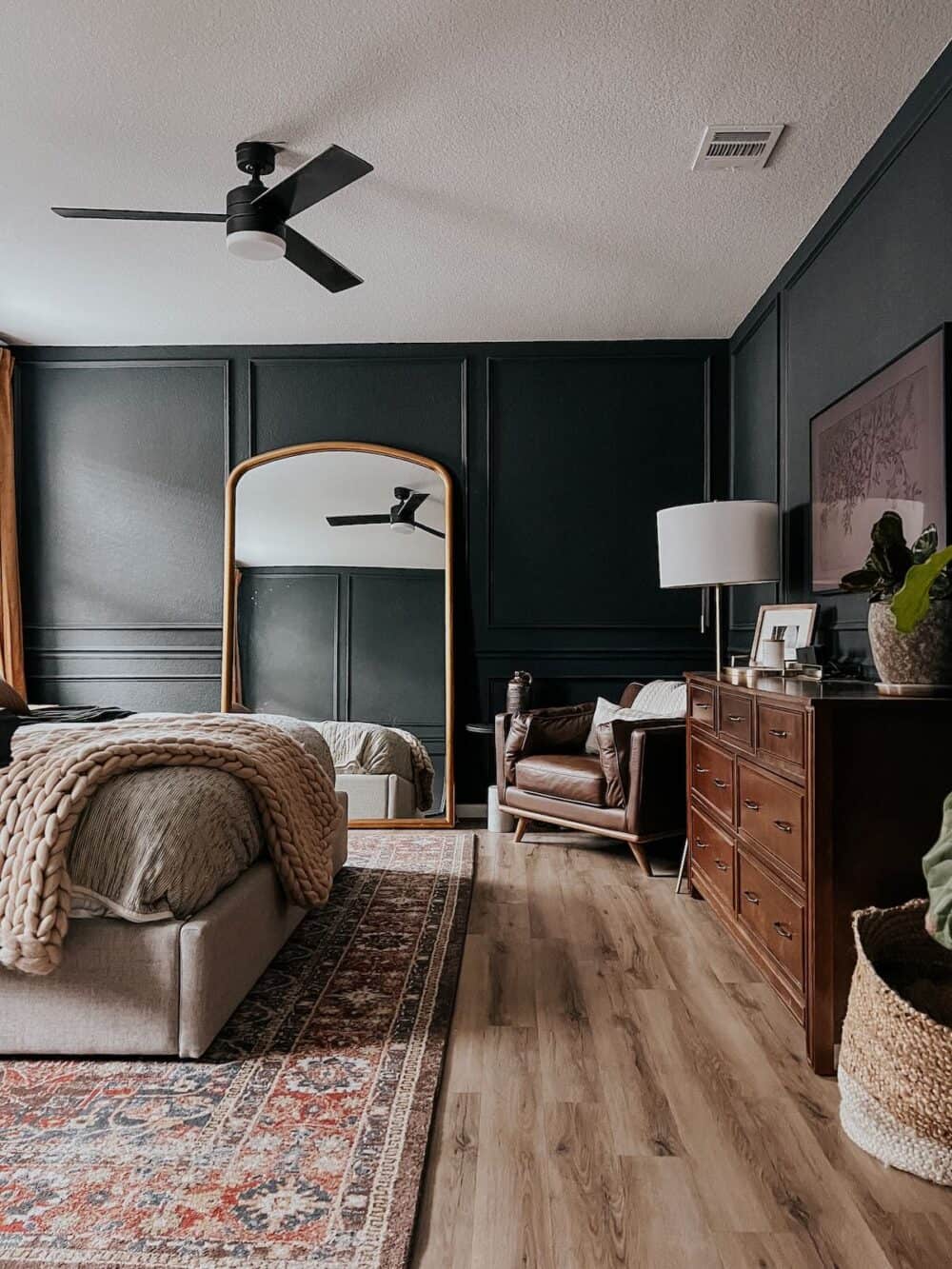 We have this type of wall moulding in both our master bedroom and in the powder room downstairs. I intentionally repeated it in two places for a more cohesive look throughout the house, but I could honestly have it in every room! It adds so much architectural interest, and it's one of my favorite wall treatments around.
This is a really beginner-friendly project that looks much more high end and difficult than it actually is. It's a really popular choice for a dining room or a living room, too! Click here to learn how to do it.
Square Molding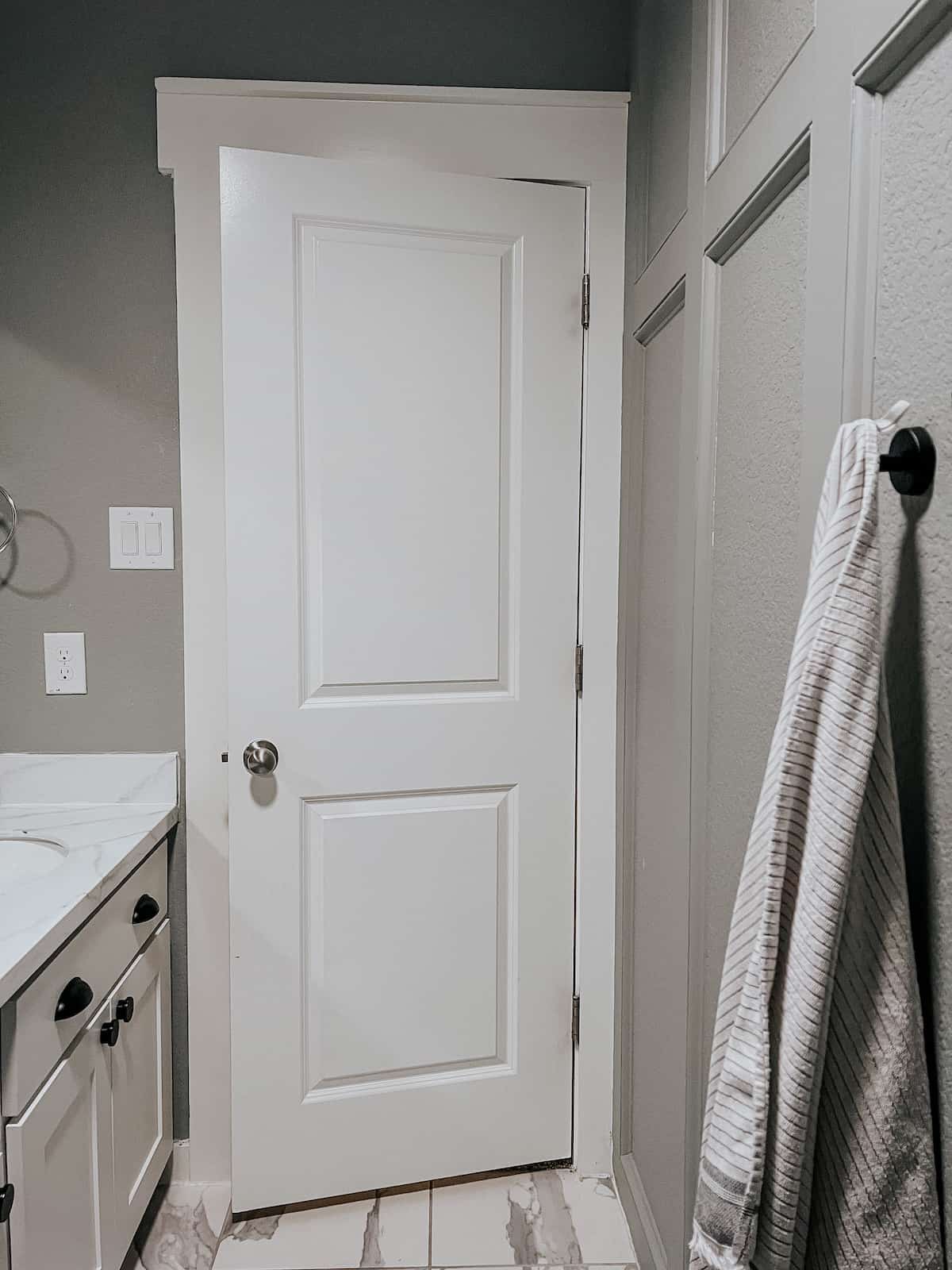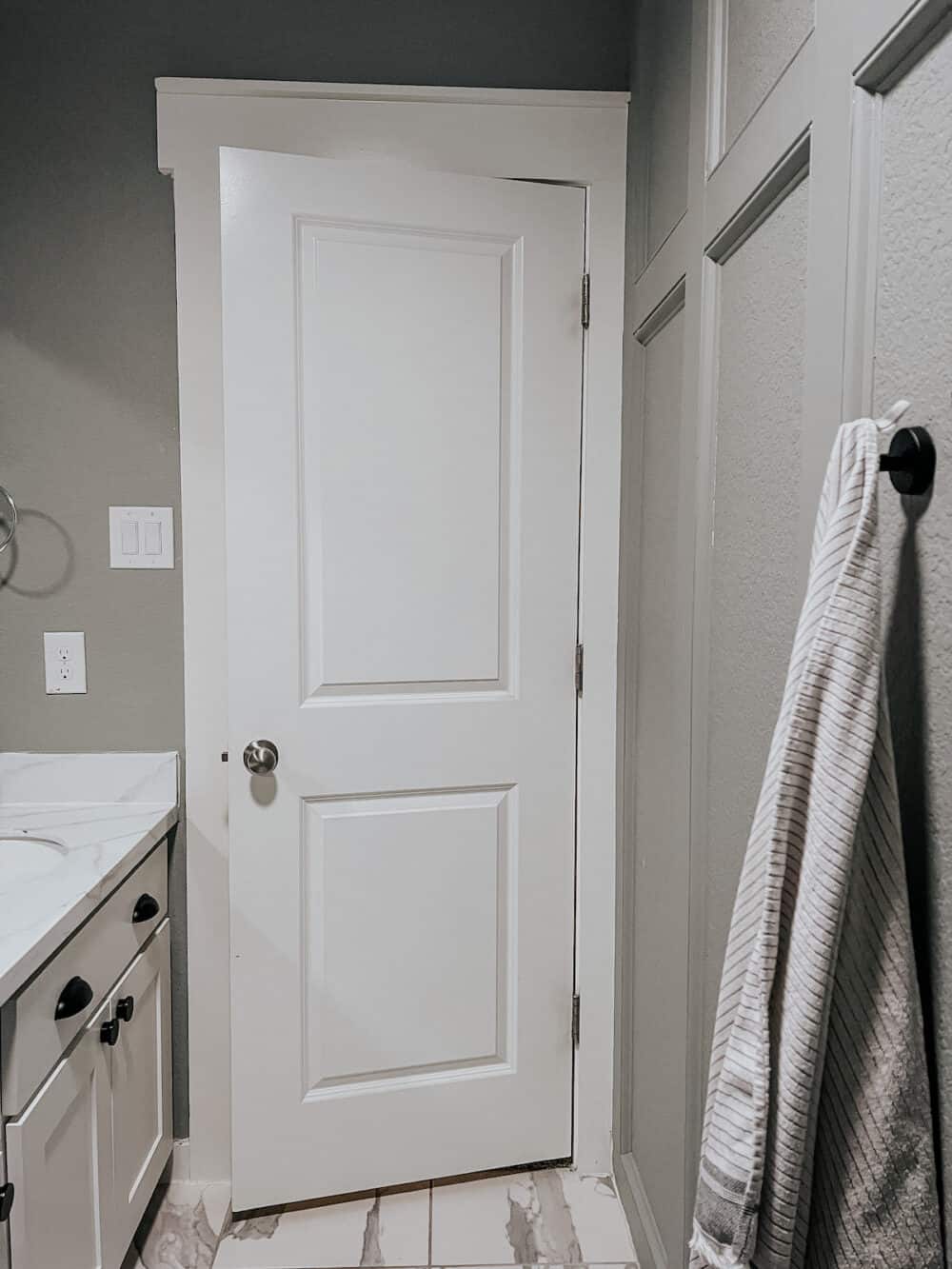 I'm not really sure what to call this one exactly, but it's kind of a mix of board and batten and picture frame molding! It's a square molding with extra detailing inside the squares, and it's one of my favorite molding ideas. I have this trim treatment on an accent wall in our boys' bathroom upstairs. I also did something similar on my best friend Parisa's kitchen island!
This is a great example of how you can really play around with different design styles for your trim molding. There's no right or wrong way to do it, and this would look completely different if you removed the interior trim, changed the height of the rectangles, or used a different size wood trim!
Board & Batten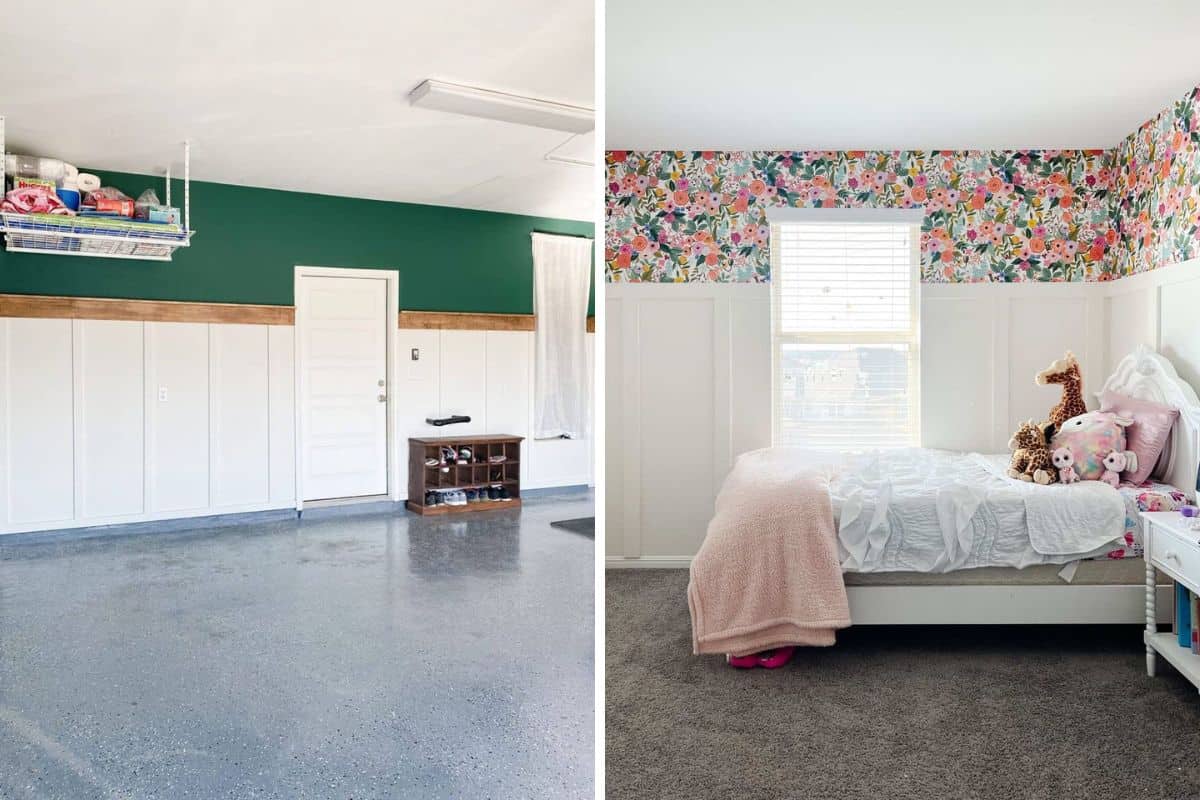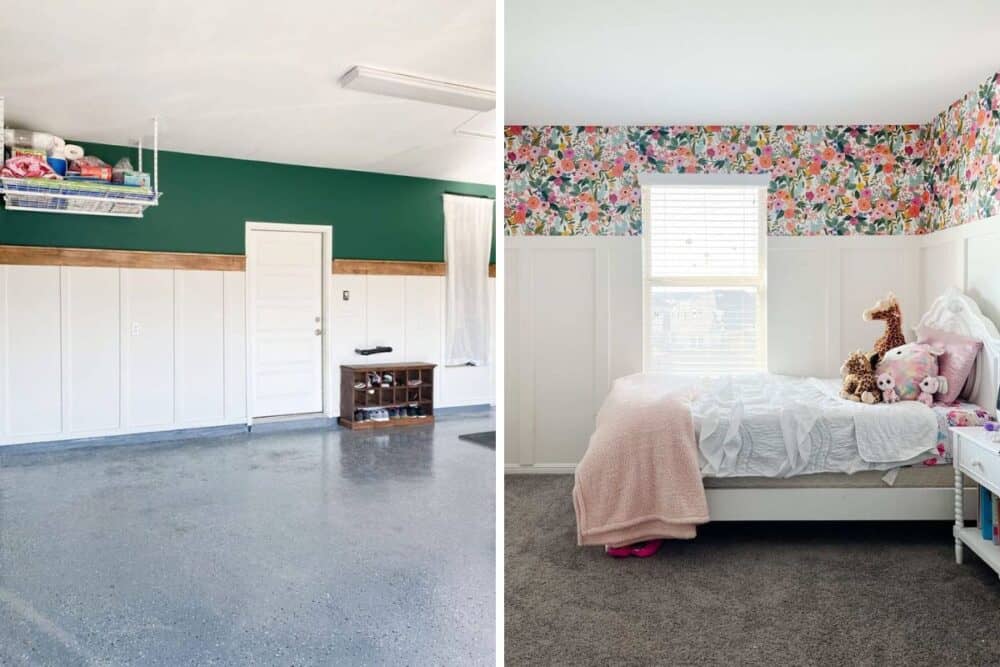 I don't currently have any board and batten walls in my home, but it's one of my favorite and most-used wall molding ideas!
Here are a few places I've used board and batten:
It's such a versatile way to give a space and makeover, and it's another decorative wall treatment that I don't think will ever go out of style. I'm playing around with the idea of adding it to our upstairs hallway later this year, so stay tuned!
Trim Accent Wall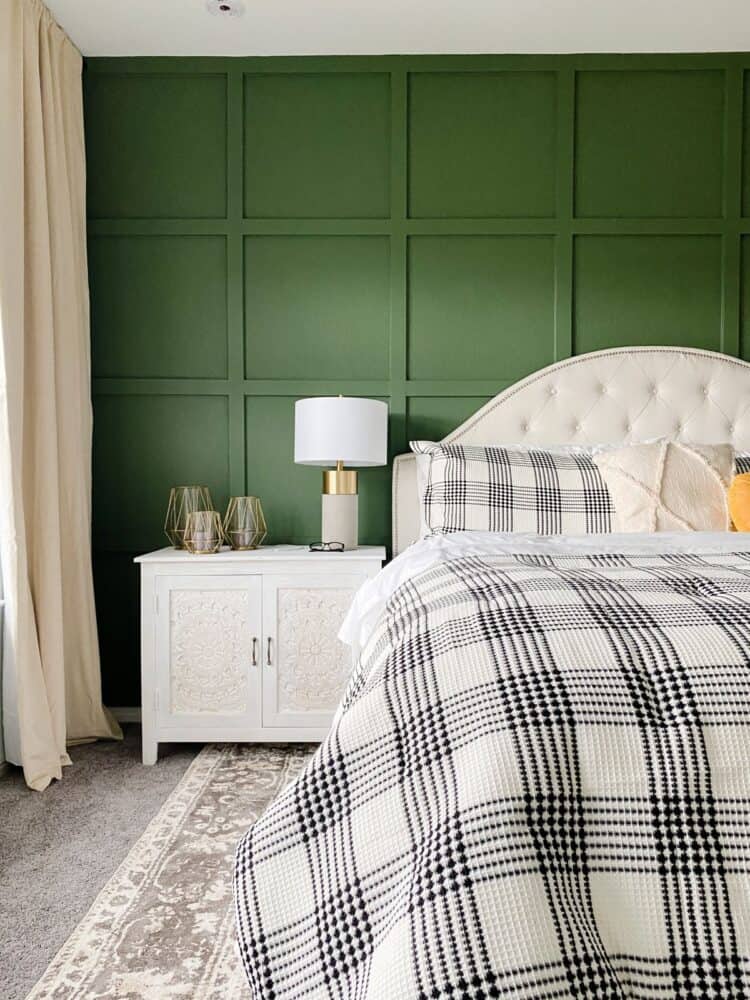 Of course, you don't have to put trim on every wall in a room in order to make an impact! You can just add trim to one accent wall for a really fun way to dip your toe in without a full commitment. It creates a focal point in your room, and is great for someone who is newer to DIY.
A few examples?
helpful posts
Related Tutorial Posts
No matter what approach you take, adding trim treatments to your home is guaranteed to make things feel more cozy, welcoming, and like you! I'm almost always brainstorming where I can add trim next.