I know what you're thinking.
Didn't we just finish our master bathroom? Are we seriously considering taking on another bathroom already? Are we crazy?
Why yes, yes we are.
Jackson's bathroom (a.k.a. the guest bathroom) is literally the only room in our home that has remained completely untouched in the 6 years that we've lived here. We haven't painted, we haven't changed anything, we haven't really even accessorized. It's a totally blank slate.
Like…really blank.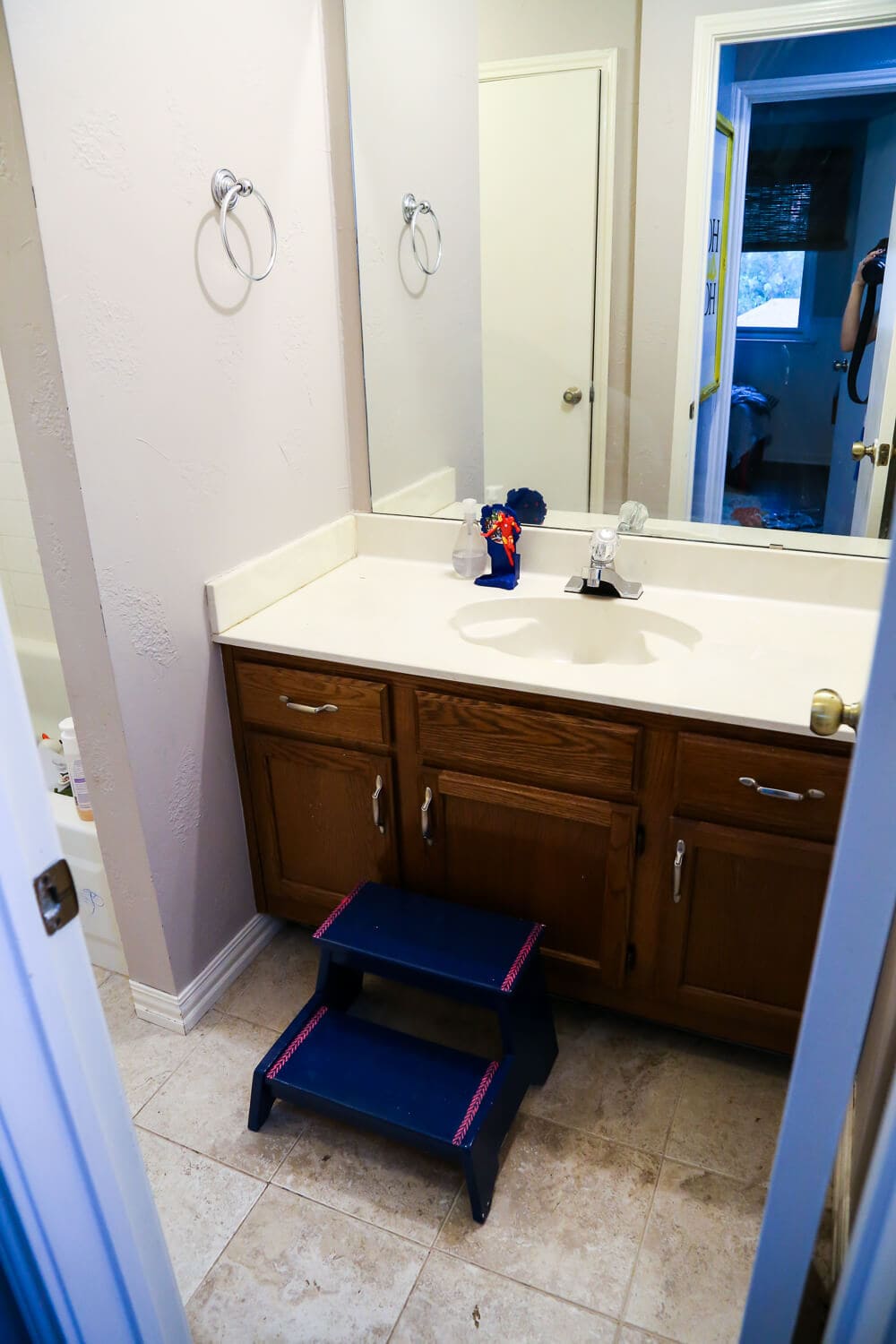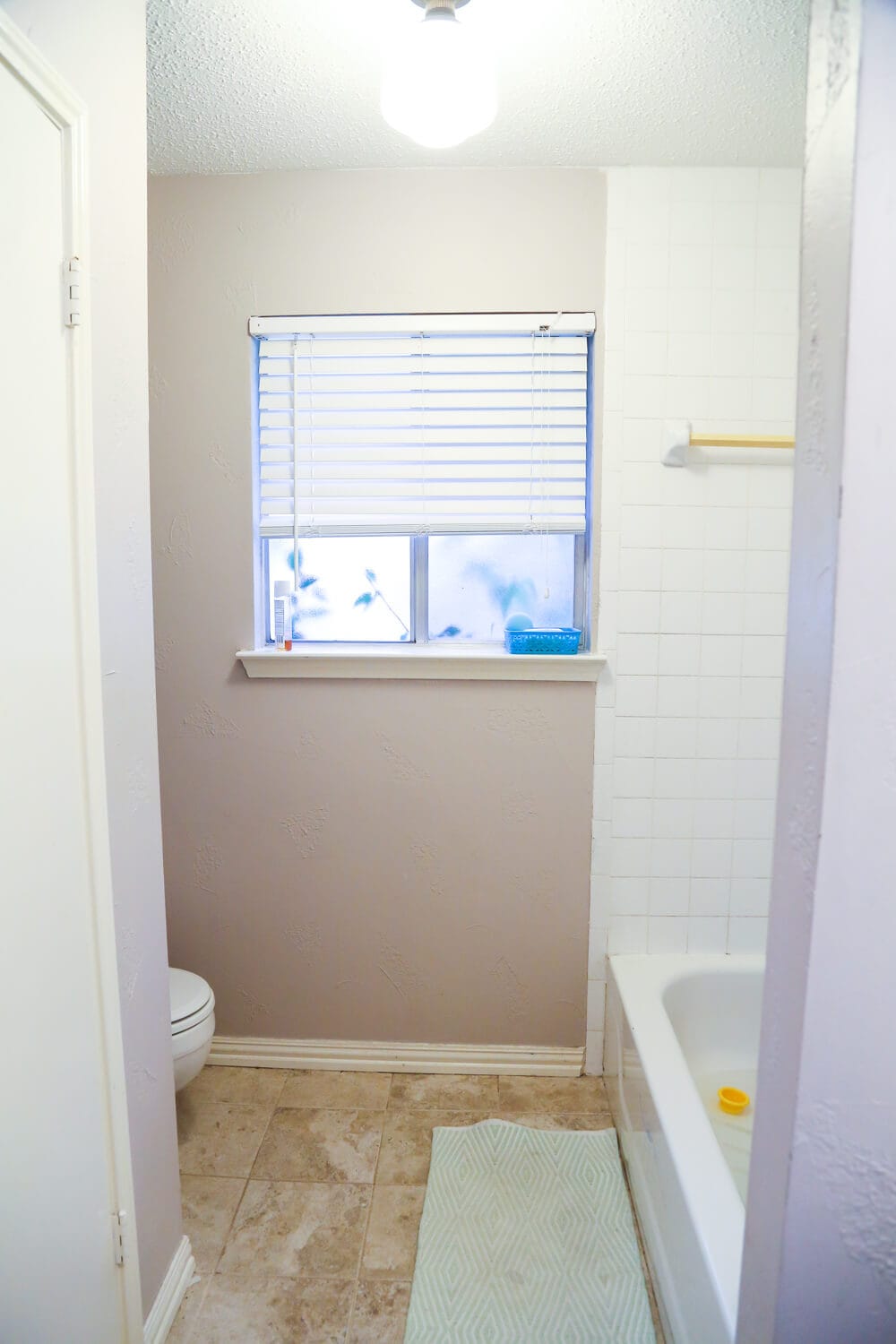 This post contains affiliate links. Click here to read my full disclosure policy.
I'm not sure why exactly we pushed this room to the very bottom of the to-do list, but we recently started questioning why we haven't done anything to spruce it up at all, and we decided to take on a mini bathroom renovation.
So, for those of you who think we're nuts for tackling another bathroom so soon, let me assure you that this will be a big contrast to the scale of the master bathroom renovation. That was a complete and utter gut job, this will just be cosmetic changes. We're not changing tile, we're not ripping out the vanity – honestly, just about everything that we're doing in this room could be done over the course of a weekend. 
Not so crazy now, are we?
Even though we aren't doing anything particularly huge to change up this room, I have a feeling that the impact is going to be pretty massive. I feel like I always underestimate the power of a fresh coat of paint and some pretty accessories, and I'm thinking we'll all be pretty blown away when all is said and done. Just you wait.
Typically when I work on a room I like to share bits and pieces as I go, but this time around we're going to do it a little different – I'm sharing the plan for the room today, and next week I'll be back with the full reveal. Yup, just like that! (Spoiler: we're actually almost done and if you've been following my Instagram stories you've already seen a few sneak peeks – holy cow is it ever looking good.) So, you ready to see the plan?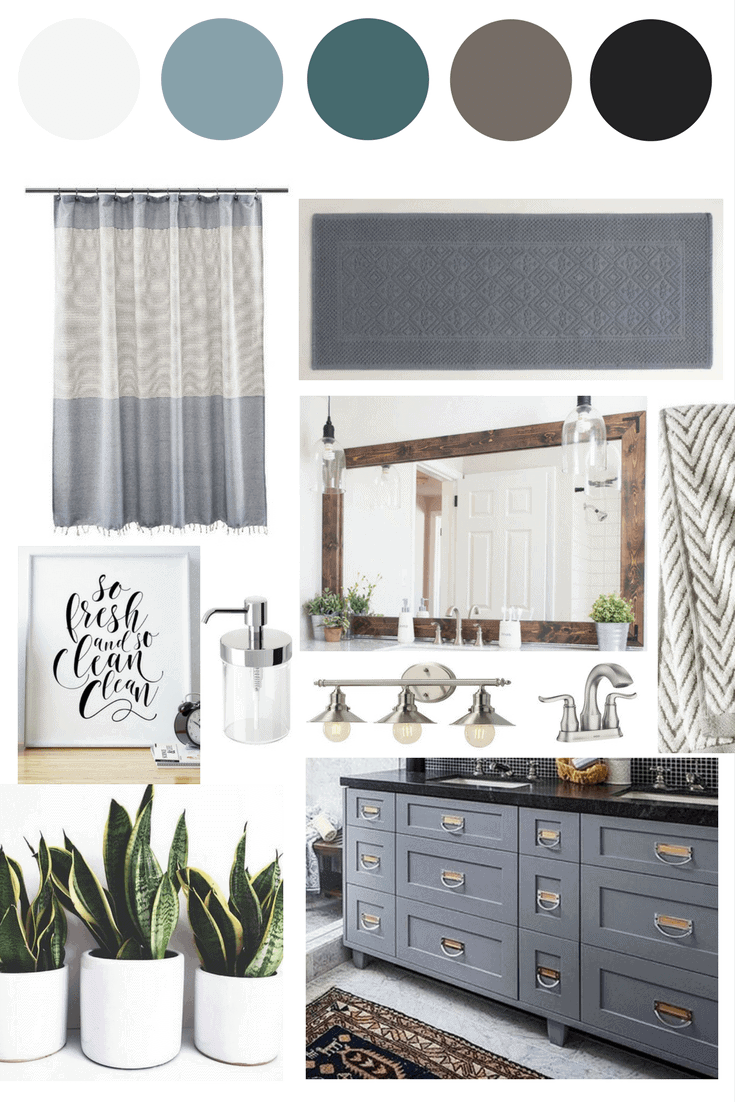 Y'all, I'm so excited about this. This mood board was quite a labor of love – I wanted to find a plan and color scheme that would work with the existing tiles (which are basically brown – ugh) and would help the whole thing feel more modern. I feel like the mood board definitely accomplishes that, but you'll have to wait and see how it all translates to real life.
Though, let's be honest, even if all I did was paint those awful peach-y walls, the room would be looking a million times better.
Be on the lookout for the big reveal next week, and for lots of tutorials and tips in the weeks after (I have so many fun little projects to share from this room)! And, if you see anything in the mood board above that you're interested in, click the links above or I've got everything (or similar items, if I can't link to the exact thing) included linked down below as well for your convenience.

Do you have any rooms in your house that you've never worked on?! Just me?