The project we've all been waiting for is here! Learn how I installed DIY picture molding throughout our master bedroom to create a dark and moody retreat.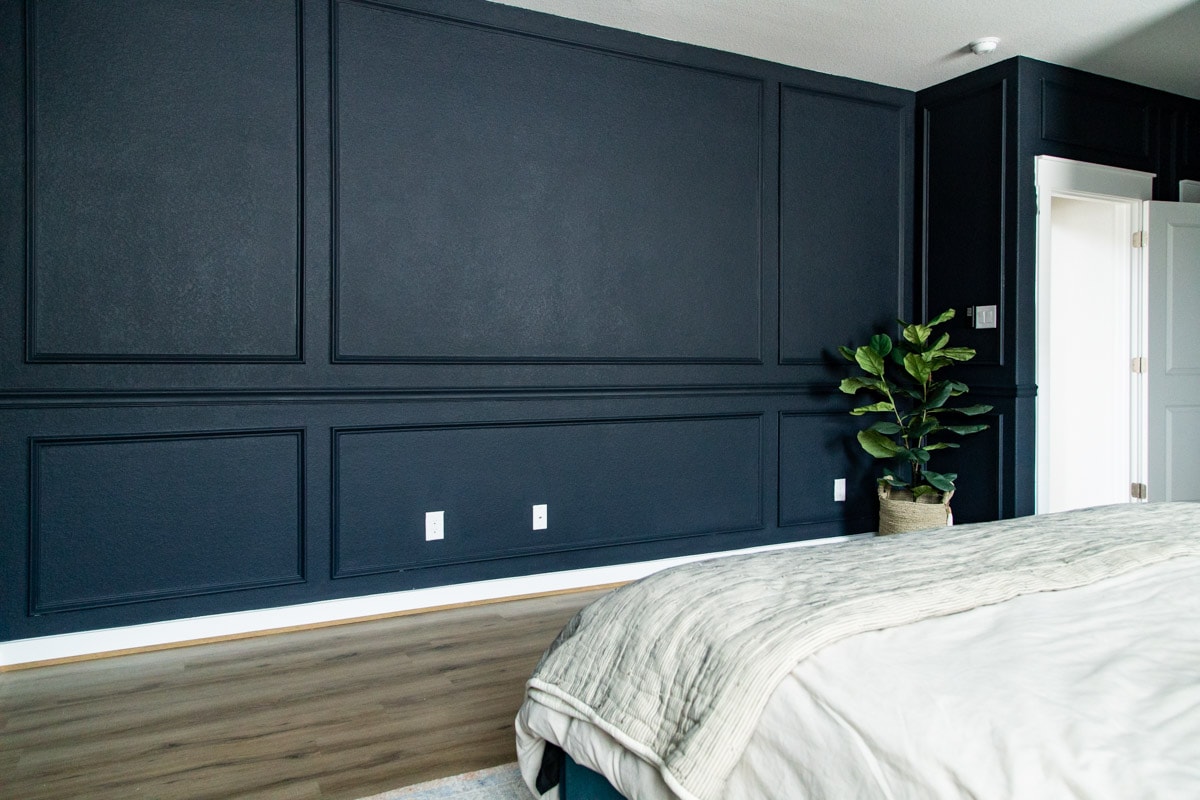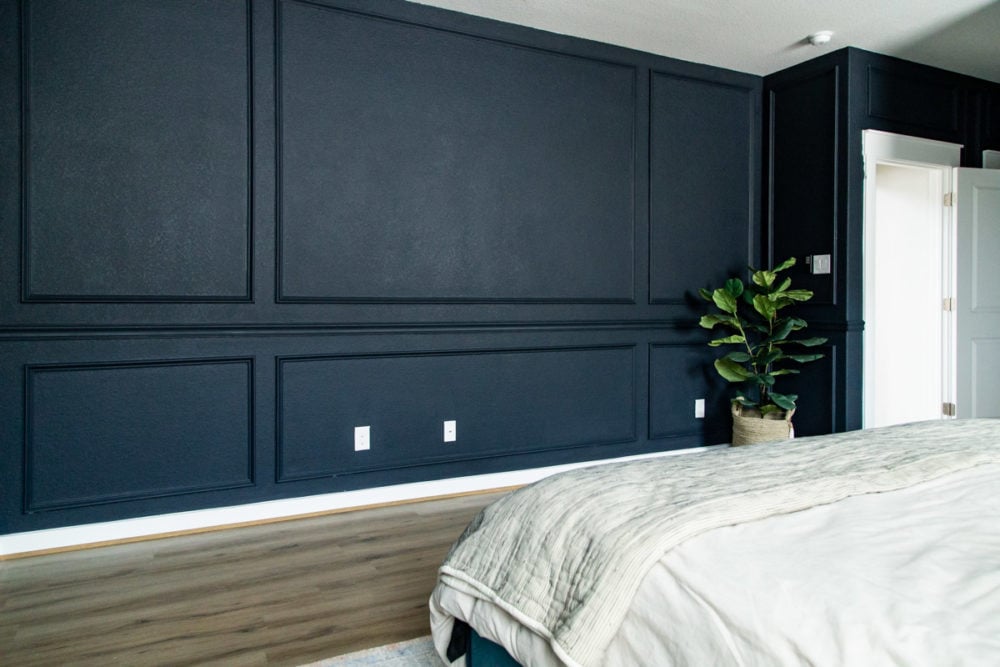 I'm not even sure I have the words to know where to begin talking to you about our master bedroom today.
Magical. Moody. Sexy (?!). Amazing.
None of them seem quite right to describe what's happening here.
It's safe to say I'm over the moon about how my big master bedroom trim project turned out, and I pinch myself every time I walk into our room. Is this space really mine?!
If you haven't been following along, let me catch you up! We moved into this house about two months ago and from the very beginning I pictured a super dark, elaborate wall treatment in here that would make the room feel very special and set apart. I wanted something that had a kind of fancy, traditional feel in a really modern color scheme, and I basically wanted to feel like I was walking into the coziest most beautiful cave in the world every time I entered our room.
Mission accomplished?!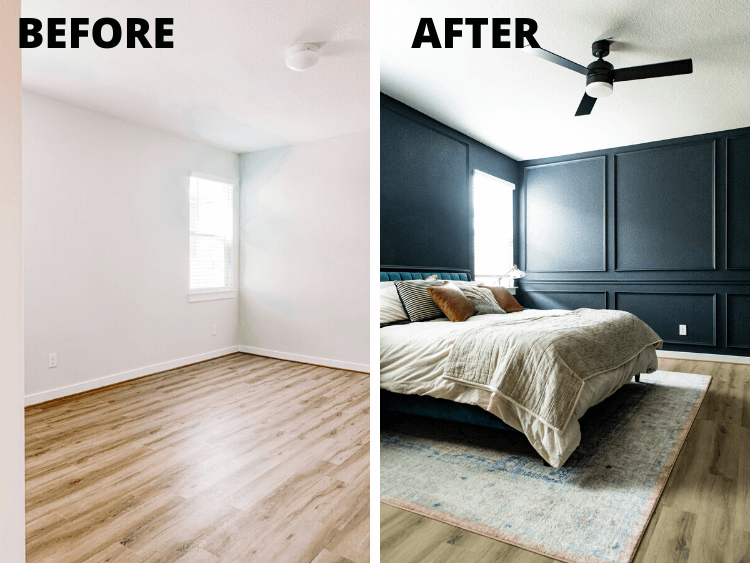 This project was a huge labor of love and if you followed along on Instagram stories, you'll know it was basically all I did or thought about all last week. I saved almost all of the posts about it to my story highlights, so if you missed anything that's a really great way to see it all come together!
I still have a lot up my sleeve for our bedroom over the next few weeks, but today is all about the trim. This is not a small project or one that can be done over a weekend, but I genuinely feel like it's an easier project than you might originally think. Corey helped me get the very first wall started, but after that I did every bit of this by myself – and I promise you I'm no pro when it comes to installing trim!
Are you ready to learn how you can get the look yourself?! Today I'm sharing all of the details about how I installed the trim, plus some tricks I used to make the job way easier.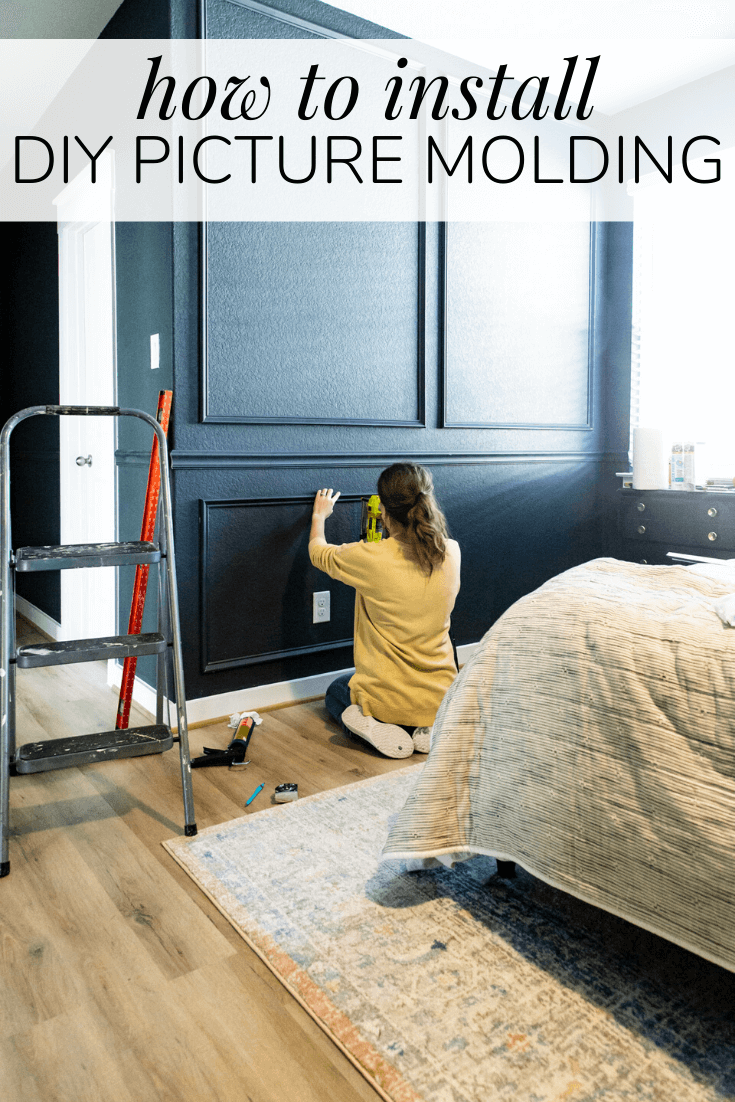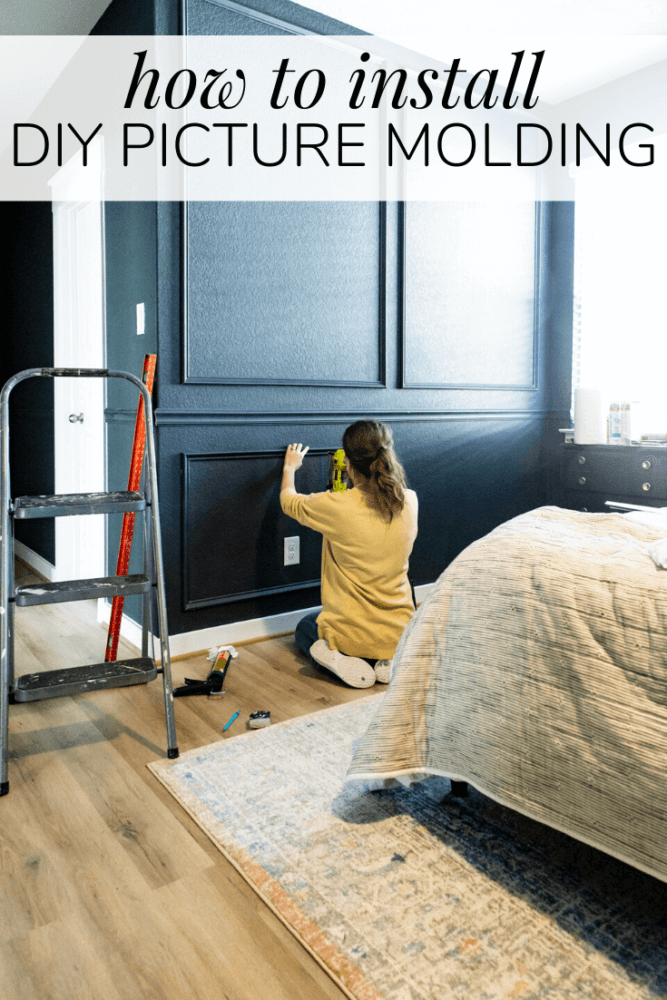 This post is sponsored by Wagner. Thanks for supporting the brands that support Love & Renovations!
moody master bedroom makeover
First of all, let's take a moment to talk about the paint job. There have been about 7.5 million questions about the paint color I used in here and the tools I used to make the job easier, so I want to make sure that's covered up front!
What color did you use?
The walls and trim are painted Ink Black by Behr in a matte finish. It's one shade darker than Calligraphy, which is the color we used (and adored) in our last master bedroom and it couldn't possibly be more perfect.
What about that tool you painted with?
I used my handy Wagner SMART Sidekick Power Roller to paint our master bedroom, and the questions about it were rolling in constantly as I was working. I heard from many of you who purchased it that very day because you could tell that it was going to be life-changing.
And, I'm telling you, it IS!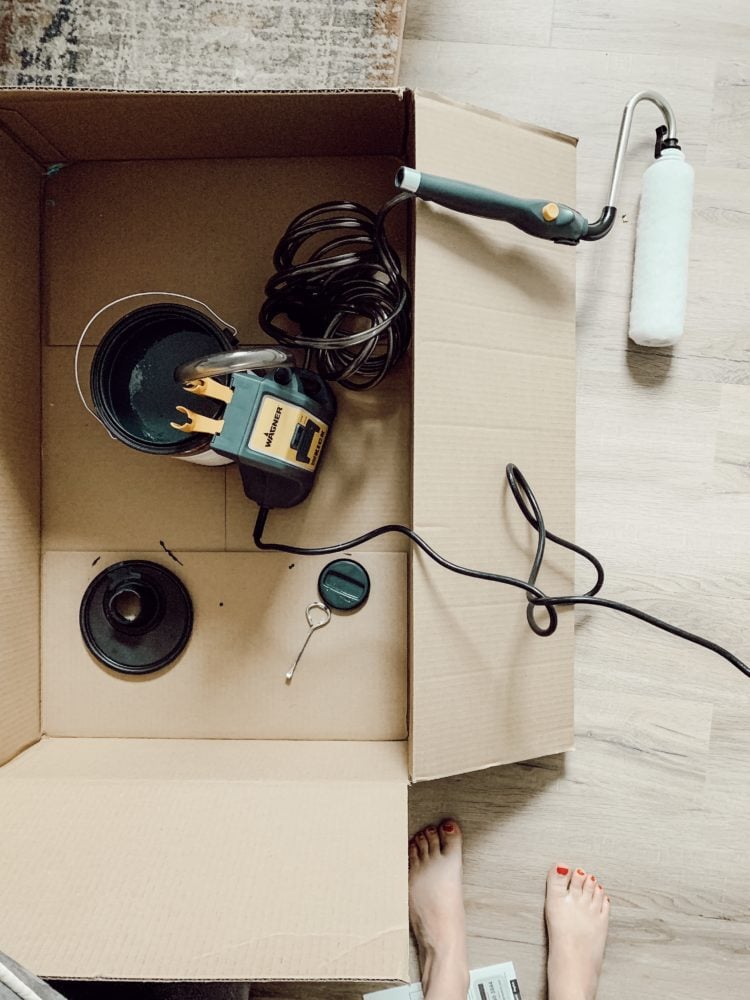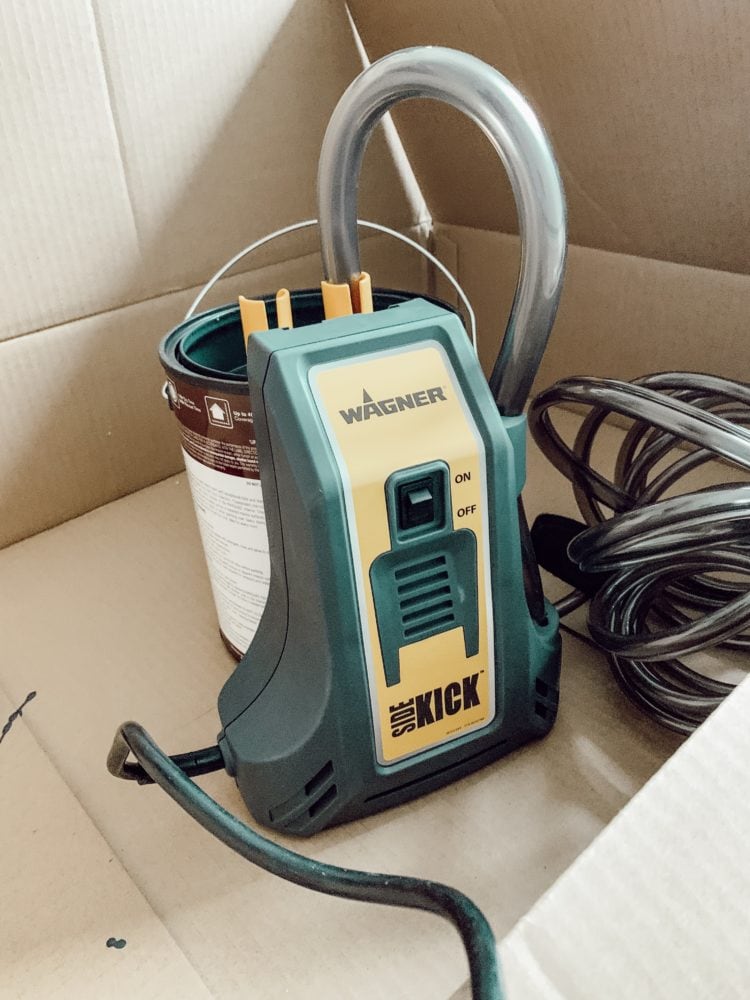 You can read all about the Wagner Sidekick and how to use it right here, and you can get all of my very best tips for how to paint a room right here. It's a complete guide that should answer every question you could possibly ever have about painting a room.
I highly recommend painting the entire room before you get started on adding the trim, and also pre-painting the trim before installing it. I'll touch more on that in a minute, but just know that my two favorite Wagner tools were ginormous time-savers in this project and I wouldn't recommend tackling a project like this without them!
Once your room is painted – you're ready for the fun (also, exhausting) part. Let's install some trim!
How to install DIY picture molding
tools + Materials needed: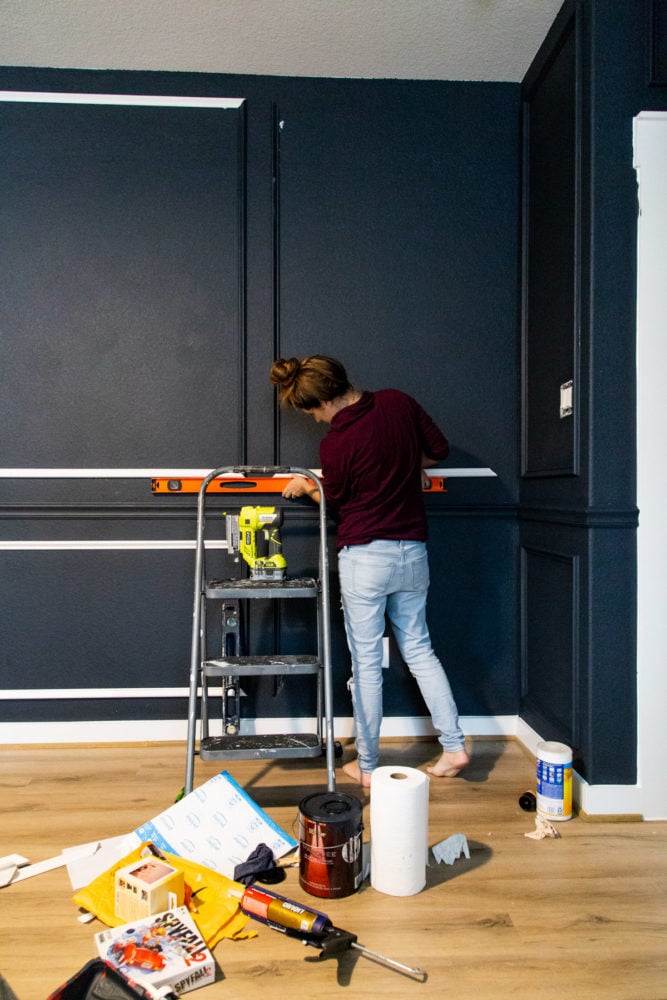 Installing the chair rail
My first step was to install the chair rail all around the room.
The general rule of thumb for your chair rail height is to install it about 1/3 of the way up the wall. So, if you have 9 foot ceilings (which we do), then you'll want your chair rail to be somewhere around 36″ off the ground. We did ours slightly higher than this, and the bottom of our chair rail sits at about 36 3/4″. There is no right or wrong way to do this – just choose a height that looks the most pleasing to your eyes!
Start installing your chair rail in one corner of the room – cut one end of your trim at a 45-degree angle (learn more about mitered edges and how to use a miter saw right here), make a small mark on your wall where you want the bottom of the chair rail to go, and use your level to help ensure you install it straight. We used this laser level to get the chair rail started, then finished off the rest of the trim with a regular level.
For installing the chair rail, I simply used my caulk gun to apply construction adhesive to the back of my trim, then pressed it into place (use your level to keep it straight!), and put a few finishing nails in it to hold it in place while the construction adhesive dried.
In most larger rooms, you'll be able to start each wall with a full trim board (with a mitered end in the corner so they fit together nicely!), and then cut the second piece to fit along the second wall.
If you need more tips on how to install this part of the trim, you can read this post on installing baseboards – it's the exact same concept, just higher up on the wall!
how to install picture molding
For the picture molding around the room, I recommend you take it one wall at a time. I found that it was easiest when I just focused on the room by sections rather than trying to do it all at once. So, I'm going to walk you through the entire process for one wall, then you'll just take it and repeat for each wall you need to cover in your room!
Step One: Purchase + Paint Your Trim
You may be wondering how to know exactly how much trim to purchase for this project.
Honestly? I'm not sure I can give you a straight answer. For the chair rail, it's easy to just measure all of the walls, add it up, and get that amount of trim. For the boxes, however, things get more complicated.
If you're a planner, I recommend planning out each wall, measuring everything, and purchasing the correct amount of trim plus about 10-20% extra for mistakes/scraps. However, if your brain works more like mine and you need to take it one step at a time, I'd recommend estimating an amount you feel is probably close to appropriate (for example, 1 of the vertical sides of a top box + 1 of the vertical sides of a bottom box was almost exactly one board for me. So, I knew I needed at 2 boards for the vertical sides of each set of boxes, plus between 2 and 4 more boards for the horizontal pieces, depending on how wide the boxes were). Get a rough estimate and purchase that amount, then go back and get more as needed.
For me, at least, that method made the most sense and kept things from feeling too overwhelming!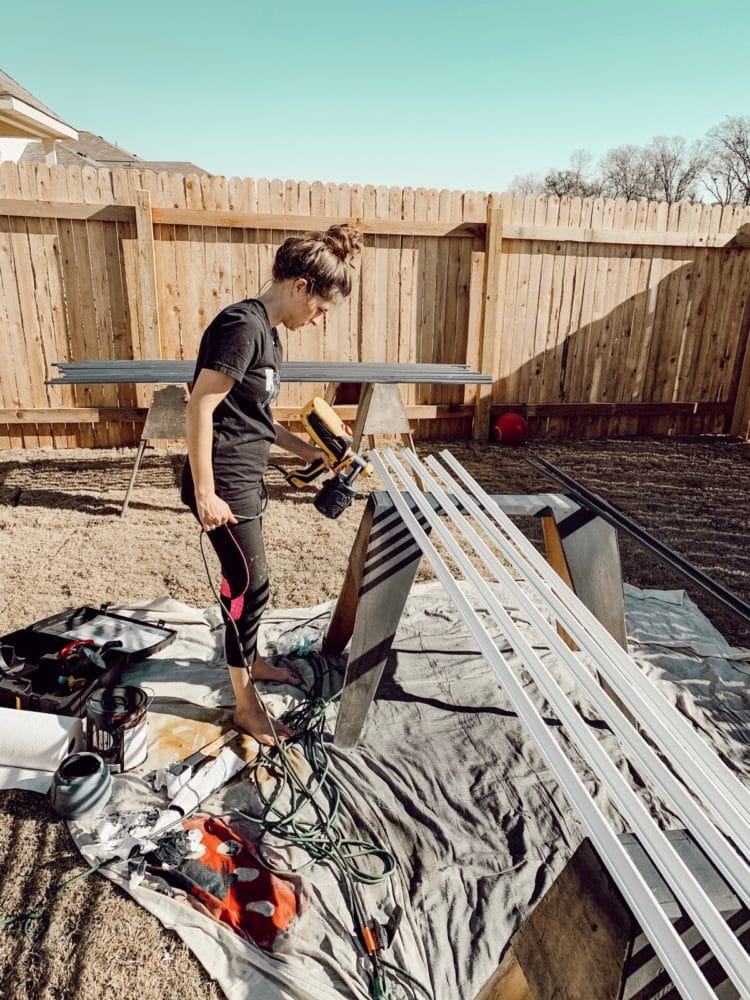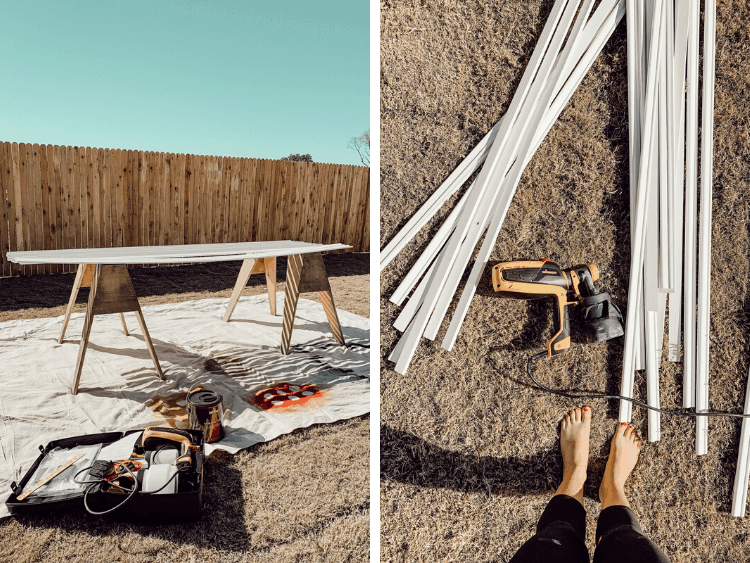 Once you've purchased your trim it's time to paint it! I highly recommend using your paint sprayer to paint all of the trim before you cut and install it. I tested it both ways (painting before installing and painting after), and found that it was so (so!) much faster to paint it first.
I used my Wagner FLEXiO 3000 to paint all of the trim outside before I made a single cut. I just laid them out next to each other on two sawhorses and worked in batches. It only took me about 20 minutes to paint 15-20 pieces of trim at a time – and ended up saving hours of painting on the other end of the project.
If you are new to using a paint sprayer, you can click here to learn everything you need to know about using and cleaning it! I love (LOVE!) my Wagner sprayer because it doesn't require any thinning of the paint, it's incredibly simple to set up and use, and it gives me consistent, beautiful results every time. The finish is totally smooth and much more professional-looking than brushing it would have been, and it even dries faster than brushing it on (since it's spraying such tiny particles of paint).
I cannot recommend using your sprayer for this project enough – and if you don't have one yet, this is a perfect excuse to snag one!
Step Two: Measure + Plan
Your very first decision for this project is what you want your spacing between your boxes to be. This is a completely subjective choice and totally depends on what you personally prefer. We chose to go with 4″ spacing (both between the boxes and between the boxes and the chair rail), but some people prefer a wider spacing for their trim. Play around with holding your trim up at a few different distances to see what look you like best!
Once you've determined your spacing, you're ready to plan out your boxes.
I found it worked best for me if I drew out each wall as I planned.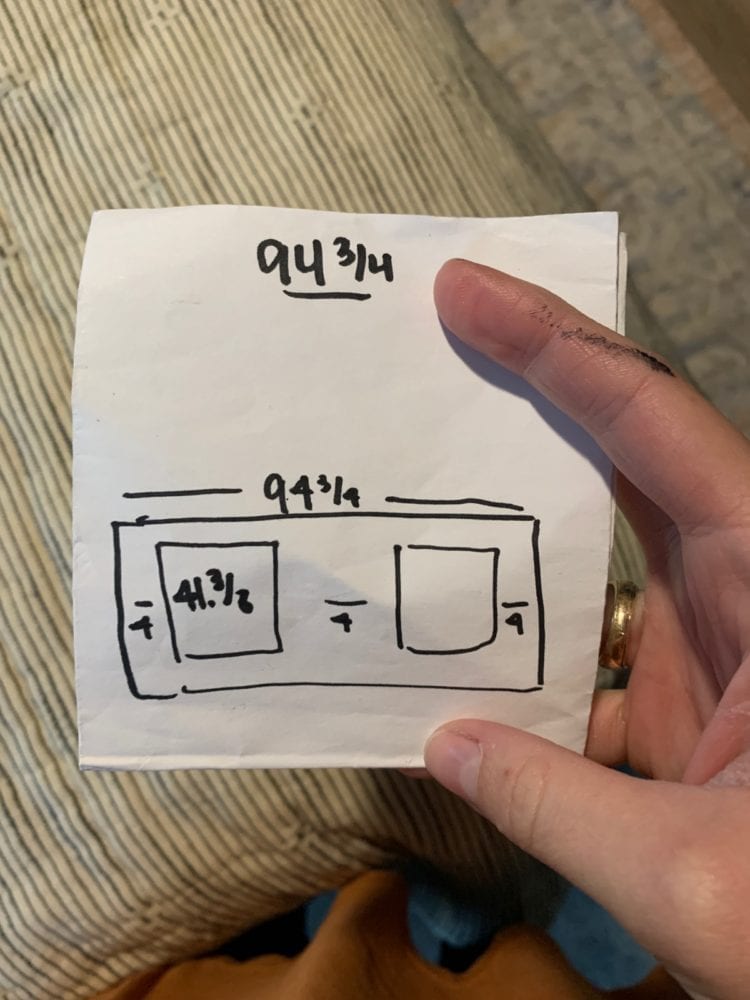 Here's a quick rundown of how to determine the sizing for each side of your boxes:
Determine the height of the bottom box by measuring the distance between the baseboard and the bottom of the chair rail. Subtract your spacing times two. For example, if the bottom of your chair rail is 33″ from the baseboards, and your spacing is 4″, your bottom boxes will be 25″ tall (33″-4″-4″=25″).
Determine the height of your top box by measuring the distance from the top of the chair rail to the ceiling. Subtract your spacing times two. For example, if the distance from the chair rail to the ceiling is 69″, and your spacing is 4″, your boxes will be 61″ tall (69″-4″-4″=61″).
Determine the width of your boxes by deciding how many boxes you want on each wall (remember, there's no right or wrong answer – it's just a matter of how big you want the boxes to be!), measuring the entire width of the wall, subtracting your spacing, and dividing by the total number of boxes. For example, if your wall is 120″ long, you want 3 boxes, and you have 4″ spacing, each box would be about 34.5″ wide. (120″-16″=104″ and 104″/3=34.6″)
Hopefully the image above with the drawing helps make some more sense of this! I also walked through this process in stories – watch the video below if you're still confused. It shows figuring out the horizontal sizing for both a wall with all one size of box, and for the wall that has one large box and two smaller boxes.
Step Three: Cut + Install your boxes!
Once you have your spacing for your wall, you are ready to use your miter saw to cut the boards to the appropriate lengths.
Be sure to use a mitered edge on each end (so they fit together like a picture frame), and be sure to measure your boards from the longest part of the mitered edge.
To install the boards, measure and mark where the corner of your first box should be (for me, it was 4″ from each piece of trim or wall that it was next to), run a line of construction adhesive down the back of the piece, then use your level to line the board up exactly where it should go. Use a pin nailer to place a few finishing nails in the board to hold it in place as it dries.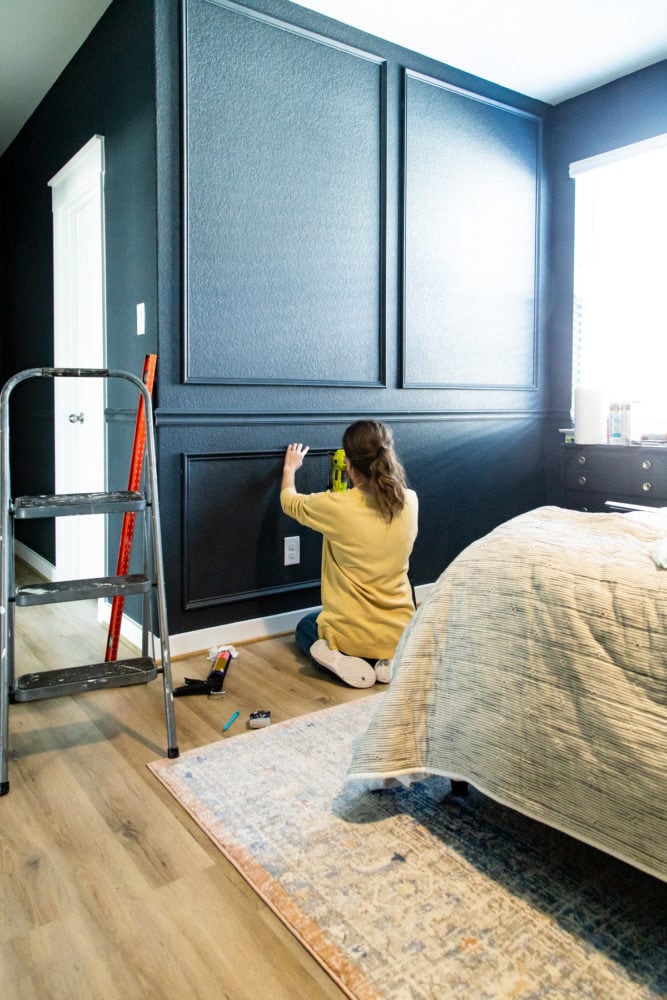 I found it was easiest if I started with one of the vertical pieces. I did all of the measuring and leveling to get that board placed exactly where it should be. Then, I moved to one of the horizontal pieces, lined the mitered edges up, and used my level to install it – no additional measuring needed! If the first board has been spaced correctly, the rest of the boards will also be spaced perfectly as long as they're cut to the correct length and installed level.
Here's another video that will help you walk through this process if you're struggling!
Step Four: Caulk + Patch
After you've installed all of your boxes on the wall, you're ready for the finishing touches. I had a few people ask me if caulking was necessary, and my answer is yes! If you're going to go through all of the trouble of installing this trim, you absolutely should take the time to caulk and patch everything for a super professional finish.
Your walls are almost never fully flat and straight, and neither is most trim. As a result, there will be some minor spacing between your boards and the wall (and it will vary along the wall as the drywall dips in and out). Caulking hides all of those little gaps and provides a really polished-looking result.
Simply run a bead of calk along where the board meets the wall, then drag your finger over the caulk line to level it out and press it into place. You can wet your finger beforehand to help keep it less messy. Keep a paper towel or baby wipe on hand to clean off your finger as you work. I promise, it takes less time than you might think!
I also used wood filler on all of the seams where the boards meet each other to hide any imperfections in my mitered corners.
Step Five: Touch up paint!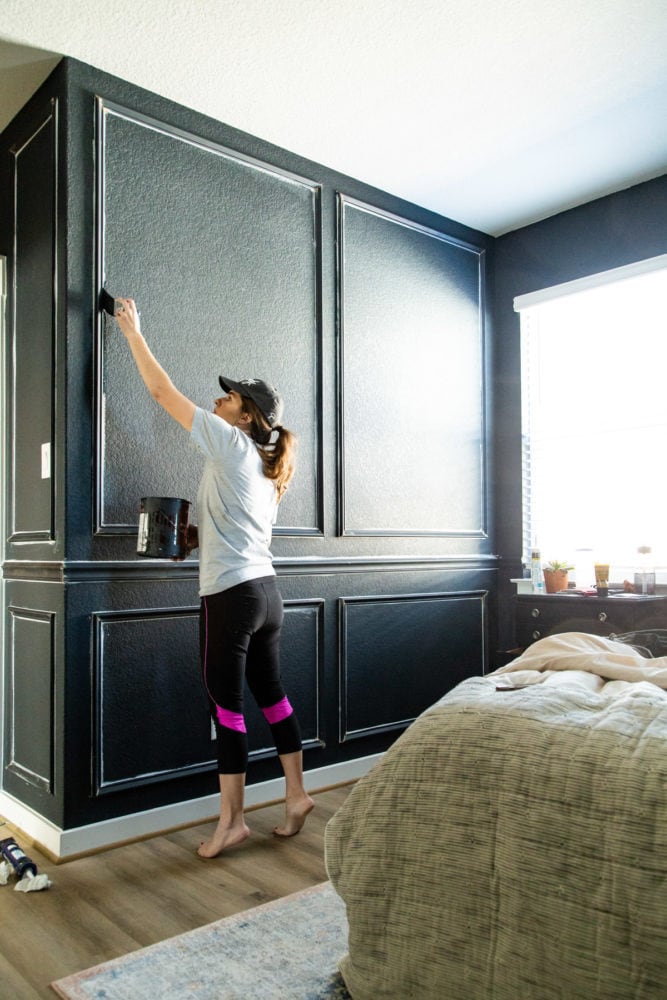 After your caulk and wood filler has fully dried (for me, it was 20 minutes for the caulk and 45 minutes for the wood filler), you can use your paint brush to touch up the paint. You'll want to paint over all of the caulk and wood filler, and it's also a good time to get a close look at your walls and paint any spots that need touch ups (you know, since your face will be up close and personal with the drywall as you work!).
I found that I only needed one coat of paint to cover up the caulk, and it went really fast with my brush.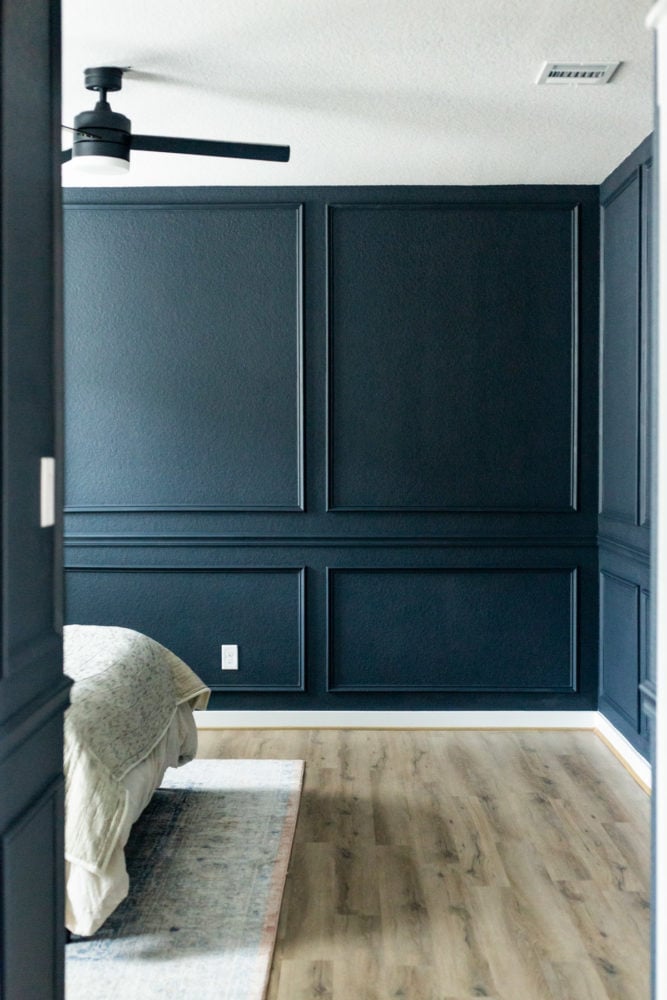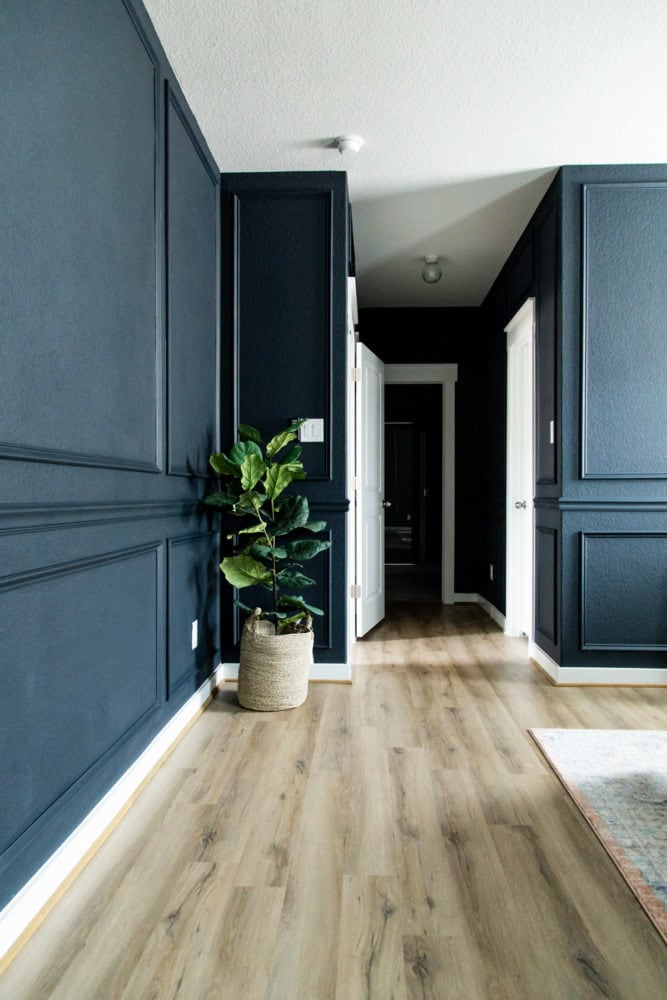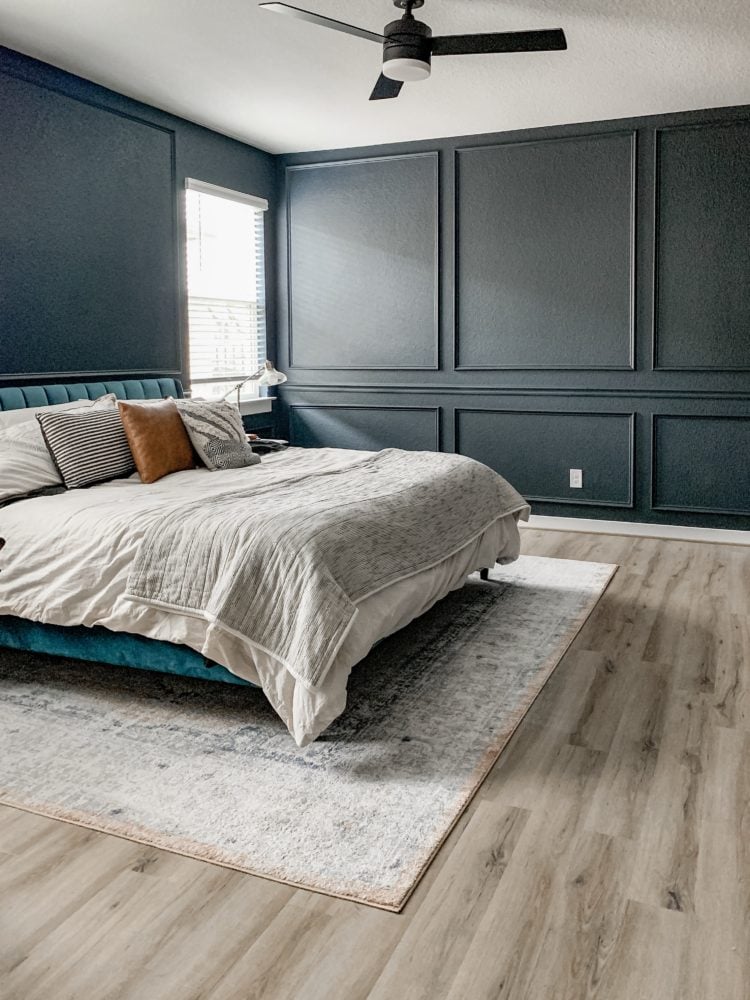 And that is all there is to it!
Hah. I know. It's not simple. Or quick. Or cheap.
But my goodness, is it ever worth it.
Stay tuned for more fun in here soon! DIY nightstands! New rug! TV! Curtains! And more! And, be sure to head to my Instagram page and follow along so you can see the real-time progress and be sure you don't miss a thing.