Everything You Need to Know About Having Trees Planted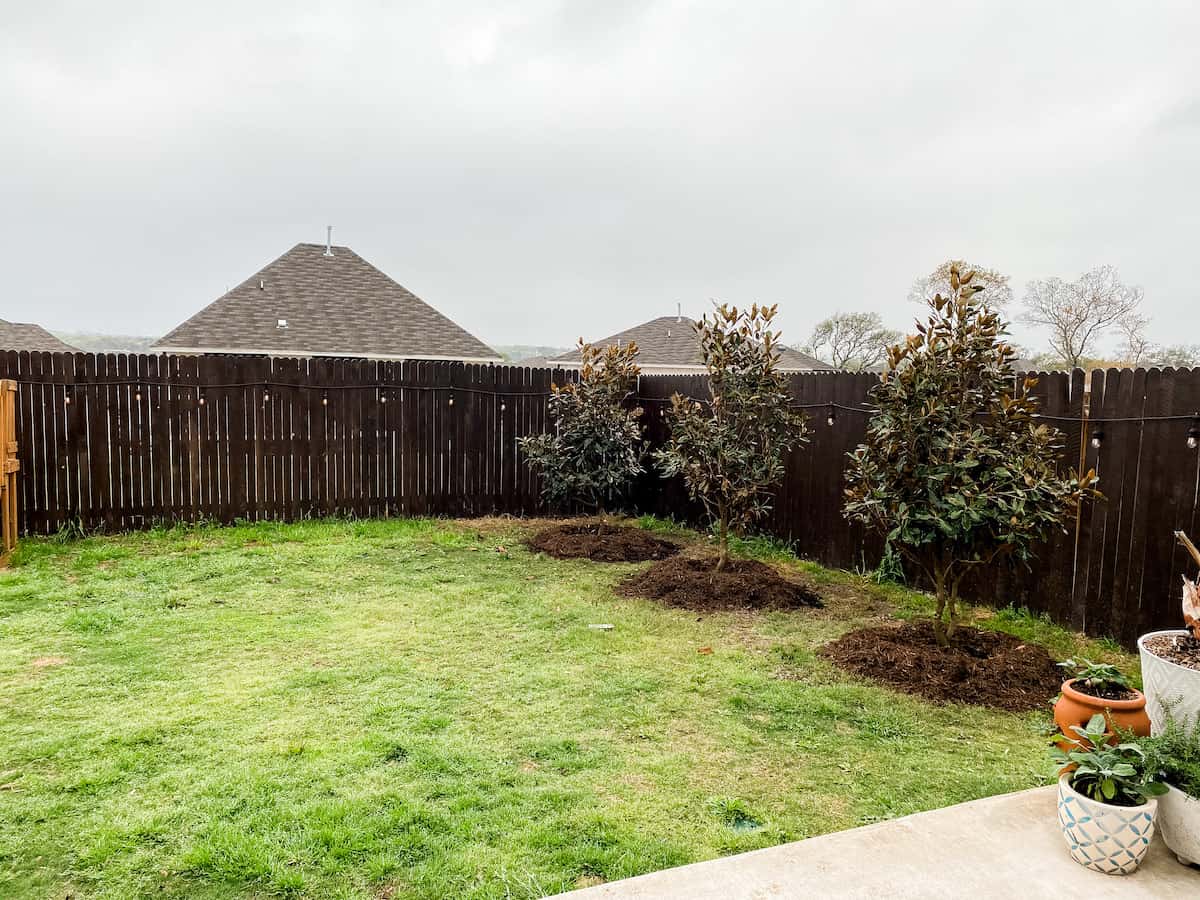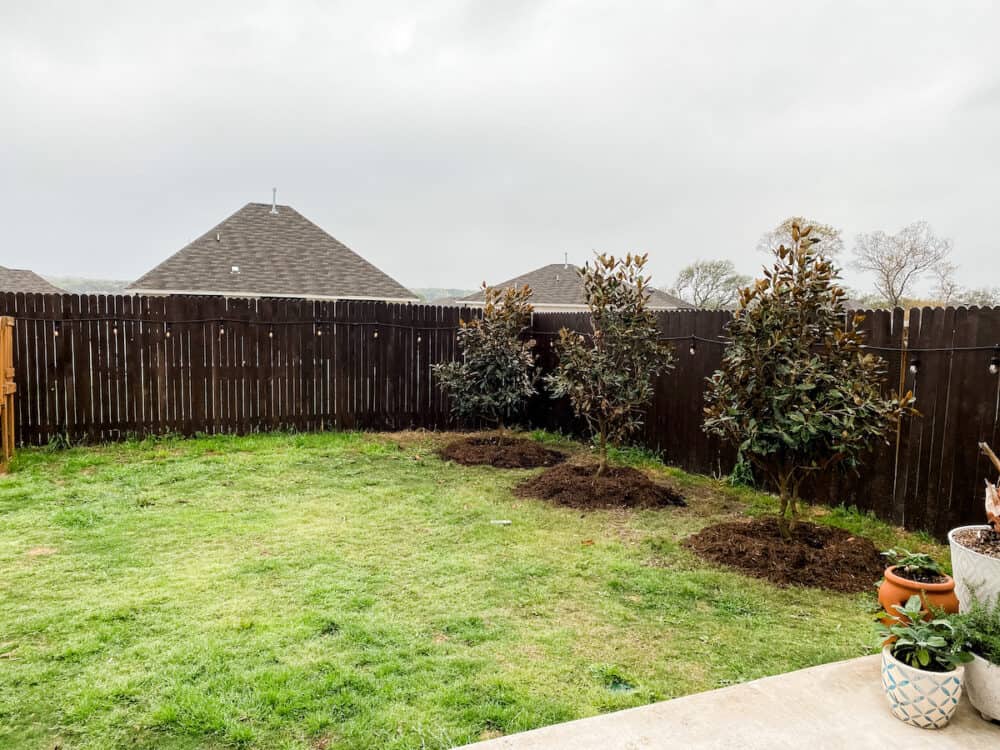 This week, we added three new trees to our family of plants and I could not possibly be more in love with them.
Our new trees have been a big topic of discussion on my Instagram stories this week, and there were lots of questions about them, so I figured a full blog post with all the details was in order!
You may remember that last year we had Samantha, our red oak tree planted in the backyard. It was a major goal of ours to have all of the trees we wanted to add planted within the first two years of living here, so they have as much time as possible to grow and thrive. With the addition of these three Little Gem Magnolia trees, we've officially accomplished the goal!
These trees are part of a much larger plan in the backyard that will eventually include a stone border all around them and maybe even a paver patio with a fire pit. But, this is phase one and I'm really thrilled to be here for now!
We named the trees Violet, Klaus, and Sunny after Jackson's current favorite book series, A Series of Unfortunate Events. It felt too perfect to pass up the opportunity with three little tree siblings!
Let's jump right in and answer all of the burning questions, shall we?
how did you choose what tree to plant?
This was the most overwhelming part of the entire process, by far!
We started off by researching trees that do well in our area, as well as all of the trees that were listed on our HOA's list of pre-approved trees.
Corey and I each had a few criteria that were important to us – he really wanted something flowering, and I really wanted something evergreen. We both wanted something that would get fairly large and provide some good shade/privacy.
We initially decided on Mexican Plum trees – we loved the white flowers and, while it didn't check off my desire to have an evergreen tree, it was a compromise I was willing to make.
However, when we went to purchase them we found that our local nursery only had two available, and they had no idea when they might get more – they said it could be as late as the fall!
Magnolias hadn't even been on our radar, because we had previously been told that they don't do well in our soil. However, we know several people who have thriving Magnolia trees, and after having a conversation with our nursery we were told that they might require a little extra care (due to our rocky, acidic soil), but that as long as you're willing to baby them a bit they should be fine.
We ended up with Little Gem Magnolia trees, largely because they were much healthier-looking than the full-sized Magnolias at our nursery, and we don't want them to get too large. This feels like the perfect solution, and I'm honestly so grateful we weren't able to get the Mexican Plums because we are so in love with these!
How much did it cost?
This is always the burning question!
We went with a local nursery (Hill Country Water Garden, for the locals!) rather than a tree farm this time around. To have all three trees delivered and planted, plus fertilizer and mulch, it cost $1,500.
For comparison, last year when we planted the red oak, we paid around $900 for the tree and planting. Why the big difference? Well, Samantha the Red Oak is larger than the Baudelaire trees for one (she was a 45-gallon, they're 30-gallons) but the biggest difference is that the tree farm we used last time was also licensed for irrigation and added a drip line to the tree for us. The nursery we used this time won't do anything with the irrigation, and even warned us that if they hit a sprinkler line they would have to just patch it up and leave it – we would have to have a sprinkler company out to fix it.
Thankfully, we had a good idea where the sprinkler lines are and they didn't hit anything!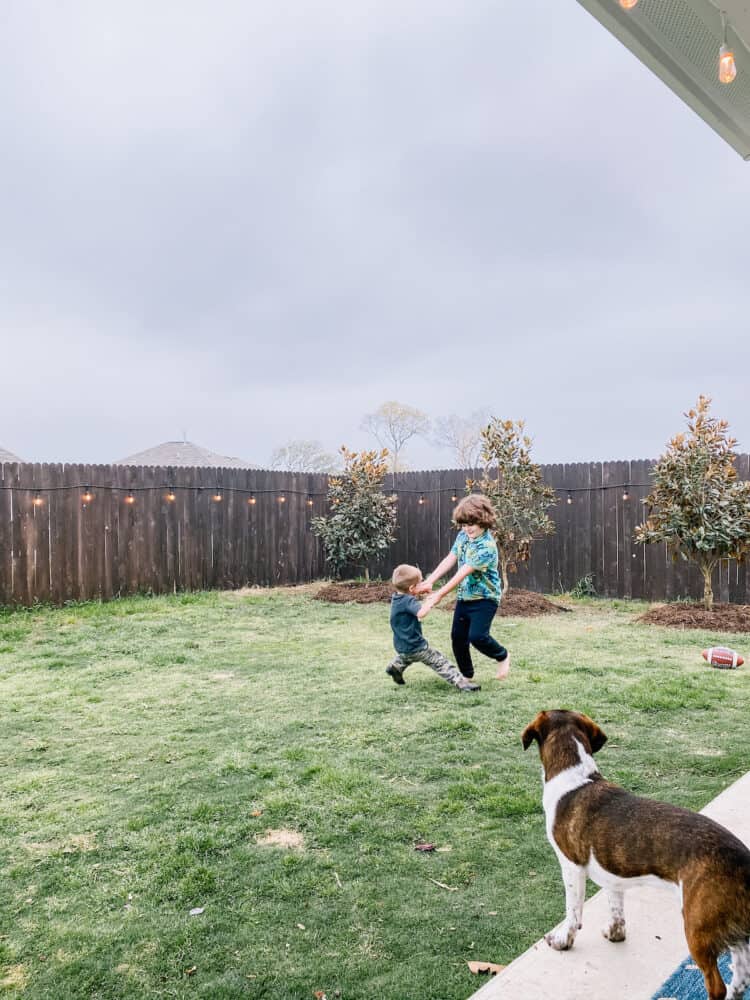 How big will they get?
Little Gem Magnolia trees get up to a max of about 20-feet at maturity, and can be about 7-10 feet wide. They're currently about 8-9 feet tall, so they've got a lot of growing to do! The estimates I've read say they won't grow more than 12″ or so each year, so it may take upwards of a decade for them to reach full maturity.
One thing to note about Magnolias in particular is that their root system can be extremely strong and large. If planted too close to your house or fence, they can be destructive! Because of this, we made sure to plant them about 6′ away from the fence line, and they're nowhere near the house. The guys who planted them said they prefer the trees to be planted a minimum of 6′-10′ from any existing structures, so definitely keep that in mind if you're considering a Magnolia!
How do you anchor a tree?
When we had Samantha planted last year (and when the builders planted our trees in the front yard), they added tree stakes to help hold her up. Generally, you should leave stakes in for the first 18-months to 2-years of the tree being in-ground, and then remove them. If you leave the stakes for too long, it can inhibit growth as the trunk isn't allowed to sway naturally and get strong. Most nurseries and tree farms should have them readily available!
They didn't add stakes to these trees when they planted them, and I honestly didn't think to ask why. We'll be keeping a close eye on them and if we notice that they don't seem stable, we can always go back and add them later. So far, though, they seem great!
Preventing Transplant Shock
One big concern when planting trees (or any plant, really!) can be transplant shock – it's a big change for the plant and some plants struggle to adapt to the new environment.
I purchased some SUPERThrive specifically for these trees to help add some nutrients to them in the first few weeks and hopefully help them thrive. It's TBD if it worked since we just had them planted this week, but the reviews are solid so I'm hopeful!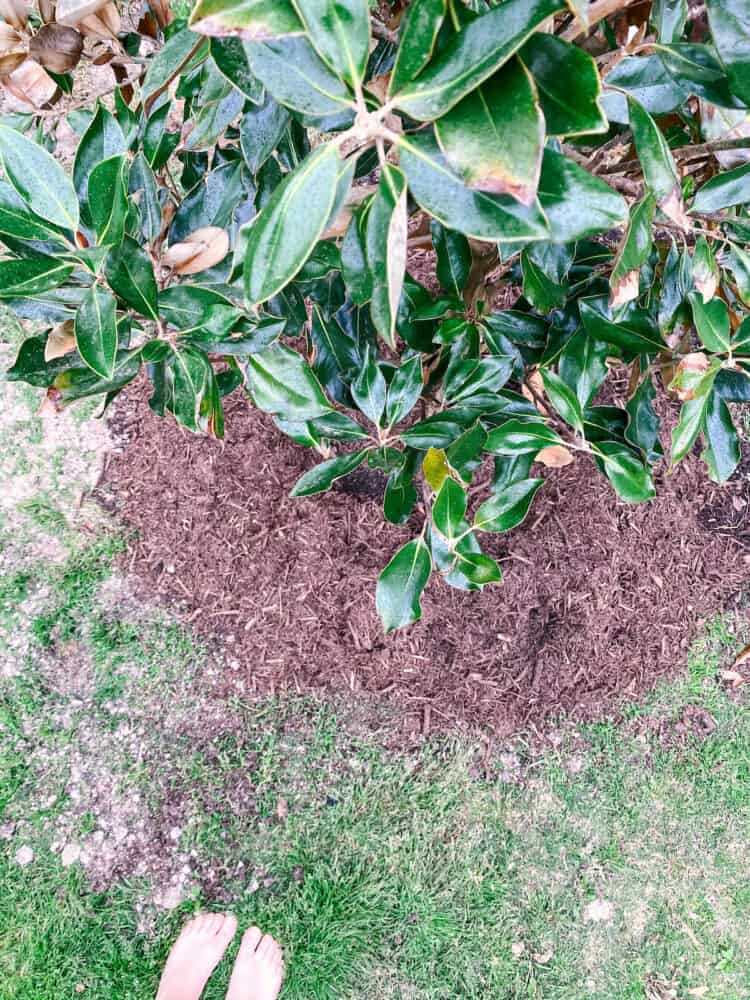 And that's about it! We are so, so thrilled with how the trees turned out and this makes me really antsy to get going on a few other backyard projects, too!
You know I'll keep you updated on how these guys do over time, and feel free to drop any other questions you have below!