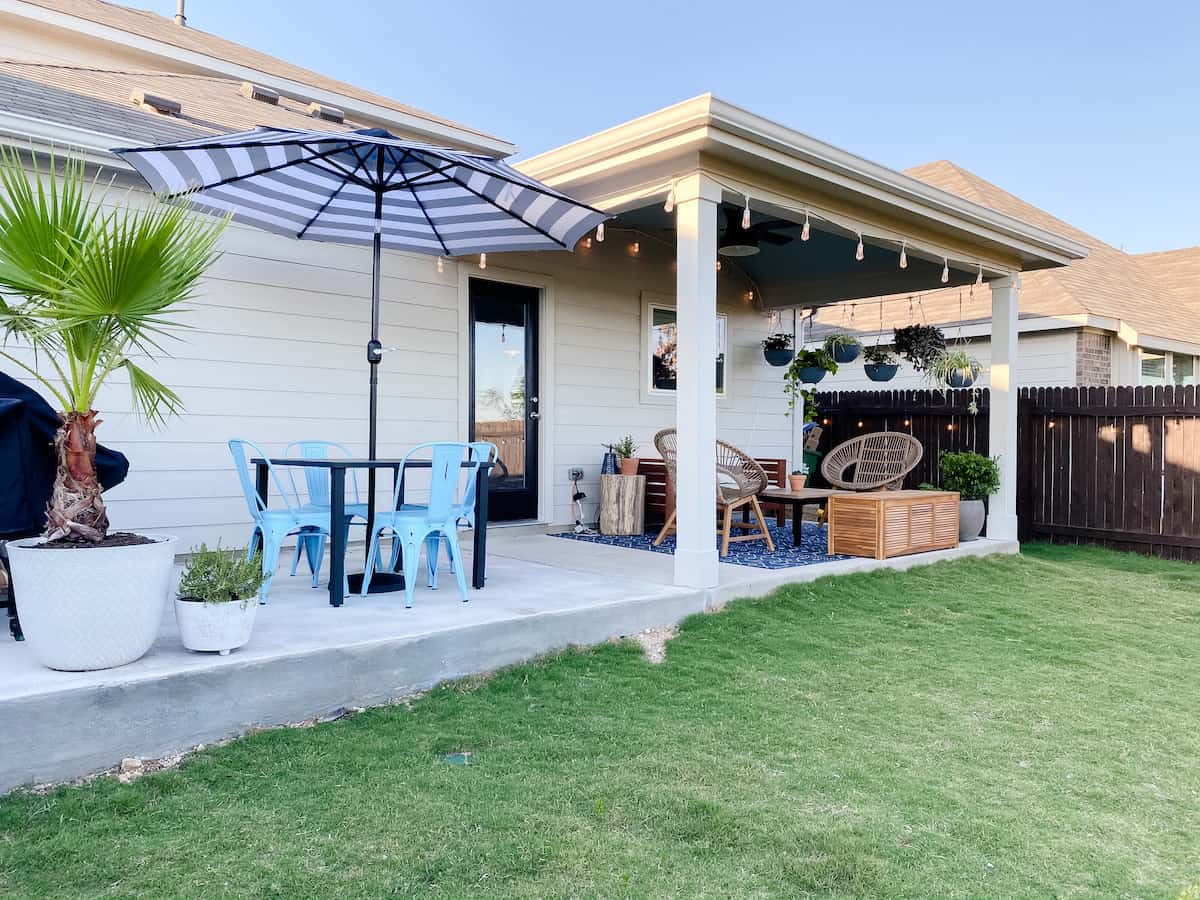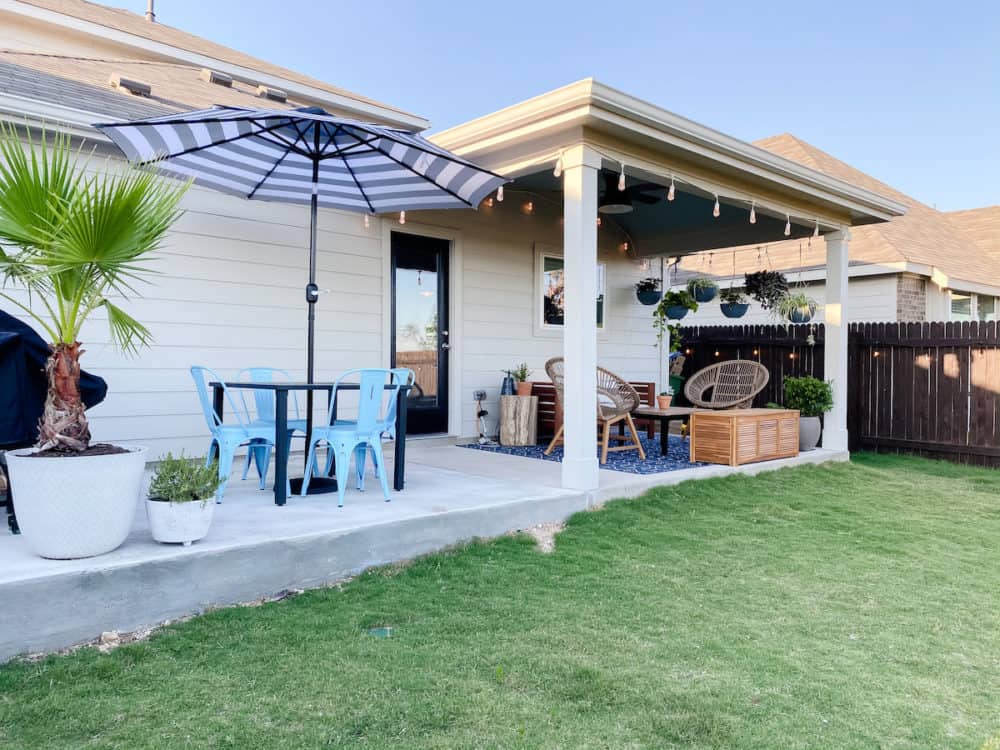 Over the last few months, Corey and I have realized something very interesting (and honestly, pretty surprising!) about this house – despite the fact that this backyard is the smallest yard we've ever had – and also, frankly, currently the blandest – we are spending far more time outside enjoying ourselves in this house than we ever have before.
I'm sure part of it is just our life stage and part of it is due to the fact that we're home all the time now, but we've been so grateful for our small yard and have really been wanting to make sure we get things right when it comes to updating it.
So far, we've stained the back fence, added a play house for the boys, and painted the porch ceiling blue.
But, I realized recently if you don't follow along on Instagram, you may not know that we've actually done so much more! In the last couple of weeks we have planted a tree (and named her Samantha) and had our concrete patio extended so it's now doubled in size!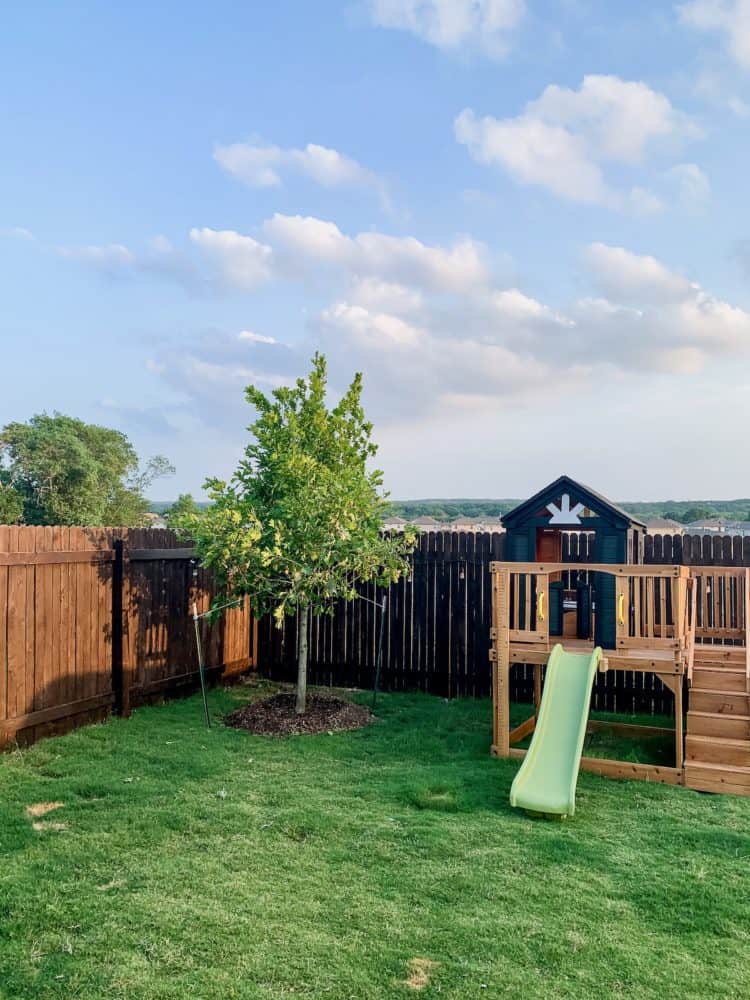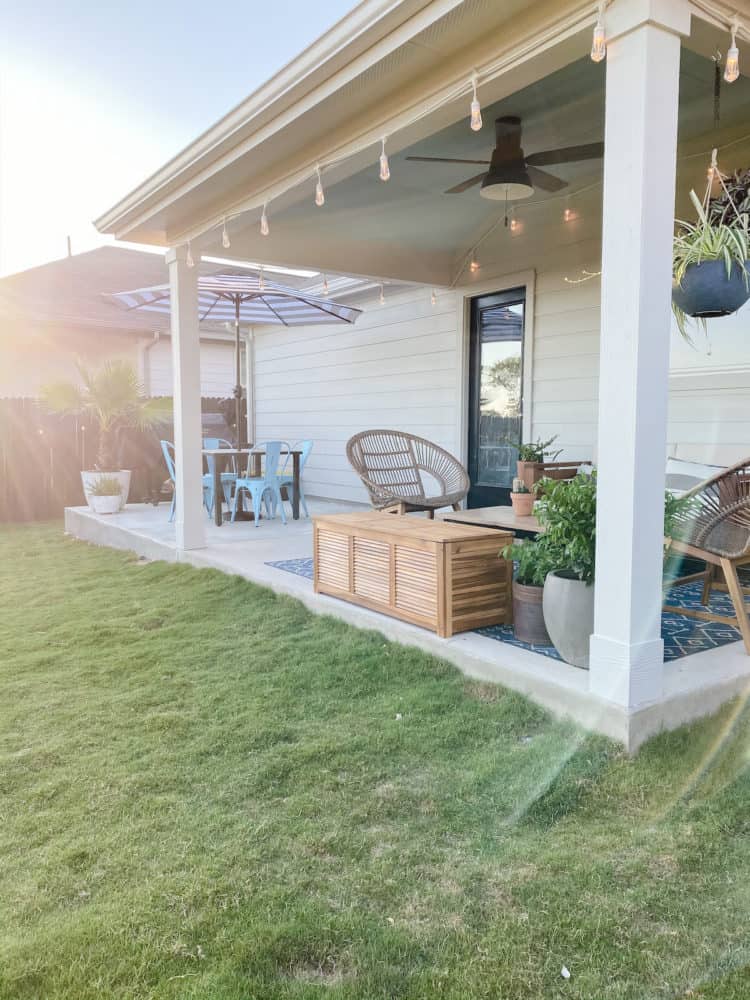 I thought today would be the perfect day to share a few updated photos of our backyard and chat a bit about what's coming next.
Our long-term plans for this space are to add a big pergola for shade and a small built-in kitchen area for the grill. We had originally planned on doing this right away, but once the patio was in and we started measuring and making detailed plans, we quickly realized that our roofline makes a pergola tricky – if we attach the pergola to the house under the roofline, it'd be less than 8′ tall – which is a no-go for us. But, if we don't attach it to the house and have it floating, we worry it would stick out and feel disjoined (plus, it makes the available space quite a bit smaller and starts to encroach on our floor space!).
We still have lots of ideas floating around and will probably still end up doing a pergola out here. We're leaning towards it being freestanding but sitting over the top of the roofline – we saw a house in our neighborhood with a similar design and liked how it looked, so we're currently leaning that way. On thing we do know is that we don't want to just extend the roof that's over the existing patio – it would be incredibly pricey and we honestly want the look of a pergola back here.
Generally speaking, we kind of have an unspoken rule in our house that if we aren't both fully on board and excited about our plans for a project, we put it on the back burner. And, despite the fact that we both really want some shade back here, we really feel like we need to sit on things a bit before we move forward with any large, permanent structures.
So, that means we got to pivot a little for a temporary solution.
Which, honestly, is one of my favorite things to do in DIY, because it often means we get to get creative!
We knew we wanted a small eating area on the new patio, so we decided to get a little square table that can hold an umbrella and just stick to a patio umbrella for shade for now. We found this umbrella that has lights attached to the underside, and it's perfect for the time being. We leave it open unless there's a ton of wind or rain happening, and it adds a good amount of shade to this area.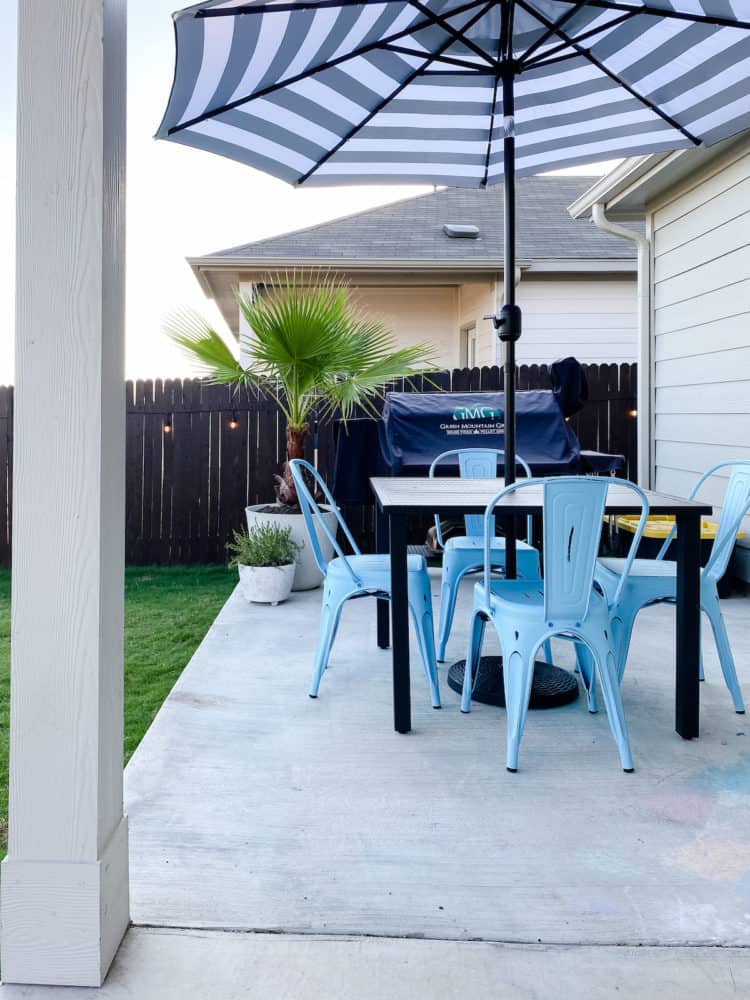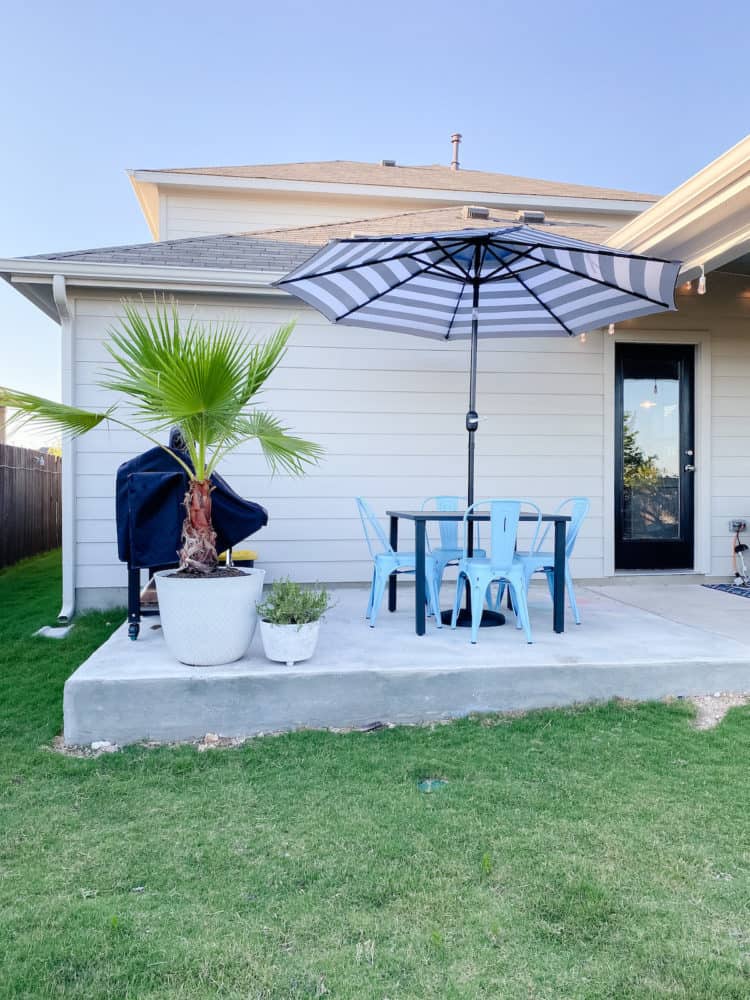 Table | Chairs | Umbrella | Umbrella Base
This side still has a long way to go – we'll be building the grill into to a small outdoor kitchen with storage and counter space, and we'll be adding a big plant wall (kind of like at our old house!) at some point too.
Over on the previously-existing patio, we've got a little lounge area that is getting used constantly. We love the cozy little conversation area, and we're so grateful that the extended patio has allowed us to have both a sitting area and an eating area without having to choose between the two!
One of my favorite additions to this side of the patio is this little storage bench that holds aaaaaaall of the boys outdoor toys. Previously, they were scattered all around the grass at all times and they drove me a little bit nutty every single day. Now, it's super easy for the boys to clean up when they're done playing, and the yard stays looking a lot nicer.
This side of the patio is more or less done for now – I'm sure down the line a few other projects will get added to the list, but for now we're really loving how functional this space is for us.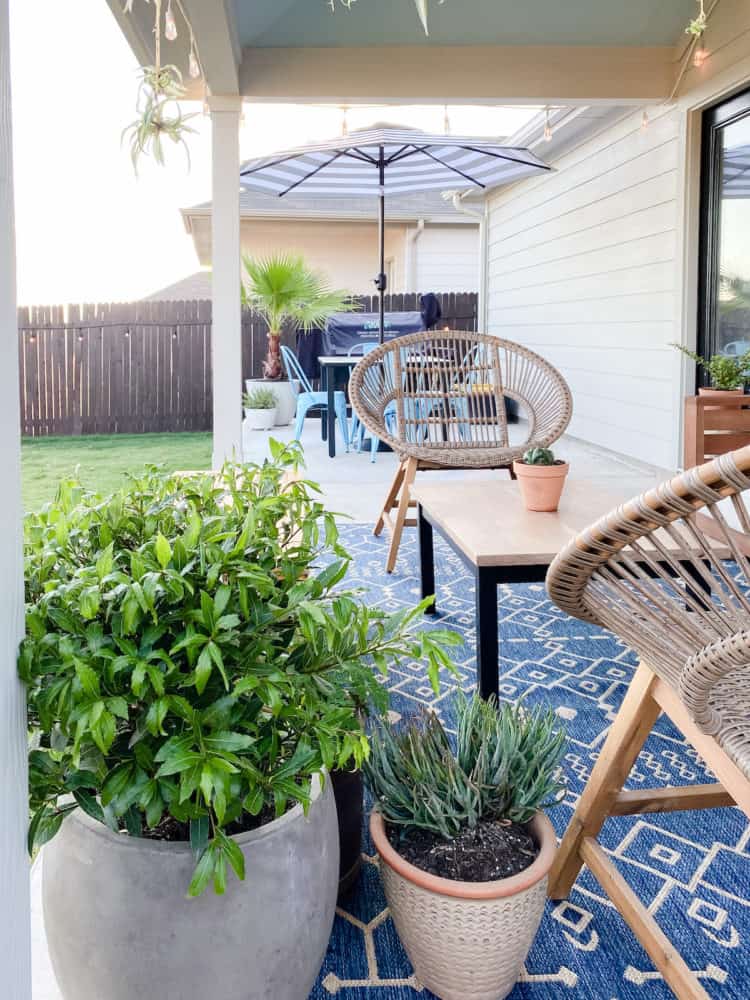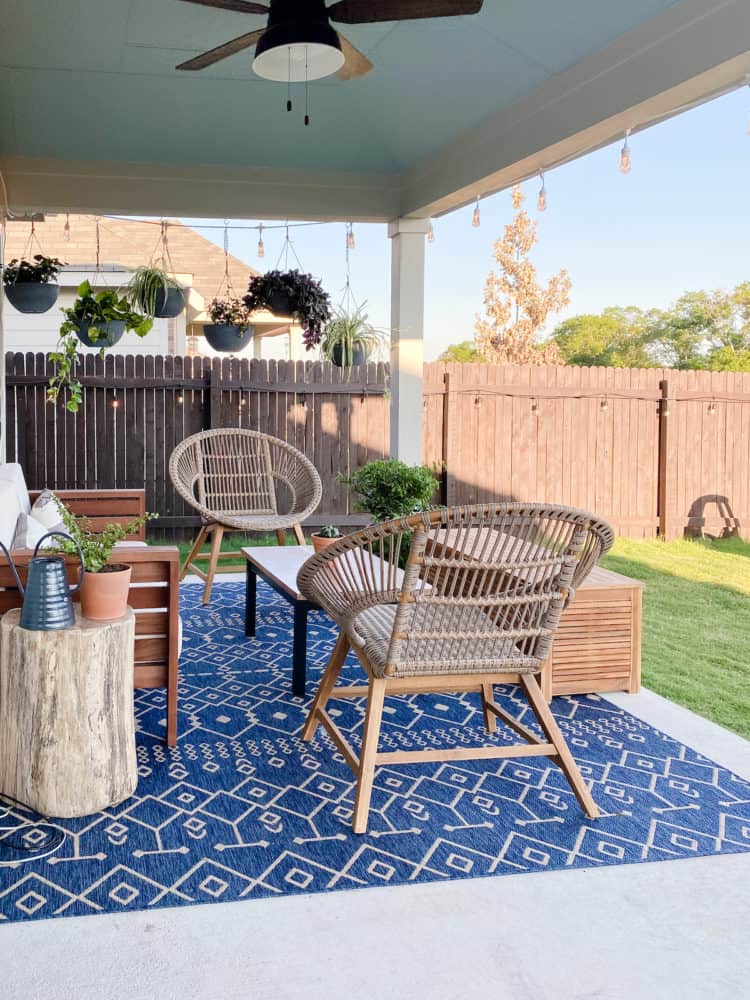 Chairs | Outdoor Sofa | Rug | Hanging Planters | Storage Bench | Tree Stump Table
Despite aaaall of the amazing things we've added, I've gotta say that it's possible my very favorite addition is all of the string lights.
Y'all, you can add a fancy patio, cozy furniture, and all sorts of other stuff to your backyard but without the mood lighting it just won't be the same. The lighting is EVERYTHING!
We added some lights all around the patio roofline, and then we strung some more lights all along the fence line in the back. To make it even more special, we added outdoor smart plugs to both sets of lights and set it all up on a schedule so that every evening the lights turn on automatically. For us, that makes all the difference because when we're just hanging out in the house we don't always think to turn on the backyard lights. But when they turn on automatically, it creates this cozy glow back there that makes it almost impossible to resist going out there to hang out for a while every night.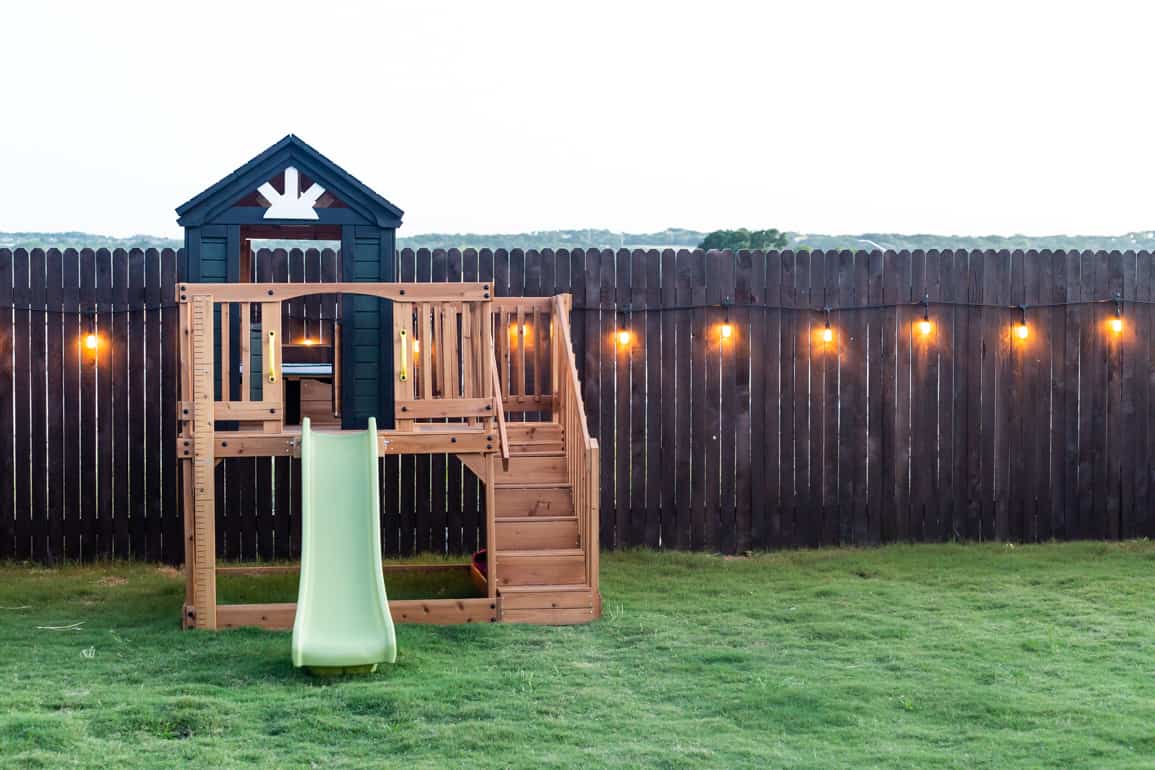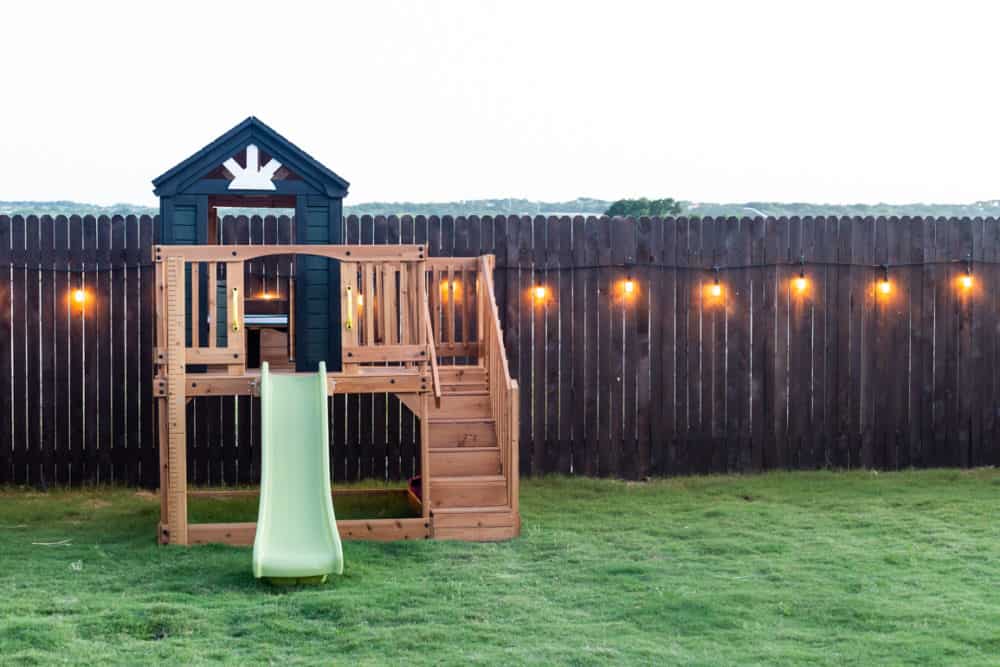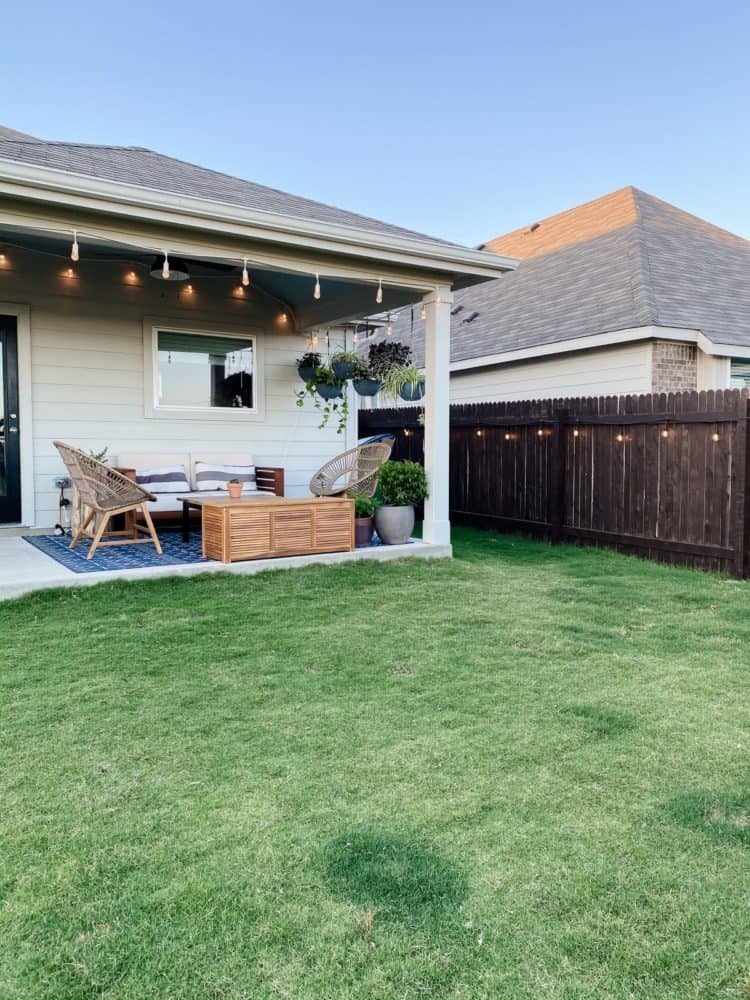 Our little yard still has a ways to go before we're done updating it, but I'm so beyond happy with how far we've come!
The next step is that plant wall that I've been dreaming about since the day I had to leave my old one behind…any suggestions for plants that can handle full sun and a ton of heat?