Introducing Our Third Home
We're finally all moved in to our new home and today I'm sharing every detail of the house! Read on for a look at how it looked before we moved in, along with a walking video tour!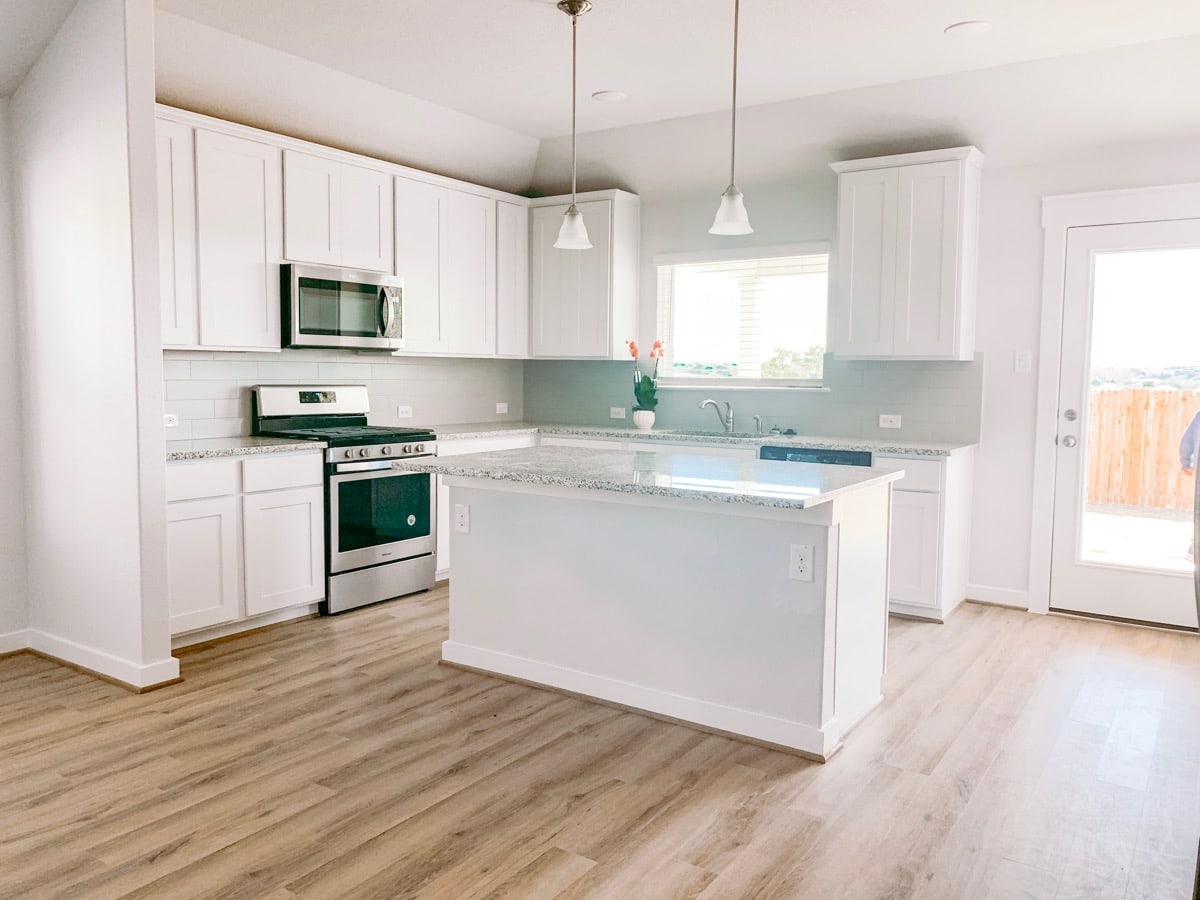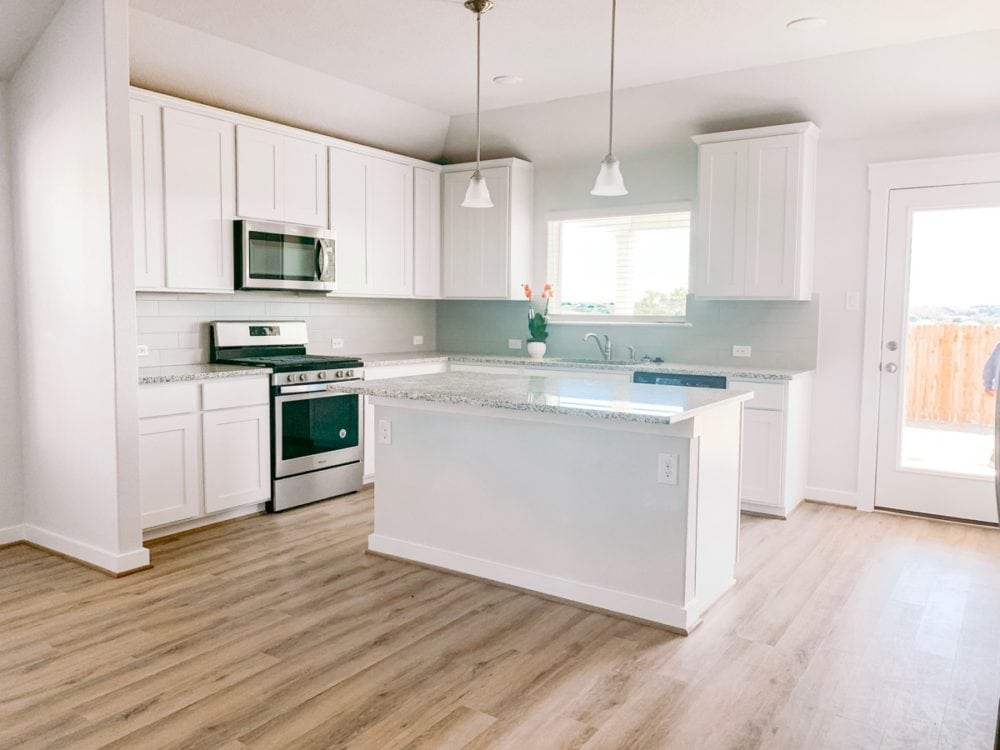 Well, friends, we did it.
This weekend we moved into our new home. Our third home. Our (maybe?) forever home. At the very least, our "for-a-really-really-really-long-time" home.
If you follow me on Instagram then you've already seen lots of peeks at the house, what we're doing, and the complete chaos it's in right now. But, on Friday when we closed I came over here with Corey and took a ton of photos of the house before we had put a single thing in it. I really wanted to give you a complete look at the house as it is right now, because soon we'll start making changes and transforming it, and you've gotta have a good frame of reference for where it started, right?!
Over the next few weeks I'll be sharing tons more details of the house with our things in it as we begin to settle, but for now grab a cup of coffee (or a glass of wine, depending on when you're reading this), and settle in for a peek at just about every nook and cranny of our new home!
Video tour
First up, I want to begin an annual tradition of a video walkthrough of our house, so here's the very first one. Any of the doors that don't get opened in the video are just closets (or the garage), so I promise you aren't missing a single thing!
After you watch the video, read on for some more details about each space (and our plans for it) and tons of photos!
The Exterior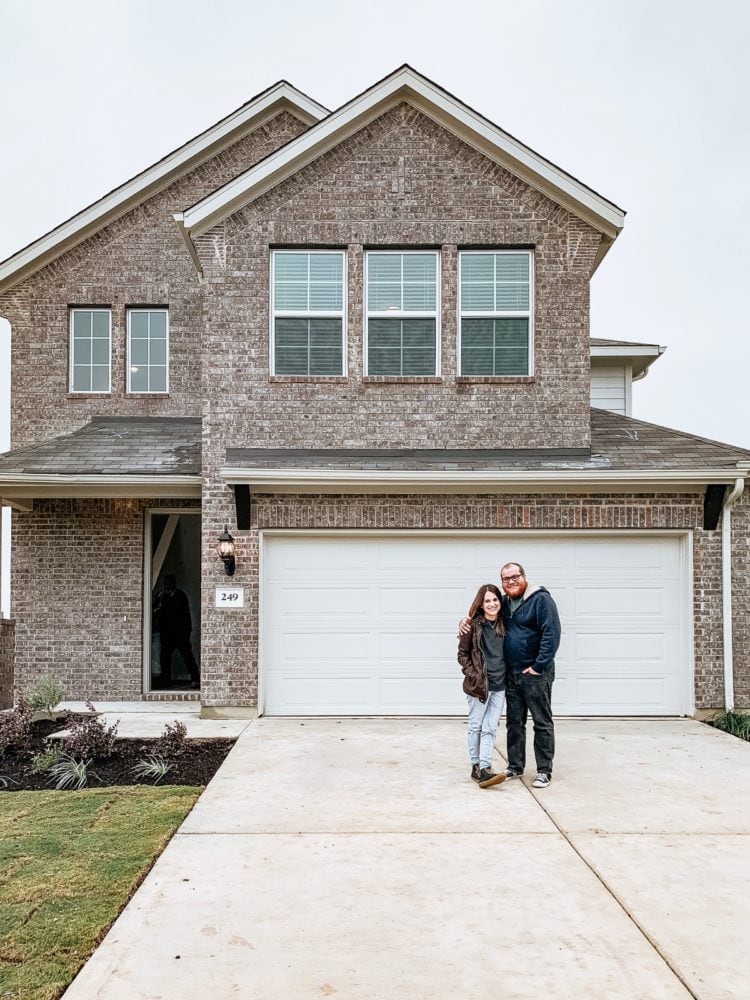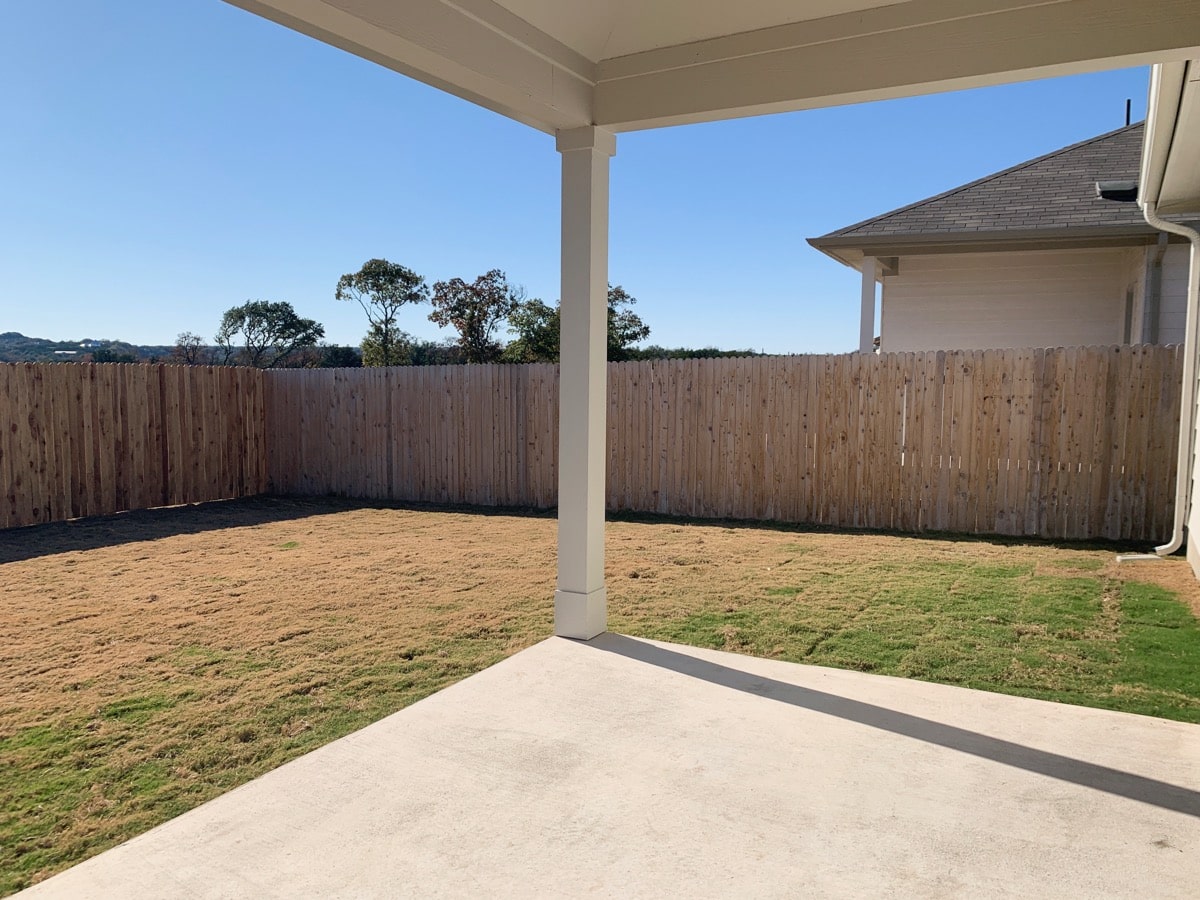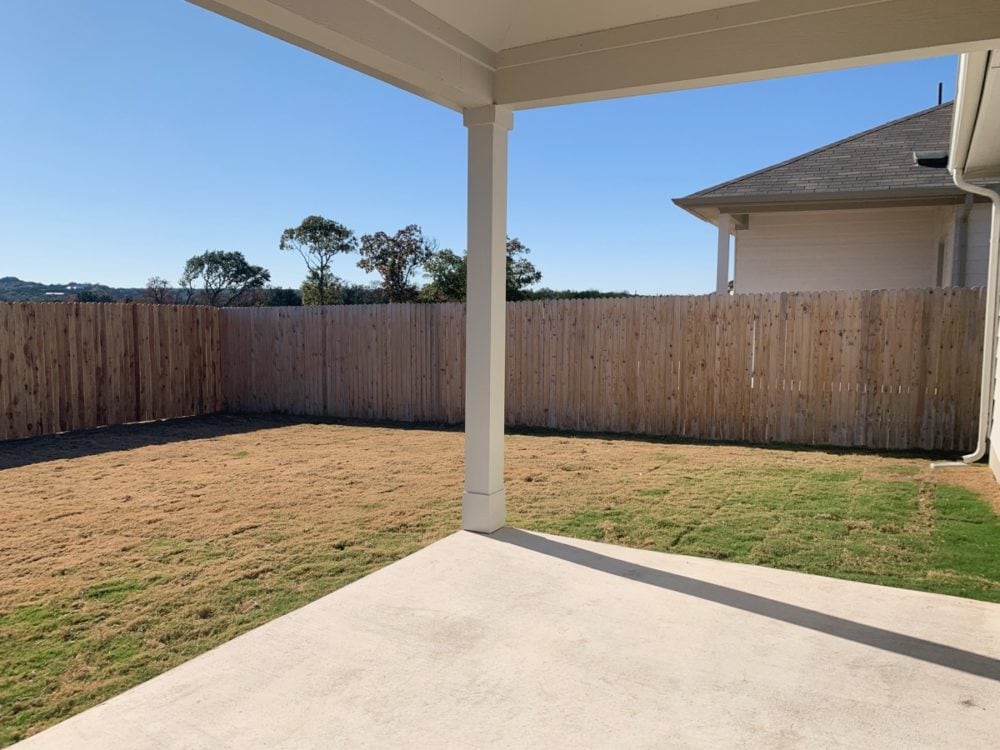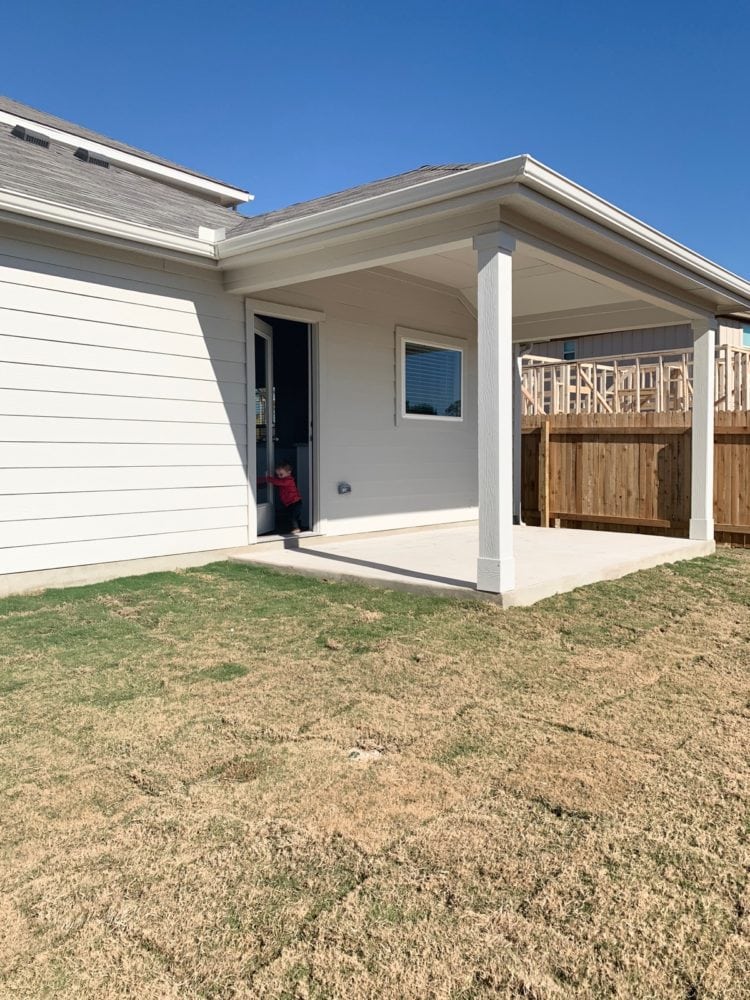 I think the new house has quite a bit of curb appeal, and there's honestly very little we plan on changing in the front of the house! We've had some questions about if we plan on painting the brick, and the official answer is no.
I'm not sure our HOA would allow it even if we wanted to, but we actually really do like the brick color and plan to leave it alone. We may change up the landscaping eventually, and I'll definitely be adding a border around the flower beds.
The back, however, is a different story. There aren't many down sides to this house, but one of the biggest ones is the size of the backyard. It's pretty tiny, but is counteracted by the fact that we live near a creek, tons of walking trails, and a great playground. So, there's no shortage of outdoor fun nearby!
We'll be doing a lot to this little backyard eventually, but we don't have any finalized plans. We'd like to extend the patio, add a tree or two, and stain the fence for starters, but we aren't in a rush for any of those projects.
The Entry, powder room, & laundry room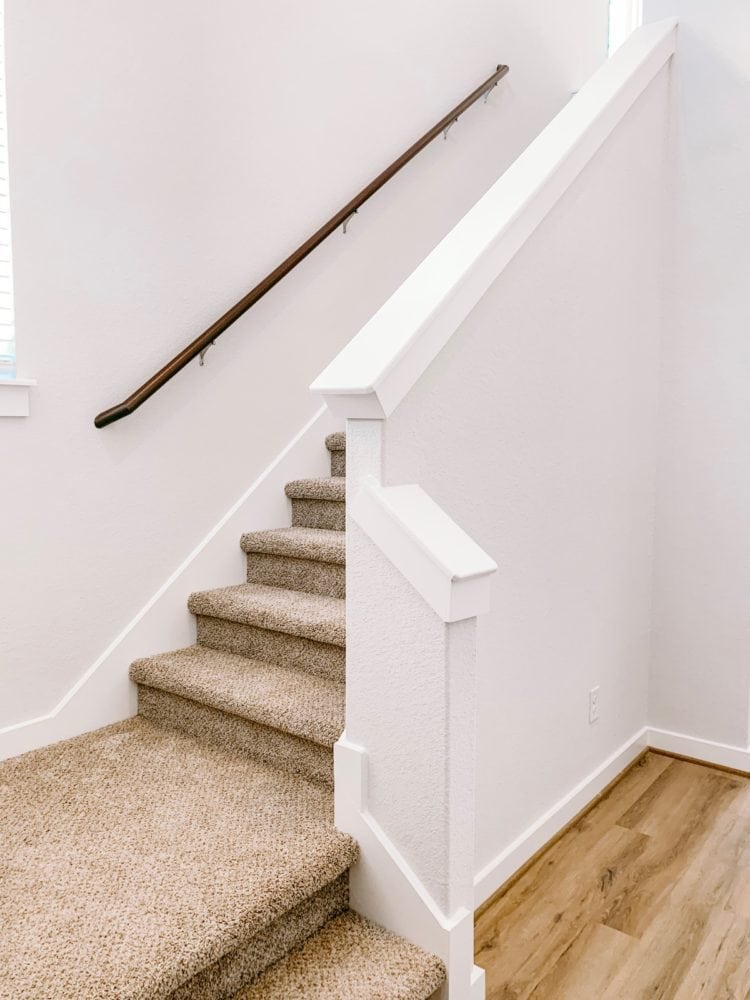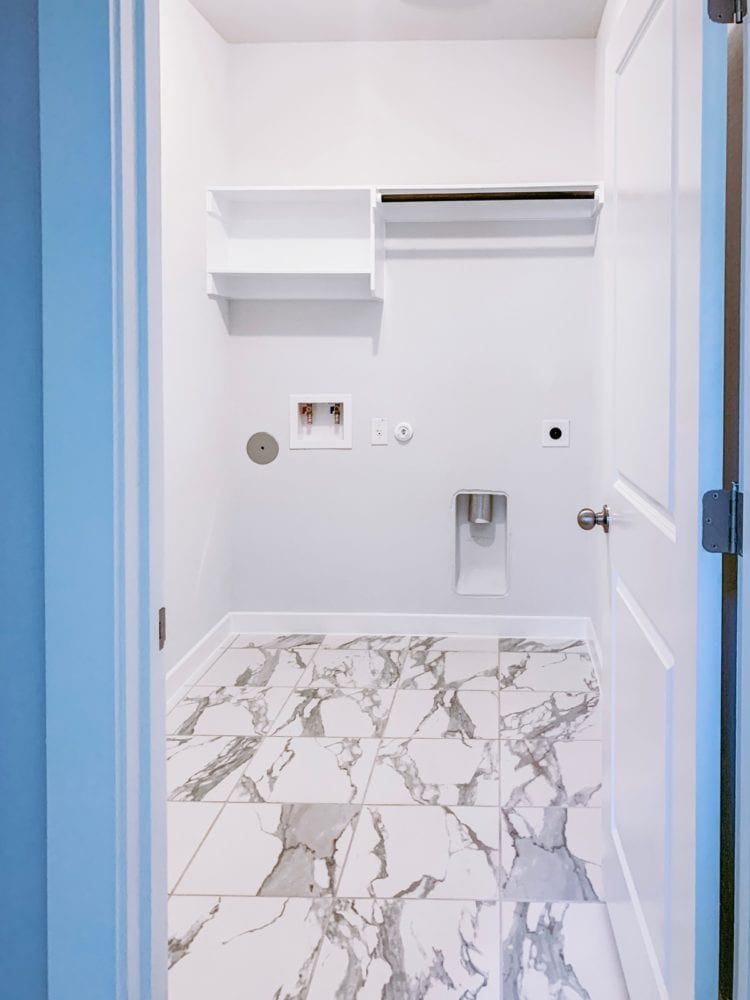 One of the things we missed the most in our second home was having a powder room. I hated that our guests always had to use the boys' (often gross) bathroom, so having a powder room is going to be incredible. This is also the first time in my life I'll have an actual laundry room and I'm beyond excited about it.
We have big visions for all of these spaces, but no definite plans yet. I picture some sort of fun wall treatment in the entry, maybe a gallery wall, and a console table. In the powder room, we'll absolutely do either wallpaper or some sort of paneling – or both! It's got a unique ceiling line and I want to really make the most of it.
The laundry room will get some organization, and maybe a countertop – I've never been able to set my washer and dryer next to each other before, so I'm really excited to utilize that space. I've always dreamed of a really fun, organized laundry room, so I'm looking forward to tackling this space down the line.
the great room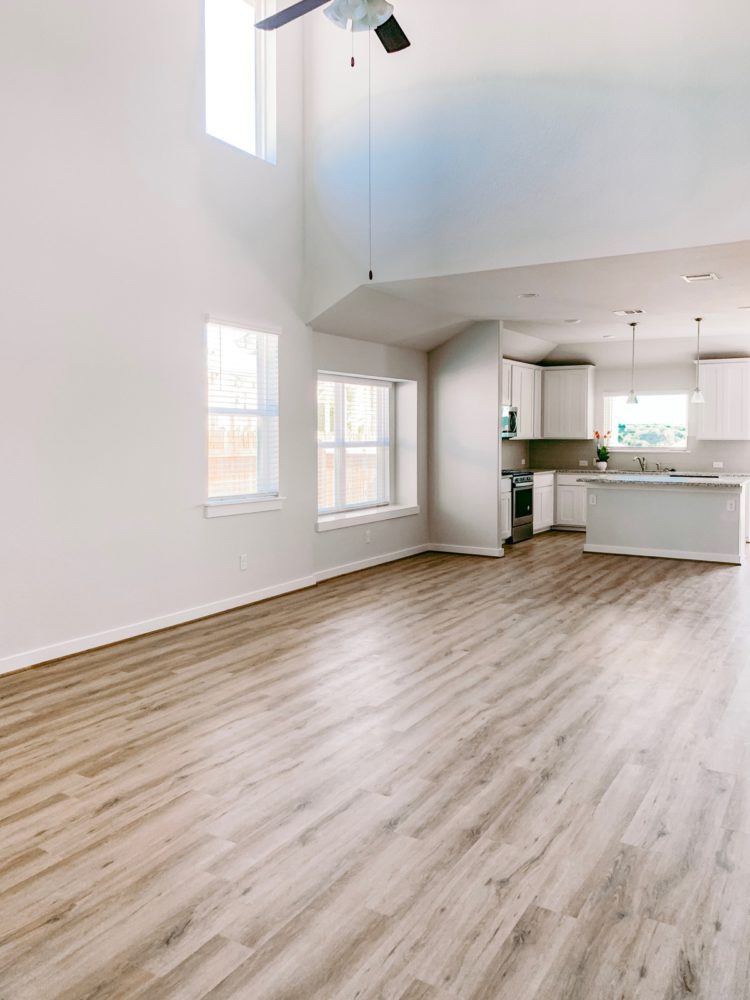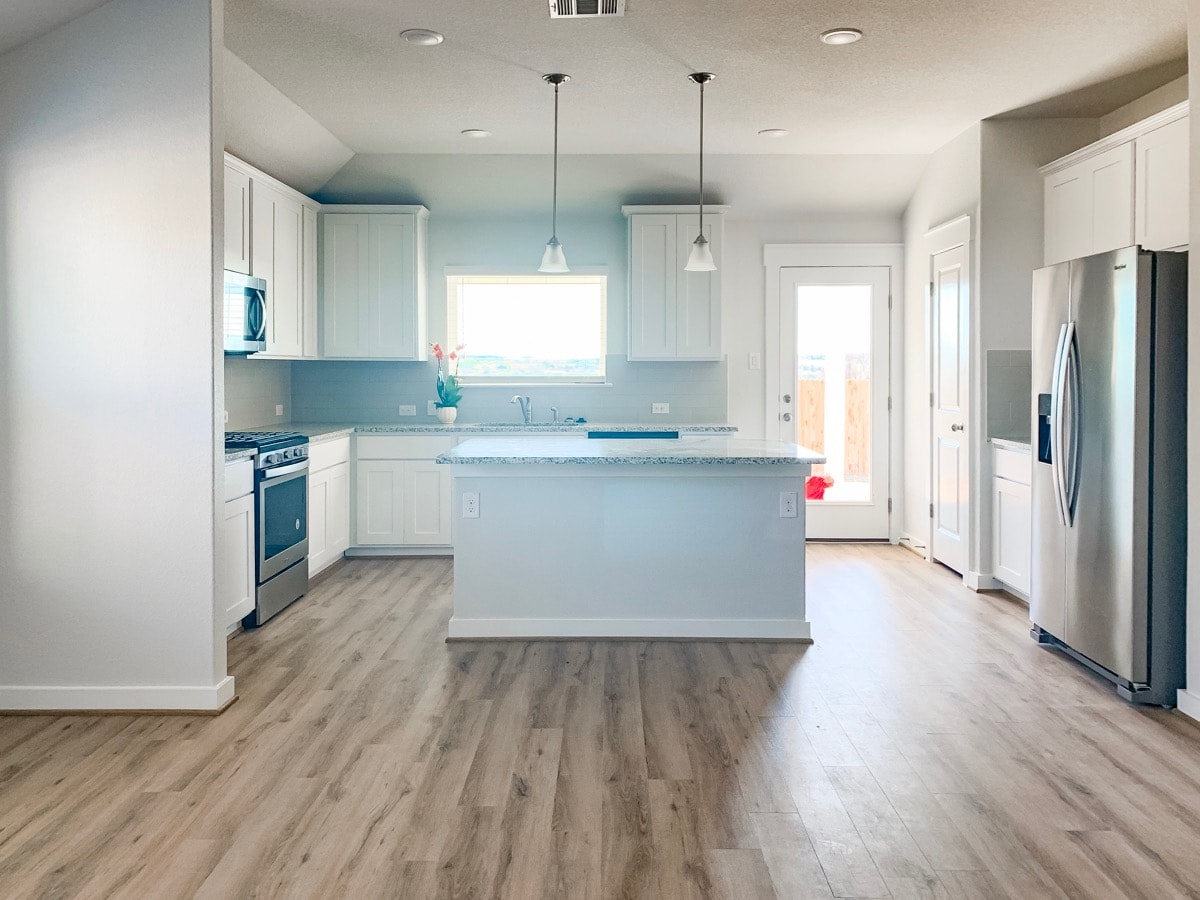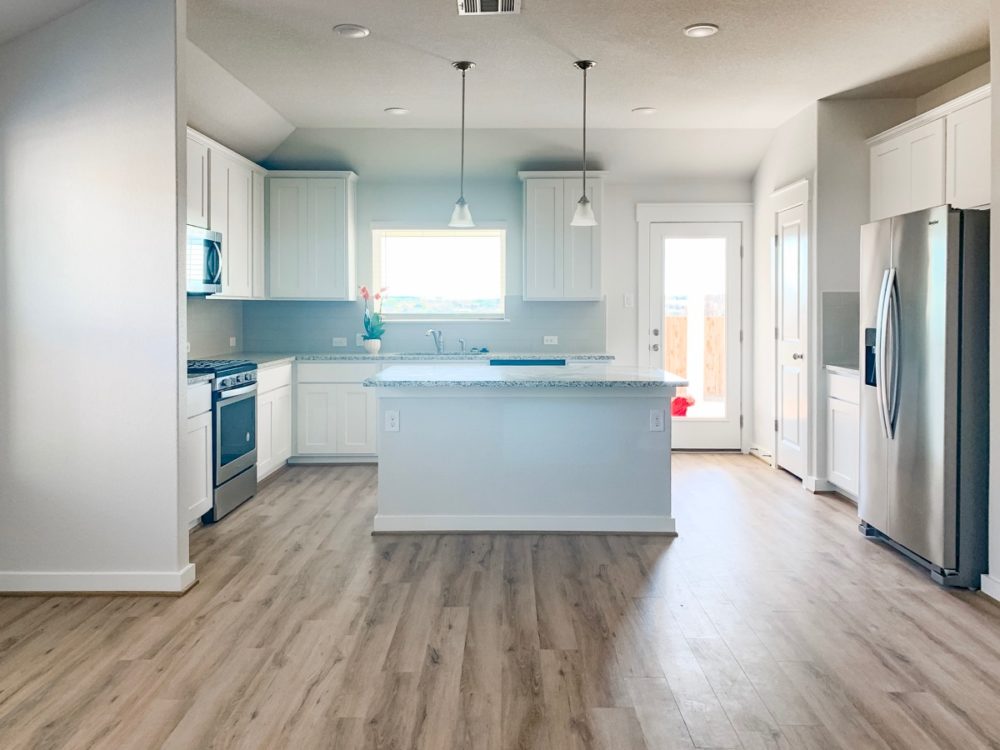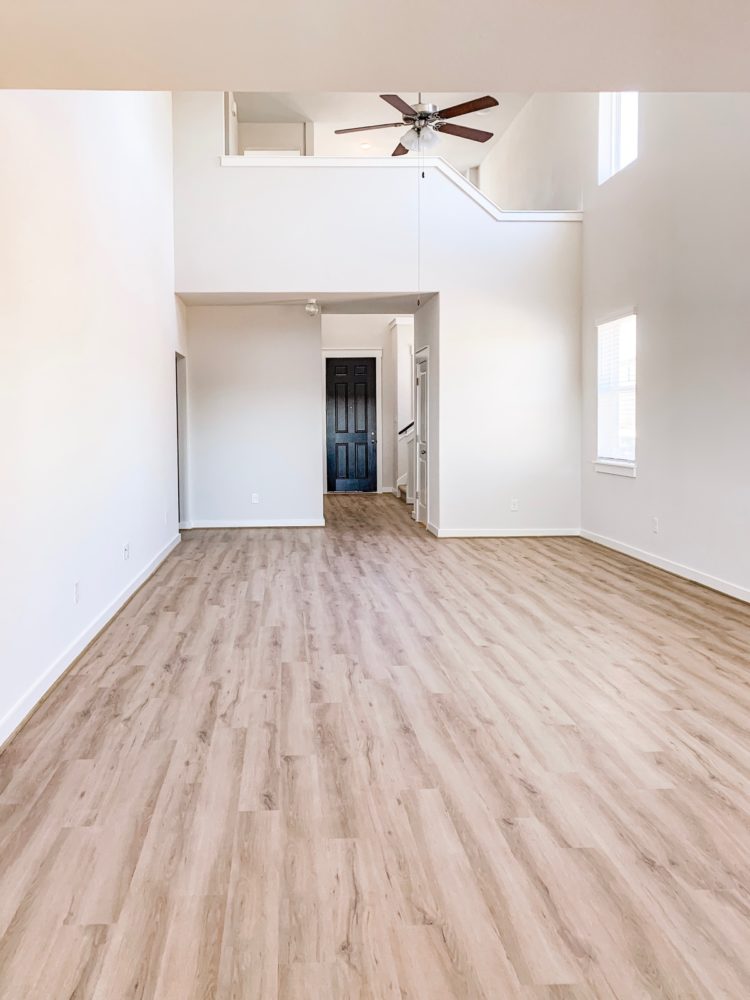 When we first started looking at homes, I was adamant that I did not want a layout like this. I've never been a huge fan of big, long living spaces and I really wanted a little more definition.
However, when you fall in love with a house, sometimes it surprises you. I'm actually really excited to take on some of the challenges that this layout will present, and I think that with some trial and error we'll be able to make it a really comfortable and beautiful space.
We plan to eventually add an electric fireplace to the living room, but we aren't sure when. We've been waffling on design ideas for a while now, and I don't want to pull the trigger until we're positive we know what we want. In my dream world it would be completed before next fall, but who knows what will actually happen.
The kitchen has more storage than I know what to do with, and I am really thrilled with it, even if I've never been a big fan of all-white kitchens. I never would have chosen white cabinetry if I was in charge, but now that I have it I honestly love how bright and airy it feels.
We'll see what I think about it in 6 months when we've actually, you know, lived with them.
We're swapping out the pendants over the island sooner rather than later, and we'll be waiting to add hardware until Grant is a little older because I love that he can't open the cabinets. We'd also love to swap out the microwave for a vent hood at some point (and stash the microwave in the pantry), but that probably won't be high on the priority list.
the master suite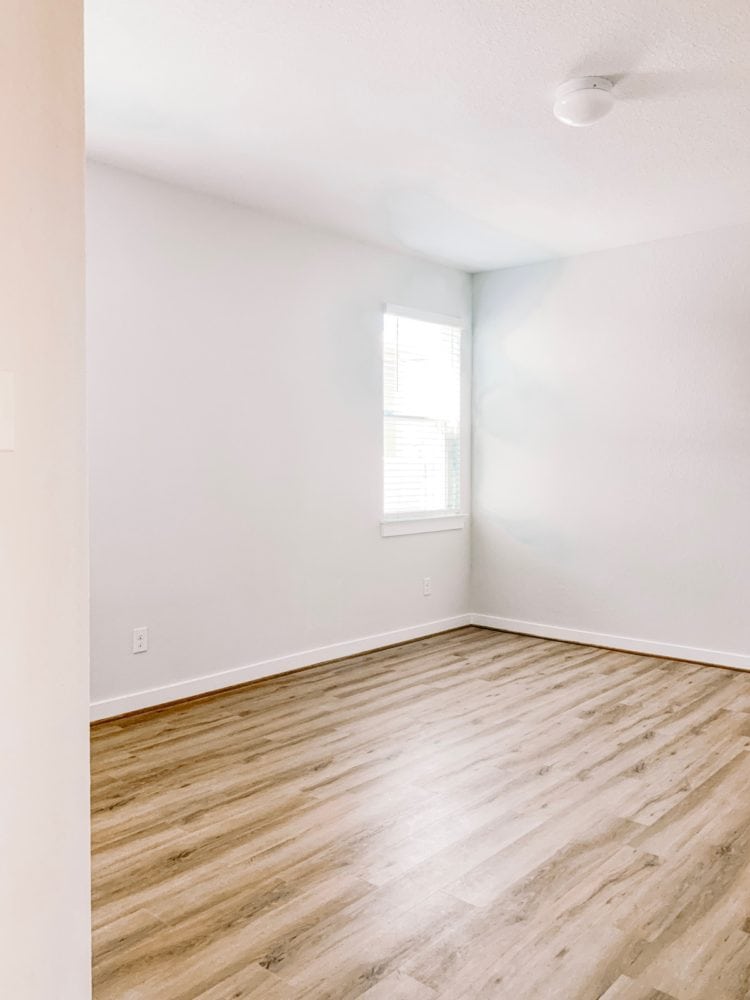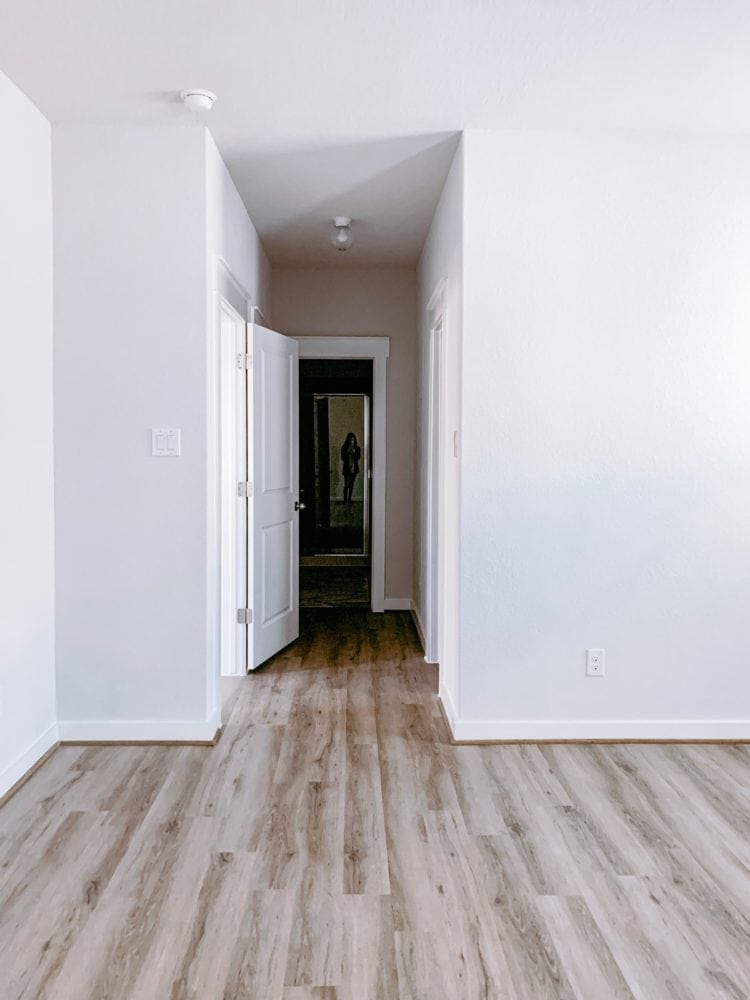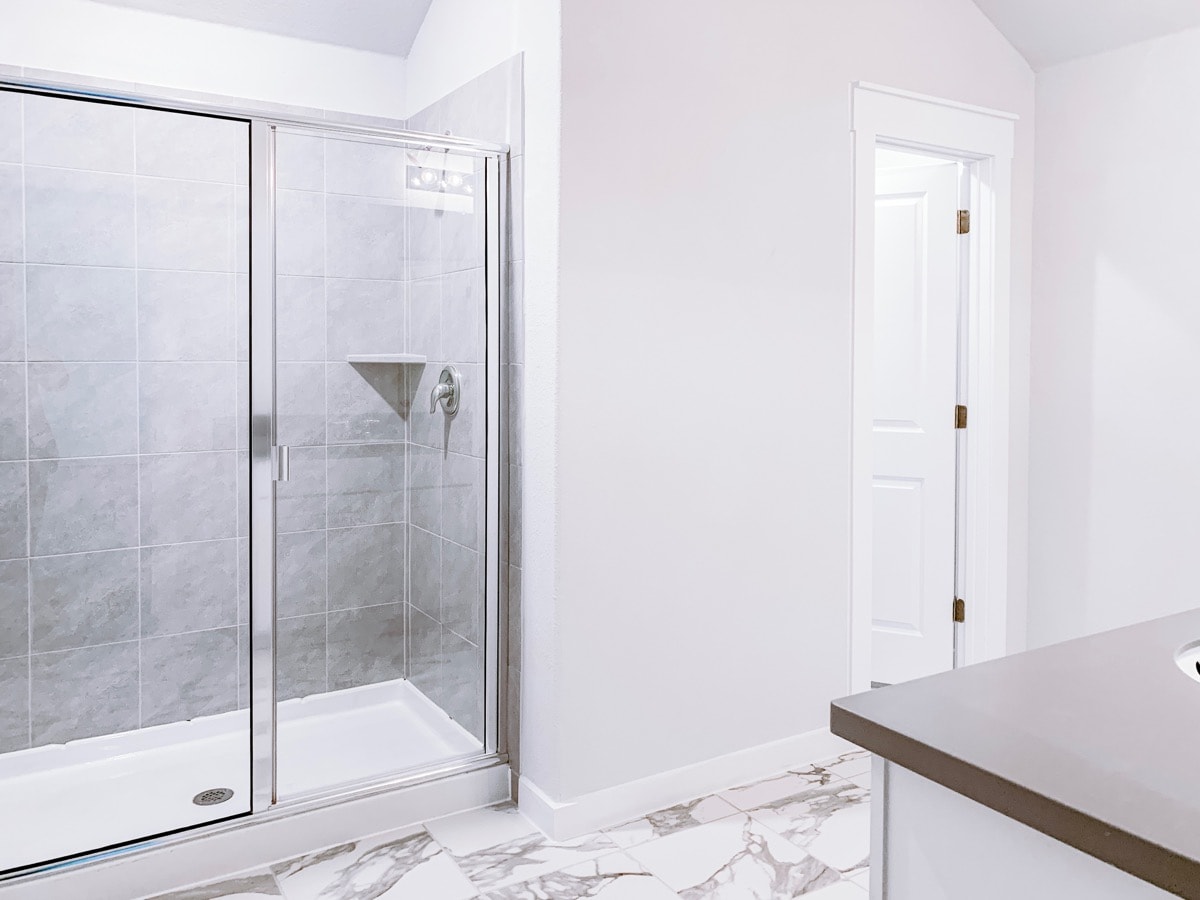 Never before have I been able to refer to my bedroom as a "master suite" and really feel like I mean it.
Our bedroom has a whole hallway, y'all!
I am more than a little bit in love with the layout of our bedroom, and it's honestly much bigger than I even know what to do with. I want to make it a dark, cozy, sophisticated space and I have a picture of it in my head that I just can't wait to bring to life. You can get a feel for our inspiration in this post – I'm hoping this will be one of the first projects we tackle!
The biggest thing we plan to change in our bathroom is that we'd like to add a window. It's an option with our floor plan, but not one that was chosen when this home was designed – and I think the bathroom is worse off because of it. I think every bathroom needs a window, don't you?! My ideal scenario is to add one on the blank wall next to the vanity and another one above the shower – we'll see how things play out!
the game room and upstairs hallway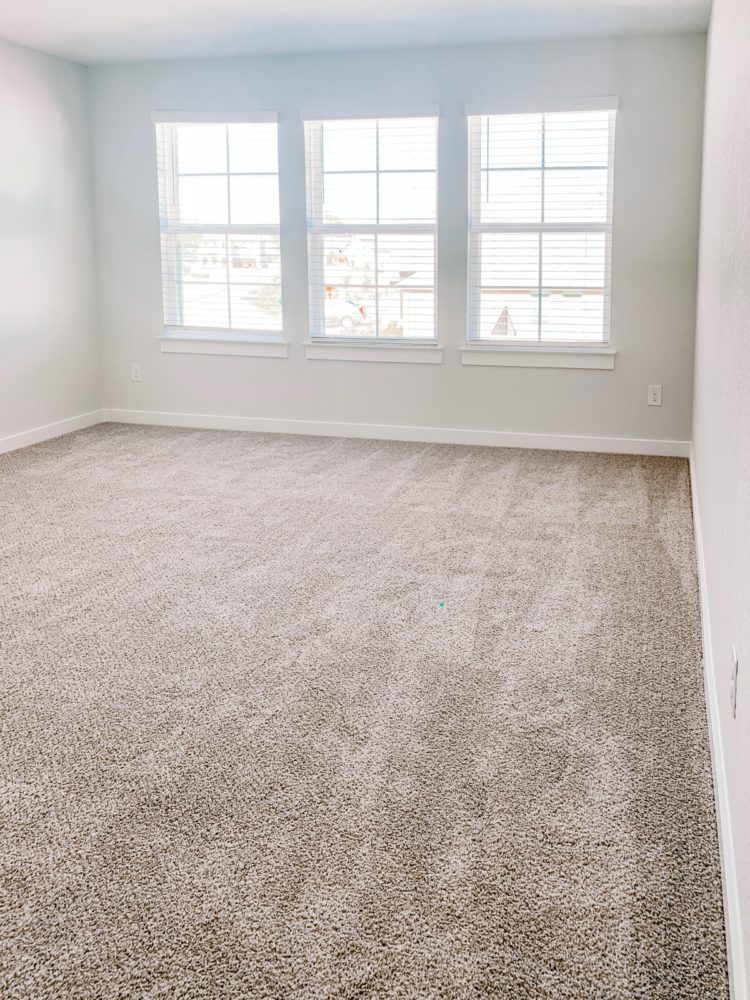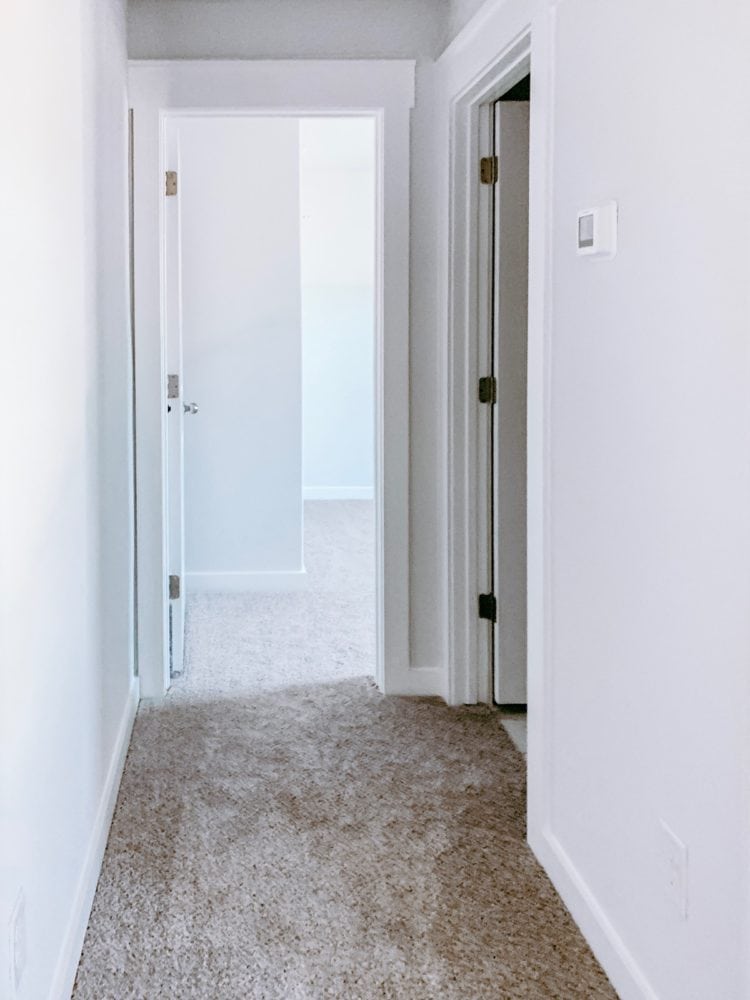 Our number one priority when we were house shopping was to have a secondary living space. We didn't want to store toys in the kids' rooms anymore, and we wanted a place to send the kids when all of our friends come over to hang out. We also wanted it to be a space that goes beyond just a play room – it's a space for video games, movie nights, and homework.
One of my very favorite things about this space is that it is not completely open to the downstairs (so it contains noise well), but it also doesn't have a door so it's easy to keep an eye on the kids. You can see exactly what I mean in the video walkthrough – it's the perfect space for kids to gather while the adults hang out downstairs, and even if the baby is sleeping down the hall the noise shouldn't bother him since it's not totally open.
I see us gathering a lot in this big game room in the coming years. We've got big plans for this space, and I'm hoping it's one of the spaces we tackle first. I want to do a room full of built-ins, including a built-in desk and tons of storage for games.
It's gonna be great.
The boys' rooms + bathroom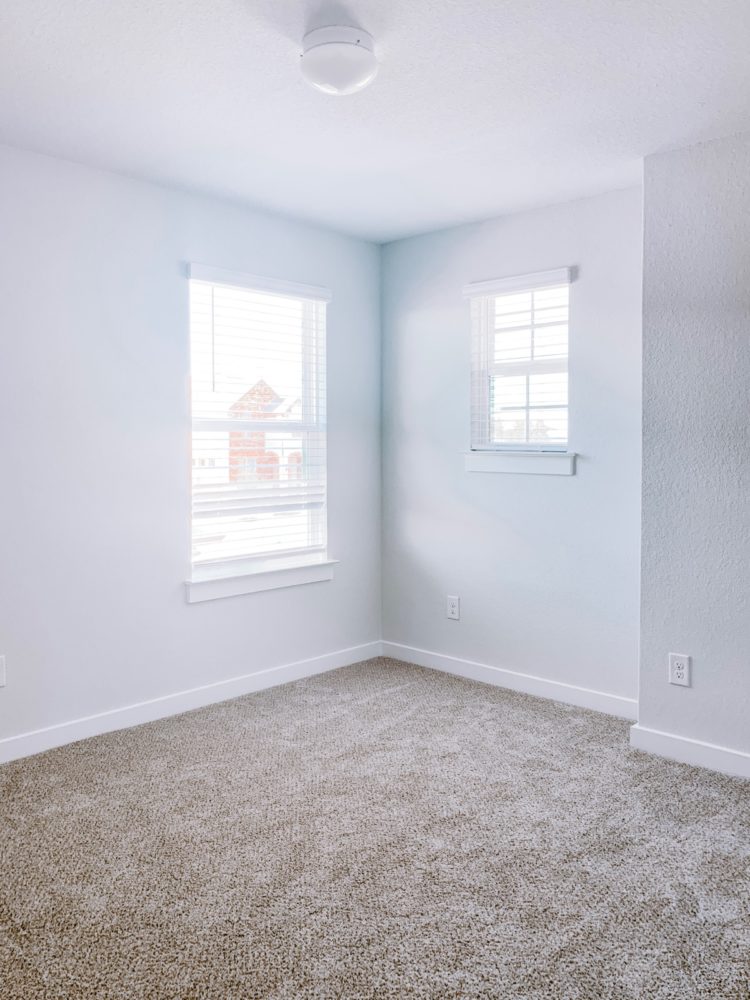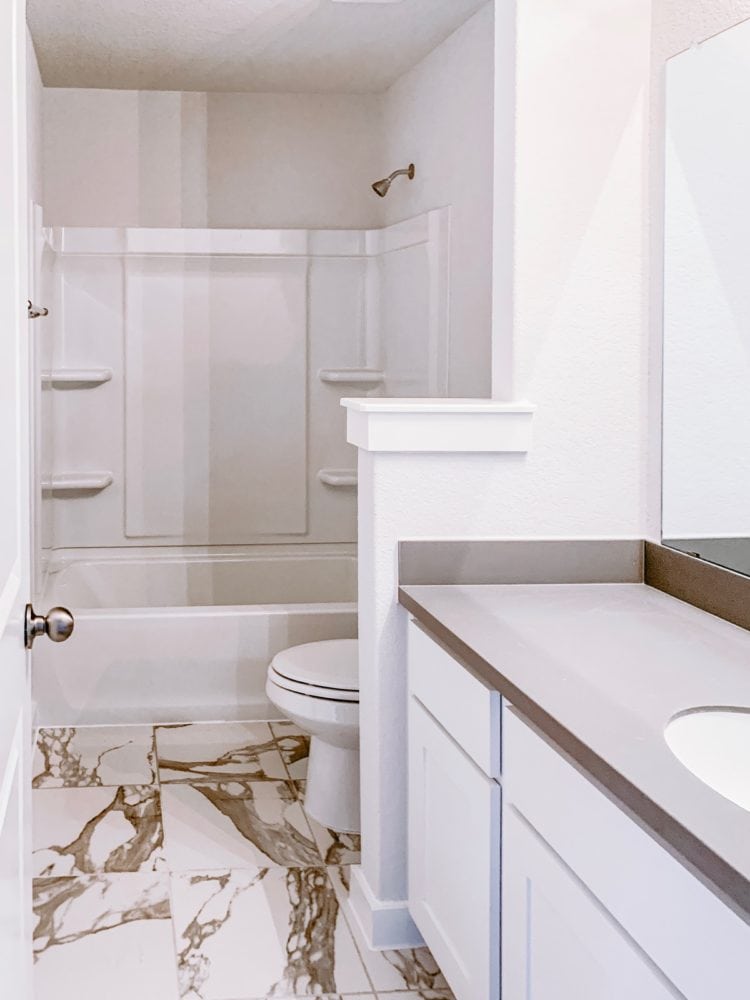 The images above appear in the order they are in the hallway – Jackson's bedroom, the boys' bathroom, and then Grant's room.
Their rooms are small but still much bigger than anything we've had before. I love the little nook under the window in Jackson's room – it's the perfect size for a big dresser! Jackson eventually wants built-in bunk beds in his room, so we're planning and thinking about that for a while and then will probably make some big changes to his room. For now, though, it's full of some cute new furniture that he picked out himself.
The boys' bathroom will likely remain more or less unchanged for a long time. I love the solid surface around the tub for this phase in our lives because it's so easy to keep clean! The only thing we might do in the near future is add a window above the shower – the only light in the bathroom is from the vanity and that back half gets really dark! So, a light above the shower and a window should go a long way!
Grant's room is basically just a big white box at this point – and honestly, we'll probably pretty much leave it that way for a couple of years until he's ready to graduate from the crib! I figure we've got enough other things to worry about and he couldn't care less, so once we're ready to retire the crib for good we can give his room a fun makeover – but for now, it does the job.
And that, my friends, is it! Our new house!
Thanks so much for all of your kind messages, emails, and excitement. It means the world to me to know y'all are cheering me on from afar, and I just feel so blessed to be able to share this crazy journey with you.
I promise to share some peeks of the house with our actual things in it over the next few weeks. We probably won't really be doing many projects until January (other than the garage floor, which I'm sharing soon!), because we want to settle in and see where our pain points are in the house before we really do anything. But after that you can be sure there will be tons of fun projects coming your way!