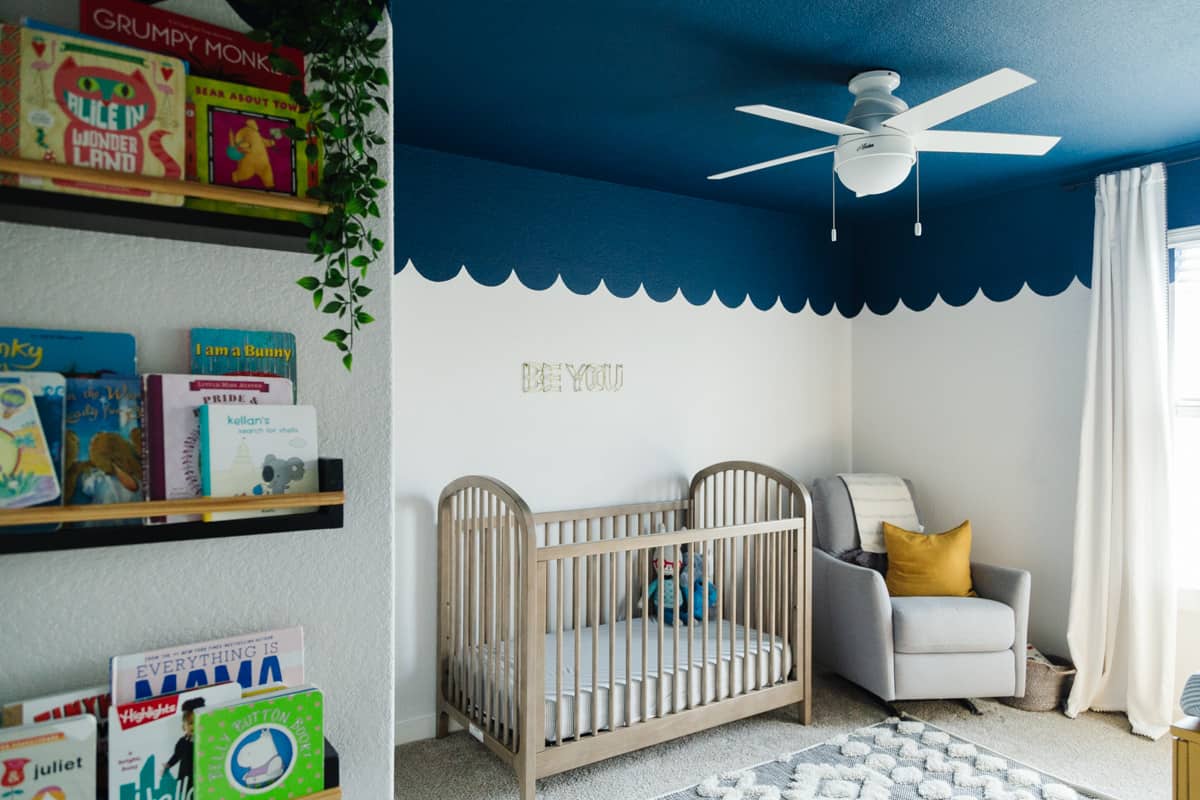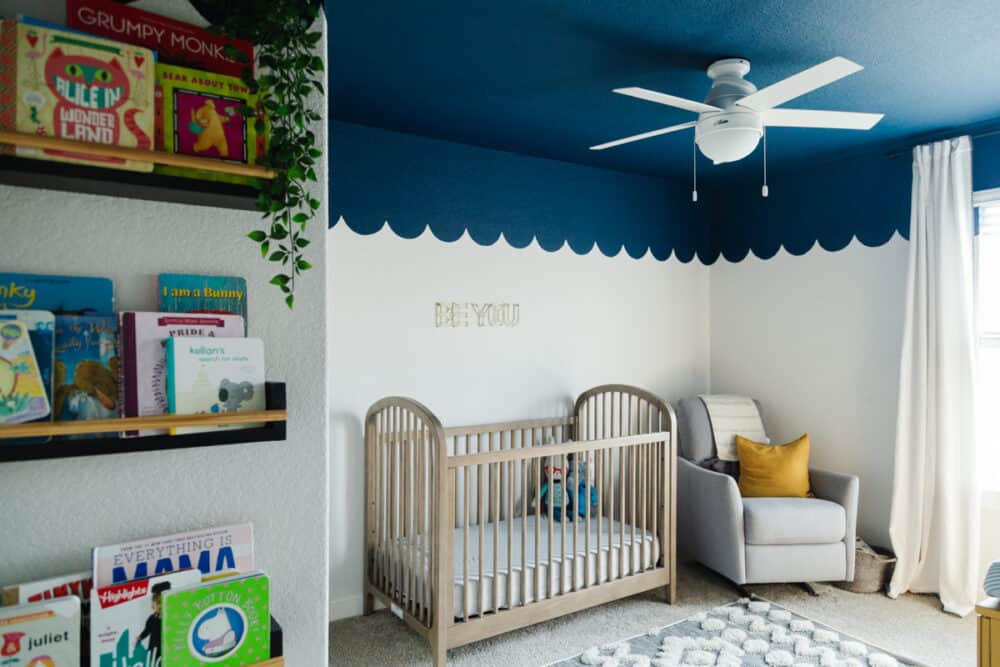 This post is sponsored by BEHRⓇ Paint
I have a confession.
Over the last month or so I've been secretly working on completely making over an entire room in our house and I haven't shared any of it with you…yet.
But my friends, today's the day. I'm so excited to be able to finally share this space with you!
Even better, I'm getting to reveal this space for you in partnership with my very favorite paint brand, BEHR Paint! They've just recently launched their new BEHR Color Trends 2021 Palette and to celebrate, they've invited 21 bloggers to share the 21 colors in the palette, one a day for 21 days. My color? It's the absolutely stunning Nocturne Blue (HDC-CL-28) and I decided to use it to paint the ceiling in Grant's room!
How fun is that?!
I'm so honored to be a part of this big launch, and it was so exciting to pour some time into Grant's room…kids' rooms are always such a joy to design because you can have some fun, get a little whimsical, and try some new things.
And it doesn't hurt that Grant was so thrilled to see me do some work in his room – for days after I finished painting, he would exclaim "Mommy! Painting!" and point at the ceiling with glee.
I mean, if that's not the perfect reward for all my hard work, I don't know what is.
Let's start with the before, shall we?
We moved into this house last November, and after tossing all of his furniture in the room, we didn't touch his room. It was more or less a boring, white box.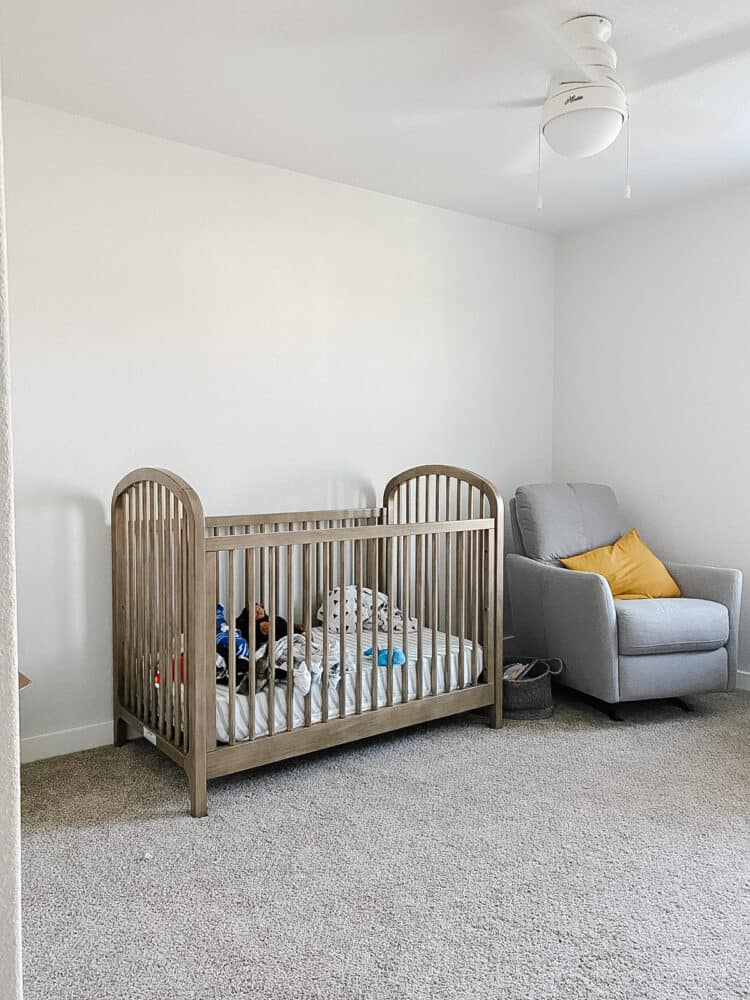 And now?
Well, the walls are still (mostly) white, but it's anything but boring!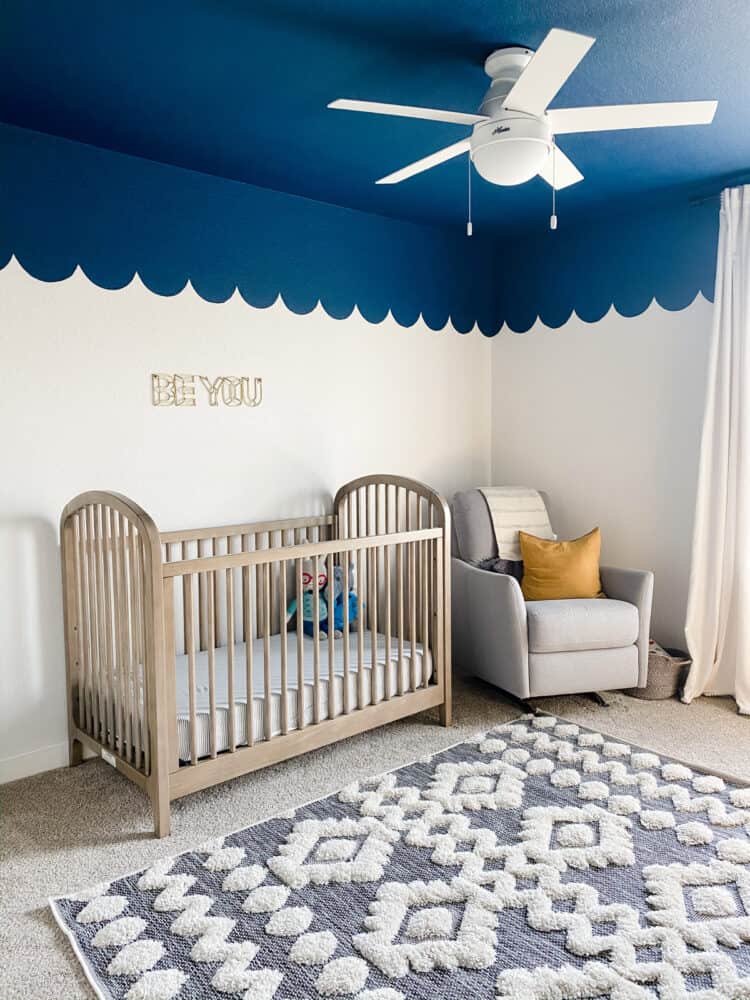 The color I chose from the new BEHR Colors Trends 2021 Palette was Nocturne Blue (HDC-CL-28), in BEHR ULTRA™ SCUFF DEFENSE™ Paint. It's a gorgeous, deep blue and it was perfect for what I was already envisioning for Grant's room: a bold painted ceiling and turning it into a true sanctuary! You can now find this color (and all of the hues from the new palette) at The Home Depot stores nationwide! Oh, and, bonus – some of the colors are available through BEHR Express too,  which means you can conveniently receive paint and materials without having to leave your house!!
I really wanted to do something out of the box (because why not?! It's a nursery!), and I've had a painted ceiling on my mind for a while now. I decided to bring the color down about 18-inches down the wall, and my original plan was to add some crisp white trim on the border all the way around the room.
But then…
As it sometimes happens, I got a wild hair and decided I didn't really want to do trim. We already had the trim in our garage ready to go, but the day I had planned on installing it, I had second thoughts and changed my mind. I couldn't get the image of a scalloped border out of my head, and I knew I wouldn't be happy unless I gave it a shot.
And oh man, am I ever glad I did!
There are a few different reasons I wanted to try the scalloped border. First of all, I have seen the look in a few different spaces and I always love it – it's such a unique and cheery detail to add to a kids' room, and it adds a good amount of whimsy and visual interest that trim never could.
Second, and perhaps even more important, is that I'm a big believer in letting kids change up their rooms when the mood strikes. I painted and repainted (and repainted) my room when I was a child, and I want to give my kids the same creative freedom in their own spaces. Because of that, I prefer to stay away from trim details in the kids' rooms when I can – it's much easier to simply repaint a room than it is to remove and replace trim.
So, the scallop border is not only a more fun design choice, but it also is going to be a lot simpler to change up in a few years if Grant decides he wants something else!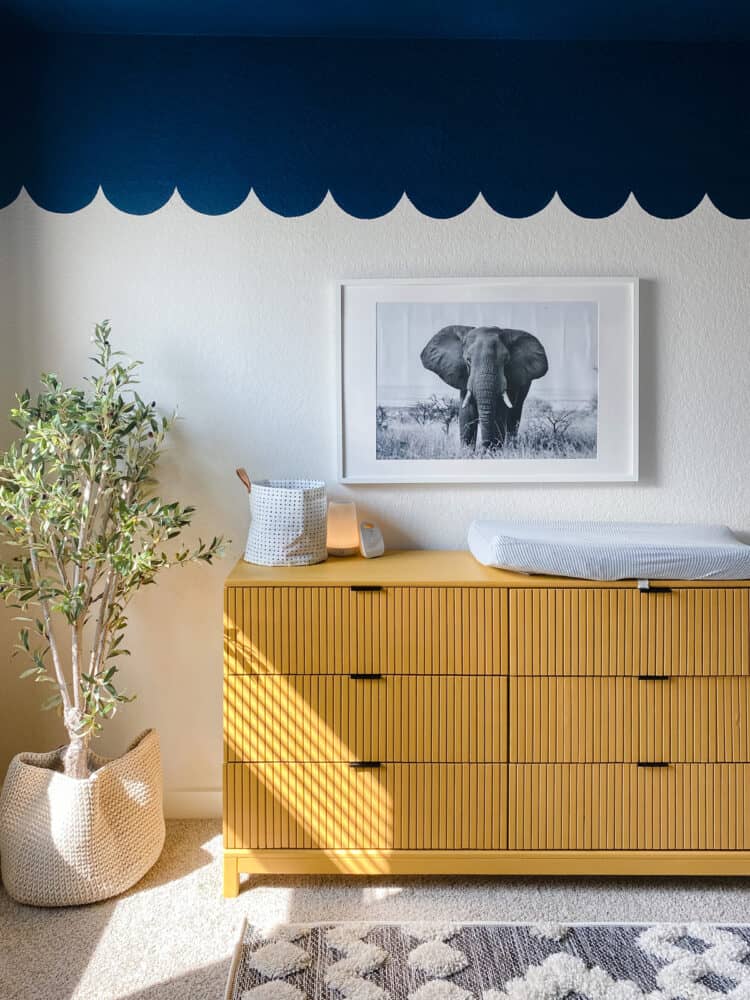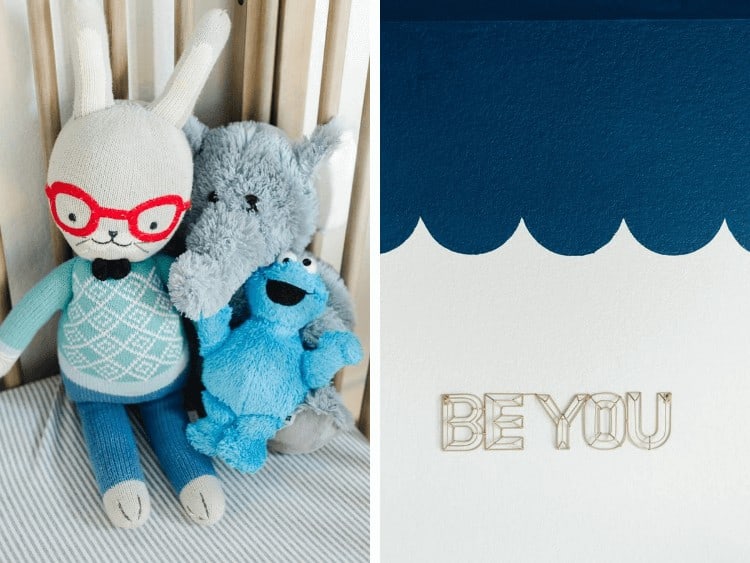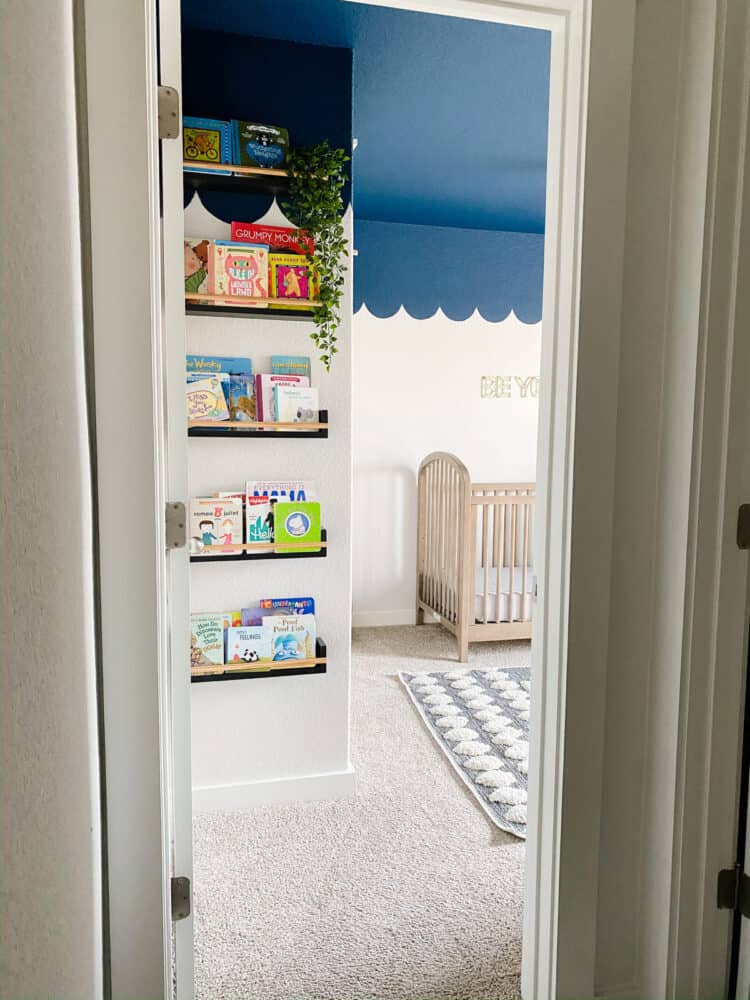 I can't get over how cozy the dark ceiling makes the room feel – Nocturne Blue ended up being the perfect dark-but-not-too-moody color for Grant's room. It feels bright and welcoming, but also like you're getting a big hug the moment you walk in the room.
Grant's walls were already white, but since I was painting I also decided to go ahead and give them a fresh coat. I used Smoky White (BWC-13), another color from the BEHR Color Trends 2021 Palette – it's really similar to the color we already had in there, but the key for me was the quality of the paint. The paint the builder uses is generally really cheap, not very durable, and prone to scuffing. Behr offered to let me use their brand new BEHR ULTRA™ SCUFF DEFENSE™ Paint which, like all of Behr's paint, is found exclusively at The Home Depot – it has the look of a flat paint (which I love!), but the durability of a gloss paint. It's incredibly durable, resistant to stains, and because it's flat it makes touch-ups really simple. It's perfect for a kid's space, so it was absolutely worth it to me to re-paint the rest of the walls so I don't have to stress about the constantly-dirty-and-scuffed up look that often comes when you mix little boys with white walls!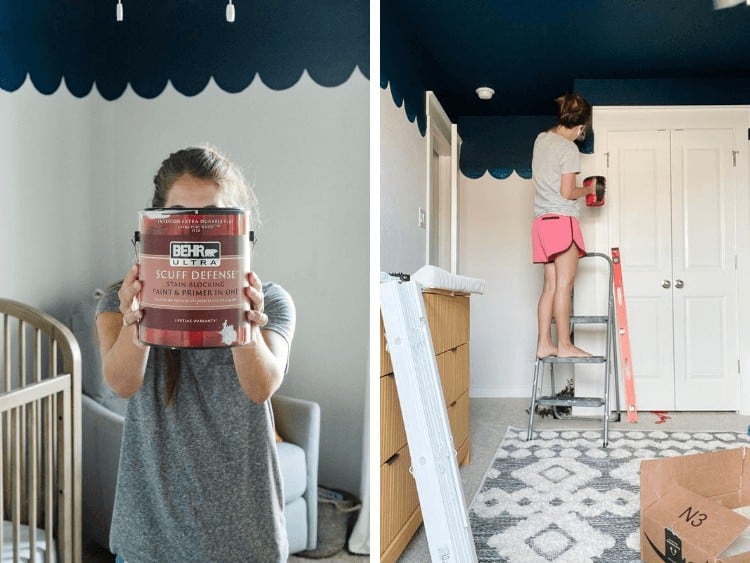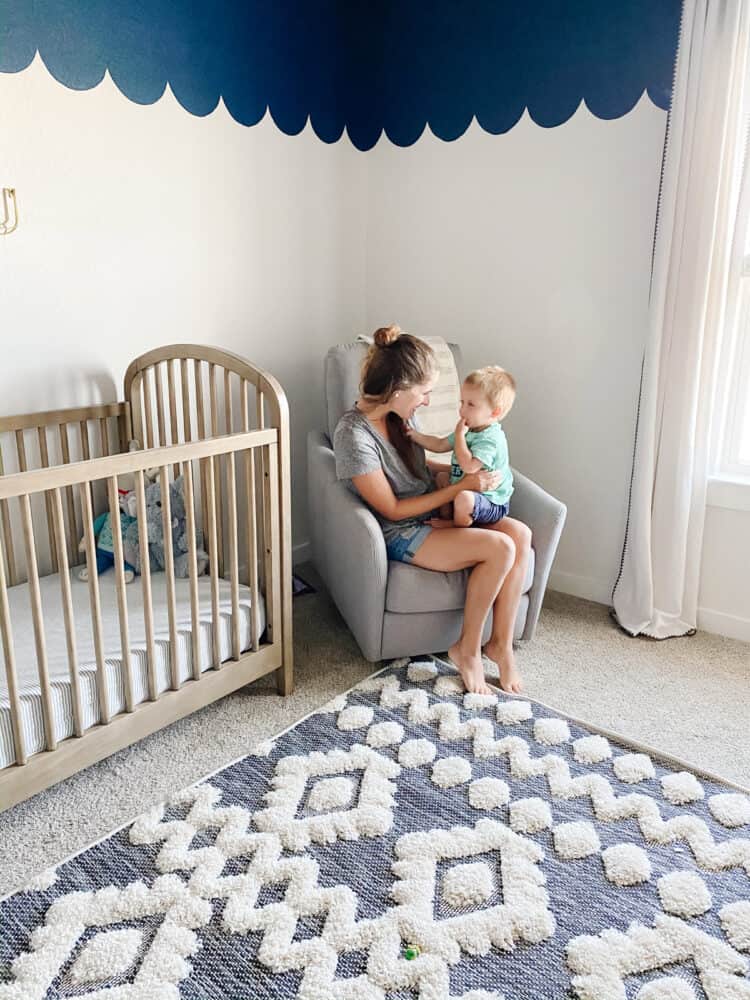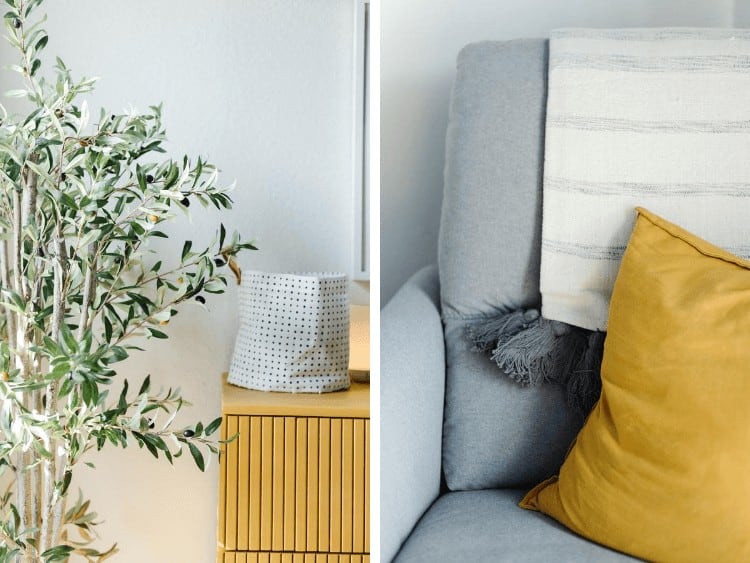 Oh, and did you notice the dresser?
Would you believe that's the same dresser that I painted back when I was pregnant with Grant?
I decided to give it a totally new look after being inspired by the BEHR Color Trends 2021 Palette – when I saw Saffron Strands (PPU6-02), I knew I had to use it as an accent color in the room. It's the perfect companion to Nocturne Blue, and you know I always love an excuse to use just about any shade of yellow in my house. All of the colors in the new palette complement each other so nicely, and evoke feelings of elevated comfort, which is perfect for Grant's nursery. 
I'll share the full details on that project in a separate post (because it was a beast of a project!), but I really feel like the fun, punchy color helps bring it all together and keeps things from feeling too serious.
I mean…how can you not smile looking at this room?!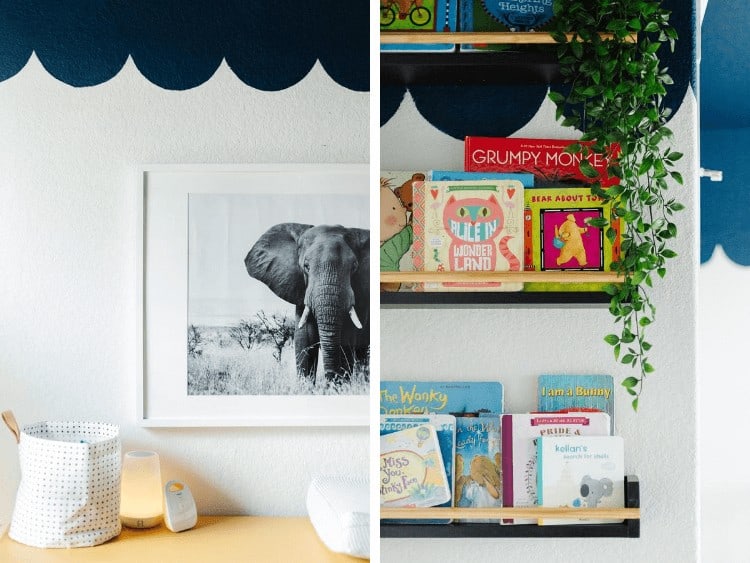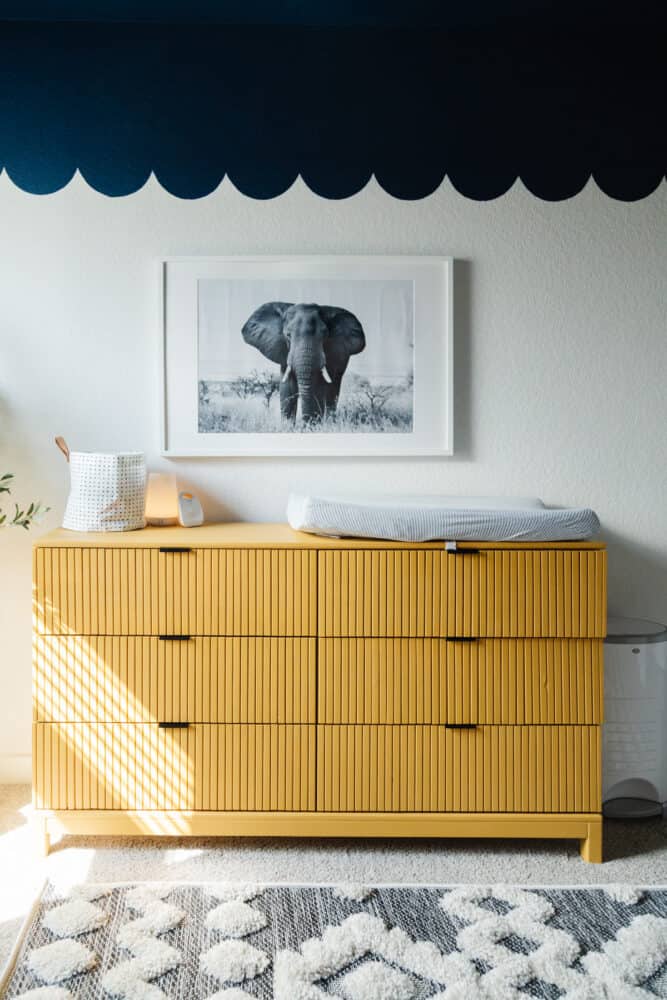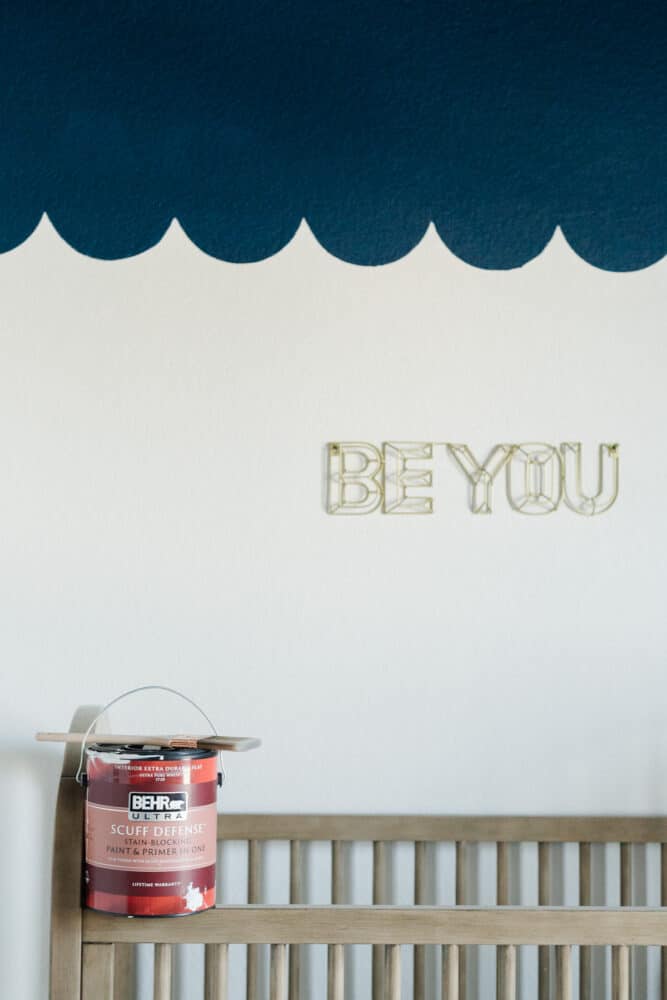 Of course, while we were at it we couldn't resist adding a few more fun decor pieces to his room as well! As you know, The Home Depot has thousands of on-trend decor pieces available on their site – and free shipping on orders of $45 or more! So, I did some shopping there for this space as well – the faux olive tree, the basket it's in, and the throw blanket on the chair are all from The Home Depot. I love that they have literally everything you need to make a room renovation so simple.
Be sure to head over to the BEHR Color Trends 2021 Palette page so you can see all of the (stunning) colors, and follow along with all of the other featured projects! And, be sure to follow along on Instagram because I'll be sharing all of the behind-the-scenes looks at how this room came together over the next few days!
Nursery Sources
Ceiling color: BEHR Nocturne Blue (HDC-CL-28)
Wall color: BEHR Smoky White (BWC-13)
Dresser color: BEHR Saffron Strands (PPU6-02)