These DIY book ledges are quick and easy to build, and look adorable in our son's nursery! Read on for the plans so you can build some for yourself! This post is sponsored by Kreg & Build Something.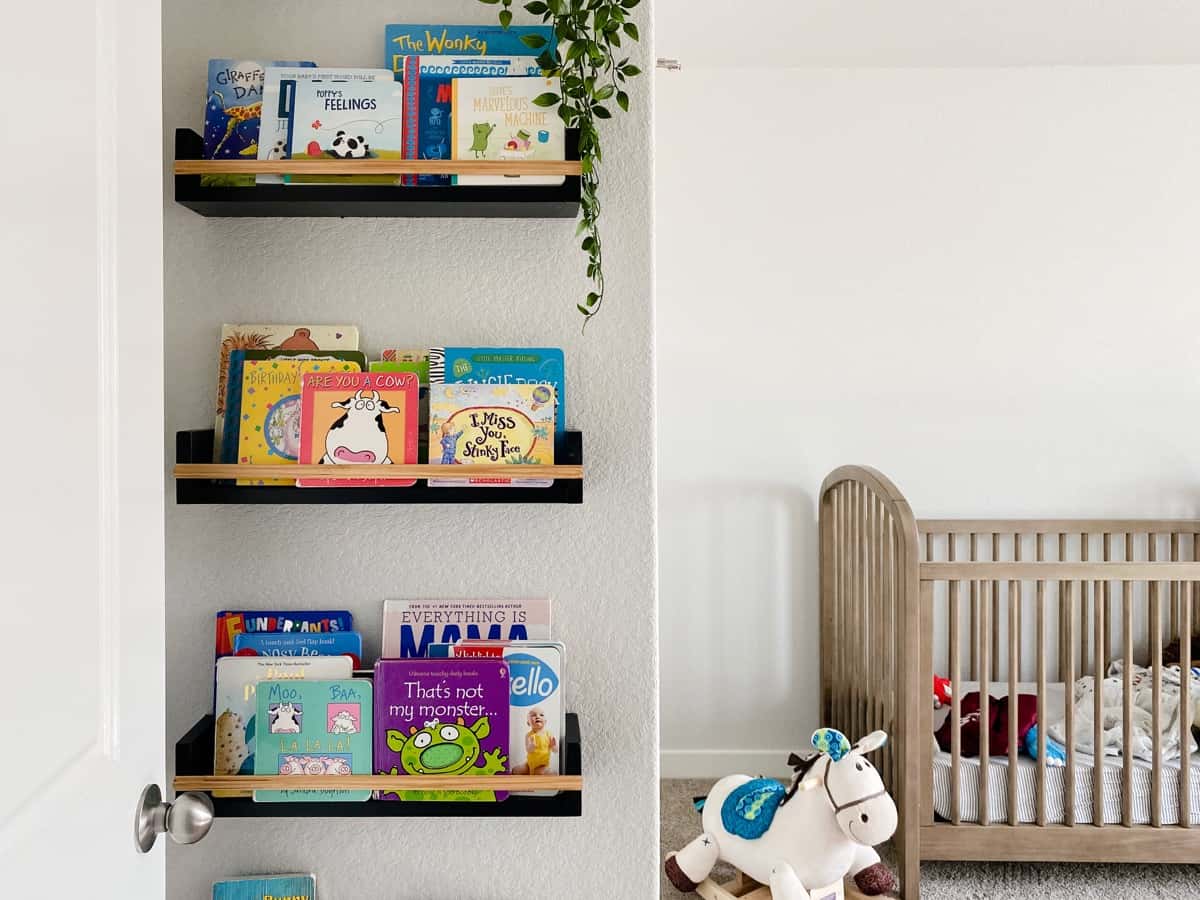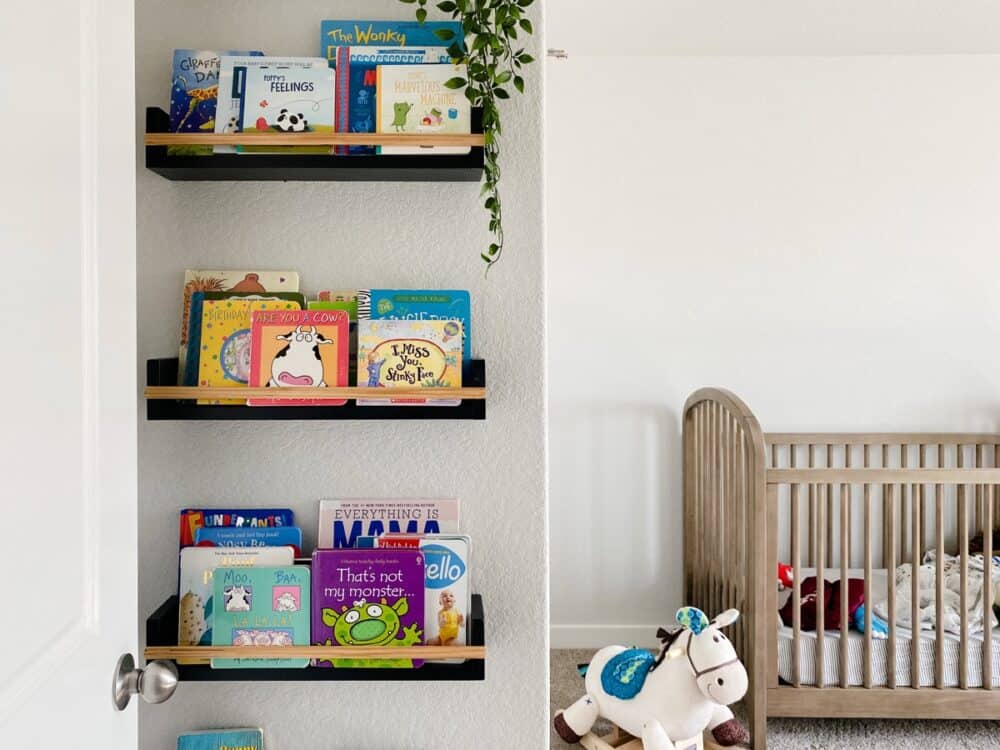 I mentioned last week that we haven't really touched Grant's room since we moved in way back in November – my original plan was to just leave his room alone until we decide to move him out of his crib.
The only problem is that for the last 8 months, all of his books have just been tossed into a drawer in his dresser and it's a nightmare every time we need to pick a book to read.
There isn't a ton of space in here for a bookshelf, so I decided to use this small, weird wall right by the door. Some simple, narrow book ledges were the perfect solution – they look adorable, and they can hold all of his books!
I partnered with our friends at Kreg and Build Something to make FREE, simple plans for you to build them yourself. It took me just one afternoon to build all five shelves, and all of the supplies cost right around $50 – that's just $10 per shelf!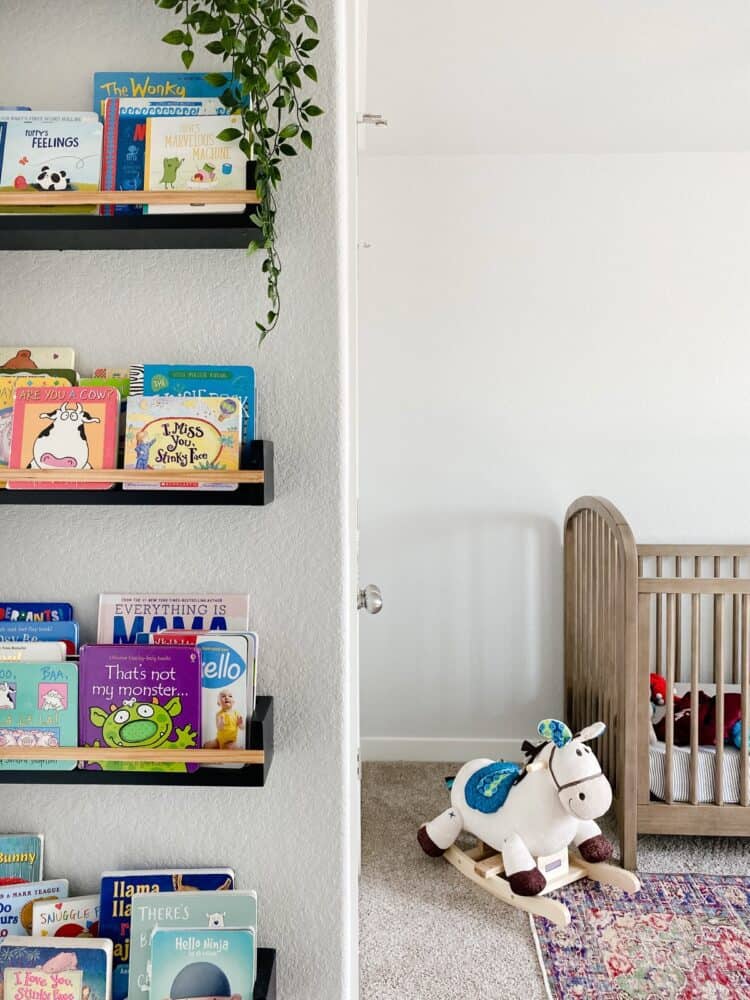 Now that I've finished this project, I'm feeling really motivated to make a few more changes in here. I'd love to paint the walls (and maybe the ceiling?!), add some curtains, and hang a bit of art on the walls. Even just a few small changes will go a loooooong way to making his room feel a little more cozy, and I love that with a nursery you can always make some bolder choices because it'll only last a few years anyways!
Grant is really loving the shelves – he's so happy to see all of his books at once, and I'm hoping I'll be able to encourage him to try some different books if I regularly swap out the ones that are at his level.
Because, if you have a toddler you know how exhausting it can be to read the same three books over and over every single night.
If you want all of the details on how to build these shelves, CLICK HERE for the plans. You can also click here to see my Instagram story highlight with all of the details I shared as I was working on them!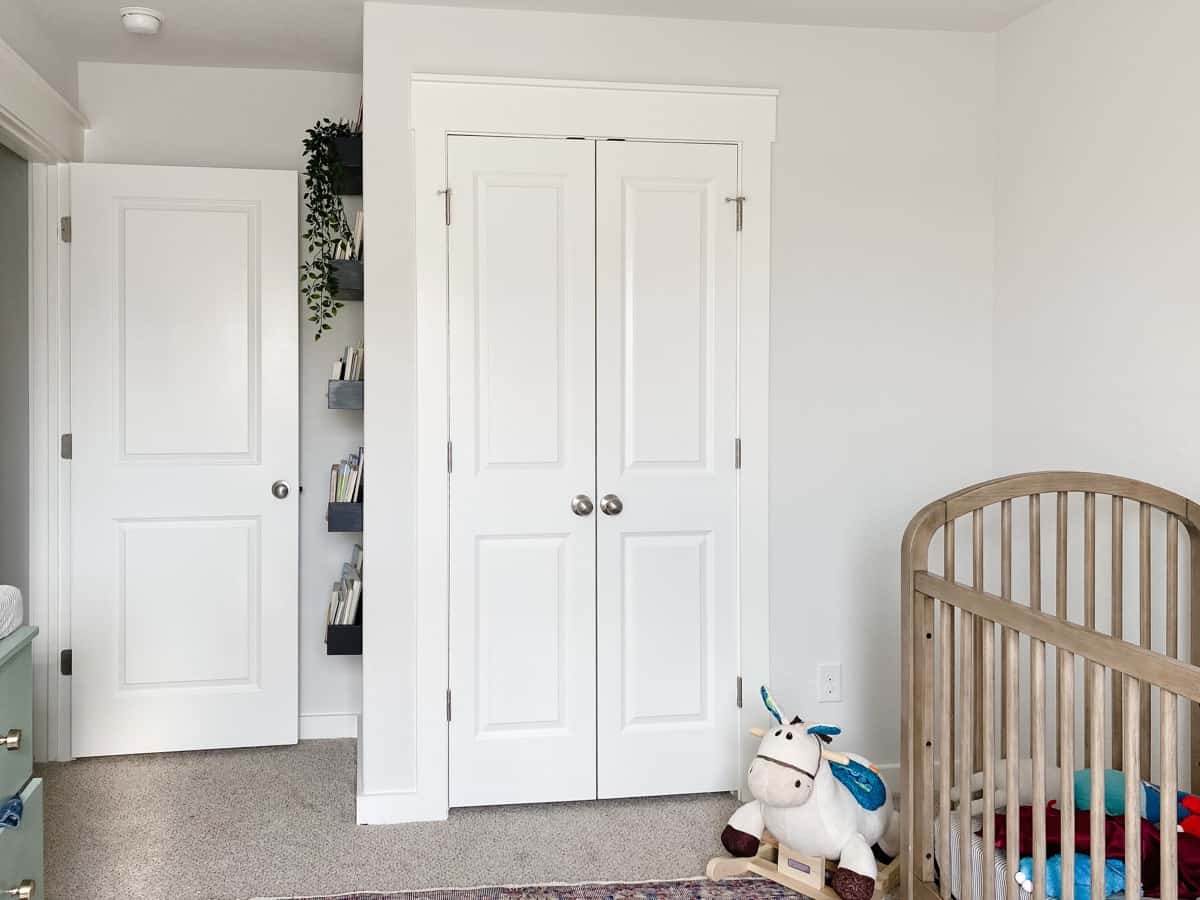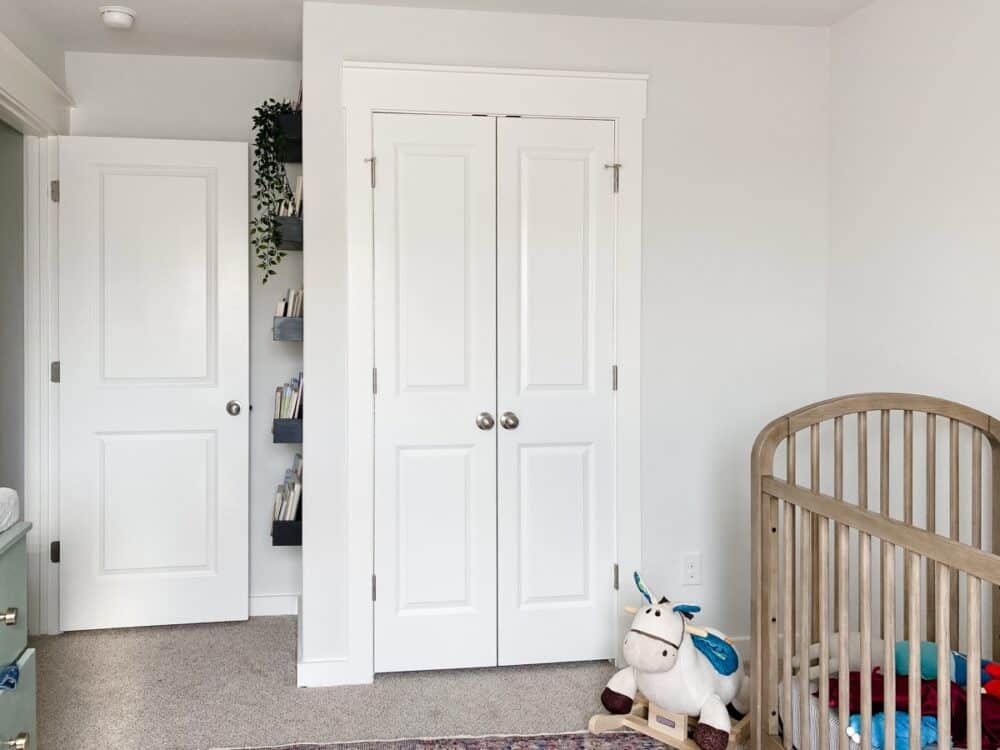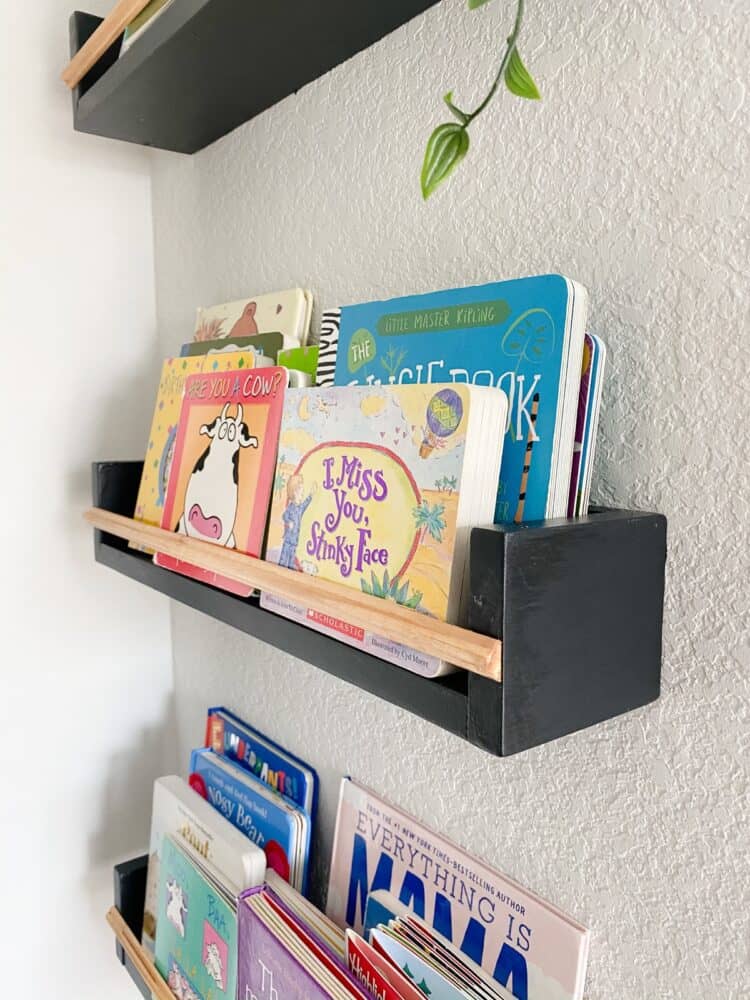 One of my favorite things about these little book ledges is that they're a great size for plenty of things other than books as he outgrows board books. He can use them to display some favorite small toys, we could use them as picture ledges, or he could even display some favorite crafts or drawings on them!
Plus, you know I love any project that not only improves the room it's in but also improves the view from other rooms. This space is the first thing you see when you turn the corner to go down this hallway, and it makes me so happy to see these little shelves instead of just a blank wall!
Of course, now it also has me thinking about other things I could do to make this hallway a little more cheery and a little less dull. But, we'll get there eventually.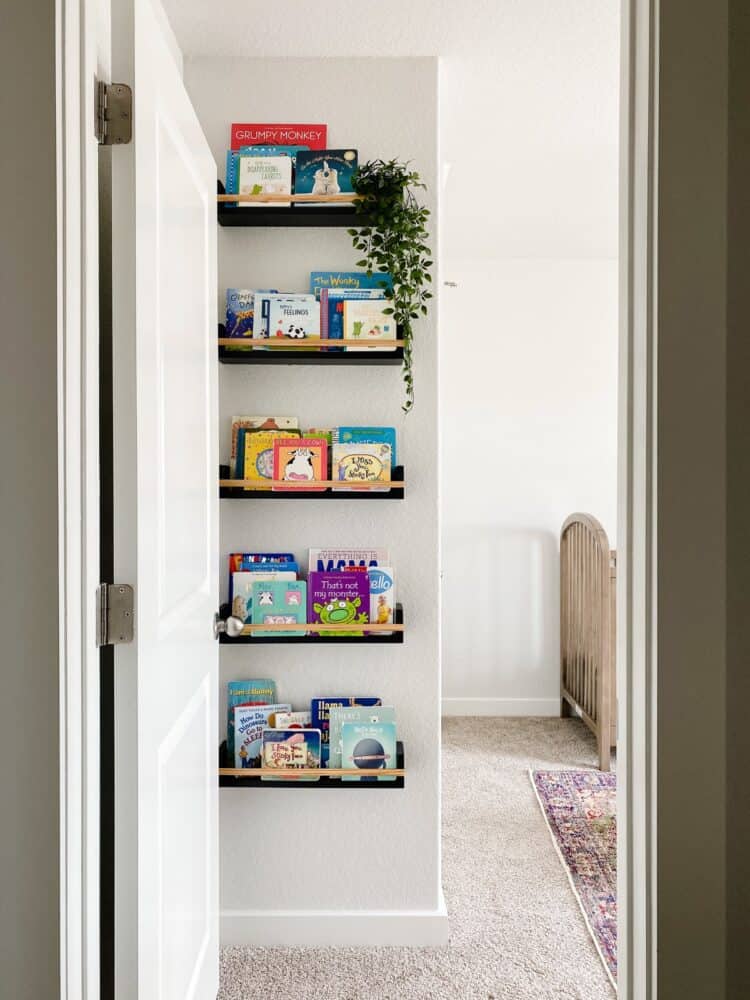 If you haven't taken the time yet to browse Build Something, I recommend you look around a little while you're grabbing the plans for these shelves! There are tons of accessible, thorough woodworking plans for almost everything you can imagine on there (including the nightstands I build for our master bedroom), and they're all FREE! It doesn't get much better than that, friends!
Give me all your best ideas for what I should do next in this room – what color should the walls be? Is it a terrible idea to paint the ceiling?