Answering all of your questions about our new house!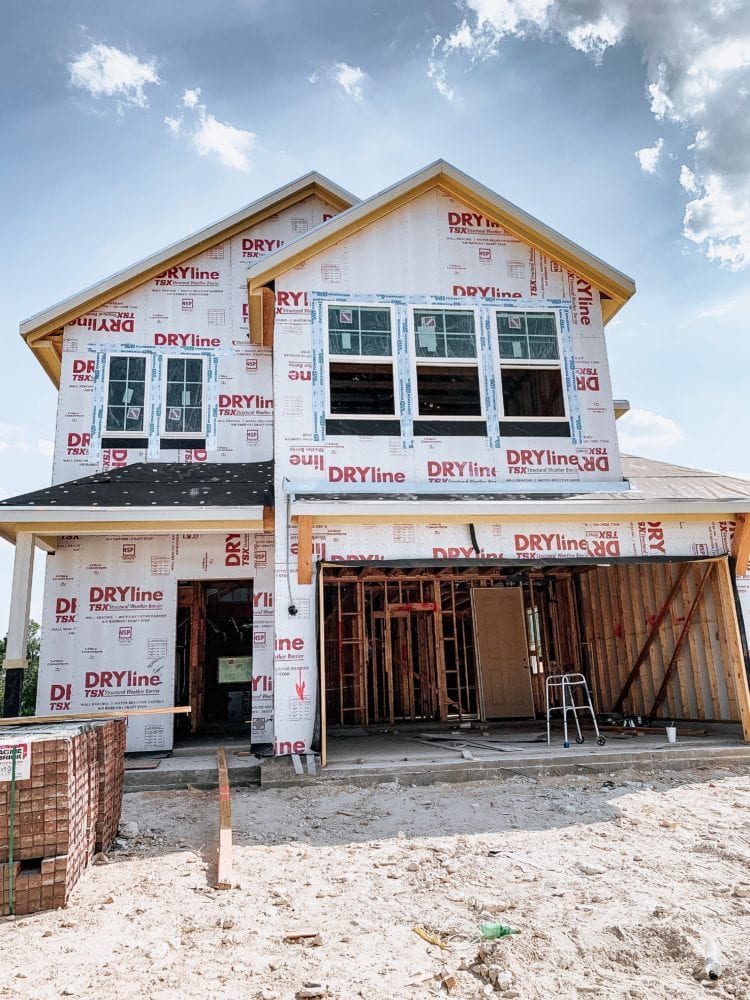 Did you see the big news?
I'm still having a hard time wrapping my brain around all of the change that's coming our way and all of the excitement you have shown for this big news. Your support means so much to us, and I can't even tell you how much we're looking forward to it.
There were a lot of questions about what to expect, what our plans are, and some of the logistics, so I wanted to share some details today.
If you didn't see my Instagram stories last week, I'd encourage you to start there (I added a highlight with all of our new house info!), because I shared some videos of what's been happening over the last few weeks, as well as a few progress photos of our house.
And now, let's tackle all of your questions about this big move!
Are you still going to be doing projects?
YES, yes, yes!
We might be moving into a brand new home, but that doesn't mean we won't be putting our personal touch on every inch of it. My project list is already about a mile long, and I cannot wait to get started.
Of course, since we're moving into a home with all new fixtures, it does mean that we likely won't be tackling many large-scale renovations (at least not in our own home) for the next several years. We'll be able to focus less on things like kitchens and bathrooms and more on things like adding personalized touches, creating built-ins, and turning a blank-slate house into a home that feels like ours.
I'm actually really excited about the shift because I feel like it will make many of our projects more accessible to those of you who want to personalize your home but feel intimidated by the idea of ripping out walls or tiling floors. We won't have to stress about replacing windows, appliances, a roof, or anything else – we can just focus on the fun parts!
To give you an idea of the projects that are already on our list, we'll be DIY-ing built-in bunk beds for Jackson, adding lots of trim and molding to the walls in our bedroom, adding a fireplace (the house doesn't have one!), and planting tons of trees in the backyard…and those are just the projects we'd like to tackle in the first year or so!
How does the timeline work out?
Building a new home can be tricky when it comes to timelines – it's honestly one of the main reasons I was so hesitant to build in the first place!
Thankfully, we were able to plan things so that it's highly unlikely we'll have any sort of gap in our housing. We are scheduled to close on the new home about two weeks after it is scheduled to be completed (so, if and when the completion gets pushed back, it should be fine), and then we have another week and a half of overlap between closing on the new house and needing to be out of this one.
So, in the end, we've got a solid three weeks between the current scheduled completion date and needing to get out of our current home. Our builder currently feels really confident that things won't get pushed back at all, but we know that things can always change.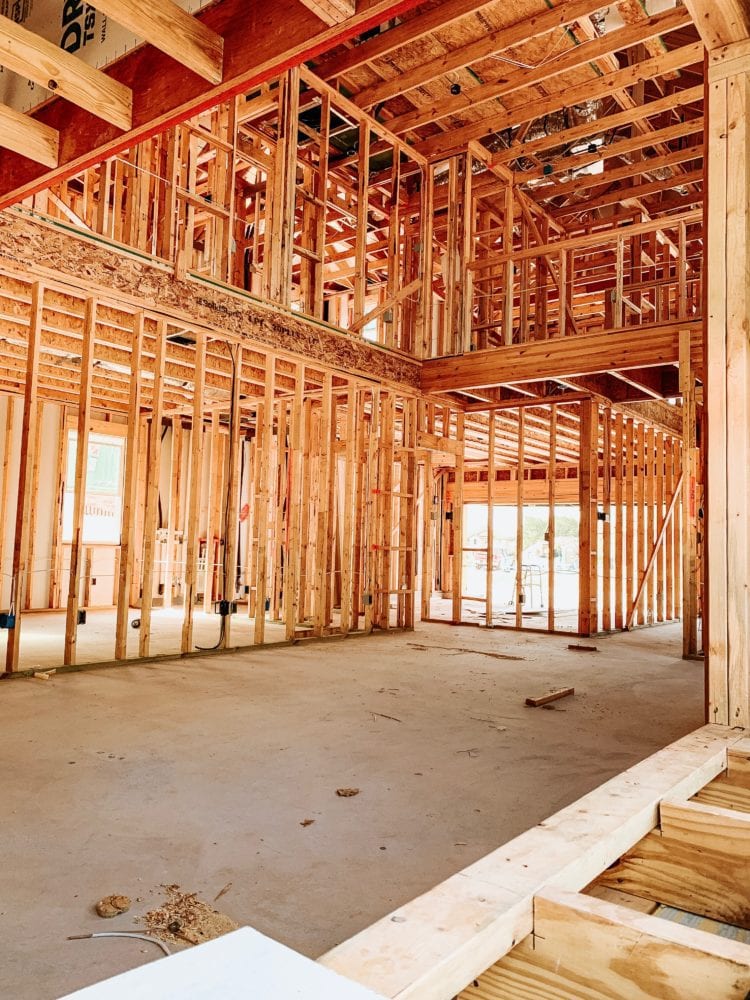 TELL US MORE ABOUT THE HOUSE!
I mentioned in our stories that this house checks almost every box for us. I had a few requests to chat more about what does and doesn't work for us in the new house. We'll obviously talk much more about this going forward, but here's a quick rundown:
What does work:
It has 9-foot ceilings everywhere, and 2-story ceilings in the living room
There is a bonus room upstairs that we'll use as a play room / movie room.
The master is very roomy and it's located downstairs!
The kitchen already has a built-in island, and is open to the rest of the home.
There are tons of closets.
There's a small covered patio in the back, and plenty of room to add another like we did here.
It backs up to a small greenbelt, and we will never have neighbors directly behind us (this was huge!)
The master closet is so big it's almost silly.
What doesn't work:
The pantry is awful. Like, laughably bad. We're already talking about how we could possibly use it for small appliance storage and store food in the cabinets instead – we'll see how it works out!
The layout of the kitchen/dining/living rooms isn't what we would have chosen. It's one big, long space and it'll be a unique challenge to figure out how to fit a sizeable table in the dining area without it being too crowded. We got over this once we did some looking around on our favorite blogs and realized it's laid out almost exactly like Chris & Julia's old great room – and they rocked it!
In a dream world, I would have loved a dedicated office space (or just a fourth bedroom).
And that's it!
Did you get to make any decisions?
Yes! This is a spec home and all of the decisions had already been made, but we were able to go into the design center and tweak a few small things. By the time we entered the picture, the house was about two weeks away from having drywall installed, which means that the only thing left for us to change was the flooring.
Thankfully, that's exactly what we wanted to change!
We swapped out the color of the carpet (which will be throughout the second floor), the vinyl plank (which will be throughout the main level), and the tile floors in the bathrooms and laundry room. It felt so great, because we originally didn't love any of the flooring choices and hated the idea of being stuck with them for years until we could afford to change them (which also felt wasteful since they're brand new). Now, we have flooring options we love and I don't see us wanting to change them anytime soon!
We were also able to add vinyl plank flooring into our bedroom (it was originally carpet), which was our only other complaint about the house!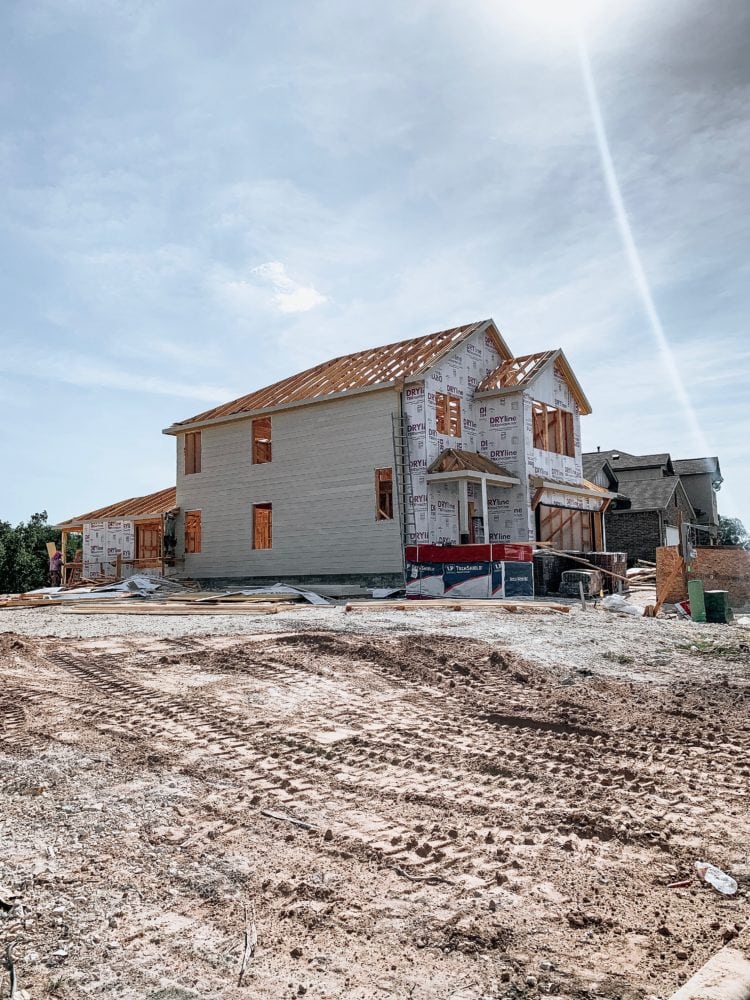 What's the first project you want to do?
We specifically planned on having a little over a week between closing on the house and needing to be fully moved in so that we can tackle our first project before we even move into the house!
(I told you we'd still be doing DIY projects!)
We miss the epoxy flooring in our old garage so much that we decided that replicating that project will be the very first thing we do in the new house. We want to complete the floor before we even put anything into the garage, and I'm so (so!) excited to have a clean and shiny garage floor again.
I hope this answers all of your questions, and I just want to thank you again for all of your support and excitement!
Let me know if there's anything else I can cover for you! There's still a lot to share in the coming days and weeks!