Let's chat about how I took my pantry from a hot mess to a totally organized and functional space in just an afternoon!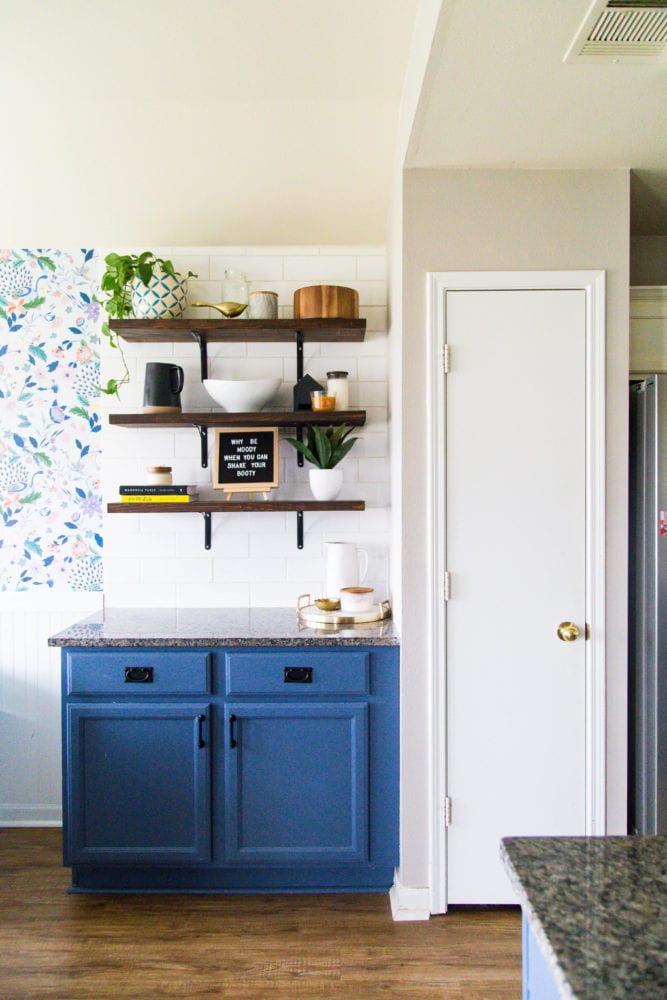 There's almost nothing in the world more frustrating than a disorganized, too-small pantry.
I mean, right?!
I absolutely loathe trying to find food in a cluttered and chaotic pantry, and if I'm being honest, I've never actually managed to maintain an organized pantry before. Pathetic, I know.
There's not much I can do about the whole "too small" thing, but I knew that if I put a little effort in I could probably get my pantry to a point where it's actually organized and, you know, keep it that way.
Since I'm currently going through the Konmari method (you know, Marie Kondo's magic method of decluttering) to get my house clean, I figured it was high time to knock the pantry out. I talked about how I organized my kitchen last week, but I figured the pantry is kind of its own beast, so we'll talk about it separately.
Oh, and, I've got a video! Be sure to watch if you want to see the pantry re-organization in action along with a not-at-all-awkward (totally awkward) peek at my dance moves.
Piqued your interest there, didn't I?
If you're reading this in a feed reader, you'll need to click over to the post to see the video! You can also just click here to watch it on YouTube.
How to Organize a Pantry
Alright, are you ready for all of my best tips for how to get an organized pantry and keep it that way?
First, a couple of disclaimers:
This isn't the most Pinterest-worthy pantry you'll ever see. It's a real pantry used by real people and ain't nobody got an extra $500 laying around for cute pantry baskets and bins. I'm working (mostly) with what I've already got.
These tips aren't anything revolutionary! But, if you really take your time and take each tip to heart, you'll end up with a pantry that's far better than where you started. Promise.
Got it? Good. Let's do it. Here's the official before at after, just to prove that I actually did organize my pantry.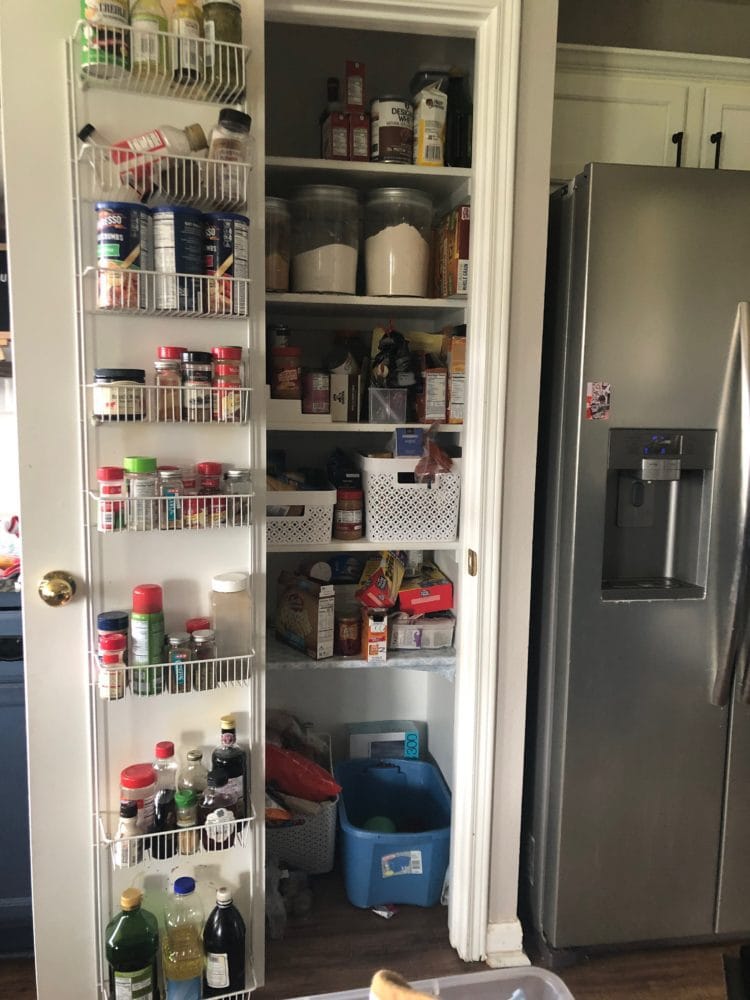 Step One: Gather your supplies
Before you even begin, you're going to want to get all of your pantry organizing supplies in one space so that you know what you're working with.
I recommend starting with any baskets you already have in the house that would work in the pantry – I already had several in my pantry that I was using (just not well), so I pulled those out with the food.
Once you've gathered everything you have in your house and you know what you're starting with, you may need to do some shopping. If you do, I highly recommend that you just go out and buy waaaaaaaaay more than you need. Splurge. Go a little crazy. Anything you think you might use, grab it.
Then, once you're done organizing and you see what you actually need you can take back anything that doesn't work. This saves you about a zillion trips back and forth to the store, and makes your life a lot easier.
I like to use these containers for dry goods like flour, sugar, rice, etc. They're pricey, but we have a set that we've been using for about 10 years and they're still working great for us. I'd recommend just slowly buying them over time (I'm going to be doing this to replace some of the other ones I have so that they all match). I also love these baskets for pantry organizing (they're cheap and sturdy, and they come in tons of sizes!), and these are great for smaller things like packets of hot chocolate or tea.
Step Two: Remove everything (yes, EVERYTHING!), then clean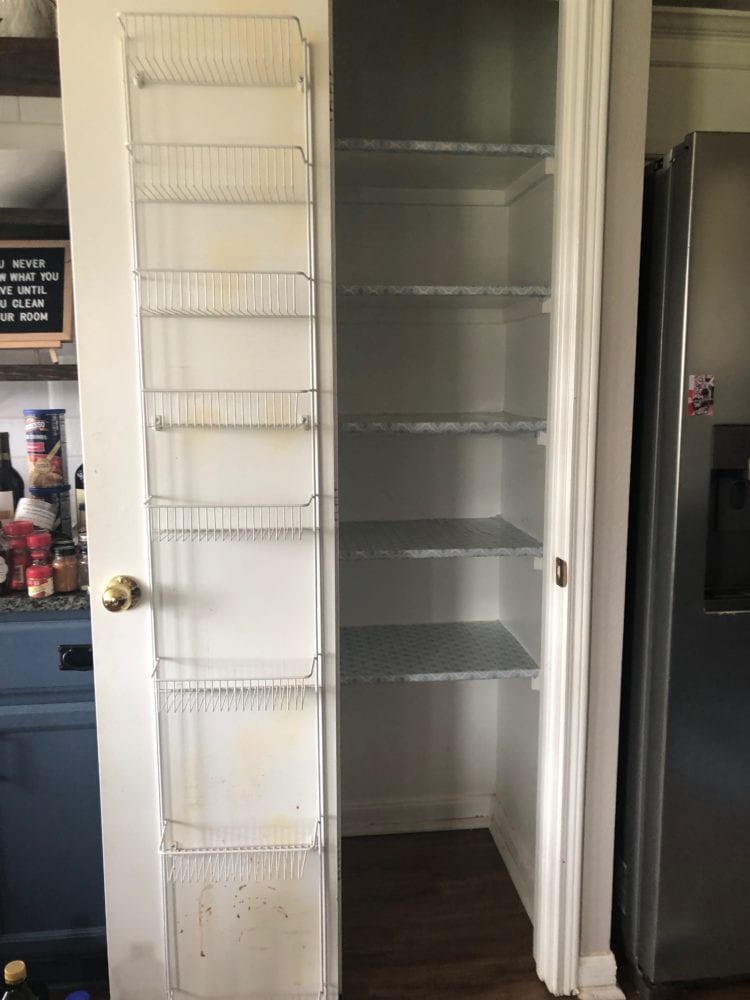 Your next step is to take literally every single thing out of your pantry and spread it all out on the counters.
I know you've heard this tip before if you've ever read anything about organizing at all, but I can't emphasize enough how important it is. You'll never get your pantry (or really, any space) fully organized if you don't remove absolutely everything from it. You're bound to miss things, or get lazy and decide to skip a shelf, and it just. won't. work.
Trust me.
So, get it aaaaaaaaaall out in the open. Now is also a great time to put on a good podcast or some music that makes you dance. You'll be here a while.
Before you even look at the food, take a few minutes to clean out the inside of your pantry. This is a great time to add shelf liner, paint the walls, or do anything else you want to do to make things look cute and happy.
Step Three: Throw out any expired food
This is a bit of an "of course" moment, but your next step is to go through all of the food and throw away anything that's expired or that you just won't eat.
It's a great opportunity to toss that Halloween candy from two years ago that you're saving for a rainy day, or that protein powder you bought because you were gonna get healthy but then you decided that a healthy breakfast is overrated.
What? I don't know anything about that.
As you go through the food, you can slowly start to sort things a bit to make the next step easier. If you have extras of anything (I think we had four jars of peanut butter – ?!), group them together as well.
Step Four: Separate the food into categories
Here's where things get fun.
It's time to separate your food out into some general categories. I like to do things like "chips", "bread and pasta", "snacks" and "dinner essentials". Your categories will vary wildly depending on how you use your food and what kind of containers you're working with, but you can figure it out as you go.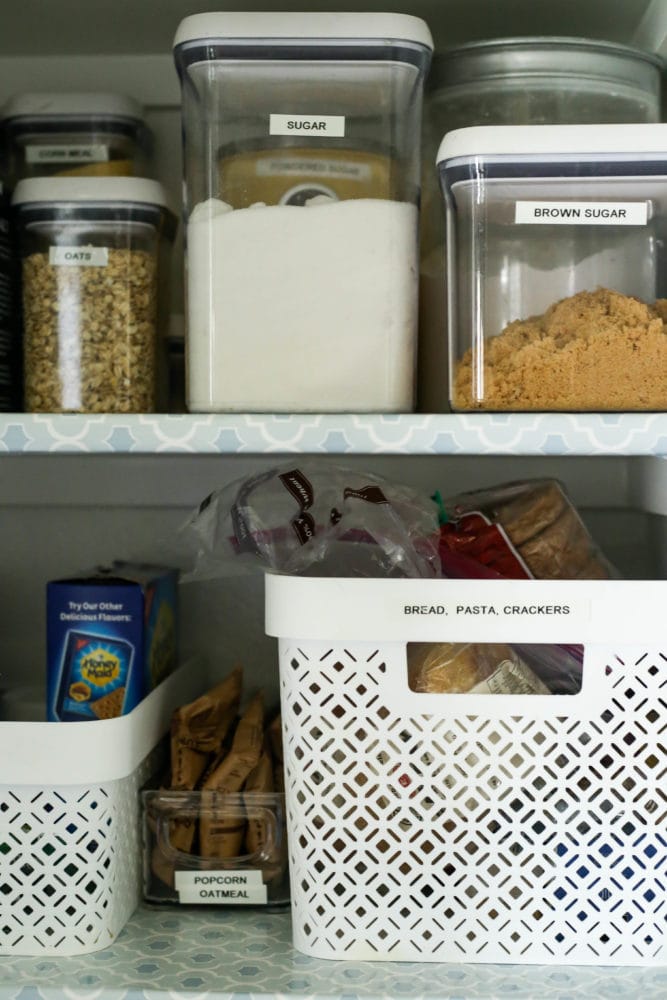 As you separate them, designate different baskets or containers for each category. Here's how I broke mine down:
Canned goods (stored on one of these)
Bread, pasta, and crackers
Snack foods
Chips
Hot chocolate, tea, and sweetener
Kid snacks
Baby food
Baking goods
Surplus
Each of the above categories is stored in a basket (other than the cans), so it's easy to find what I need. Jackson has his snacks on the bottom shelf so he can grab them without help, I keep things like peanut butter, nutella, and protein bars with the snacks, and baking soda/powder, chocolate chips, and sprinkles go with the baking supplies.
Again, your system will vary depending on how you cook and what you have in your pantry, but the basic idea is to get most of the food put into baskets by category so it's not all just sitting on the shelves.
Note that I also have a "surplus" basket – I keep this in the top of the pantry and it's for anything I have extra of. If I have too much rice to fit in my rice container, the bag goes up in this basket. If I have multiple jars of peanut butter (spoiler: I do!), they go up here too. When I run out of something, I check the basket to make sure I don't have more before I add it to my grocery list.
Step Five: Label eeeeeeeverything
Listen very closely to this step, please:
This system will fall apart if you don't label everything.
Why? Because your kids, husband, friends, neighbor – whoever else uses your pantry – will not know where things go if they aren't labeled. And they'll just toss things back on the shelves like heathens, or even (gasp!) put them in the wrong basket.
You don't want to play around with this. Label everything. Please.
I use this label maker, but this one is really great too. I don't even care if you use a Sharpie and some packing tape – just label stuff.
Step Six: Put it all back!
Now you're finally ready to put everything back.
I highly recommend that you spend some time thinking about how you use your pantry as you're putting things away. If you rarely bake, don't put the baking supplies in a prime area that's easy to reach, put them a little higher up or further back on a shelf.
If you're constantly baking, on the other hand, can I come visit? I mean… put the baking supplies where they're easy to reach in a hurry.
Try to avoid layering things too much (don't put one basket directly in front of another), and try to keep it so that you can see everything at a glance. This would be a great time to add a storage system to the back of your pantry door, maybe something on the walls if you've got room. The more storage space you have, the better!
And the final step?
Bask in the glory of an organized pantry that will (fingers crossed) actually stay organized.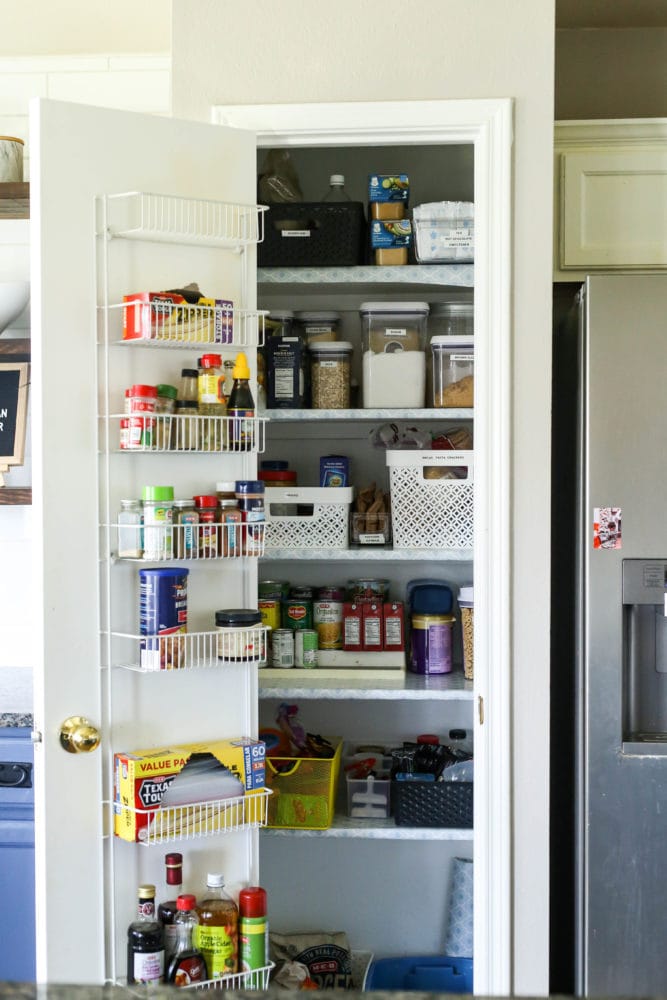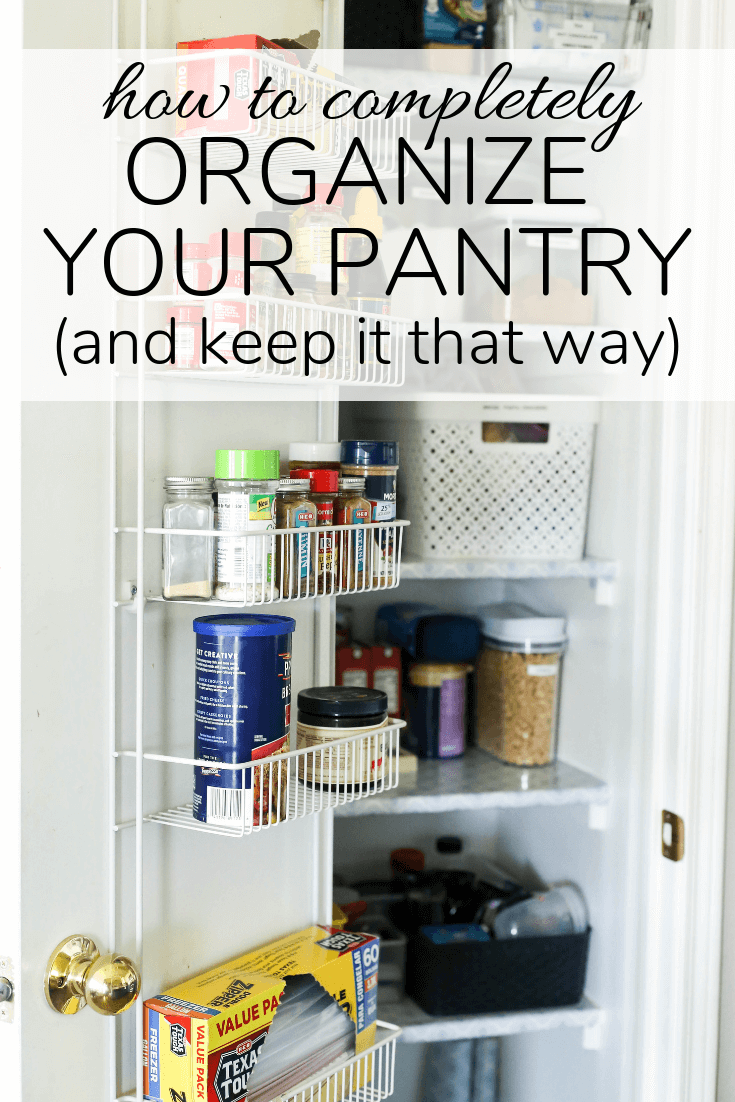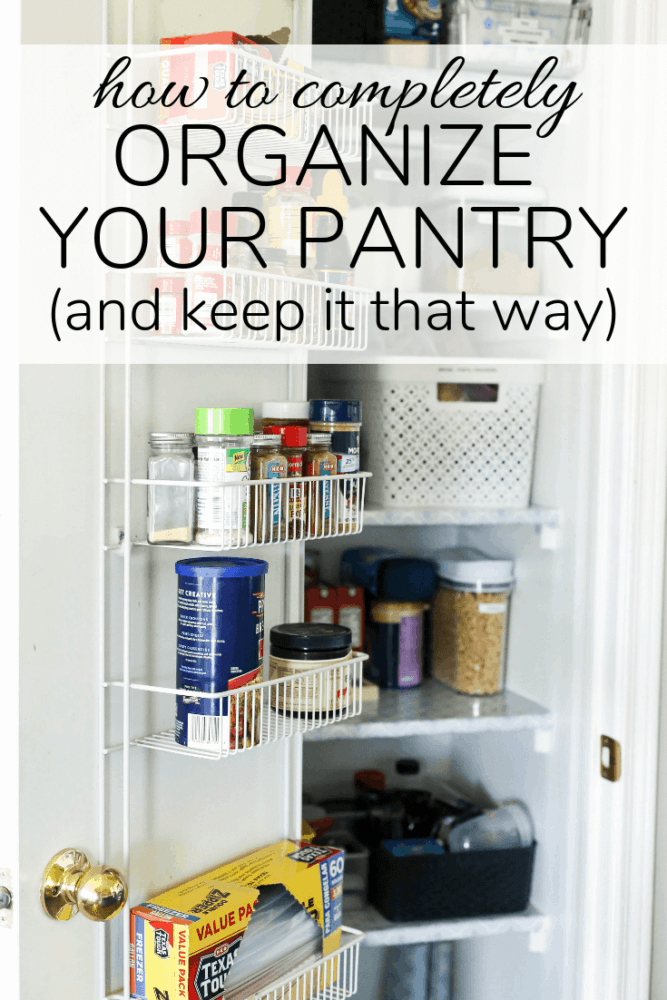 It's only been a couple of weeks since I whipped my pantry into shape, but I feel really good about my chances of keeping it all clean. It feels so good to open that door up to such a neat and organized space that I can't imagine letting it fall back into disarray!
What are your best pantry organizing tips?! Next week I'll be back to my regularly scheduled Konmari method posts – we've only got two left before we're DONE!