8 Amazing (and Affordable) Powder Room Ideas
Today I'm sharing a bunch of gorgeous powder room ideas – if you're planning on renovating a small bathroom in your home, these powder room makeovers are sure to inspire you! 
So, there's this room in my house that is a little embarrassing. We've all got at least one of those, right?
(I mean, let's be real – right now I've got at least two or three of them, but we won't go there.)
I'm hoping, however, to change that soon.
Our powder room is tiny, has a lower ceiling than the rest of the house, is dark, awkward, and the toilet is practically child-sized (whyyyyyyyy?). I love having a powder room downstairs right off the kitchen, but I sure do wish it wasn't so dang ugly and small.
But! The beautiful thing about these tiny little rooms is that a smaller room generally means it's cheaper and easier to make it beautiful. There's less space to renovate, so you're naturally going to save at least a little bit of money! I've been gathering ideas for our powder room for a long time now, and I think soon it will finally be time for me to knock it out.
My plans aren't totally solidified yet, but I've gathered some really great ideas and I wanted to share a few favorites with you today! Help me brainstorm – what are your favorite things to include in a powder room?!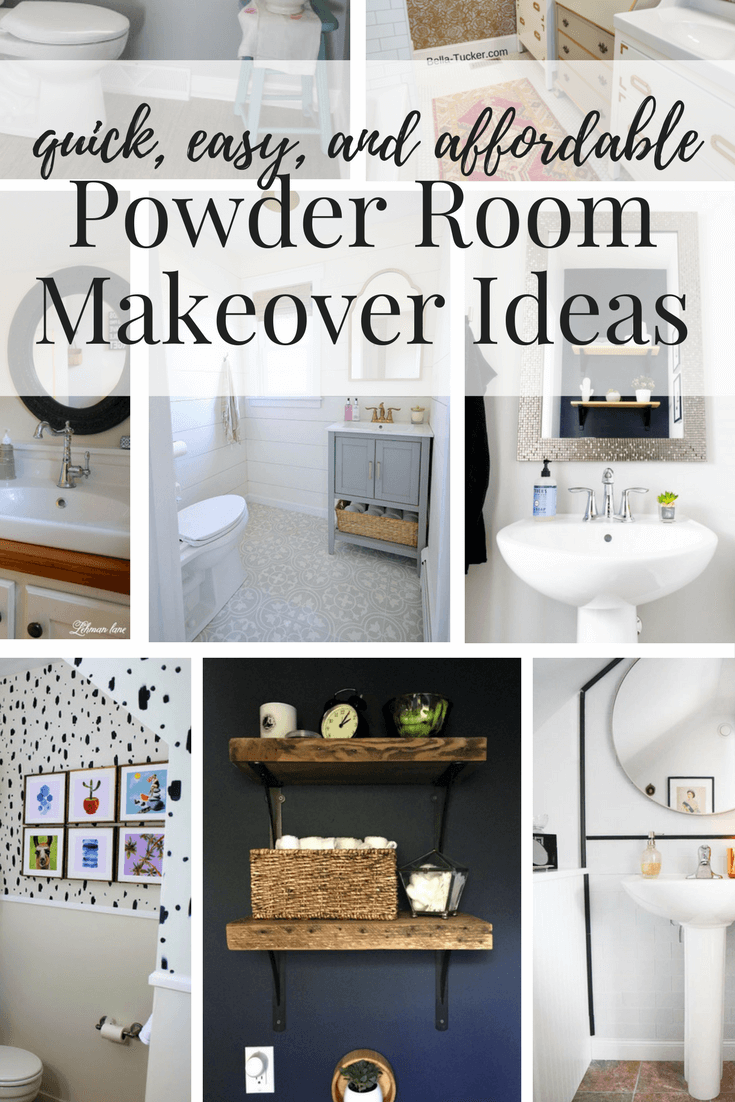 Powder Room Ideas: 8 Great Makeovers
Are you ready for inspiration? Let's do it!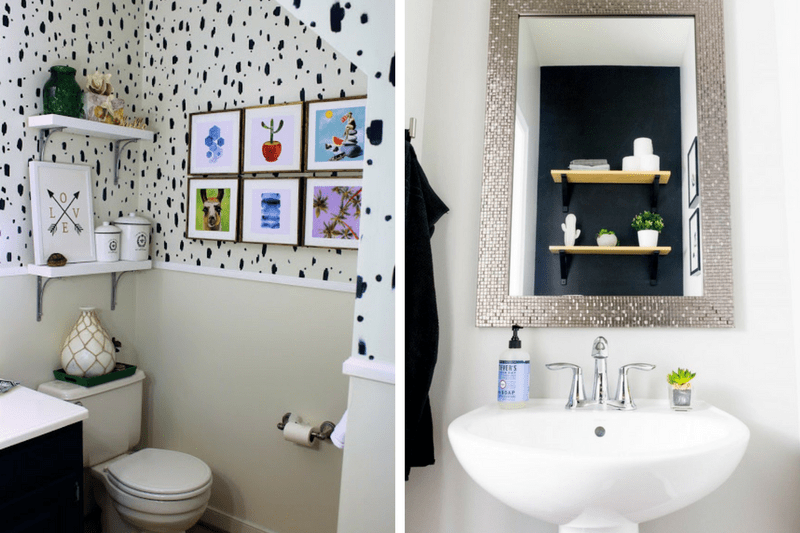 Knock It Off Kim // By Brittany Goldwyn
Y'all, the paint treatment Kim did in her powder room is SO FUN! I'm always a mega fan of black and white, and I think a powder room is such a perfect space for a fun little splash of whimsy. I also love the  colorful art prints she picked out, and the angles in that room are to die for! Brittany's powder room looks to be about the same size as ours (AKA: tiny), which gives me hope. I love the darker back wall, and the open shelving is similar to what I'm thinking about doing for our bathroom. Also, can we talk about that mirror? So much sparkle!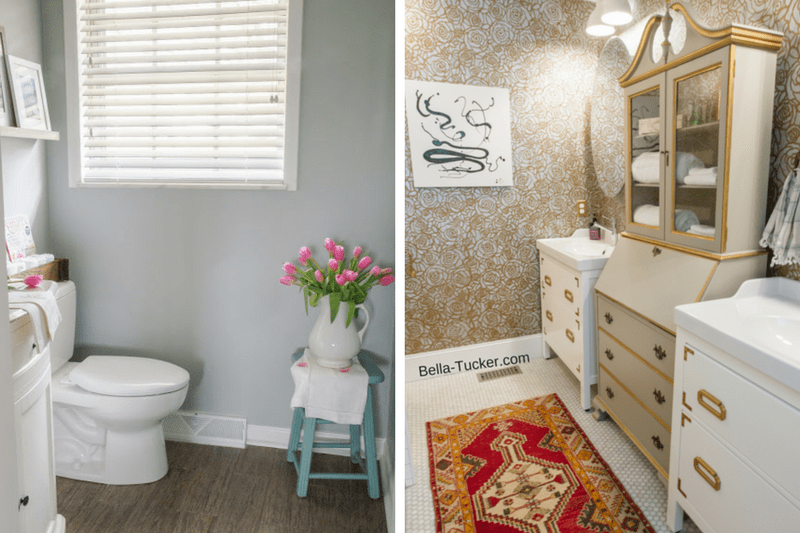 Postcards from the Ridge // Bella Tucker
I'm really inspired by the muted colors and calming feel of the powder room from Postcards from the Ridge. I also always seem to forget how much of an impact a little bouquet of fresh flowers can have! And, oh my goodness, the glam that is just oozing out of Bella Tucker's powder room. That wallpaper is a total show-stopper, and I love the contrast of that vintage rug with all of the gold. It's perfect!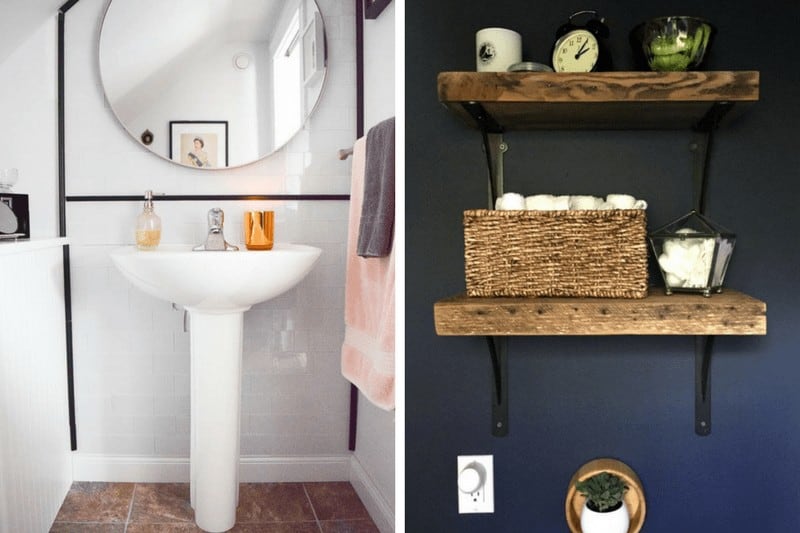 PMQ for Two // The DIY Bungalow
Ariel from PMQ for Two did something very similar to what I'm planning with this peel & stick feature wall! I love the black accents on it, and I love how big of an impact you can make in a room with such a simple change. Her pedestal sink makes me really want to get rid of our vanity but it's literally the only place to store anything in that room so it's a bit tricky. I'm in love with the dark wall color that DIY Bungalow used – the cute little round shelves with plants in them are so adorable too! I'm definitely thinking we'll do some open shelving above our toilet – I'm always drawn to that in powder rooms!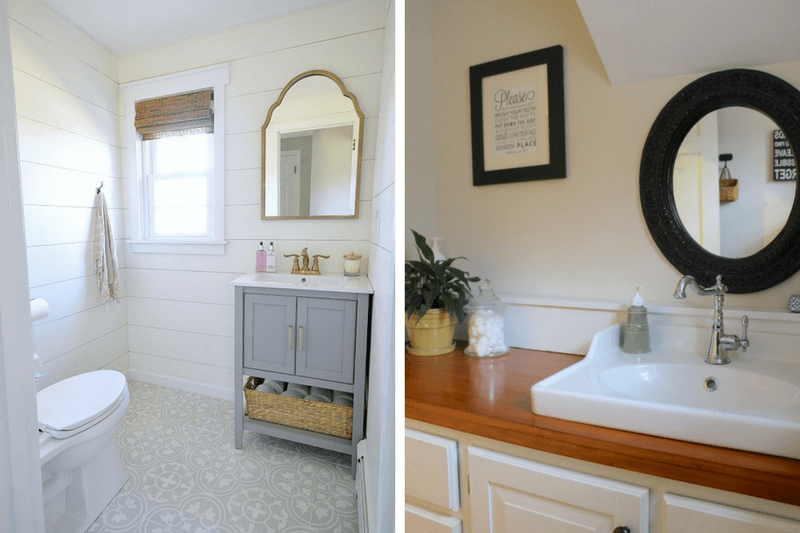 Wife in Progress // Lehman Lane
Y'all – that bathroom from Wife in Progress! I love every single detail – the blue vanity, that floor tile, the shiplap! Swooning all over the place. I'd really like to shiplap our powder room but I can't seem to get Corey on board. Anyone wanna help me convince him?! And, can you believe that wood counter from Lehman Lane is a DIY? I absolutely adore it and I'm really tempted to consider something like that in ours – it's such a gorgeous option, and so easy!
Okay, I feel like maybe I have too much inspiration now. I want to do all of the things! Help!
UPDATE: 
Here's a look at what we ended up doing to our powder room. And if you want more bathroom inspiration, here's a look at our master bathroom renovation, and our kids' bathroom renovation.