We just finished adding cedar planking to our master bathroom ceiling, and the results are stunning! Read on to find out how to add a DIY wood ceiling to your home.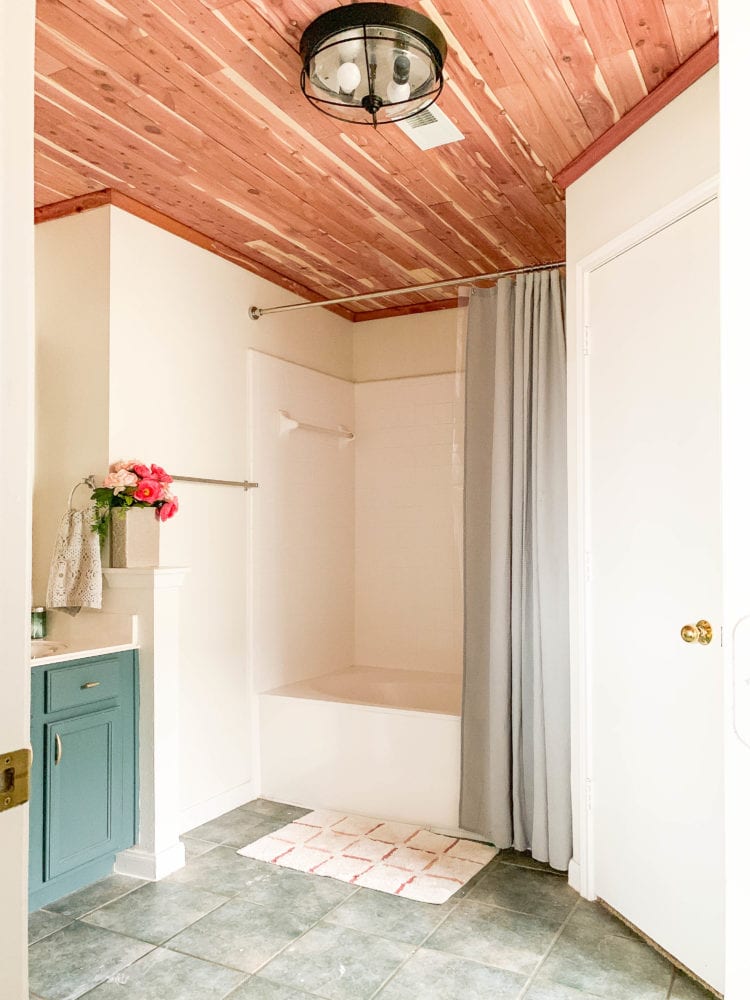 This post is sponsored by Cedar Safe, and contains affiliate links but all opinions are 100% mine! Thanks so much for supporting the brands that help keep Love & Renovations running.
Y'all.
Y'all!
I'm so excited.
Over the last few months, Corey and I have been working on slowly transforming our bathroom one small project at a time. We're getting ready to take a little break from this makeover (more on why soon, I promise!), but we wanted to squeeze in one more project before we divert our attention for a couple of months.
Here's a quick recap of what we've done so far:
We've still got a few projects up our sleeve (including the one that will be the most transformative – painting the floor!), but we have other things on the horizon so that'll probably wait until summer. However, last week I did manage to squeeze in some work in here and added something that makes my heart skip a beat every time I walk in the room.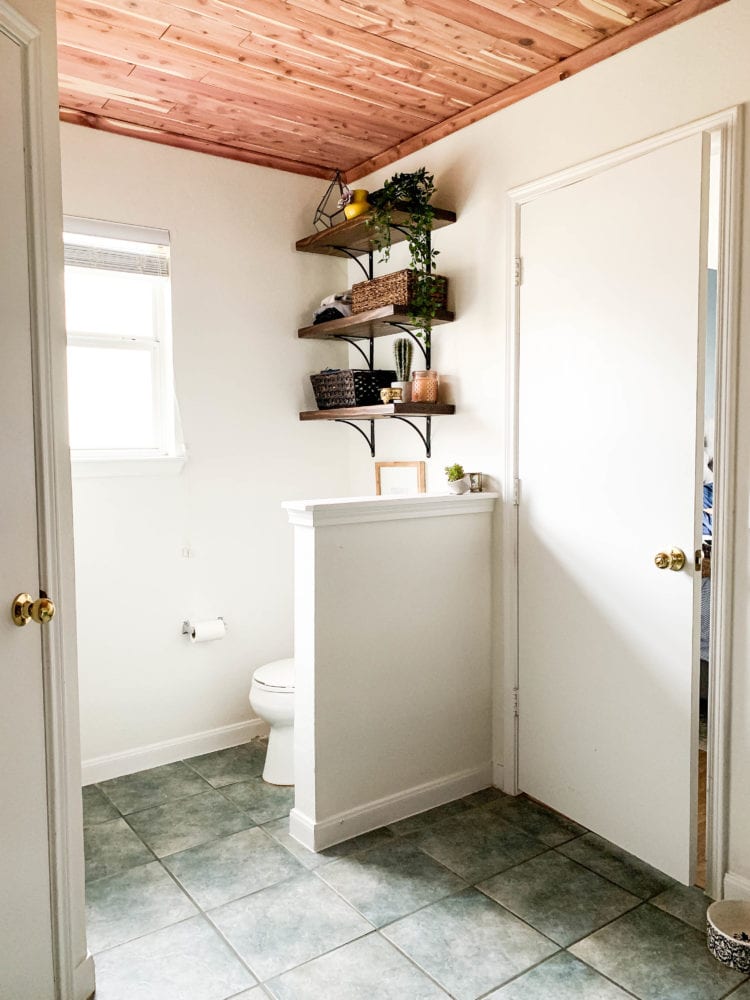 Is it awkward to call our new cedar-lined ceiling yummy? Sexy? I don't know what the right word is, but it's working for me and I'm loving it.
If you've been around for a while, you'll know that this actually isn't the first time we've lined a ceiling with cedar planks. In our old house, we did the exact same thing when we were renovating our master bathroom. I loved it so much that once we started on this bathroom I knew we had to try it again.
The ceiling is often the most neglected part of any room, but with a little creativity you can do something amazing that'll really be show-stopping. So, let me teach you how to install cedar planking on your ceiling for a huge impact on a pretty small budget – Cedar Safe was kind enough to send us the supplies for this project, but for our bathroom it would have cost us right around $300 for both the cedar and the trim. Not bad for such a huge impact!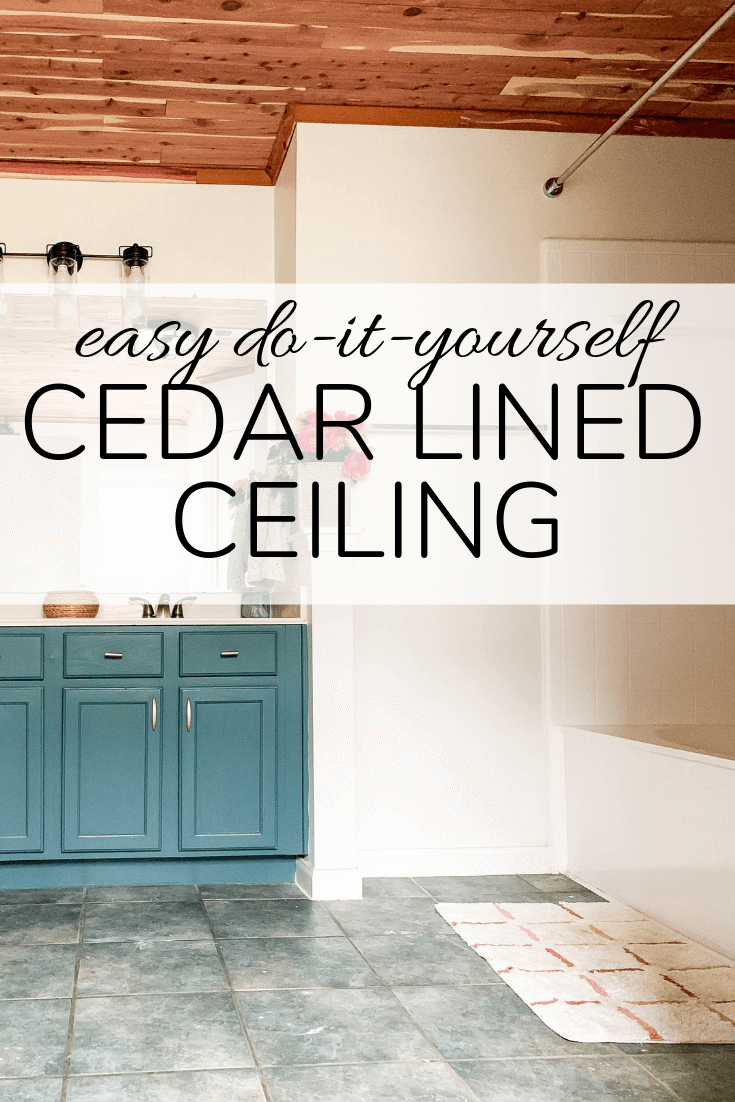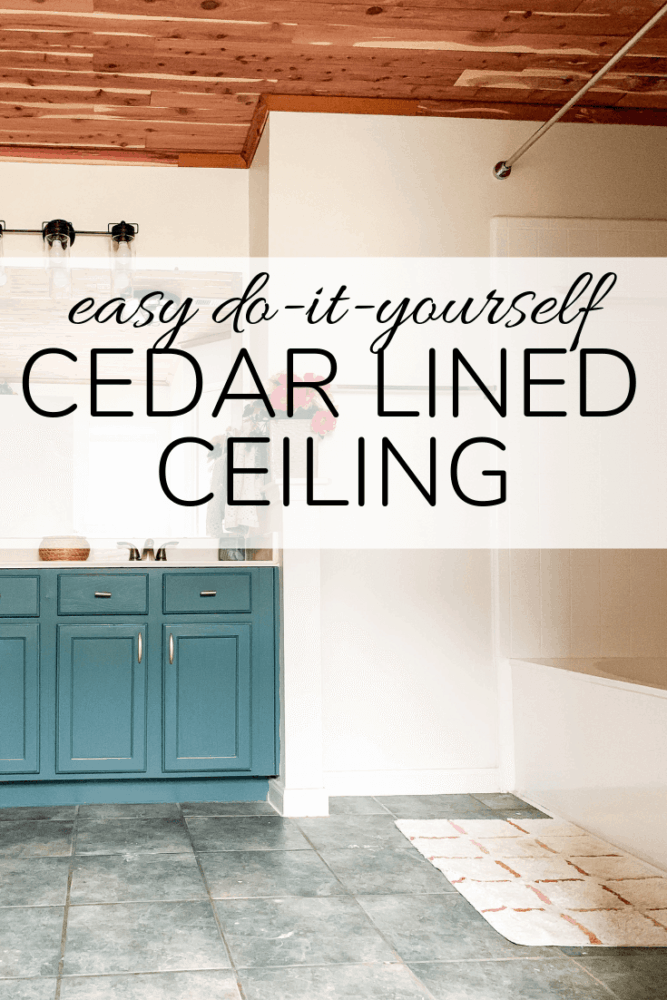 How to create a cedar ceiling
Materials
Step one: Determine square footage
The first thing you'll want to do is measure your room to determine how much you'll need. Our bathroom is a weird shape with lots of different angles on the ceiling, so I just measured it at the two widest points (rather than trying to determine the exact square footage). We ended up with plenty extra, but now I can line the ceiling in the closet too, if we want!
Just in case you need a refresh on your 4th grade math (no shame! It happens!), to determine your square footage, just measure how long the room is and how wide the room is (in inches), then multiply them together and divide the whole thing by 144.
For example:
Let's say your room is 127 inches wide by 149 inches long.
Multiply them by each other – that'll get you 18,923
Divide that by 144 (which is how many inches are in a square foot), and that'll get you 131.4
Always round up (extra is better than not enough!), so you'll need a minimum of 132 square feet.
When ordering supplies for a project like this, you always want to account for mistakes, weird cuts, or broken boards. Order about 15% more than your measurement. So, your total square footage needs would be somewhere around 152 square feet.
Make sense?
Once you've measured your room and gathered your supplies, you're ready to get started!
Step Two: Install your first row
Your next step is to decide which direction you want the planks to run. I had originally planned on starting my planks on the long wall (so I could go further without cutting boards), but once I got started I quickly realized that wall was way too wavy and not at all square. So, we switched over to the short wall since there's less chance of cascading issues when you're working with a shorter row.
Just like with laying floors, you'll want to create a staggered pattern in your ceiling. CedarSafe planks come with 3 lengths to make this easier, so I always just use those. I like to start with a full board, then the short length, then the medium. No rhyme or reason, and there's no wrong pattern! Once I run out of pre-cut starting boards, I just cut full-length boards to size to match them.
I used my miter saw to make all of my cuts. If you don't know how to use yours, I've got a tutorial for you!
Line your first board up in the starting corner. These are tongue and groove planks, so they fit together without you having to worry about spacing. I like to work with the tongue side facing out and the groove side up against the wall. Use your nailer to attach it to the ceiling. Continue until you need to cut a board – hold it up in place against the wall and mark where it meets the already-installed board. This is the easiest way to get your cuts planned without busting out the measuring tape! Be sure to flip the board around when you cut so that when you install it, the cut side is against the wall and not the other board.
Step Three: Keep going!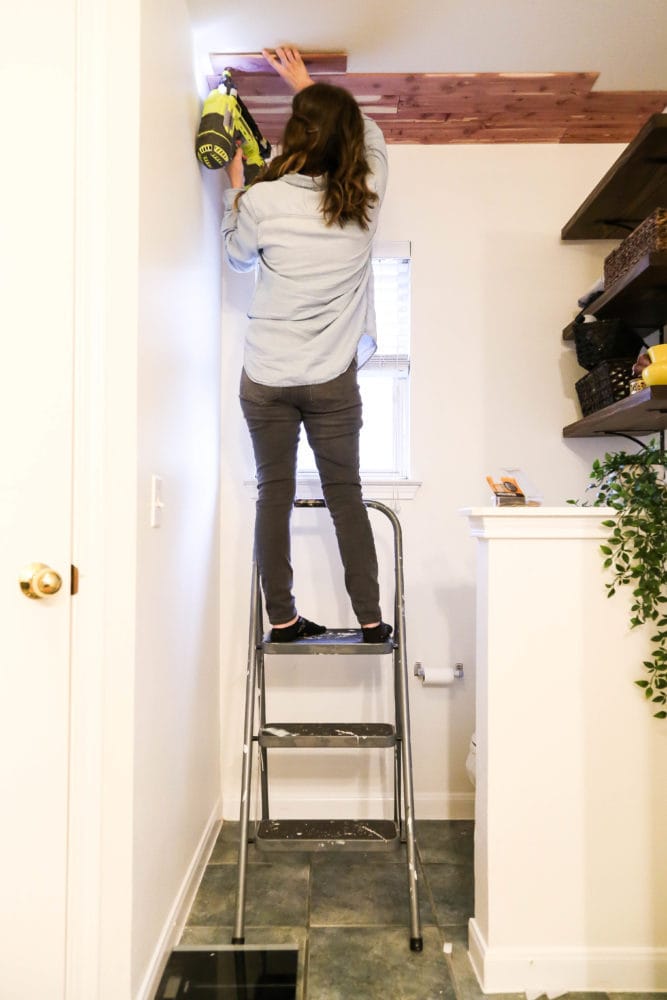 After that initial row, it's all about just continuing along until you reach the other side of the room. You'll quickly get into a groove and find a pattern, and the whole thing goes much faster than you'd think!
Note that these boards allow some room for errors and a cedar ceiling is very forgiving. It's supposed to look a little rustic, so don't sweat any minor errors too much.
Step Four: Trim it out
Once you've lined the entire ceiling, it's time to add trim. If you've made perfect cuts along all the edges, this isn't required, but I'd argue that it makes things feel much more polished!
Here's where I'll share a note for the budget-conscious: if you don't want to spring for the cedar cove molding, you can use a table saw to rip the regular planks down a bit and install them as trim. We did this in our old bathroom, and it looked great!
The hardest part of installing the cove molding is cutting the corners – it's a bit of a brain teaser! Here's a great tutorial for cutting crown molding that should help you make sense of it a bit better.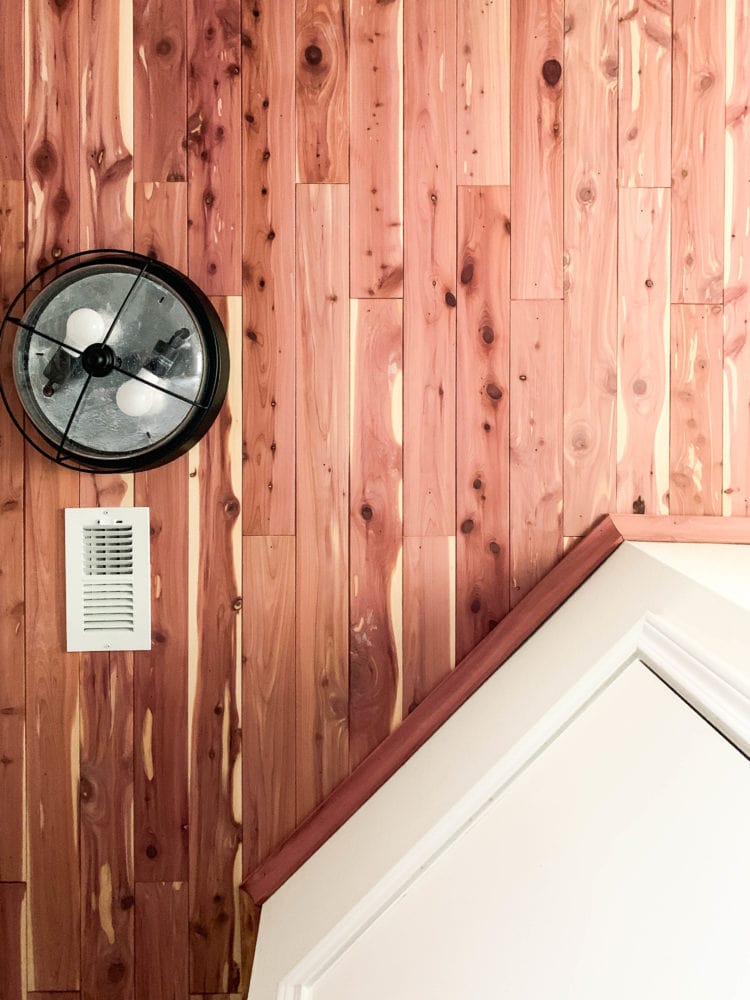 Once the trim was installed, we used some of this cedar-colored caulk to fill in any gaps in the corners and help it all look completely polished.
Do i need to seal it?
This is the number one question I got about the ceiling in our old bathroom, and I imagine you're wondering too.
The official recommendation from CedarSafe is no, you should not seal your cedar ceiling. Sealing it can cause the wood to warp, and is never recommended.
But what about the steam? Does it cause mildew?
With the proper precautions, no it doesn't. We had a cedar ceiling in our old home for over a year with zero issues, and I anticipate there won't be any here. Here are a few simple steps you can take to care for your ceiling:
If your room has a vent, use it! After you've showered, turn it on for a few minutes to help pull the excess steam out of the room.
If your room doesn't have a vent (ours doesn't!), just don't allow the steam to become trapped. After we shower, we always leave the bathroom door open for a few minutes so the steam doesn't stay in the room.
You could also open the window for a bit if you want to be extra precautious! That being said, it's not something we ever really worried about in the old house, and we had no problems at all!
can i stain it?
Yes, you can! If you want your cedar to maintain a consistent color, it's fine to stain it. As cedar is exposed to the air, the color can change over time. You'll notice that our ceilings are pretty red right now – but in a few weeks, they'll turn a really rich, honey-colored brown (go read the post from our old bathroom to see the difference!).
Personally, I love the natural patina of cedar and wouldn't dream of staining it. I love watching it slowly change over time, and the color it eventually settles into is pretty perfect if you ask me! But, feel free to stain yours if it's not your style. I'd just recommend doing it before you install it to make things easier!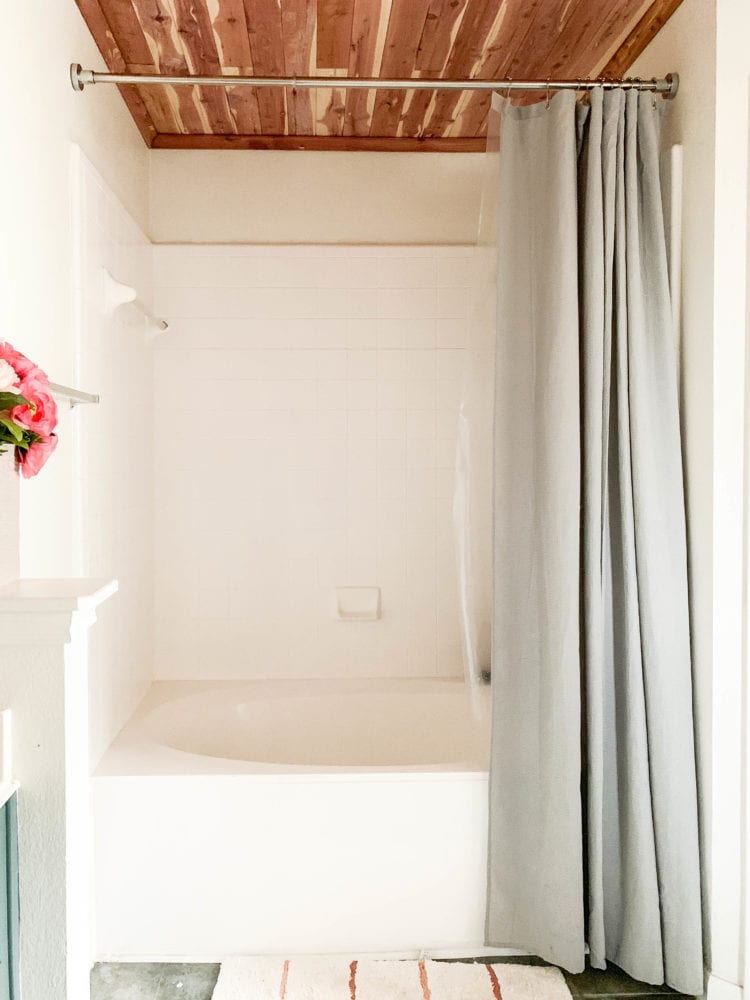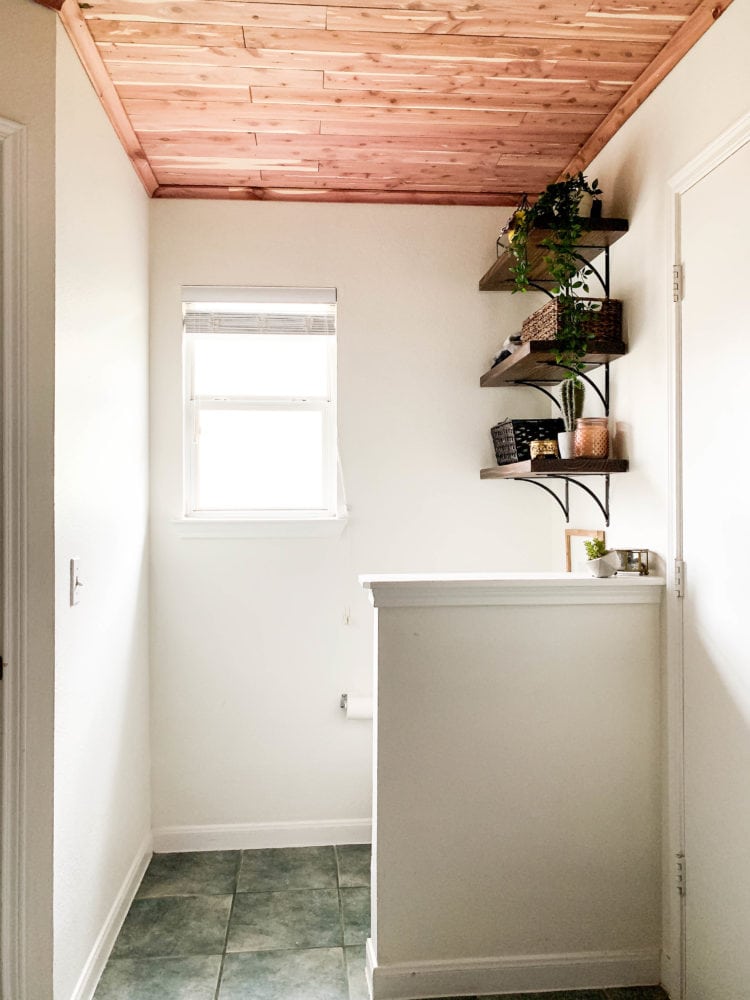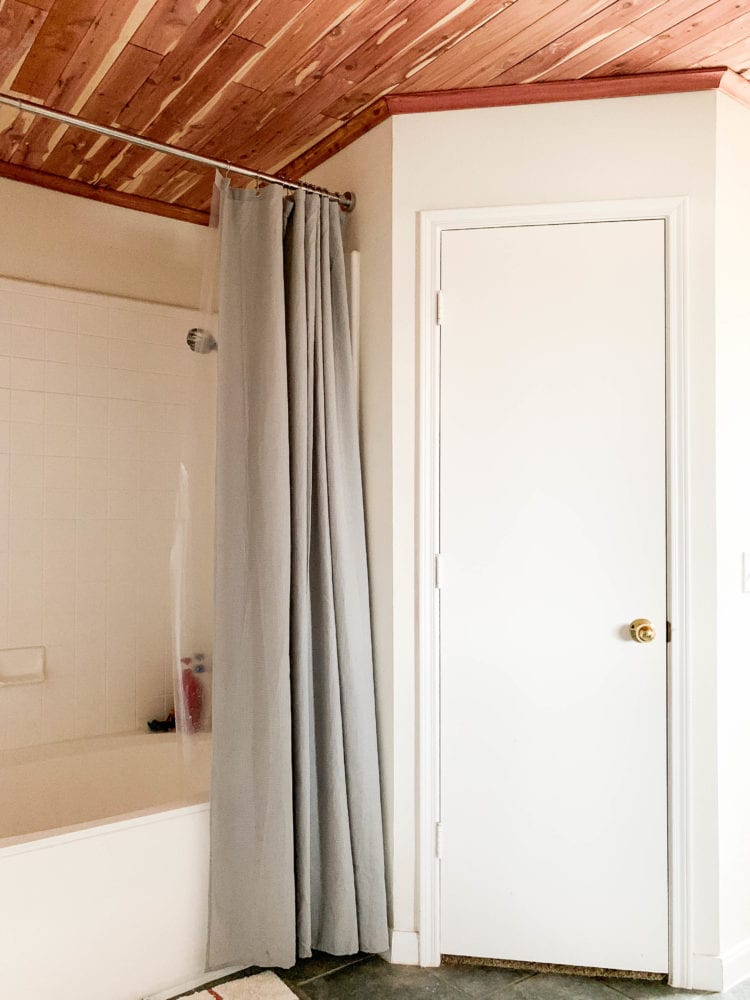 OVERHEAD LIGHT | VANITY LIGHT | SHOWER CURTAIN | SHOWER ROD
I really love how this turned out, and I think it's going to make a huge difference in the finished look of the bathroom!
Speaking of finished, can we all just agree to ignore that floor tile for a little while longer? I promise once we get around to painting it, it'll be worth the wait!