I've probably told you this before, but stocking stuffers are my very favorite thing to shop for. I love shopping for gifts in general, but there's something so fun about finding cute little trinkets, toys, and gadgets to tuck into a stocking. Every year, Corey and I go just a little overboard on stockings for the kids and have to either set some aside for another gift-giving holiday like Easter or simply spread the rest of the loot out on the floor underneath the stockings.
We have a problem, but we've learned to accept it.
This year, I'm sharing stocking stuffer ideas for both the kids and the adults because, I don't know how you do it, but in our family the stockings don't end when you grow up! Corey and I always buy things for each others' stockings, and we even do stockings with the extended family at my parents' house on Christmas Eve!
So, let's get to the ideas, shall we?
stocking stuffer ideas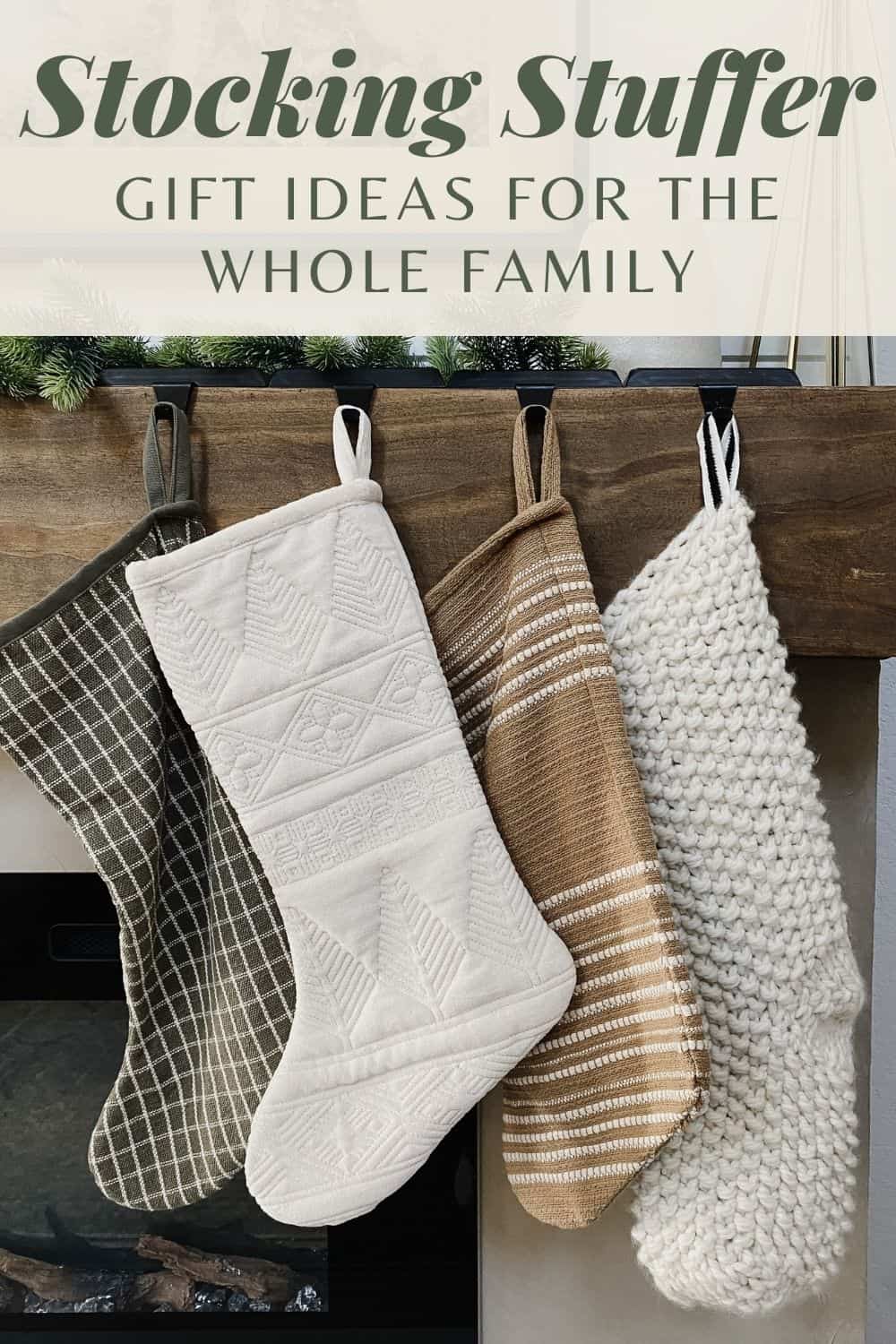 Stocking Stuffers for Kids
I always start in the Dollar Spot at Target. This year didn't disappoint – they have everything from fuzzy socks to a calendar you can color in yourself to bath toys! We almost always get the majority of our kids' stocking stuffers from here, and it's always a win.
Bubbles – bonus points if you pair it with a little bubble machine under the tree!
Play-Doh – ours is constantly getting left out on the table, so we always do a big restock at Christmas!
Pop-Its are all the rage right now, and these Christmas ones are TOO CUTE!
Do you remember Wikki Stix? They're a perfect, calming and creative toy for the kids to play with after all the Christmas chaos has subsided and they need a quiet activity to do.
Jackson cannot get enough LEGO Blind Bags – grab a pack of 6, toss a couple in their stocking and save the rest for random surprises throughout the year when they have a good day!
A mini puzzle game is a great surprise – and, again, something that'll keep the kids busy the rest of the day!
Some glow-in-the-dark stars for their ceiling.
A mini flashlight – because kids love flashlights. All of them. Promise.
LED Bike Wheel Lights so their bicycle can glow when they go for a ride after school!
Stocking stuffers for grown-ups
A magnetic wristband – perfect for that clumsy person who is always dropping screws when they're hanging something (I'm looking at you, Corey!)
This magnetic flashlight/pick-up tool is great for everyone. We have one and Grant has claimed it as his own, but I promise it's useful for the adults too!
Corey gave me a few sets of my favorite faux nails in my stocking last year, and it was my favorite addition!
I always specifically ask for new chapstick in my stocking – I manage to lose it or use it all throughout the year, so this is when I stock back up.
These shower steamers are great for someone who doesn't have a bathtub – it makes your shower feel like a big steamy spa!
These little eyebrow razors are my favorite thing ever. I use them on my entire face for a really great exfoliation once a month or so, and I love how my skin feels afterwards!
Some under-eye patches, because you know no one gets a great night's sleep on Christmas Eve.
A telescoping back scratcher, so they can finally get just the right spot.
A mini keychain screwdriver set.
I think I'm getting this paper tantrum note set for everyone in my life. Myself included.
A hot sauce gift set – I don't think I have a single dude in my life who isn't in love with hot sauce.
A shower coffee holder. Because sometimes the coffee can't wait until after the shower.
Pocket RGB wisdom. This one doesn't even need an explanation, right?
Stocking Stuffers for ANYONE
What are your favorite stocking stuffer ideas?! If you need any more ideas, there's a ton right here in last year's guide!