Well, it's official. As of today, we have lived in this house for two entire years. I have a little tradition of taking a ton of photos and videos each year around this time to document how far our home has come in the last year, and today's the day!
If you want to catch up and remember what things looked like when we first moved in, here are a few links to help you refresh your memory:
I've been doing this since the beginning of our blog waaaaay back in our first house, so if you really want to take a trip down memory lane you can click here to see all of the house tours that have ever hit the blog.
I always like to take both a video tour (so you can get a feel for the layout and how things flow) and a photo tour. So, pick your preference – or take a look at both!
2020 Video tour
This little video is a great way to get an idea of what the layout of our home actually looks like, and how things work together. I often get comments like, "oh! I didn't know your bedroom was on the first floor," or "where exactly is your laundry room?" so this will answer all of those questions.
Now, are you ready for all the photos?
If you have questions about any sources or things you see in the photo, just click here for the entire source list for our home. And please feel free to leave a comment below if you check for something and can't find it – there's always a few things I miss when I update it!
the exterior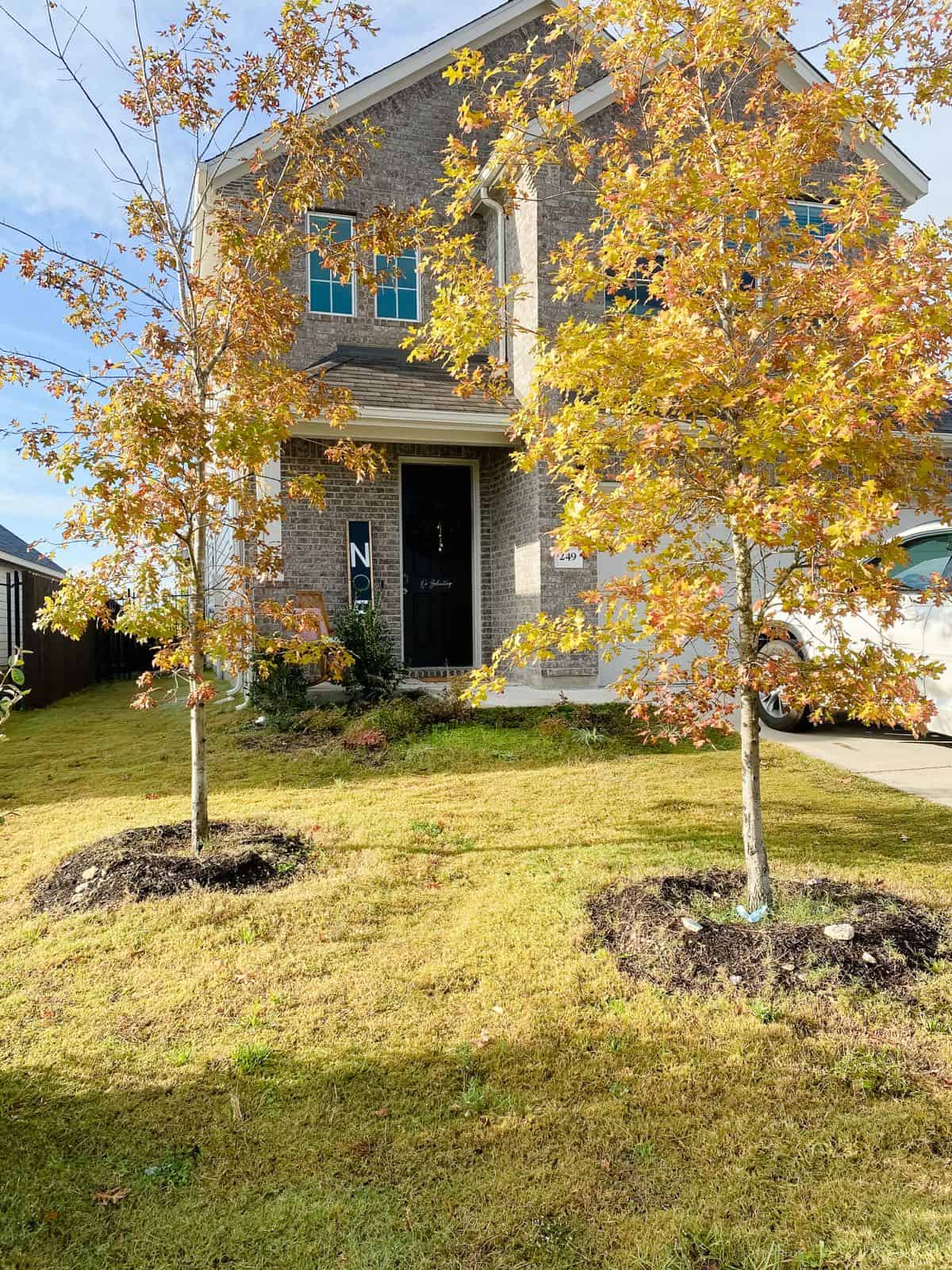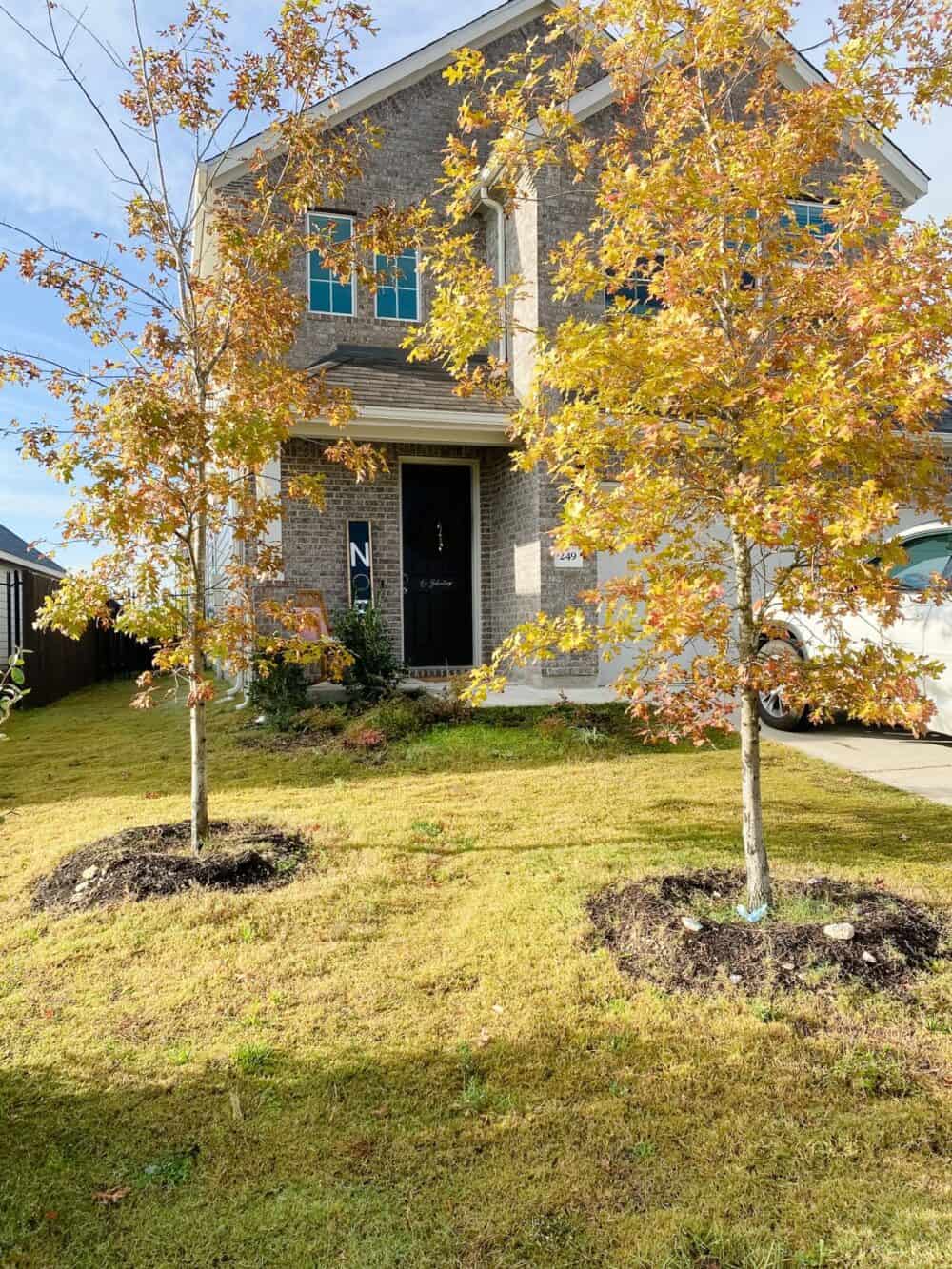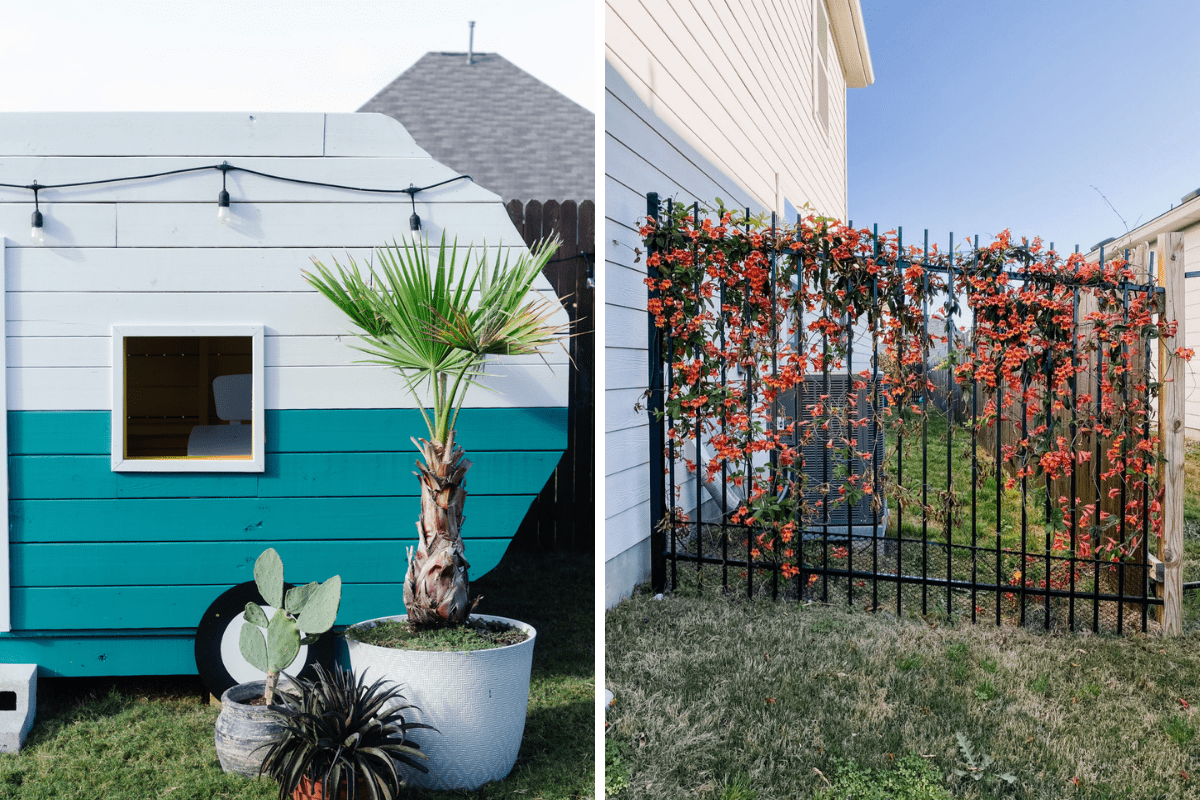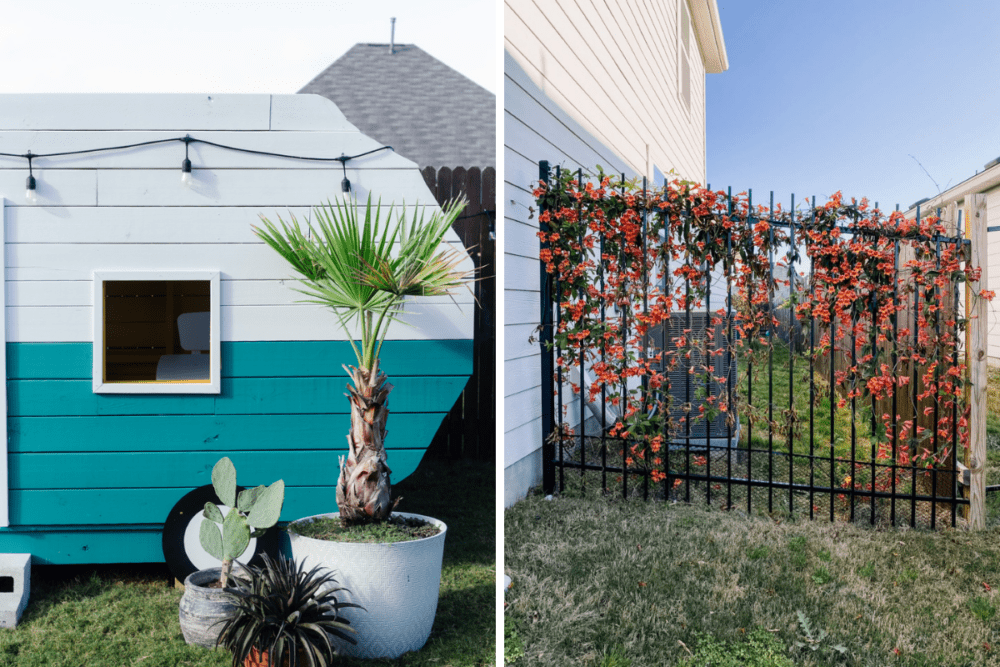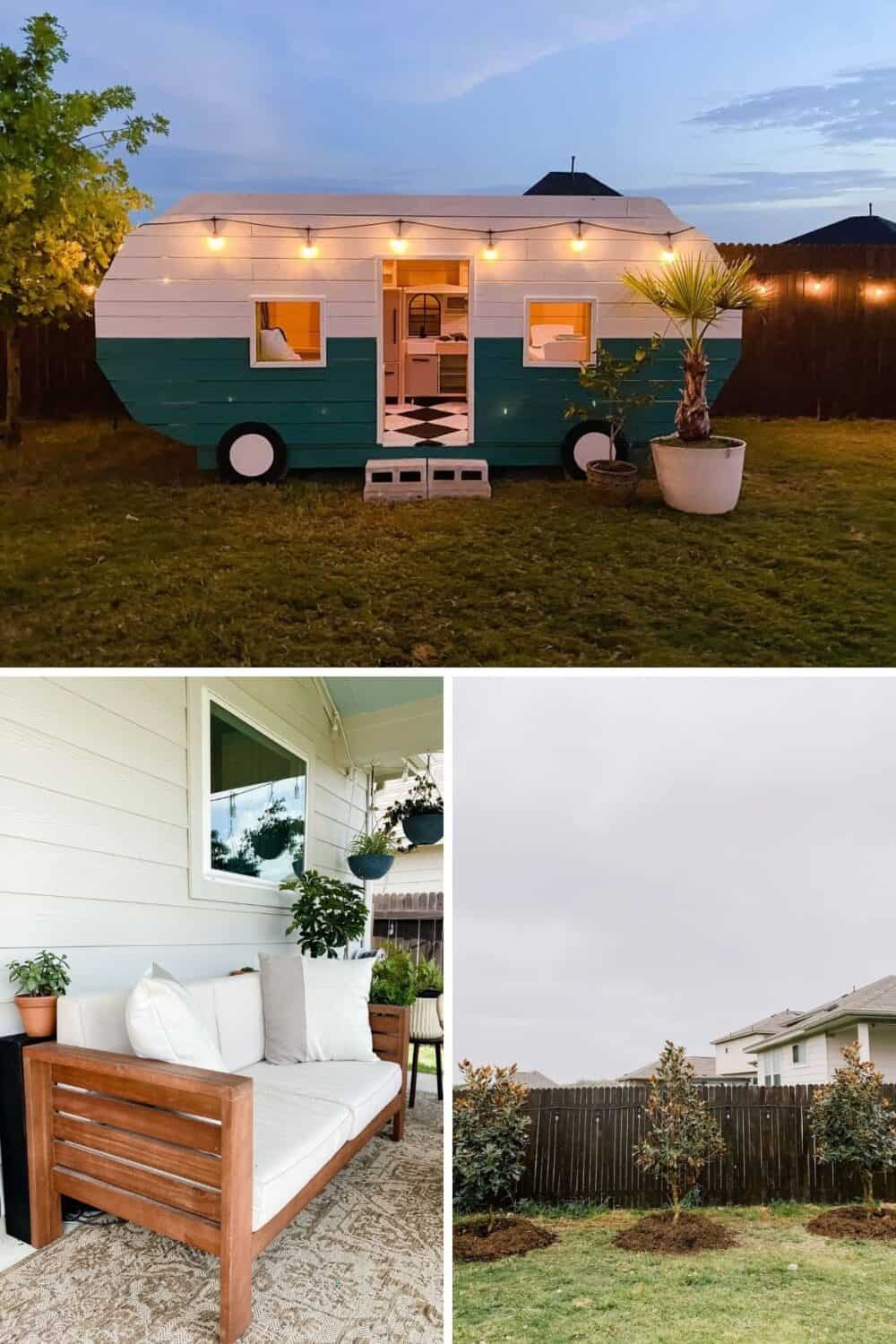 The biggest change to the exterior of our home this year definitely has to be the three Little Gem Magnolia trees we planted in the backyard along our fence line. This is the first house we've ever lived in that didn't already have mature trees all over the place, so we made a commitment to plant several trees as soon as possible, so they have plenty of time to grow. We've got a total of four trees in the backyard now, which feels like a really good place to be. I can't wait to watch these trees mature and get big enough to give us some shade!
Of course, I also added a giant vintage camper playhouse for the kids. They love it so much, and it's been such a fun addition to the backyard this year.
We still have a lot of plans when it comes to the yard – we want to add a pergola over the open patio area and create a little dedicated outdoor kitchen area for Corey to grill in. We also eventually would love to add a paver patio over near the Magnolia trees so we can have a good spot for our fire pit!
But, for now, this little backyard has served us really well!
2020 exterior projects
The entry, powder, & laundry rooms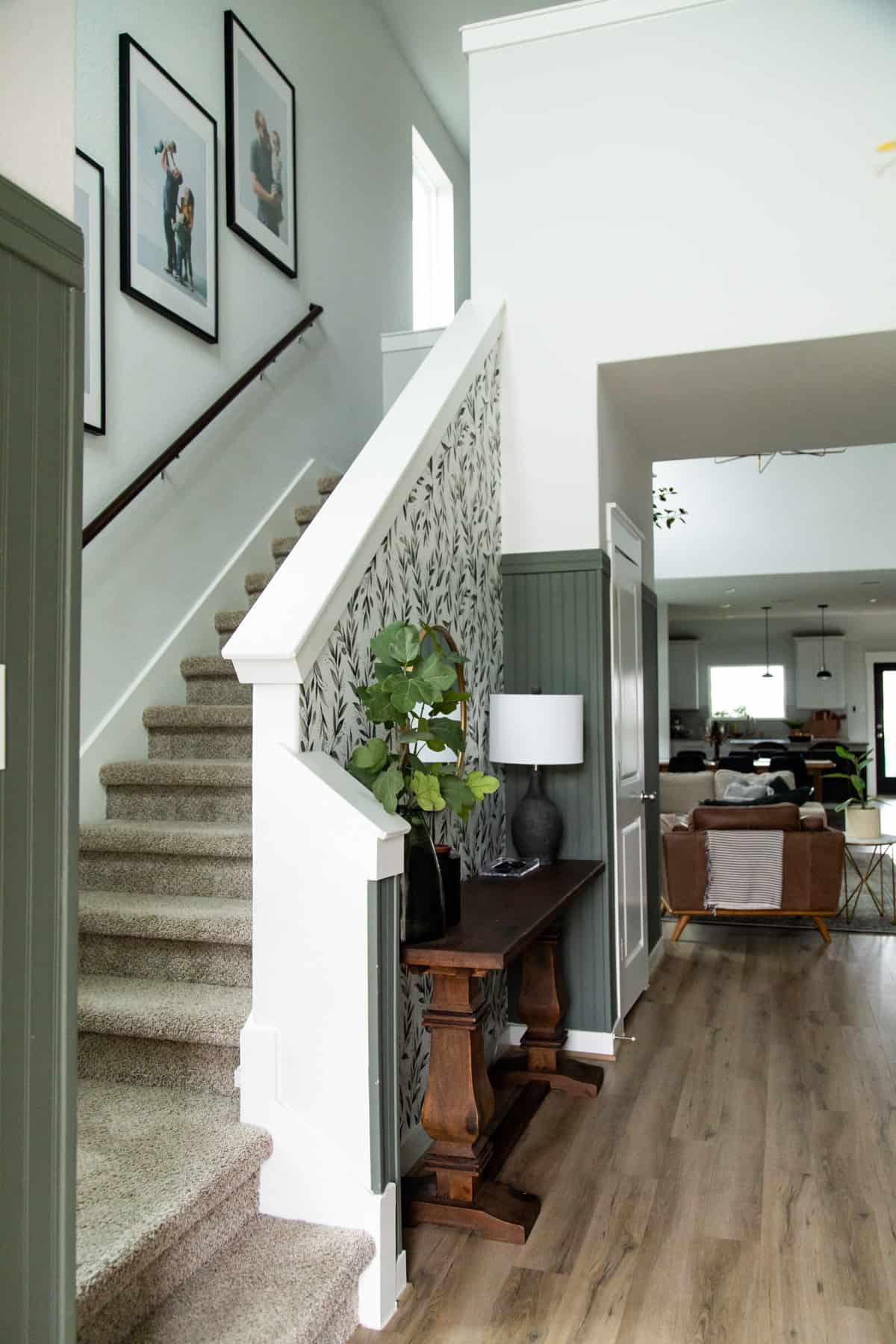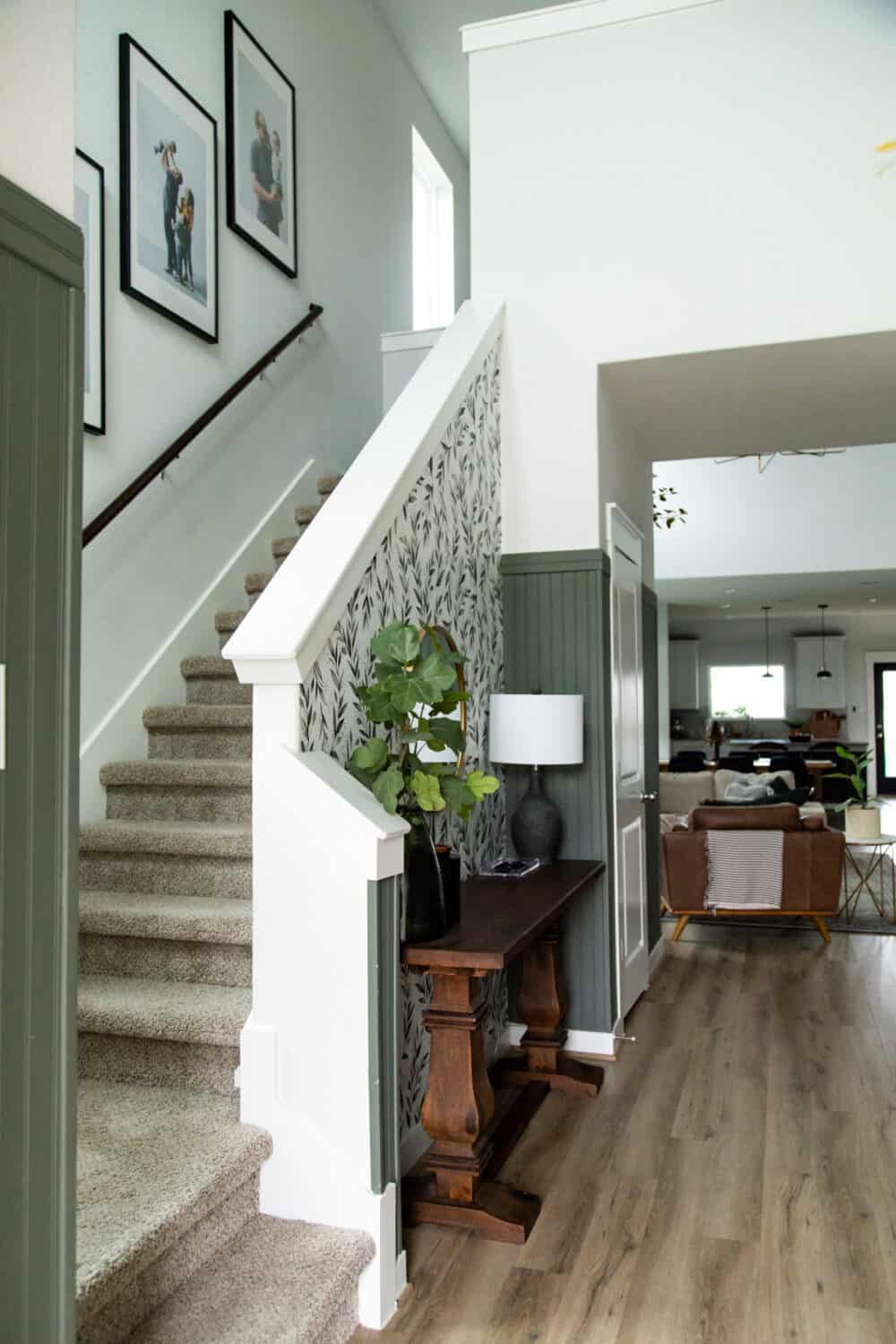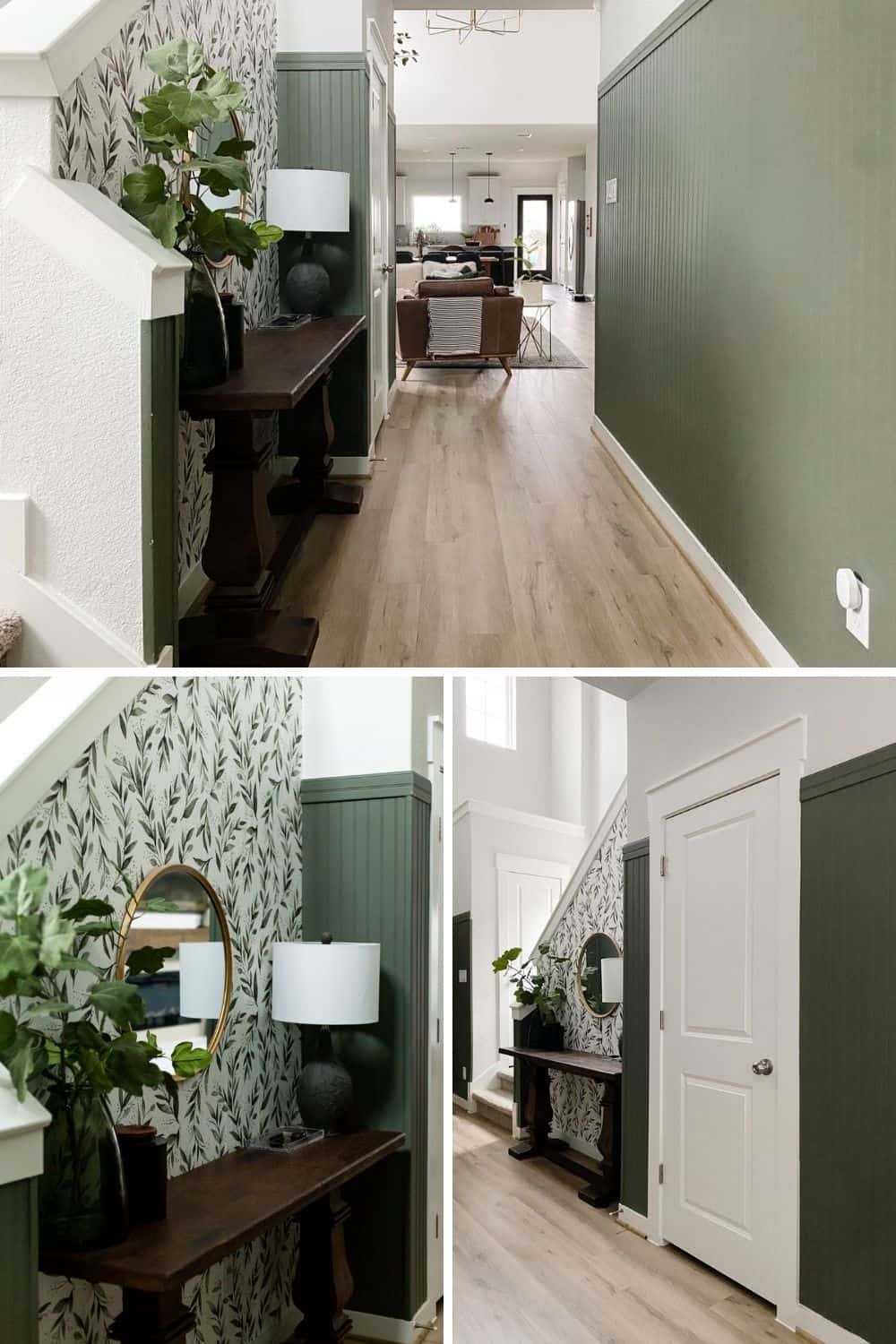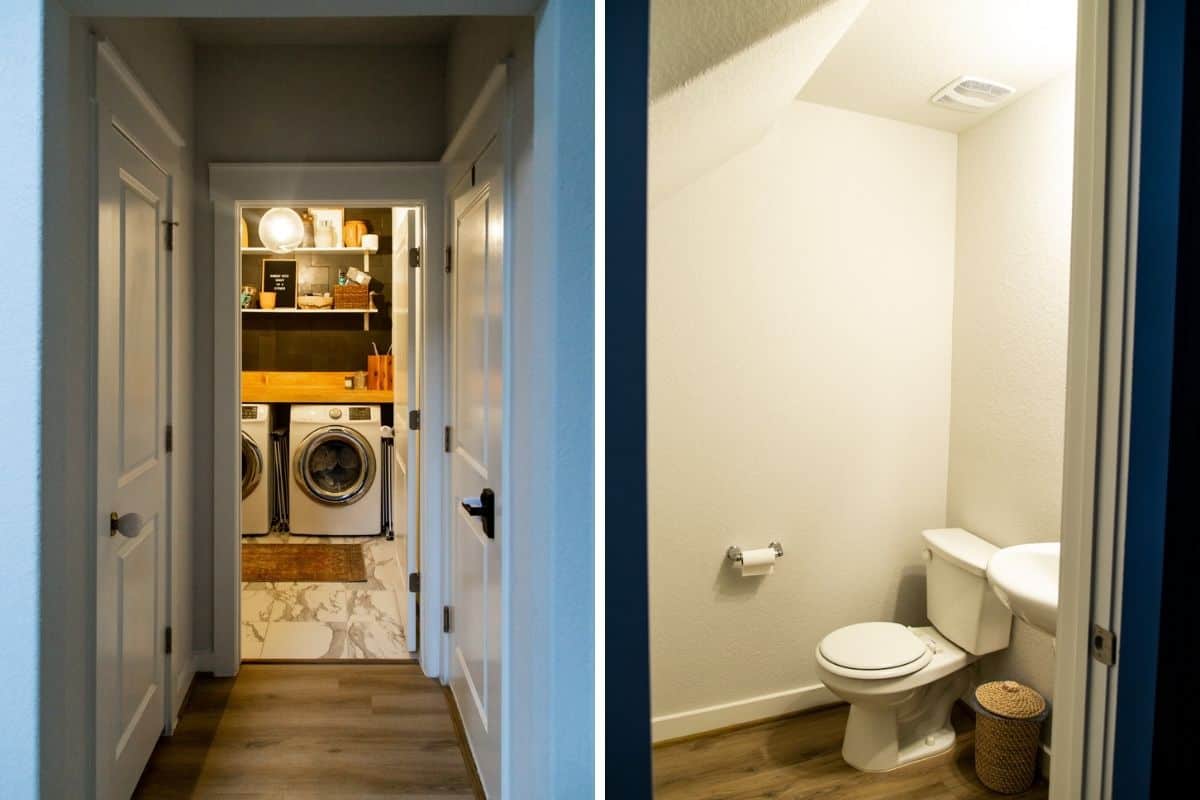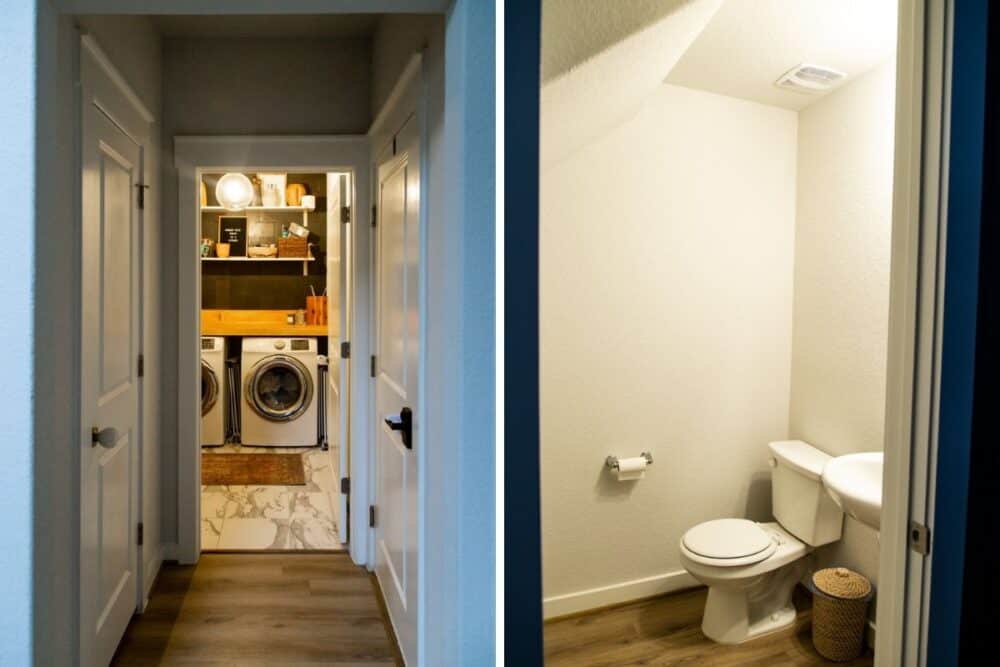 These spaces all look pretty much exactly the same as they did last year. I think the only visible thing that changed is the lamp on the entry table! We also gave the entry closet a makeover, but you can't see that most of the time.
Corey has suggested that I do something to this powder room about 20 different times, but it's the last fully untouched room in this house and for some reason I'm putting a lot of mental pressure on it. Logically I know I can always change things up down the road and tackling this room doesn't mean our house is "done" (far from it!), but there's something about knowing I still have a room that's fully untouched that makes me happy.
So, it stays boring for now.
The entry is a space that I think may get a little bit of a makeover next year – I love how it looks but the wallpaper is peel and stick and just doesn't work with our textured walls. It looks fine for the most part but there are some bubbles that have formed in it over time and I think it's time to let it go.
I have no clue what I'll do in this space, but I think by this time next year you'll definitely see a fresh look!
The Living Room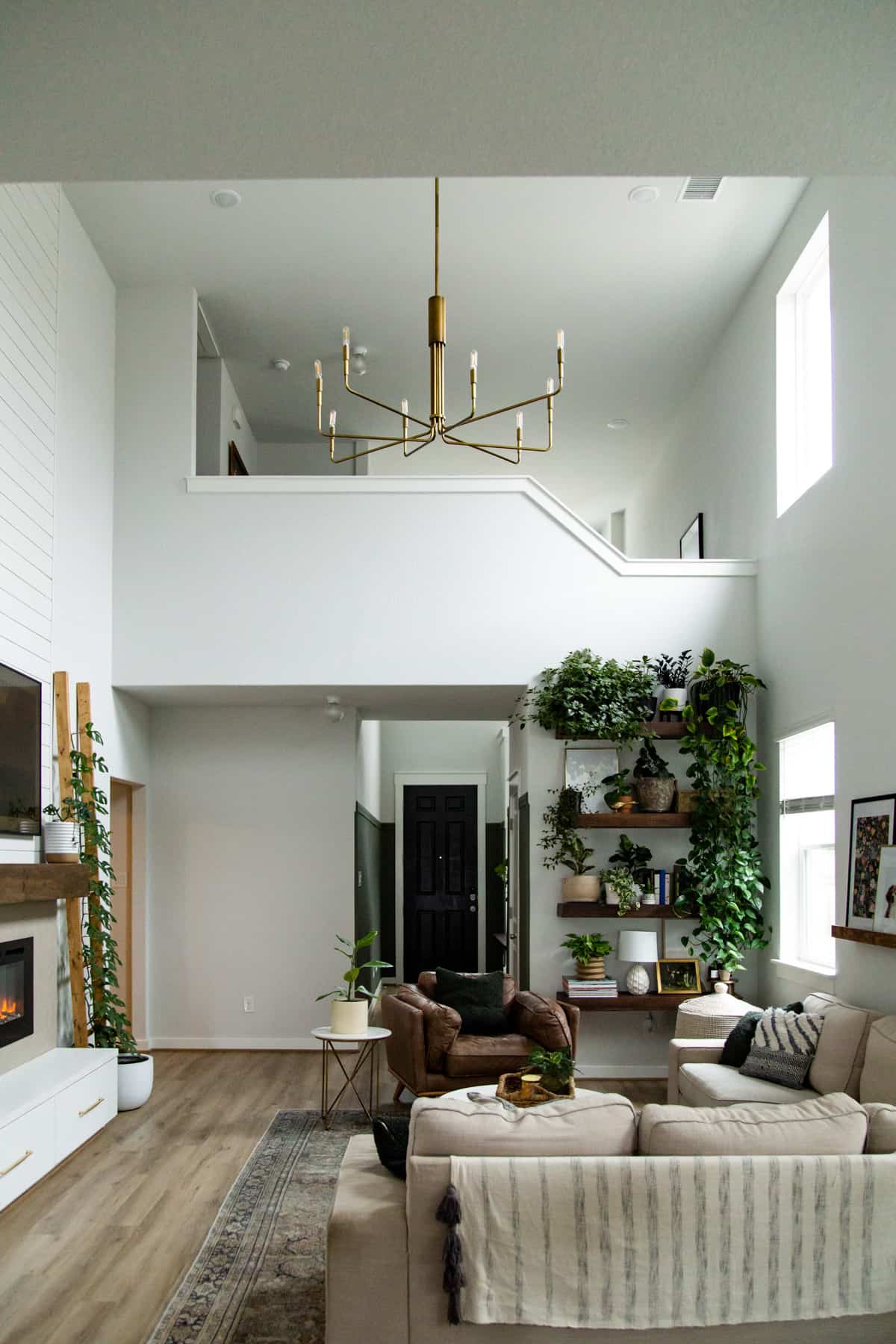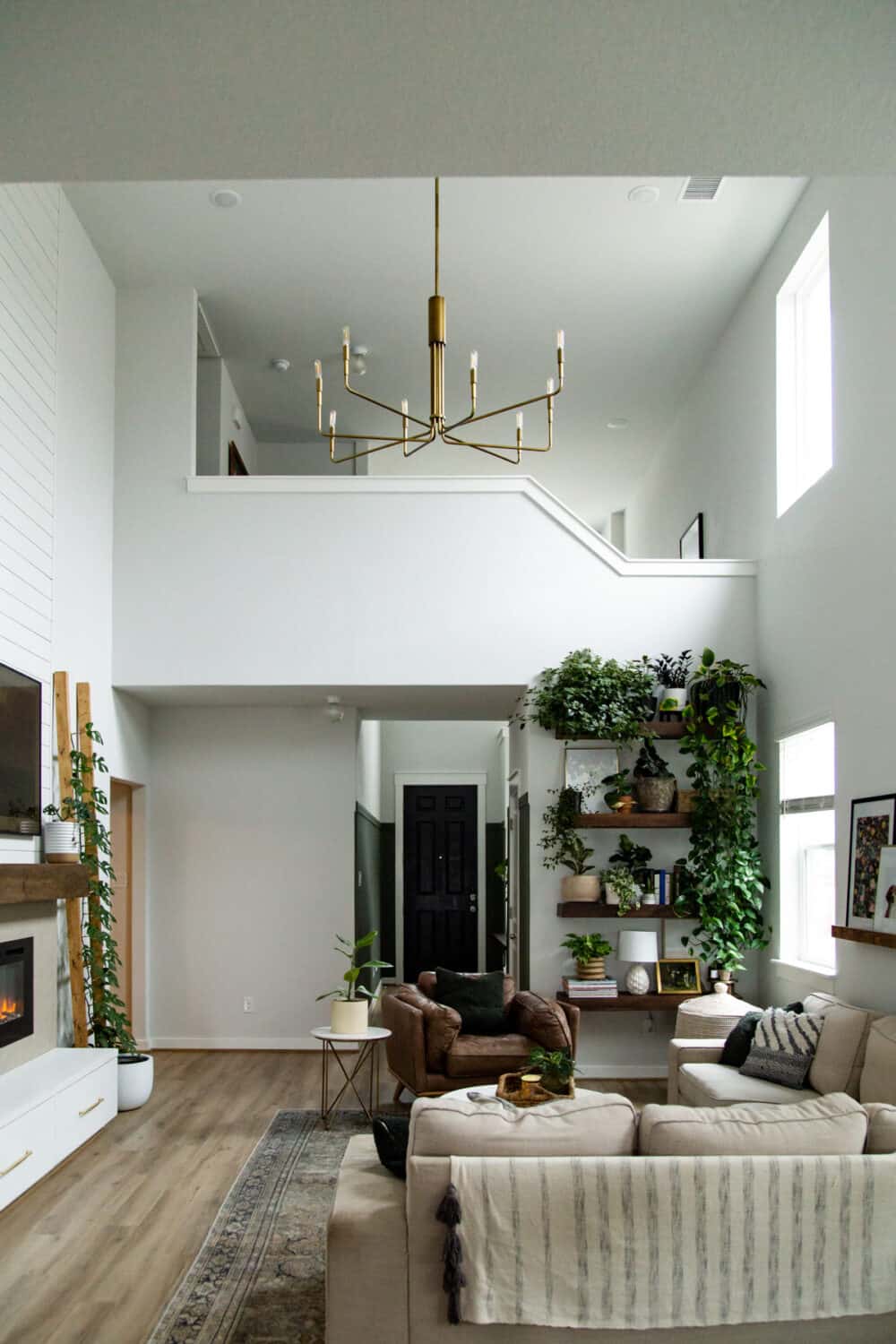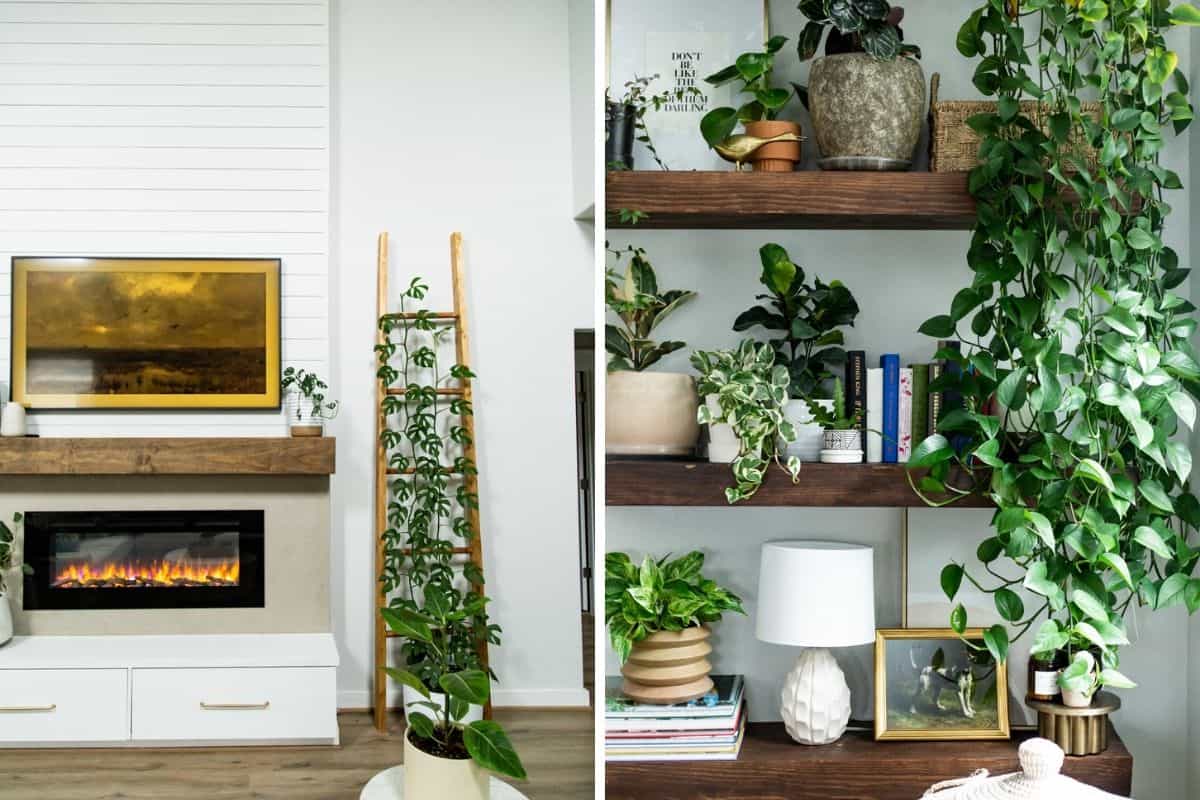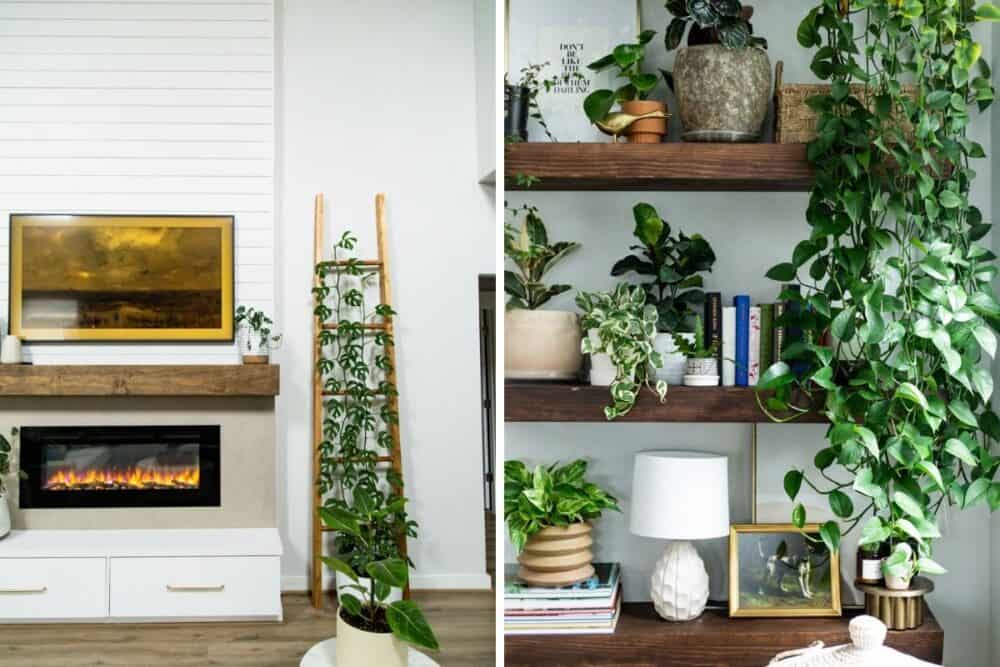 The fireplace!!!!!!!!!
Y'all, I started planning this giant fireplace from the moment we decided to purchase this house, and it is everything I ever dreamed of. This was definitely the biggest project we tackled in our home this year, and I couldn't possibly love it more.
This room is probably the one that feels closest to "complete," but I know everything in our home will probably shift and evolve over time, so I'm not ready to declare anything done!
When we were house shopping, I was pretty hesitant about the idea of a fully open layout like this. It's definitely not my preference, and I was worried it would feel too chaotic. I have had to learn how to balance filling in the space without making it look too visually stimulating (you can see the whoooooole first floor at once!), but overall we've been surprised by how much we love it!
While an open floor plan still isn't my favorite, it's honestly a really great fit for our current life stage. It's easy to keep an eye on the kids no matter where they're playing, because even if they're upstairs in the game room we can call up to them and hear if things get out of control. I like that we're all kind of together all the time and even if Corey's in the kitchen cooking while the boys and I play in the living room, we can still easily chat and see each other.
Of course, one big downside is that if any of the three areas (the kitchen, dining, or living rooms) gets messy, it feels like they're all three messy! But, it's not a huge deal and I don't mind the added push to keep things picked up around the house!
Here's a quick rundown of everything that happened in this space this year.
2020 living room projects
The Dining Room + Kitchen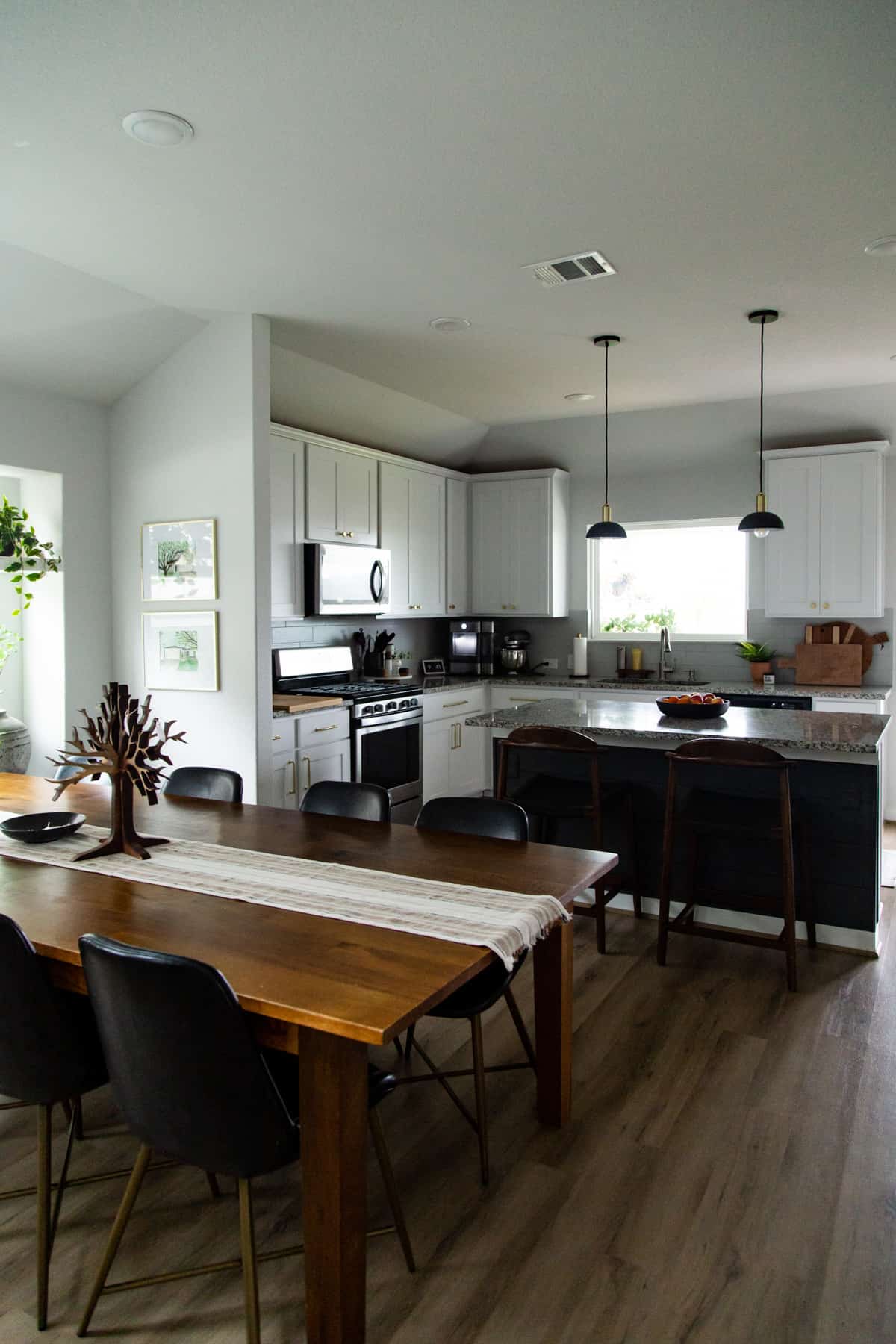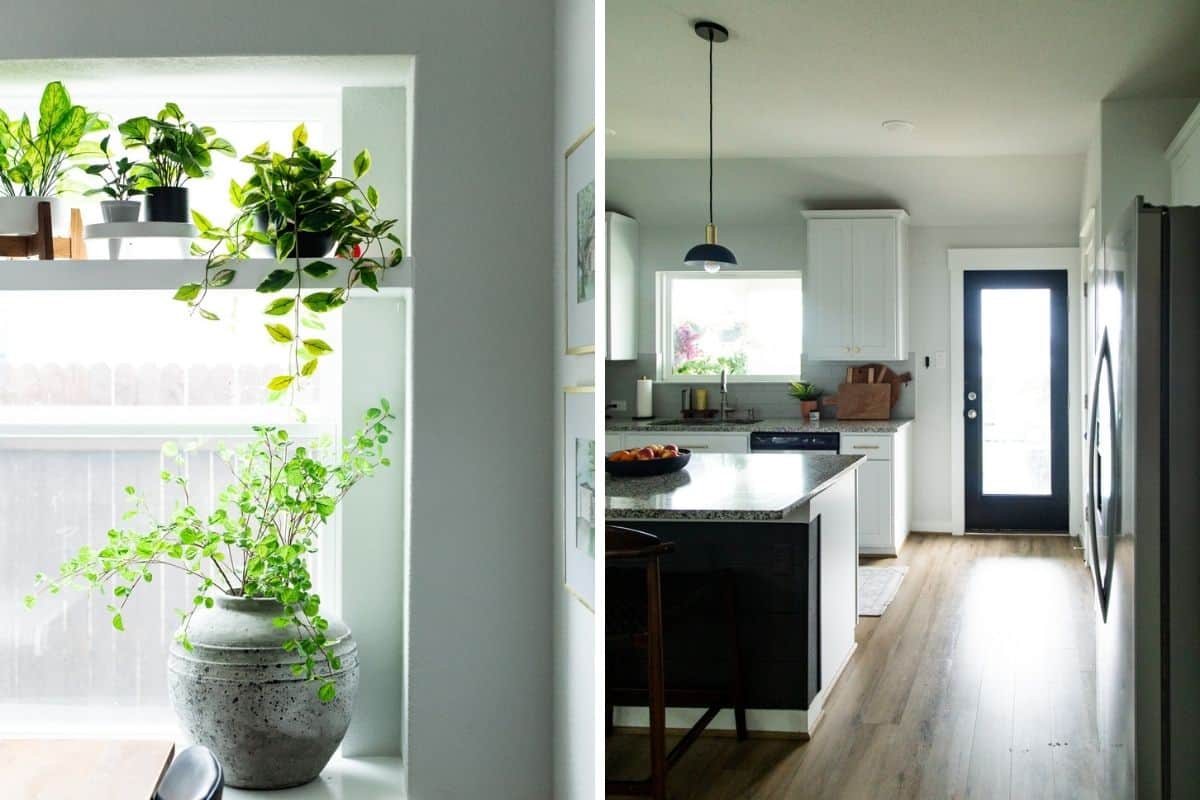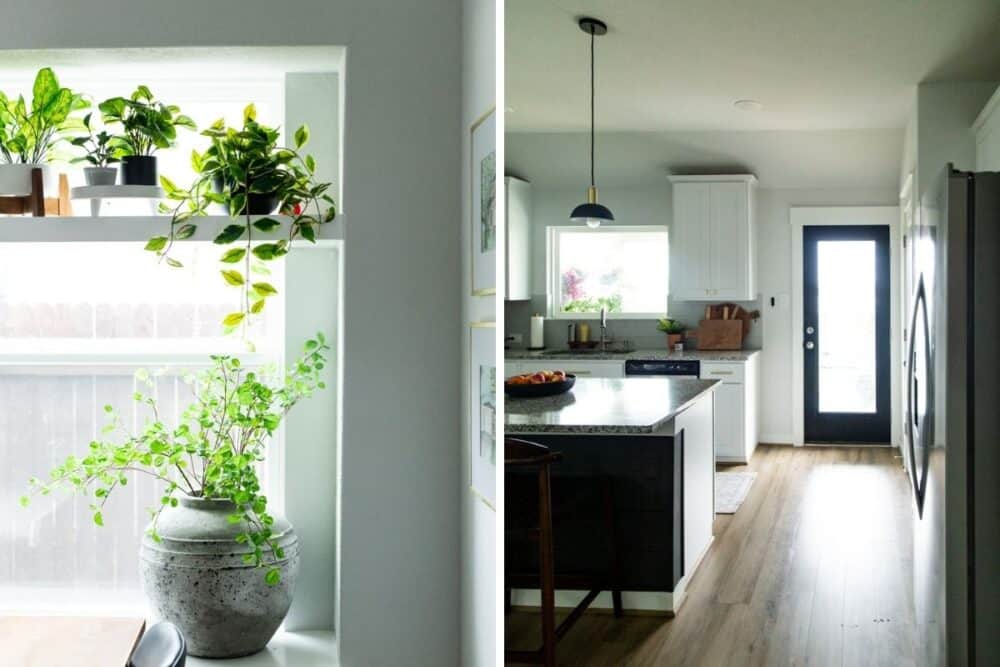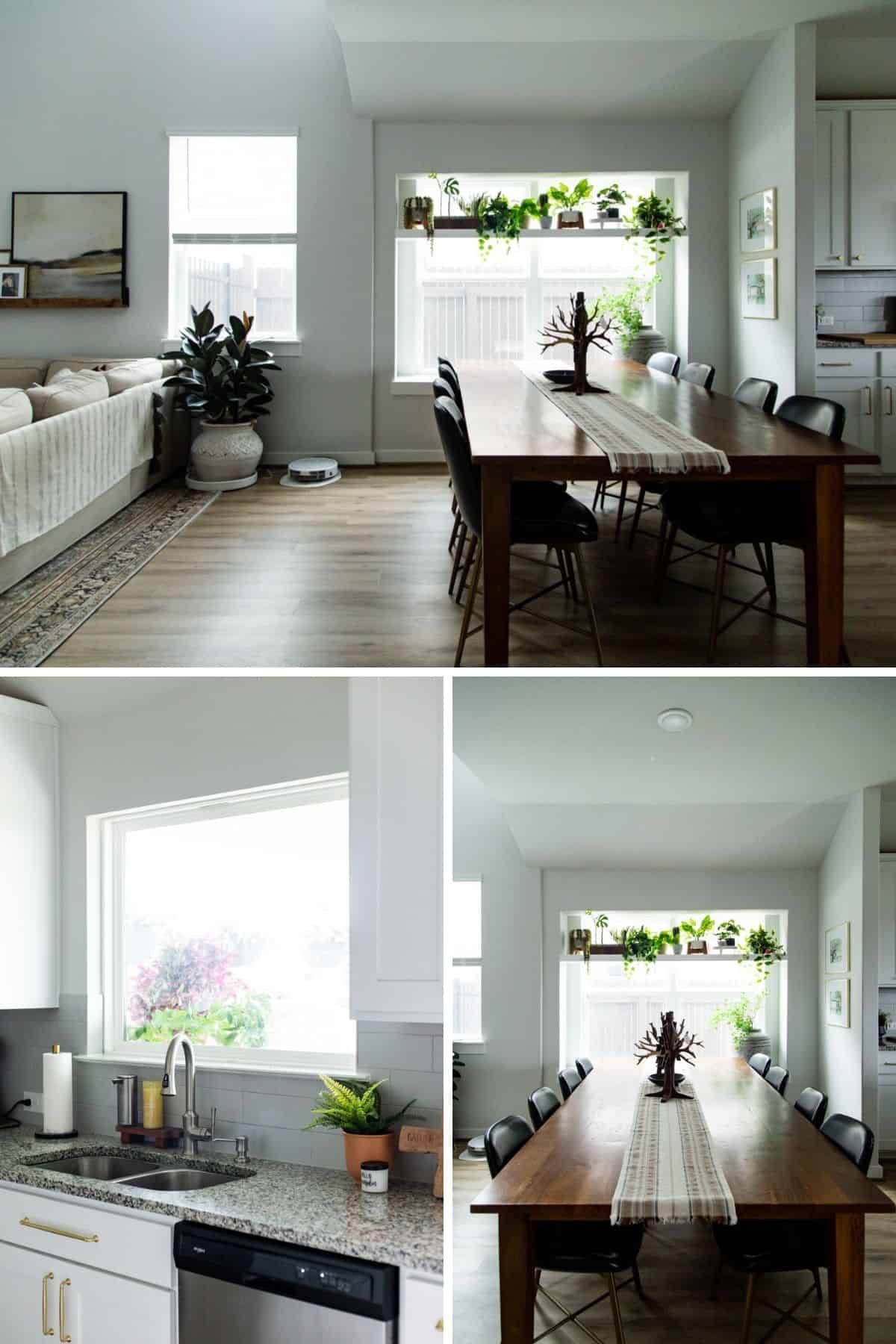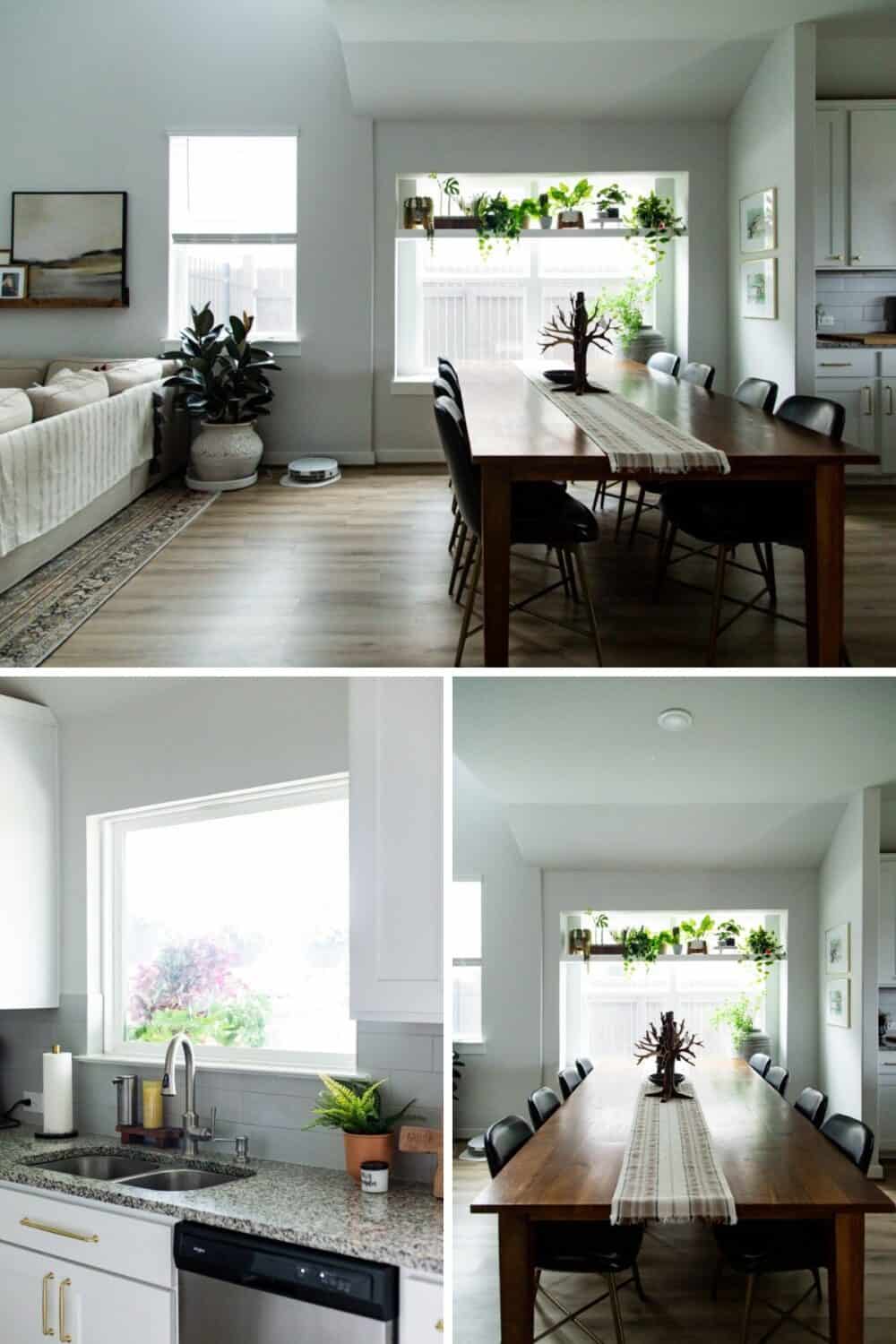 These spaces are also largely unchanged from last year. In fact, the only post I could find about these spaces was the DIY spice drawer organizer I recently did! Part of that is because I really love them as they are and don't want to rush anything, and part of that is because I'm paralyzed with indecision about a few things!
I want to add a new light above the dining room table, but I can't for the life of me narrow it down and choose one. There are a few other small projects like that I'd love to tackle someday, but I'm not in any rush. We plan on being here for the long haul, so we'll figure things out as we go.
The Primary Suite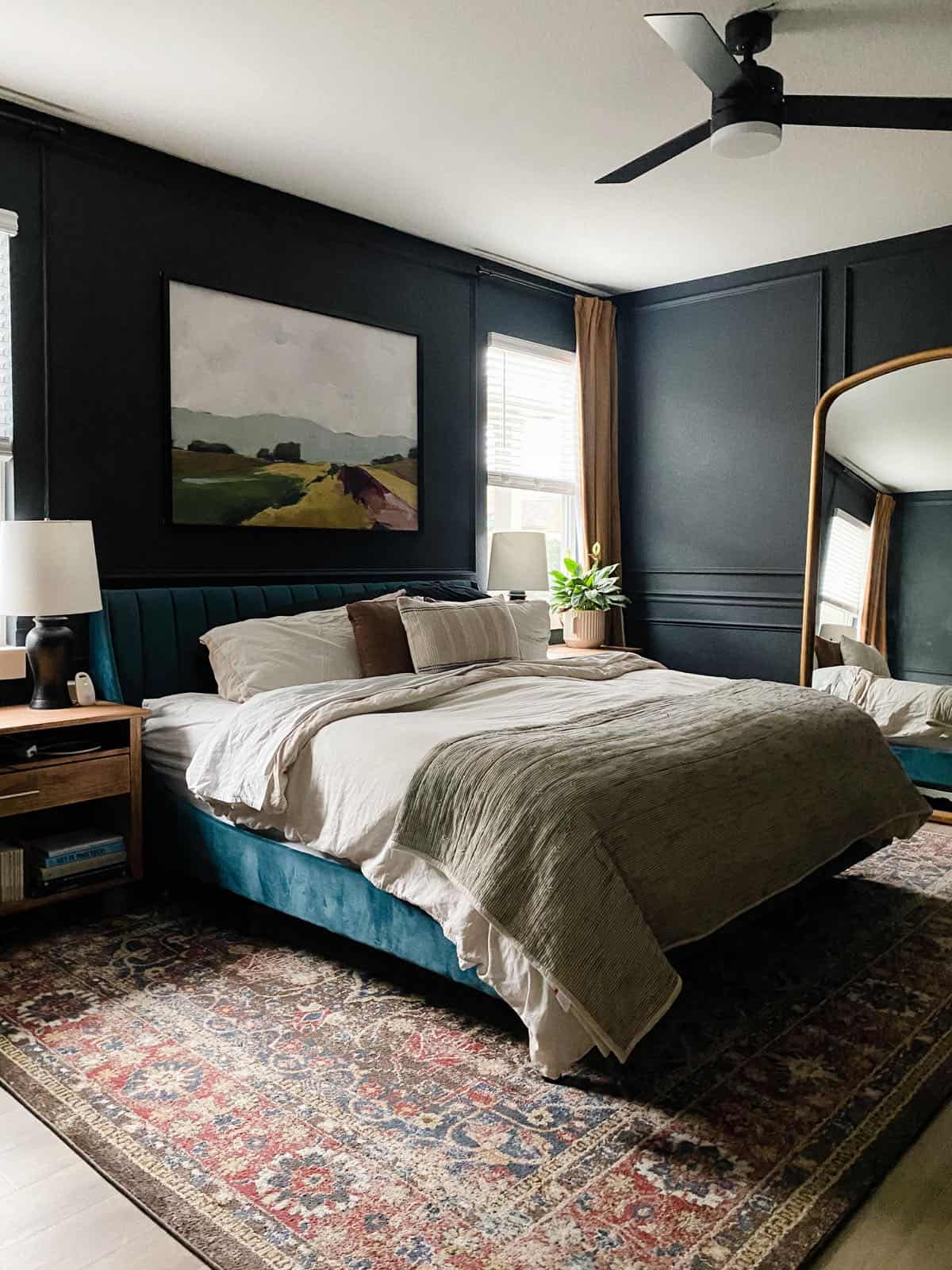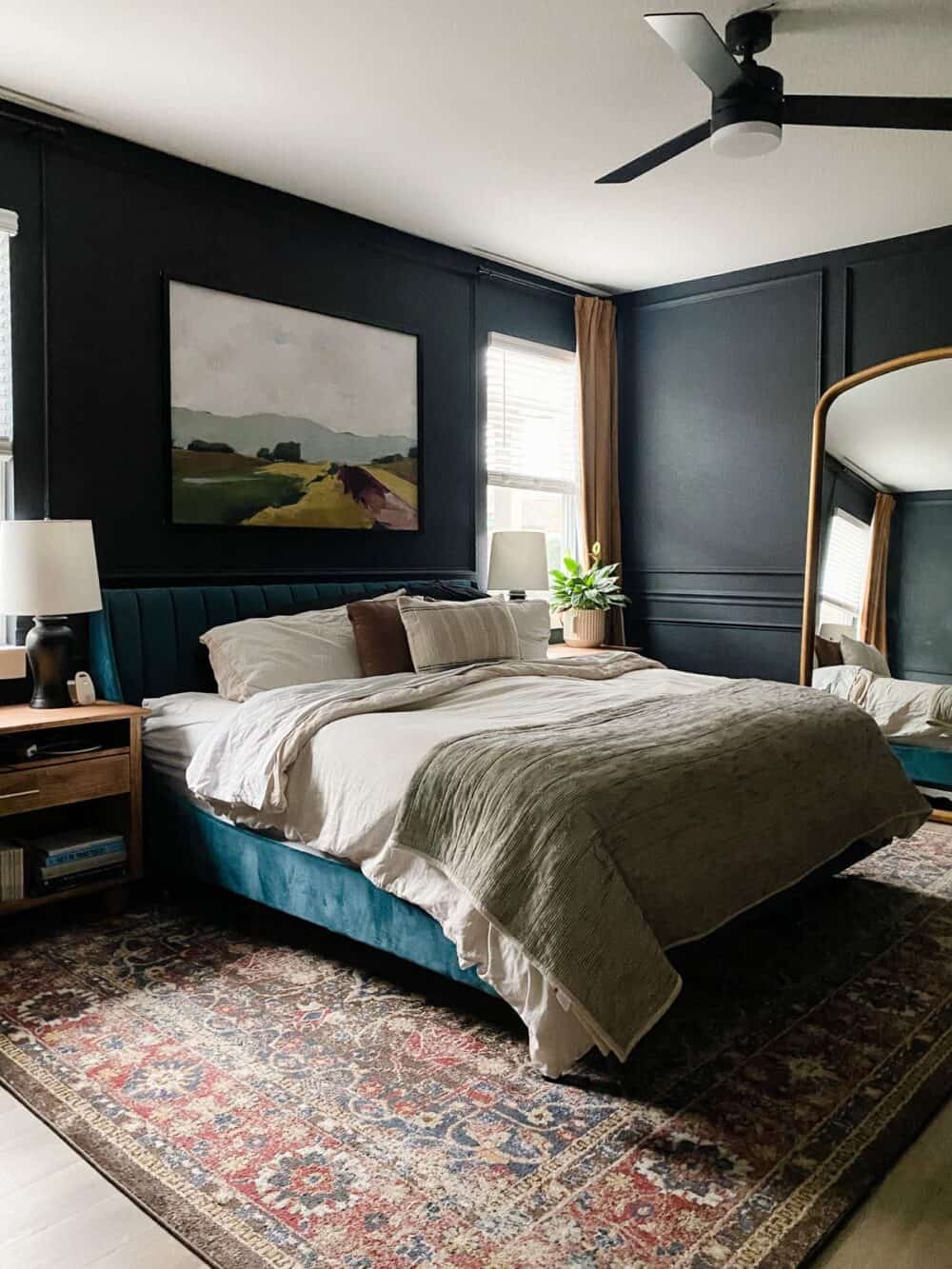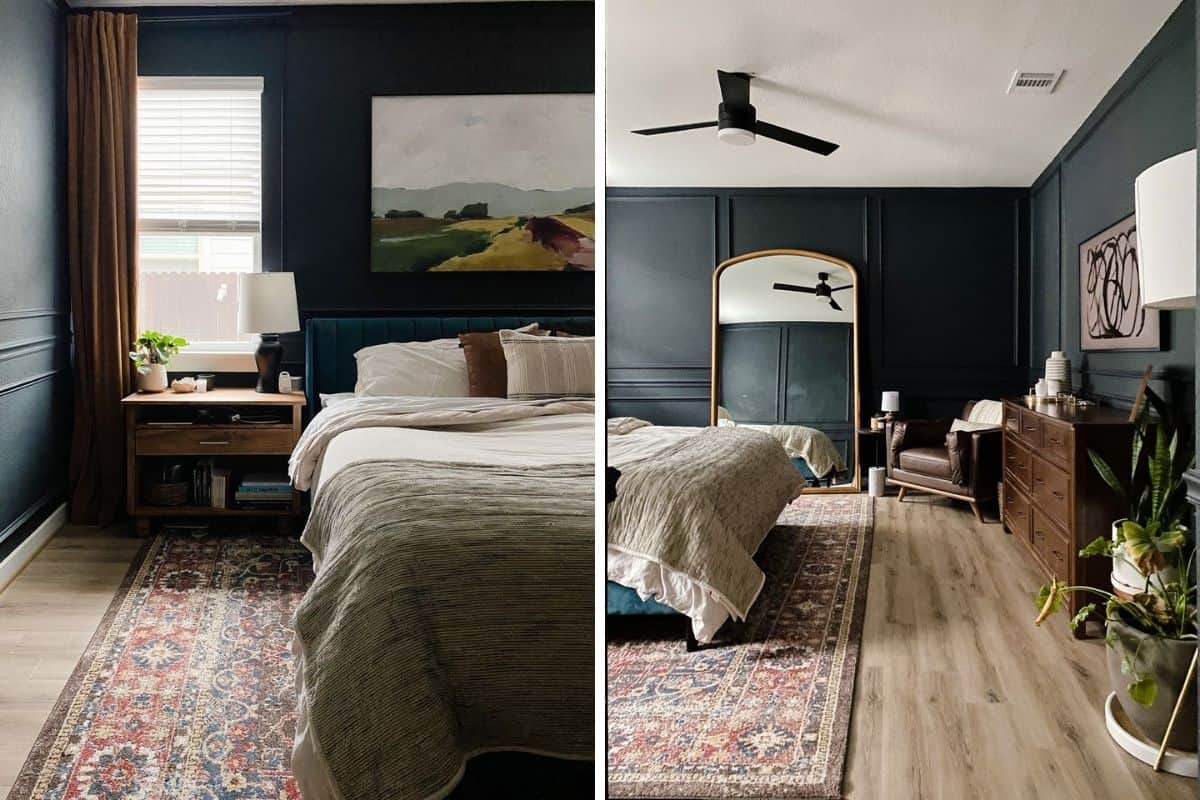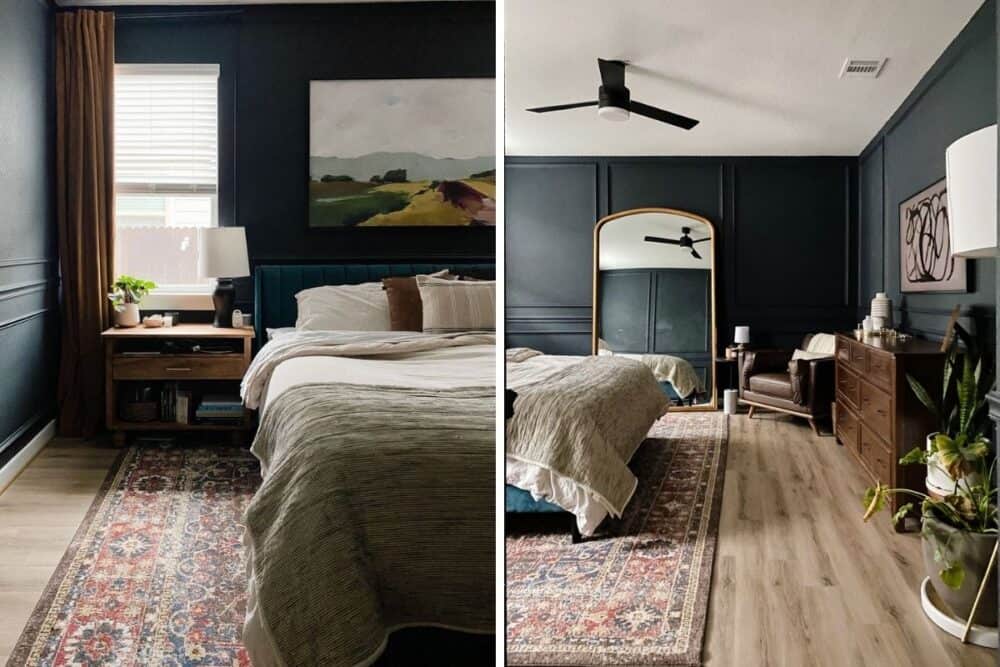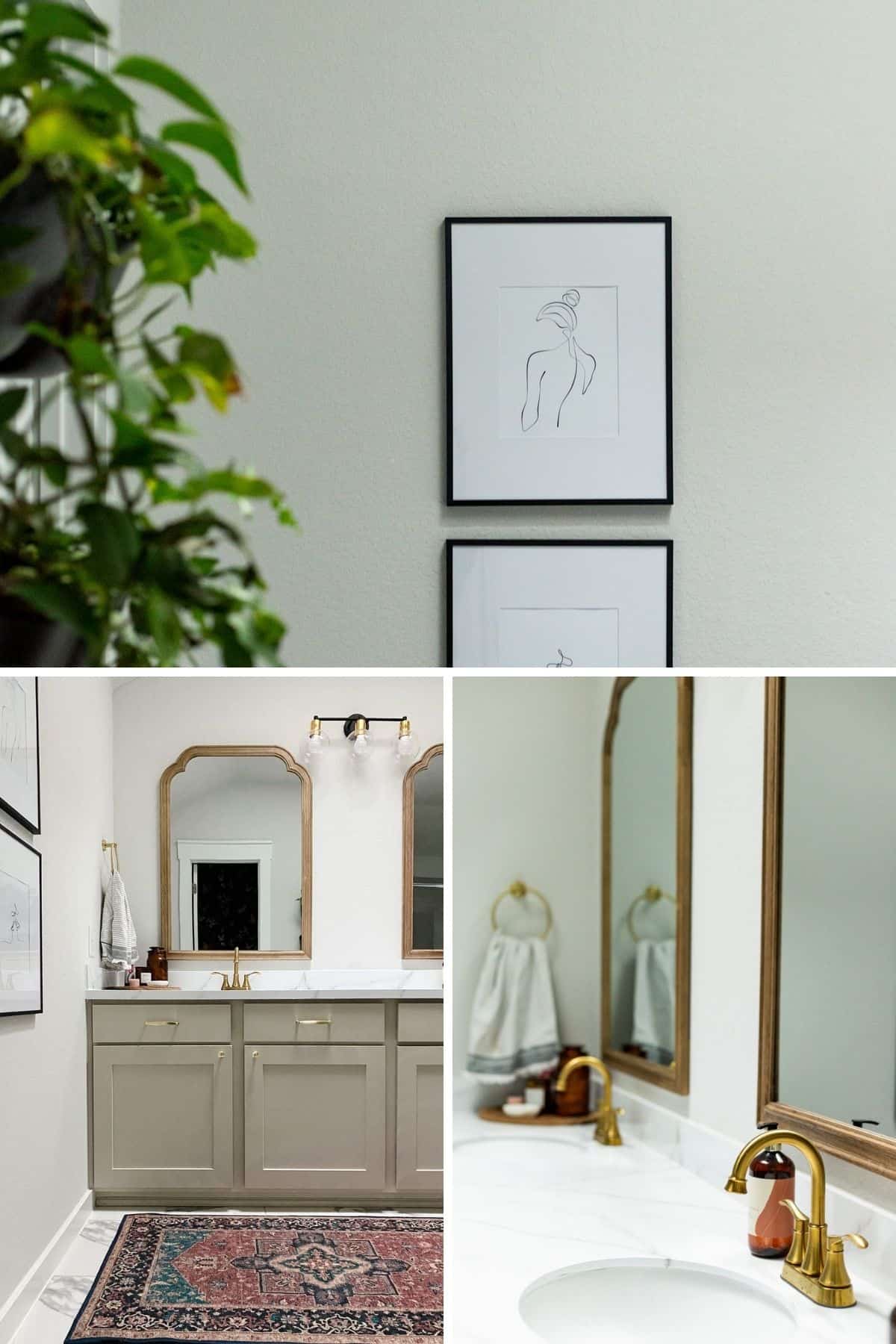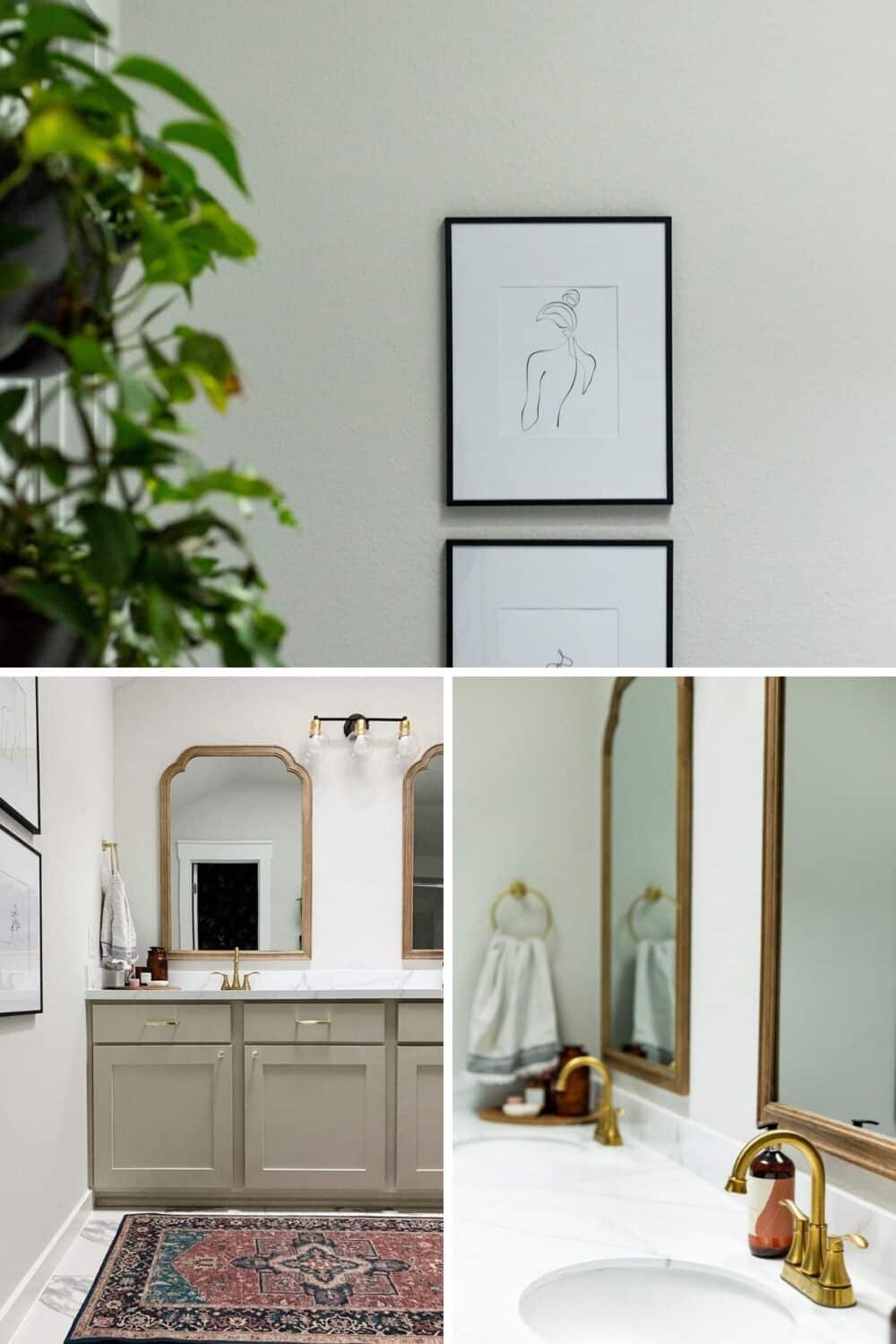 Our bedroom hasn't changed much at all since last year, but changes are coming! We've ordered and are waiting on a new bed for our room (this one is so cheap and it's quite literally falling apart) and with it I'll be updating the bedding fully. I'm really excited about that and may make a few other small changes when we do it – my brain has been percolating with ideas, so we'll see!
Our bathroom has come a LONG WAY this year, and I am so thrilled with the progress. Someday I'd love to give our shower a full overhaul, but things feel so nice in there and I'm so glad I took the time to make some updates. You can see all of the projects from this space below!
2020 Primary Suite Projects
The Game Room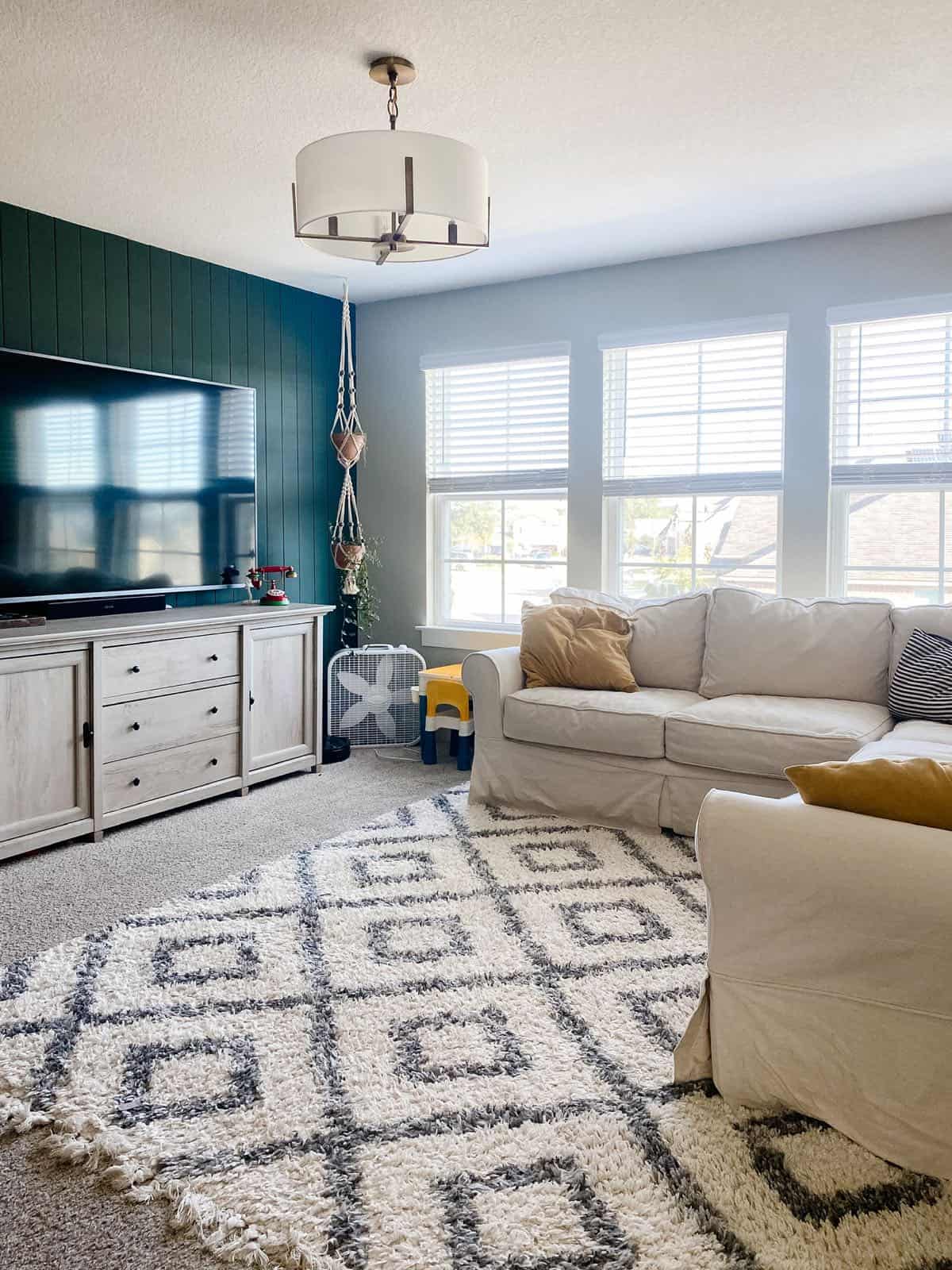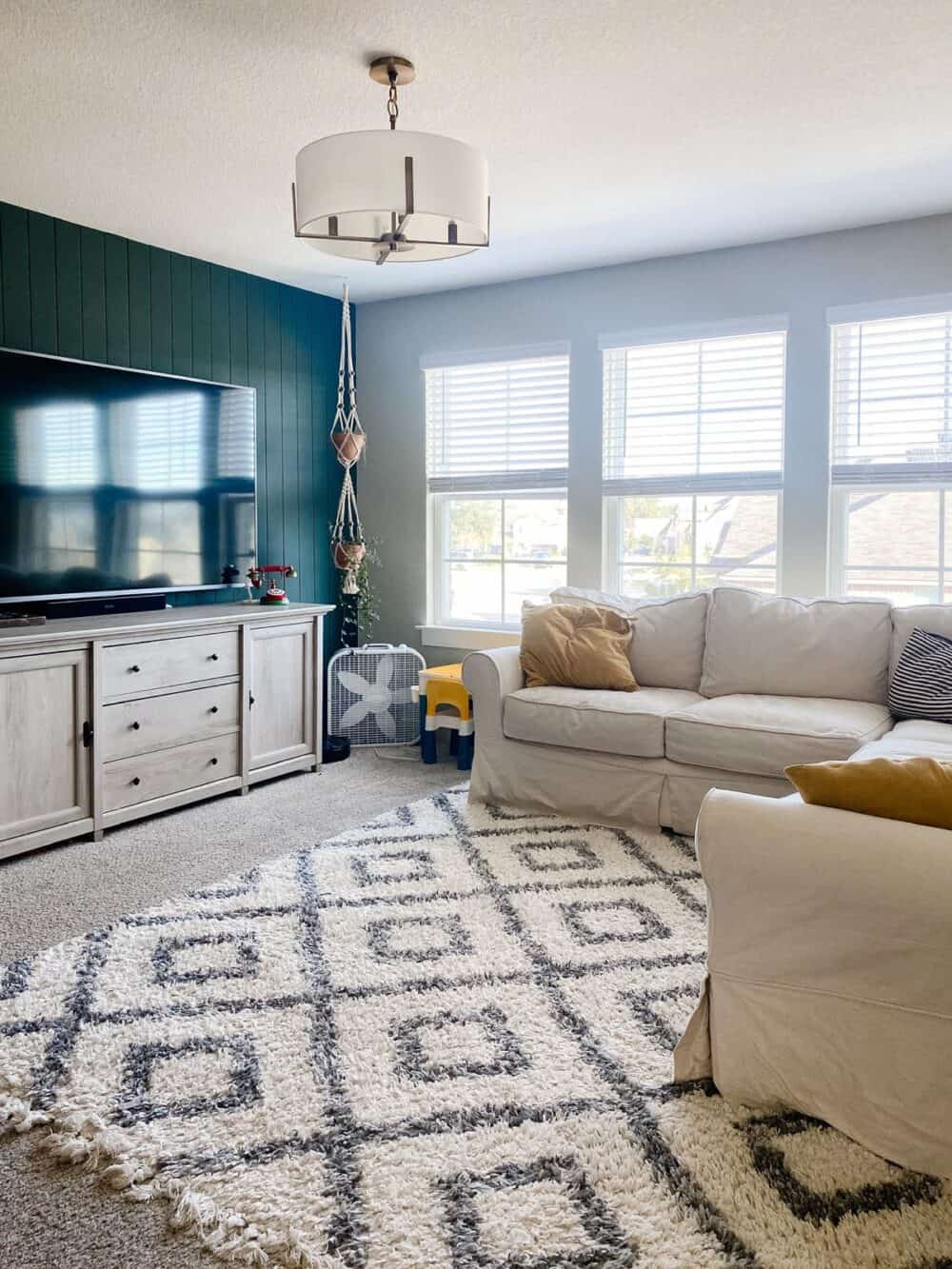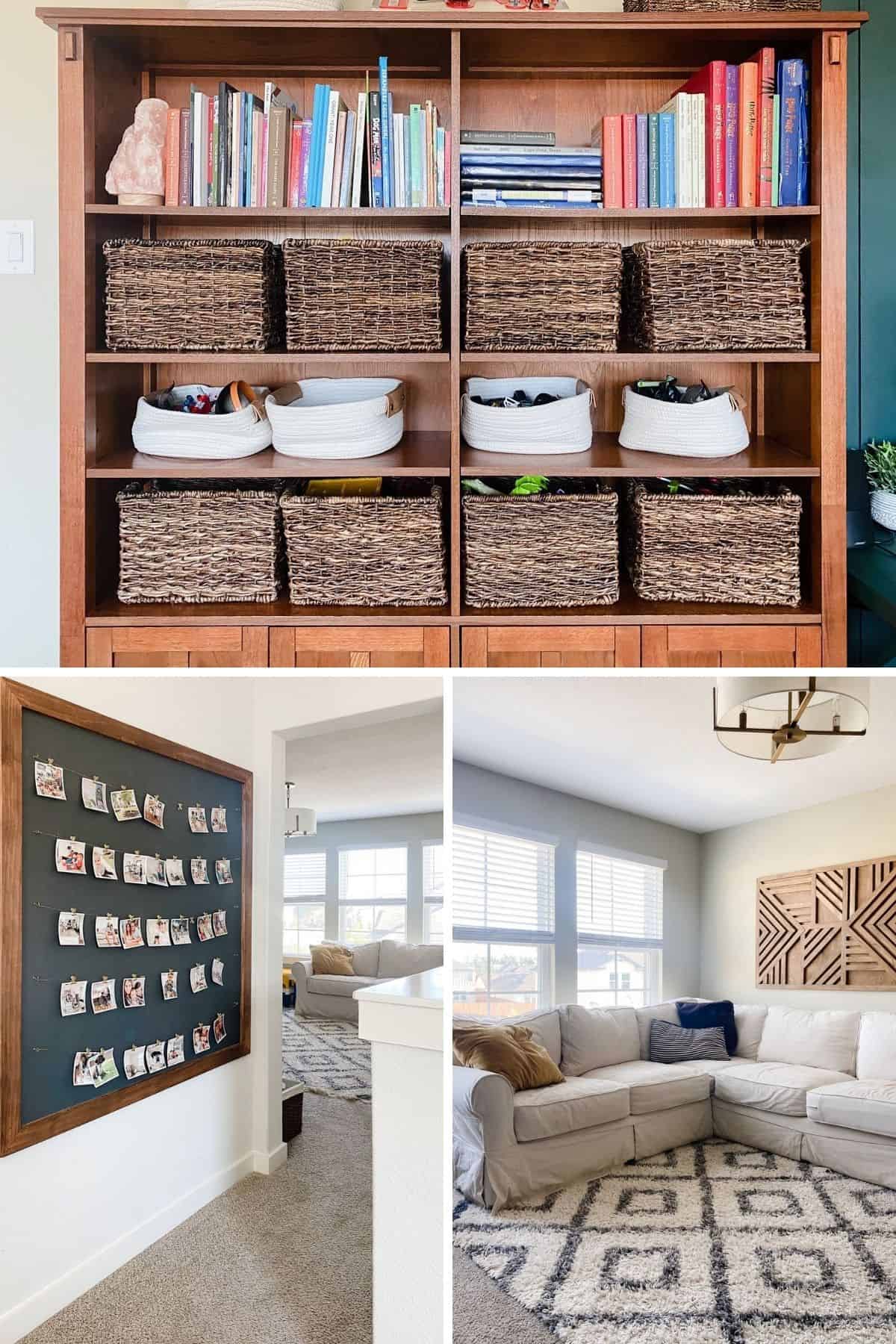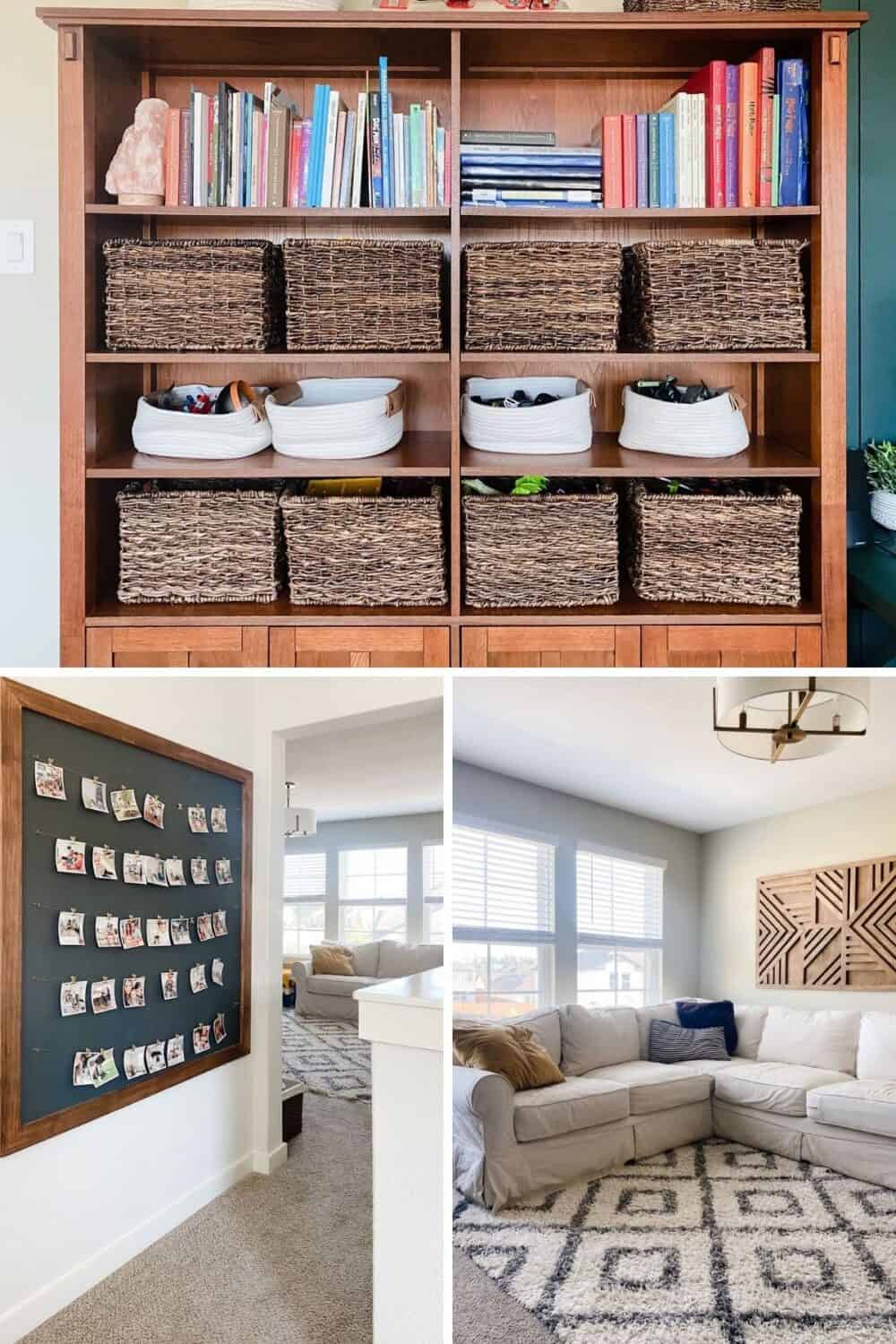 This is one of the rooms I'm most grateful to have! This is the first time we've lived in a house with a dedicated play room, and it's a game changer. We keep all of the boys' toys in here, along with a giant television to create a super cozy movie theater feel.
This room didn't really get touched this year, but I have a feeling it'll see some updates in the next year or two! We've always planned on adding wall-to-wall cabinetry on the television wall for tons of storage, and the more I live with the vertical shiplap in here the more I want to take it aaaaaall the way around the room!
We'll see where we end up landing here, but I do love this space and it's been such a sanity saver for everyone in the family.
The Boys' Bedrooms + Bathroom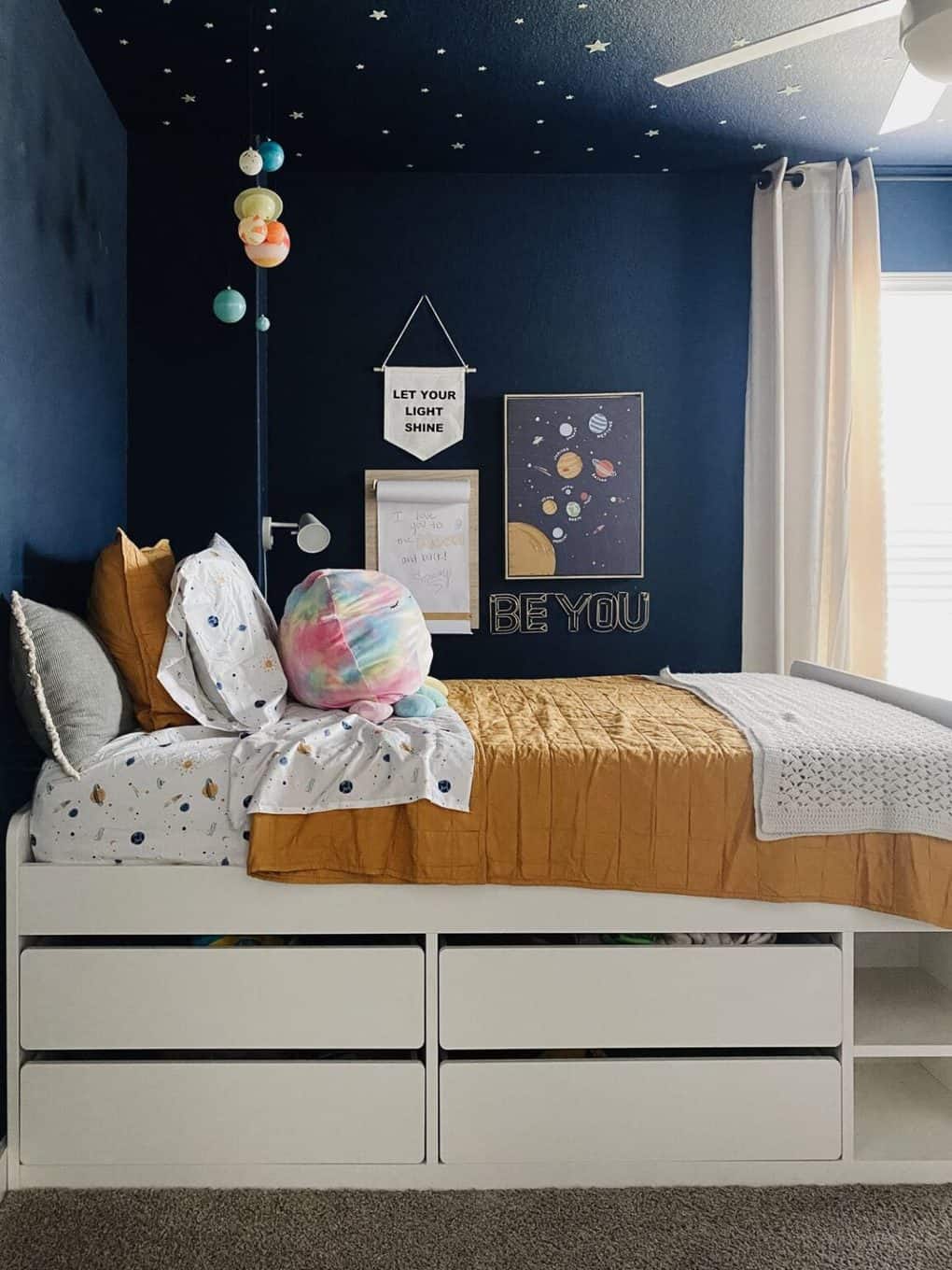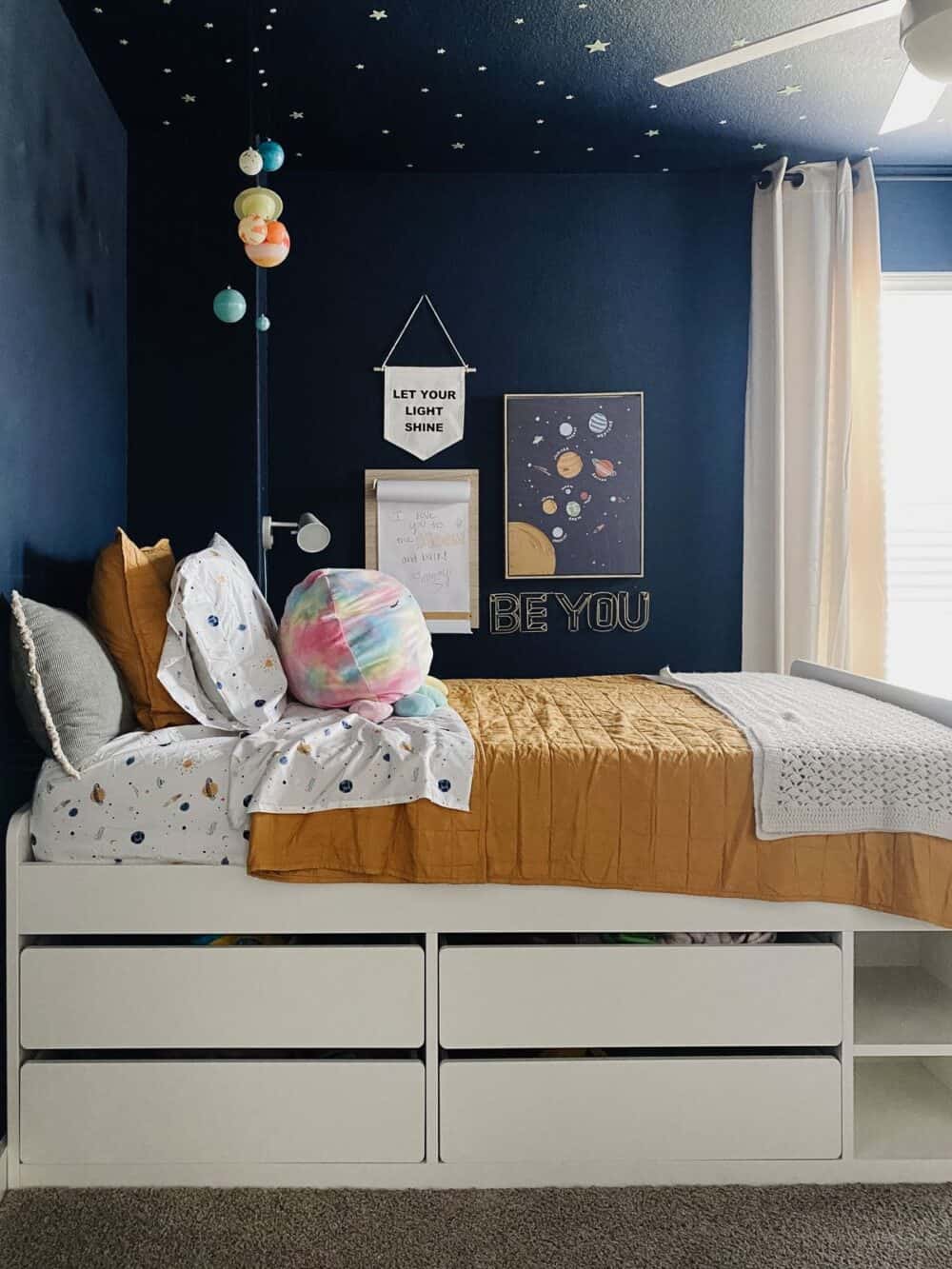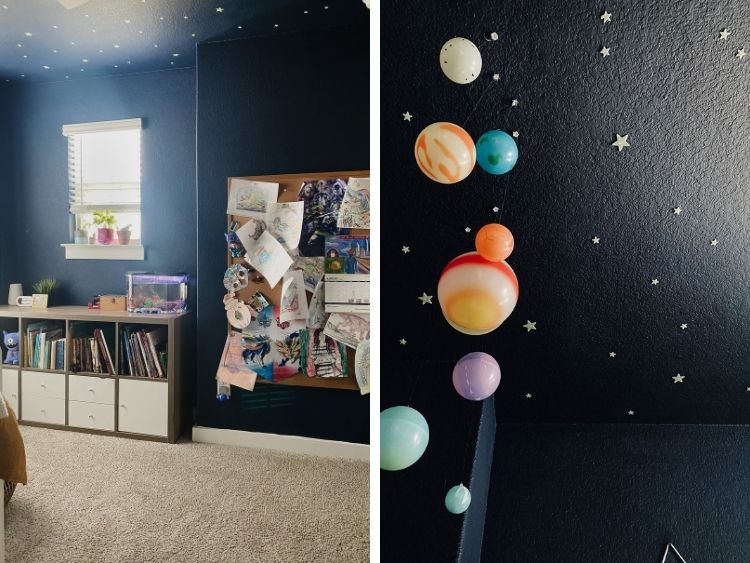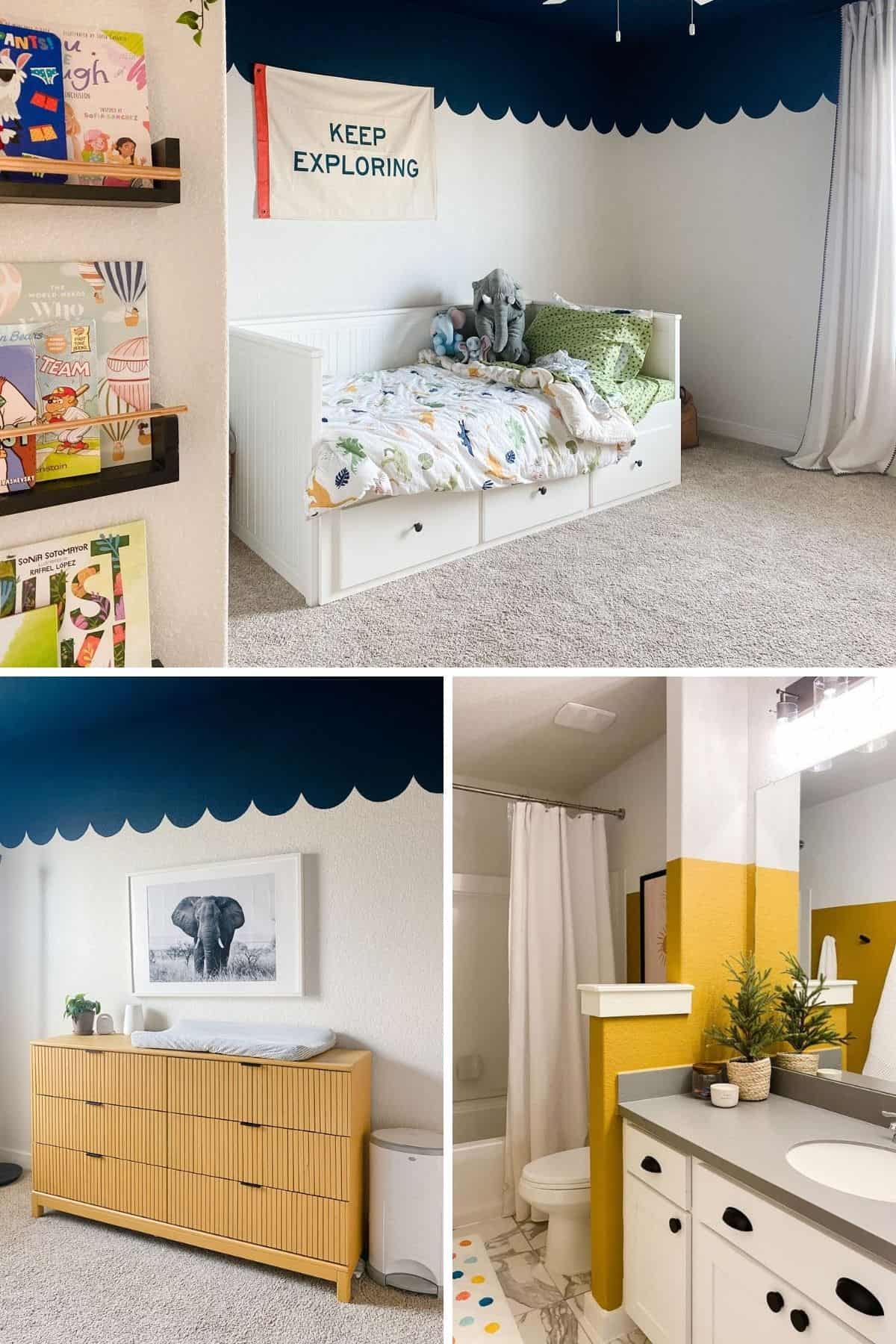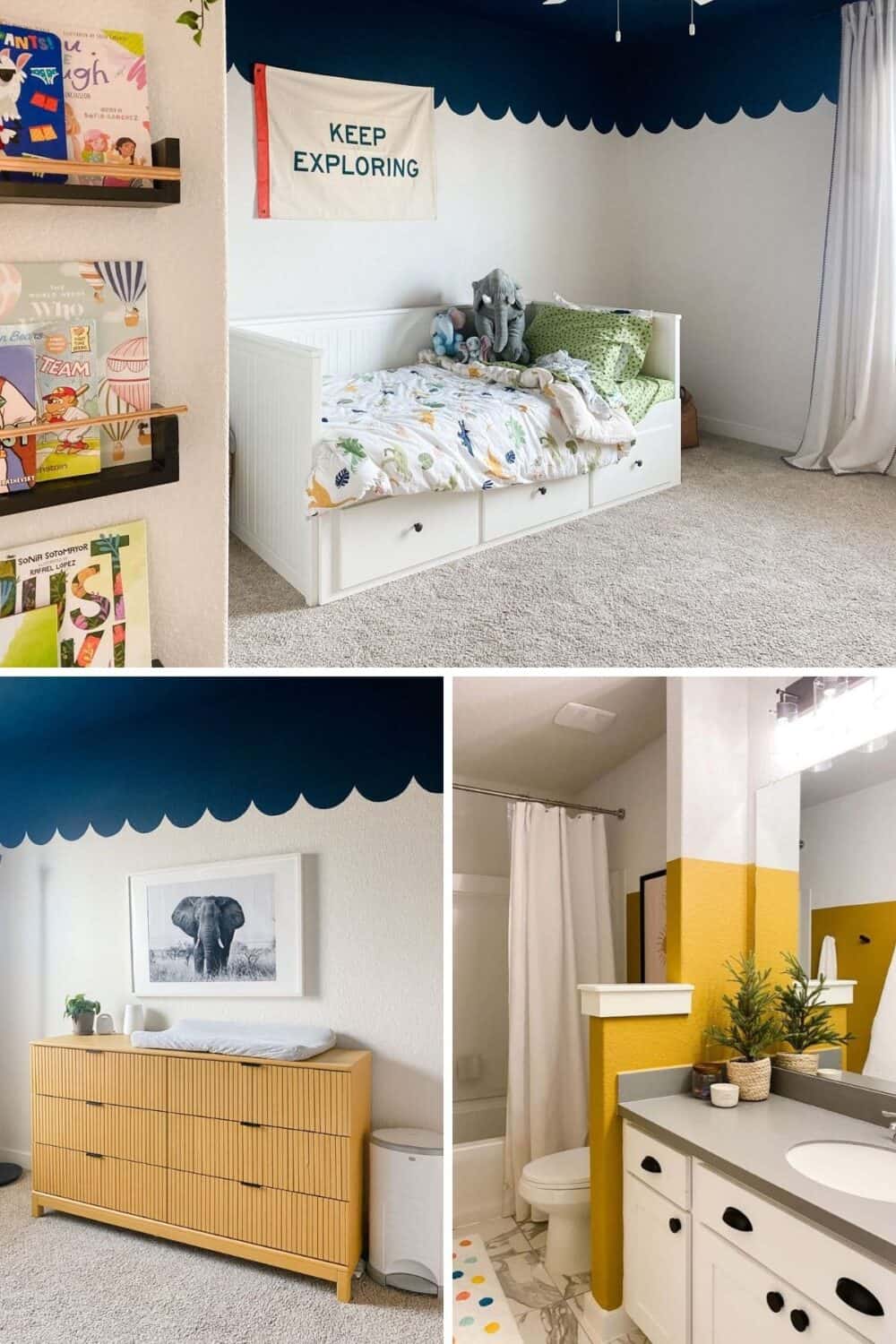 The only one of these spaces that saw a big change was Jackson's bedroom, which got a complete overhaul! This space feels so much more "Jackson" now, and I love hanging out in there with the cozy, star-lit ceiling. I love letting our kids have a ton of creative control over their rooms, and watching Jackson's vision for this space come to life was so much fun.
In Grant's room, we ditched the crib and got a big boy bed, but we haven't done anything else yet. I have big plans to add some built-in bookcases and a few other touches in here, and I'm hoping that will be one of the first projects we tackle in 2022!
Their bathroom got a quick paint job at the end of last year, and I may be doing another quick refresh sometime next year…the yellow has been fun, but after the changes we made in our bathroom, I got so many ideas for other things we could do in here!
2021 Kid Room Projects
And that's how our house is looking after two years!
Before we go, let me touch on a few FAQs from Instagram – I opened it up to questions in my stories and had some good ones!
Do you have any project regrets or things you wish you had waited on?
My only real project regret in this house so far is adding open shelving in our laundry room. I thought it would look nice, but looking back I think that closed cabinetry would have been a much better choice. It's not too late to change it, technically, but since we've installed a counter and tile already, it would be pretty challenging!
If you could change 1 thing about your house, what would it be?
I would add a fourth bedroom, definitely. When we purchased this house, I was the only one working from home. With Corey and I both working from home (and Grant not in preschool anymore), it would be so nice to have a dedicated office space.
Any new construction tips? Did you deal with a lot of construction dust?!
The house itself was immaculate when we moved in. But, since they were still building all around us for the first few months we lived here, we definitely dealt with a bit more mess than usual. It was temporary, though, and not that bad.
As far as tips, here's what I've got:
Don't be afraid to stop by and check in on your house often while it's under construction. Make friends with the people building it. Bring them donuts! If they know you're watching and they like you, they're more likely to take extra care for you.
If you're still in the design phase, add all the windows and electrical outlets. You can't have too much of either and they're 100% worth the upgrade.
If it's in your budget, plan on scheduling regular professional cleanings after moving in. Your house will feel so new and clean, and if you're able to have someone come on occasion (we do it once a month, but even once a quarter would be good), it'll help keep that feeling for longer.
Don't upgrade things like lights or backsplash tile. The options aren't typically great and it's way more expensive to upgrade with the builder than just do it yourself. Flooring upgrades, on the other hand, are a little more worth it if you love the choices because it's such a pain to change.
Any more questions? Drop them in the comments below. I can't wait to see what's in store for our house in year three!