We're currently working on getting our garage workshop organized and it's not an easy task! I've been gathering a lot of inspiration lately, and today I wanted to share 10 genius tool organization ideas with you!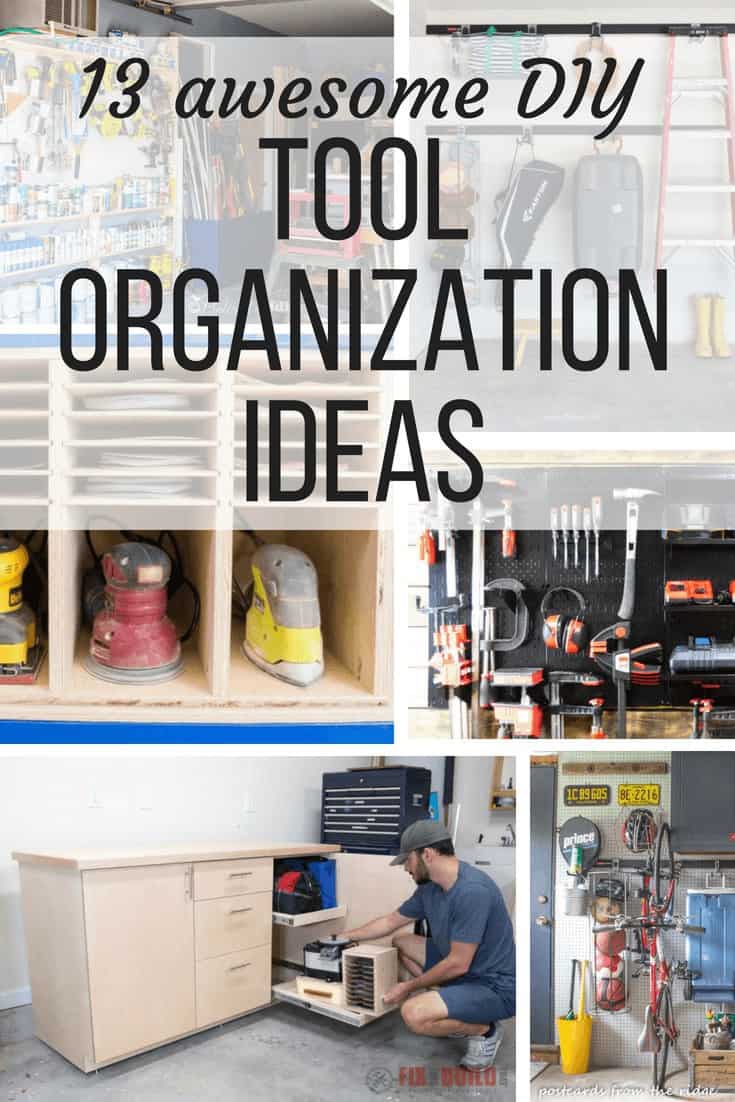 Remember how I said that I'd be coming to you every week this month with an update on our garage organization project?
Weeeeeell – this past weekend was Father's Day. And the weekend before that we were out of town on a quick vacation. So, um, needless to say not a lot has happened in our garage in the past couple of weeks. Whoops! But that doesn't mean I don't still have it on the brain – I'm actively planning a ton of different projects for the garage and I'm really getting excited about whipping it into shape. I didn't want to lose the momentum over here on the blog, so I thought today would be a fun day to share a bit of the inspiration I'm finding as I look for ideas on how to organize our tools. These tool organization ideas will hopefully get your creativity pumping if you're also working to get your garage organized – I know there are quite a few of you out there who are tackling this major project right along with us!
And, in happy news, we have our pegboards and all of the accessories sitting in our garage right now! We just have to hang them and take on the (kind of massive) project of actually organizing our stuff on them. Hopefully, we'll be able to tackle that throughout this week and next weekend!
If you need to get caught up on our big garage organization project so far, here's where we're at:
That's it for now – I'll have another update for you soon, but until then, come sit with me and let's chat a little about the ideas we have for the garage!
Tool Organization Ideas for the Garage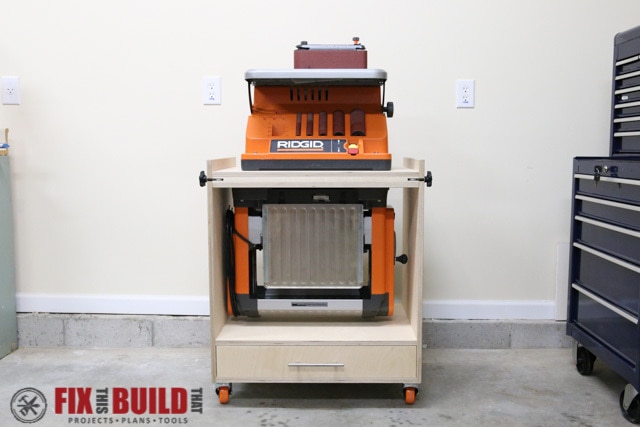 I'm more than a little bit obsessed with this tool stand my friend Brad built. It stores both a planer and spindle sander all in one handy little table. The entire top flips for when you need to access whatever tool is on the bottom (the tools are securely attached to the table, don't worry!), and it's such a genius solution for small workshops or garages. I think we have quite a few tools in our workshop that this would be a great solution for, and Brad's plans are always so detailed that I think I might even be able to do at least part of this myself! We're talking about doing several different portable tool stands like this, and I just love the idea of having one do double-duty and store more than one tool.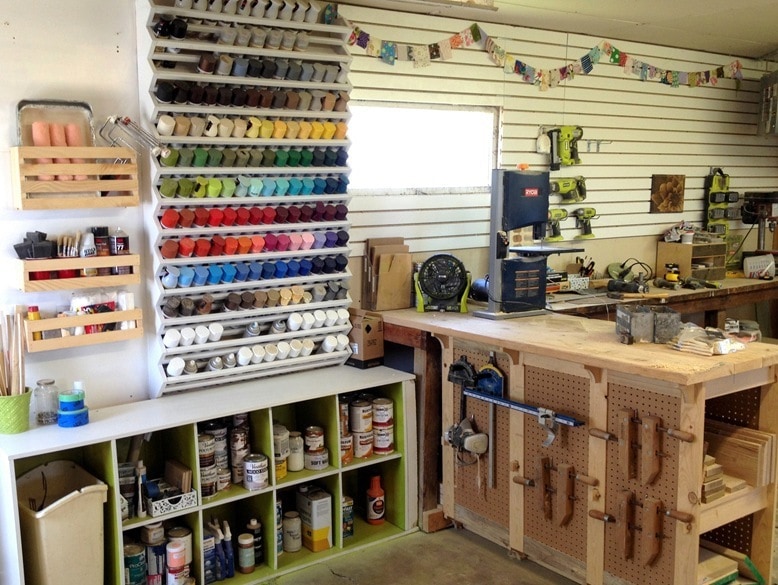 I've already shown you how I am keeping the paint organized in our garage, but I've gotta say I swooned more than a little bit when I saw this idea! I love that it makes the paint so easy to see and access, and I'm really drawn to wall organization for the garage. Anything that saves a bit of floor space is something I'm a fan of! I also am finding myself scouring her photos for other ideas for organization in our garage – I love her corner workbench and the fun pops of color she has throughout her workshop!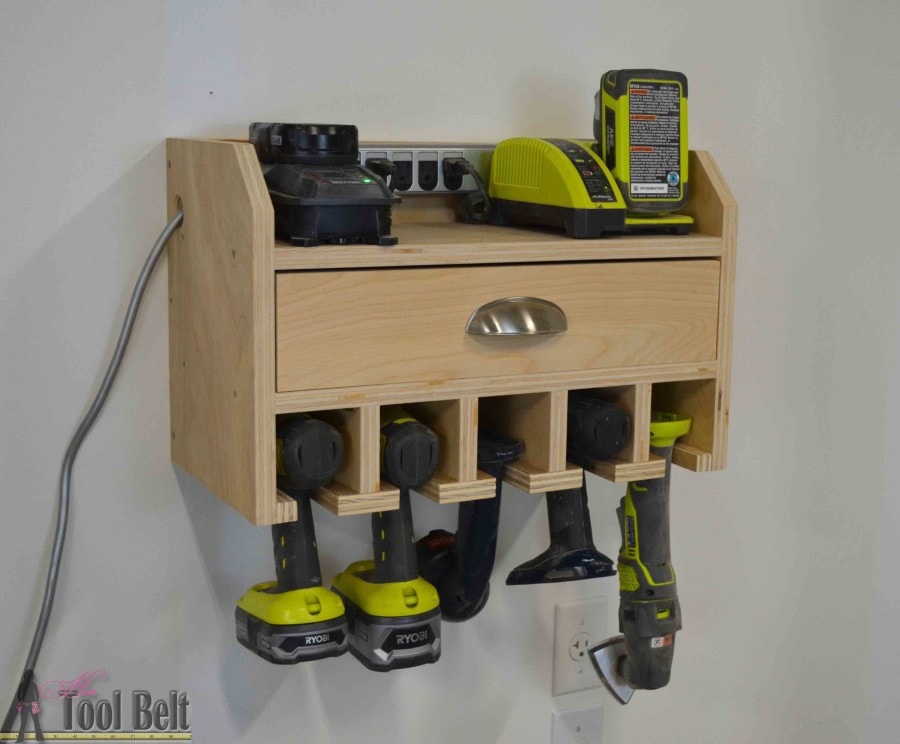 I love the idea of doing something like this to store our drills! Like I said – hanging storage on the wall is what I'm really drawn to more than anything right now, and this is such a simple way to store these bulky tools and have a place to charge them as well. We're going to need to add some plugs to our garage throughout this process (it literally only has ONE PLUG), so I love the idea of planning to add one specifically for this purpose!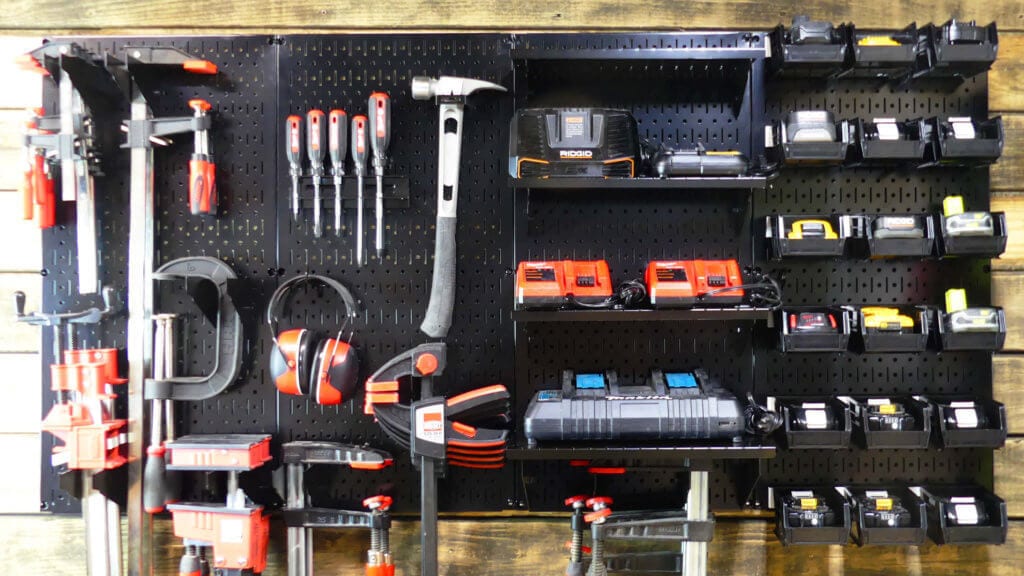 Is that not the prettiest pegboard you've ever seen? Spoiler alert – we're working with this same brand for our pegboards, and I can't wait to get them up and show you how awesome they are. So, of course, I couldn't resist including this idea for storing clamps on a pegboard. We'll probably be building something separate from our pegboards for our clamps (they take up so much room!) but this really is a smart use of the system!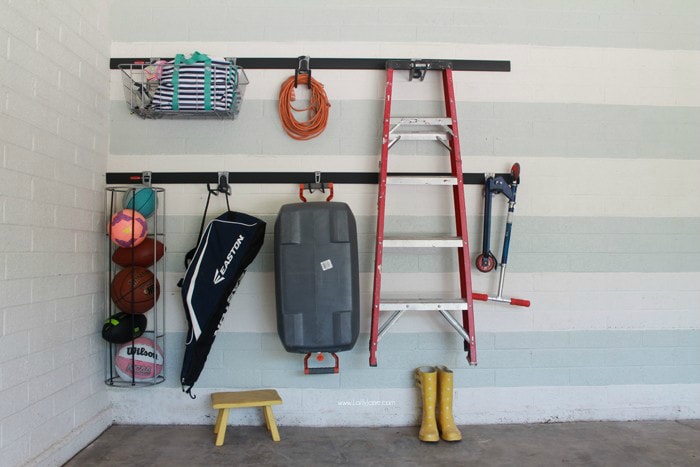 Of course, not all garages are just for tools. Ours isn't either! We have all sorts of other little things that need to be stored in the garage, and much of it is bulky and awkward to store. I love this idea for a simple hanging system that gets those oddly-shaped things off the ground but keeps them super easy to access, since they're also often things you use all the time. I particularly love the idea of storing a ladder and extension cord on a system like this – those are so hard to find good spaces for!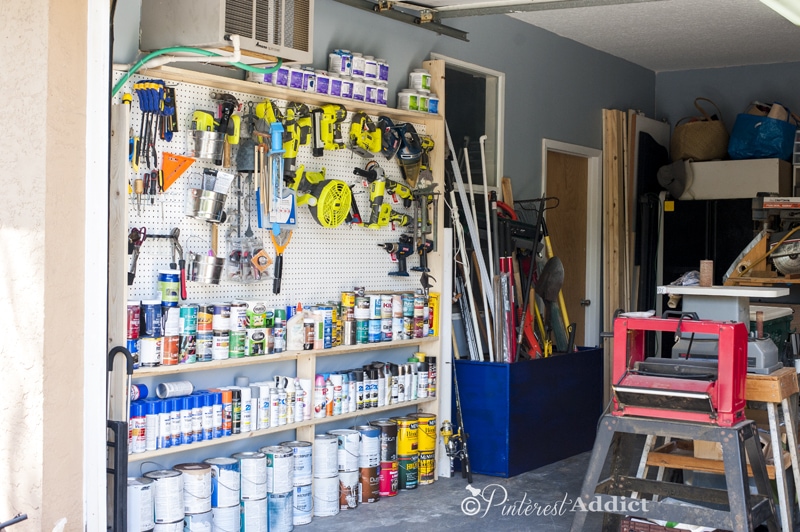 Mmm there's really just something about pegboards that makes me a little swoony. The organization is just oh so good! I really love these thin shelves she used for organizing her paint – it's smart because it provides a ton of storage space without taking up much square footage in the room. This post has tons of great tips for diving into a garage organization project if you're starting off with a total mess – and I know a lot of us are!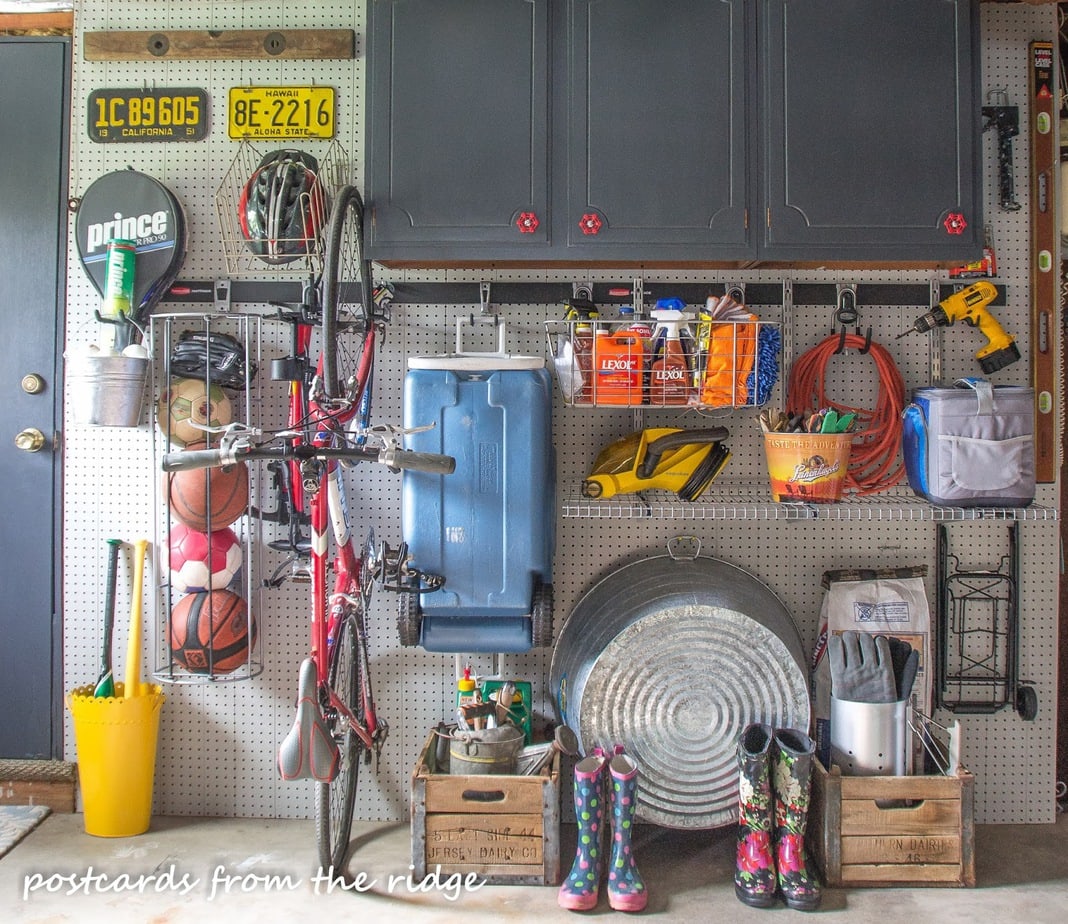 This is another post that's so helpful if you're starting from scratch with getting your garage organized! There are so many super smart tips for how to purge, how to re-arrange what you're left with, and the best ways to store stuff. Once again, note all the hanging storage?! I think that's definitely going to be a theme in our garage!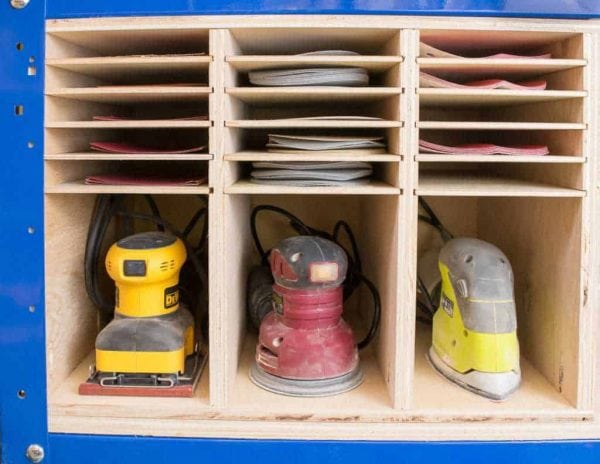 Love, love, love. Really, I'm just super into the idea of making super specific storage solutions for all of the tools in our workshop. I'm a big believer in "a place for everything" and I think we'll do so much better keeping the garage organized if we've got a really solid system that leaves no room for uncertainty. This is a great way to organize all of the sanding stuff that (at least in our house) often gets scattered all over the place. I can't tell you how much time I've spent searching for the right grit of sandpaper! I love that this has it all right in the open and easy to grab when you need it – especially since the sander is one of our most-frequently-used tools!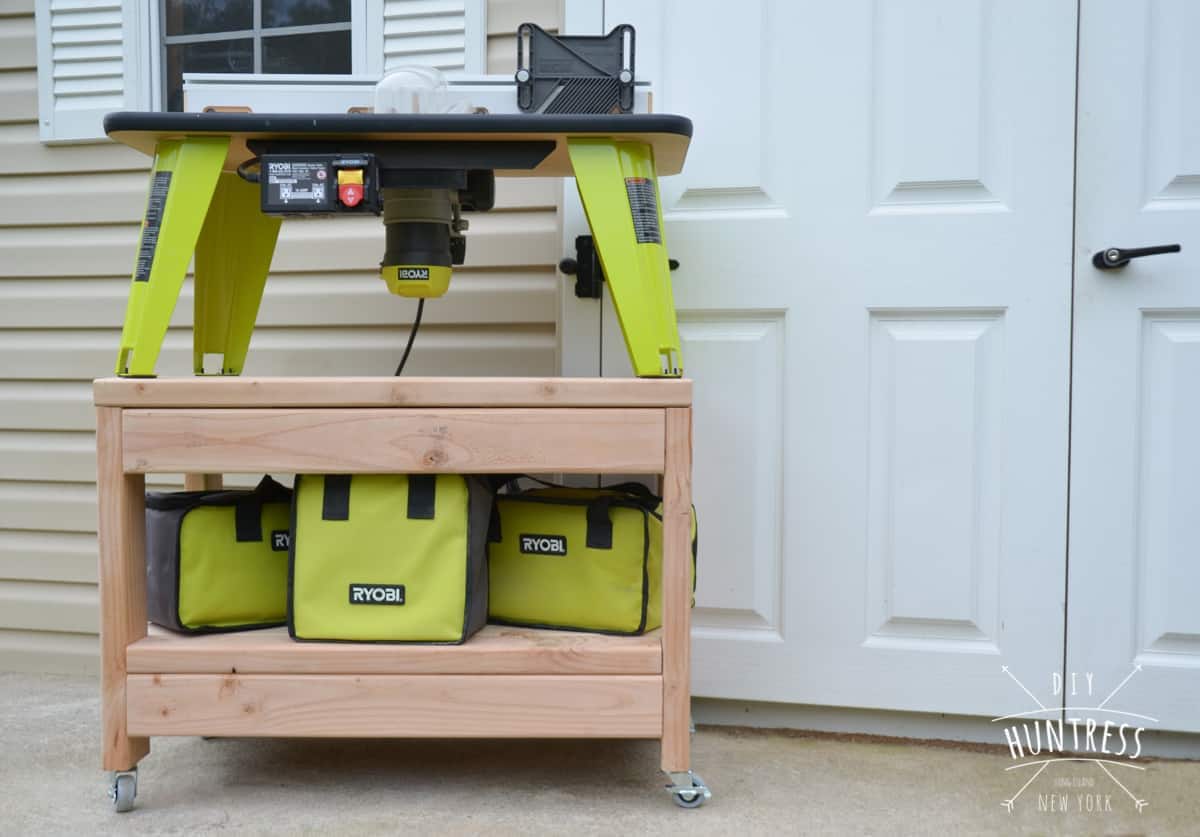 I love this idea for an awkwardly-shaped tool! This router table is a bit too tall to use on a regular workbench, so Sam made one that fit it perfectly. And, as with most of my favorite tool organization ideas – it's on wheels! I love the extra little shelf underneath to stow away other things, and I swear I think I could probably use about 5 of these in our garage. Such a simple and smart idea!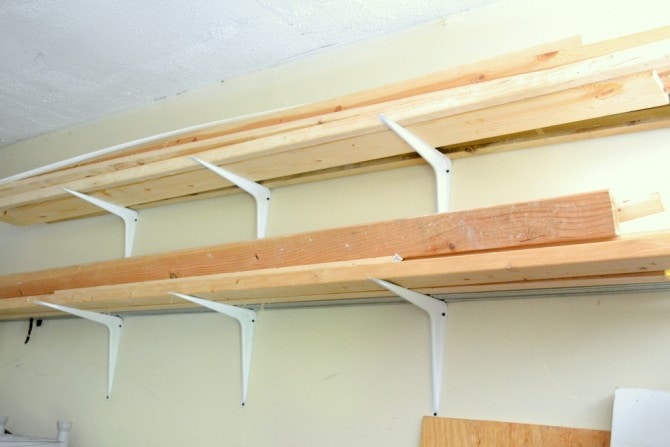 Corey and I haven't even begun to think about how we'll deal with scrap wood. Right now, he's of the mindset that he's just not going to keep any of it because our scrap wood collection at the last house got so out of control it was a little ridiculous. However, I think it's unrealistic to say we'll never have scrap wood laying around! I love the idea of storing it nice and high up on the wall like this, and, once again, it's a simple solution that keeps floor space free. Of course, with all of these hanging tool organization ideas I have, I'm bound to run out of wall space eventually!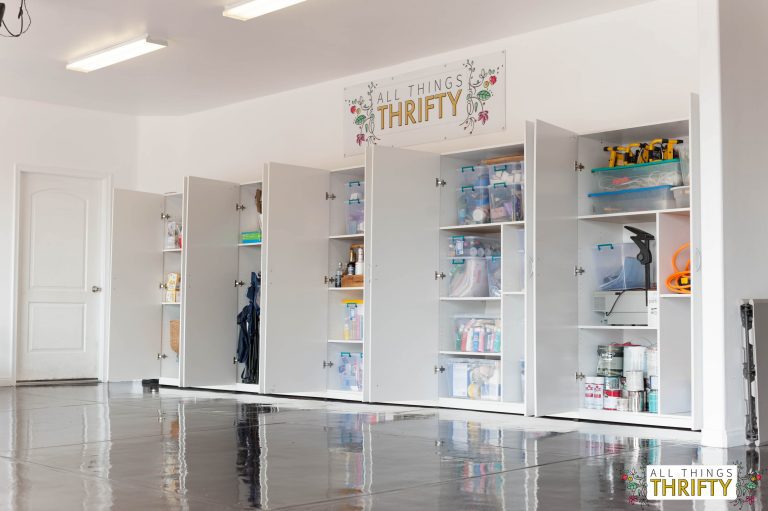 Oh man, this post is making me want to do the Rock Solid flooring in our garage again! Brooke's garage is so organized – I'm obsessed! I love the closed shelving, I love how much open space there is to work, and I love the floor. It would be a major (major!) pain to remove everything from our garage for a week or so to do the epoxy floor, but photos like this make me consider it very seriously. It's the nicest flooring ever to have in a garage, and it just looks so dang gorgeous!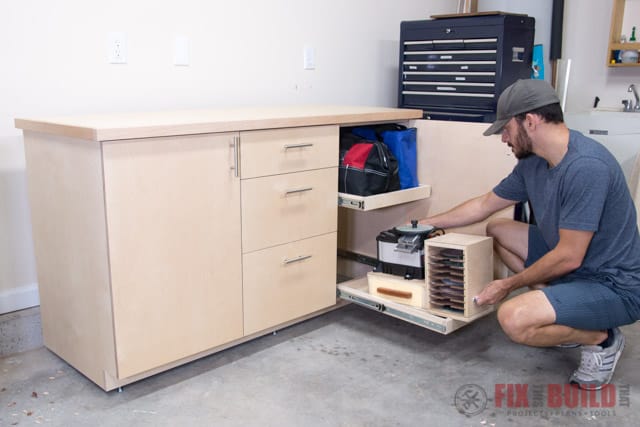 Why yes, it's another genius tool organization idea from Brad! He's got a ton of great workshop organization ideas on his blog, and this one might be one of my favorites. Closed storage in a workshop is so helpful because there's often a lot of dust flying around – things get so messy! I love the idea of building a simple cabinet to keep some things out of the chaos – plus, it helps things look much cleaner, too. Oh, and not to mention – it gives you more workspace (as long as you are able to keep the top cleared off!).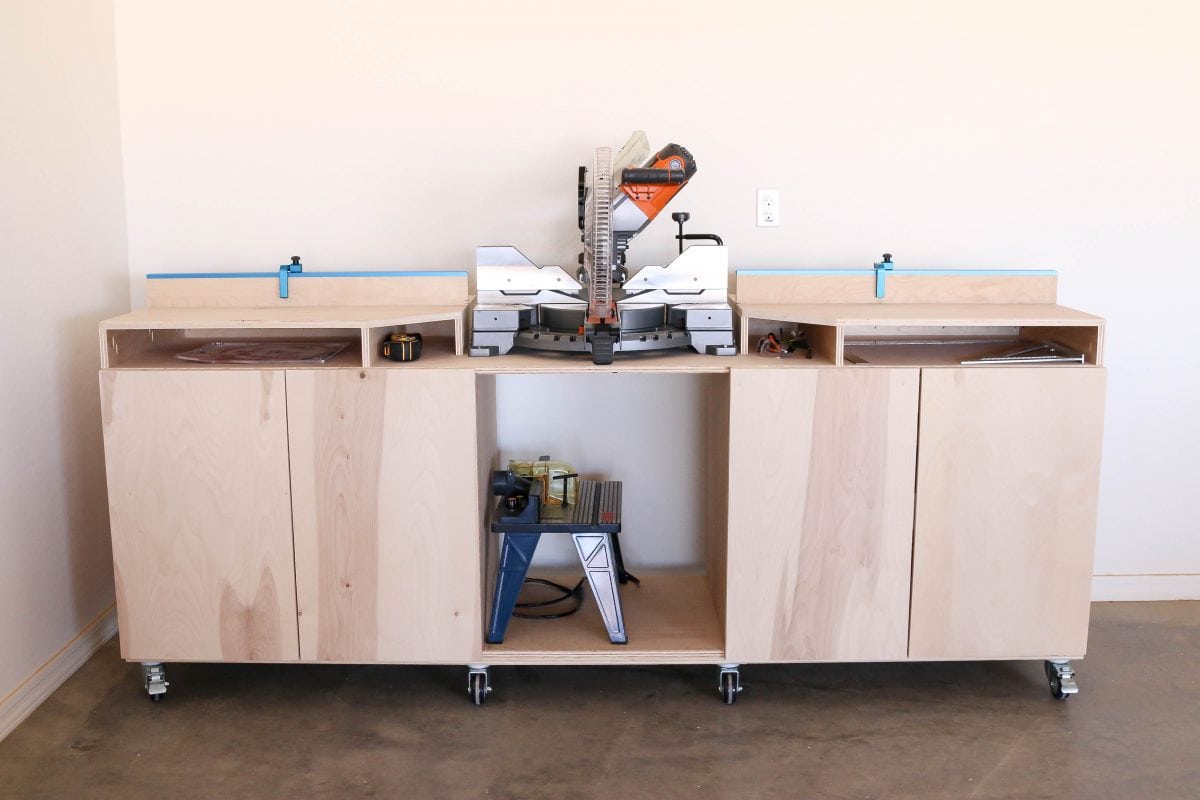 This mobile miter saw station is pretty genius – I'm always a fan of any workstation for a garage or workshop that is mobile, and I love all of the additional storage that this one provides! Notice the handy little shelves under the top of the table? They're the perfect place to tuck a measuring tape or a square, and, of course, I love the closed storage option too. We've already got a station for our miter saw in the garage, but this would work for a variety of tools with a few tweaks!
Maybe it's just because I'm super nerdy, or maybe it's the pregnancy nesting (maybe it's a little bit of both?!), but after writing this post I'm feeling so excited to get in our garage and get organizing. I've been itching to build a few different things lately, but we've put ourselves on hiatus until the garage is done, so I'm just so dang ready to knock this out! Plus, a clean and organized workshop is one of the most motivating things ever, right?!
Pssst – Need even more ideas! This post has tons of workshop organization ideas for you.