Our Simple Thanksgiving Aesthetic This Year
A lot of people think that Thanksgiving kind of gets ignored this time of year. We're all ready for Christmas, and there isn't always much happening in the way of Thanksgiving decor. As soon as November 1st hits, it's all Christmas all the time and, other than Thanksgiving day, we don't pay much attention to the holiday. So, even though we aren't even hosting this year, I decided to set our table with a Thanksgiving aesthetic for a little inspiration and fun.
And just so no one could say I ignored it.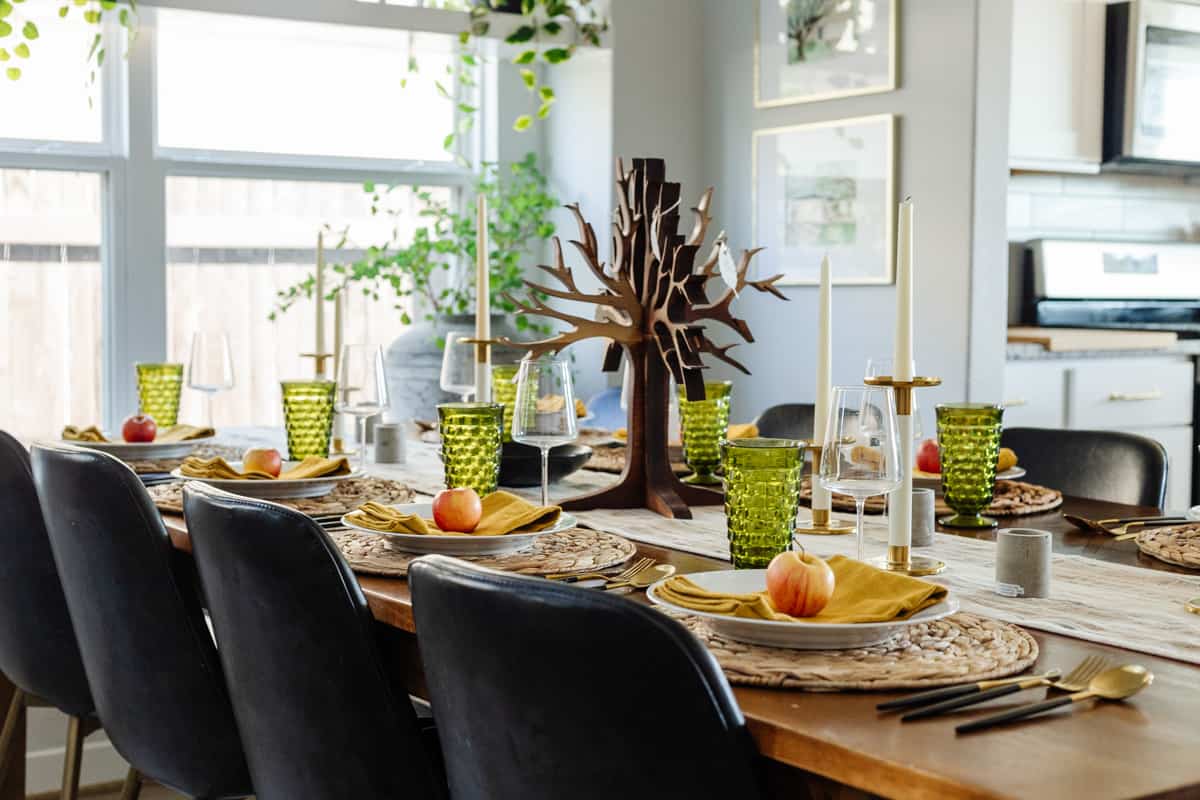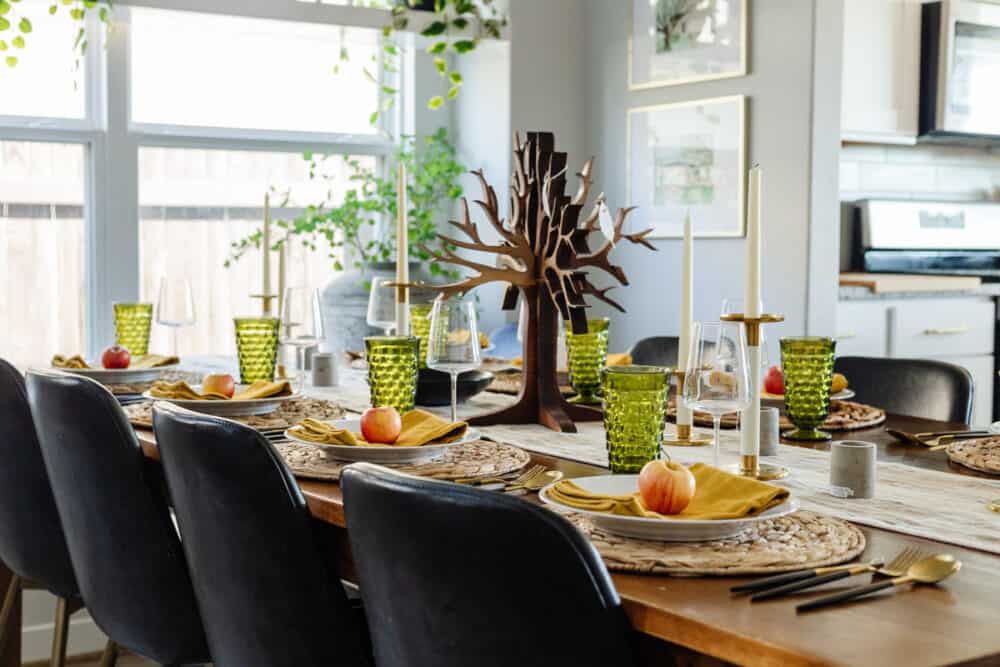 I'm certainly no pro when it comes to table settings and creating a beautiful tablescape. Mostly, I like to keep it simple. Low centerpieces that you can talk over, place settings that don't feel too fussy, and nothing too specialty that I have to store and can only pull out once a year.
I love to re-use things for multiple holidays, and I have a basic formula that I generally stick to when doing any table setting. So, if you're hosting this year and need some ideas for your Thanksgiving table, let me get you started!
Tips for a Cozy + Simple Thanksgiving Aesthetic
I always like to start with some sort of runner or long stems of faux greenery. Try to stick to something with some autumn colors or lots of texture for a really cozy fall feel.
Add all the candles. ALL OF THEM. My favorite way to create a big impact on any dining table is a row of taper candles in candle holders of varying heights. It creates an impact, gives off such a warm and cozy vibe, and really amps up the holiday spirit.
I am using our thankful tree as a centerpiece this year. But, a beautiful vase filled with a simple arrangement is always a winner. Just make sure it's not so elaborate you can't chat with the people sitting across from you!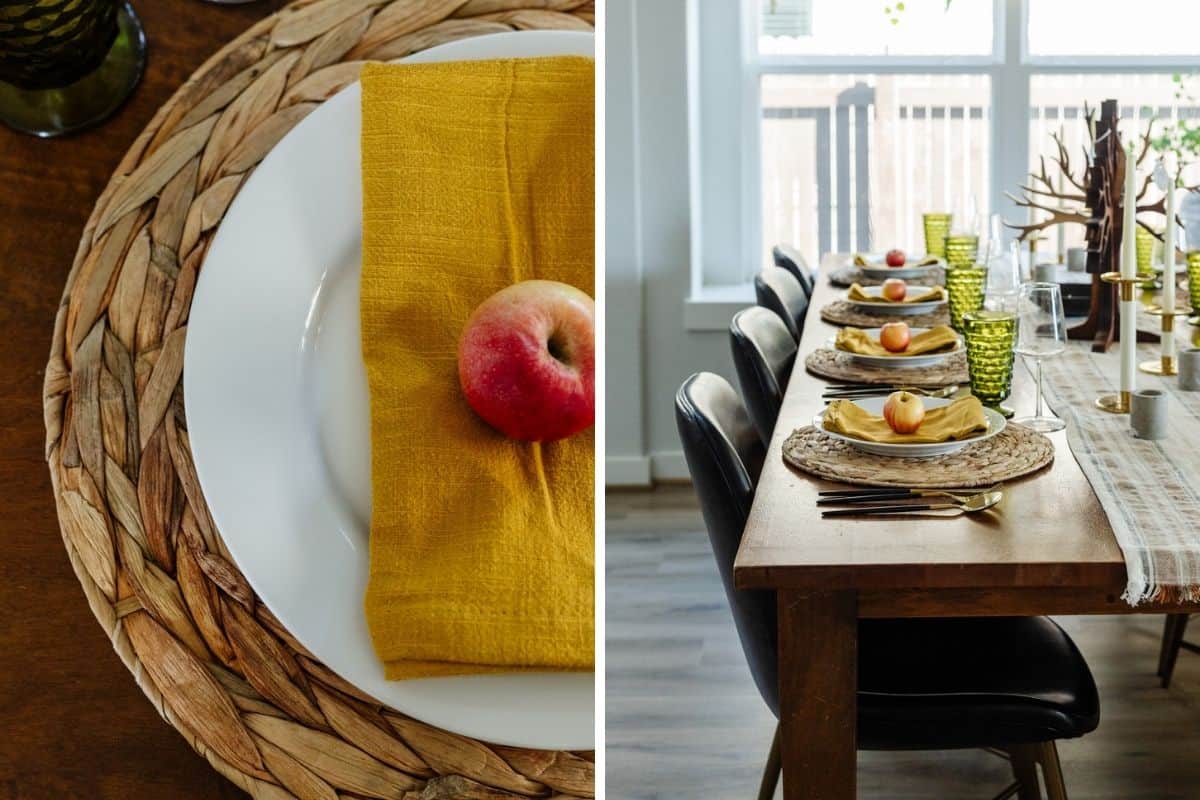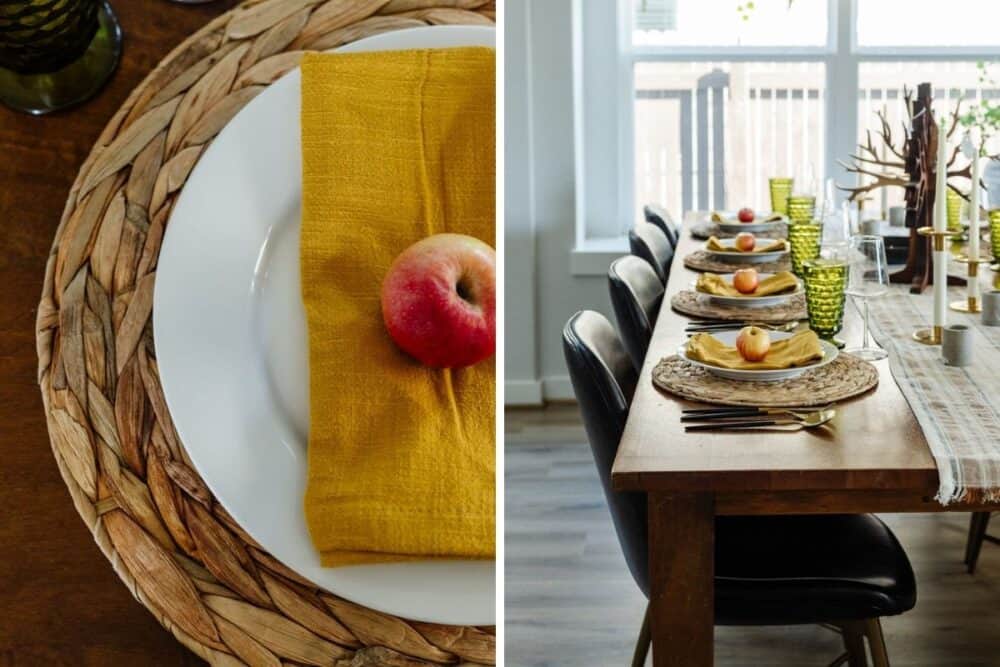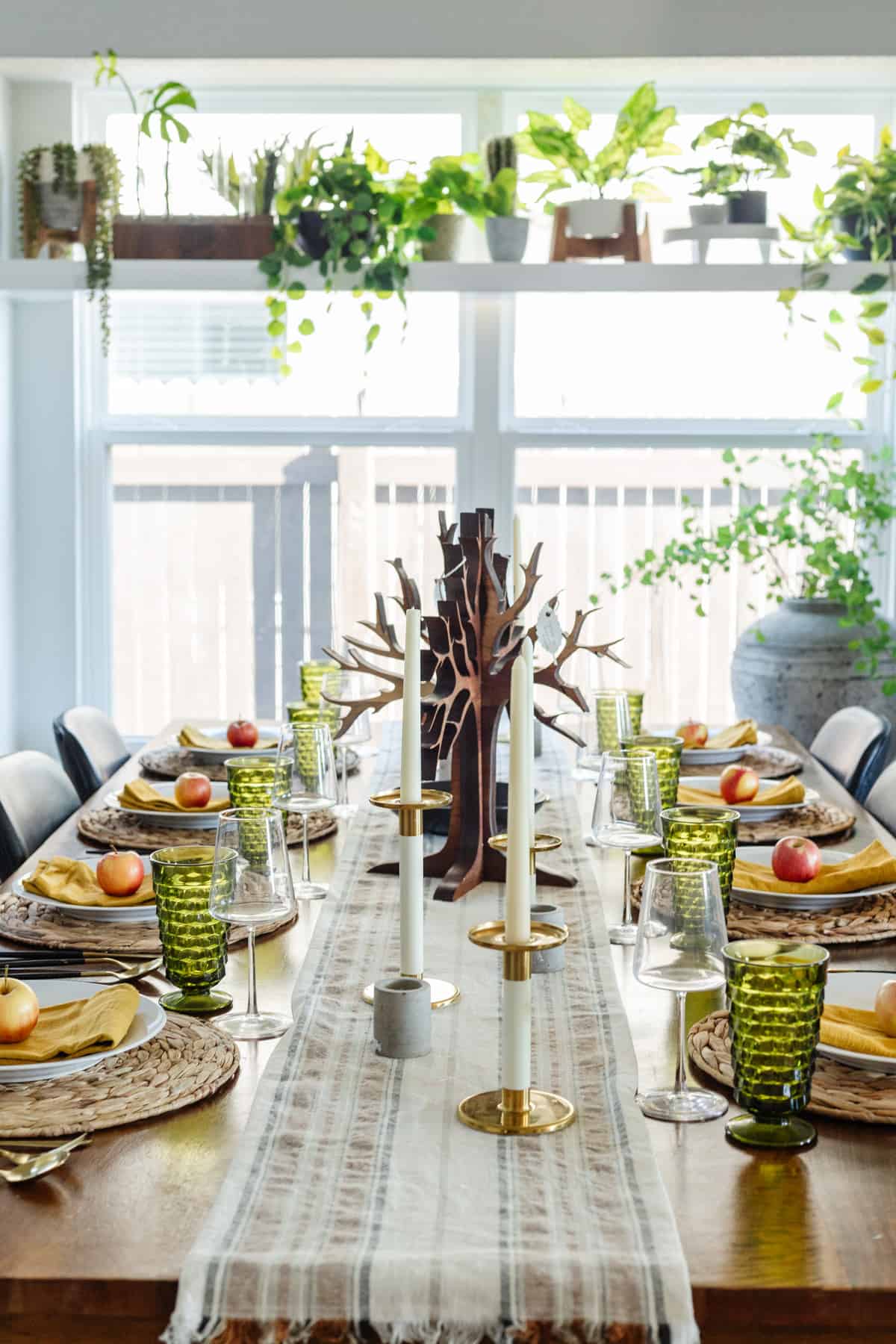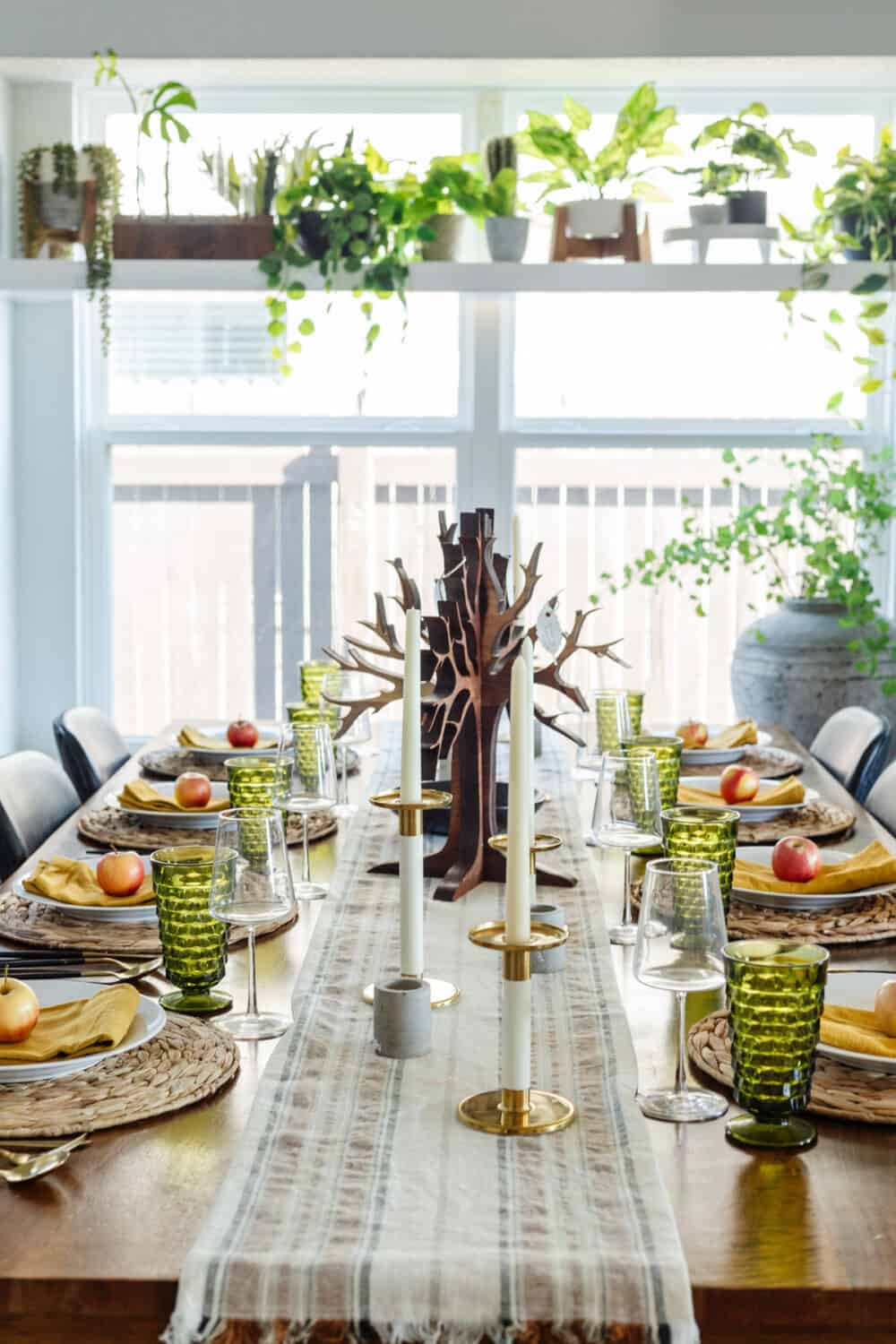 If you really want to up the fall feel, you can scatter some pumpkins (real or faux) or fall leaves across the table. I stuck to just candles this year (because I'm craving all the simplicity after the year we've had). But, get creative with it!
I don't get super fancy with our napkins, but we always use cloth napkins. This time, I just folded them up and set an apple on top. It's simple, it adds some color and texture, and it makes me smile. And that's the important part, right?!
If you need to add to your decor, I wrote a post with a lot of products for Thanksgiving. It has everything from serving dishes to quick Thanksgiving decorations that can easily double as decor for the rest of fall.
I also love to go wild with a kids' table when we host a fall dinner party or Thanksgiving dinner. Get a colorable Turkey-shaped placemat, add some kid-friendly plates and cups, and make sure they feel special too.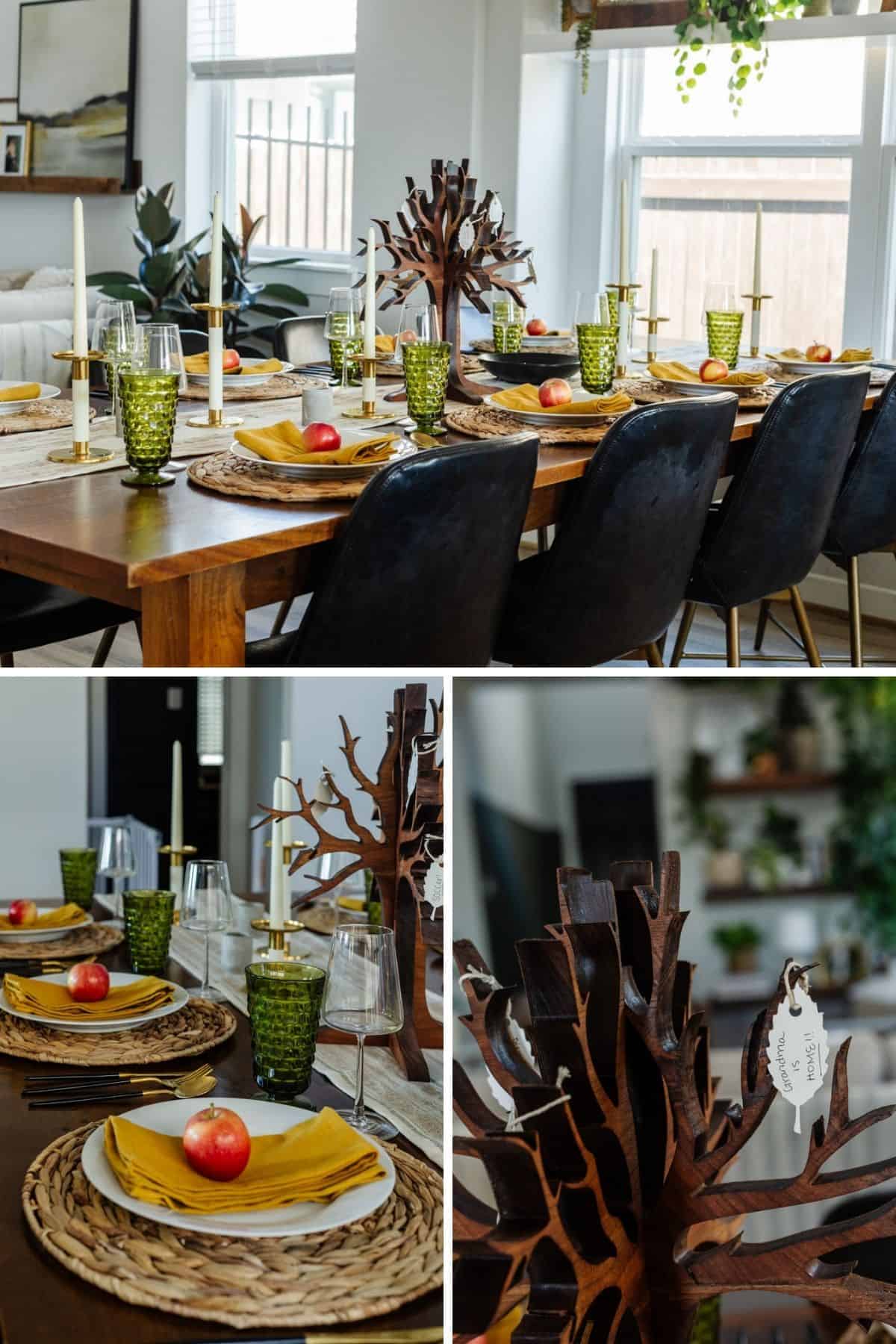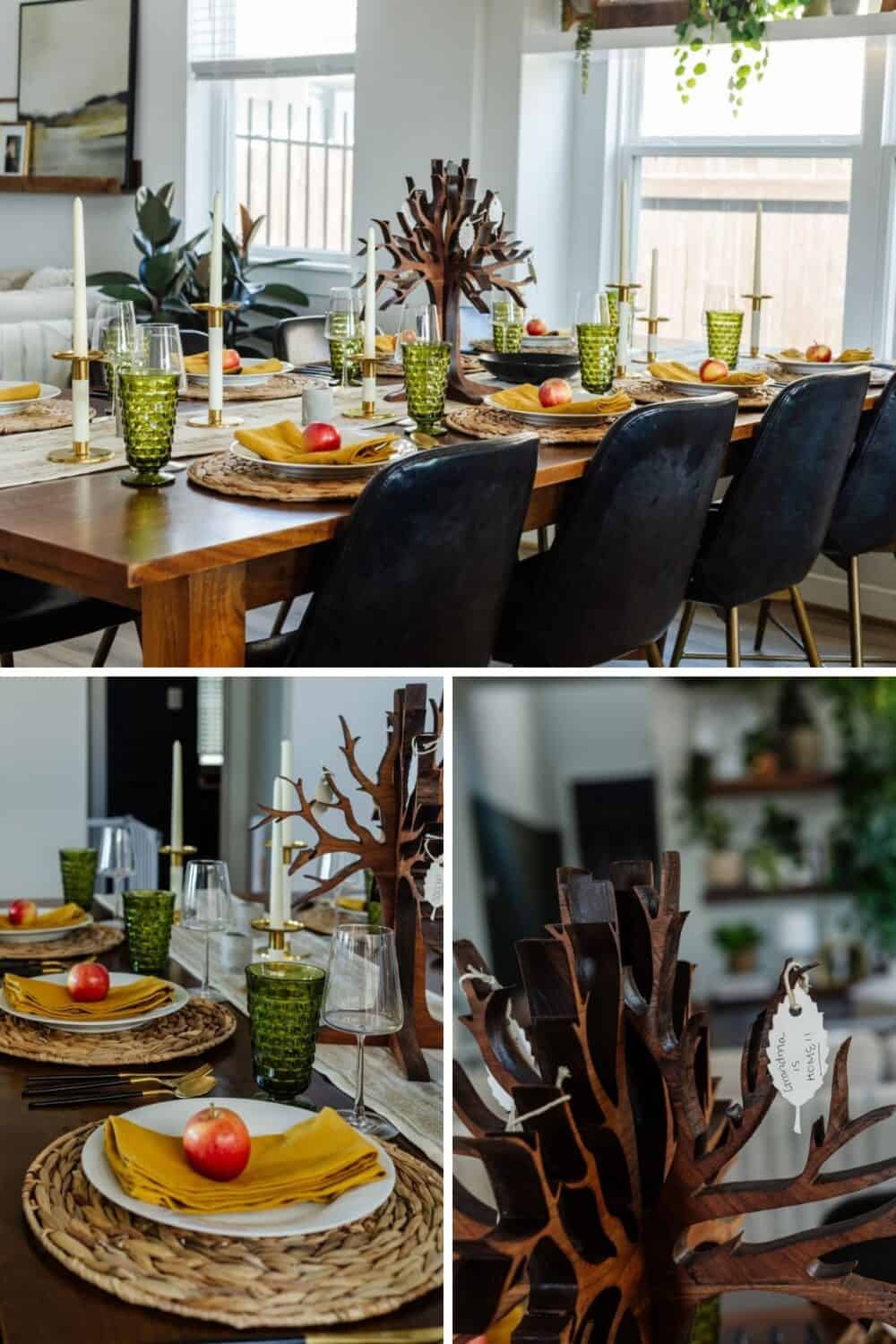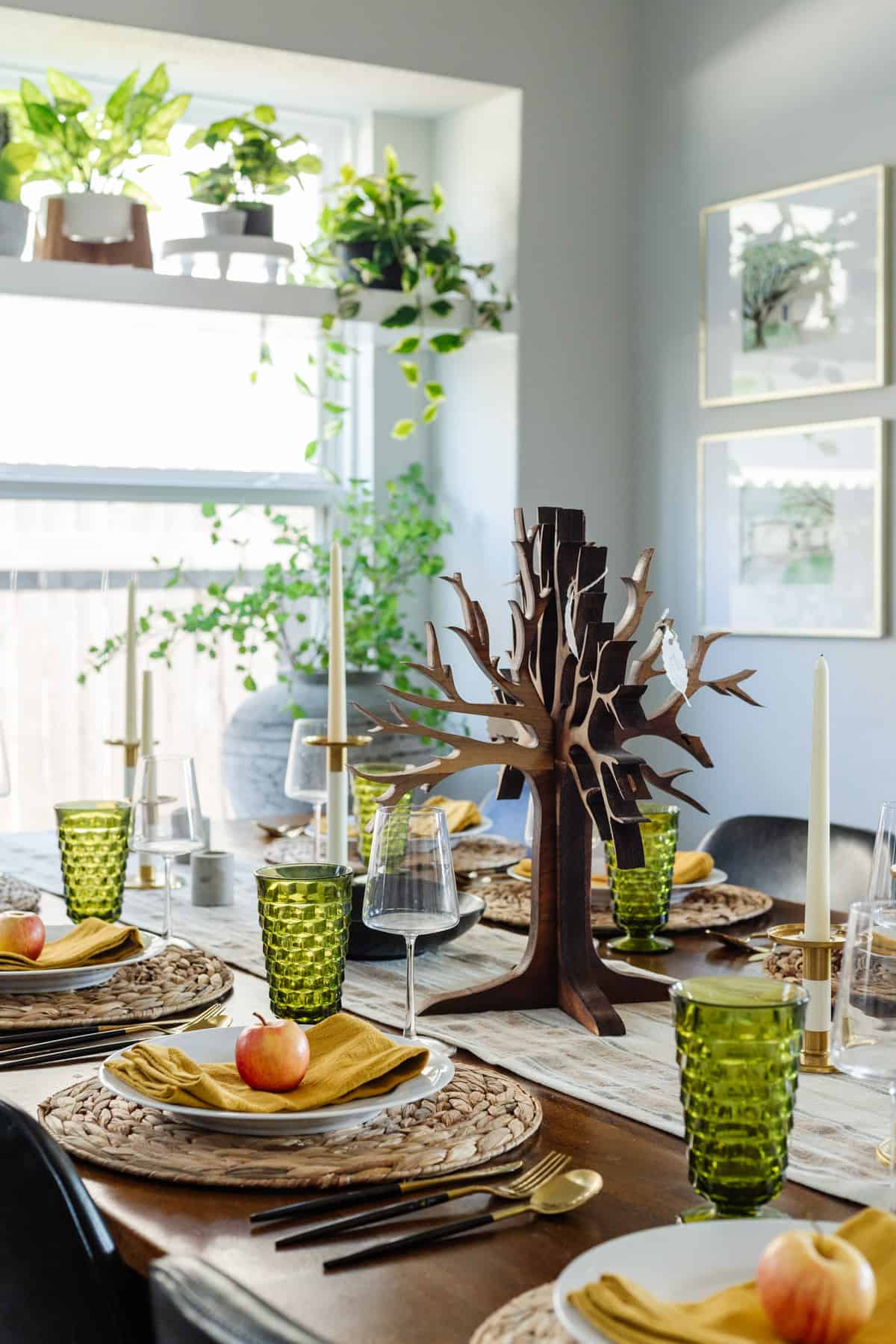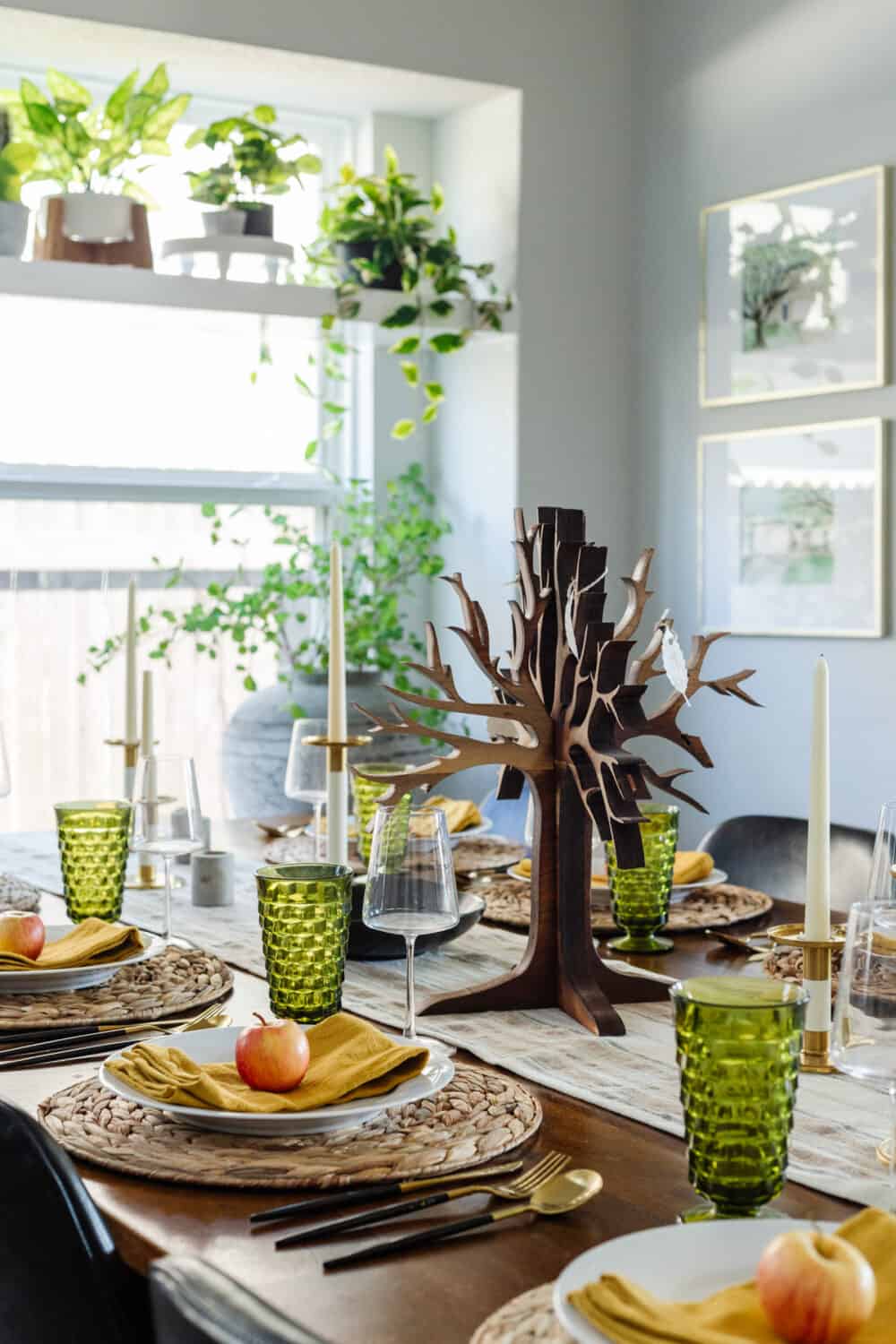 We'll be hosting a friendsgiving dinner in a few weeks with a bunch of our friends. We aren't having it at our house (we're using our neighborhood amenity center) but I still want all of the guests to feel like it's nice and special. So, I'll definitely be using some of these same simple techniques to create a Thanksgiving feel that day.
If you prefer to put your food all out on the table, skip the centerpiece and just use some beautiful serving dishes! A big tray is a great way to hold smaller dishes like cranberry sauce, appetizers, or smaller snacks. Then, once everyone has served themselves you can move it so there's a little more room!
I hope this helps give you a small bit of inspiration for your turkey day celebrations, whether you're hosting or not.
This only took me about 15 minutes to set up, but it makes any gathering feel a little more special. Plus, I love walking past my dining room and seeing the beautiful Thanksgiving aesthetic.
Happy Thanksgiving!
We officially celebrated. Is it time for Christmas decor now?!
shop the look