For quite some time now, Corey and I have said that we'd love to start a tradition of writing down something we're thankful for every day throughout the month of November. It feels like a really sweet, intentional way to spend some time reflecting on everything we have to be grateful for. This year, I'm finally getting serious about creating a really fun way for us to do it – a thankful tree!
You've probably seen some variation of a thankful tree (I've also seen them called Thanksgiving trees or gratitude trees) in the last few years. The idea is, you have a cute little decorative tree that you set out in the month of November, and every day you attach a little piece of paper with something you're thankful for.
It's a really simple little concept but man, what a powerful way to really slow down and appreciate everything you have!
I wanted to create something really special that could be with our family for years and that the kids would really look forward to participating in. So, I used my Inventables X-Carve to make this beautiful wood thankful tree. And I have a feeling it's one we'll cherish for years and years to come!
Plus, the kids love any sort of crafts and I'm working to be more intentional about doing them together.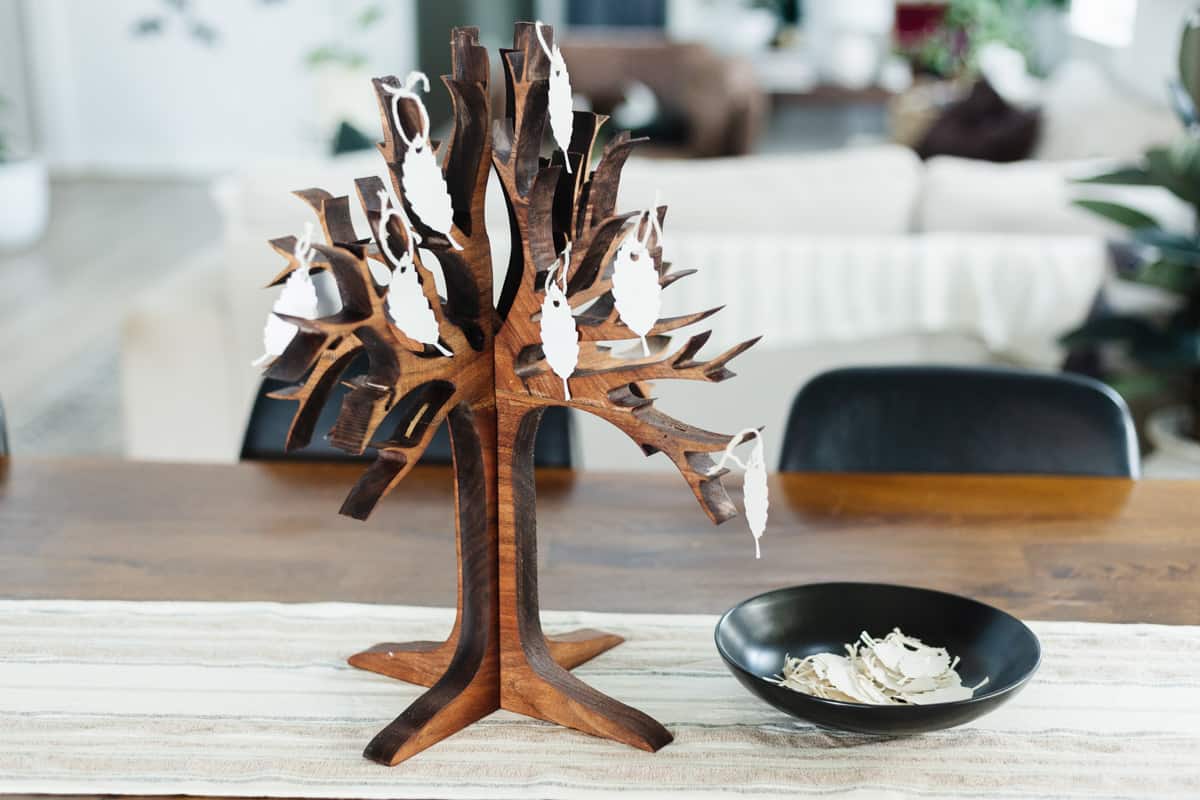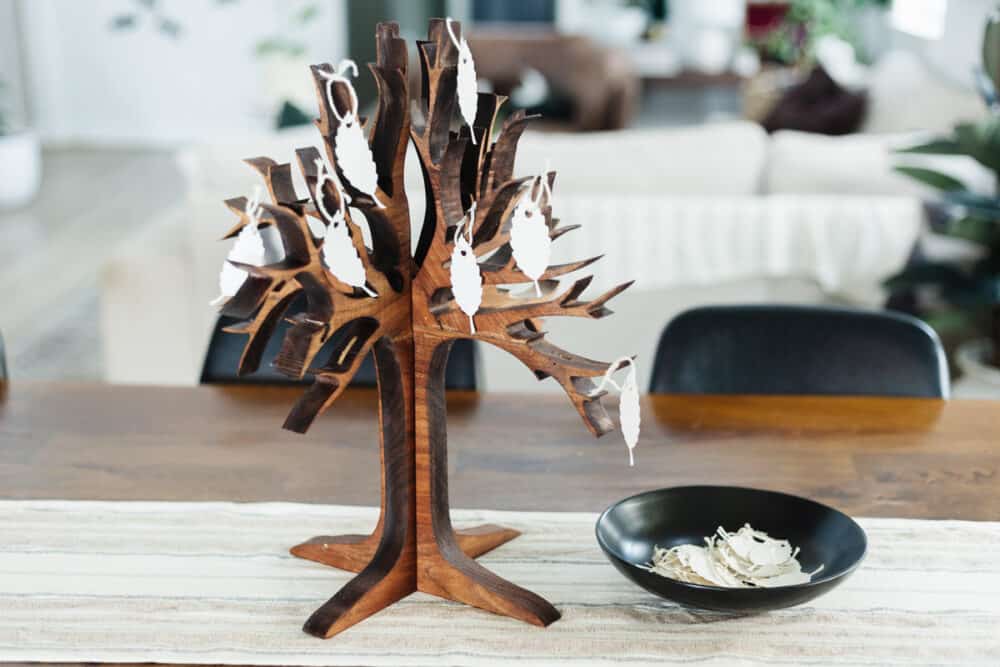 This post is sponsored by Inventables.
I'll add some resources at the bottom of this post for if you don't have an X-Carve and can't re-create this at home, but I have to take just a moment to sing the praises of my X-Carve. It's definitely the fanciest tool I have in my shop, but it's also the most versatile and hard-working.
If you haven't seen the X-Carve yet, it's a CNC Router. That means that it is a machine that can be hooked up to a computer and cut or carve out shapes into wood, metal, plastic, and more.
Click here to see some past X-Carve projects if you want to get a better idea of what all this thing can do. I've honestly barely even scratched the surface with the potential of the X-Carve. It can do so, so much! You can also click here for some inspiration and ideas for other types of projects you can complete with the X-Carve.
I decided to use my X-Carve for this project because I really wanted something special that would stand out and be something our family can look forward to pulling out every year.
And man, I think we really accomplished that!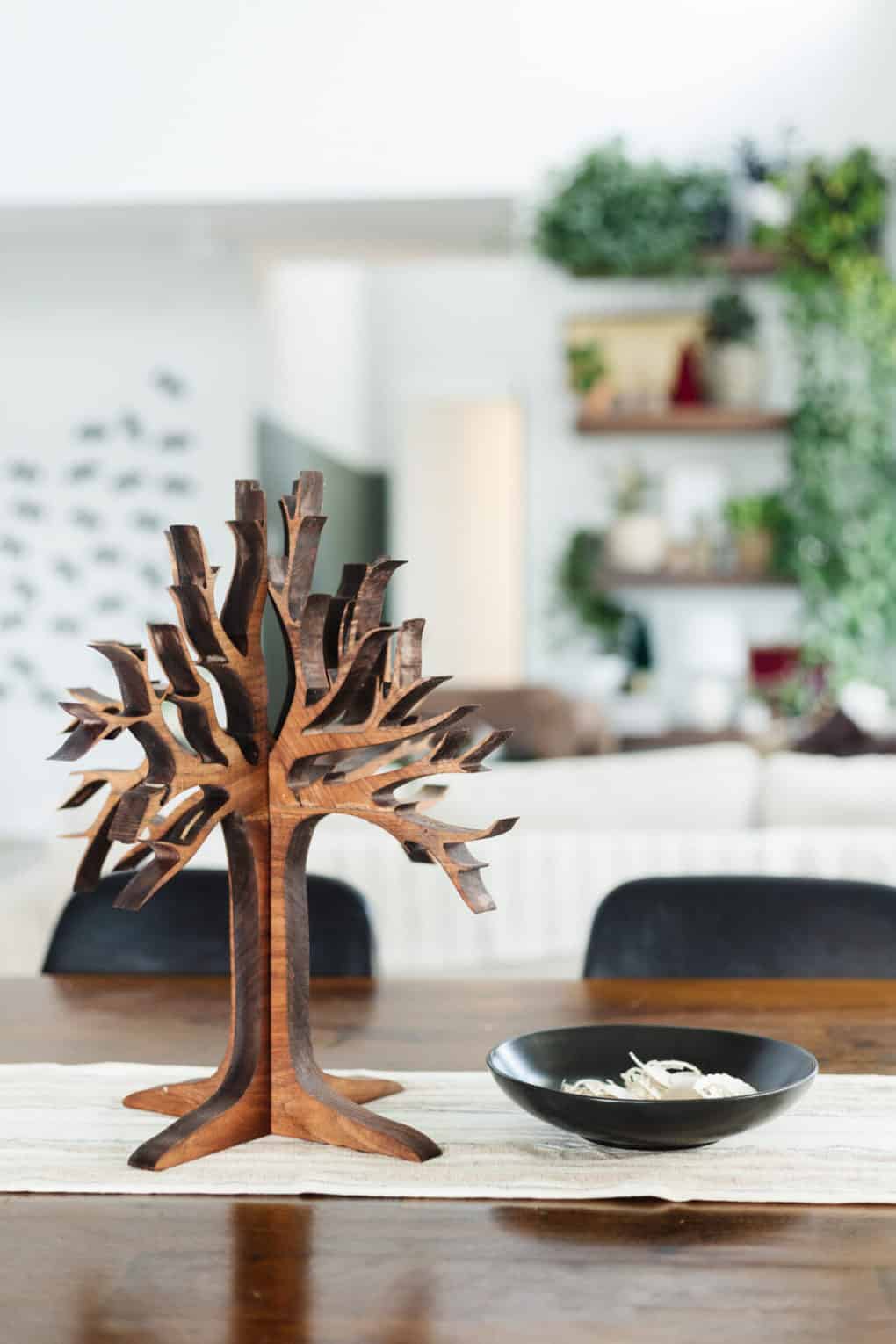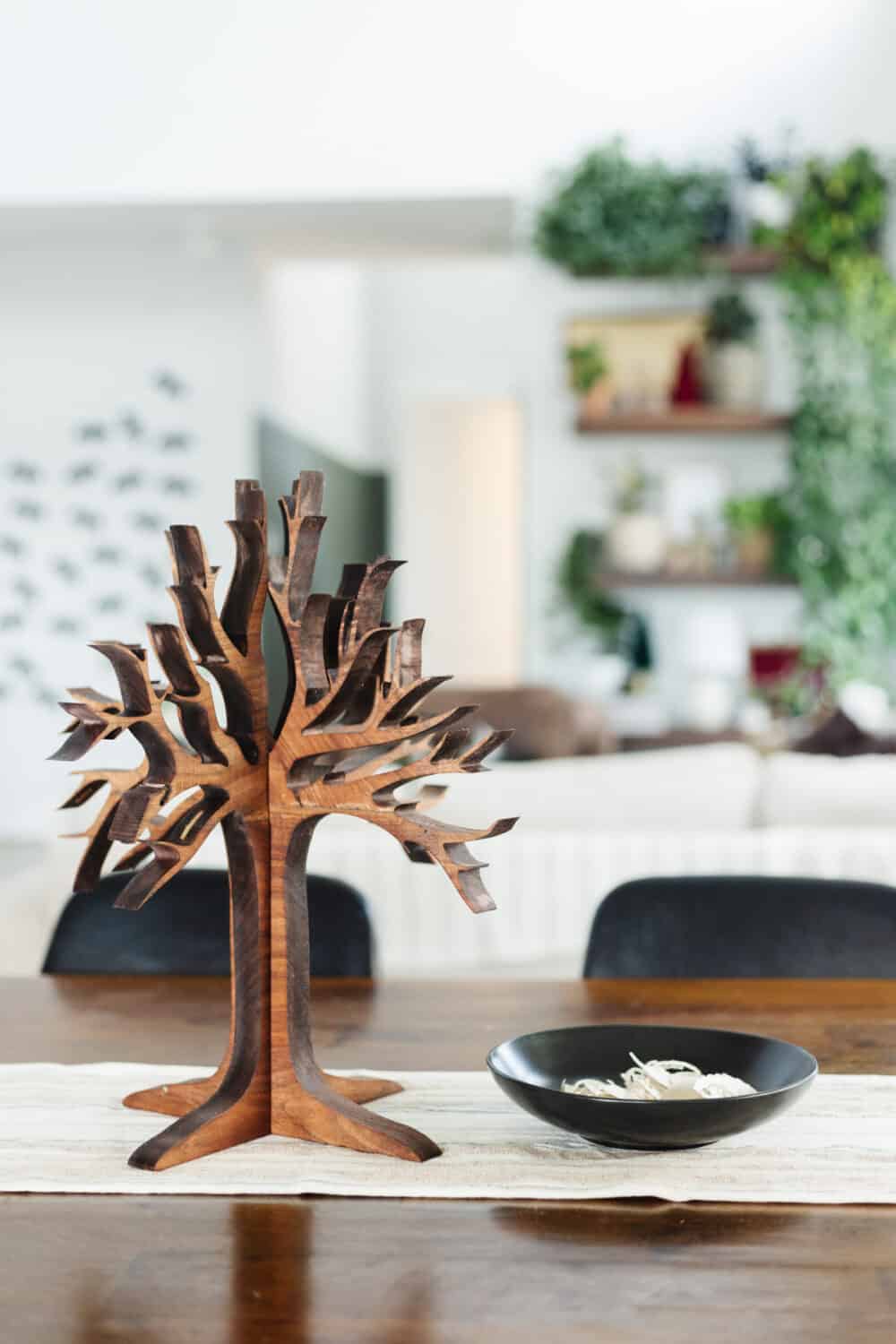 Let's talk about how I made it.
DIY Thankful Tree using the x-carve
Materials & tools
Wood – You can really make it any size or thickness you want. I used 1″ thick cherry wood that I had left over from another project)
Sandpaper (I used 120, 220, and 400 grits)
Paper leaves or slips of paper
step one: Design and cut the trees
I created this design in Easel, which is Inventables free design program for the X-Carve. The best part about it is, everything I used was a functionality easily available right within Easel. The tree is a design that is available in their Design Library, and I used the Interlocker App in Easel to make the two trees fit together perfectly.
It might look fancy, but the design itself only took me a few minutes!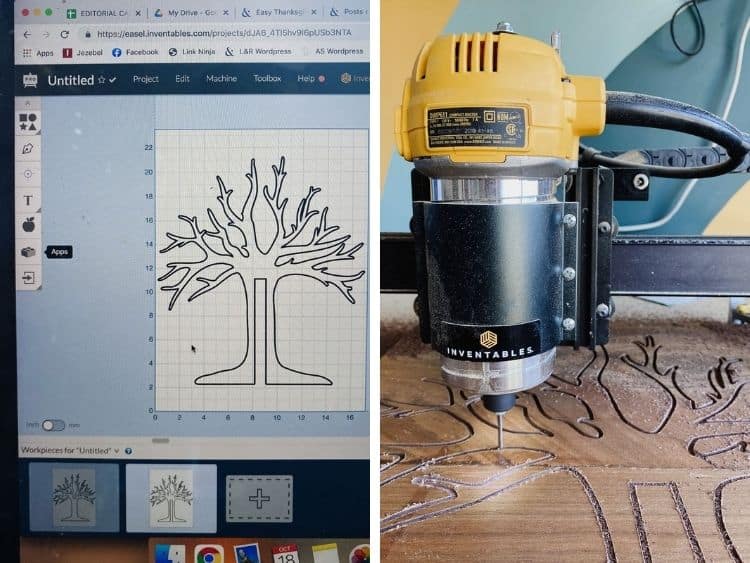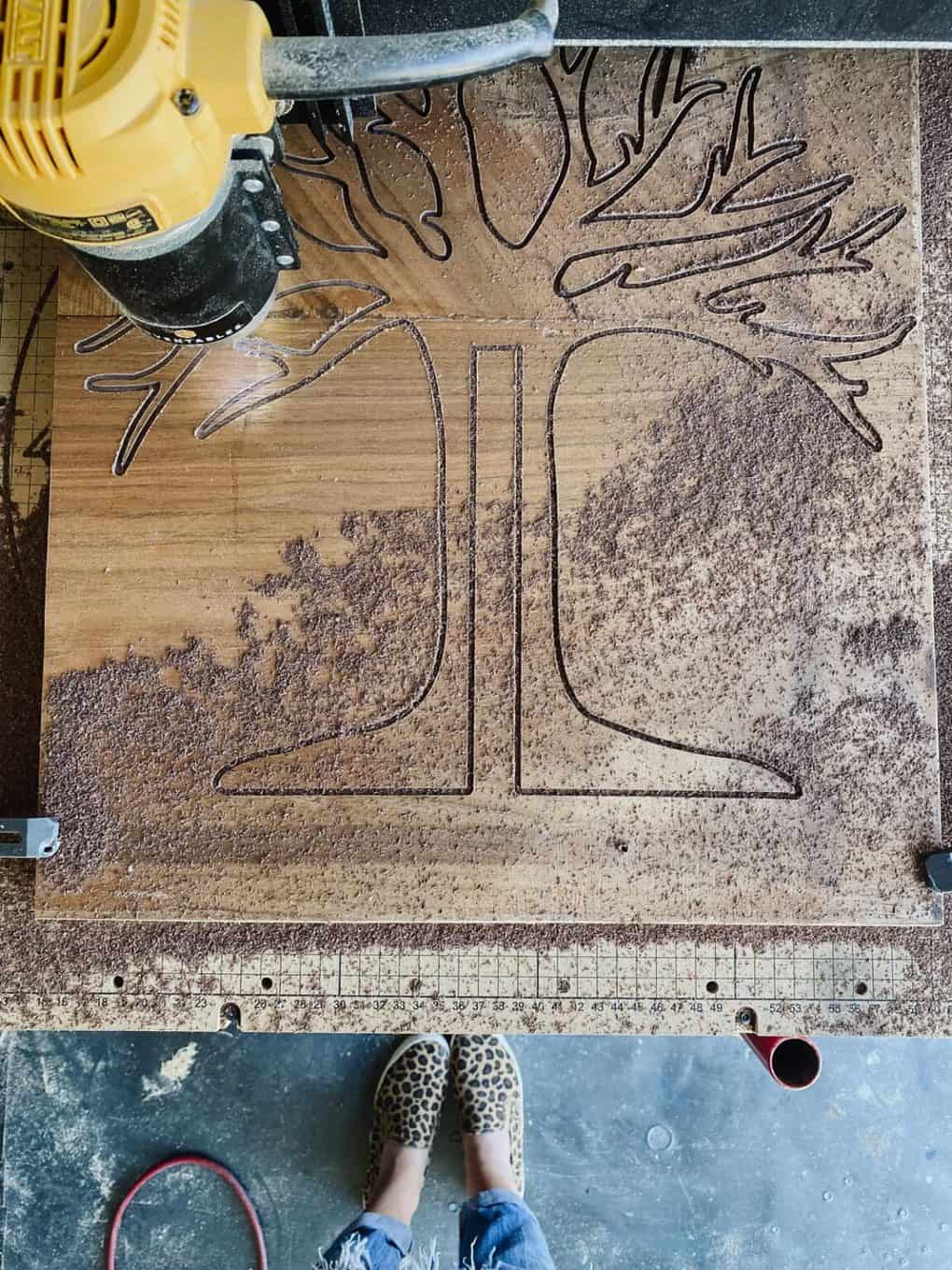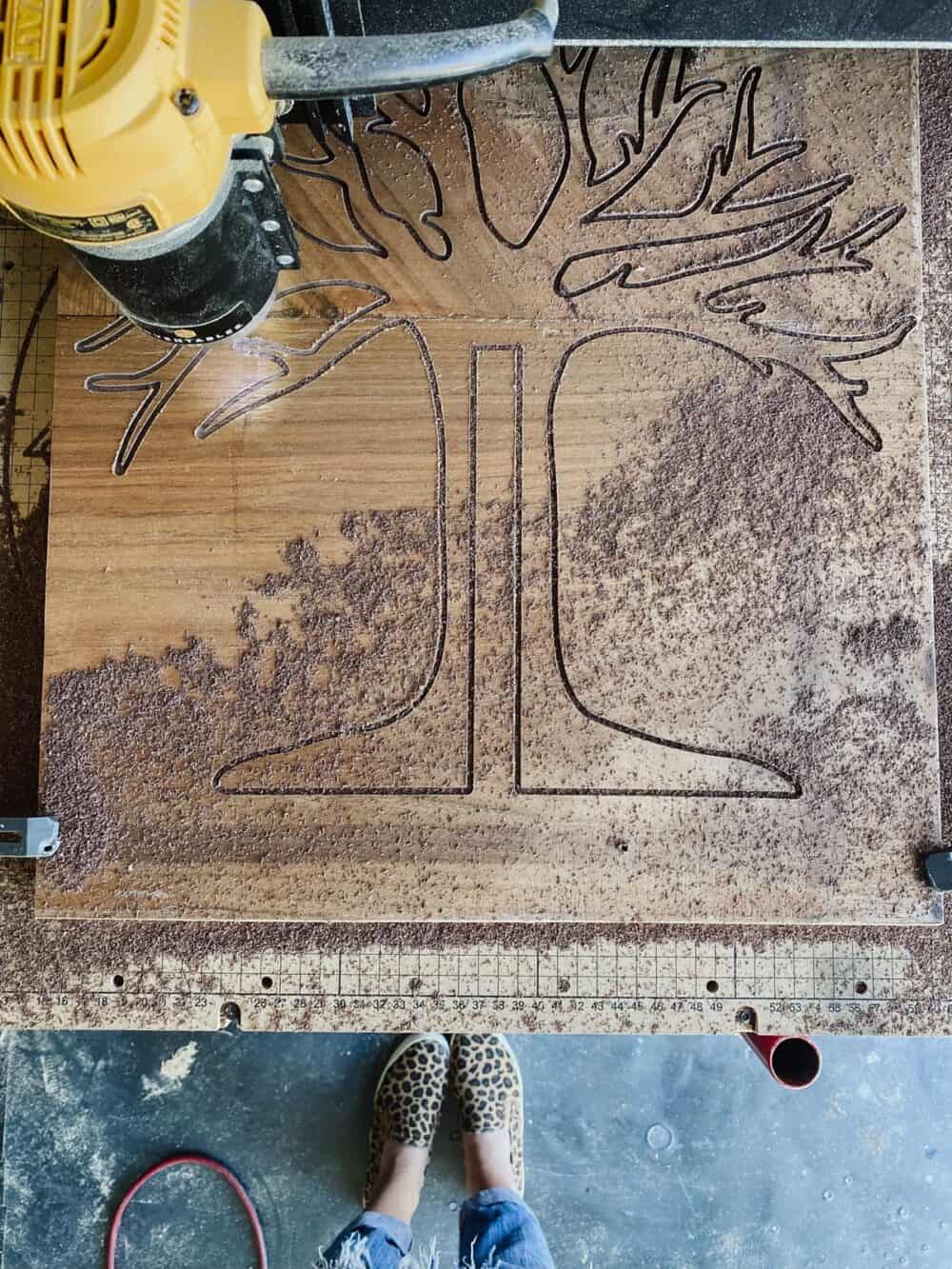 Once the tree is designed and sized to work with the piece of wood you're using, you're ready to cut.
Be sure that your settings on the X-Carve are correct for the type and thickness of wood you're using. When you are working with interlocking pieces like this, it's vital that your measurements are exact. I recommend using calipers to measure the wood as you're inputting all of the information.
You'll also want to be sure to select the type of wood you have on the settings before carving . With an intricate design like this, it really matters how fast the machine is moving. If you have it moving too quickly, you can break off a branch of a tree. Or, the bit itself can break.
Ask me how I know.
Sigh.
Allow both pieces to be cut by the machine, one at a time. It can take a few hours for each one, depending on how thick your material is and how large of a tree you're making. So, be prepared to just keep an eye on things and wait it out for a while.
step two: Sand rough edges
After your two tree pieces have been cut out, gently sand any rough edges (along with the face of the trees).
Be careful here, because those branches are pretty delicate!
I used my orbital sander on the face of the trees, mostly just on the trunk and the thicker branches. Then, I hand-sanded the edges of each of the branches to remove any little splinters or rough pieces.
it's tedious work, but it's worth it!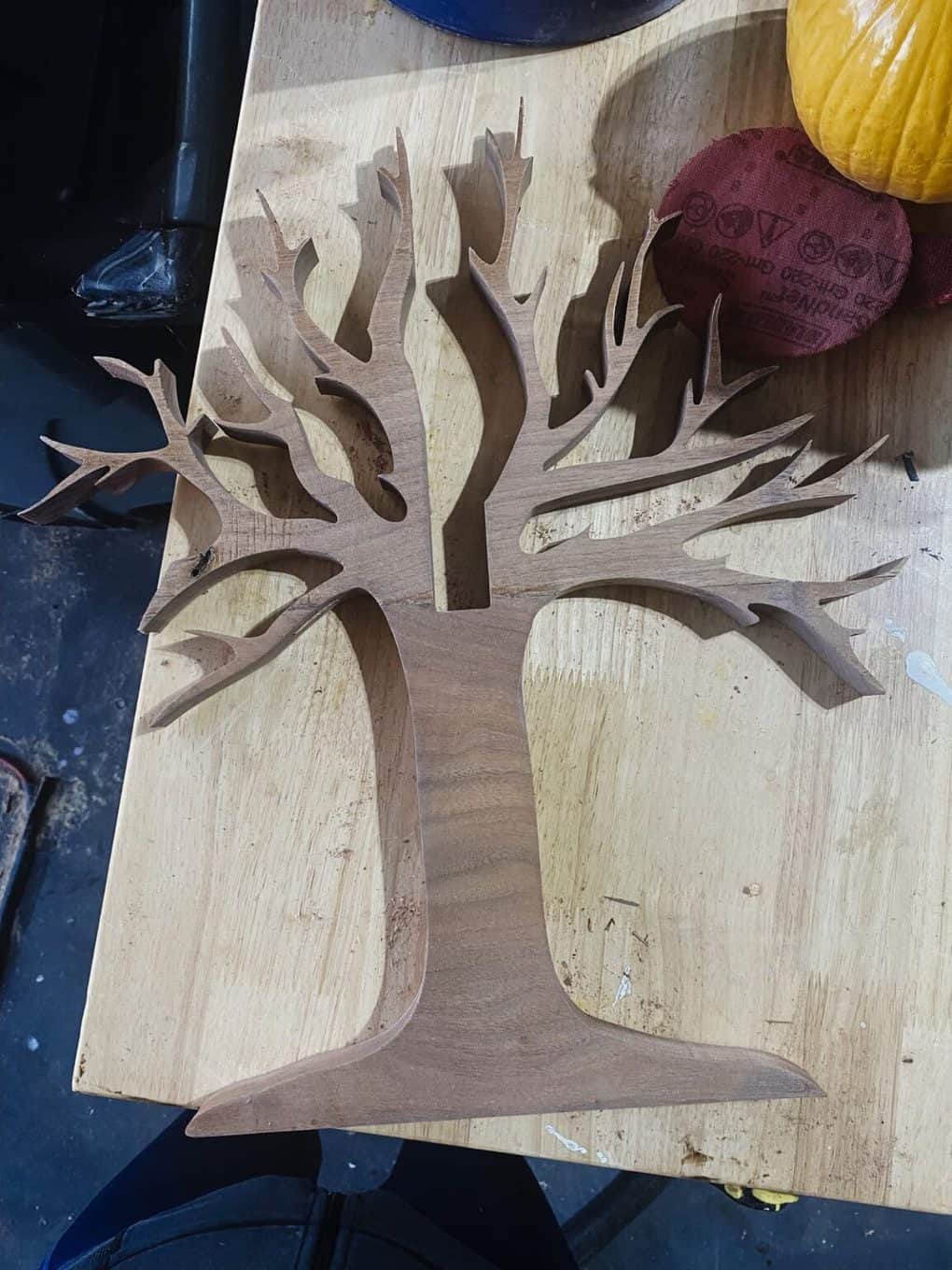 Step Three: Oil or stain your tree
If you're working with a high-quality hardwood, I highly recommend you skip the stain and just oil it.
Who would want to cover up the gorgeous natural color we're working with here?!
But, if you've got a lower quality wood or something you don't love the natural color of, I give you permission to stain or even paint it to look exactly how you'd like it to!
I used mineral oil on mine to bring out the natural rich tones of the wood. There's not much in the world that's more satisfying than pouring that oil on and watching the wood come to life!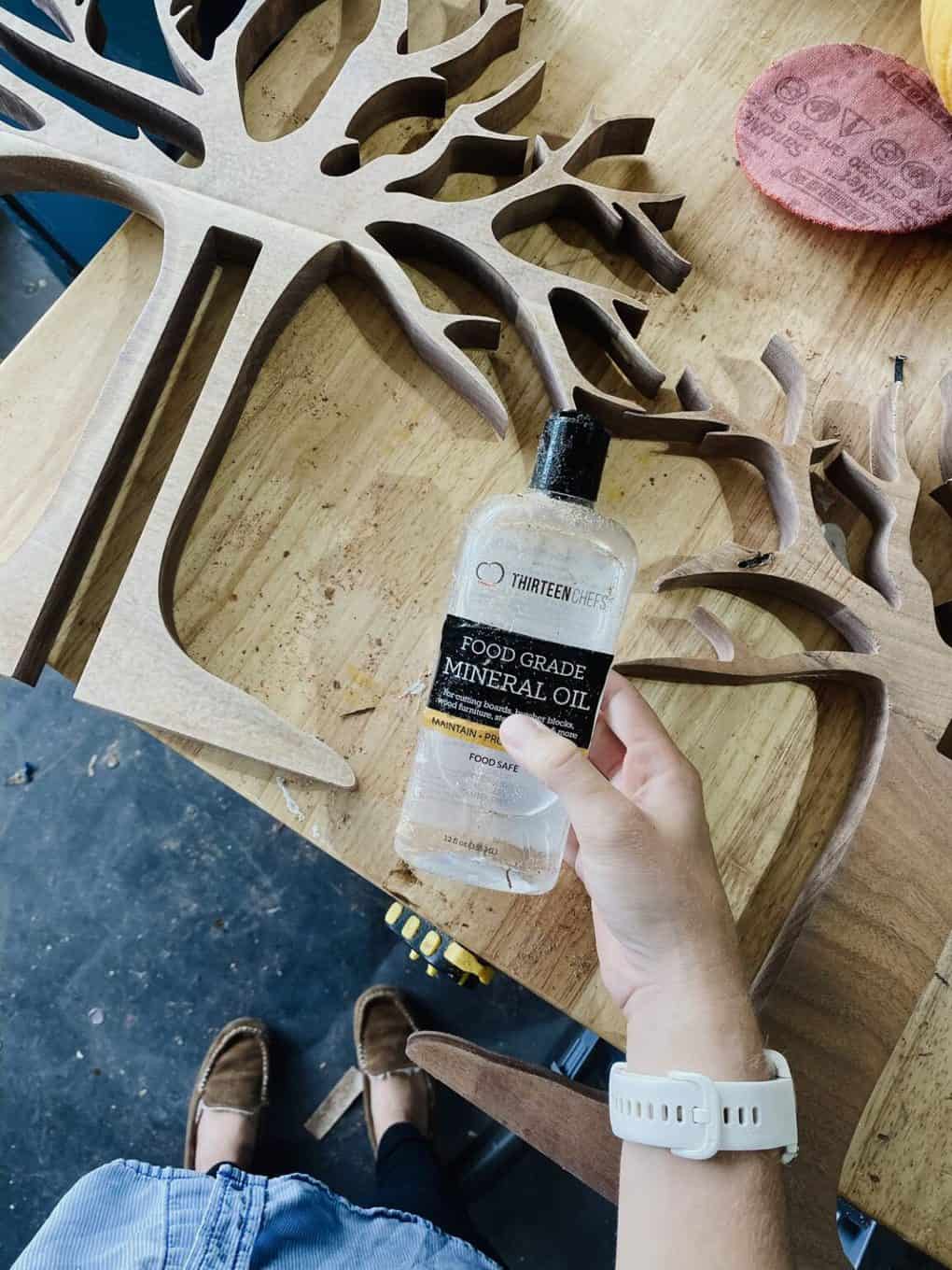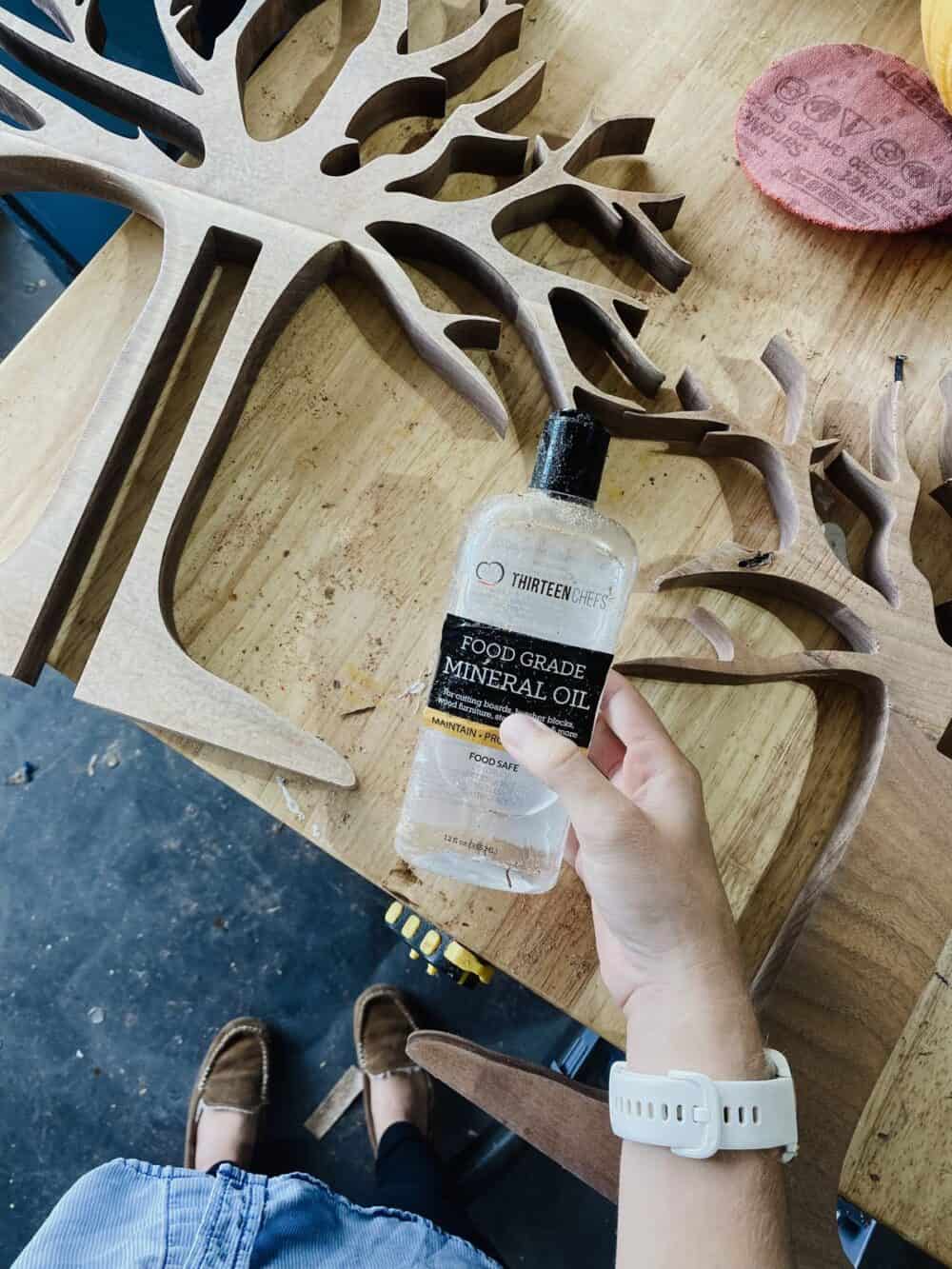 Step Four: Make (Or buy!) Leaves
Now, you're ready for leaves!
I decided to keep the DIY streak going and used my Cricut to cut out some cute mini leaf shapes for our thankful tree. I used cardstock, but you could easily cut some out of construction paper as well. You could just as easily cut small slips or paper or even tear them up as you go. You don't have to overthink it!
But, I wanted to be just a tad extra this year, so I cut out a ton of tiny fall leaves with my Cricut. We'll keep them in a little bowl next to the tree for us to grab each evening to fill out. I need to also toss a couple of markers in there to make it as simple as possible to write something each night as we sit down for dinner.
You can attach them to the tree with string or even little paper clips or Christmas ornament hangers.
Here's a few simple options for your paper leaves if you don't want to make it yourself:
You can tie them on with twine or ribbon, and you can use any color you'd like. I stuck to plain white, but you could do colorful paper leaves with shades of orange, yellow, and brown or any other combination you'd like.
Step Five: Fill it up!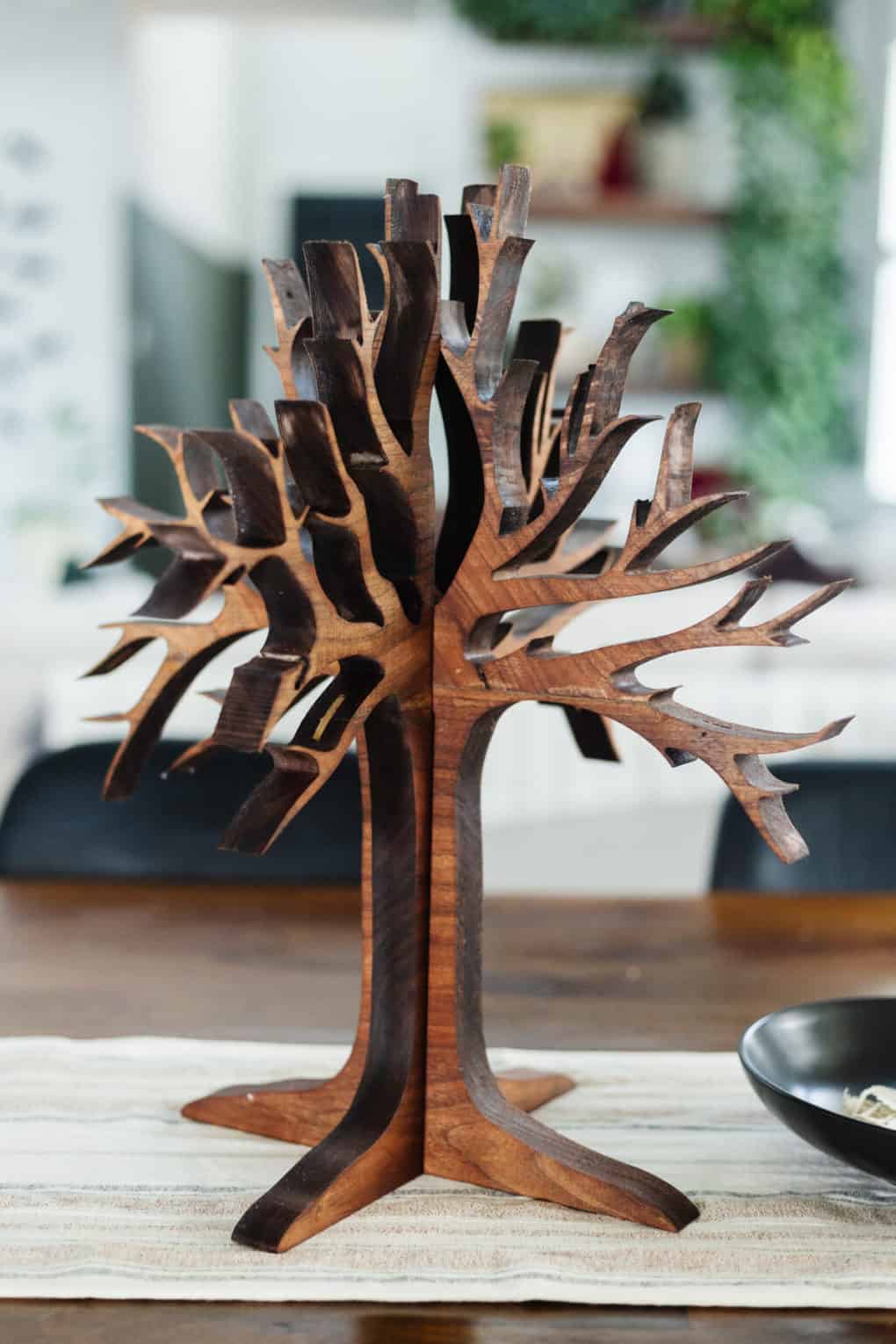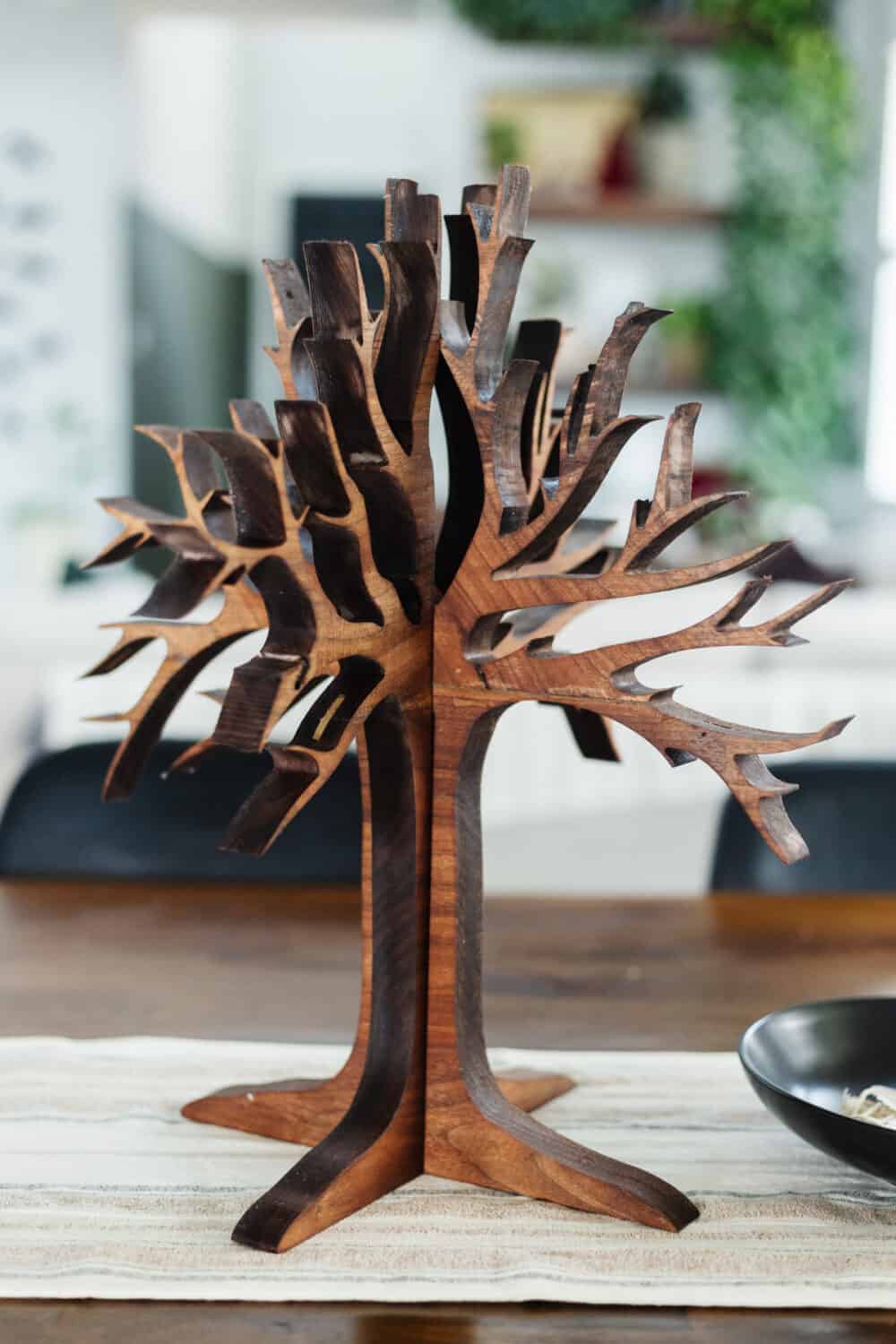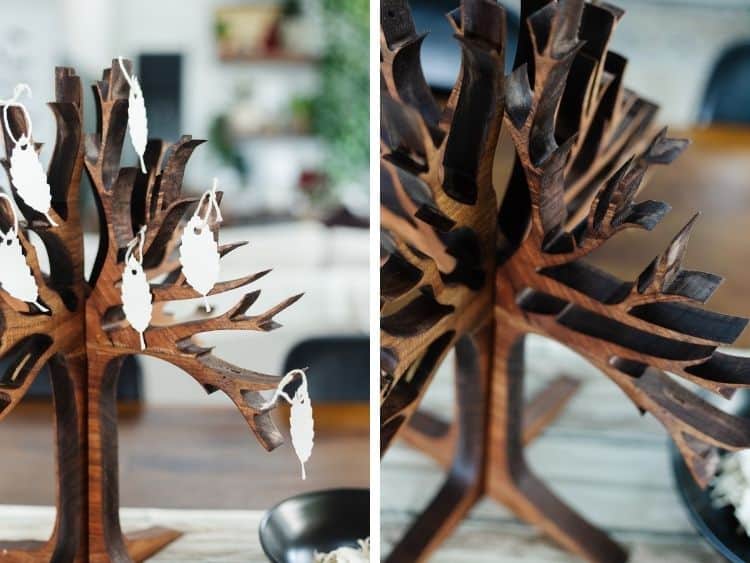 And that's it!
We're using our thankful tree as a centerpiece in our dining room. That way, we're easily reminded to fill out a leaf every night as we sit down to dinner.
It would also look really cute in an entryway, or even on a fireplace mantel. Just make sure to put it somewhere where the entire family will see it regularly and be reminded to add to it!
It, of course, also doubles as Thanksgiving decor – be sure to have your guests fill out a leaf too! It'll make a really fun Thanksgiving tradition you'll want to re-create every holiday season.
If you don't want to make your own thankful tree, there are some pre-made options out there that are really great too! Just click any of the images below to grab yourself one!

Or, want an even easier option? Grab a big glass vase and some tree branches from your backyard. Trace some leaves on a piece of paper (or use a stencil), cut 'em out, and you've got yourself a thankful tree!
If you want to keep it even simpler still, you can use a chalkboard or a bulletin board and just invite friends and family to write directly on it before Thanksgiving dinner!
This was a really fun project and, after a really (really) rough year and a half, I think it'll be a really great exercise for all of us to take the time to count our blessings. Because, despite all we've been through, we have so much to give thanks for!
Don't forget to check out Inventables' website to learn more about the X-Carve if you've been curious about it. It's truly the coolest tool I own! And, if you still need convincing, check out some of the awesome projects you can make with it before you commit. It's a great investment for anyone who has been thinking about starting a side business or selling some handmade items!