If I had to pick one thing in our house that we get the most questions about over on Instagram, I wouldn't even have to stop and think about it. I know right away – it's the big plant wall shelf display in our living room!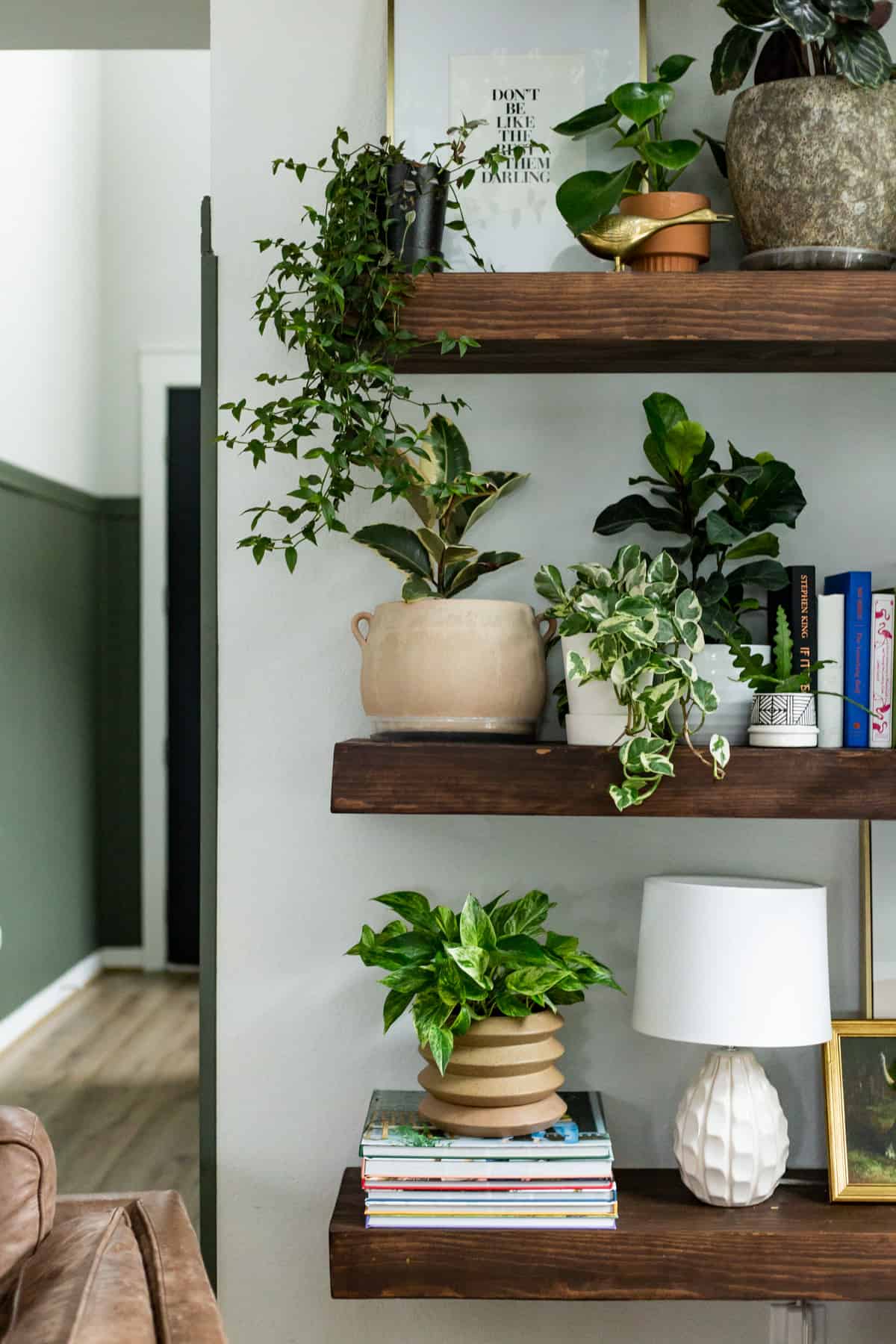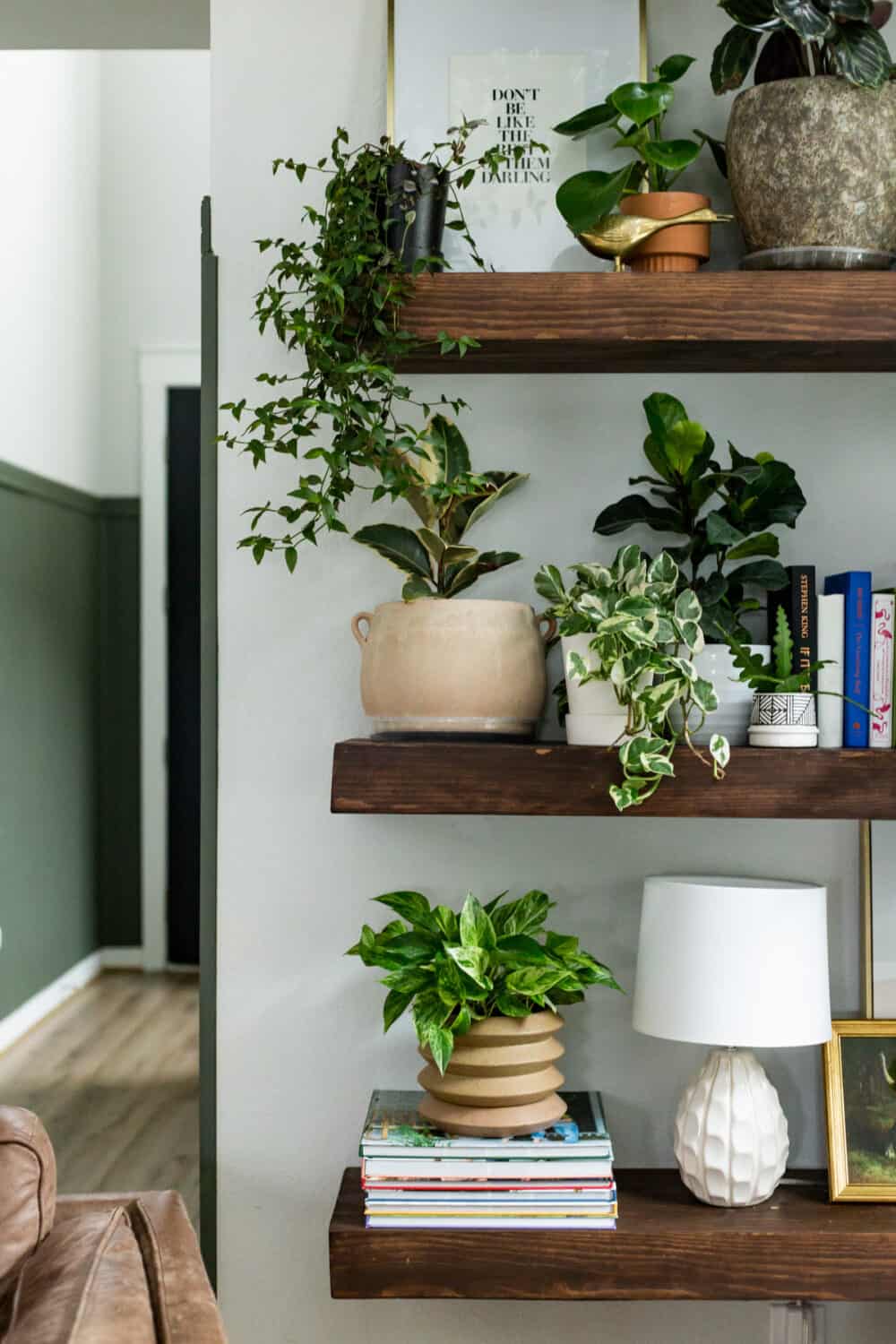 When I originally built and hung these DIY floating living room shelves, I didn't intend for it to become a big plant wall. In fact, I hardly owned any plants at the time. I had a black thumb!
But then, 2020 happened and my collection grew and, well, here we are.
I'm the plant wall shelf lady.
I'm not mad about it.
I love how our plant wall shelf display looks. It's one of my favorite things we've added to the house! It just recently got covered up with the Christmas tree (always a bummer, but it's just the best spot in the house!), so it deserves a minute in the spotlight before it goes into hiding for a few weeks.
I wanted to share a few tips and tricks today for creating your own plant wall shelf display. It's a great way to make a huge impact in your living room (or any other room in your house) and you can display a huge number of plants without taking up a ton of space!
Plus, who doesn't want a giant wall of plants?!
Plant wall shelf tips
Pick a wall in your home that gets a good amount of indirect light. Most houseplants are happiest with indirect light (meaning, the sun doesn't hit their leaves directly) and they generally want a lot of it. Our plant wall shelves are right next to two southeast facing windows. And, thanks to the fact that the windows are stacked, all of the plants can easily get light throughout the day.
Be sure to use drip trays. This is especially important if you have wood shelves! I like to use these simple plastic ones for my planters that don't come with a drip tray. If you have a lot of plants, you'll have a lot of water happening over on the shelves. So, it's important that you don't have to constantly check each pot to be sure it isn't leaky!
Start small and build up. If you're new to houseplants, it's probably best that you take your time building up your collection. Start with just 1-2 plants per shelf, and then as you gain confidence with the plants you can slowly add more. It's important to find a routine that you can stick to and that will keep your plants happy and thriving over time.
Choose a variety of textures and shapes! When it comes to choosing your plants, you're going to want to choose types of plants with different textures and colors. Get some that climb and some that trail. Some with big leaves, some with small leaves. Choose some short plants that will lay low and some taller plants that will stand out. The more intentional you are about layering different plants in, the better it will look!
But also, choose plants with similar needs! Of course, while you're at it, another good thing to keep in mind is that your life will be a lot easier if you choose plants that have similar watering and light needs. It'll be harder on you if some of the plants need to be watered daily, some weekly, and some only monthly! The vast majority of plants on my shelves need once weekly watering, so it's really easy to stay on top of it.
Know what plants work best for you! A few favorite beginner plants for these shelves include pothos, a snake plant, and small succulents. If you want more ideas, click here for my top 10 houseplants for beginners!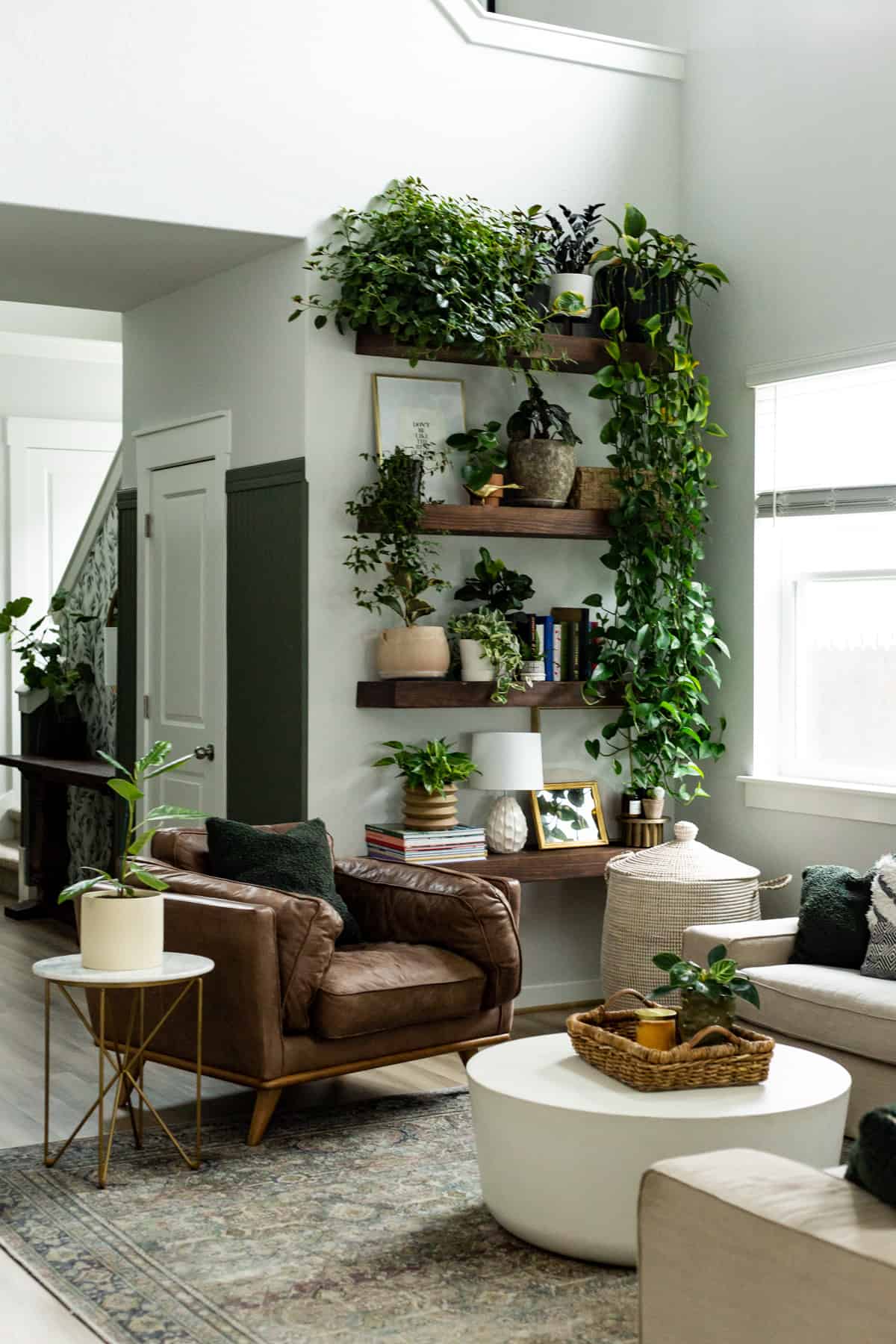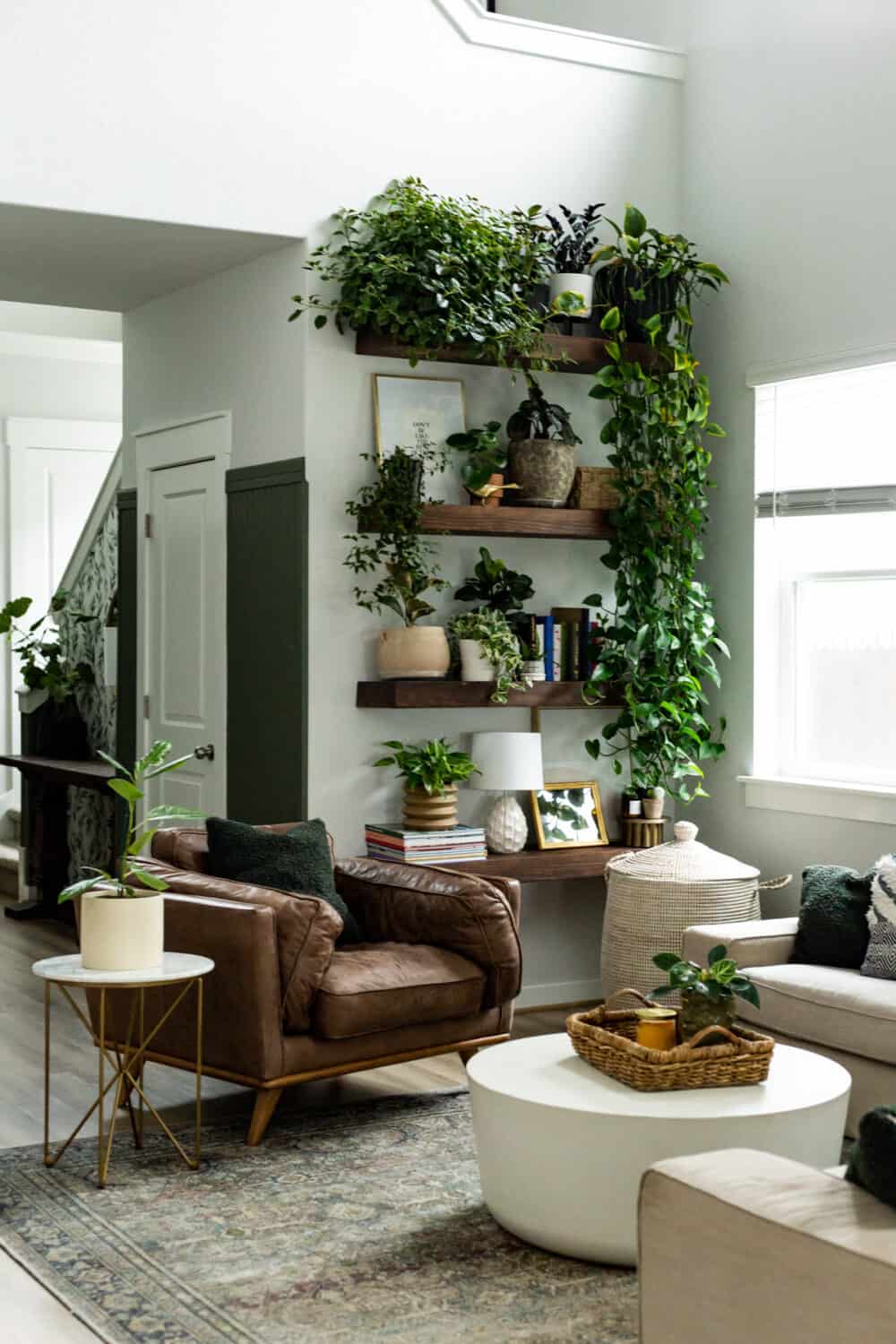 You can see the full tutorial of how I built these wall shelves on this blog post. But, if you don't have the desire to build your own shelves, you can easily just buy some floating shelves or shelves with brackets to display your plants on!
Here are a few beautiful options, including a few you don't have to mount on your walls:
plant shelf ideas

Other Plant Display Ideas
Of course, plant shelves on the wall aren't the only good way to display your plants! I took a little walk around my house to snap photos of all the other ways I've set out the plants in our home. If you're in need of some plant display ideas, maybe it can give you some inspiration!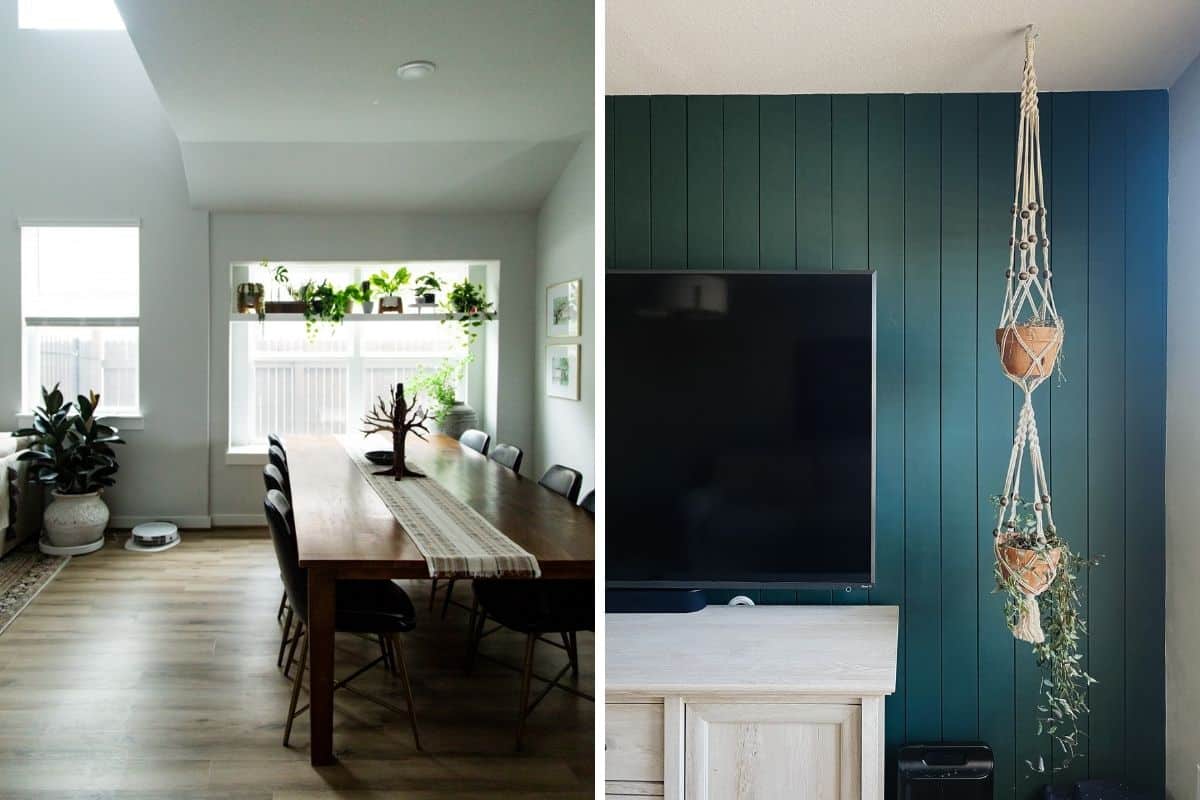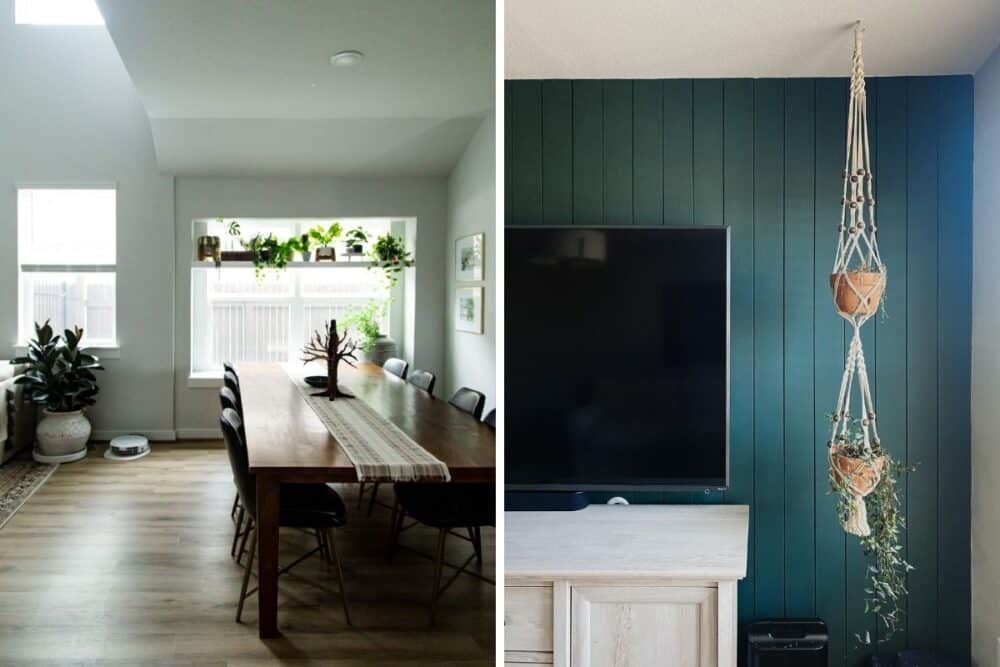 A window plant shelf is a great way to display plants in a large window. This is where I keep all of our patio plants once it starts to get cold outside! Similar to the wall shelves, you can squeeze quite a bit in here! And you don't have to stress about them getting enough light because, well, they're in a window. It's an easy project that just about anyone can do. I've got all the instructions on the blog post, so be sure to click through if you're interested.
I'm also a huge fan a good hanging planter. I have this cute macrame plant hanger up in our kids' play room and it adds a lot of cheer to the corner! This is a particularly good option if you have young children or pets who might mess with plants closer to the ground.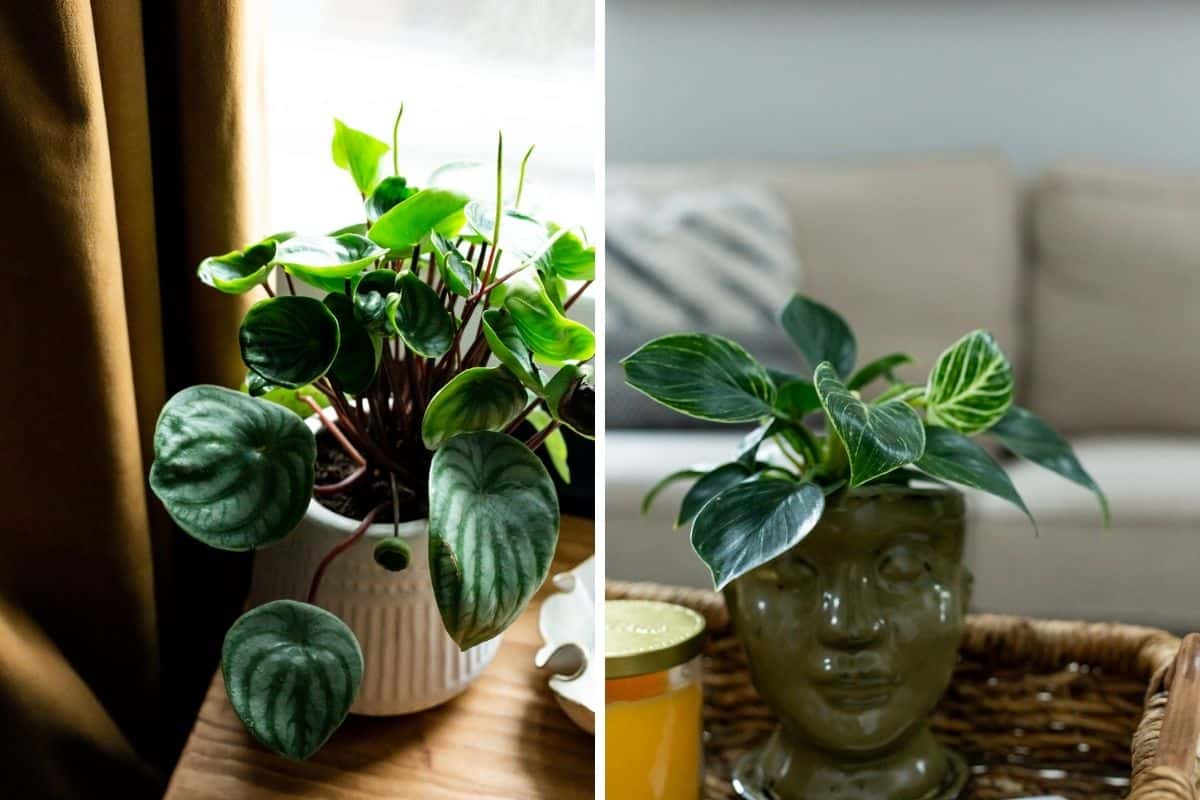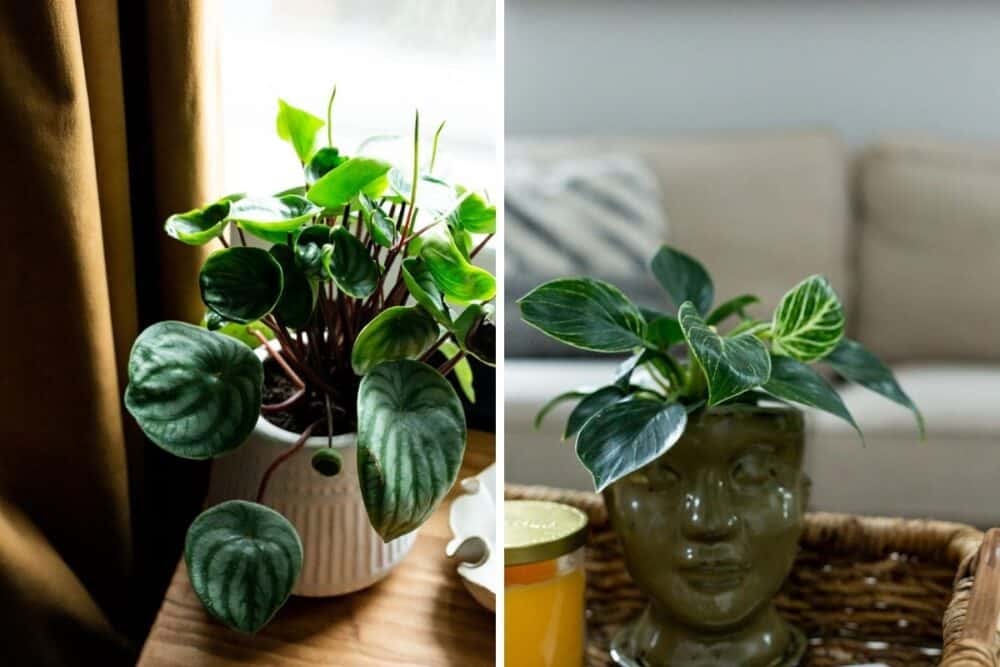 I've learned over the years that a plant can double as a piece of decor for your home on just about any surface. I've got them on our nightstands, on our side tabes, on the kitchen counter, and tucked on the floor next to furniture.
If you've got a spot in your home that gets a fair amount of light and would benefit from a little bit of texture and color, try plopping a plant there and see how it goes! Set a couple of plants in a window sill or along the mantel. It sounds overly simple, but we often forget how much a plant can add to any surface. Sometimes we feel like we need to come up with something big and fancy. But sometimes, a plant on the corner of the nightstand is really all you need.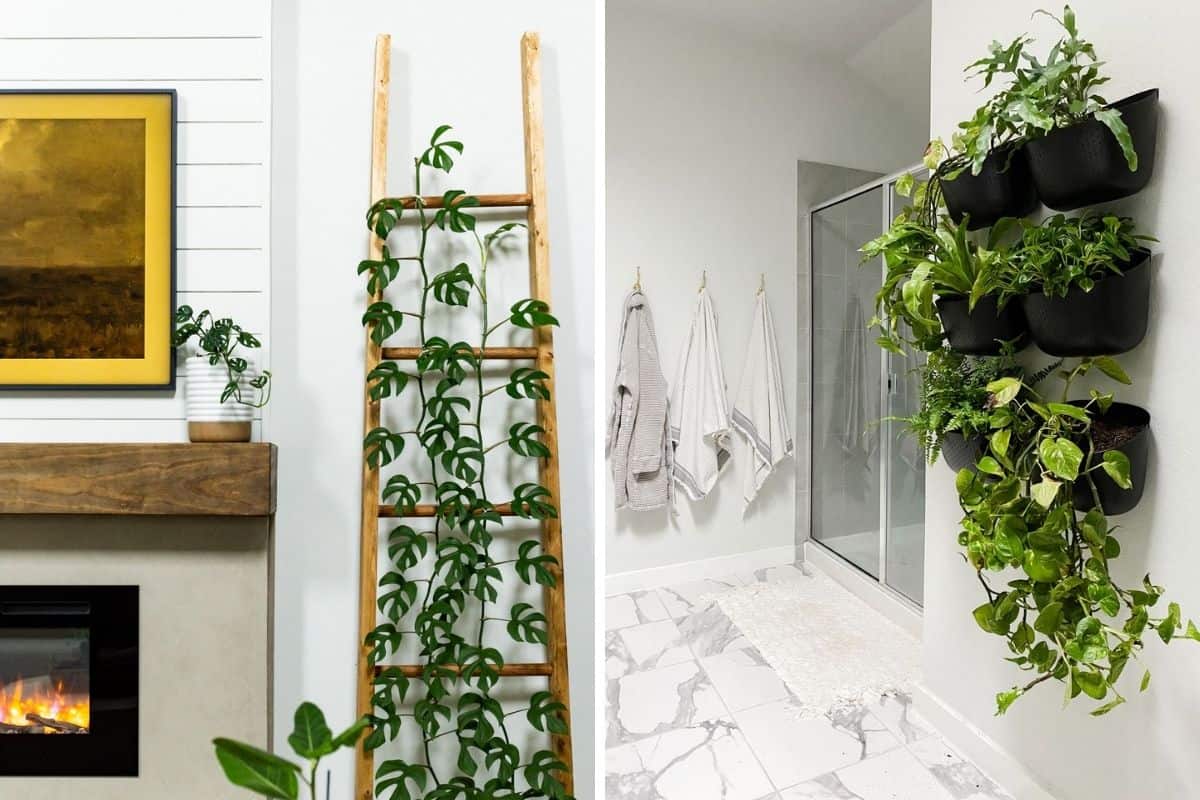 A big climbing plant can make a huge impact in your home. I built this 8′ ladder-style trellis for the Rhaphidophora Tetrasperma in our living room and it reached the top within months. It's a big statement-maker and it makes me smile every single day.
And, of course, don't forget about wall planters! I have this little living wall in our bathroom and it's such a simple and gorgeous way to add a ton of life to any space. It's a little easier than adding plant shelves to a wall because all it requires is two screws into some studs. Learn more about these wall planters here.
And those, my friends, are all of my best tips and tricks for plant displays in your home. If I had to choose just one, our plant wall shelves are definitely my favorite. They create the biggest impact and can hold the most plants. So, if you're looking for a good way to display plants in your home, maybe consider starting there.
But, be careful. It's a little like giving a mouse a cookie. Once you have one plant display you're going to want another. And another. And so and on so forth and the next thing you know you're the crazy plant lady.
But, you know, that's not necessarily a bad thing.