DIY Valentine's Day Mantel Decor
Despite not being the biggest fan of Valentine's Day in the past, I've decided that 2022 is the year where I celebrate all the things. Big and small, important and unimportant. It's all getting celebrated!
So, that naturally means that I'm taking V-Day a little more seriously than I ever have before. My kids love crafts and they love being a part of celebrating just about anything, so I decided to surprise them with a little art project. They helped me create the cutest DIY Valentine's Day mantel decor ever and, honestly, I might just turn into a Valentine's Day person after all.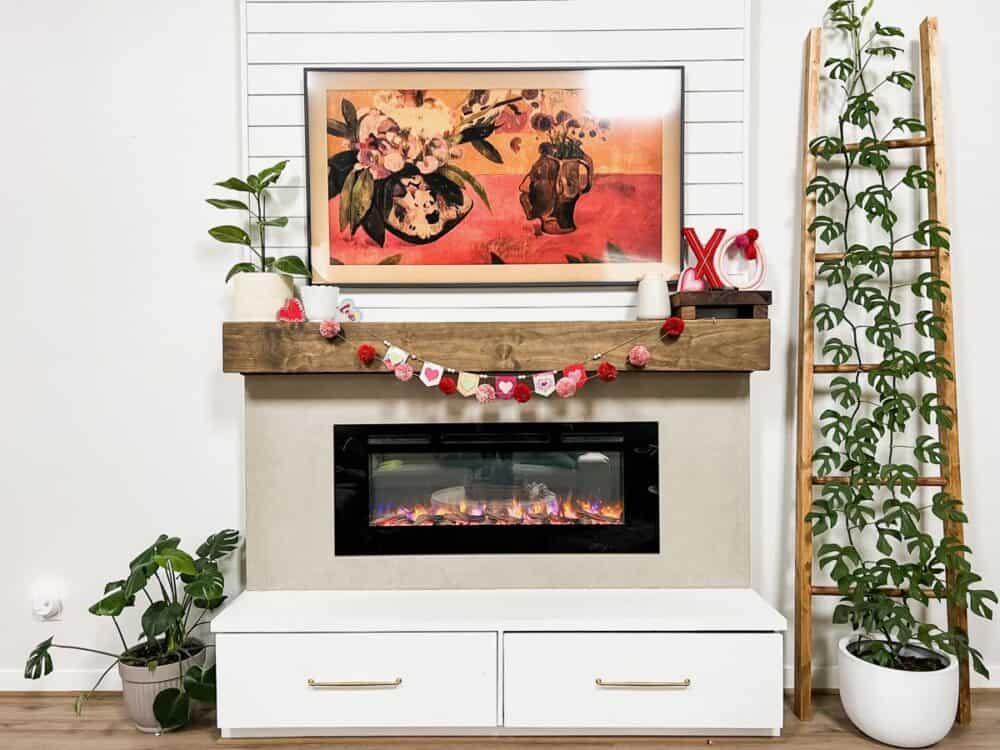 I meannnnnnn. How can you not love it?!
I was inspired to do this because this is our first full year with our DIY electric fireplace. Last year, I wrapped it up right at the end of January and was so darn excited to have a fireplace again that I didn't really think to do any seasonal decorating. I was too busy marveling at the magic of it even existing. So, this is the first time that I've really had a chance to take the time to think about decorating it for the various seasons and holidays.
And, honestly, this is gonna have to become a thing because how much fun is that?!
the sources
I kept things really, really simple and focused on DIY projects that the kids could help with. I searched far and wide for the cutest DIY decor kits for Valentine's Day and I had the best luck at Target. Here's everything I purchased for this little setup: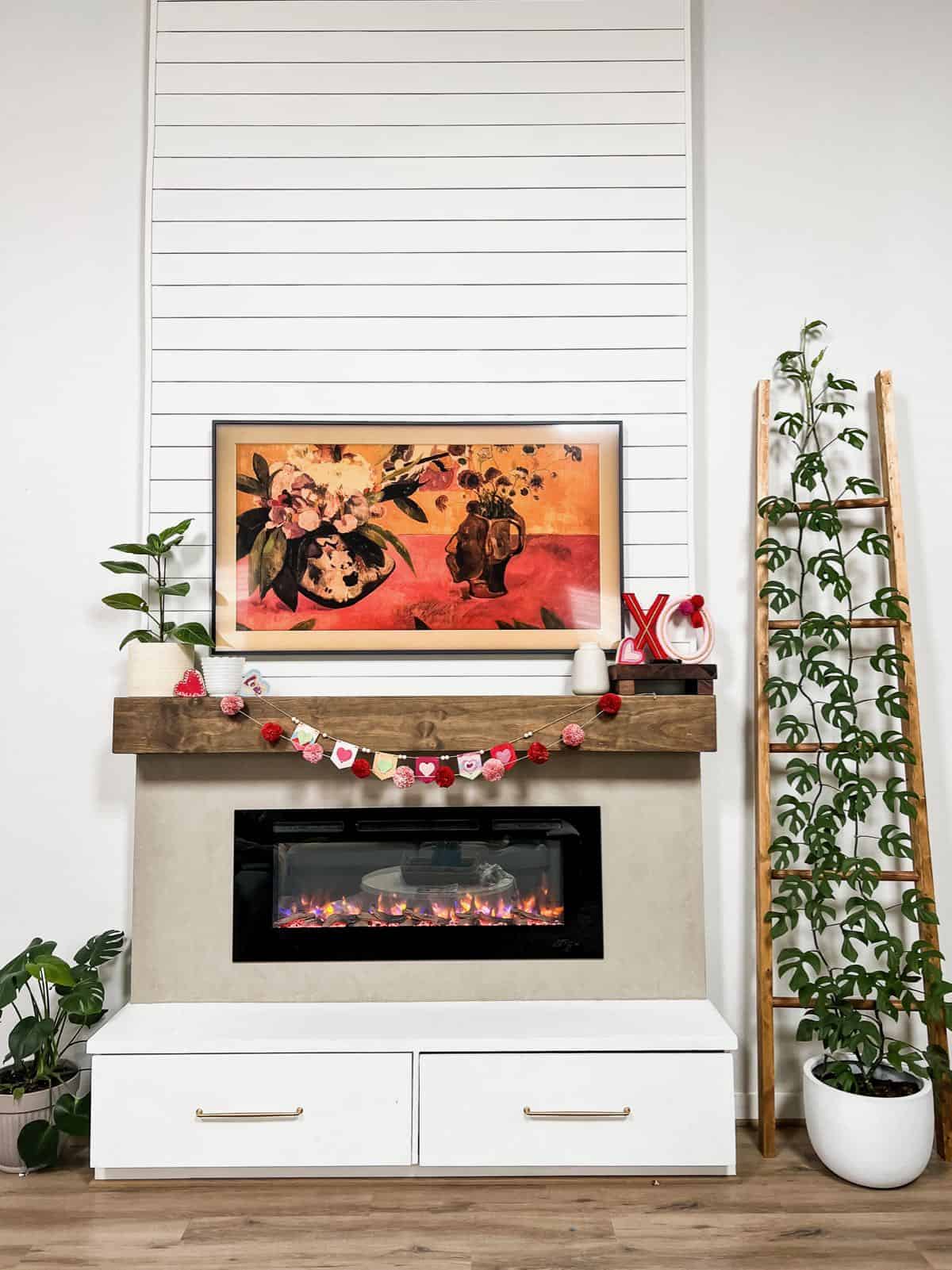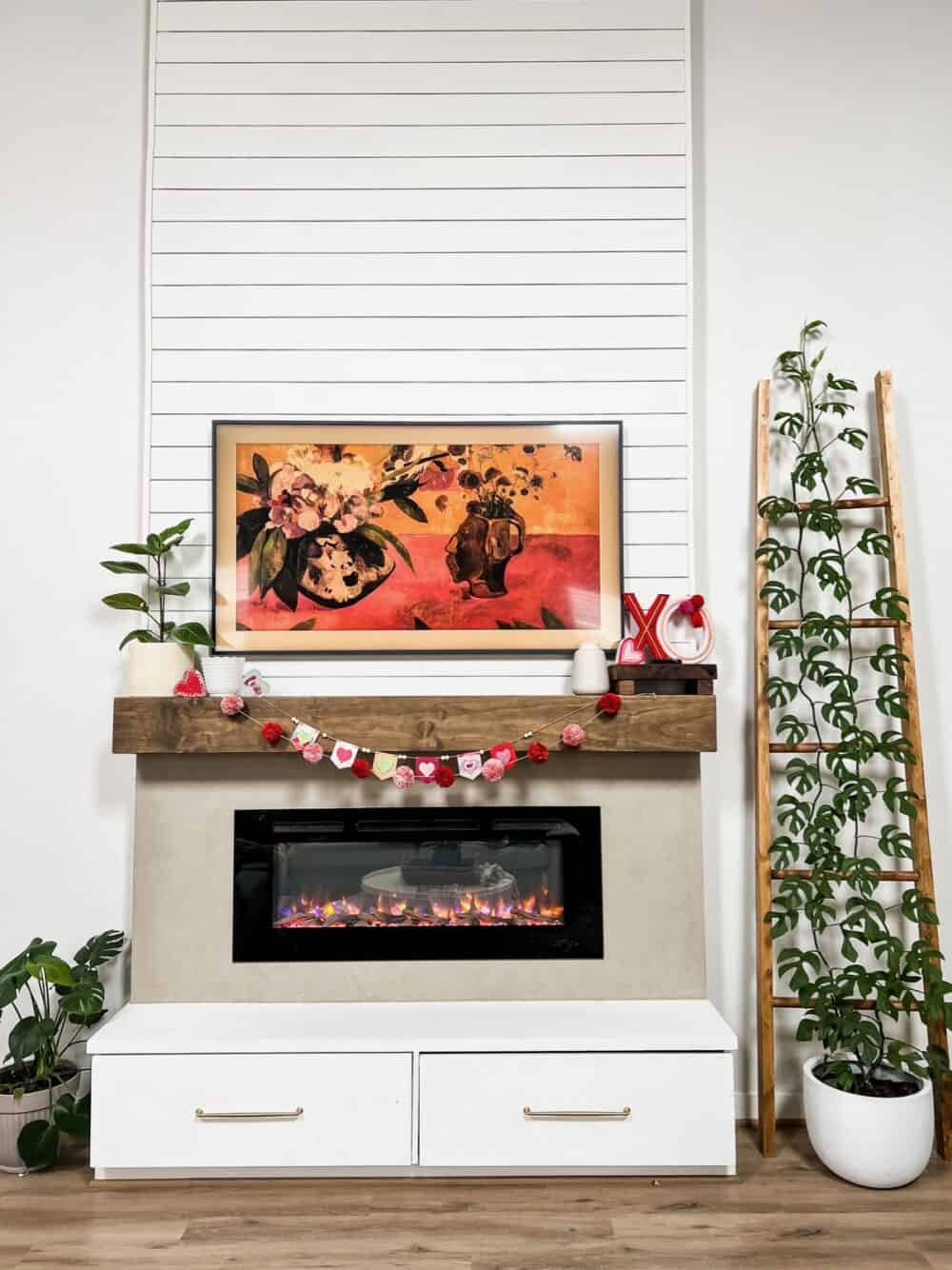 These things tend to sell out fast, though, so I rounded up a few similar options from Amazon in case you can't track down the Target ones. Click here to see lots of Valentine's Day decor ideas!
Everything else you see I already had on hand. Here are sources (at least, for the things I can find them for):
The wood pedestal is a DIY
Here's a similar tan vase
The hobnail milk glass vase is vintage, here's a similar option on Etsy!
The planter also old, but here's a similar one
And finally, our TV is a Samsung Frame – the art was one of the free options from the art store!
valentine's day decor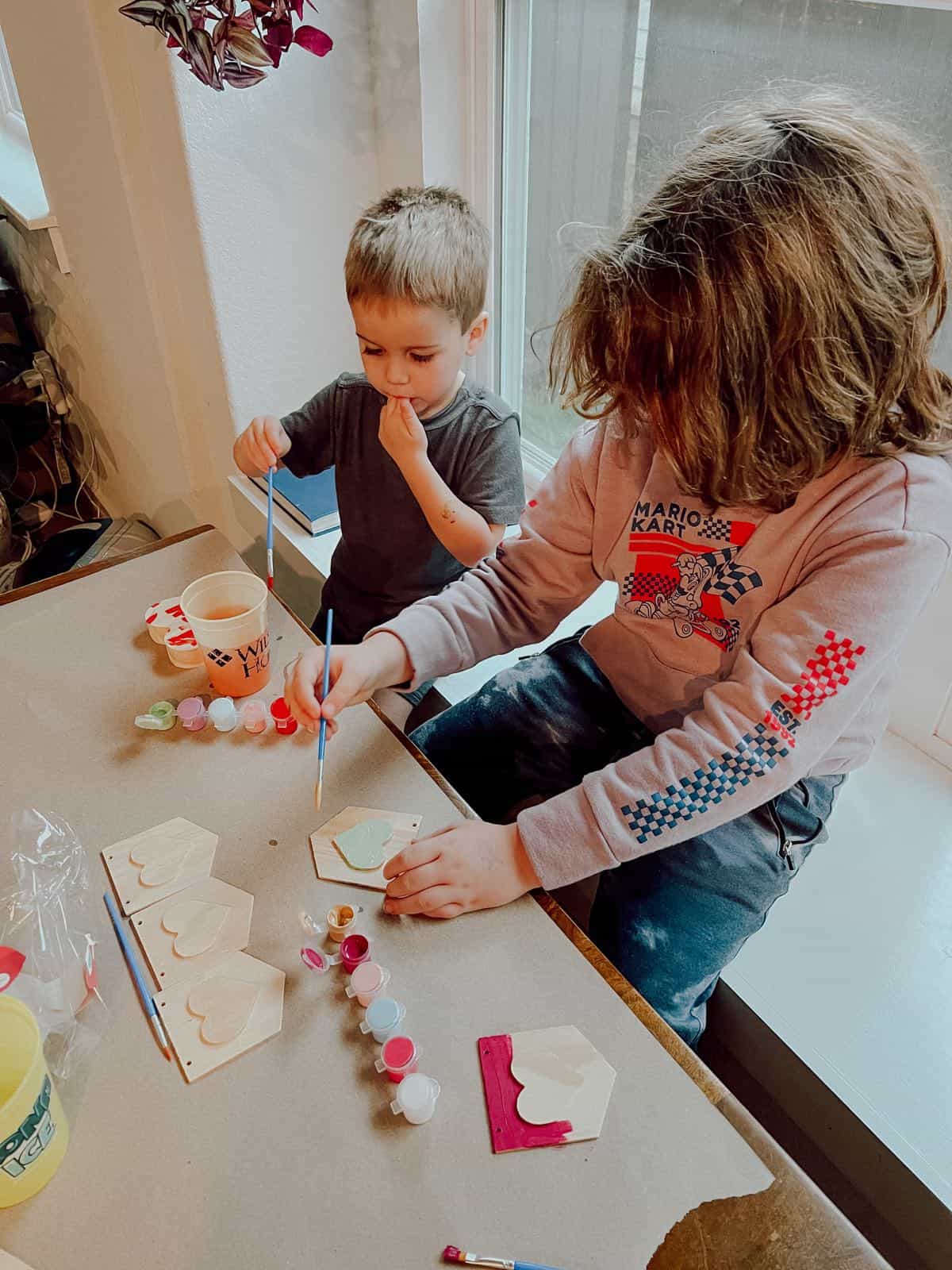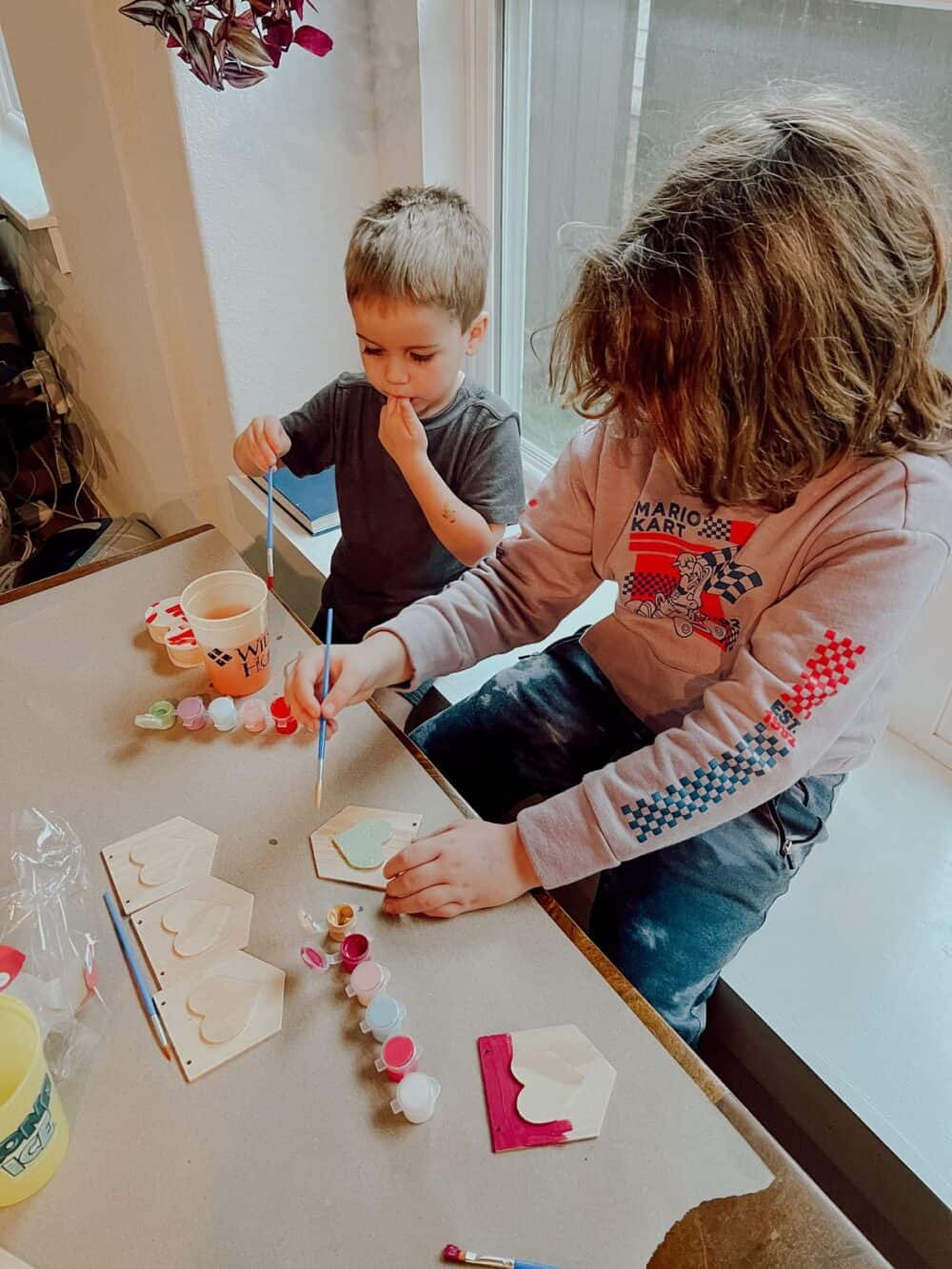 I surprised my kids with this craft one day after school – I didn't even tell them we were making Valentine's Day mantel decor, I just called them over to the table with some supplies already set up and ready to go. My kids are used to these kinds of shenanigans from me, so they didn't even question it.
The hardest part (for me, at least) of this kind of project is letting go of the need for the crafts to be "perfect". I have a hard time handing full control over to the kids for what colors to use or how to paint their wood pieces.
I know, it's a problem. I'm working on it.
But, doing more crafts with the kids lately has given me some good practice and I felt zero stress about this. I let them go to town with whatever colors and styles they wanted. Though, I did add a little more paint to Grant's pieces because he lost interest after about 5 minutes and they were mostly unpainted.
Ahhh, toddlers.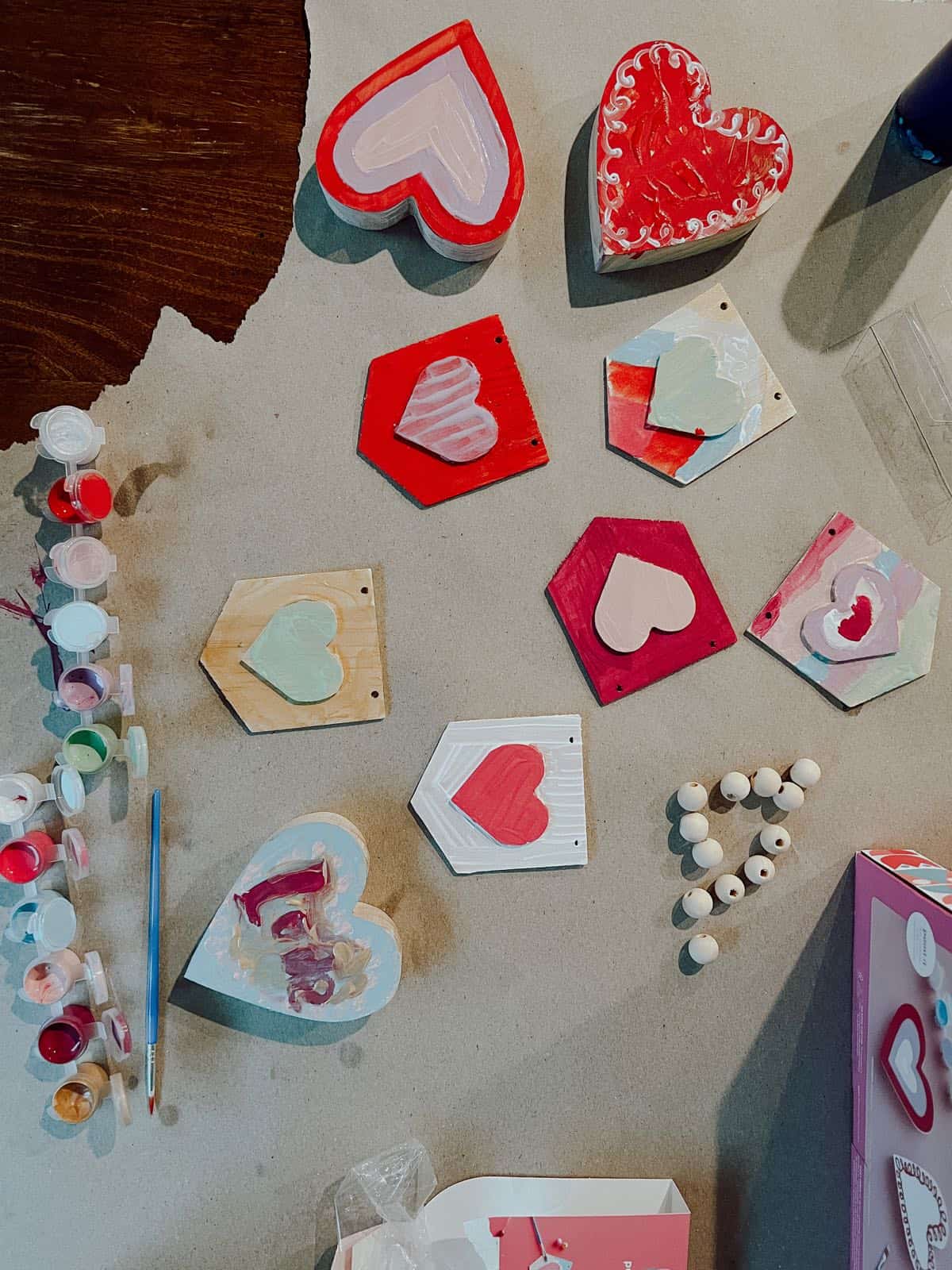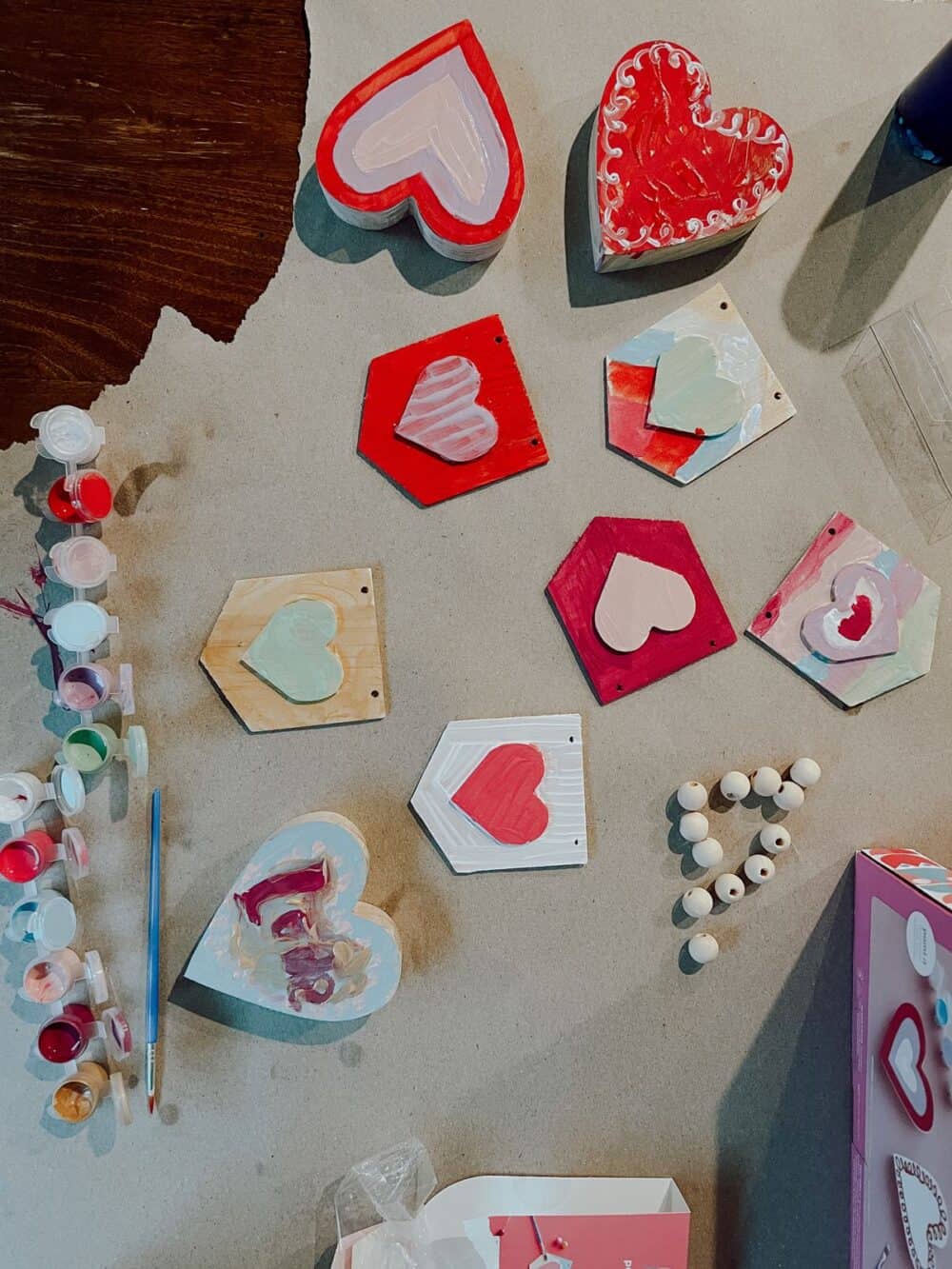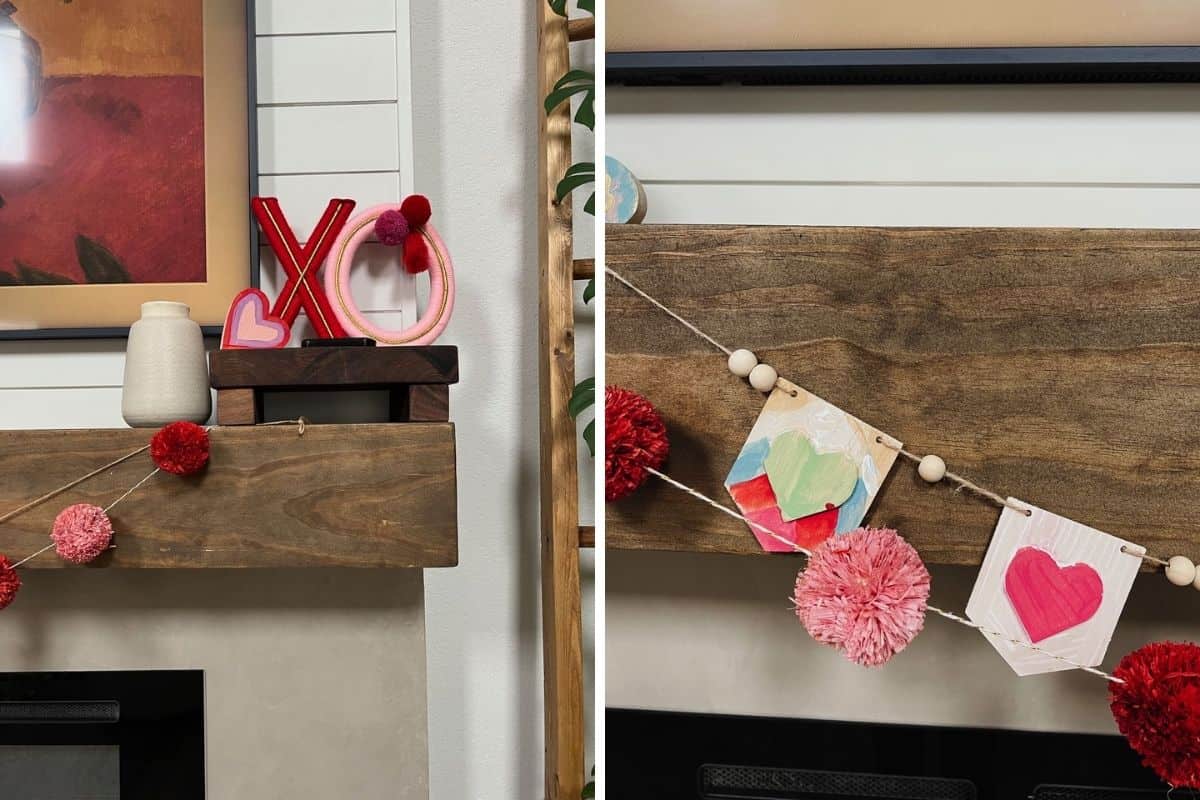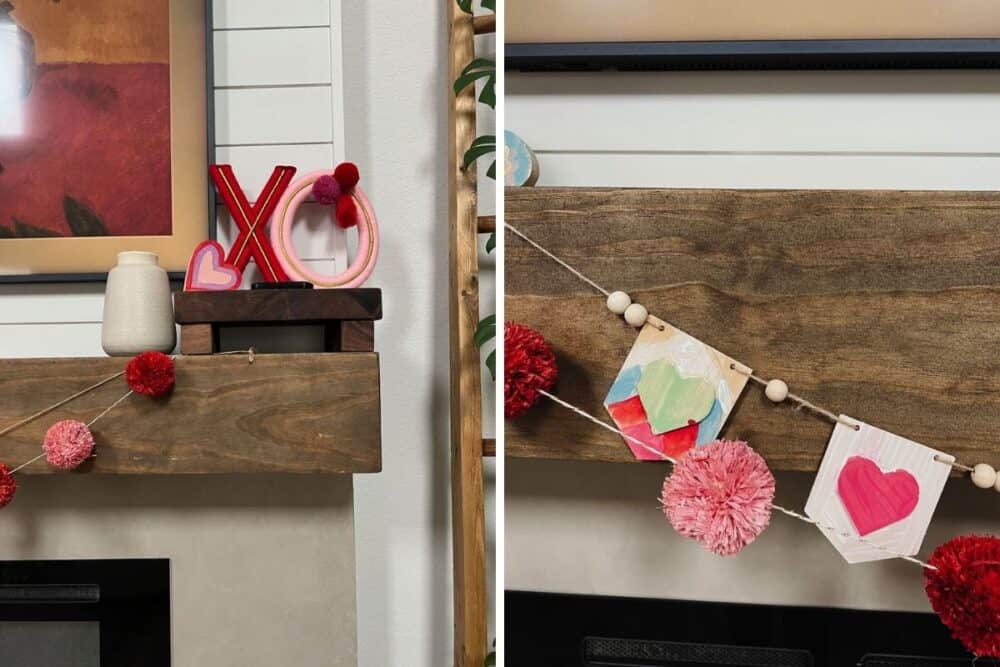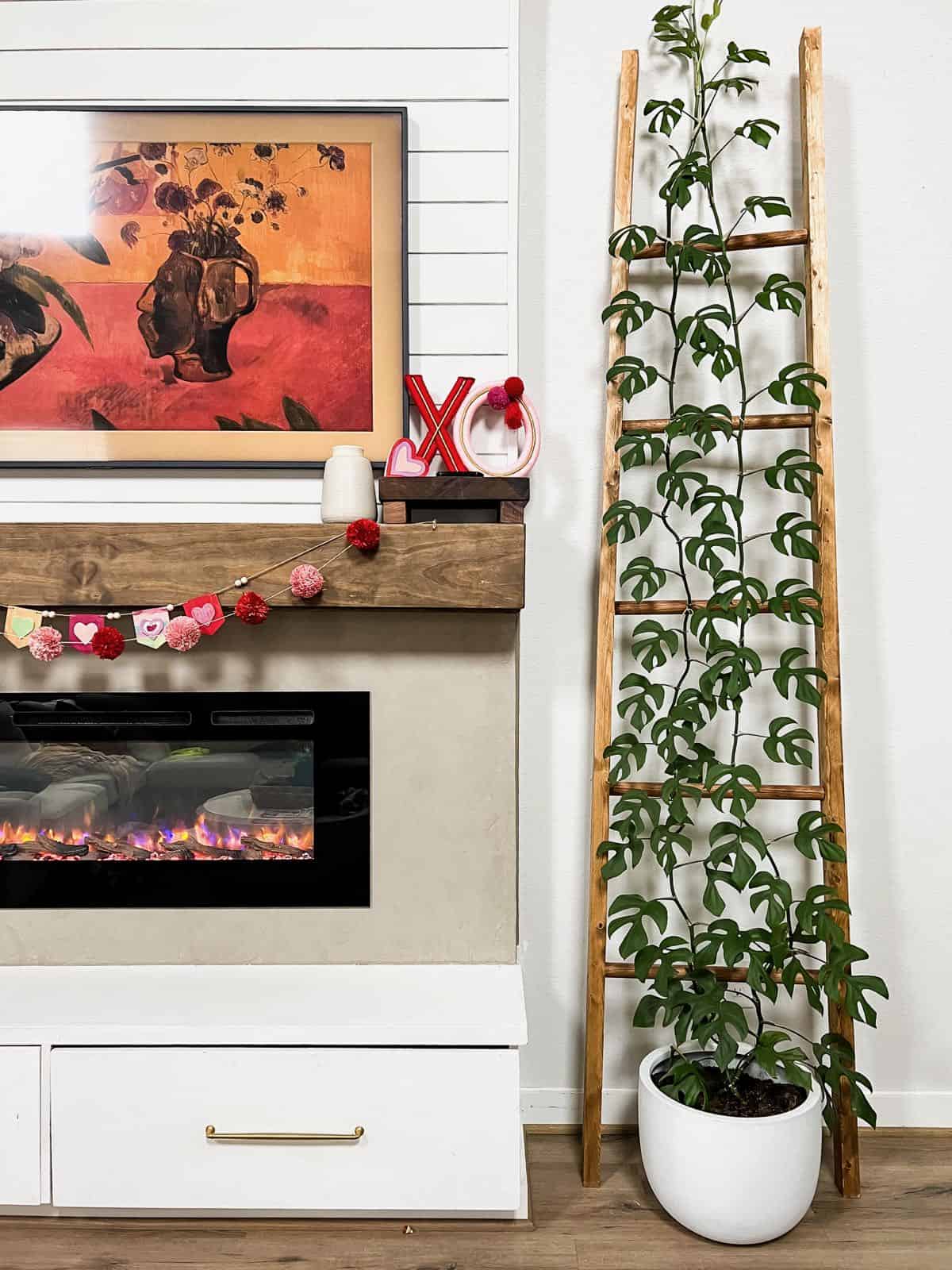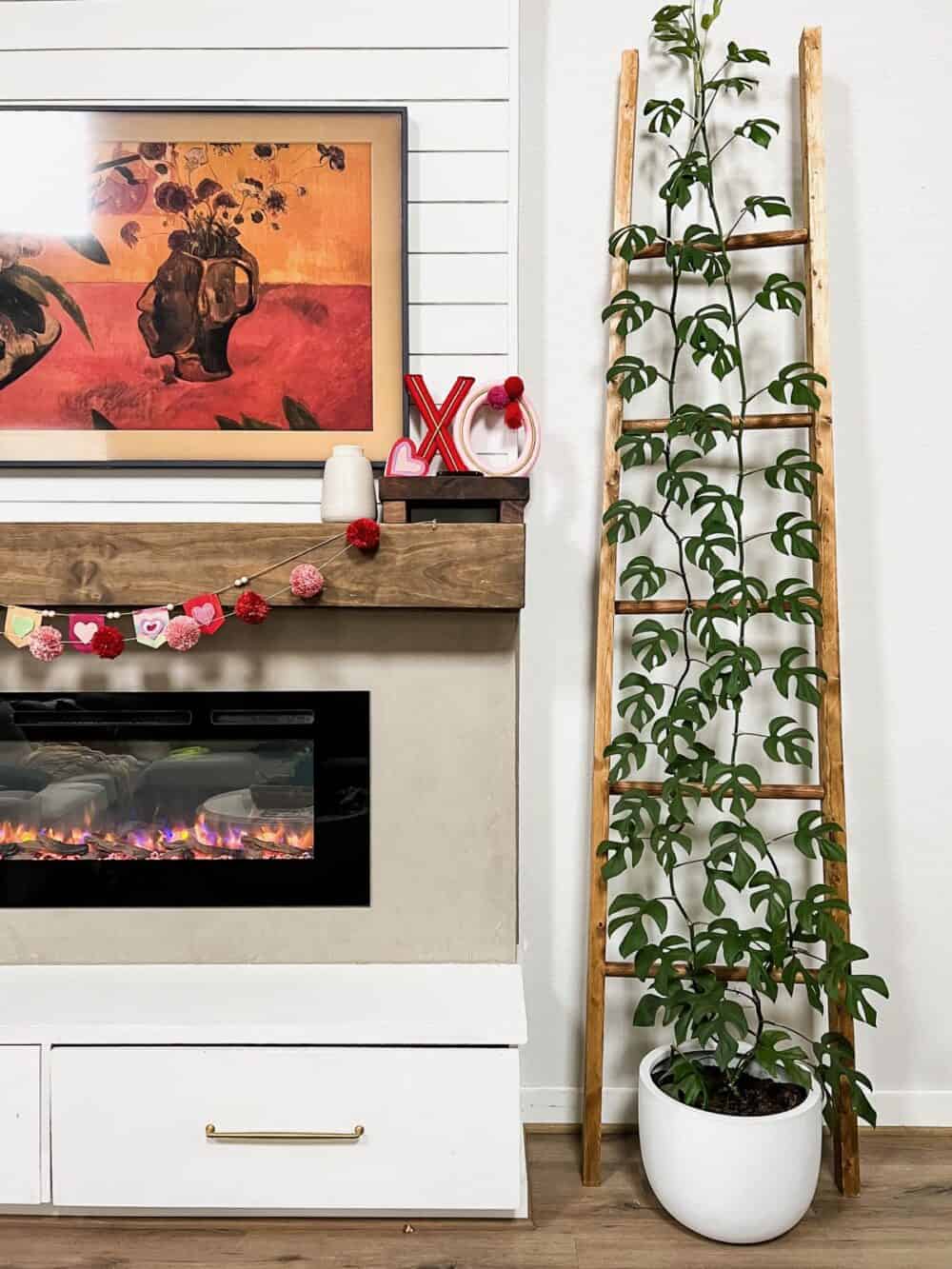 Jackson did a fantastic job on his pieces, and they were both so proud to see their hard work displayed on the mantel!
I've still promised the kids that we'll do a little more Valentine's Day decorating. Last year, we filled up an empty wall in our living room with a giant heart, and Jackson is dying to re-create it. So, keep an eye out for that over on Instagram in the next couple of days!
If you want some more Valentine's Day ideas, I've been sharing a ton over on Ampersand Supply, so be sure to also click over there if you need some more inspiration.