Today feels like a monumental day for me. I've been planning, thinking about, and designing this DIY electric fireplace since before we even moved into this house, and it's done!
If you haven't been following along so far, let me catch you up on all of the posts in this series so far.
Last time we talked, the fireplace looked like this: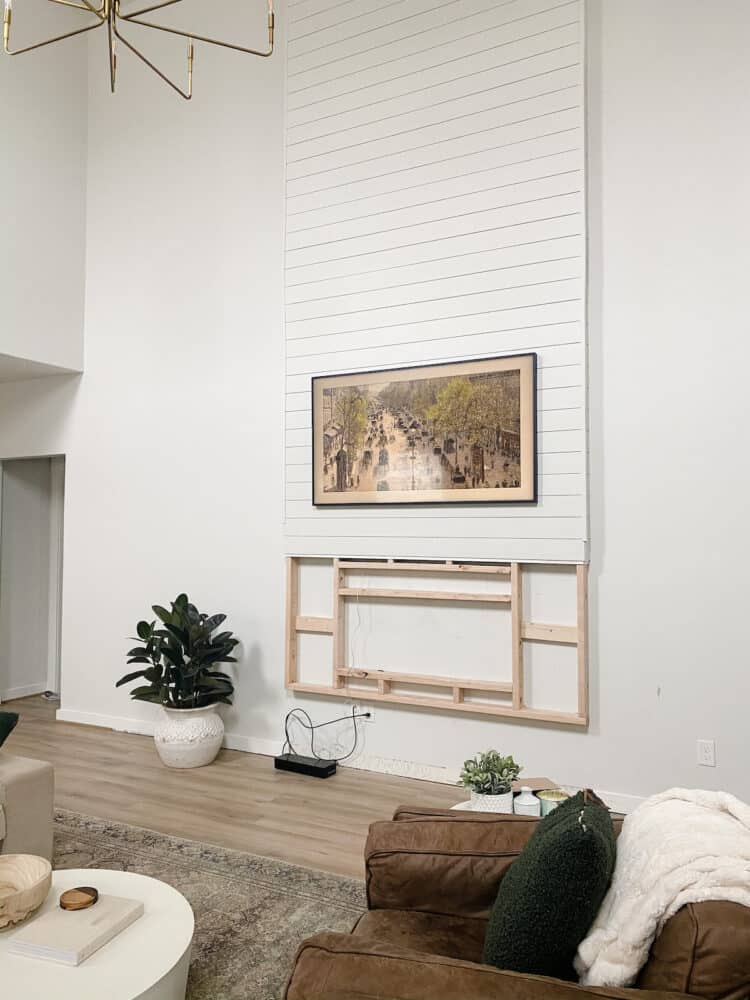 Are you ready for the reveal?
Take a deep breath.
Let's all take a moment to prepare ourselves for this…because it's a doozy.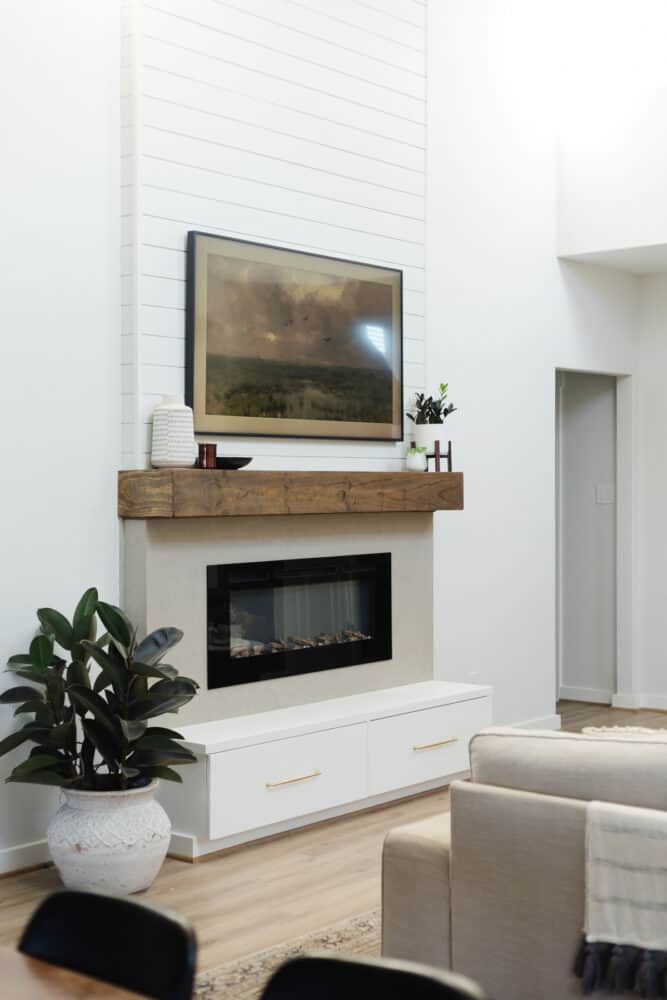 ARE YOU KIDDING ME?
Is that actually MY HOUSE?
Why yes, yes it is.
I did that. I DID THAT, y'all!
Sorry. I'll stop yelling. I'm just feeling really great about this project.
I'll share a lot more photos in a moment, but first let's take a step back and talk about how we got here.
DIY roman clay fireplace
After drywalling the bottom portion of the fireplace, I used Portola's Roman Clay in Charleston on the area around the fireplace. I've wanted to try this material out for quite some time, and I was so excited to have the chance to use it on this fireplace.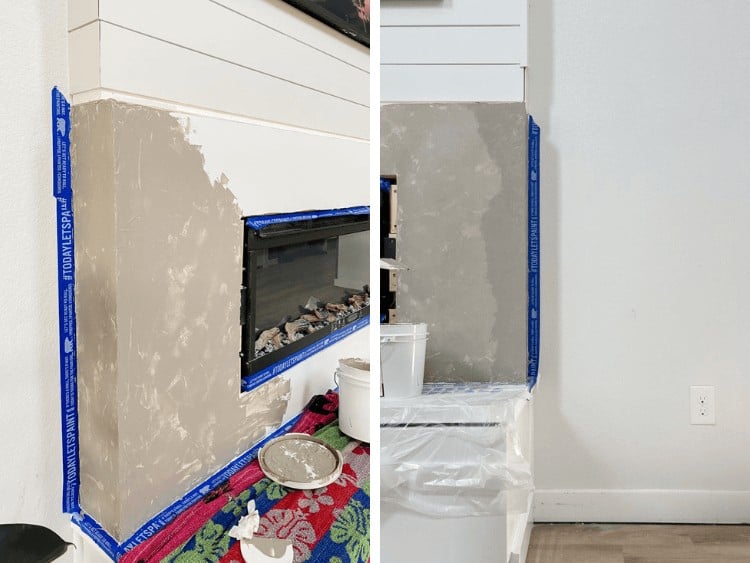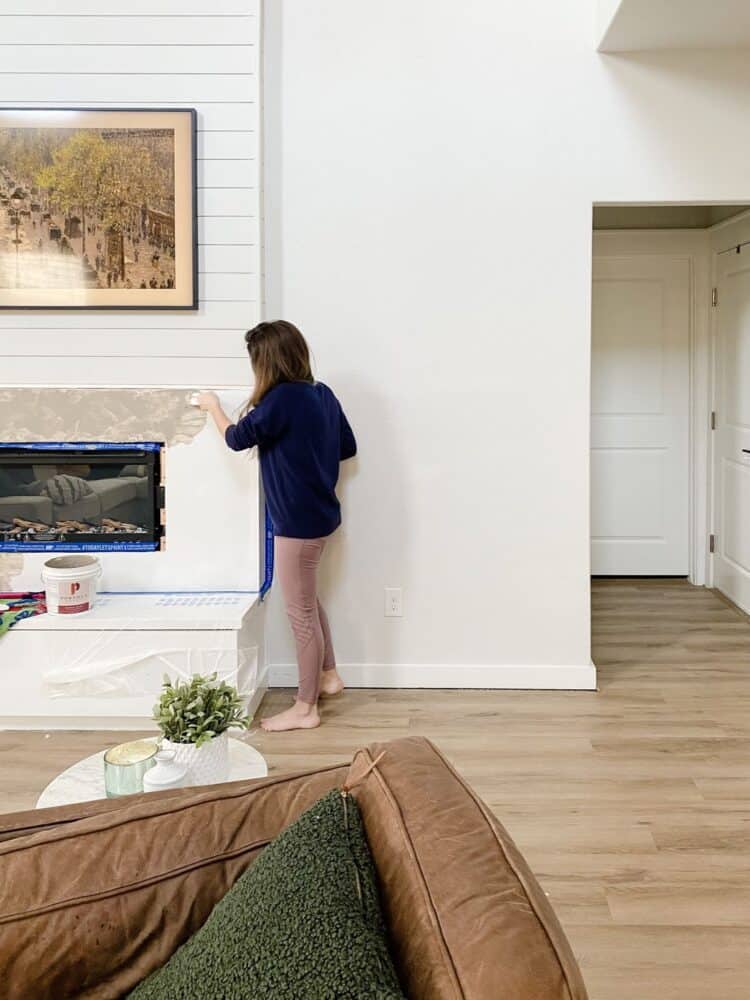 You can watch it all come together right here in this quick video, but it was honestly really simple to use. After priming the drywall, I just used a plastic putty knife to apply it in a random pattern – a small amount goes a long way (I ordered 2 kilos and have a ton left over). You want it to have some movement and even a few raised portions, so don't stress too much here – slight imperfections are actually the key to making this finish look awesome.
You have to let each coat dry overnight, then you're ready for the top coat. This isn't a required step, but since I have kids and we fully plan to use the raised hearth as a seat, it was an important step for us.
The Roman Clay has the most beautiful finish – it's similar to concrete, but has a more traditional and warmer feel to it. It's velvety soft, has really subtle movement and texture, and is the perfect finish for our fireplace.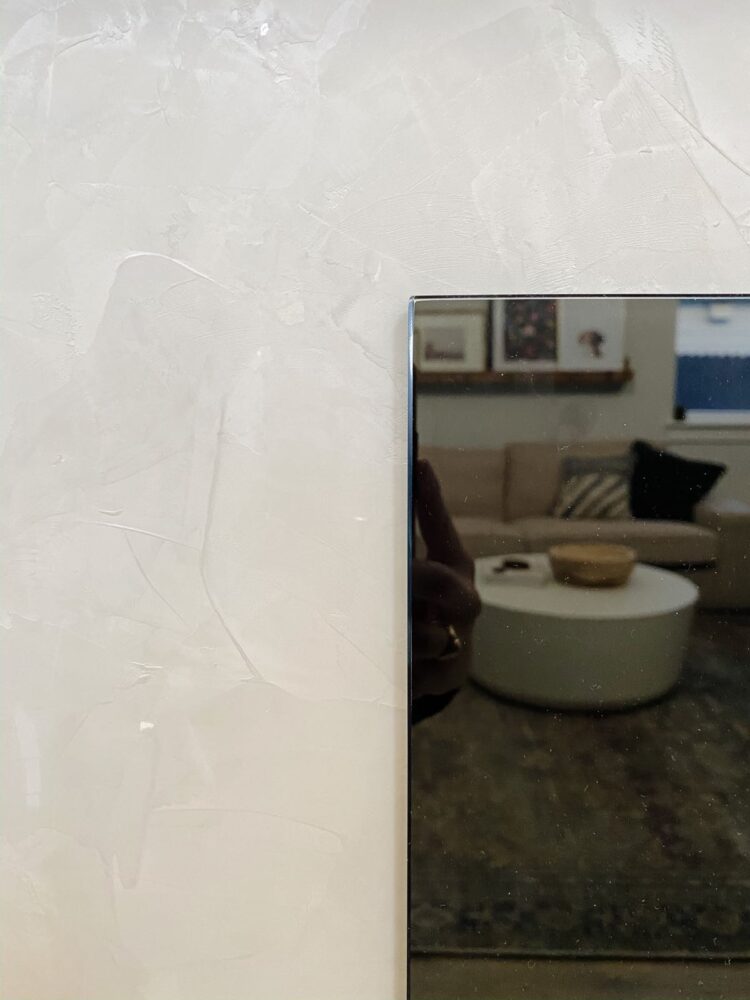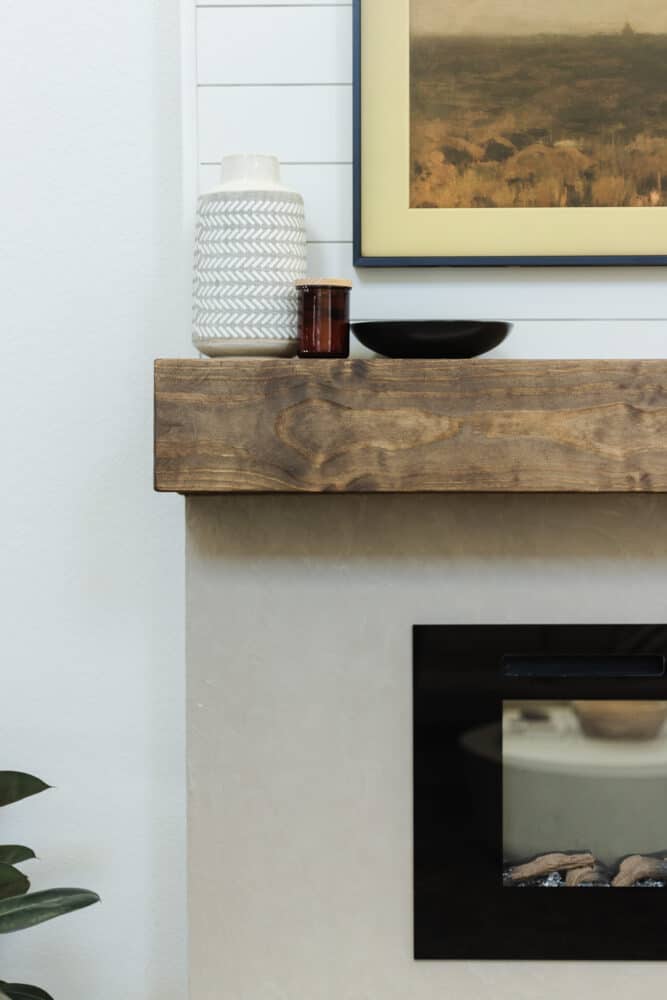 Once that was done, the finishing touch was building the mantel!
Building the mantel
We used the exact same process that we used for the DIY mantel at our old house, with one small twist. We wanted the mantel to feel like it wrapped around the entire fireplace, so it could cover the transition between the shiplap and the Roman Clay. So, when we built it we cut the side pieces so they'd extend all the way to the wall.
The finished result is gorgeous, and I'm so glad we decided to wrap it. The one issue we ran into was that since we cut the side pieces at a 45-degree angle (so the mantel seams were all mitered), it was also mitered on the part where it was covering the framed wall.
We tried to just cut the front portion at a mitered angle, but it proved to be too tricky so we solved it by mitering the entire side, then cutting a small piece later to piece into that 45-degree cut. We simply glued it in place, then filled it with wood filler and stained to match. I'll give a closer look at this on my Instagram stories (I have two fireplace highlights in my profile!), if that description is too confusing for you!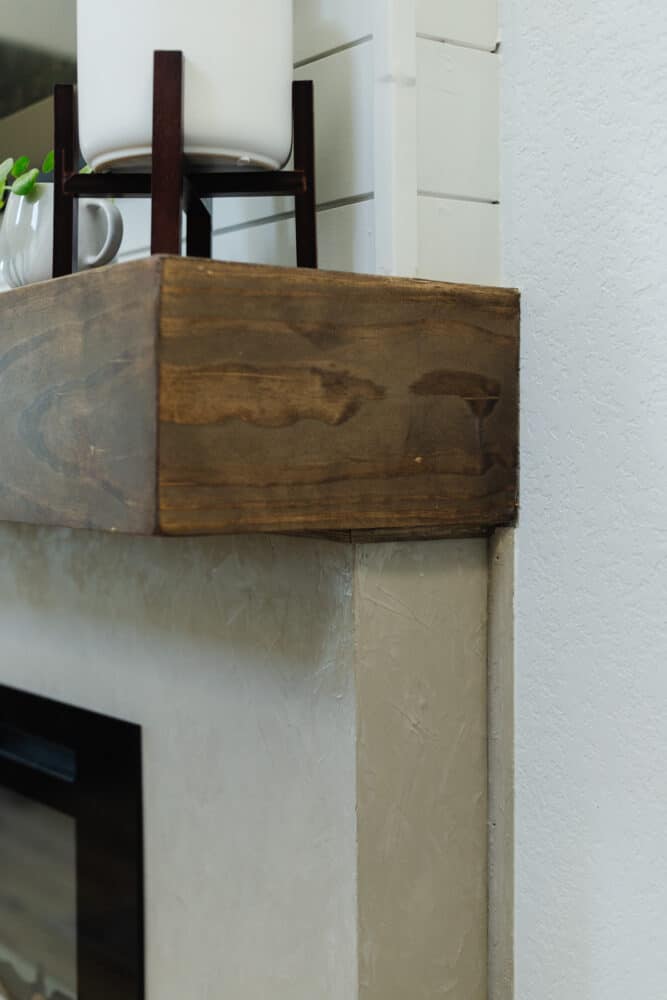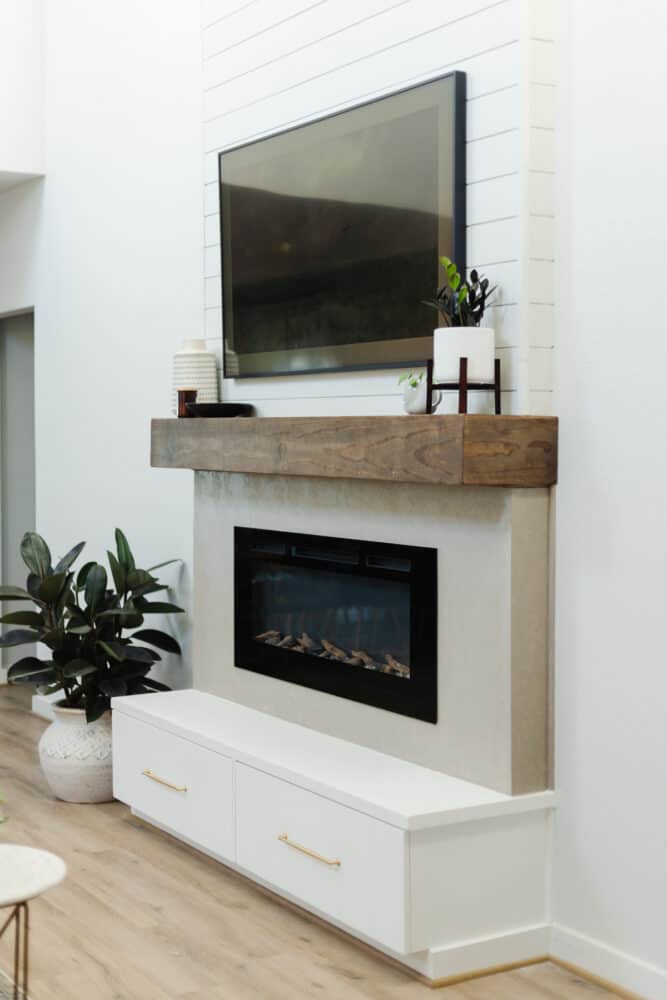 I stained the mantel with Varathane's Dark Walnut (my go-to for a nice, deep brown) and it pairs perfectly with the Roman Clay. I loved the matte, slightly rustic finish on the wood, so instead of sealing with a polyurethane, I decided to just go with a finishing wax. It was much faster (only takes about 10 minutes to dry), and left the finish looking exactly how I wanted it to.
We hung the mantel by drilling a 2×4 board into the framed wall 3/4″ lower than we wanted the top of the mantel to be. Then, we slipped the mantel into place over it and drilled through the top of the mantel into the 2×4. You can't see the screws at all (since the mantel sits above eye level), and it feels nice and secure – especially since the bottom part rests on the fireplace framing, which sticks out about an inch from the rest of the wall.
the finishing touches
Of course, no giant project like this is complete without a few (annoying to complete) finishing touches.
Here's a quick rundown of the little details I added that went a long way towards making this look like it's always been here: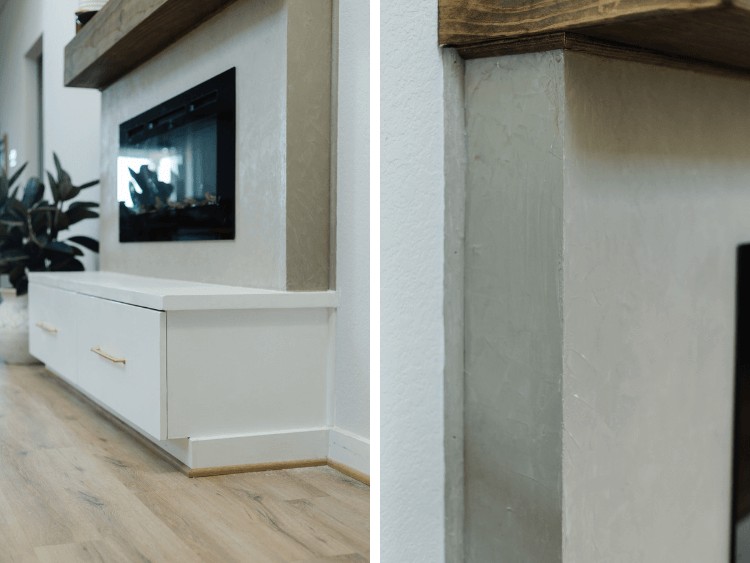 I re-used the baseboard that was originally here on each side of the hearth, then I re-used the shoe molding and wrapped it all the way around the base of the hearth. Paired with painting the hearth the same paint color and sheen as all the trim work in our house, it really looks like it was meant to be here!
I used some quarter-round molding (painted with the Roman Clay) where the drywall meets the existing wall on the bottom portion of the fireplace – this is because our drywall work isn't perfect (drywall is hard to get perfect), and we wanted it to look seamless. Installing that little piece of trim covered up any gaps and made it feel really finished.
I also used a small piece of wood trim under the mantel to cover up imperfect drywall edges there too. This is stained the same color as the mantel itself, and really blends right in to create a very polished look.
And that, my friends, is how we took our living room from this: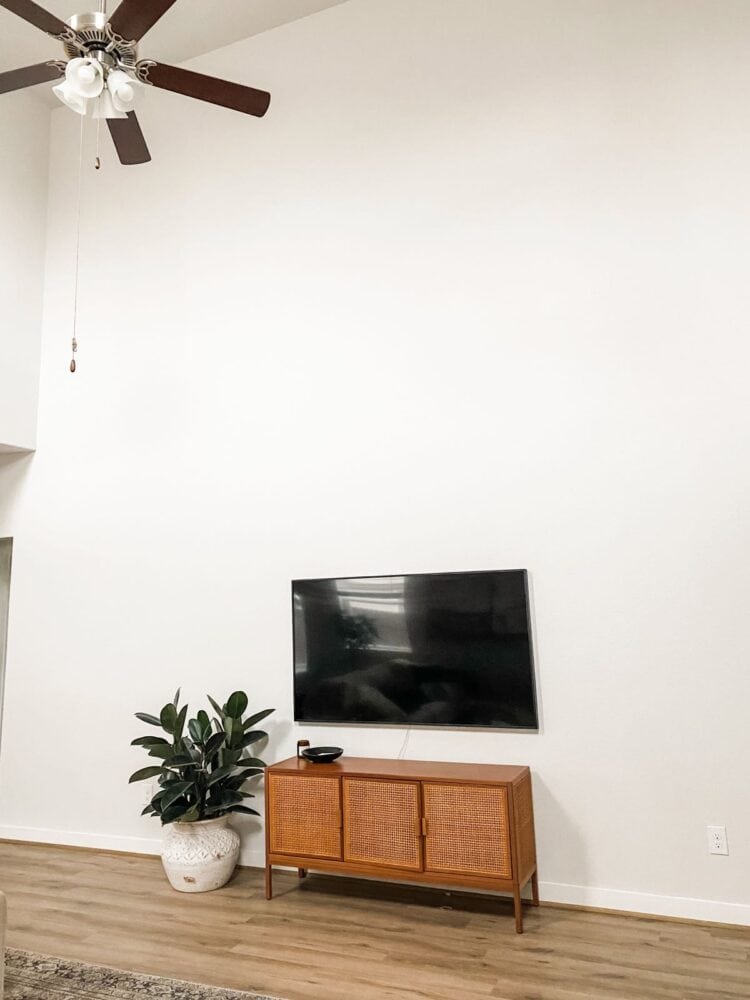 To this.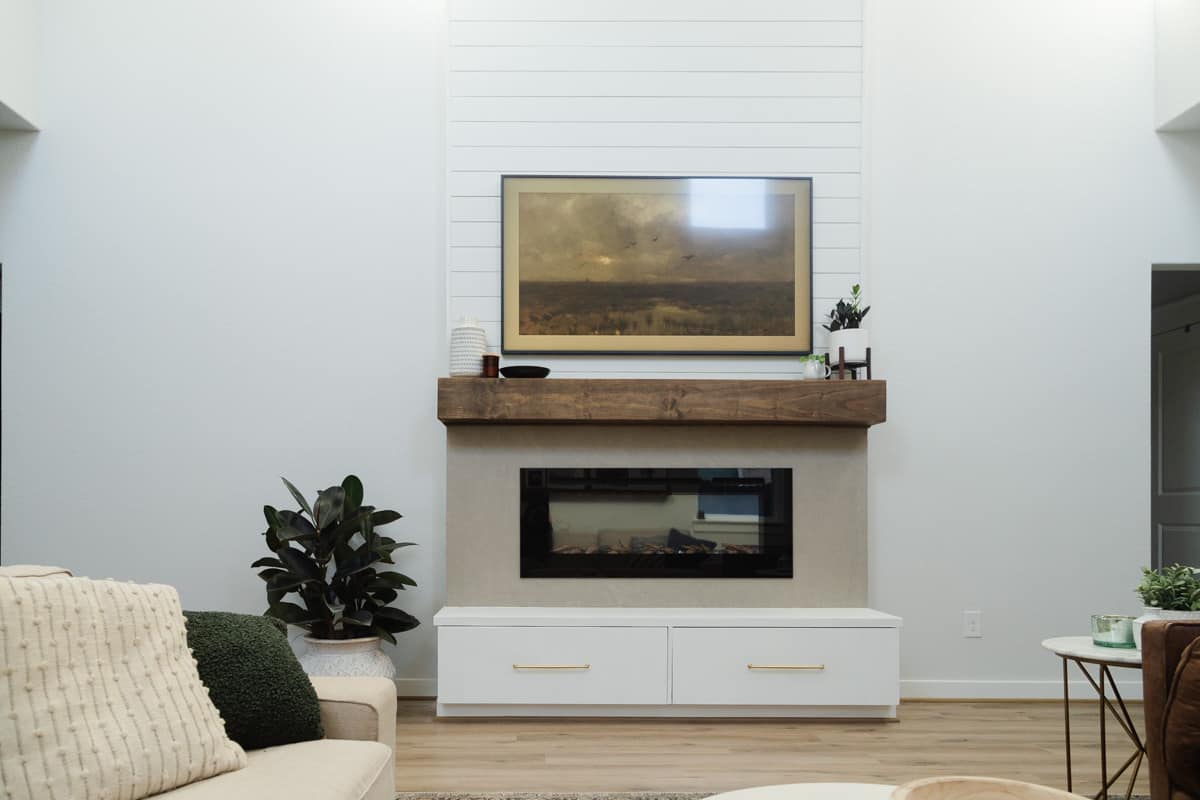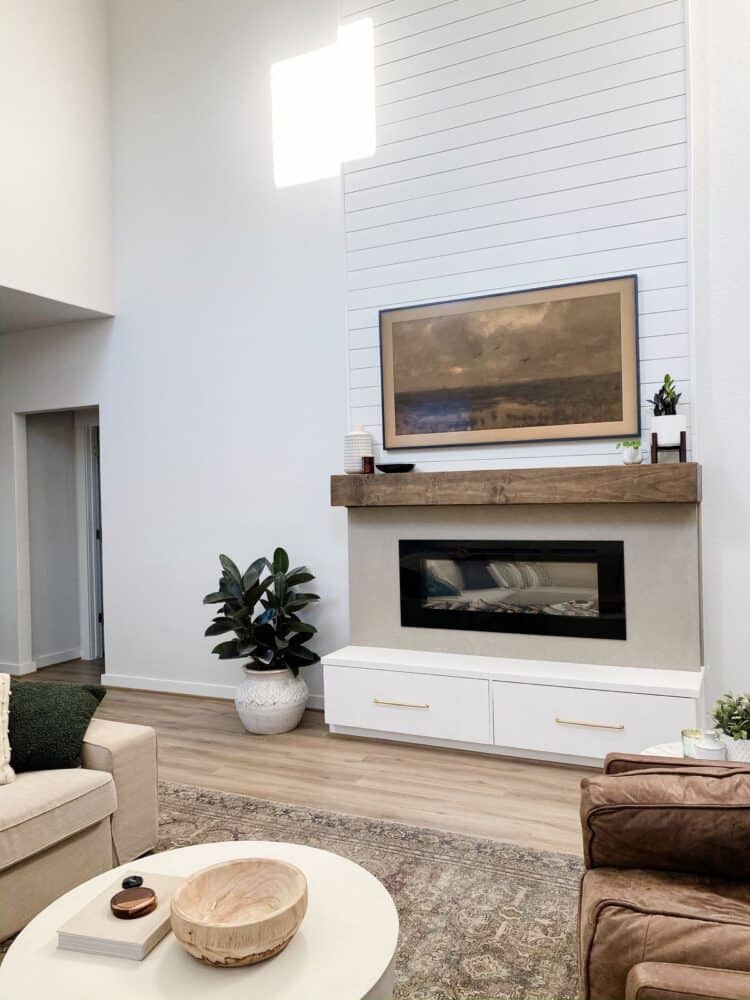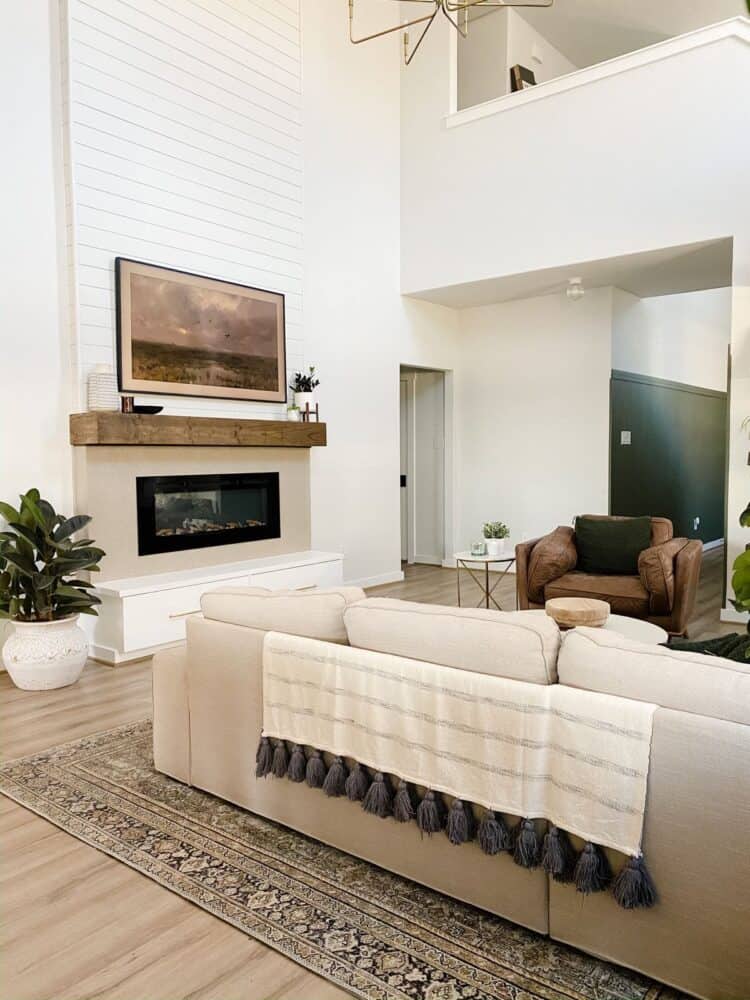 I'll wrap it up with the questions I know you're asking: how much did it cost, and where can I get everything.
How much did it cost?
Including the cost of renting the scaffolding, the entire fireplace project cost right around $1,500. It certainly wasn't cheap, but it was far more affordable than hiring it out!
Here's a (general) breakdown of the costs:
Hearth supplies: $150
Electric fireplace: $400
2x4s (for framing) and shiplap: $350
Scaffolding rental: $200
Mantel: $100
Roman Clay: $100
Trim and other random supplies (paint, screws, nails, etc): $200
Fireplace sources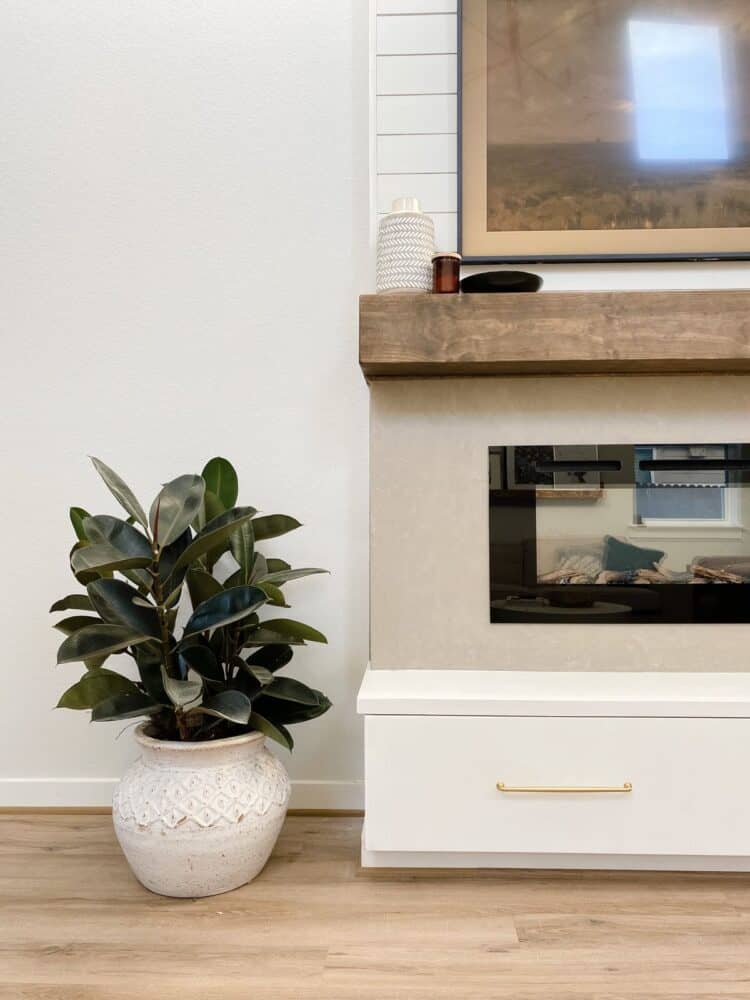 Need any other sources or have questions? Drop them in the comments below and I'll do my best to help!