I love a painted ceiling. Ceilings are often ignored when it comes to room renovations, but why not have a little fun with it?!
I just finished painting the ceiling in Jackson's room (now both boys have painted ceilings!) and thought I'd share a few quick details on how to paint a ceiling – it's a bit of a pain in the neck (quite literally), but it's honestly so worth the effort and creates such a fun effect in any room!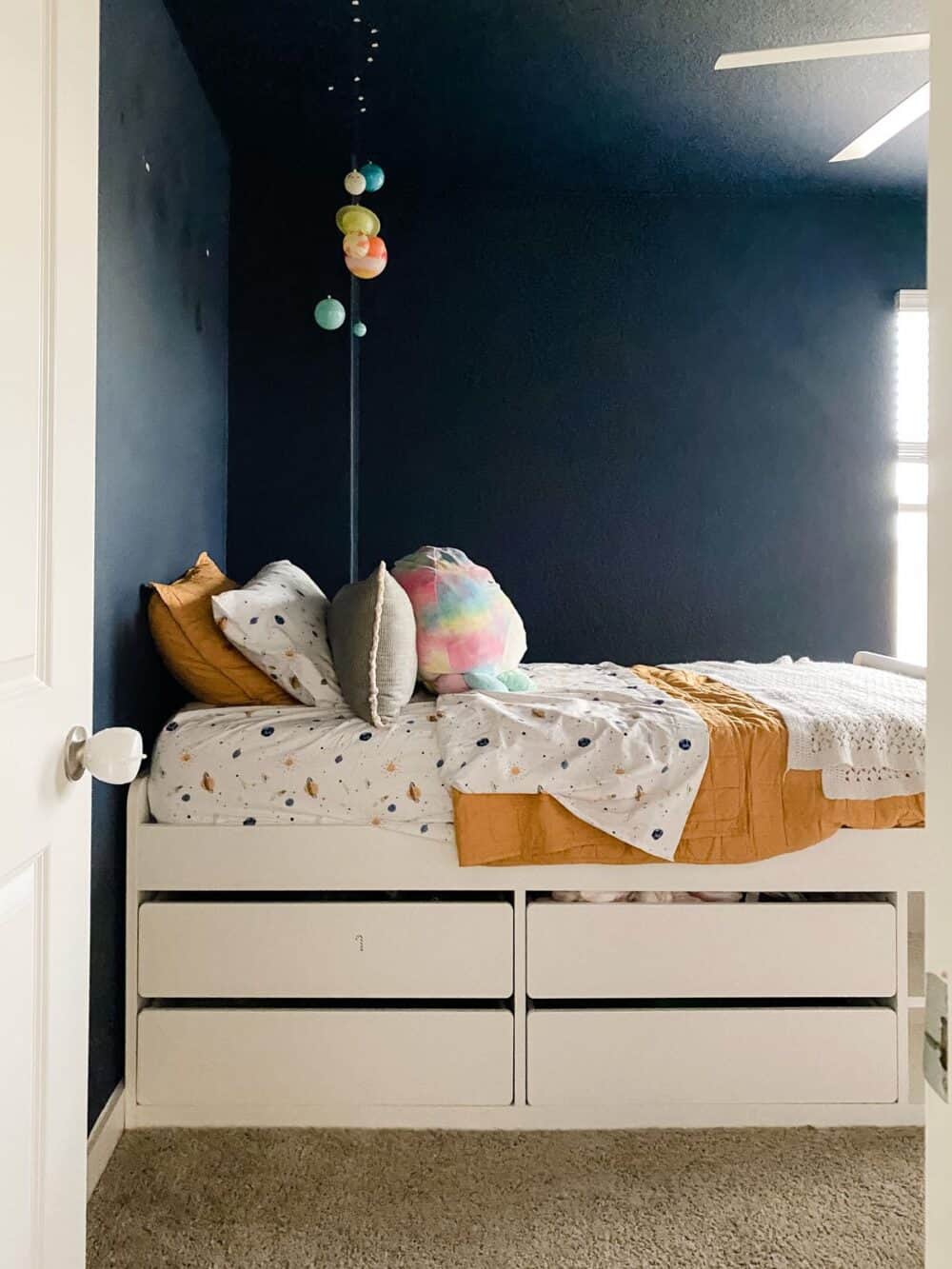 In Jackson's room, we just happened to be painting the entire room the same color – this makes things a little easier. But, there are a ton of different ways you can tackle painting a ceiling and if you really allow yourself to get creative with it, a painted ceiling can absolutely make a room!
A few examples?
In Jackson's nursery in our very first house, we painted his ceiling a pale blue. It was a really calming, soothing color and that little pop of fun on the ceiling was exactly the playful touch the room needed. It was 100% my favorite room in that house, and it even made the popcorn ceilings feel less obnoxious!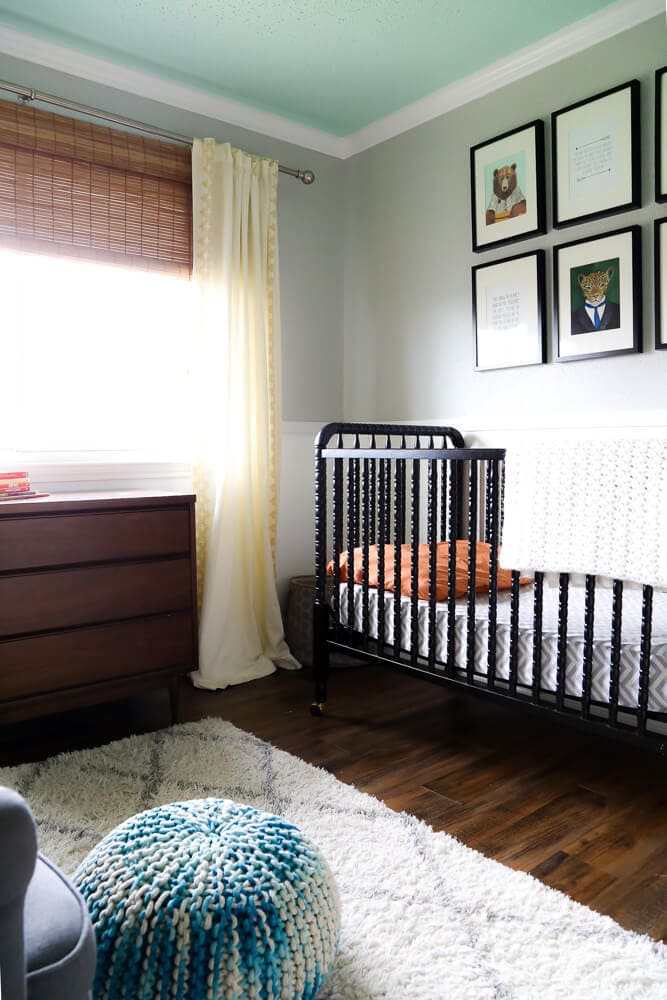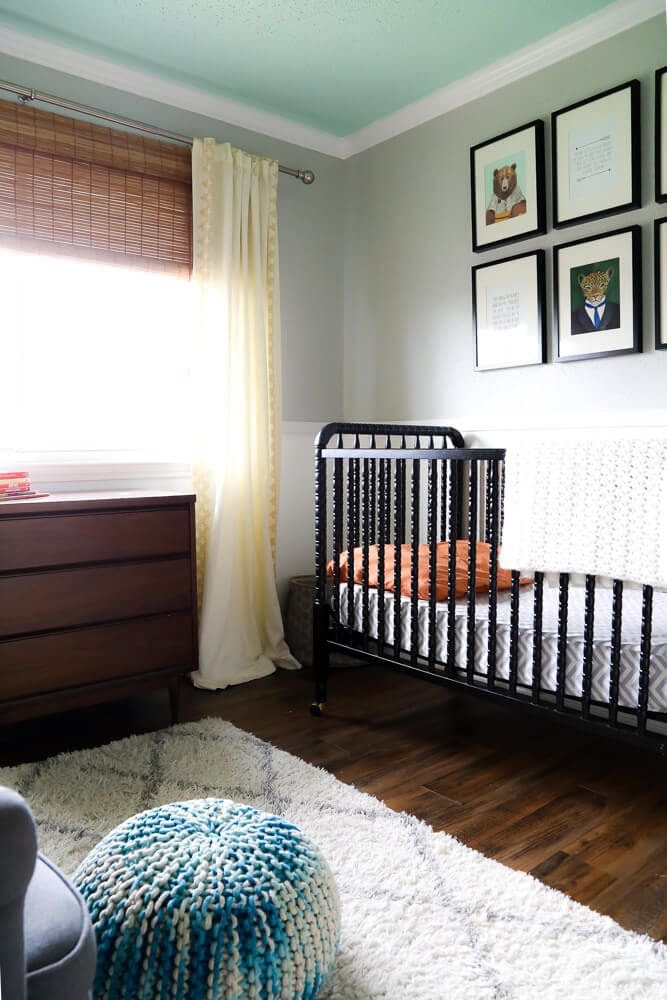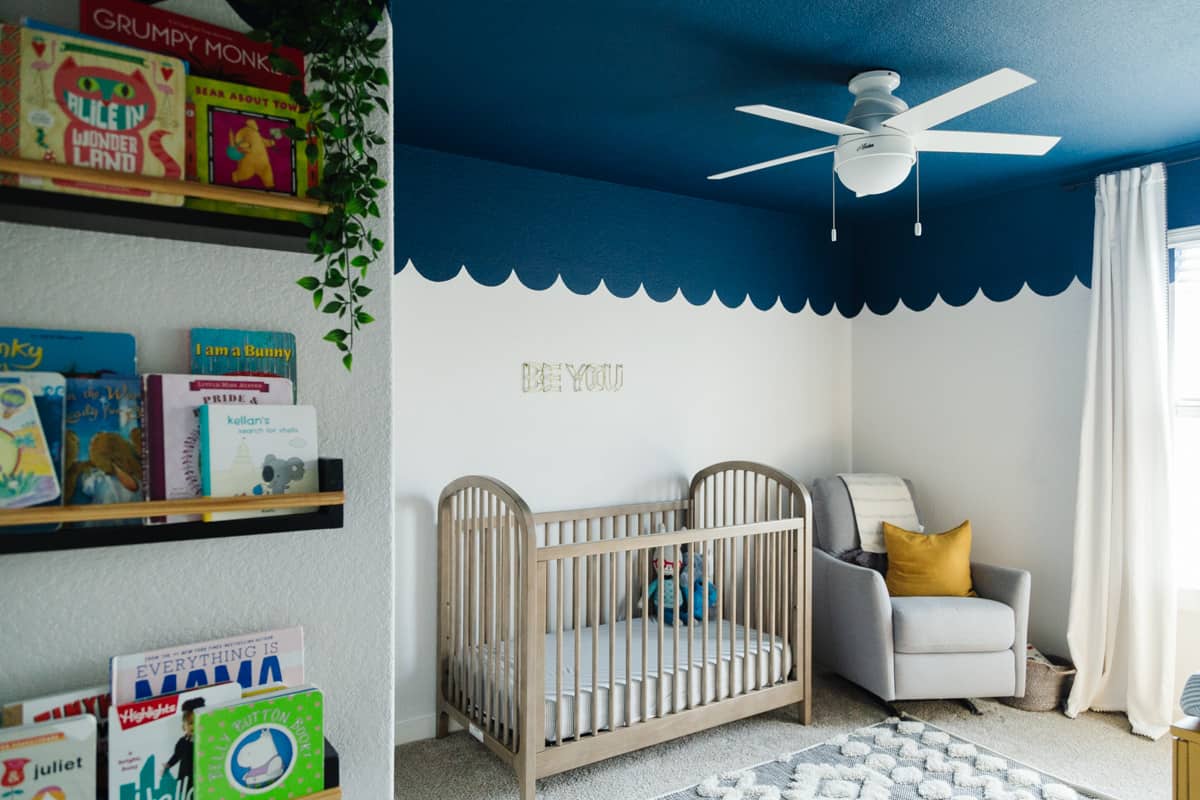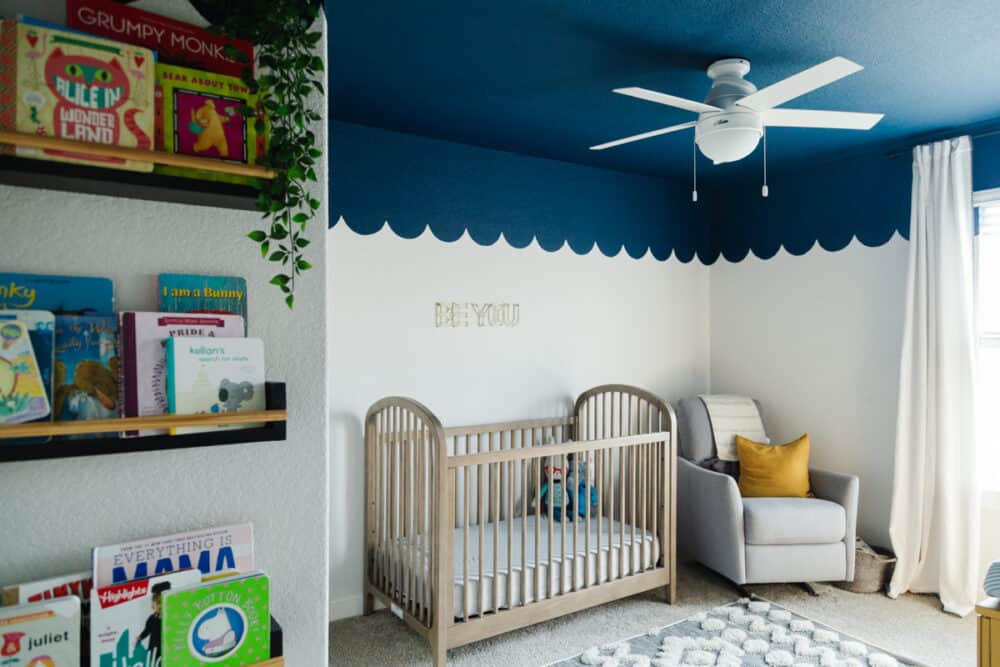 And, of course, in Grant's room in our current home we also painted the ceiling! Funny enough, it's basically the same color as Jackson's ceiling is now. In Grant's room, we added a fun detail of doing scallops about 18″ down the wall all the way around the room.
Painted ceilings don't have to be whimsical like this, but I'm a big fan of doing something like this in a kids' room because it's so low stakes (paint is so easy to change!) and the kids think it's the coolest to have a painted ceiling!
Of course, you may be looking into painting your ceiling simply because your ceiling needs a fresh coat of paint! Even if you're looking to stick with plain white, these tips will help you paint your ceiling as quickly and painlessly as possible.
So, let's dive into the details, shall we? Everything you need to know about how to paint a ceiling – I promise, it's incredibly simple!
How to paint a ceiling
Choosing Paint
You can purchase specially formulated ceiling paint from the hardware store for the best possible results. It's flat, which helps hide imperfections, and is designed to be a bit less drippy than regular paint. I'd recommend not skimping – choose a high-quality brand (I'd go with this one) to ensure the best coverage.
Of course, if you have a unique situation like mine where you're painting the entire room the same color, you can use regular interior latex paint on your ceiling as well. I used the same paint on both the walls and the ceiling, and it turned out perfectly fine.
There are no official rules about what paint you have to use, but if you're only painting the ceiling, I'd recommend going with a special ceiling paint for the best results!
Prep the Ceiling + Room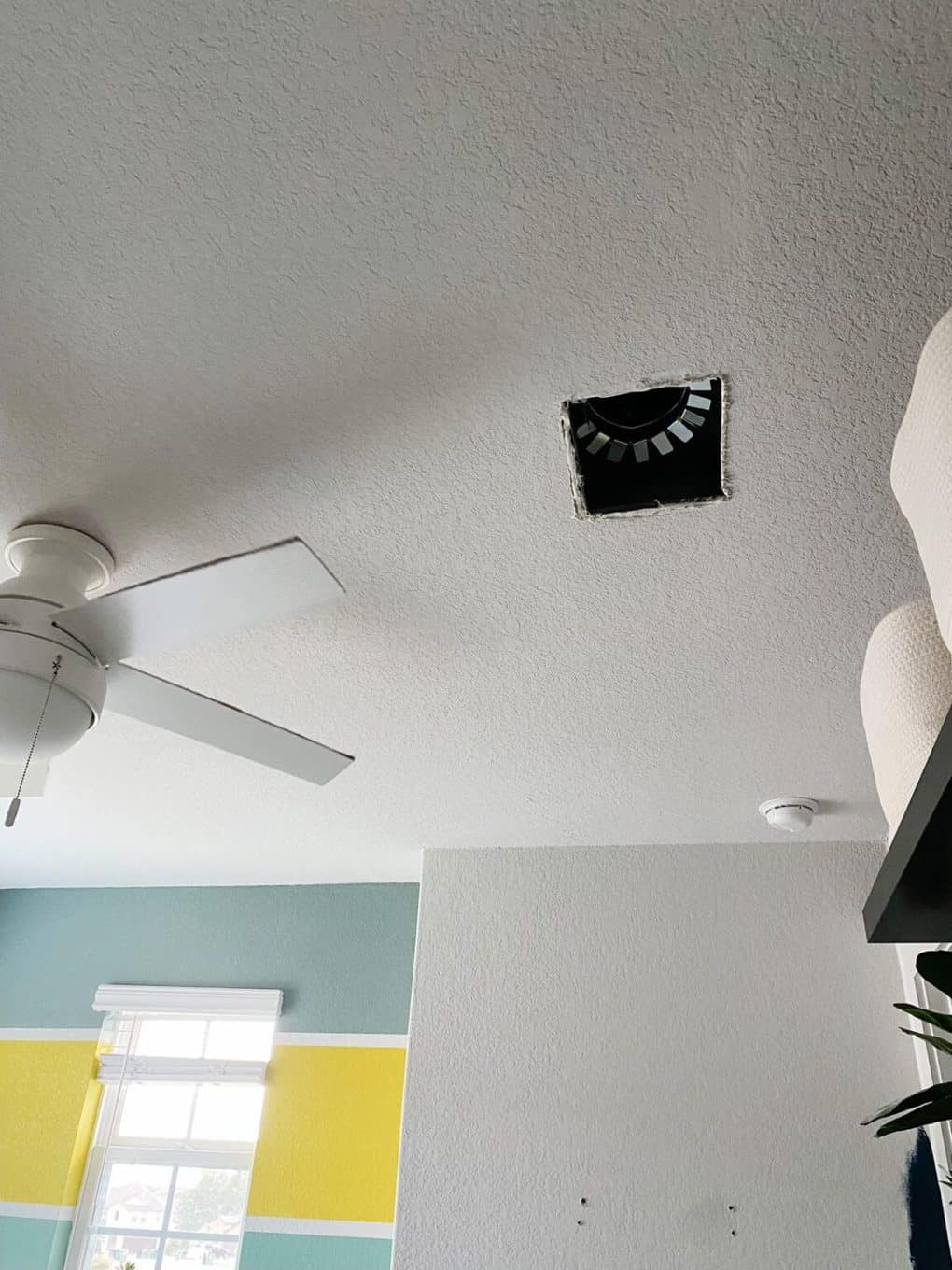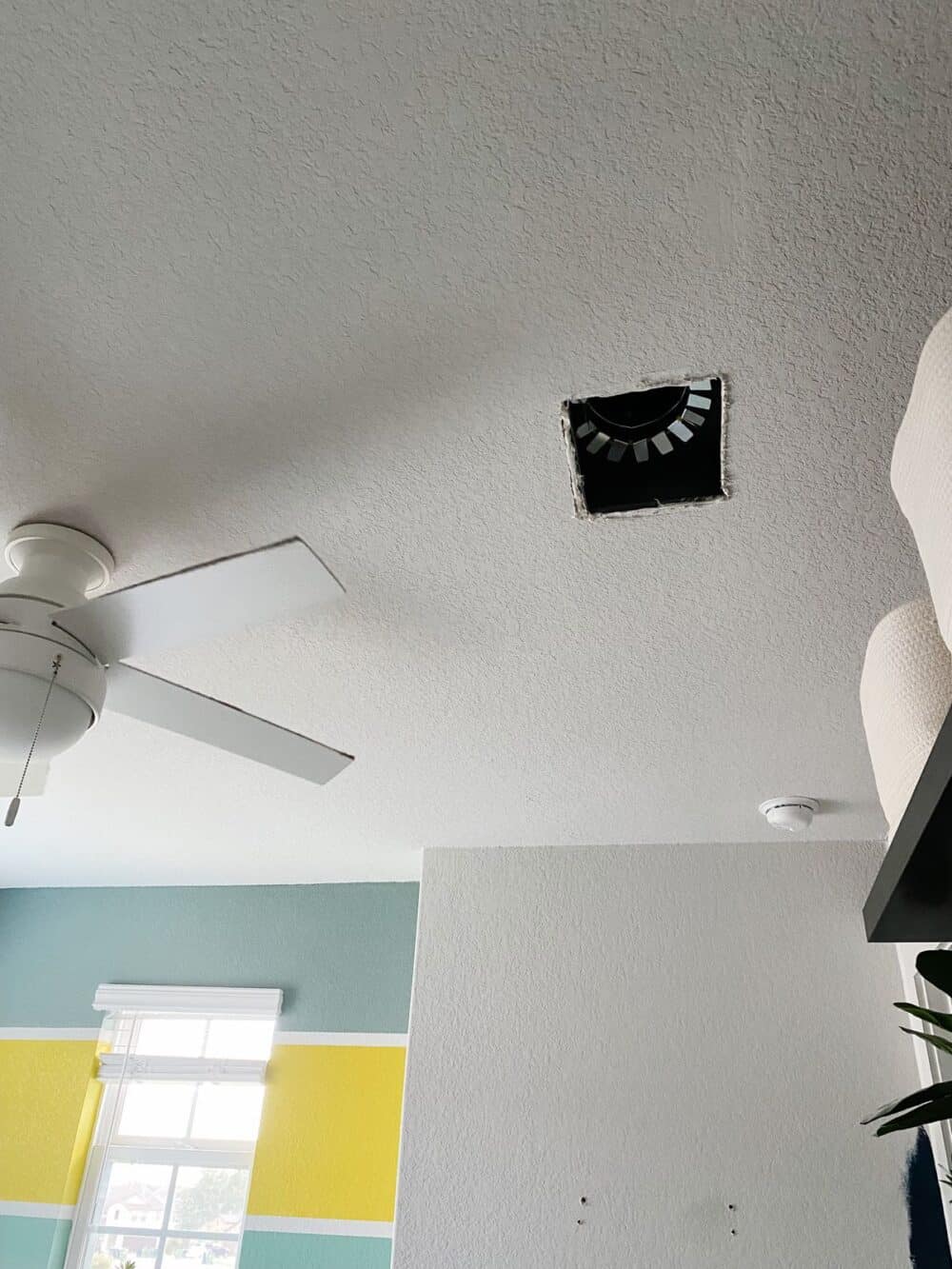 You'll want to start by removing anything from the ceiling that you can (I removed the A/C vent), lightly dusting the ceiling, and making sure that nothing is going to be in your way.
You should also plan on removing any furniture from the room that you can, or at least covering anything you're worried about dripping paint on!
Finally, grab a drop cloth and cover the floor as much as you can. You can use a smaller drop cloth and move it around the room as you work, or a bigger one that will cover the entire space. I personally find it easier to work with a smaller one.
Patch holes, prime any stains
If there are any holes or imperfections, go ahead and patch those, and use a stain-blocking primer on any stains that you have on the ceiling. Hopefully this isn't a necessary step for you, but it could be!
If your ceiling is in particularly rough shape, you may need to prime the entire thing. This is especially necessary if you have stains on the ceiling or are painting over a dark color. Otherwise, you should be okay just using a high-quality paint + primer combo.
Tape Off the top of your walls
I'd highly recommend using painter's tape along the tops of your walls to ensure you don't end up with ceiling paint on your walls. Click here to learn all about how to use painter's tape, if this step is intimidating!
A quick note, though – don't rely fully on the painter's tape to prevent any issues. You should still be careful when cutting in (more on that as a second) and just use the tape as a failsafe in case your brush slips.
You'll notice I didn't use tape in Jackson's room – the only reason I skipped it is because I was painting the entire room the same color, so it didn't matter. In any other scenario, I definitely would have taped!
Cut in around edges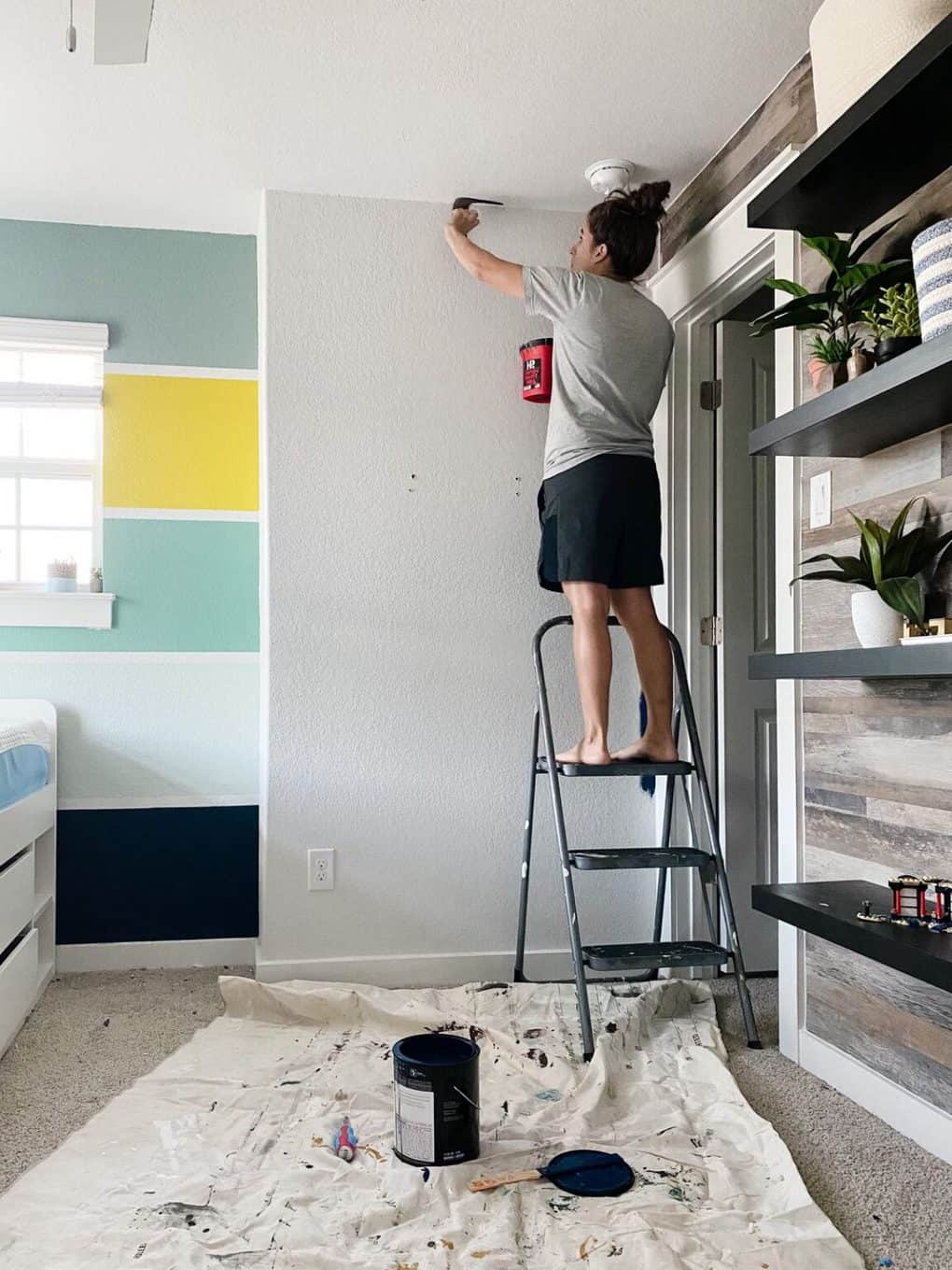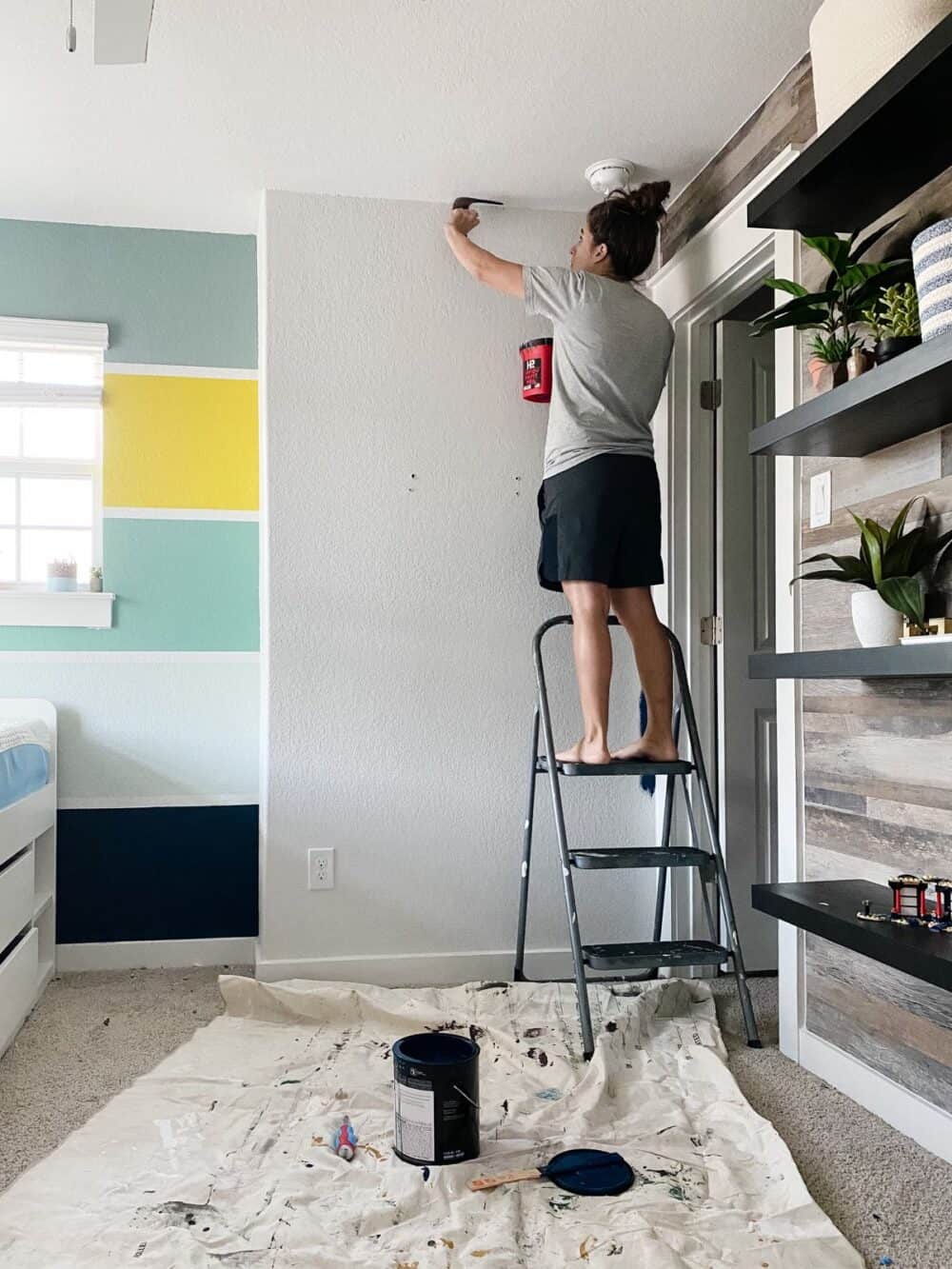 Now that all the prep work is done, you're ready to cut in!
You can use this tutorial to help you cut in like a pro and make sure you get the best results. Go all the way around the room and paint all of the edges, making sure to feather it out a bit so that you can reach the paint line with your roller.
roll in sections
Once you've cut in all around the edges, it's time to start rolling!
I highly recommend using a power roller (here's the one I love) for this project because it will eliminate the constant up and down of refilling your roller.
The job is also much easier with an extension pole (which you can combine with your power roller!). I didn't use one this time because they're 8′ ceilings and it was easy to reach with a stepladder – but, for a larger space it would have been worth it to bust it out!
The best way to work is in sections that are about 5′ square. That will help keep the edges wet as you work and prevent lines. You'll also get the best coverage if you backroll each section in the opposite direction immediately after painting it.
Try not to paint directly over your head – it's not comfortable, you won't do as good of a job, and you're more likely to get paint in your hair. Instead, try to paint slightly in front of your body so that you can apply an appropriate amount of pressure as you work.
Allow to fully dry before doing a second coat
Follow the directions on your paint can to allow the paint to fully dry (usually for 2-3 hours) before applying a second coat. In most cases, you will need two coats of paint for really solid coverage. However, I've found that if I'm using a really high-quality paint and my power roller, I'm often able to get away with just one coat and a few light touch ups. This ceiling (and the entire room) were painted with just one coat of paint, and I think it looks pretty fabulous.
And it'll look even more fabulous once I'm done adding stars to the entire thing!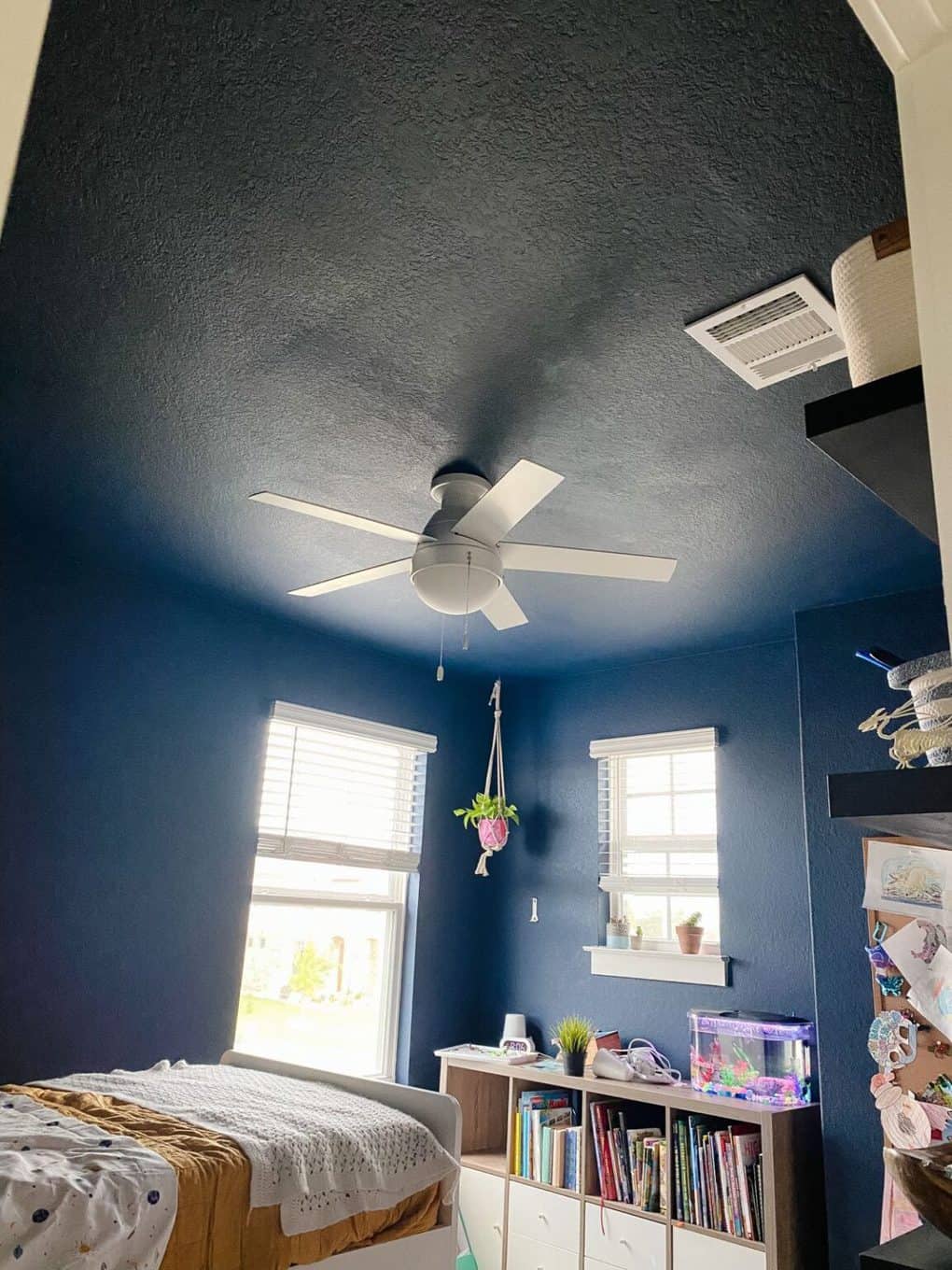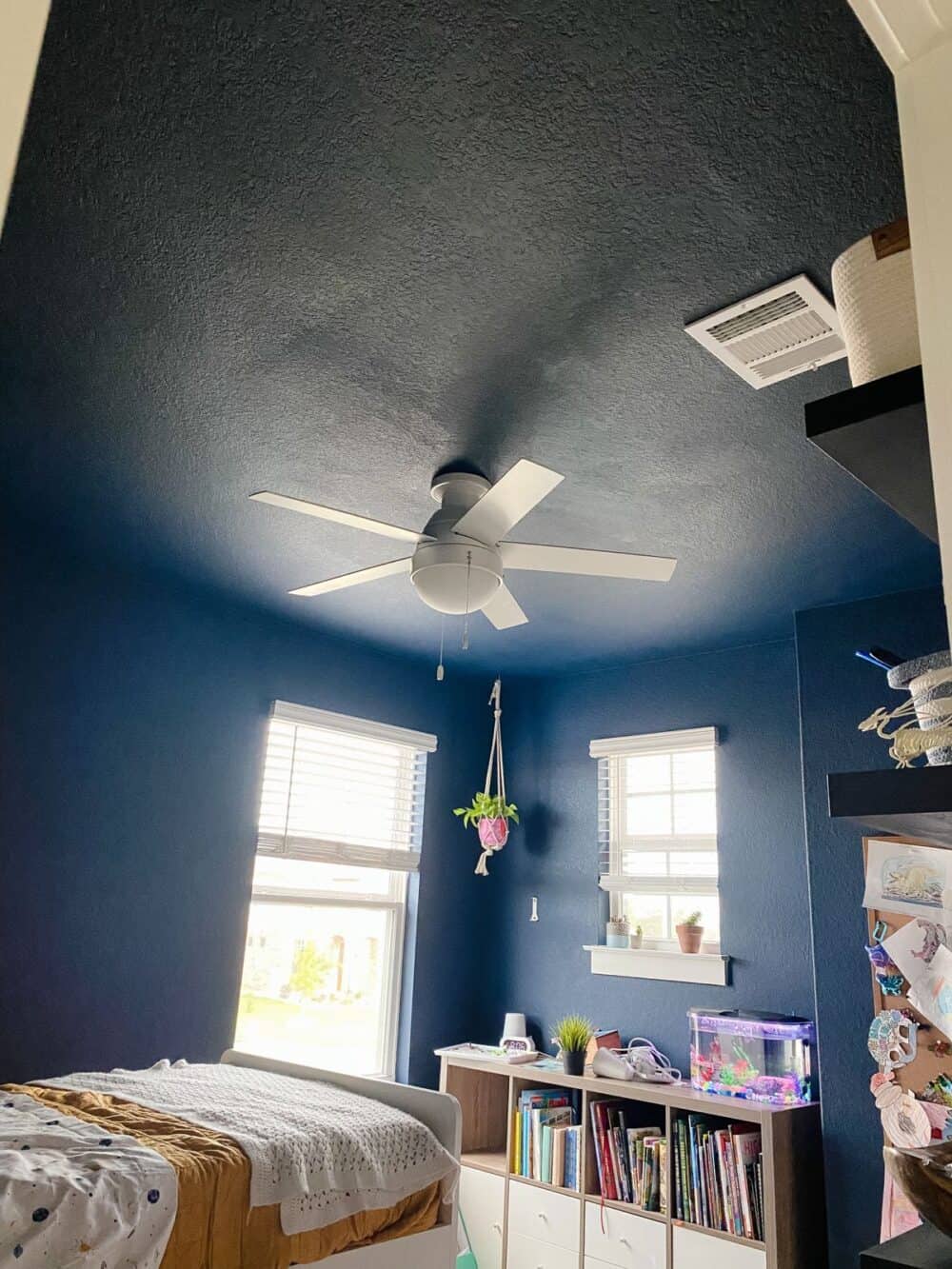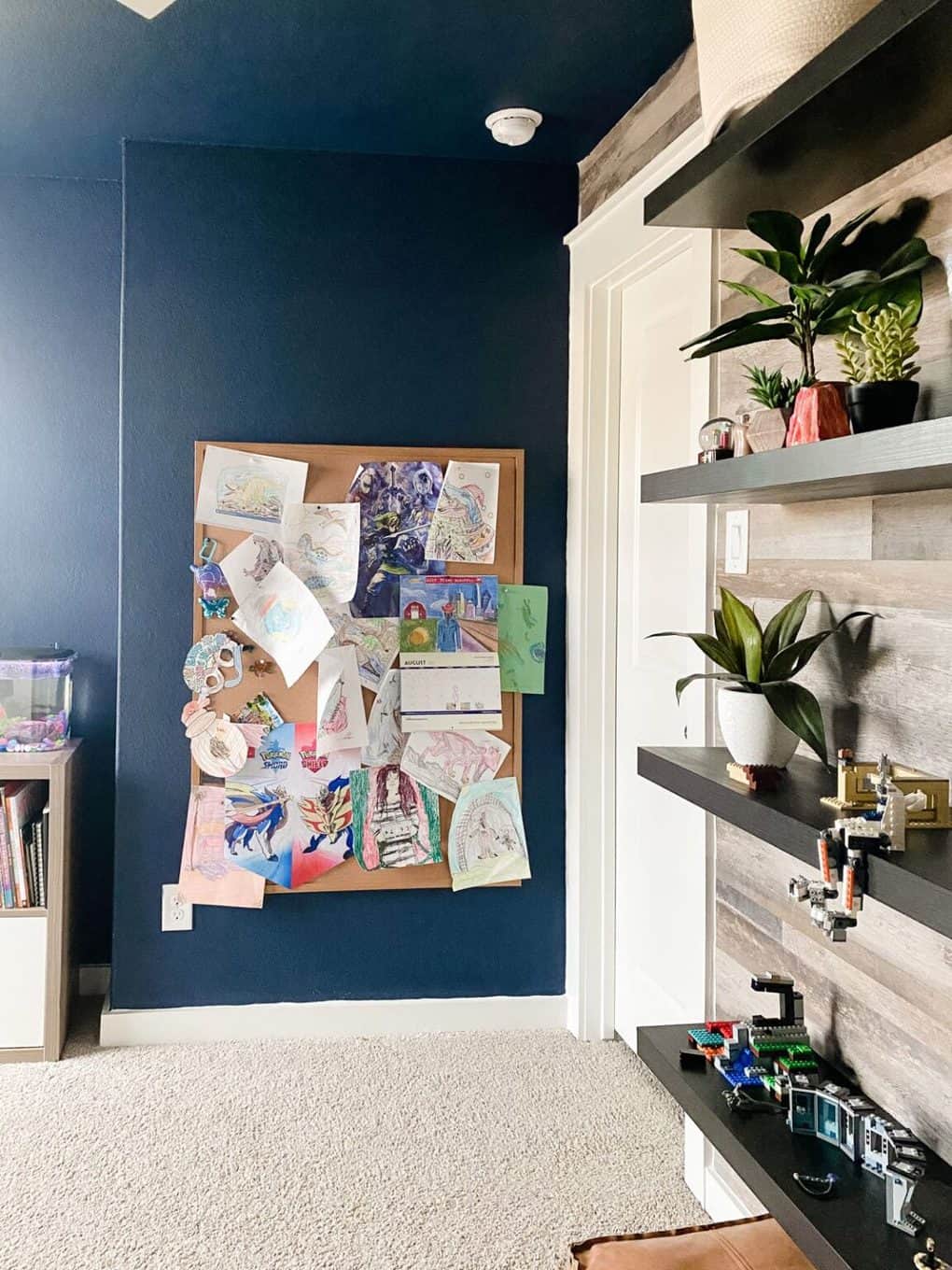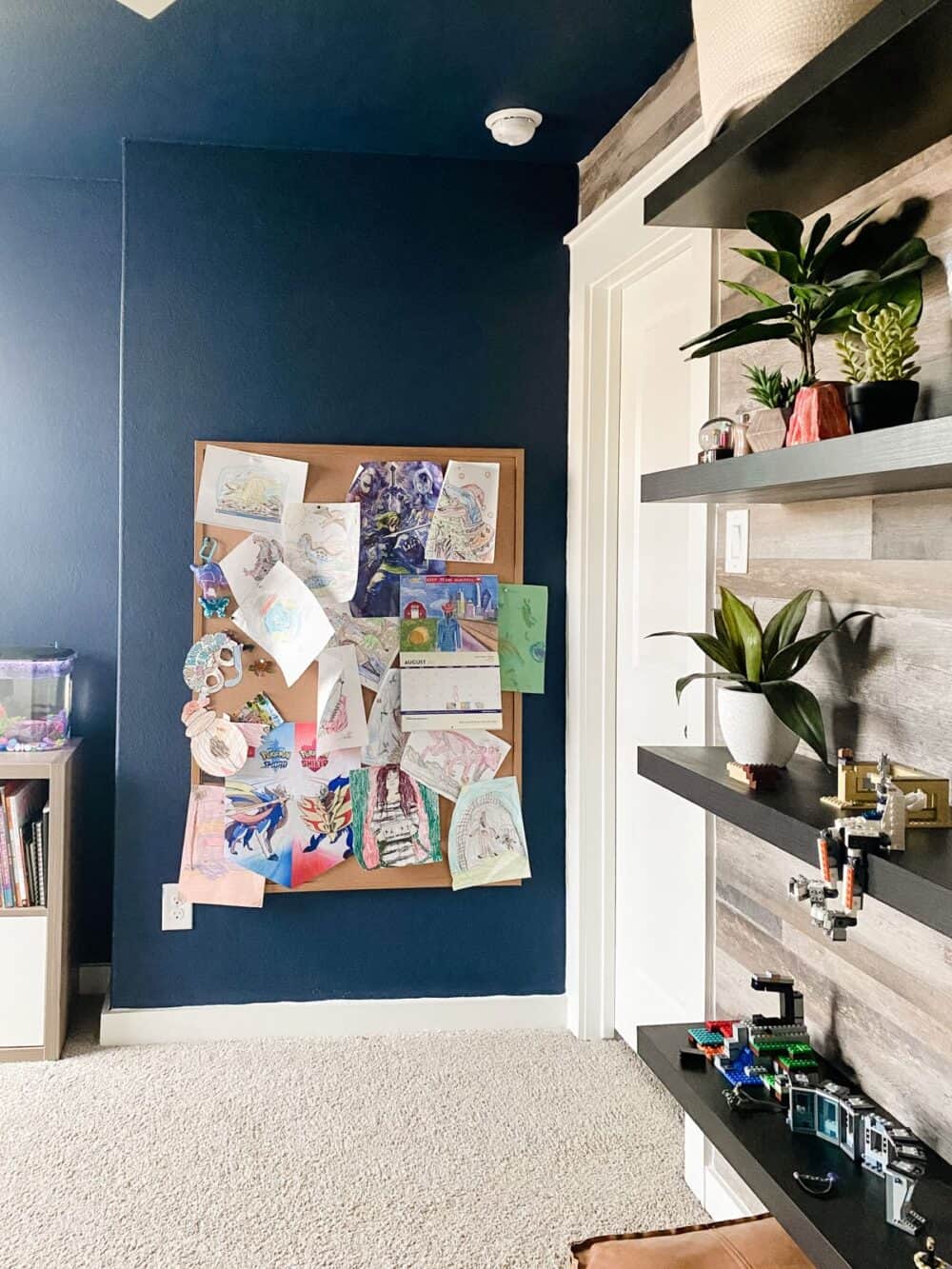 And that's it, my friends! Painting a ceiling is honestly not all that different from painting any other wall or space in your home, it's just a different (and more awkward) angle.
With a little practice, you'll be a ceiling painting pro, and you'll be amazed at what a huge difference it can make in any room in your house!