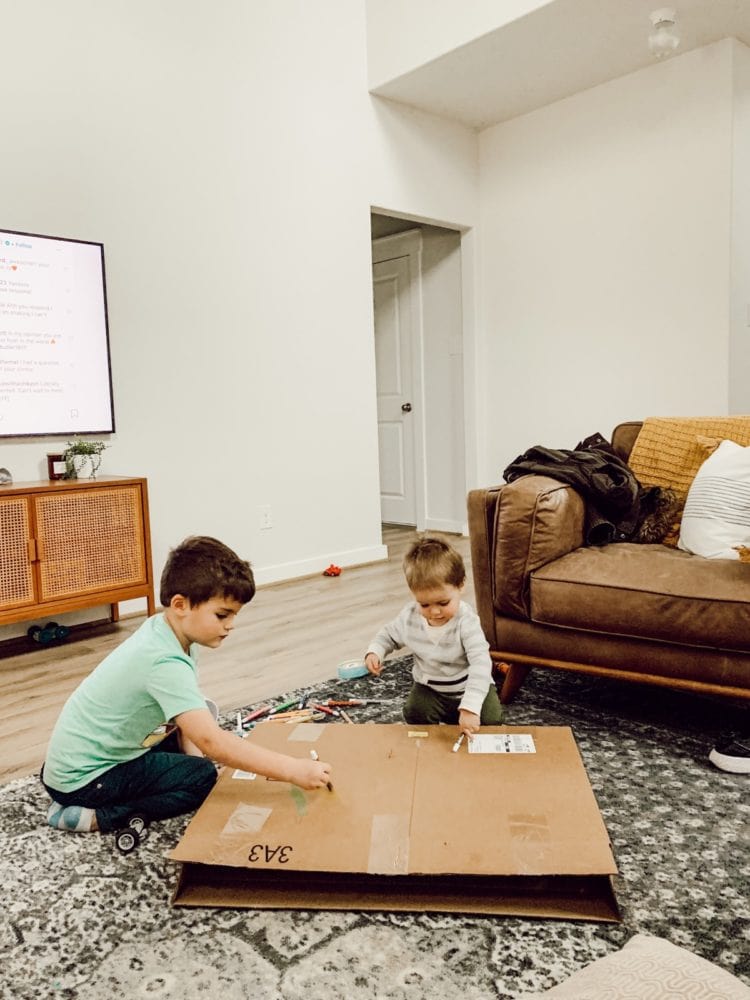 Happy, happy weekend!
We made some fun progress in our master bedroom this week – we hung the new light for our hallway, and yesterday we got the new curtains hung, too! I'm working on a post all about how to hang curtains with all of my best tips and tricks, so be sure to look back for that (along with the big reveal of the actual curtains!) on Monday!
Yesterday we celebrated Jackson's birthday (hoooooow is he 6??!!) by bringing him lunch to school and having the grandparents over for burgers in the evening. We're continuing the celebration today with a trip to the zoo. I might complain about the lack of a winter living in Texas but it sure is nice to be able to head to the zoo in the middle of January.
In other news this week, I finished watching both Cheer and You and they both made me feel all the emotions in two very different ways. Hah! I'd like to state for the record that I absolutely saw the ending of You coming (no spoilers, but, come on! They had to do that!) and that when the Navarro team finished their routine at Daytona on Cheer I immediately burst into tears because there was so much anxiety built up in me and it had to get released somehow.
If you missed it over on Instagram stories yesterday, I shared the VERY exciting news that i'm partnering with The Home Depot this year (all year!) to share some home decor and furniture finds from their online selection. Our first project together is our entry and I'm so excited I can't even stand it. They sent over a discount code for y'all for a whopping 20% off your entire purchase of home accents, wall decor, or furniture on their site! There are a few exclusions (like area rugs, lighting, and patio furniture) but it applies to a ton of stuff on their site and if you've had your eye on anything, now's the time! I had someone message me yesterday who snagged a full-length mirror for under $100! The code is HDDECORJAN20. Click here to go to Home Depot's website and let me know if you score anything amazing.
ICYMI: On the blog this week
elsewhere on the internet…
I have to figure out a way to incorporate this DIY wood slat wall into our house. Somewhere – anywhere. It must happen.
This DIY cutting board project makes me so, so happy. I'm feeling inspired to try something similar!
How adorable is this little round pillow (also a DIY)?!
I snagged this coat from Old Navy on sale this week and immediately heard from tons of you who have it and love it. I've only worn it once but holy cow, it's so warm and cozy! I also aaaaaalmost grabbed this one while I was there for a dressier option, and I'm kind of wishing I would have!
I immediately bookmarked this post from Emily Henderson about formulas for making a bed and have referenced it no less than 5 times this week. So, so helpful!
I can't stop thinking about this IKEA Billy bookcase hack. What a showstopper!
See you Monday!