Are you considering luxury vinyl plank floors for your home? We've got a ton of experience with it, and today I'm breaking down our experience with floating, glue down, and peel & stick vinyl floors.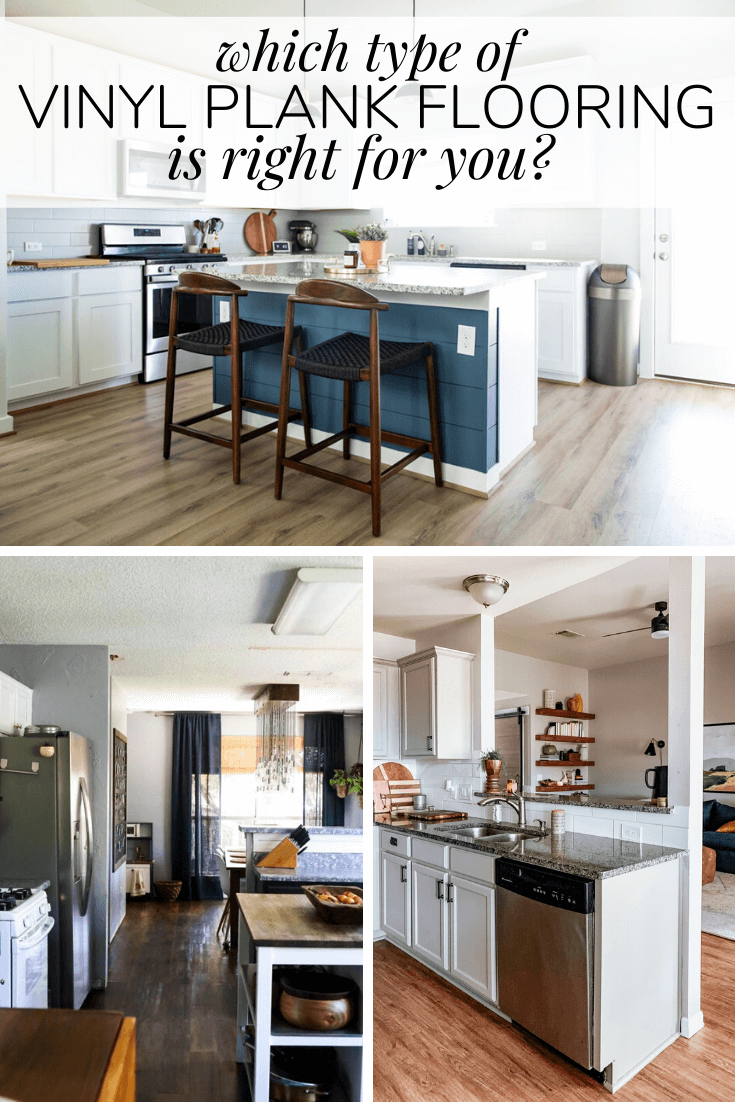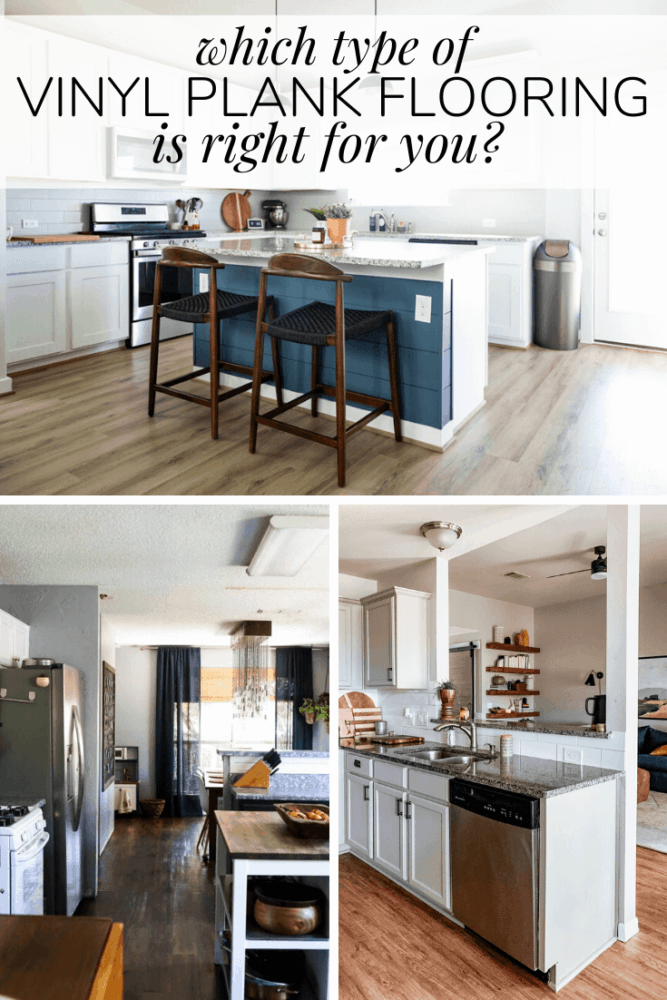 If you've been here for a while, then you'll know that Corey and I have a deep and abiding love for vinyl plank flooring. We first discovered it in our first house when we installed it in Jackson's nursery. We loved it so much that we eventually brought it out to the rest of the house, and when we moved into our second home we didn't waste a minute replacing all of the carpet throughout the house with more vinyl plank flooring.
Well, it should come as no surprise that when we were making plans for the flooring in this house, we once again went with vinyl plank. It's durable, it's beautiful, and it honestly tricks so many people into thinking it's the real deal (without having to stress about the scratches and other maintenance issues that can come with hardwood!).
In each of our three houses we have had three different types of vinyl plank, so I thought it would be helpful to do a little breakdown of the differences we've noticed. If you've been considering vinyl plank flooring in your own home, hopefully this analysis will be helpful to you!
Here's a rundown of what we have experience with:
So, let's go into some detail on the differences between peel & stick, glue-down, and floating vinyl plank flooring.
Peel & Stick Vinyl Plank Flooring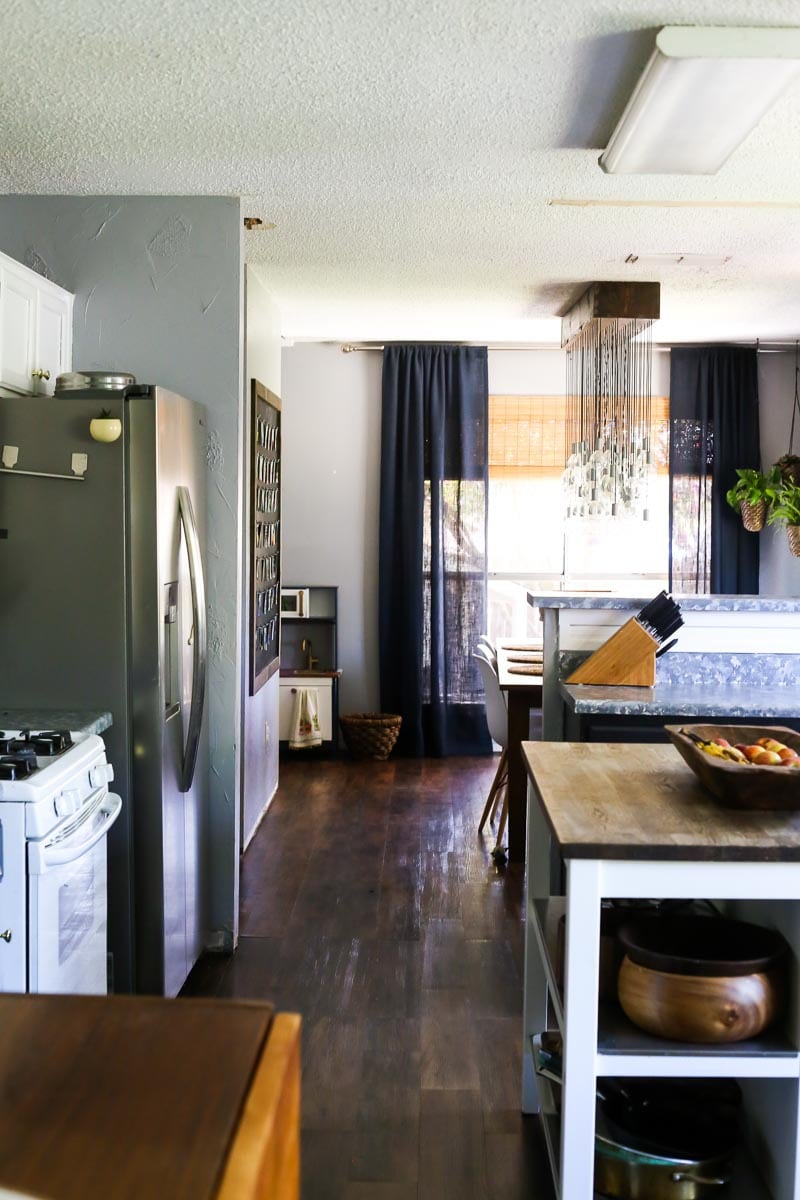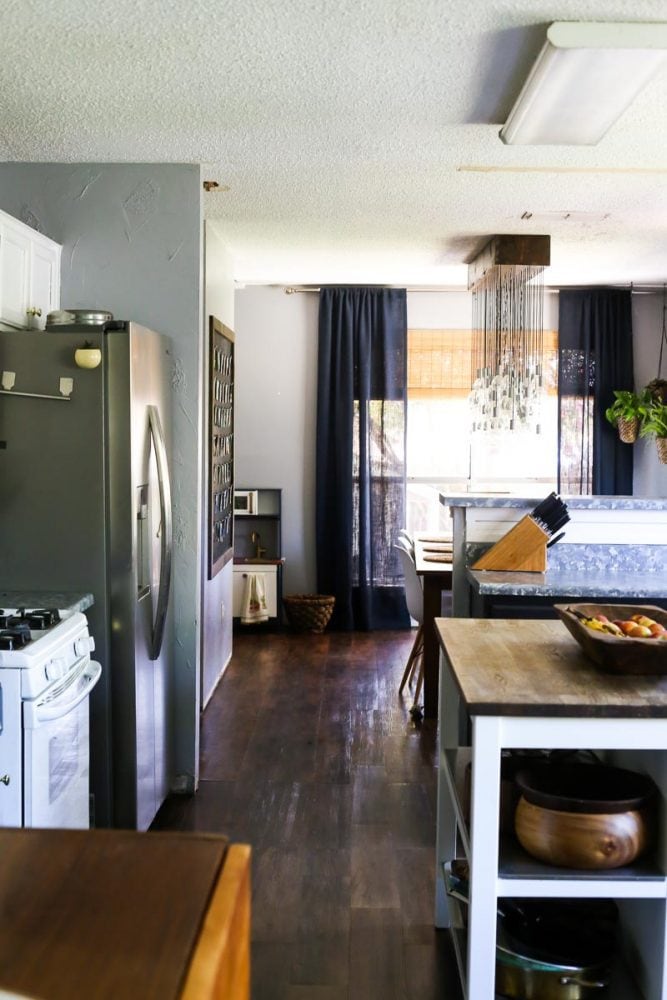 Peel and stick vinyl plank floor is also called "pressure sensitive" flooring in the professional flooring world. Basically, it just means that the adhesive has already been applied to the flooring (either in long strips or all over the back of the floor), and it's applied to your flooring with pressure (either from a big roller or, if you're me, just from your body weight) and forms a bond that way.
Pros
Peel & stick vinyl plank flooring is very intuitive to install yourself (despite some serious prep work) and is the most affordable of the options. The stuff we used was only $1/square foot, and I installed all of it throughout out house entirely by myself.
I really loved the look of this flooring (despite the fact that it was super thin and basically a sticker, it fooled tons of people!), and the texture was probably my favorite of all the flooring we've had. It has a really great texture to it that really did mimic the feel of actual wood – we've tried to find a similar feel in other types of vinyl over the years and haven't been able to find anything that was quite the same.
Of all the types we've had, this flooring is also the easiest to repair on the off-chance it gets damaged. All you have to do is peel up the damaged plank and stick a new one down! We only ever had to replace one plank in the two and a half years we had this flooring (and it was due to a broken glass that scraped the top layer of the floor off).
This stuff is waterproof and can handle just just about anything that might get thrown its way. I've even heard from people who installed this exact stuff in a basement that later got flooded, and the floor remained perfectly intact!
cons
While this one is the most affordable and simplest to install, it also is probably the least durable option in terms of staying stuck (which, reminder, is still incredibly durable!). Since it's only attached to the flooring with the sticky adhesive on the back of the planks, it can peel up in corners over time if the flooring isn't perfectly prepped. It's probably a non-issue if you have a pro do it, but we did have a few pieces that peeled up over time at our house – never enough to bother us or even need replacing, but it wasn't perfect.
Due to how thin this flooring is, you'll also feel every tiny imperfection on the subfloor underneath it. We had one area in our hallway where the wood subfloor was uneven and I didn't take the time to skim coat it (I should have!). It was pretty obvious in the finished product when you walked on it, and I always wished I would have taken the time to peel it up and fix it.
We didn't live with this flooring long enough to experience this, but my sister has had something similar throughout her house for more than a decade and there are some spots where the color has worn off and the white backing is showing through (it's mostly on the ridges that add that texture we loved so much!). However, that hasn't stopped her from using it in other parts of her home she has renovated, and she still has only great things to say about it!
the bottom line
This is such a fantastic option if you're on a major budget and are willing to tackle some hard work yourself. It's cheap enough that it could even be a temporary measure if you're desperate to get rid of some nasty carpet or damaged tile.
Would I use it again? In a heartbeat, but I'd just make sure to take the time to prep the subfloor extremely well to ensure it sticks properly.
If you want some further reading on peel & stick vinyl, here are a few posts I've written:
Glue down vinyl plank flooring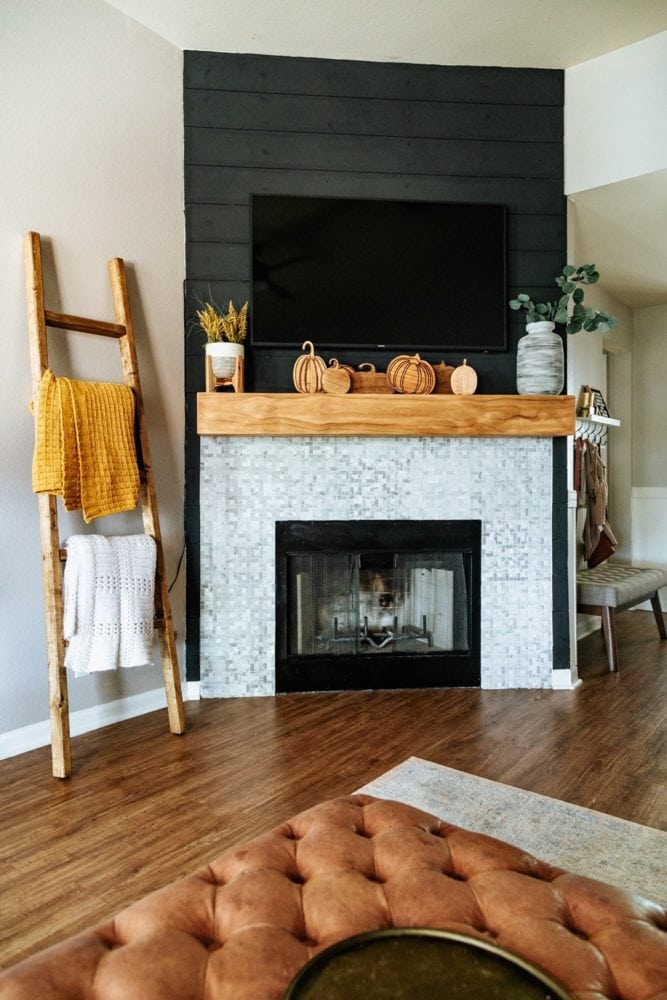 When we moved into our second home, the carpet was in pretty awful condition (holes, stains, and smells!), and we knew that we would need to replace it right away. We originally planned to do it ourselves, but we were moving in right around the holidays and didn't want to spend the first month or so in our new house living in chaos.
So, we decided to hire the job out – it was our first time hiring out something like that, and I have to say it was really nice to have someone else doing all the hard work for me!
The flooring guy that we used had a specific flooring he liked to work with, so we decided to try glue-down flooring this time around.
pros
Glue down flooring is also sometimes referred to as hard set flooring, and is installed by applying an adhesive to the subfloor, then laying the floor on top. We had absolutely no issues with peeling or damaged tiles in the two years we lived with this flooring. It looked just as good on the day we moved out as it did the day we had it installed!
Of course, it's hard to say if that's thanks to the flooring itself or the fact that it was professionally installed, but I do think it's safe to assume that glue is going to be a more long-lasting option than just a pre-applied adhesive!
Glue down flooring is also very easy to replace or repair and can be done one plank at a time (since it isn't interlocking).
Of all of the options I've researched, everyone seems to agree that glue down flooring is the most durable, long-lasting, and reliable type of vinyl plank flooring.
Glue down flooring is also a very affordable option, generally coming in under $2.00/square foot.
Cons
The installation process for glue-down flooring is a little more intensive – you have to apply the glue to the floor versus it already being on the back of the flooring, and it requires a lot more precision than a floating floor.
Our flooring guys applied a skim coat to the entire concrete subfloor before laying any flooring – I'm not sure if this was a totally necessary step (and they honestly probably would have also done it for the peel and stick stuff too!), but watching them work definitely made me thankful I wasn't the one installing it!
the bottom line
I think that as a whole, Corey and I would both agree that the glue-down flooring was probably our favorite in terms of the durability and feel. I liked how solid it felt underfoot, I loved that it was so incredibly durable, and I could see it lasting more or less forever. However, I wouldn't install a glue down floor myself due to the prep work required in a good install, so the total cost would probably end up being the most expensive of the options.
Here's some further reading on our experience with glue down vinyl plank floors:
floating vinyl plank flooring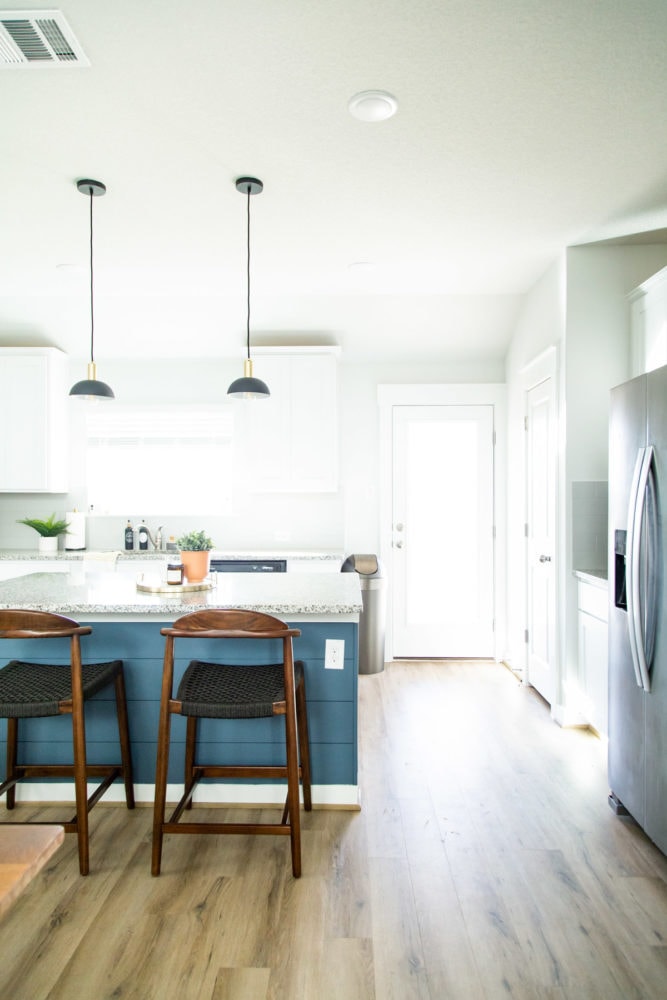 And that brings us to this house! We purchased our home as as spec home as it was in the process of being built – so, we had a bit of say in a few things about the home (like the flooring), but not anywhere near as much as we would have if we had come in at the beginning of the process.
Our choices in brands were limited to those available through our builder, and all of the vinyl plank options were floating. We (obviously) didn't install them ourselves, as they were installed as the house was built.
pros
I don't have experience installing floating vinyl plank floors, but my research tells me these are actually the most DIY-friendly of the options! Since they're thicker and sit on top of the subfloor, they're much more forgiving when it comes to a less-than-perfect prep job, and it's a job most beginner DIY-ers should be comfortable taking on.
This flooring is much thicker than the glue-down options generally are and is less likely to have issues with the top layer coming off over time. Many floating floors will also have an acoustic backing built into them and are better for reducing noise.
Floating vinyl plank is probably the closest in nature to a laminate or wood flooring, but it's far more durable. It's generally considered waterproof, just like the other options, and really seems to be more or less indestructible.
cons
Since the flooring interlocks rather than being simply laid next to each other, floating vinyl plank flooring doesn't allow for quite as simple repairs as an adhesive option would. It's still considered pretty easy to fix (and incredibly durable so the frequency of repairs is very low), but a little more complex than the other options.
Of the options, floating vinyl plank is also the most expensive option, though it's still very affordable. Our current flooring comes in at most places right around $3.00/square foot.
The feel of a floating floor is also naturally a bit different than one that adheres directly to the subfloor. In certain spots it can have a bit of a "hollow" feel to it, which for us took a bit of getting used to.
the bottom line
Despite the fact that we prefer the feel of glue down flooring, if I was going to be installing something myself I would absolutely choose floating floors in the future. They're by far the easiest and most forgiving and they also require the least amount of prep. If you factor in likely wanting professional installation for an adhesive flooring, they also will likely end up being more affordable than the other options as well.
---
In the end, no matter which type you choose, I highly recommend vinyl plank flooring and can't imagine ever choosing anything else for my home. I love how durable it is, I think it's absolutely beautiful, and you can't beat the price!
Let me know if you have any further questions and I'll do my best to answer them!