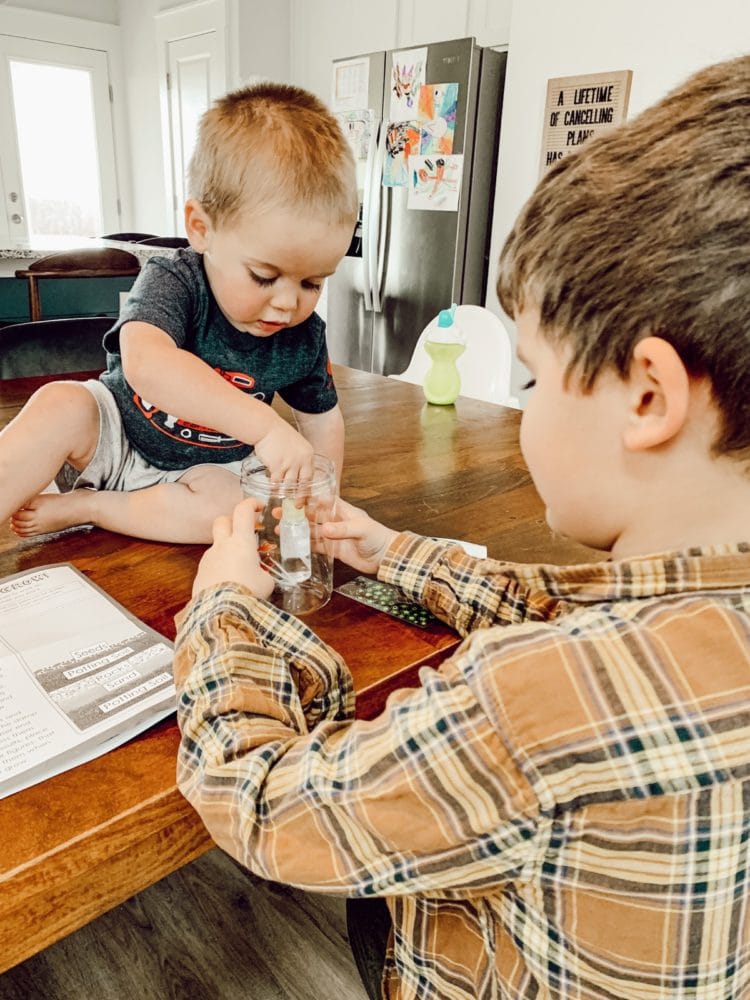 (The boys making a terrarium for one of Jackson's science lessons)
It's Friday! I joked yesterday on Instagram that it doesn't really feel like the weekends mean much of anything anymore, and someone pointed out that they like the weekends because it feels like marking the passage of time – one week closer to the end of this craziness!
Tomorrow will officially mark two weeks of being stuck at home, leaving as little as we possibly can, and having minimal connection with the outside world. It's been hard, but at the same time it's been a little refreshing – for the last few months it felt like our schedule was always WAAAAAY too full and I'd be lying if I said I wasn't enjoying the forced slow-down.
Of course, I desperately miss hugging my parents, hanging out with our friends, and going to Target.
But I'm trying to focus on the positives and take it one day at a time. Because if I think too much about how much longer we might be doing this, my brain wants to implode.
One day at a time, my friends. It's the only way to get through this.
I've been getting asked a lot about games to play while we're on lock down – I've shared tons of game recommendations regularly here on the blog (this is probably my most comprehensive list), but I figured it was worth a dedicated post for quarantine game time. I'll be sharing a few of our very favorites on my Instagram stories later today (and I'll add them to my Board Games highlight if you miss it live!), but here's the full list of games I'd recommend for this weird stuck-at-home time of our lives.
For you + your partner
Here are some of the games Corey and I love to play when it's just the two of us (you can play with more people if you have teens/other adults in the house, but these all work great with just two players).
And, of course, if you feel like you can handle the irony, you could always start a game of Pandemic Legacy (it's too soon for us…haha)
For the family
Here are some of the games we like to play with Jackson – we're pretty picky about kids' games and don't enjoy the super basics like Candy Land, so we try to steer him more towards things we can all enjoy!
(Jackson is 6, and I'd say any of these games would be good for kids in that general age range – some might need help if they haven't played a ton of games, but we sometimes just partner up for games that Jackson struggles with!)
I hope this helps! I'd love to know what you've been playing with your family lately.
ICYMI: This week on the blog
Elsewhere on the internet…
Have a happy weekend!