Read on to learn about the different types of nail guns, how to know which one is right for you, and how to use a nail gun!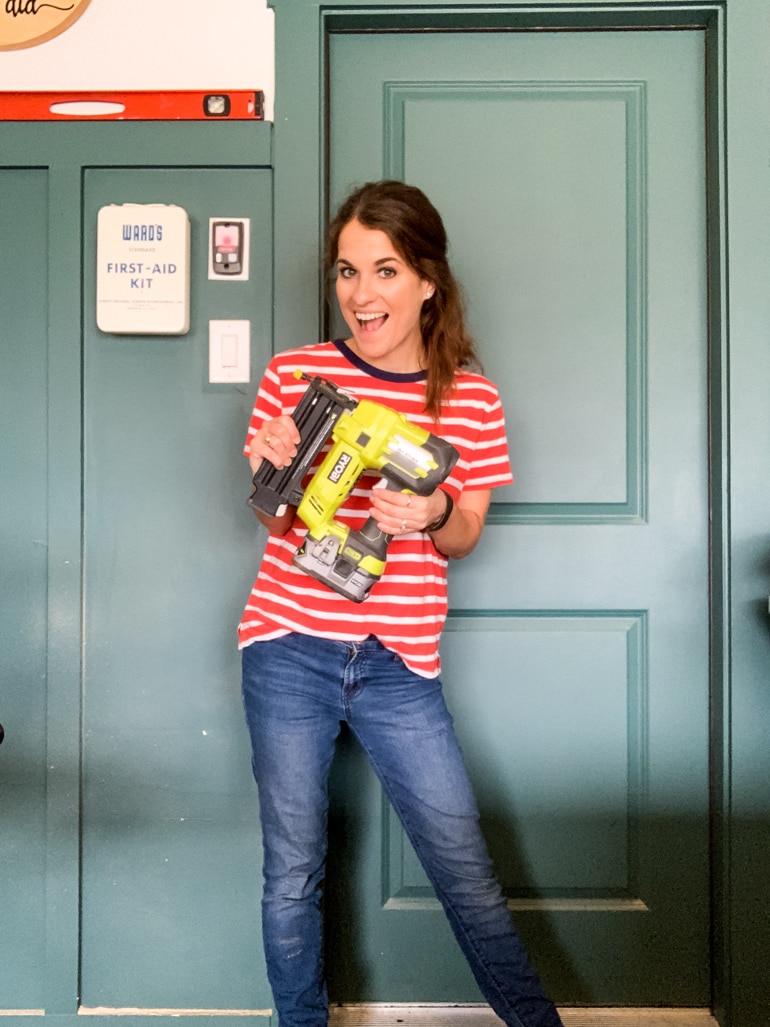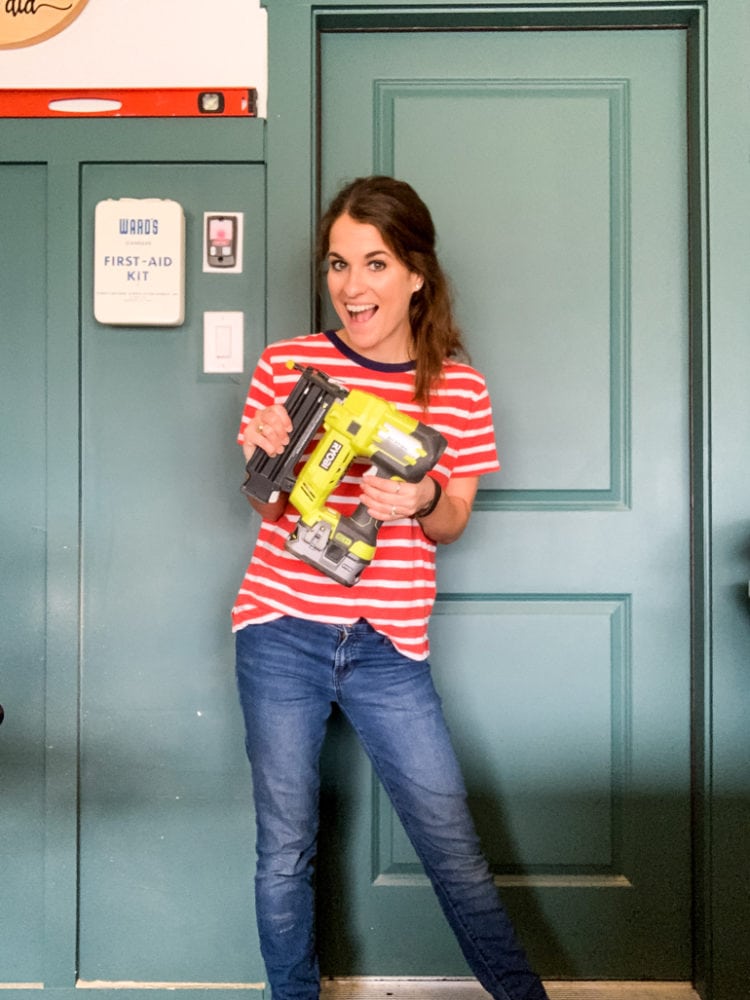 It's been some time since I did a deep dive into a power tool, hasn't it?!
A couple of years back I started this series called Power Tools for Beginners where I did detailed tutorials on specific power tools to help you learn how to use them and feel confident trying new projects. Well, when I was working on the beadboard in our entry the questions about how to use a nail gun started pouring in and I figured it was high time I sat down and wrote a full post on it!
If you want to see all of the other posts in this series (plus a few other detailed DIY guides), keep reading until the end of this post and I'll link them all for you!
So, let's chat about nail guns.
First of all, what do I use a nail gun for?
Let's start with the obvious first question – what in the world do you need a nail gun for?
Nail guns are great for projects where you don't want any visible hardware (like you'd have with a screw).
A few examples of projects you might use a nail gun (plus links to related projects I've done) include….
Nail guns are pretty much an essential tool for any DIYer, and I promise if you get one you'll fall in love with it pretty quickly!
But, which type of nail gun should I get?
Here's where things can get confusing.
There are multiple different types of nail guns, and they all serve different purposes. For example, we own three nail guns: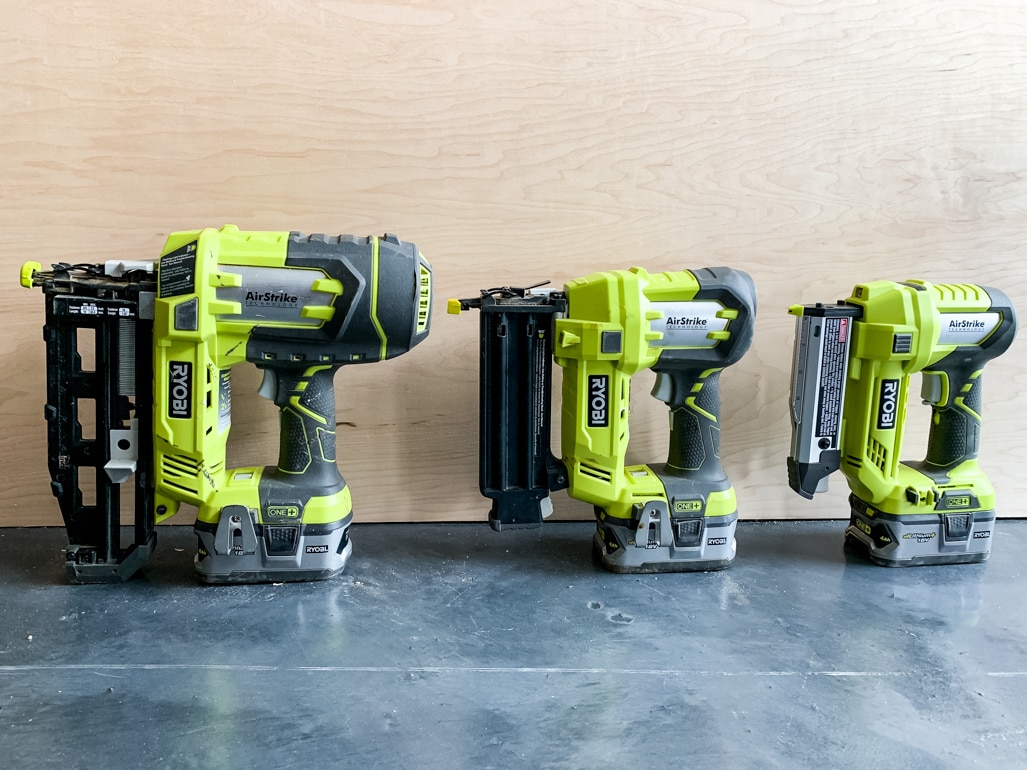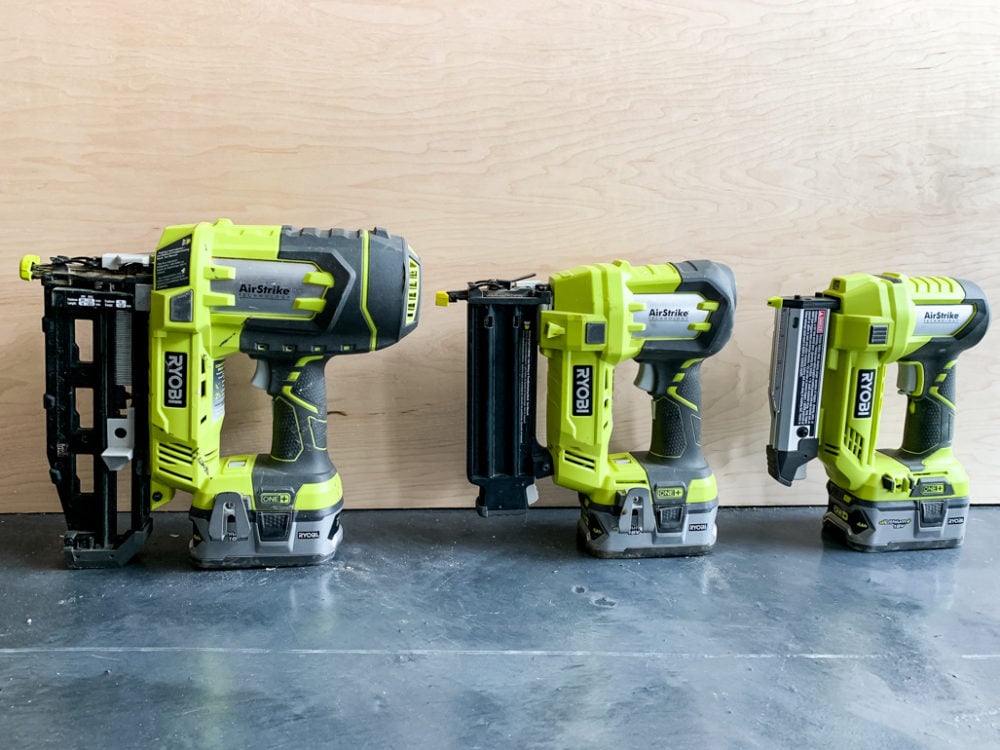 From left to right, they're a finish nailer, a brad nailer, and a pin nailer.
What does all that mean?
Well, in order to fully understand it, you first need to understand nail gauges. The most commonly used gauges for nails are 15, 16, and 18. The higher the gauge number, the thinner the nail.
So, a 15-gauge nail is going to be thicker (and larger) than an 18-gauge nail and should be used for different things. When you're working with delicate trim work where too thick of a nail could possibly split the wood, you'll want to use 18-gauge nails. But, for thicker projects where you really need some more staying power, you can use 15- or 16-gauge nails.
Now that you have a basic understanding of nail gauges, it'll be a lot easier to understand the various nailers:
finish nailer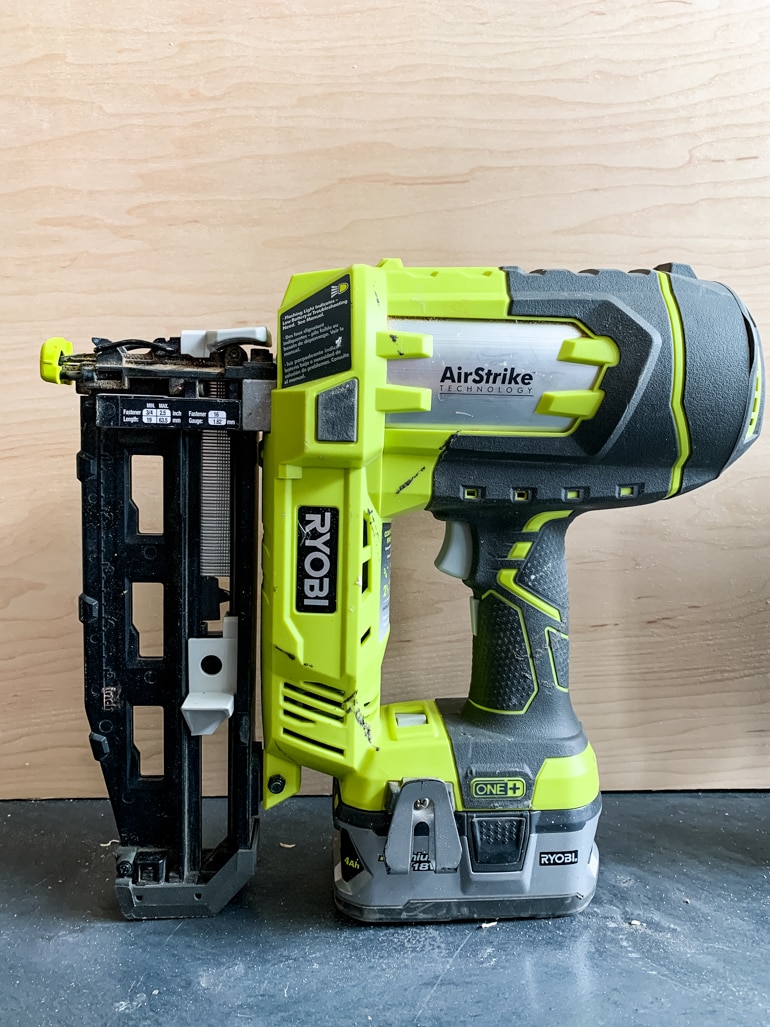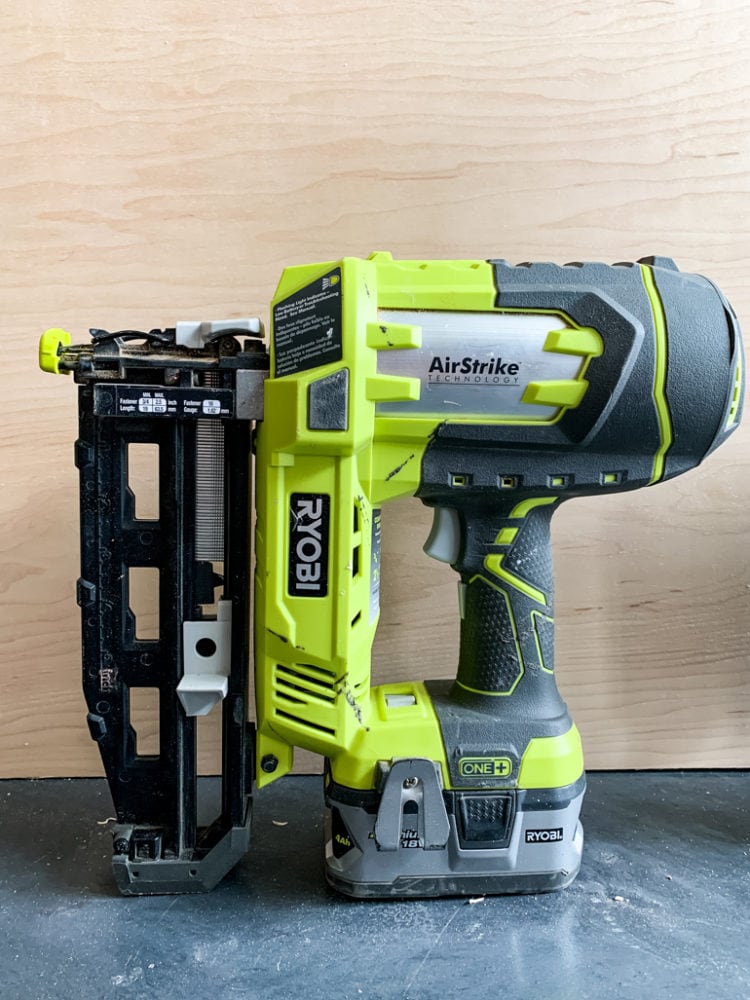 A finish nailer shots 15- or 16-gauge nails and should be used for projects where you aren't worried about splitting the wood or where you need a little more staying power.
Here's the finish nailer we use.
The thicker nails used in a finish nailer have larger, more visible nail heads and can need a little extra work to cover up completely. However, these nailers create a much stronger hold and can be used for more heavy duty projects like crown molding, baseboard (yes, I realize that was listed as a project for brad nailers too – it's just a personal preference!), or assembling things like cabinets.
Projects you might want a finish nailer for include…
Baseboard
Crown molding
Assembling furniture or cabinets
Adding exterior trim or siding
Attaching flooring
Adding door or window casings
These nailers create a stronger, more permanent hold than brad nailers do, but the holes they leave do take a little more effort to fill and they can't be used with more delicate projects.
brad nailer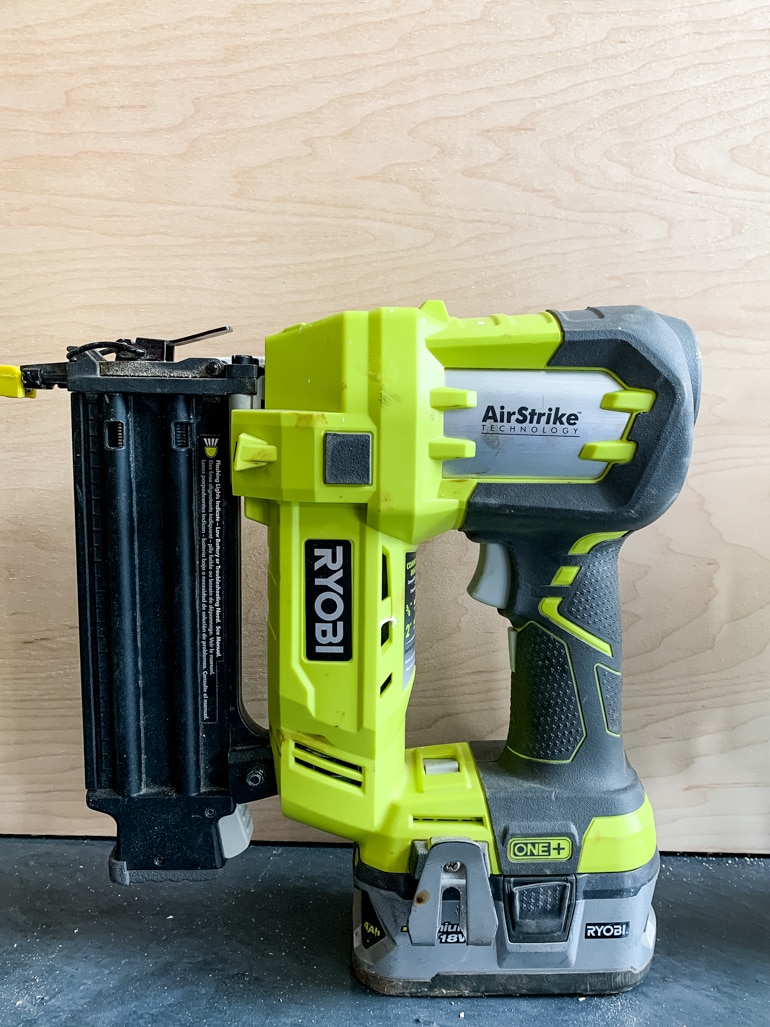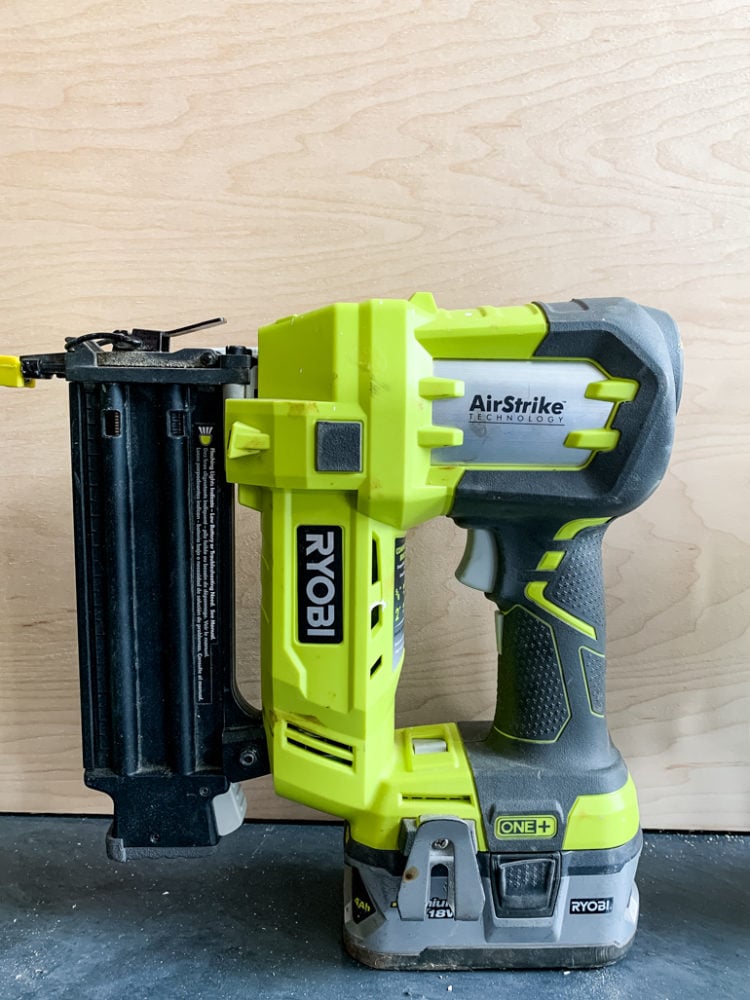 A brad nailer shoots 18-gauge nails and is used for more delicate projects.
This is the brad nailer we use.
You'll want to use this type of nailer on any project where there's a potential the nail could split the wood (so, thinner trim or smaller pieces of wood). The head of the nail is also smaller here, and therefore easier to cover with wood putty when you're finishing your project.
Brad nailers should be used for projects like…
Paneling (including beadboard!)
Trim work
Decorative molding
Baseboards
A brad nailer is ideal for thinner or more delicate projects, and is also good to use in conjunction with wood glue to hold things in place while the glue dries!
A brad nailer cannot be used with really thick pieces of wood – the nails aren't big enough to get through thick plywood or MDF, so for more heavy duty projects you'll need a finish nailer.
Pin nailer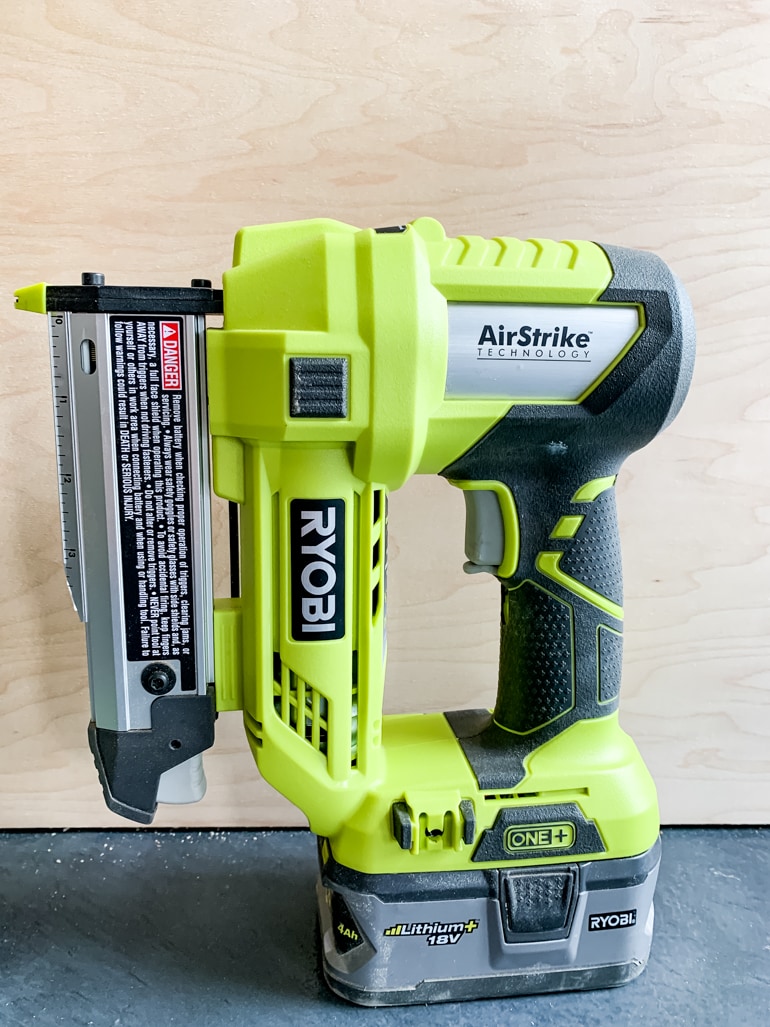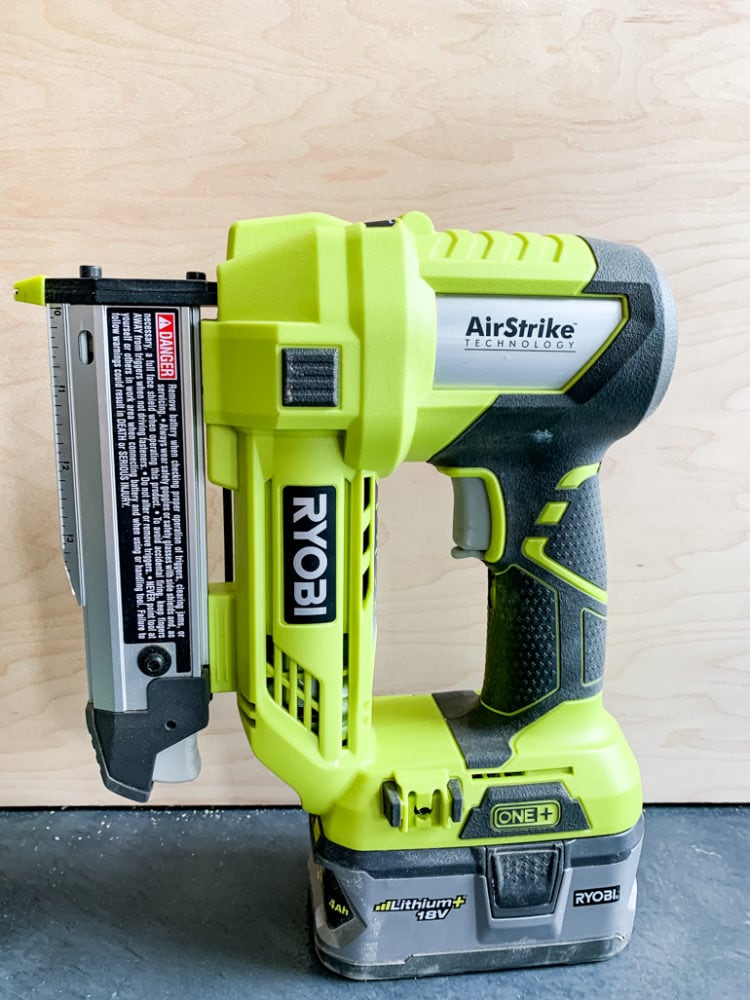 And finally, we've got the pin nailer. We actually just got one of these a couple of months ago when we were working on the trim in our bedroom, so it's a new-to-us tool (that I've quickly fallen in love with!). Here's the pin nailer we use.
Pin nails are generally 23-gauge and they have no head – which means there's virtually no hole at all for you to cover up when you're done!
These are used for very specific projects, and aren't quite as versatile as the other two. Specifically, pin nails are generally used with very thin or delicate trim and have very little holding power on their own. When using a pin nailer, you'll almost always also be working with wood glue and just using the nails to hold things in place while the glue dries.
I used our pin nailer for the trim in our bedroom (it went so much faster without having to fill all the holes!), and for the trim on my DIY nightstands.
. I also used it on the entryway beadboard to avoid having to fill nail holes from a larger nail, but I also used wood glue (and that's what's really holding the paneling in place) and I did have to pull out my brad nailer for a few spots where the beadboard was wanting to bow out from the wall.
So, which one do I get?
The bottom line is, it all depends on what projects you're wanting to do. We've constantly got something going on in our house and so all three of our nailers get regular use. However, if you're just starting out and want something versatile that can handle most simple DIY projects, I'd recommend a brad nailer. It can handle most projects that a casual DIYer would want to try, and is a great way to get your feet wet and learn a little more about how to use nail guns!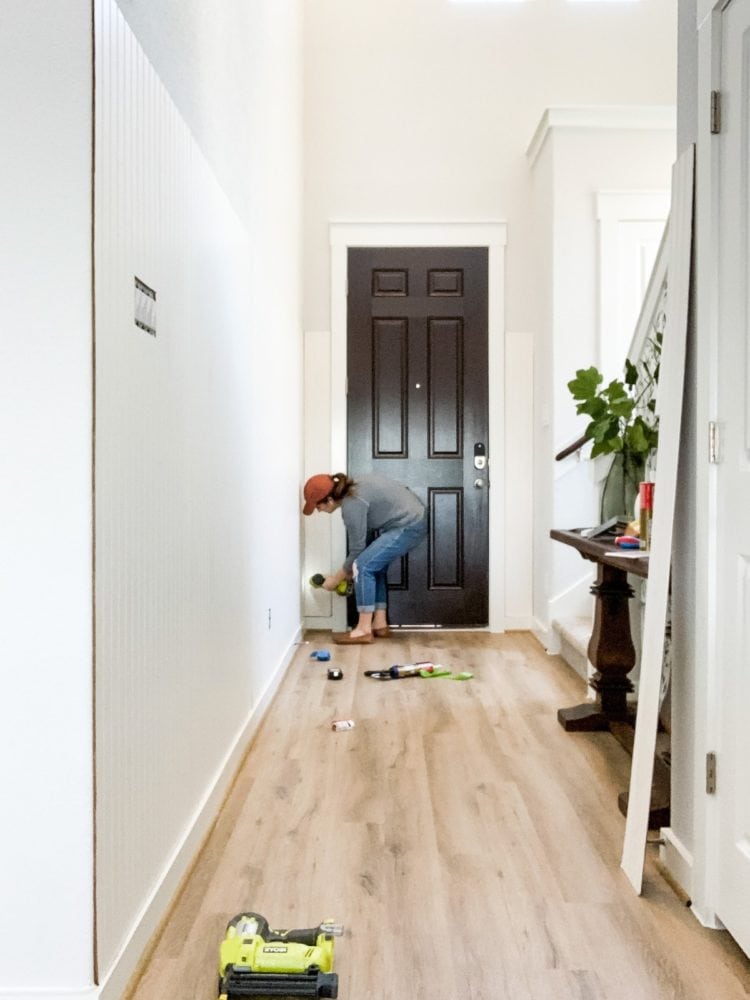 Do I need an air compressor?
Some nail guns do require an air compressor. However, Corey and I have really fallen in love with using battery-powered tools for all of our handheld power tools, and if you're new to using power tools I'd highly recommend you do the same!
A nail gun that requires a compressor is called a pneumatic nail gun, and a battery-powered nailer is referred to as cordless.
What's the difference?
A pneumatic nail gun is generally cheaper, if you already have an air compressor. However, once you add in the cost of the compressor, a cordless nailer quickly becomes much cheaper.
Pneumatic nail guns are generally smaller and lighter – the cordless models typically have quite a bit of extra weight to them thanks to the battery.
However, on the flip side, a cordless nailer doesn't have a hose or any attachments to worry about. You can move wherever you want without pulling an air compressor around, and there's no cords to get in your way as you work.
Cordless nail guns are much quieter since you don't have the air compressor noise running in the background. If you're working with kids in the house (especially ones who nap), the cordless model is much less likely to disrupt rest time!
I think that, generally speaking, pneumatic nail guns are considered the more "advanced" option that is preferred by more intense DIYers and professionals. But, as someone who considers myself a beginner-level woodworker, I love my cordless nail guns and can't imagine wanting to switch anytime soon!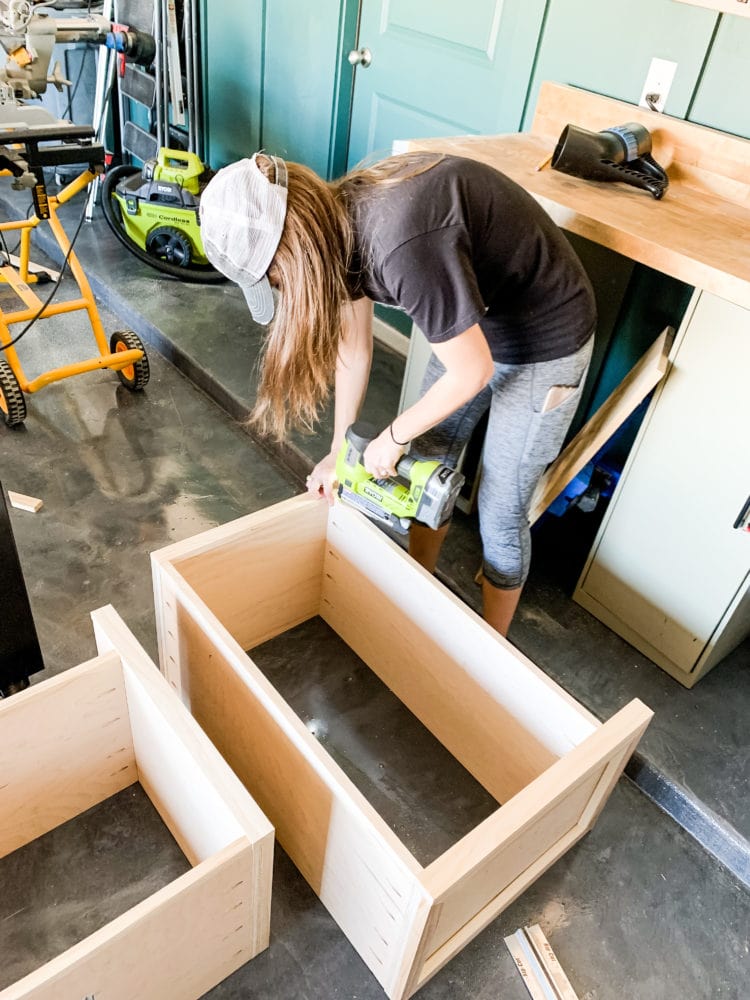 how to use a nail gun
Alright, now that you've got a full understanding of the different types of nail guns and which one might be right for you, we're ready to talk logistics! The basic how-tos are pretty much the same no matter what type of nail gun you're using, so I'm going to do a general overview that should cover you no matter which one you choose!
Note: Please read the manual that comes with your specific nail gun and do not only rely on this tutorial when using a nail gun. This is intended to be an overview to get you comfortable with trying out the tool and to be used as a reference guide, but for specific details about your tool, you'll need to read the manual!
Parts of a nail gun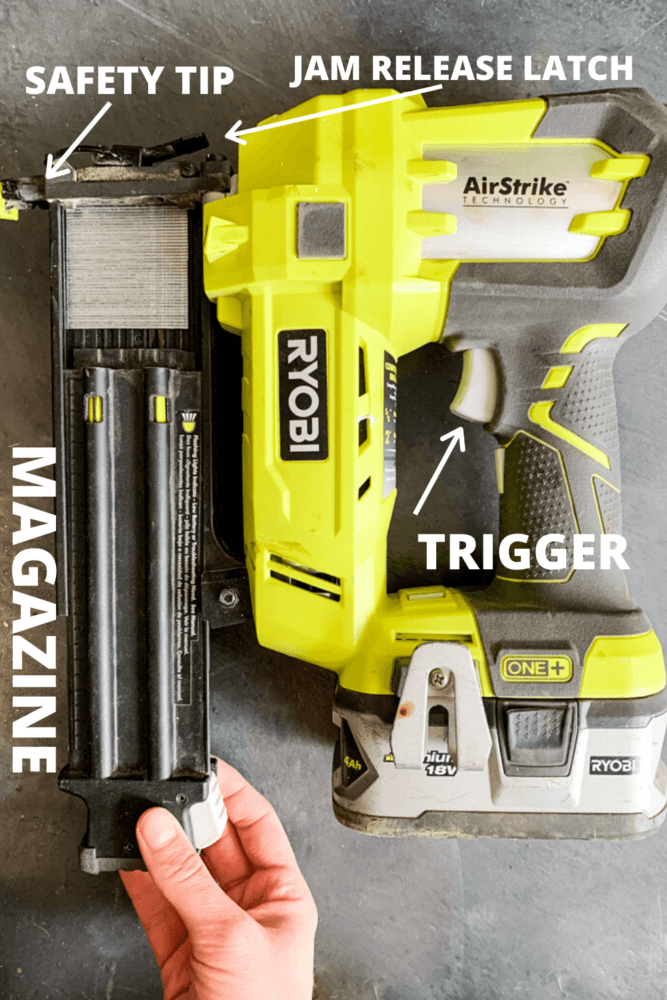 Safety tip: Most nail guns have a tip on the end that needs to be pressed down in order to fire a nail. This means that even if you accidentally pull the trigger before you're ready, the gun won't fire unless it's pressed up against something. Pin nailers typically have a different safety mechanism since they're meant for more delicate projects – pressing too hard can damage thin trim.
Magazine: This is the long area on the front of the nail gun that holds all of the nails. There's usually a release button on the bottom that allows you to add more nails to the gun.
Trigger: This is what fires the nail gun! On brad and finish nailers it's generally just a trigger, but on pin nailers there will be an additional lever to pull down before hitting the trigger – this is the safety.
Jam release latch: If a nail gets jammed when you're trying to fire it, you'll want to use this to open up the top part of the nailer and help you get it free!
using a nail gun
Using a nail gun is really as simple as loading it up, holding it against the wood, and pulling the trigger!
Start by releasing the magazine to make sure you've got enough nails loaded up for your project. Once you've closed it back up, you can double check the settings – there is generally an air pressure dial somewhere on the top of your nail gun that will determine how deep the nail goes into the wood. If you're working with it for the first time, I recommend shooting a couple of test nails into a scrap piece of wood to see what air pressure is going to give you the best results – you want the nail to go all the way in without sticking out, but not so far in that it creates a giant hole.
Once you've got your settings adjusted, hold the gun at a 90-degree angle to your project, press down so that the safety tip retracts, and pull the trigger!
And that's it!
How do I hide the nail holes?
Once your project is complete and you're moving on to painting or staining, you'll want to be sure to cover up any visible nail heads or holes.
Wood putty is generally your best bet for covering up nail holes. I love this stuff! Simply use your finger to smoosh some into the nail hole (that's a technical term), allow it to dry, then sand it and finish as usual!
Make sure when you're purchasing your wood filler that you purchase the right type for what you plan to do – make sure that if you're staining it says that it's stainable (and that it's a similar color to your wood), and that if you're painting, it's paintable.
What if the nail doesn't go all the way in?
Sometimes, despite your best efforts at adjusting the pressure to make sure your nail goes all the way in, you end up with a nail head poking out.
No worries, it's easy to fix!
You just need to grab a nail setter (we have several different sizes for different gauge nails, but you could get away with having just one), press the tip against the nail head and gently tap the other end with your hammer until the nail goes all the way in.
Bam – problem solved!
---
And that, my friends, is everything you need to know about how to use a nail gun!
I hope this tutorial was helpful and gives you a little bit of confidence to jump in and try something new.
Want to see my other power tools for beginners posts? Keep reading!
Other DIY tutorials and guides
POWER TOOLS FOR BEGINNERS SERIES
DIY GUIDES