Our extra tall ceilings allow for the most magnificent tree – today I'm sharing the details on our beautiful 12-foot faux Christmas tree, my favorite decorations, and more!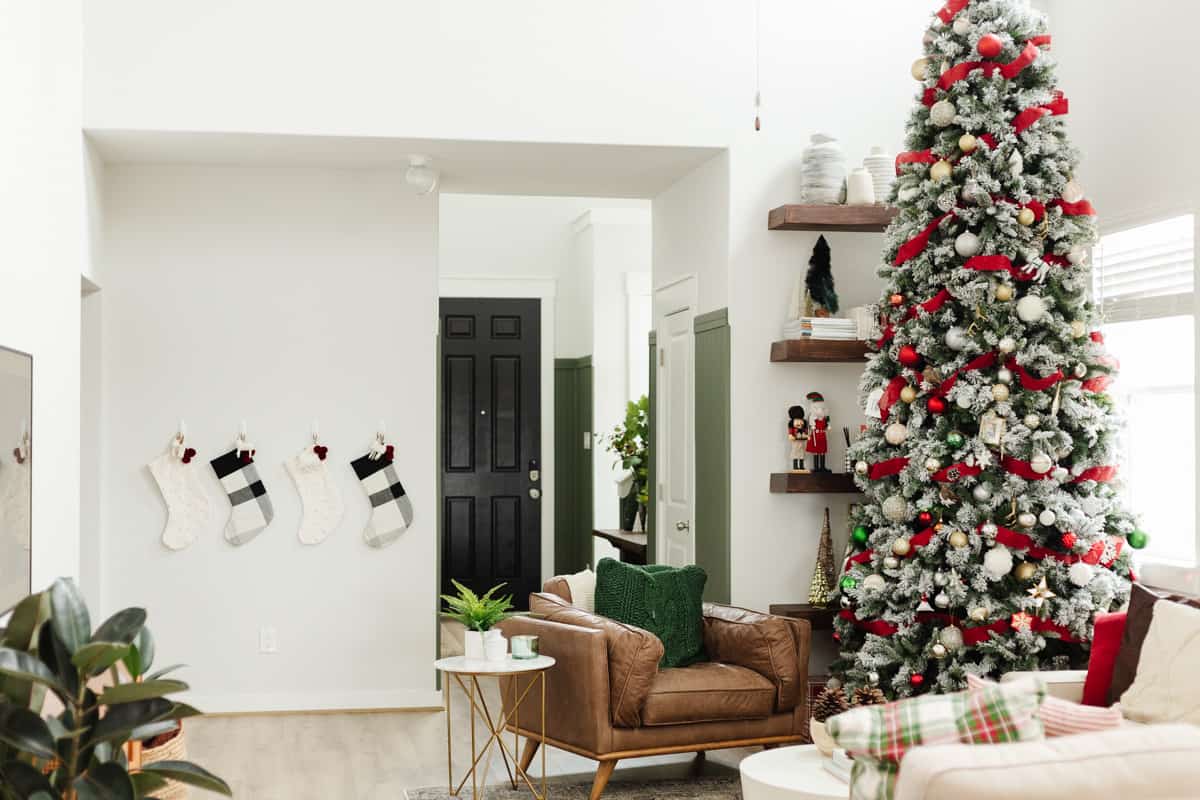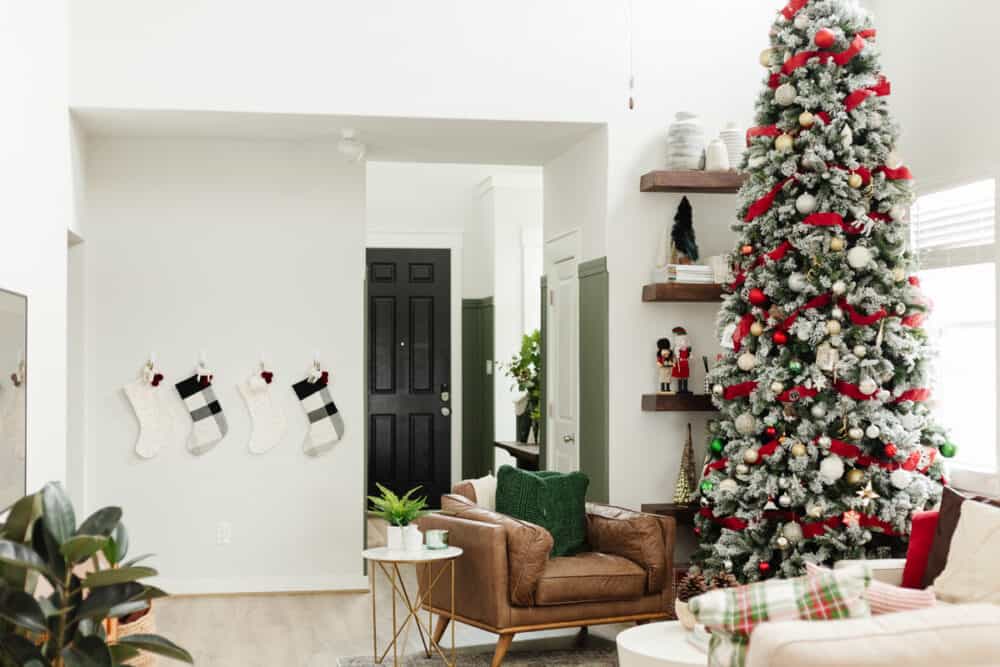 I should probably be embarrassed to admit that when we were house shopping, one of my top criteria for any of the houses we looked at was that it had to have a good Christmas tree spot.
I'm not embarrassed about it. But maybe I should be.
With that information, it probably goes without saying that when I saw the 20-foot ceiling in the living room in this house, my brain immediately started swirling with visions of the most giant tree I could possibly get.
You may remember that the year before we moved into this house, we had to downgrade our tree to a tiny pencil tree (which now lives in our bedroom), and it was cute and charming but reeeeally didn't satisfy my need for all the Christmas I can squeeze into a house.
All that to say…when we found this tree at At Home last year, it was like the heavens parted and the angels started singing.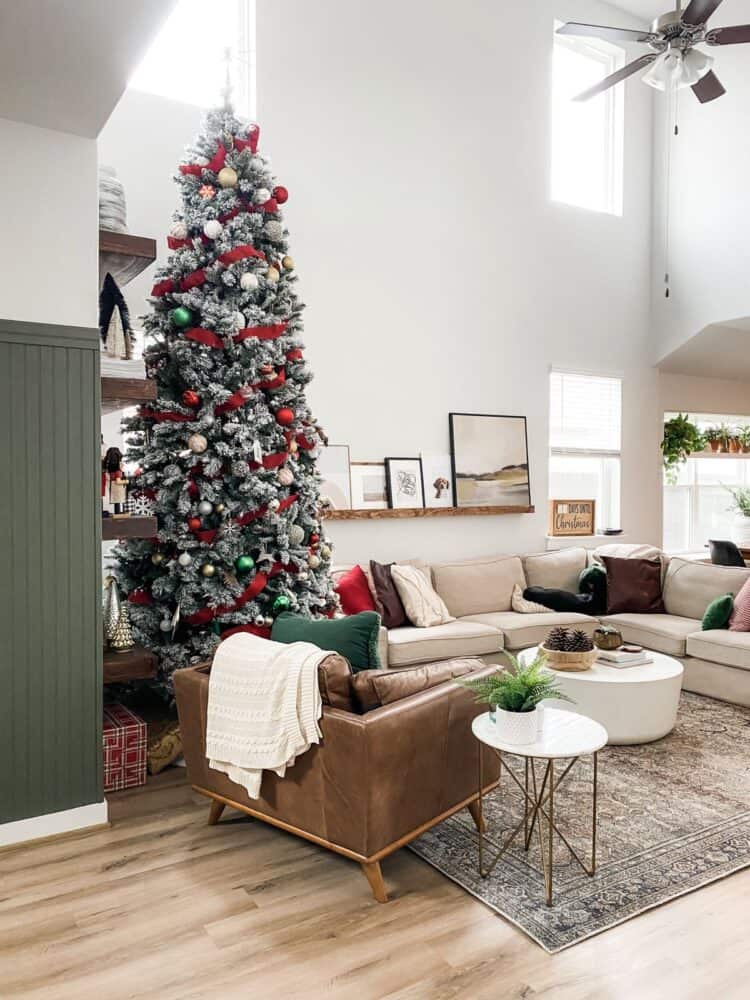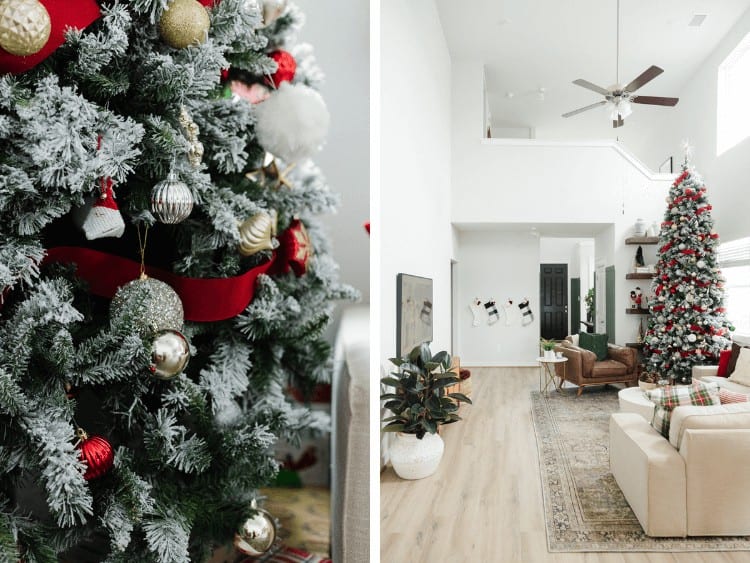 I think we still need more ornaments for the tree – we bought a ton last year and a few more this year, but it could still use some more filling in, if you ask me!
I used to stick to just round ornaments for most of our tree, but I've really come to love a more eclectic look with some special ornaments – and honestly, those have to be gathered over time! So, we've been slowly grabbing ornaments that catch our attention and I love the collected look it gives the tree. Jackson already has favorites that he gets so excited to pull out, and it's so fun to see him fawn over all of the special ones.
I think my personal favorite (and I never thought I'd find myself saying this) is the yearly photograph ornaments I starting buying last year! I bought one on a whim and it made me so happy when I pulled it back out this year – so I've decided it's now a thing we collect (here's this year's ornament). Because who doesn't want to have all of those sweet memories displayed on their tree year after year?!
I got a new tree skirt this year – it's this $35 faux fur one from Amazon. A tree skirt for an extra tall Christmas tree can be tricky to find because the typical sizes aren't big enough. I learned this year that they can be priiiiiicey, so I'm thrilled I was able to find this cute little option for a good price.
I mean, who doesn't love some faux fur under the tree?!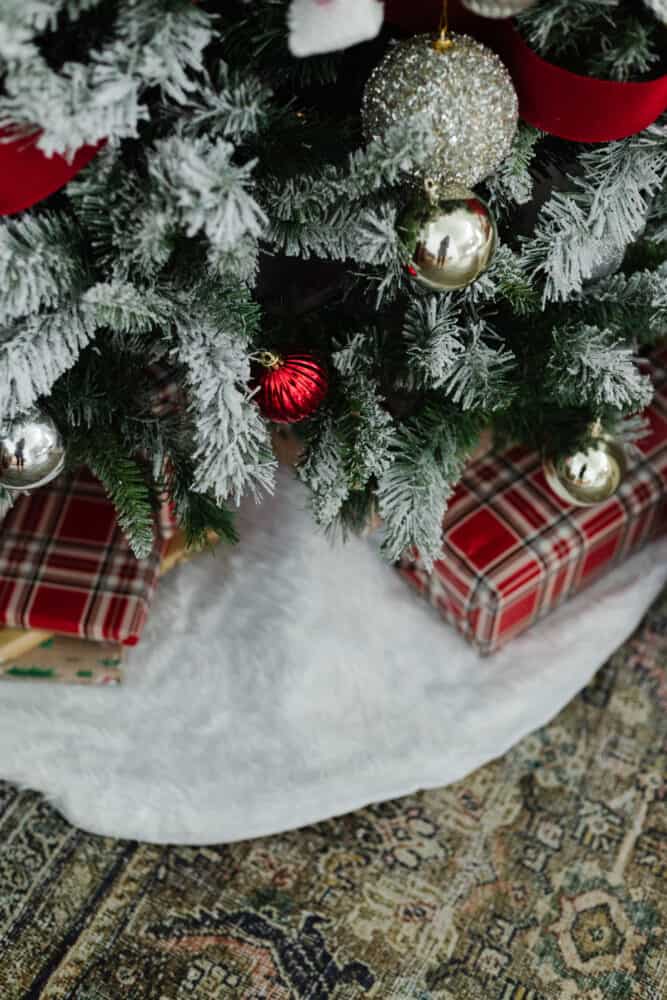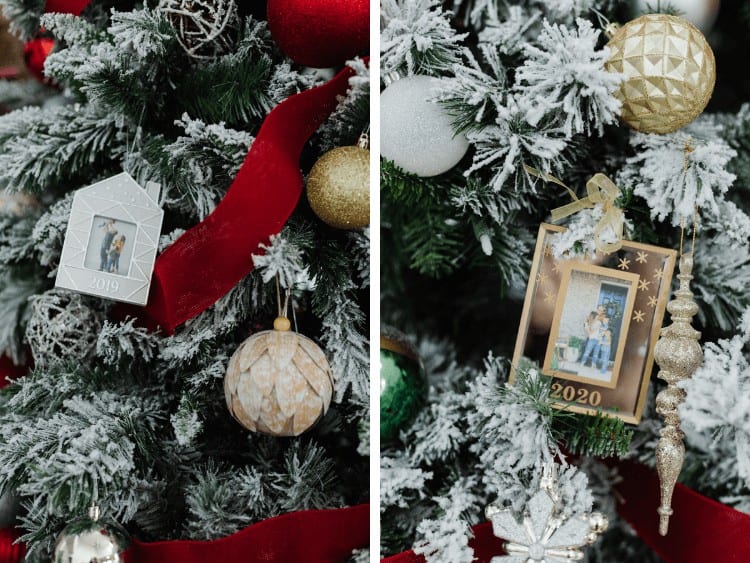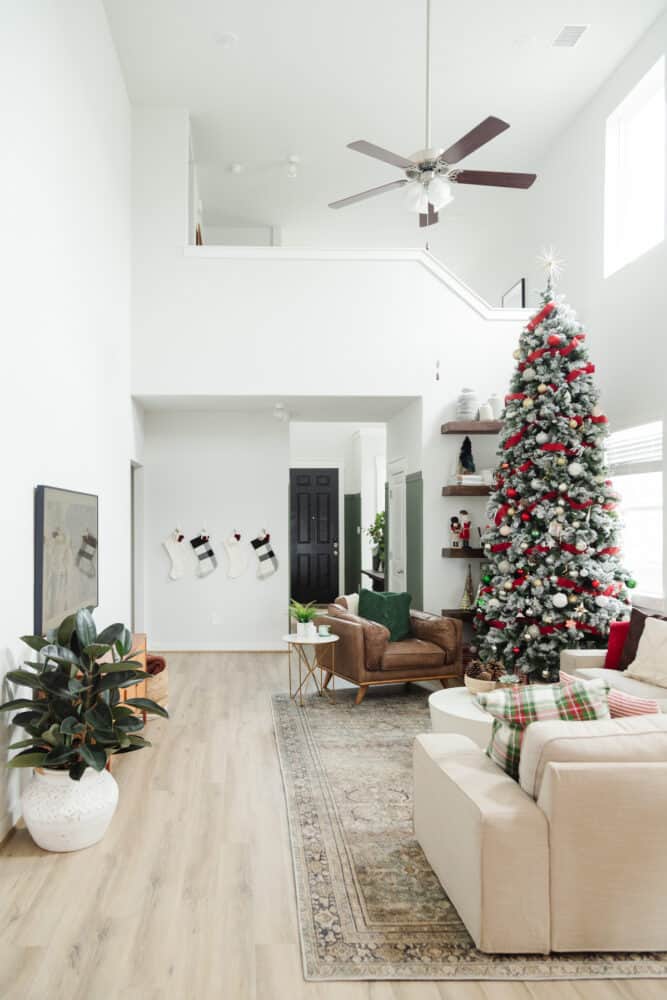 Oh and if we're talking about what's under the tree we should probably also talk about that showstopping tree topper up on the top, right?!
A giant Christmas tree needs a topper that will stand out…and this star is legitimately perhaps my favorite Christmas decoration we own. I feel like it makes the tree, and sometimes I just sit on the couch and stare at it.
Is that weird?
Listen, we already know I get a little weird when it comes to Christmas. It's fine.
The tree topper is this one from Crate and Barrel – and, if you haven't heard of my secret weapon for easily attaching a tree topper, you're going to want to check out this tree topper holder. It twists onto your tree and holds on tight, then you just slip the topper onto it – it's soooo much easier than wrestling with your tree to keep it in place, and it's extra important when your tree is 12 feet tall and you can only reach it by climbing to your second story landing.
Not that I'd know anything about that.
You also might notice that we blocked our floating shelves with the tree this year – we debated long and hard about if this was the right spot for it (and we tried it elsewhere first), but in the end Corey and I both agreed that this is just the tree spot.
The shelves will just have to take a backseat for the holiday season!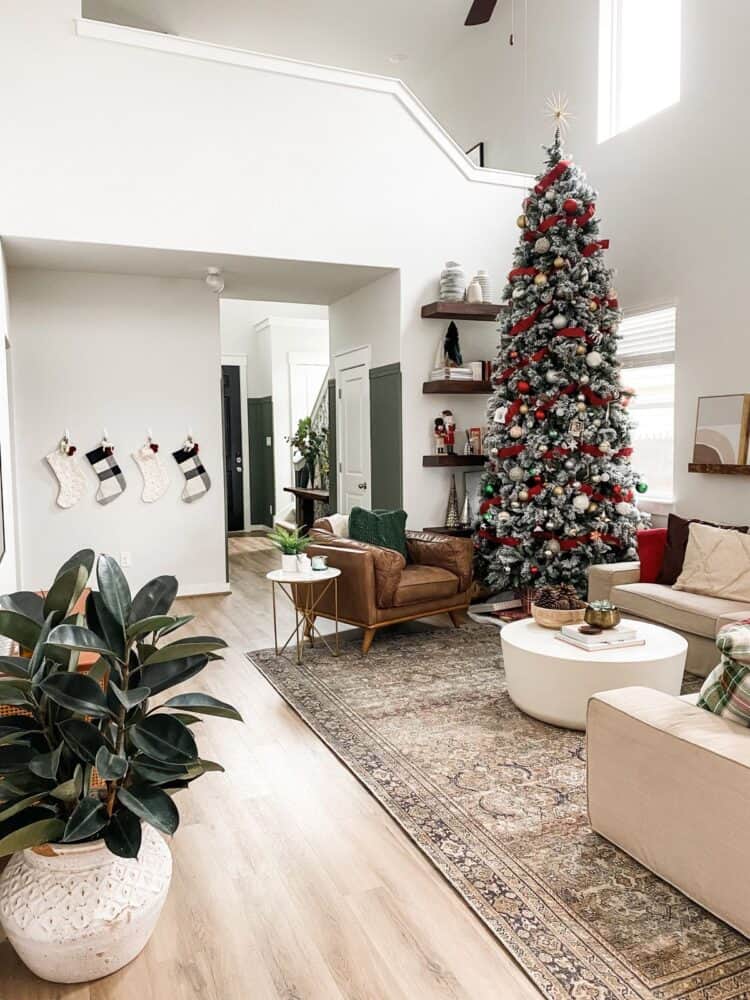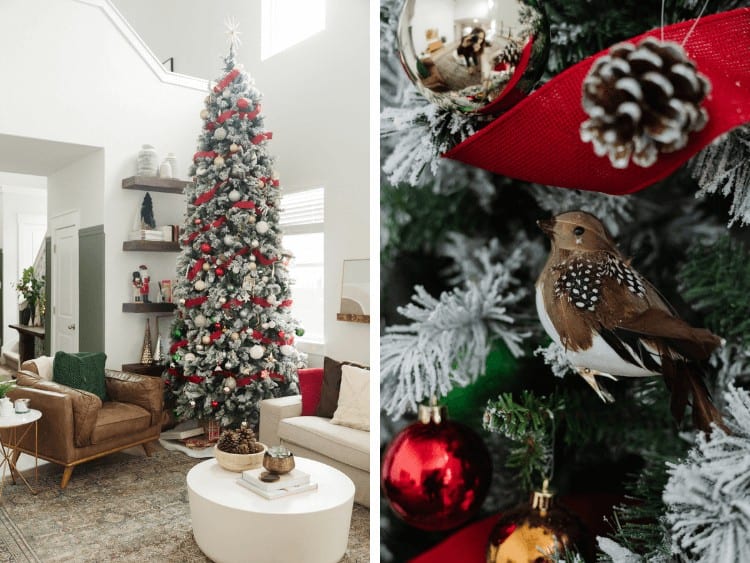 Is it cheesy to say this tree has made all of my Christmas dreams come true?!
Because it has.
Wanna see more of our house this Christmas? Here are a few other posts I've shared (and stay tuned for more peeks at our house in the next couple of weeks, too!)