I've been working on giving my best friend's room a makeover with our partners at The Home Depot – read on to see the transformation! This post is sponsored by The Home Depot.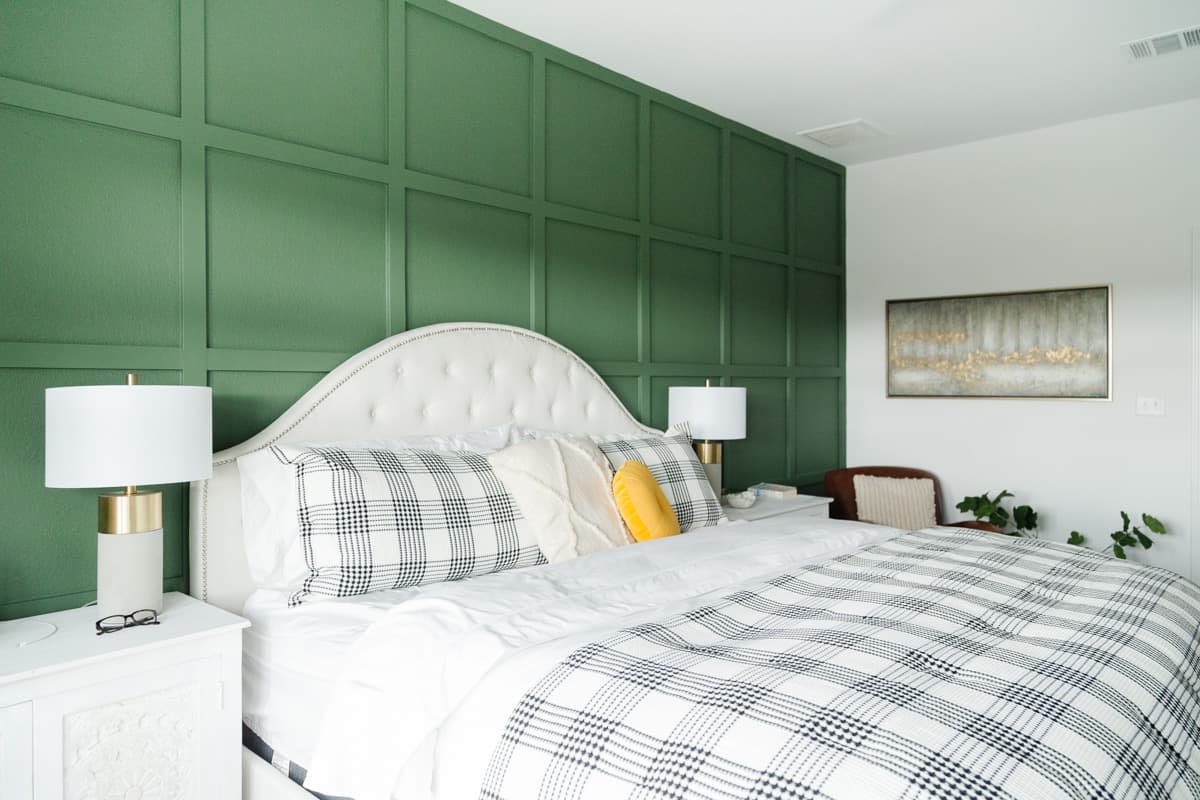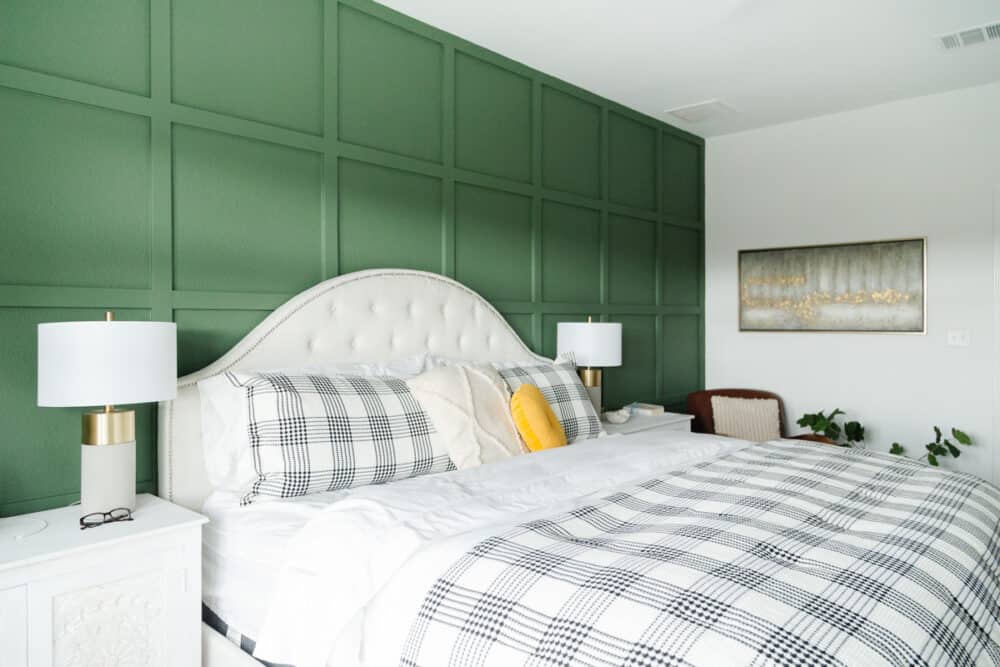 When I first got the idea to see if my friend, Parisa, would be interested in a room makeover for our final partnership project of the year with The Home Depot, I was nervous. Doing a room for someone else is a big step outside of my comfort zone, and doing it for my best friend is even scarier because what if she hates it?!
But, I love nothing more than a good challenge, so I decided to dive in headfirst. And, thank goodness, she loves it. And I love it. And I think you're gonna love it too.
Let's catch you up, first.
Parisa's vision for her bedroom was something really light and bright, spa-like, and relaxing. She wanted a retreat. It's been so much fun to hear her talk about showing the room to her friends and family. She said people keep asking where individual pieces are from, and each time the answer is, "that's from The Home Depot, too!"
If there's anything I've learned this year through my partnership with The Home Depot is that homedepot.com/decor is the best place to find a huge variety of beautiful, high quality, and affordable furniture, decor, lighting, rugs, and more. You can literally take a room from start to finish and not have to shop anywhere else!
I mean, even the wood for the accent wall, the paint, and all of my painting supplies were from The Home Depot. You can't beat that kind of one-stop shopping.
Oh, and the best part? The Home Depot is starting some of their holiday sales early online, and many of the pieces you'll see in this room are on sale! The bedding, bed, nightstands, and dresser that we used are all on sale, along with a ton of other products, so be sure to check it out!
Let's take a little walk down memory lane with the before photos again, shall we?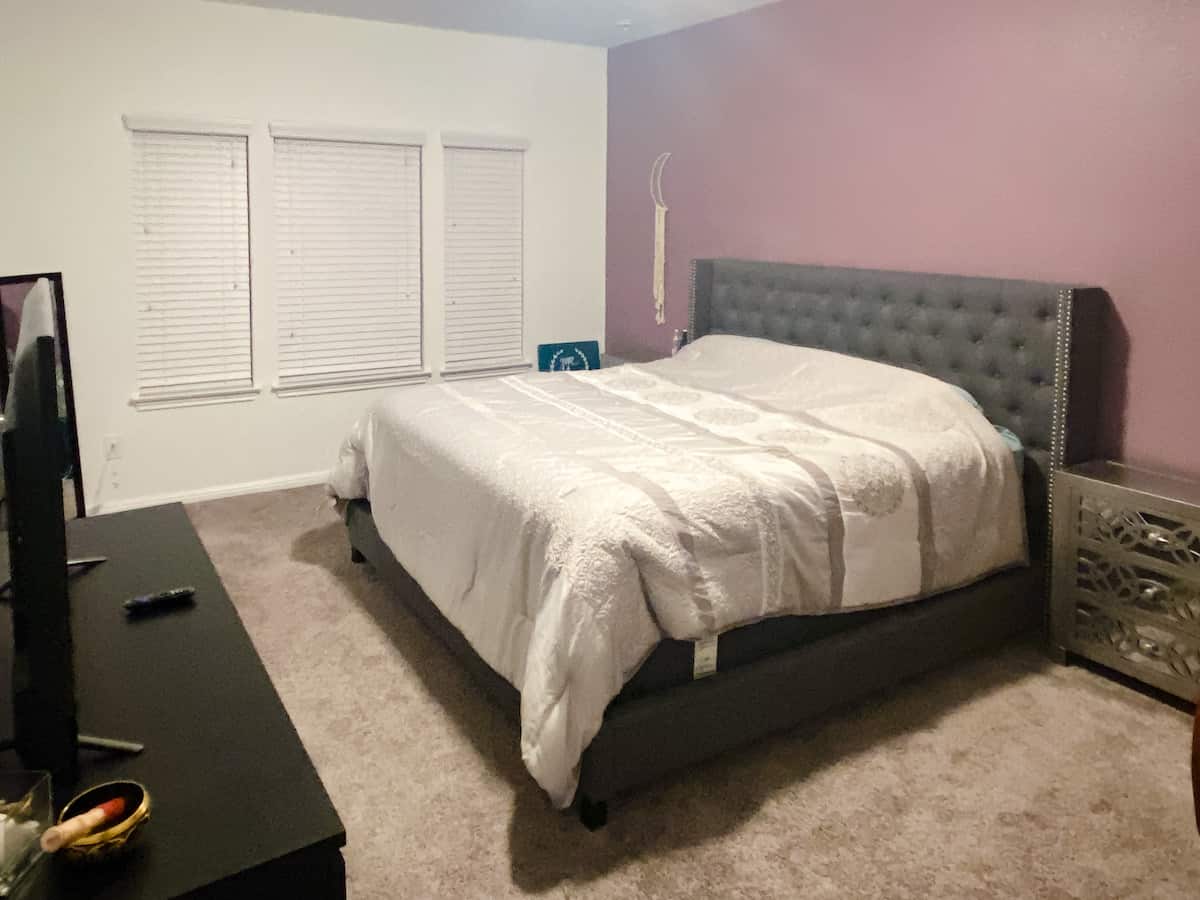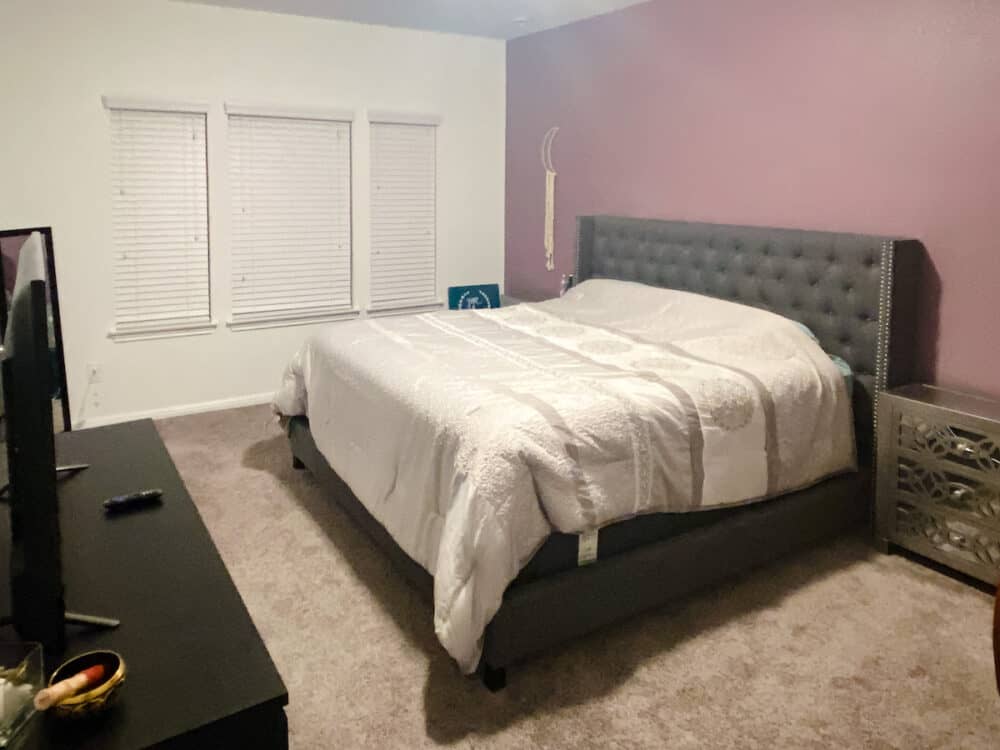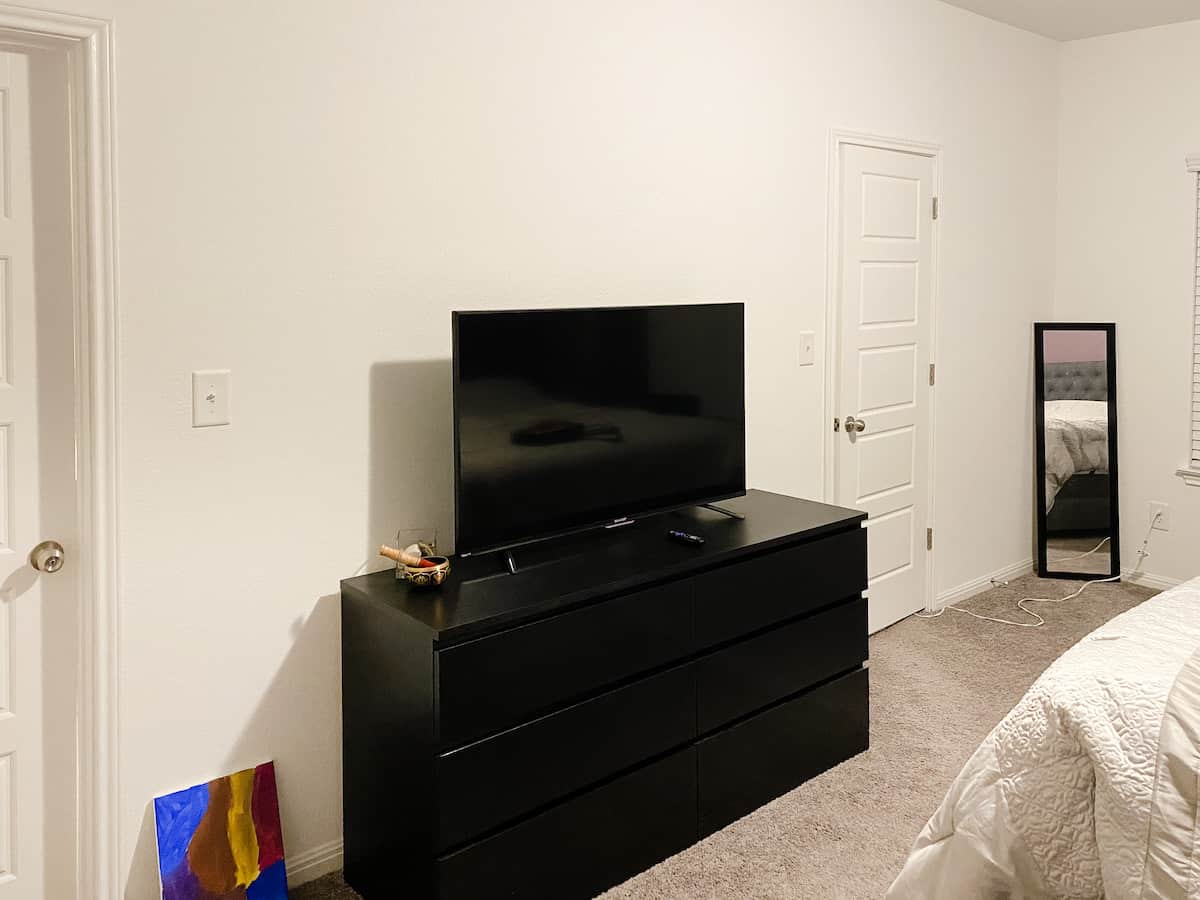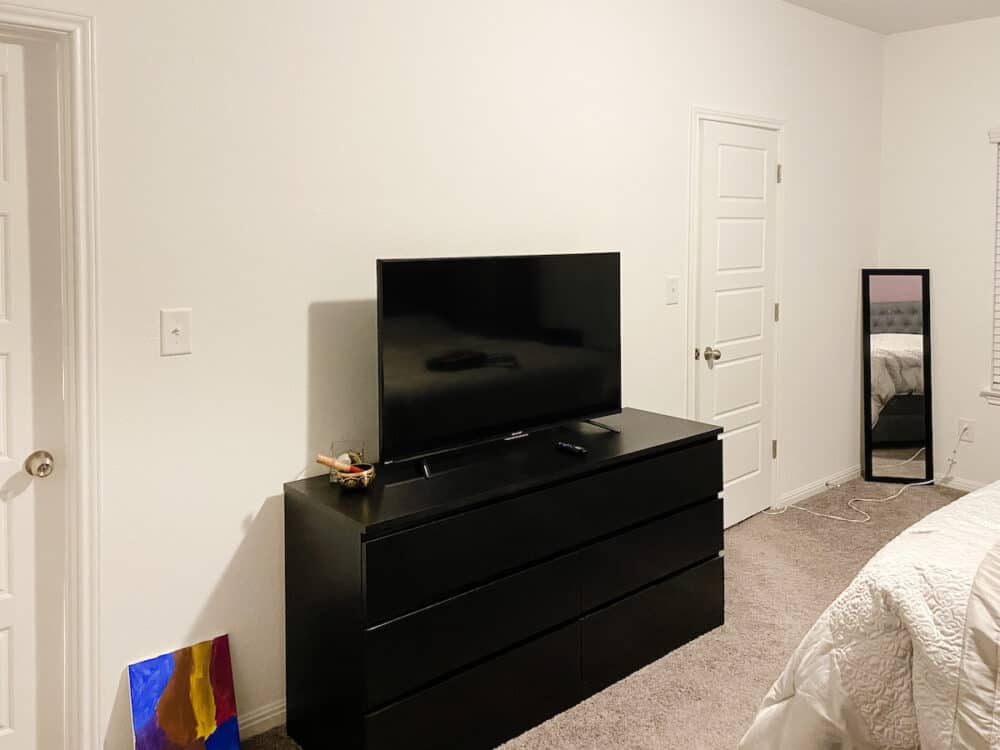 The room had a lot of potential, but it needed some help to get there.
And, now?
Well, it's more or less unrecognizable.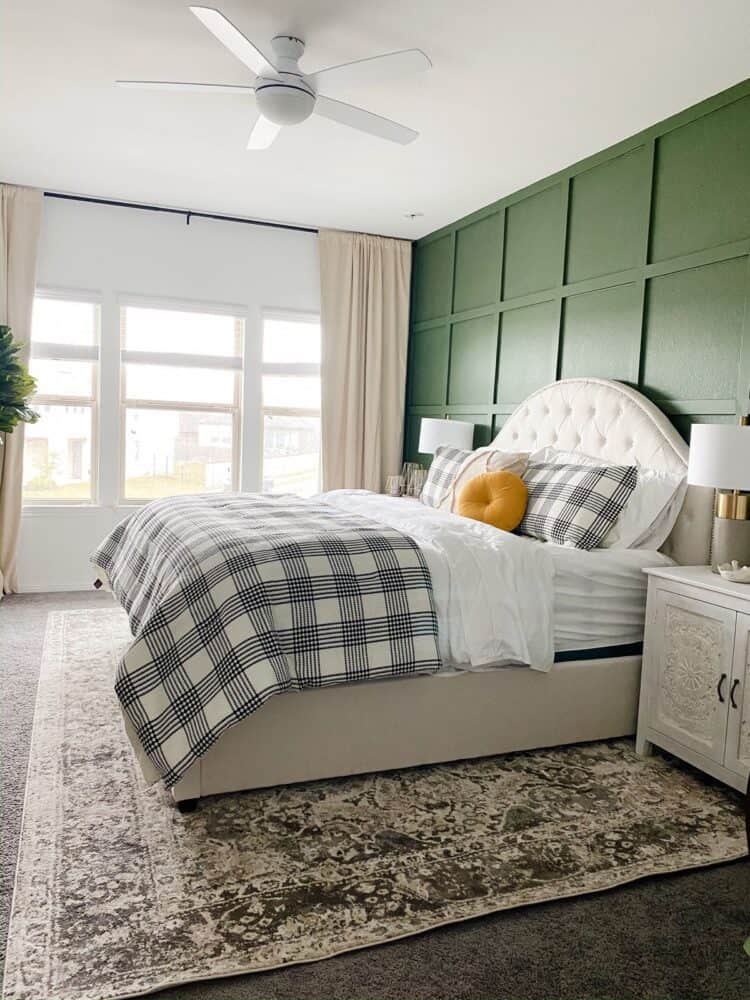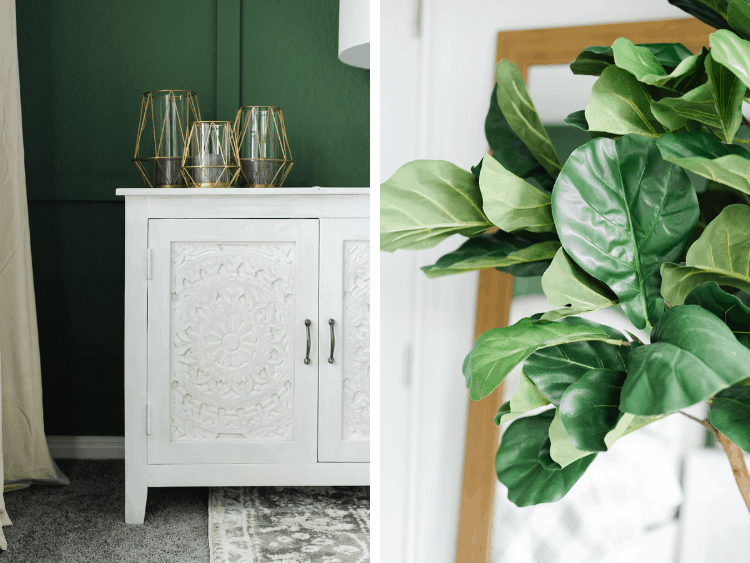 I think the first decision that we made for the room was that we had to have these nightstands. They fit the exact vibe we were going for, and they were so unique that I knew they'd be a statement piece in the room.
They are the Home Decorators Collection Chennai Whitewash Nightstands. They came pre-assembled, which I was so grateful for on a day when we were putting together tons of other furniture already. They're sturdy, well-made, and just beyond beautiful.
The Home Depot has a matching headboard that goes with the nightstands (and, y'all, it's stunning), and we LOVED that too, but we both agreed the space needed an upholstered headboard. I love a soft place to rest my head when I'm reading before I fall asleep, and I think a cozy upholstered headboard really contributes to the relaxing feeling we were cultivating in here!
The headboard we went with is the Home Decorators Collection Bradwick Upholstered Bed. It's stunning, so high quality, and I can't get over how great it looks up against that green wall.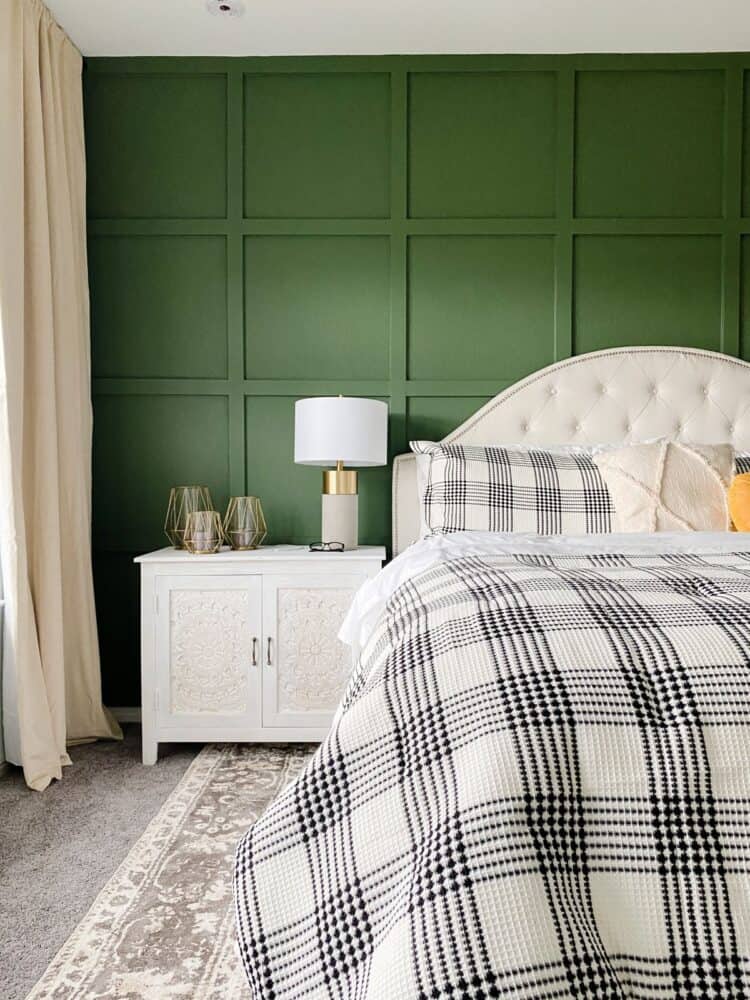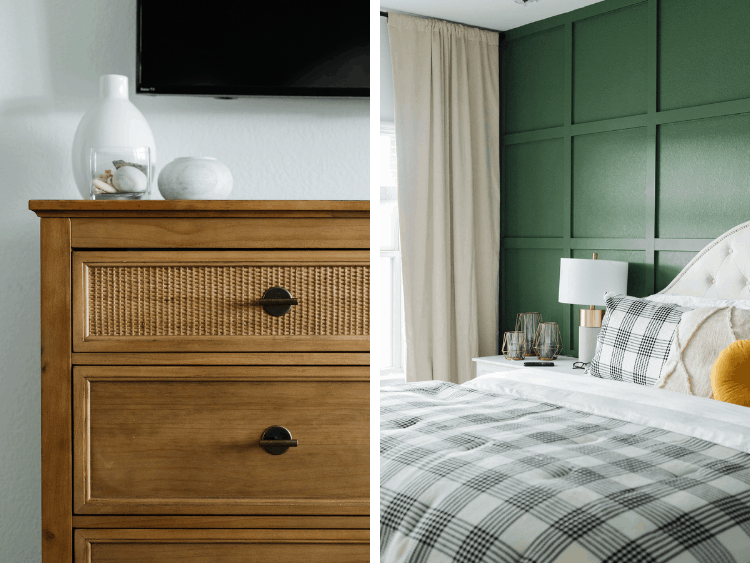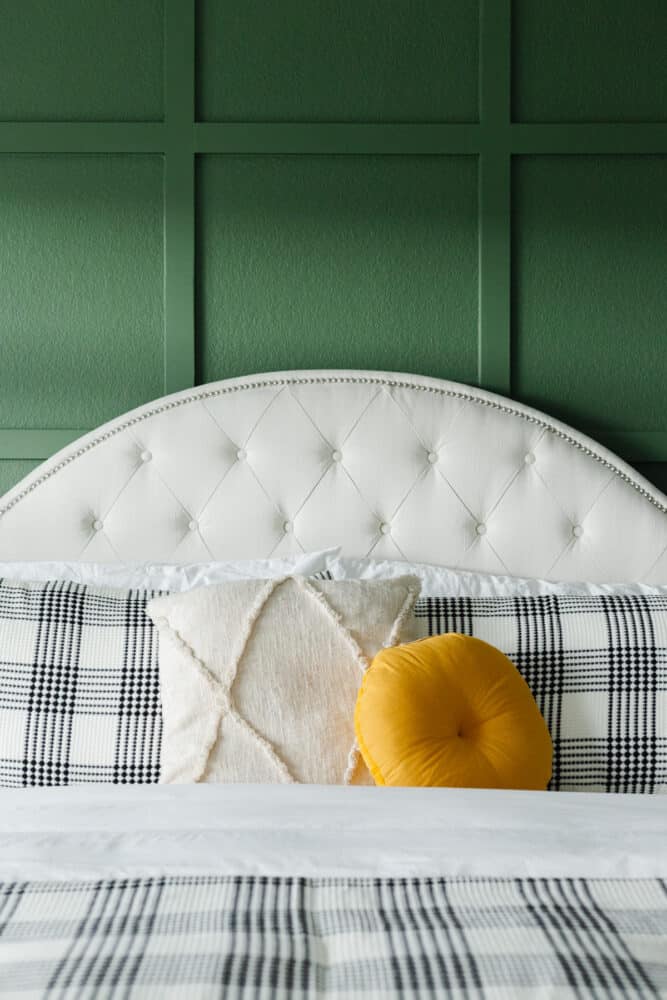 A spa-like bedroom isn't finished without some super cozy and luxurious-feeling bedding, so I made sure to get Parisa some of the same Home Decorators Collection 600-thread count sheets that we have in our bedroom. I am always telling our Instagram friends how much I love them because they have built-in straps on all four corners to prevent them from popping off. They're also so soft and cozy (I think that's the theme word here today?!), and I can't recommend them enough.
We topped it off with a plain white duvet and this beautiful Adderley plaid comforter set from Home Decorators Collection. We were both a little nervous about how the comforter would pair with everything else, but we loved it so much we had to try. I think it ends up being the perfect modern balance to the more traditional elements in the room, and it adds such a fun pop of pattern in the otherwise neutral room. I think it really ties it all together and I'm so glad we decided to try it. And, honestly, I kind of want to order one for myself because it's so dang soft and – say it with me – cozy!
I'll note that we didn't get a new mattress for the space because Parisa and her husband recently bought this super cozy Sealy mattress and they love it, but if you're in the market for one, The Home Depot has a huge selection and is running some great deals right now (up to 40% off!) on tons of different mattress brands!
Mattress shopping can be so overwhelming, but The Home Depot has really made it as simple as possible – you can shop by brand, by firmness, or even by specific features like hypoallergenic mattresses or cooling mattresses. Now is a great time to get a new one if you've been thinking about it because we aaaall need better sleep this time of year anyways…and you can't beat the savings! Click here to see all of the mattresses The Home Depot offers, along with the great deals they're running.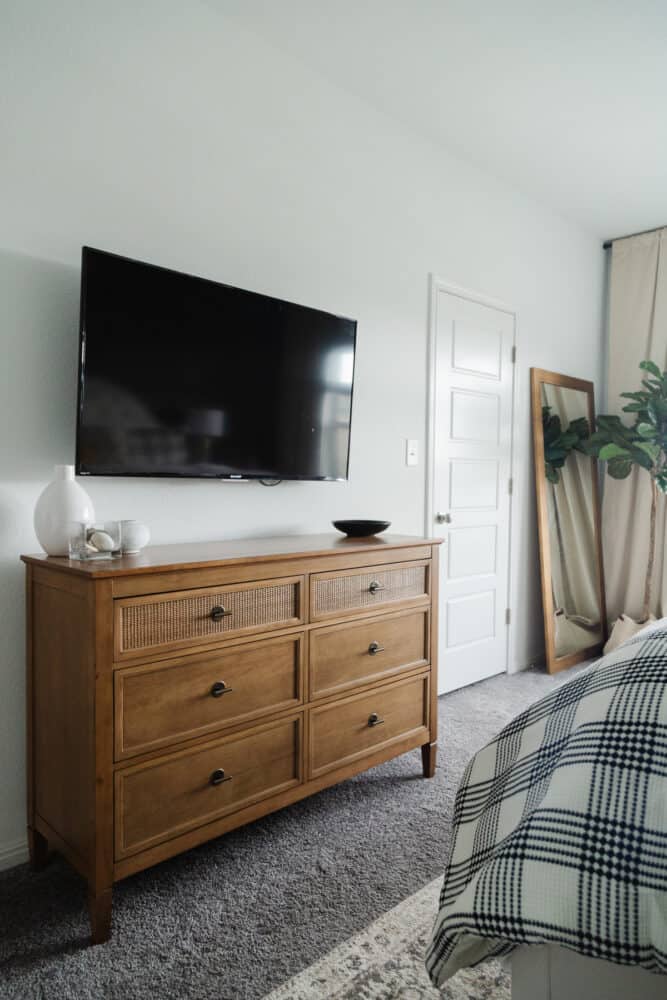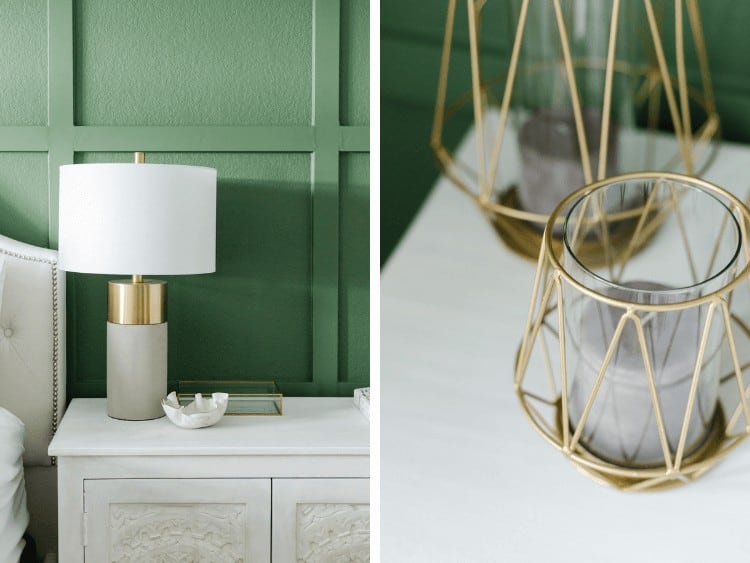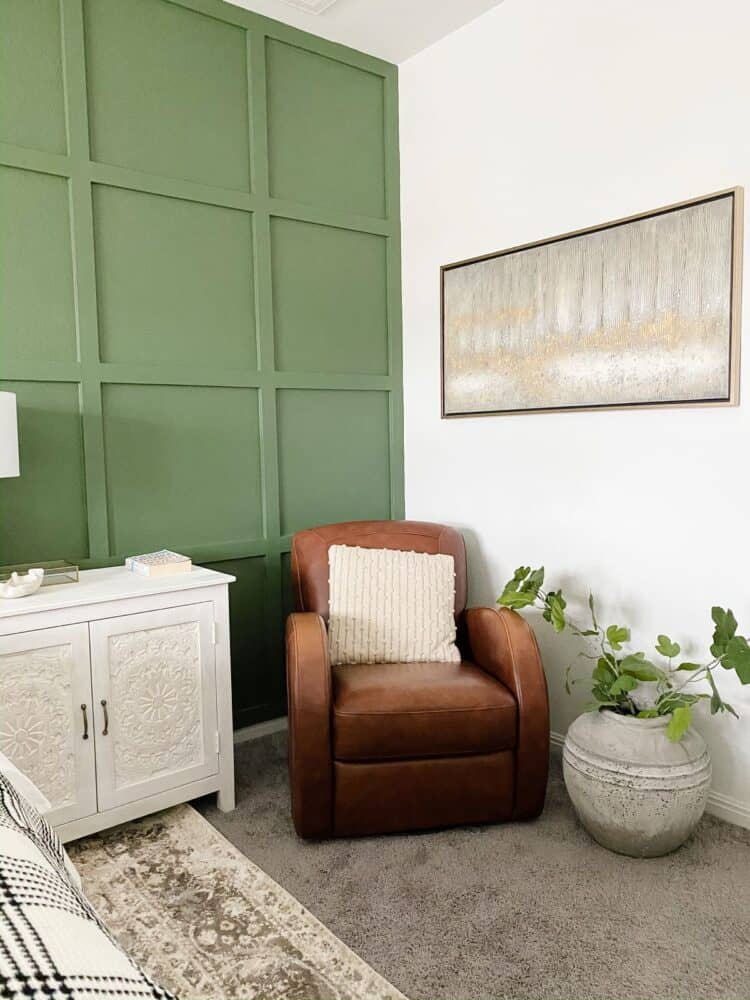 The other big furniture piece we added to the room was a new dresser. I wanted to bring some actual wood elements in here to help warm things up, and I found this Home Decorators Collection Mardsen 6-drawer dresser and fell in love immediately. The cane detail on the top drawers is beyond beautiful, the size was perfect for her room, and I knew that the quality of the HDC dressers was incredible because we have one in our room, too!
Also, can we just note that even the hardware on this dresser is stunning? They really pay attention to the details, here, and I appreciate that.
We rounded out the design with a new rug (which is so soft that we both literally rolled around on it like children as soon as we put it in place), a gorgeous faux fiddle leaf fig, a pair of gold and concrete lamps that are the perfect balance of glam and rustic, and these hurricane candle holders that feel so glam and fancy. Oh! And the art above the chair is also from homedepot.com/decor and we both gasped when we pulled it out of the box because we hadn't expected it to be so textured and high-quality and incredible. It's a show-stopper and it looks like it was made for this little corner.
Every single detail of this room makes me smile, and to me, that's the sign of a well-done space, no? Parisa says she's absolutely in love with it, and she reports she's spending much more time hanging out in her room now that it's so gorgeous and relaxing (and, you know, cozy).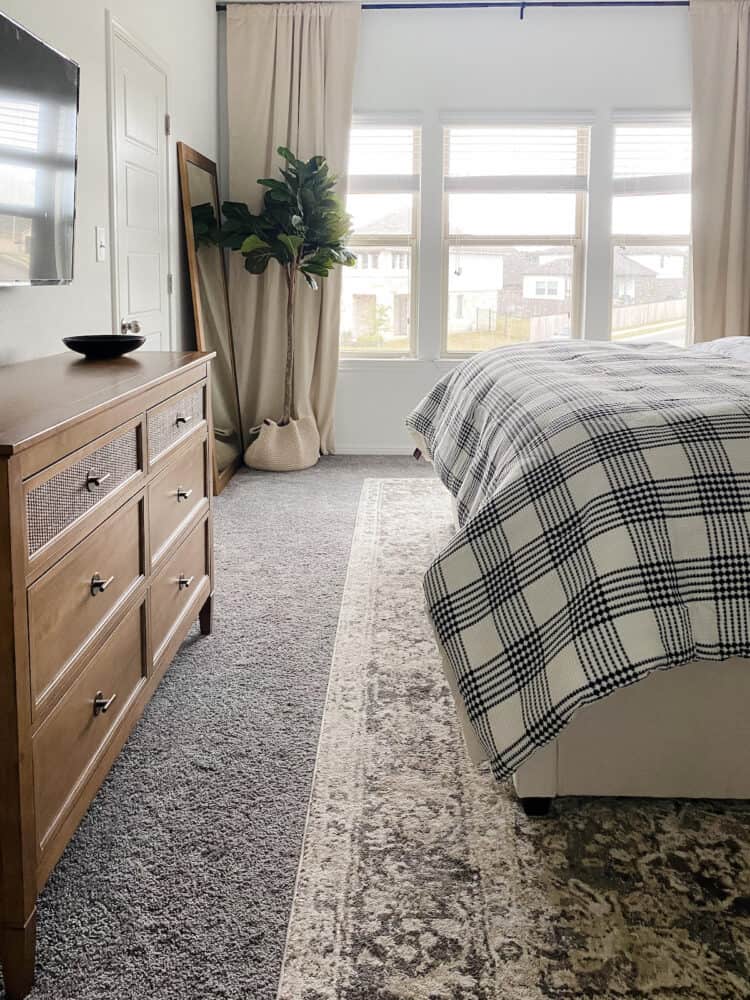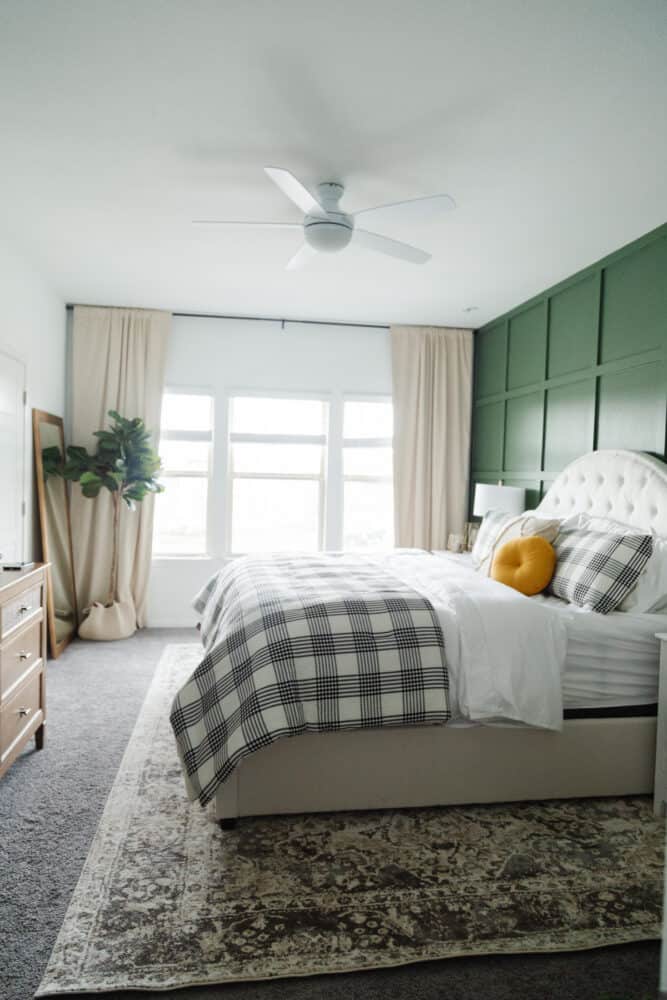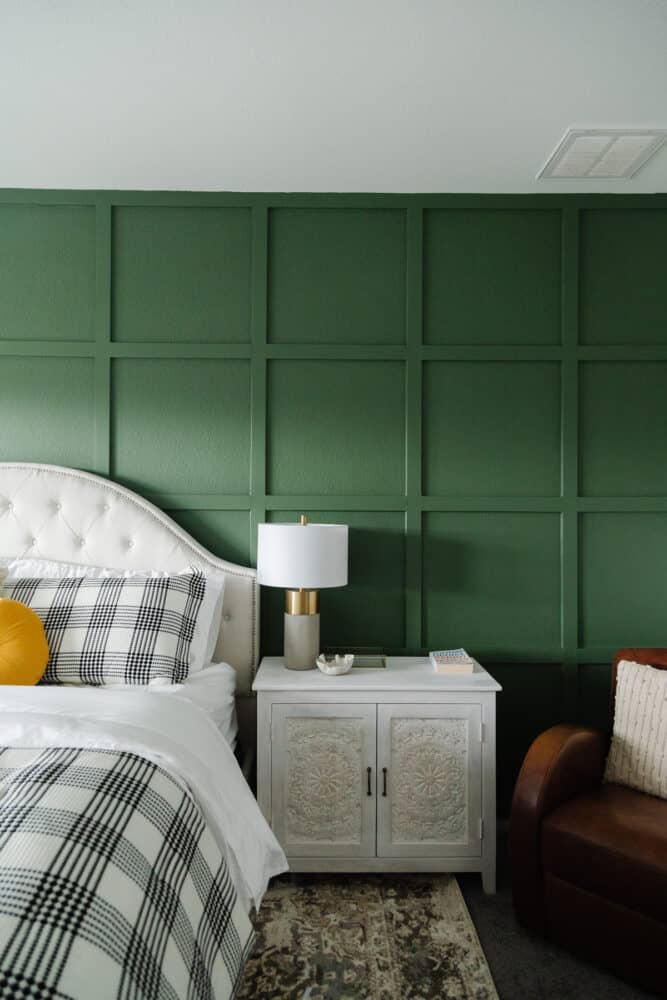 I hope that if you've gained anything from the four makeovers we've done with our friends at homedepot.com/decor this year, it's the knowledge that The Home Depot is an incredible resource for literally everything you could possibly need to finish out a space. They've become one of the very first places I check when I'm shopping for new furniture and decor. I'm going to link every last item we used in this room below, but you can also just click here to go to homedepot.com/decor and do some browsing of your own!
If you missed any of our space makeovers with The Home Depot this year, you can catch up below:
Parisa's bedroom sources