A Quick & Easy Bookcase Makeover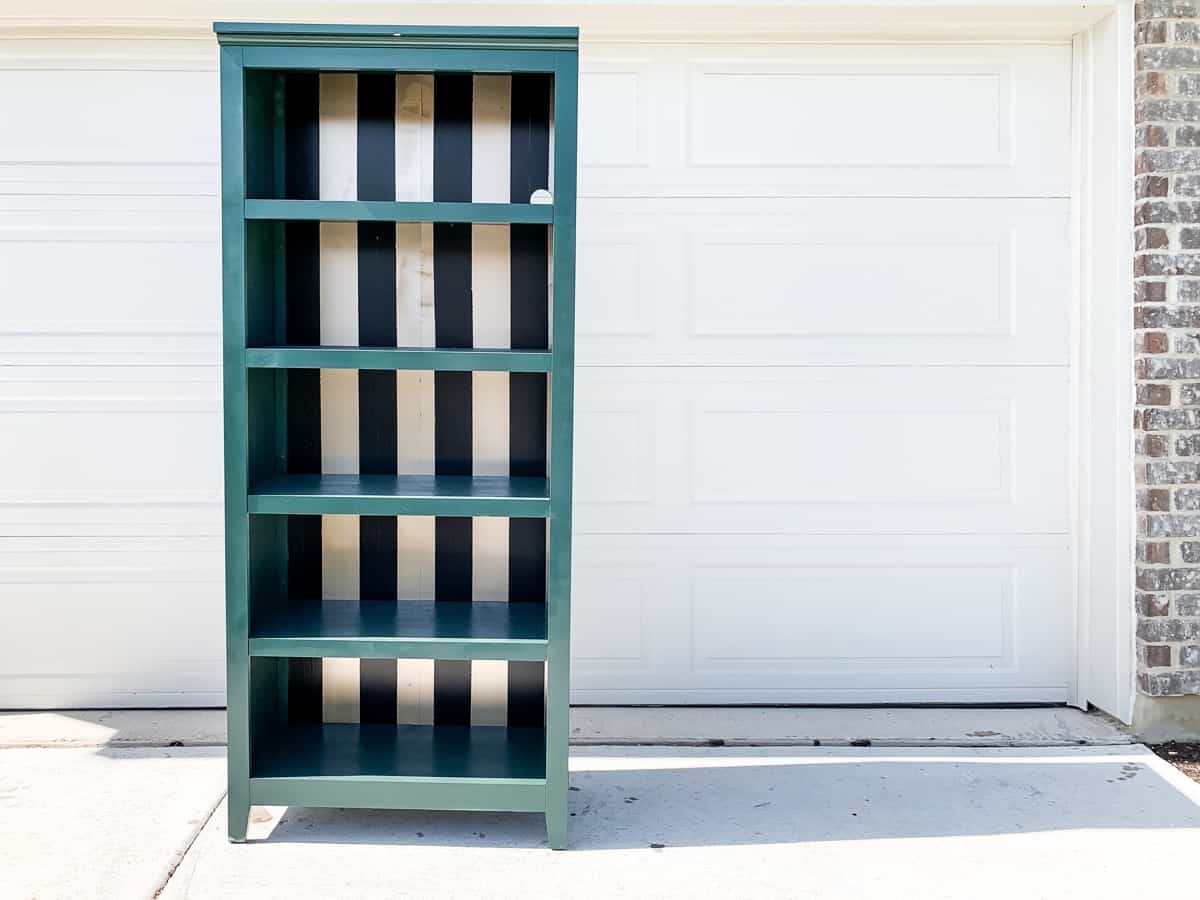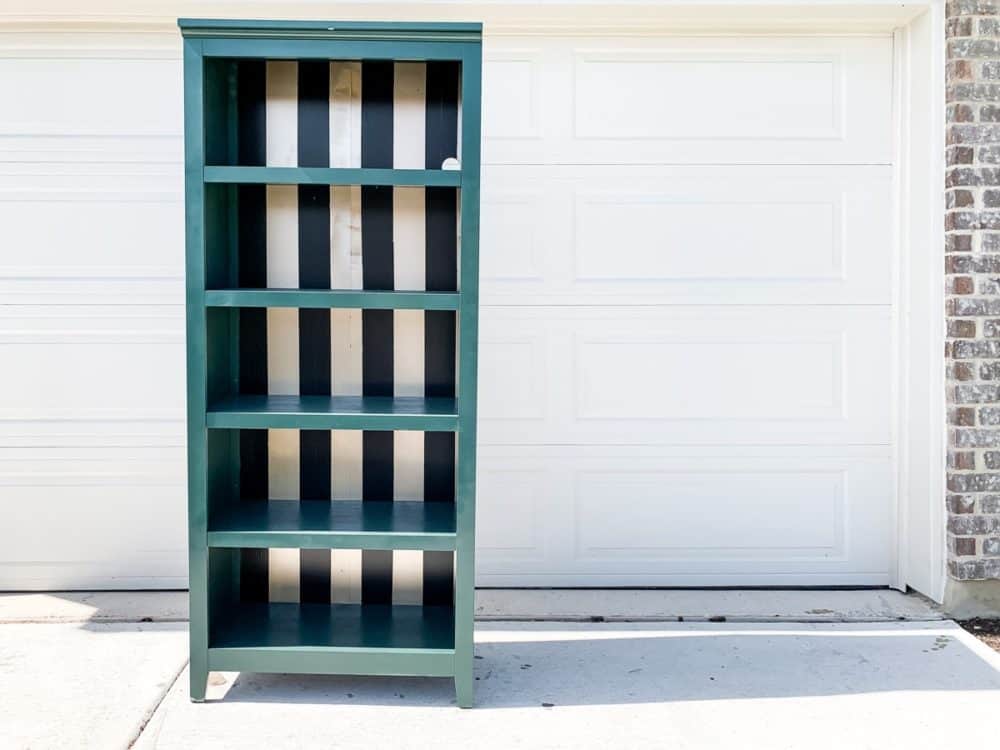 This post is sponsored by Rust-Oleum
Remember a few weeks back when I posted a big, detailed guide on everything you ever wanted to know about spray painting?
Well, when I was chatting with my friends at Rust-Oleum about that post, they asked if I'd be interested in participating in a really fun and inspiring series they produce called Pride in the Making. The idea is, they have various DIY and home decor bloggers and YouTubers find something at the thrift store or around their home that needs a little love and give it a total makeover using spray paint. It's so cool to see how things can totally change with just a bit of paint, and I had the most fun watching every one of their videos!
I was, of course, so honored to be included and thankfully I had the perfect piece laying around for the makeover – we bought this little bookcase right when we moved into this house as a quick solution to store some toys and other things and since we're diving into a phase one makeover of our game room (click here to see all the fun so far!), I don't need it up there anymore!
I originally had planned on stashing this in Grant's room to hold a few things for him until I get around to building something more permanent, but a neighbor saw me photographing it in our driveway and asked if I was selling it! So, I figured why not?!
But man, it was cute while it lasted.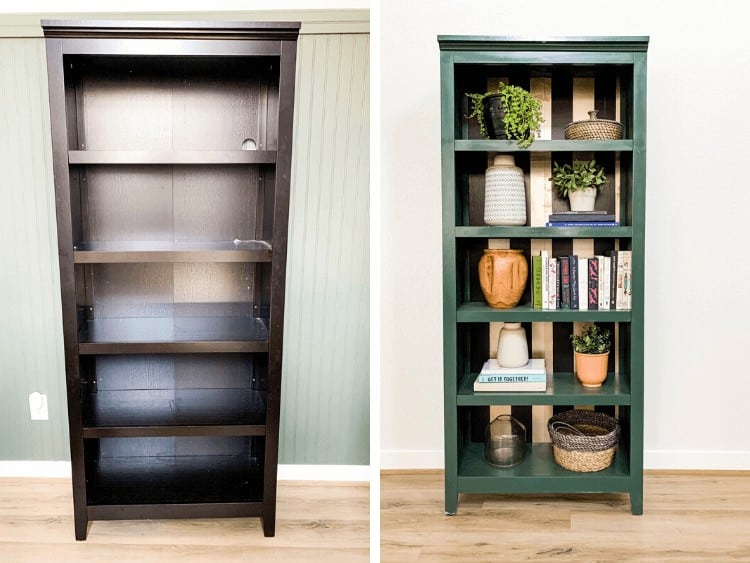 I put together a fun video of the makeover with Rust-Oleum, and I'll be sharing that soon too, but I couldn't wait to show you the project and how fun (and simple!) it was.
This was a seriously easy afternoon project – which, honestly, is one of my very favorite things about spray paint! It's so simple to use and doesn't require a ton of cleanup like regular paint does, so it's just so fast to whip out a project!
I started by priming the bookcase with Rust-Oleum's Painter's Touch 2X Primer – it's really great for wood, metal, and plastic surfaces and is a good go-to for laminate furniture like this since it can be hard to get anything to stick to it!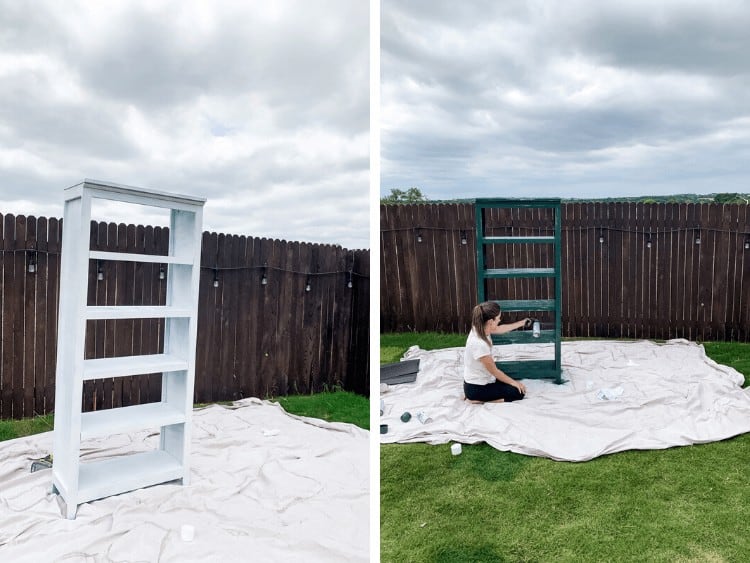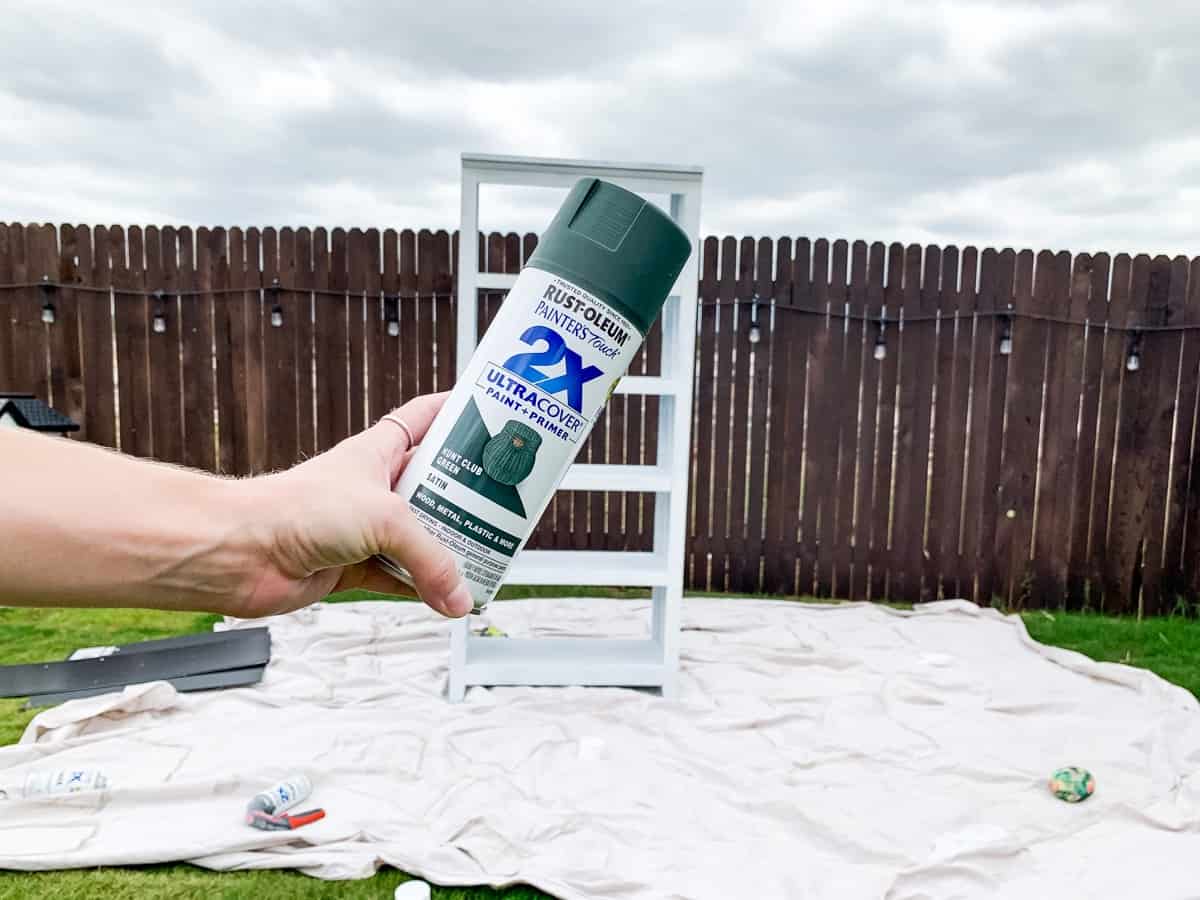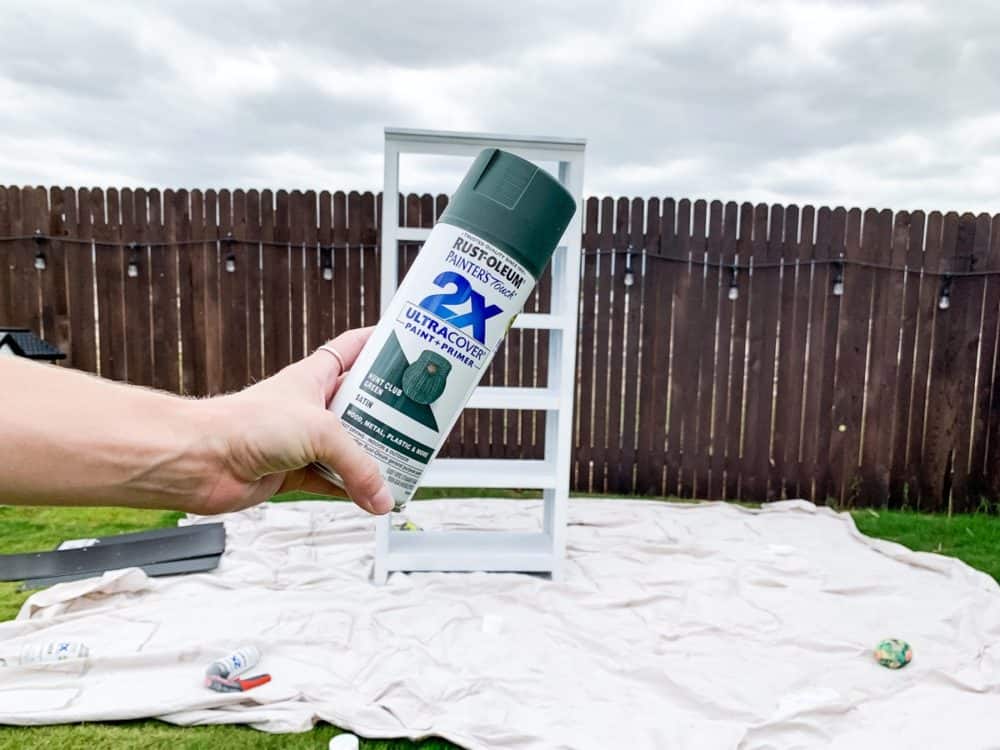 After priming, I grabbed my new favorite green spray paint – Hunt Club Green. It's the perfect dark, rich green and it really brought the bookcase to life. I was swooning after just one coat!
If you need spray painting tips, be sure to check out this post – but the biggest thing to remember is that multiple, thin coats applied just a few minutes apart is the best way to achieve great spray painting coverage!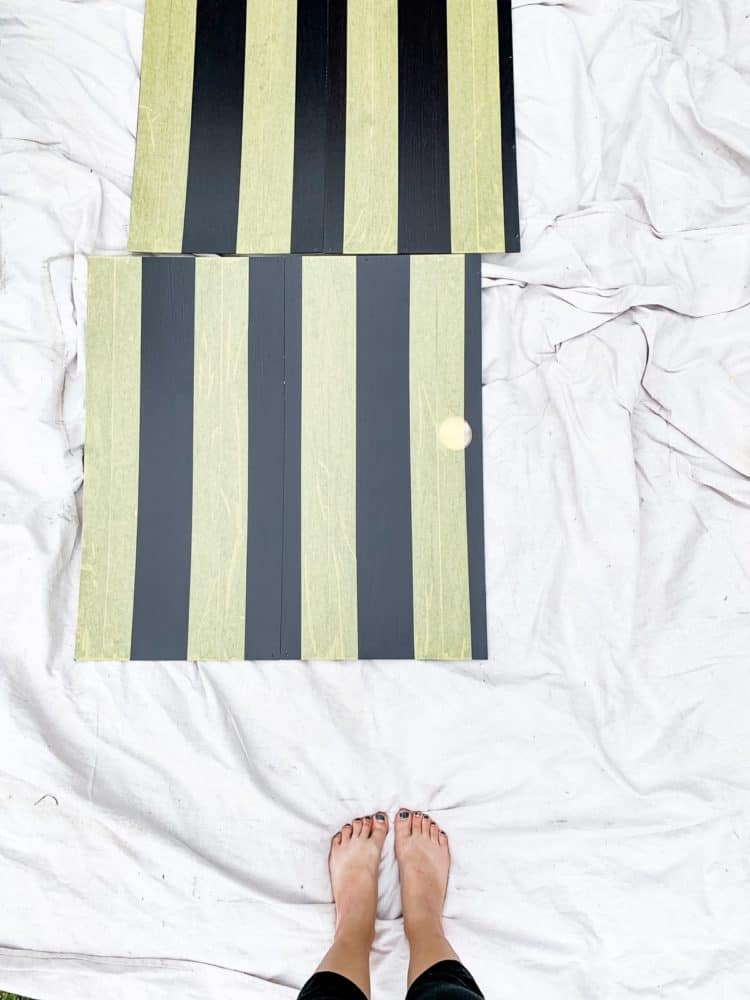 While the green dried, I decided to do something fun to the back. The back of this piece is two pieces and they were thankfully attached with screws – a lot of times with these types of pieces they'll be nailed in, and that's a lot harder to remove! So, it was a breeze to pull them off and get them ready to paint.
I decided to go with stripes (because I always loved the gold stripes on the back of Jackson's bookcases in his nursery!), and it was so easy. I applied rows of tape to the two pieces right next to each other until the entire thing was covered. Then, I removed alternating lines of tape (I kept each tape line two pieces thick for more chunky stripes). I used the same primer and this metallic gold spray paint to paint the stripes on the back, and once everything was dry, I put it back together!
It won't ever actually live in our house, but I still had fun styling it as if it would – it's been far too long since I had any shelving to decorate in my living room! I think it's time we fixed that soon…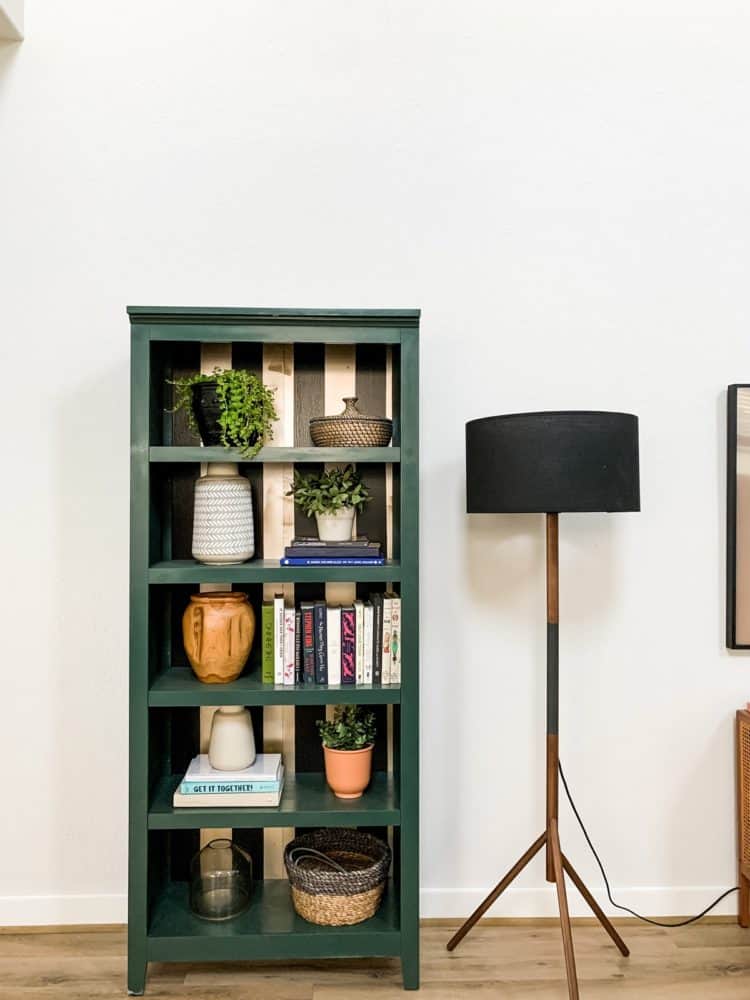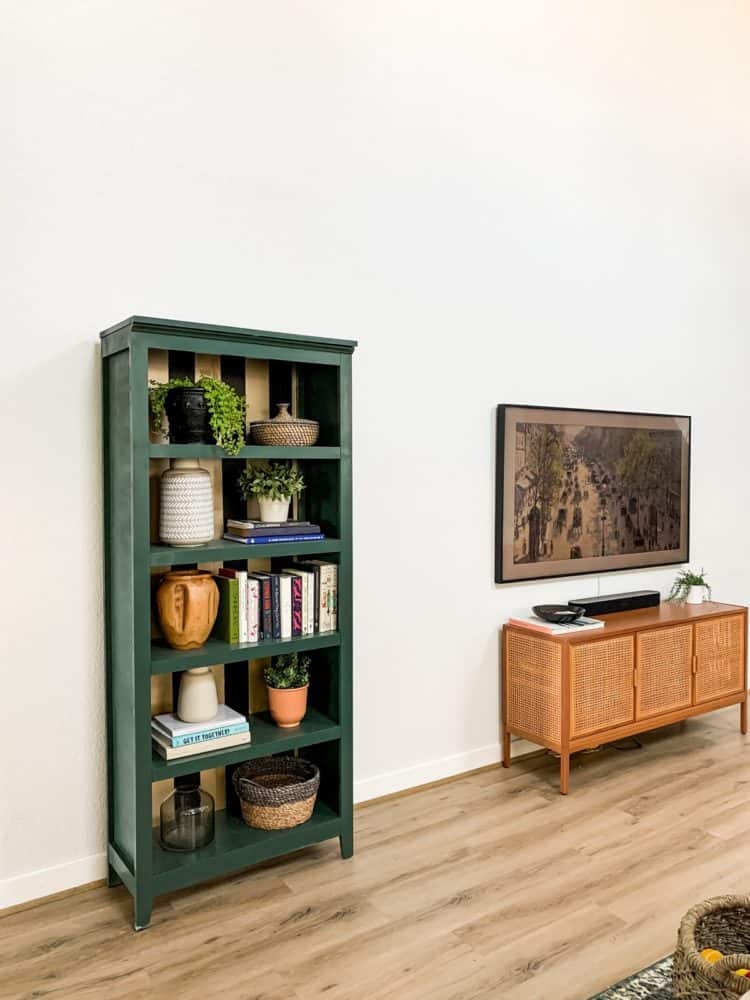 This was such a fun (and super quick!) little project, and I don't know about you but I always love a really quick and creative project like this to get my creative juices flowing and stretch those mental muscles a bit – especially when I haven't left my house in months and am feeling a liiiiitle uninspired!
Be sure to check out Rust-Oleum's other Pride in the Making videos (they're like mini episodes of an HGTV show) right here! And, as always, be sure to share your fun and creative painting (or building, or whatever) projects with me! I love to see what you're up to!