Ahh! December! We are officially a mere 24 days from my favorite day of the year. Cannot wait.
One of my favorite traditions that Corey and I have for this time of year is our activity advent calendar – we did it last year and it was so. much. fun. We absolutely loved having fun Christmas-y things to do every day leading up to Christmas, and it was something that we looked forward to every day. So, of course, when this year rolled around we couldn't wait to try it out again. This year, we decided to expand it a bit and have an activity every day in December, rather than just the last few days – we wanted to extend the fun, and our Christmas breaks don't start until right before Christmas this year, so it's pointless to wait like we did last year.
This was a seriously easy project to throw together – I just created a Word document with all of our Christmas activities, printed 'em out, and tossed them in some homemade envelopes. Add some twine and clothespins and we've got a super cute activity advent calendar!
To make the envelopes, I just grabbed a pack of cute Christmas paper from Hobby Lobby, had Corey create a template for me that would fit my cards, and then cut and folded them. It took maybe an hour to put all of the envelopes together, and it required zero concentration so I was able to do it while we watched X Factor one night.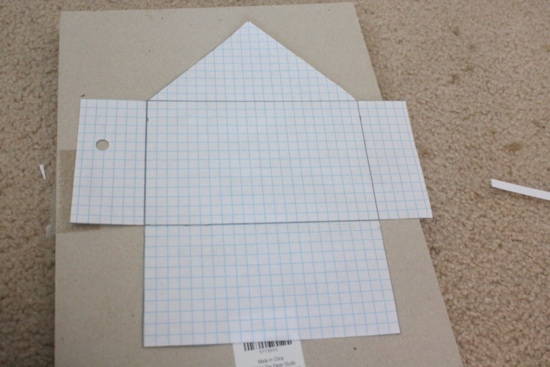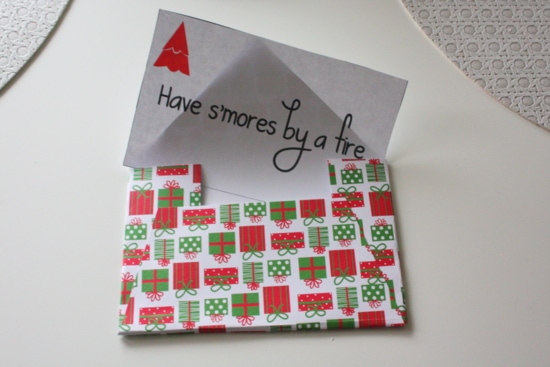 Once I had all of my envelopes folded, I just printed out some labels for the numbers, threw in the cards, and hung them up. I love how it looks and I can't wait to take the first one down today and get started on the fun!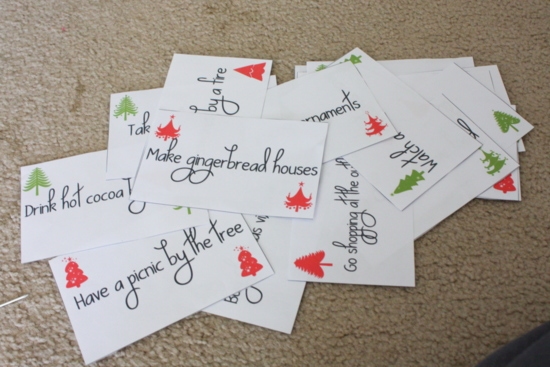 If you're interested, here's the list of activities we'll be doing (in no particular order, because I don't remember what order I put them in!):
1. Go look at Christmas lights
2. Buy a toy for a charity Christmas tree
3. Watch a Christmas movie
4. Have a picnic by the Christmas tree
5. Bake Christmas cookies
6. Drink hot cocoa by a fire
7. Make gingerbread houses
8. Take a family photo
9. Go Christmas gift shopping at the outlet mall
10. Go out to dinner
11. Make s'mores by the fire
12. Buy a new piece for the Christmas village
13. Make Christmas ornaments
14. Cook food for Christmas eve dinner
15. Make snow globes
16. No technology day!
17. Bundle up and go on a long walk with the dogs
18. Wrap Christmas gifts
19. Make homemade treats for the puppies
20. Stuff and mail Christmas cards
21. Buy a bottle of wine and cook a special dinner, then have a board game night
22. Hang mistletoe
23. Spend the day secretly doing nice things for each other
24. Christmas Eve: Open one present
25. Christmas day: Make a special breakfast!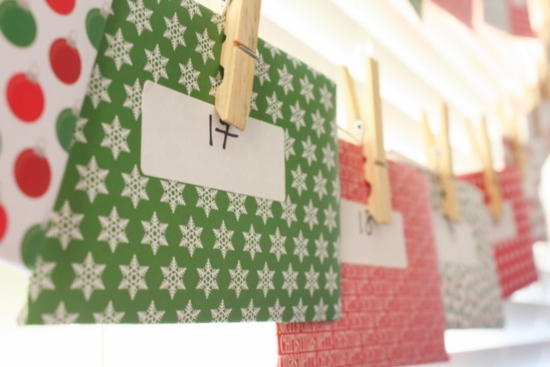 I'm pretty thrilled about it, and I can't wait to get started! We'll be doing weekly round-ups of the activities as we do them, and I'll post about it every Thursday, so be sure to check back. And even more exciting, if you want to make your own advent calendar, you can download our cards by clicking here. Obviously, ours are a bit personalized, but I included a few blank ones in case you want to write your own in. Enjoy!
Do you do any sort of special advent calendar? What are some of the things you like to do around Christmas time?