Our Advent Calendar + 10 Great DIY Advent Calendar Ideas
I know, I know. Halloween just happened last week and I've already jumped to Christmas?!
I get it. But, hear me out: these things take planning and time. Which you don't have if I wait until after Thanksgiving to share ideas for your advent calendar. So, I know the urge is strong to shake your first Scrooge-style at anyone who talks about Christmas before Thanksgiving is over, but just remember that we share these things to give you plenty of time to gather inspiration and actually implement them this year!
Plus, I'm really excited for Christmas and I just can't wait to start talking about it!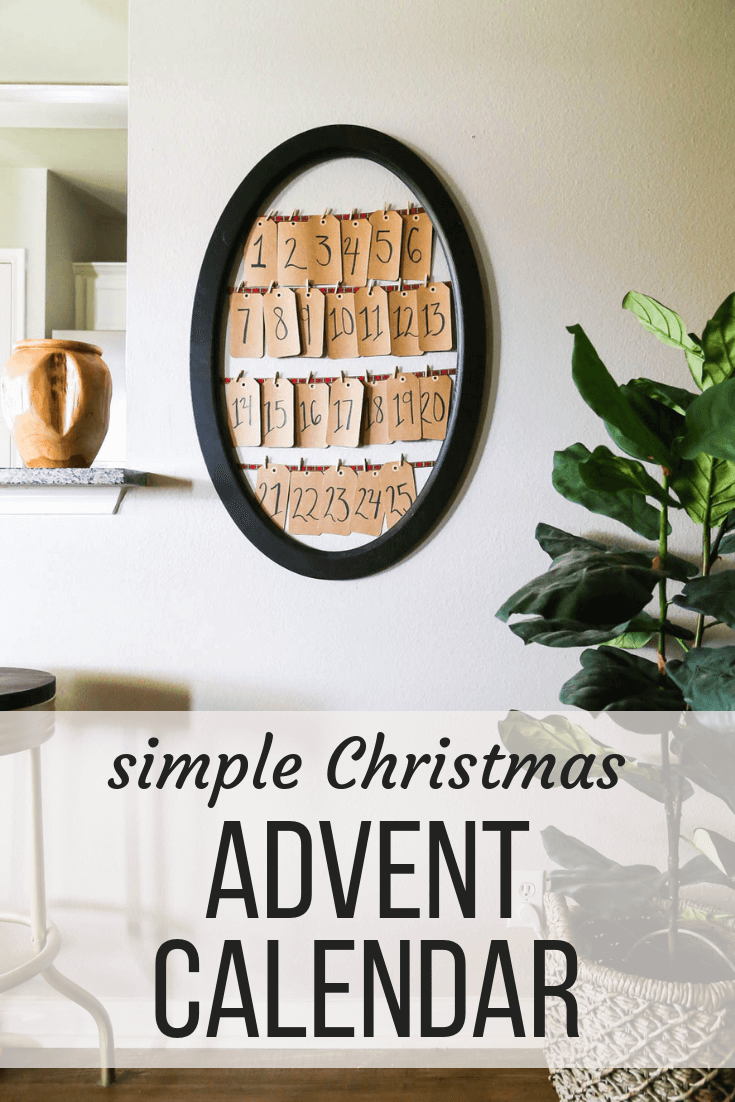 Our Christmas Advent Calendar
If you've been reading here for a while, then you'll know that advent calendars are kind of my thing. I love creating bucket lists for just about every season, but I take my Christmas advent calendar very, very seriously. We've done a lot of different versions of the advent calendar over the years – we tried stringing tiny envelopes up over a window, we went the classic bucket list route, and a couple of years ago we made a super cute advent calendar frame.
This year, we're re-using our frame (because I love the look so much), but I gave it a little refresh. Most of the ribbon had fallen off after being stored in a hot workshop and surviving a move, and the envelopes were looking a bit worse for the wear after two years of use (plus, I was missing number 7 for some strange reason). So, I hit up the craft store for some new supplies to spruce it up, and now it's looking better than ever.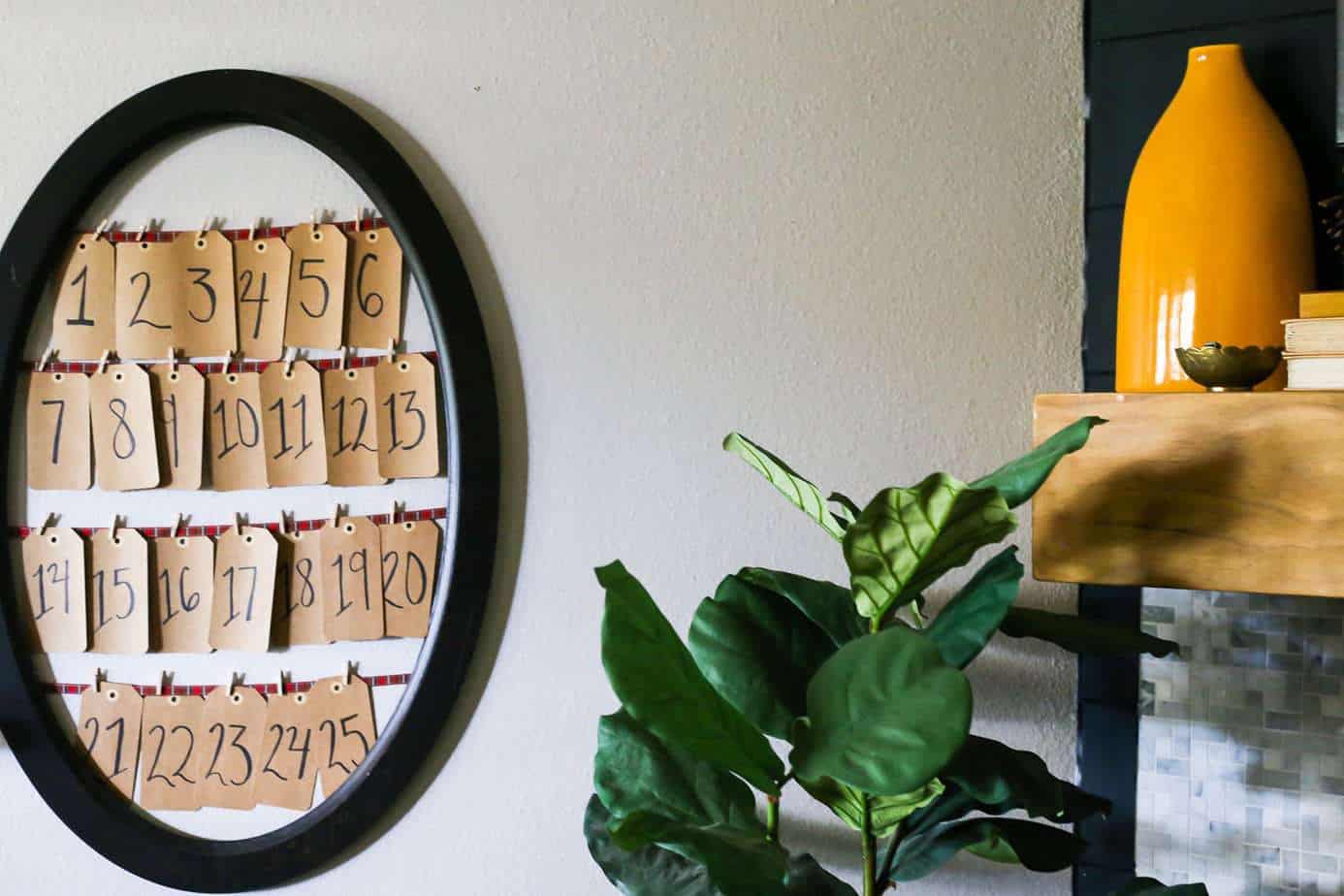 You can read the original tutorial for exactly how I put this together, but basically you just take an empty frame (this is from an old IKEA mirror, but you could grab some ugly art with a nice frame from Goodwill if you don't have anything) and hot glue lines of ribbon to the back. Then, you can use clothespins to attach your cards with your advent activities!
One thing I've learned over the years is that the best strategy with an advent calendar is to keep it as simple as possible. I've tried to use more elaborate methods and go really big with the activities, but we always end up feeling burned out and overwhelmed. I knew it was time to take a step back when we found ourselves feeling obligated to complete the advent activities and not excited to do them. So now, I stick to mostly simple things that are easy to accomplish with just a few bigger activities thrown in.
I don't know why, but for some reason when a little card tells you to stay in your pajamas all day it feels way more exciting than when you just do it on accident.
I've also learned that repeating activities can be a great thing. I'm a huge fan of baking Christmas cookies, so we usually set aside at least 2 or 3 different days to make a couple of batches.
Normally I'd never bake that many cookies all at once, but when it's Christmas you have to.
Santa says.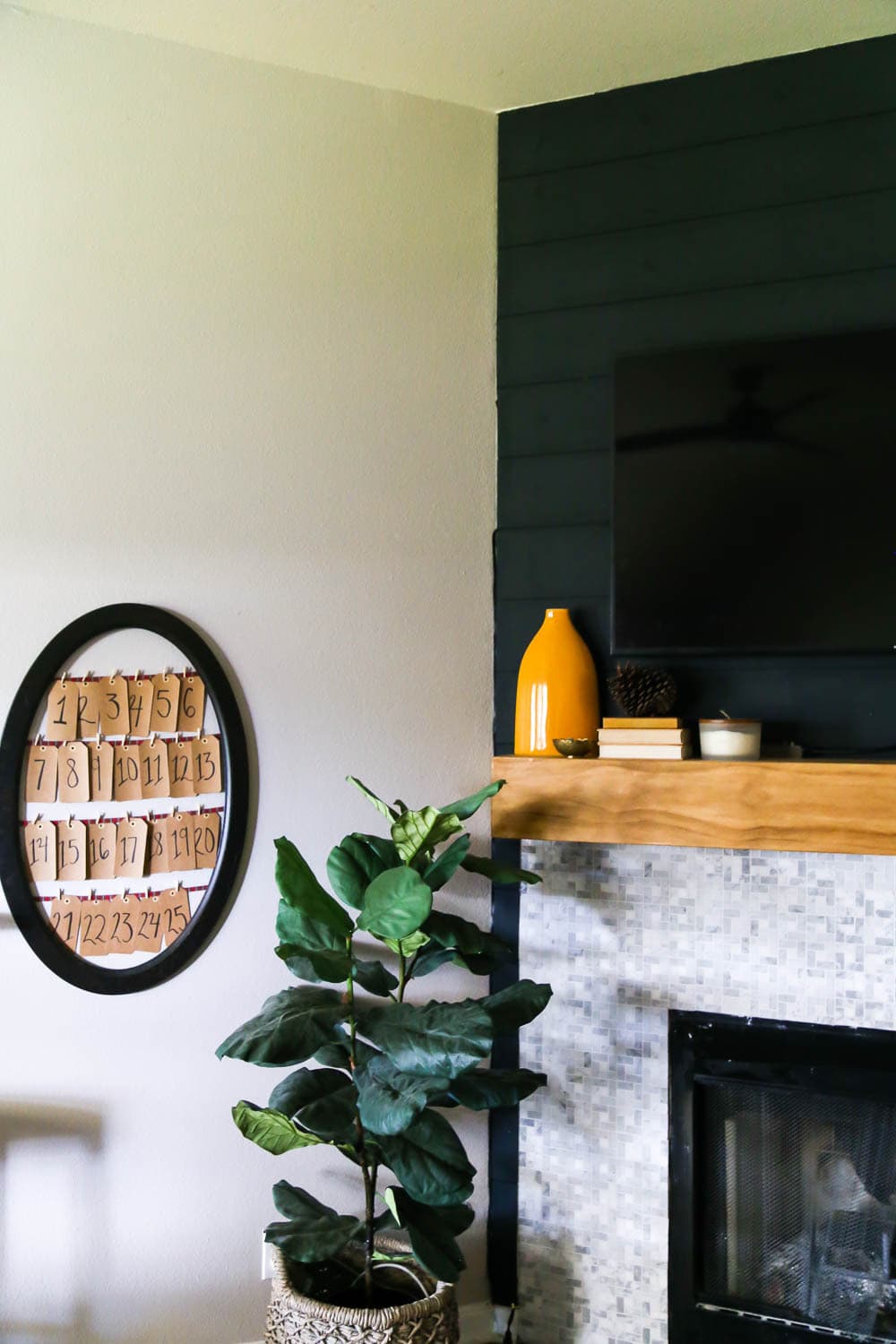 Speaking of Santa, I've found that the advent calendar is also a really fantastic way to stave off the constant "is it Christmas yet" questioning. When Jack starts to complain that Christmas is taking too long to get here or asks how many days left until Christmas, I can just point him to the calendar and he can easily see how many cards are left.
It saves all of us a little sanity because I have a hard enough time containing my own excitement for Christmas. I can't handle the extra tiny person excitement too. It's just too much.
This year, I just used plain ol' tags to act as my advent calendar – one side has the number and the other side has the activity. But, I also created mini cards to slip into small envelopes (which is what I planned to use until I realized my #7 was missing – sometimes you've just gotta pivot!) – they're a little cuter than plain paper and make it all feel a little more special. Since I'm not using them, I decided someone might as well get some use out of them, so keep reading to find out how you can snag a copy!
To keep things organized, I like to write out what activity I have planned for each day on my calendar – every year we end up having unexpected things pop up and we need to re-arrange a few of the days. If I have it on my calendar already, it's easy to figure out how to switch things up at a glance, rather than having to peek inside each envelope to remember what's coming up. Plus, some of the activities require planning ahead (like scheduling a date with my sister for gingerbread houses or buying cookie decorating supplies), so it keeps everything flowing smoothly.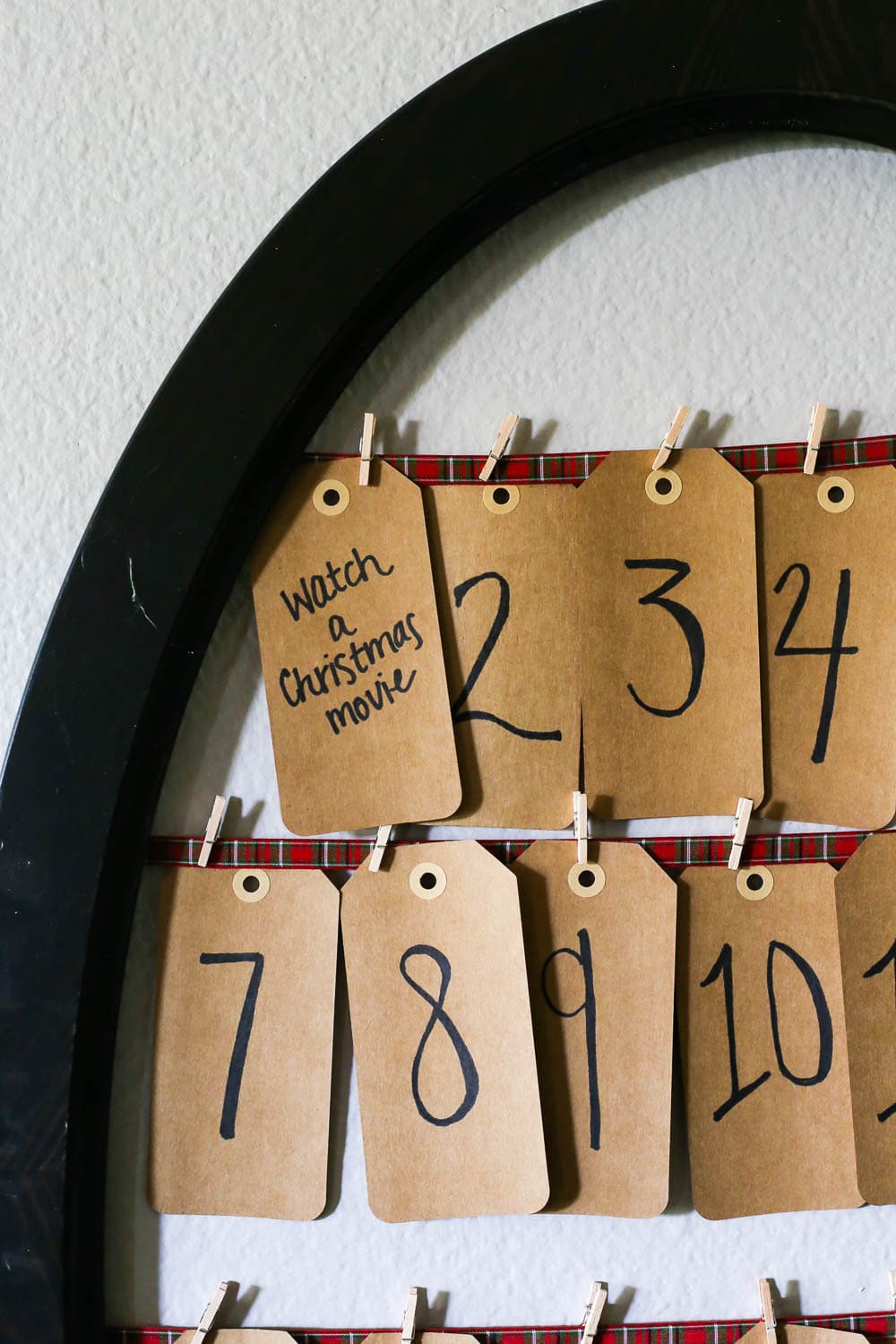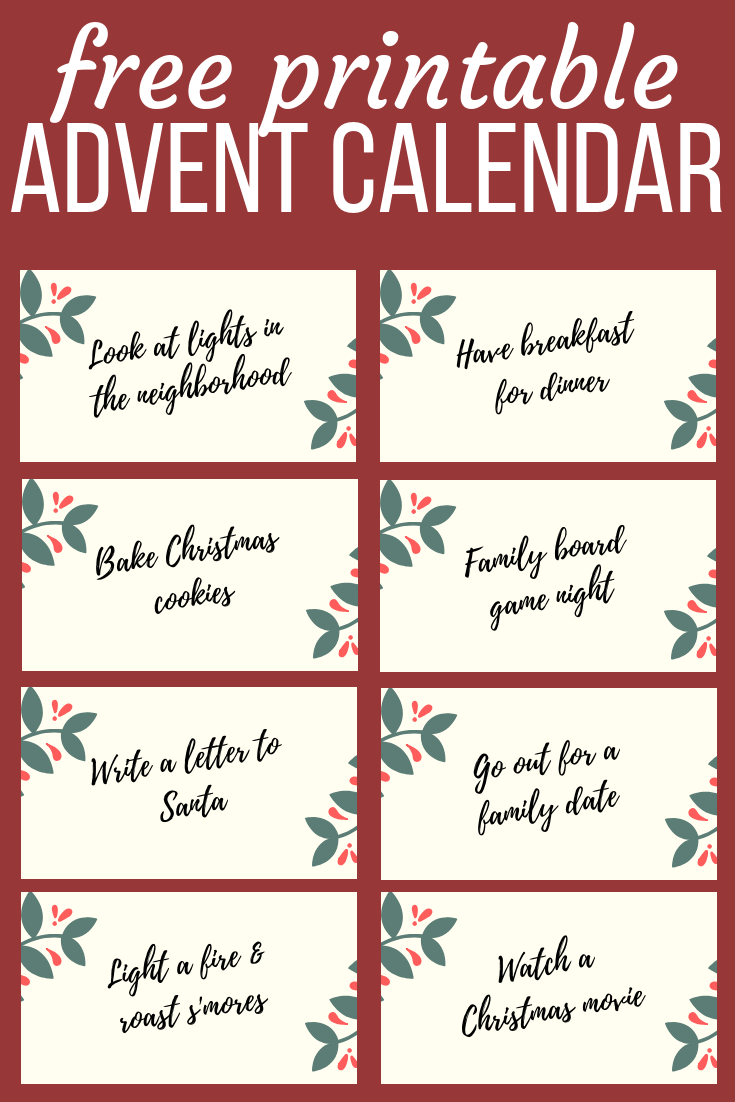 CLICK HERE TO DOWNLOAD THE FREE ADVENT CALENDAR PRINTABLE CARDS.
The cards are 3.5″ X 2″, so they should fit perfectly into mini envelopes. They'll download as a PDF file so you can just print what you want (and a few blank cards are included so you can create your own).
Of course, this isn't the only way to do an advent calendar! If you're wanting even more ideas, here are a few cute ones I've been admiring lately.
10 DIY Advent Calendar Ideas
Oh, and since we're a little (a lot?) crazy about Christmas, we usually also have a toy or candy advent calendar in our house. Here are a few of my favorite store-bought advent calendar options if you want something a little extra!
Fun Advent Calendars

Be sure to let me know if you decide to use our advent calendar printables! I'd love to see what you're doing.