Our small living room has been a challenge to decorate. I've been looking for ideas on what to do with one dead corner, and I finally landed on the perfect solution! See the details here, along with my tips on decorating a small living room.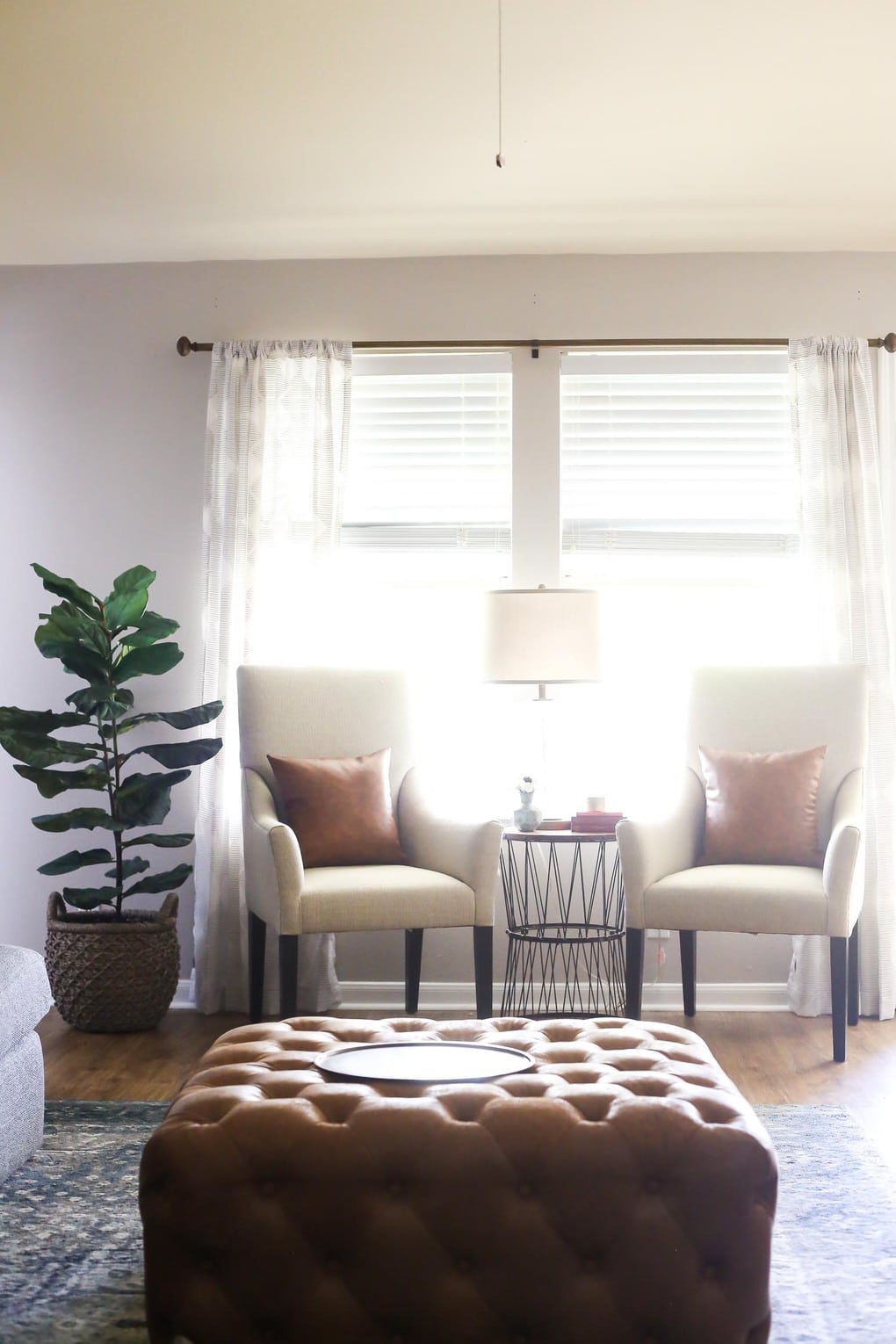 This post is sponsored by Bassett Furniture, but all opinions are 100% mine. Thanks for supporting the brands that support Love & Renovations! 
I am so excited to finally get to reveal a little living room update that I've been working on lately. Over the last few months, I have talked a lot about this one awkward side of our living room and how difficult it is to work with. Maybe I'm just whiny, but it's been quite a challenge to figure out exactly what we wanted to do in this space, and the process of narrowing down our options has been driving me a little nutty. Thankfully, my new friends at Bassett Furniture came to the rescue and now I can't stop swooning every time I see that side of the room.
And really, going from cringing to swooning with just a few small tweaks is something worth celebrating, no?
If you've been following along on this ridiculous saga so far, then you'll know that we've debated quite a few options for what to put on this side of our living room. Most recently, we thought we were totally settled on adding a stylish recliner to this wall and calling it a day, but something about that plan always held us back. Our living room is small and there really isn't room for someone to comfortably recline in a chair and also have other people, you know, move around them.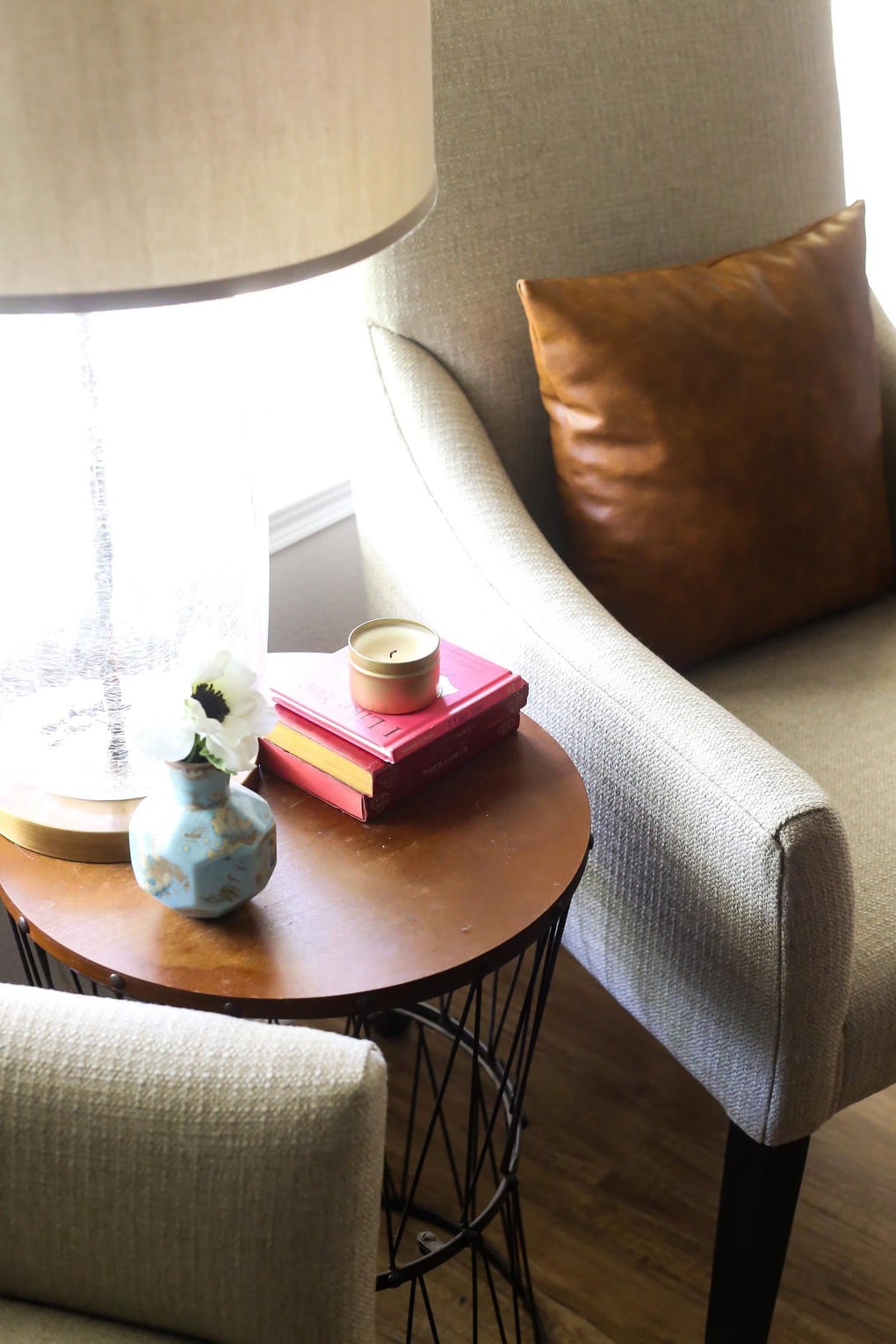 So, when these Austen Upholstered Arm Chairs from the new MODERN Collection at Bassett landed on our doorstep and we slipped them into place, it was like the heavens opened up and the angels started singing. Not only do they fit perfectly in the space, they look so good. What I love so much about these chairs and the MODERN Collection in general is that it really seamlessly blends modern, clean lines with a more luxe and glam feel – I love a super plush and cozy chair, but oftentimes the more elegant furniture can just feel stuffy in our mostly-casual home. These chairs walk the perfect line between the two styles and they blend right in with the rest of our decor.
We also added some Thompson Table Lamps to the room (note: these are only sold in-stores for now) – I'll be honest, I'm normally a cheap-o lamp girl, but I think these lamps may have converted me forever. The base of the lamp is made of a gorgeous crackled glass, and the brass accents make me a little weak in the knees. But, since we're all about keeping it casual around here, I love that the pretty linen shade keeps things from feeling too formal. A pair of these in our living room instantly elevated the entire space a few notches and made it feel just a bit more grown-up and put-together.
And in my hot-mess-pregnant-lady state, I need all the help I can get at looking put together. You know what I mean?!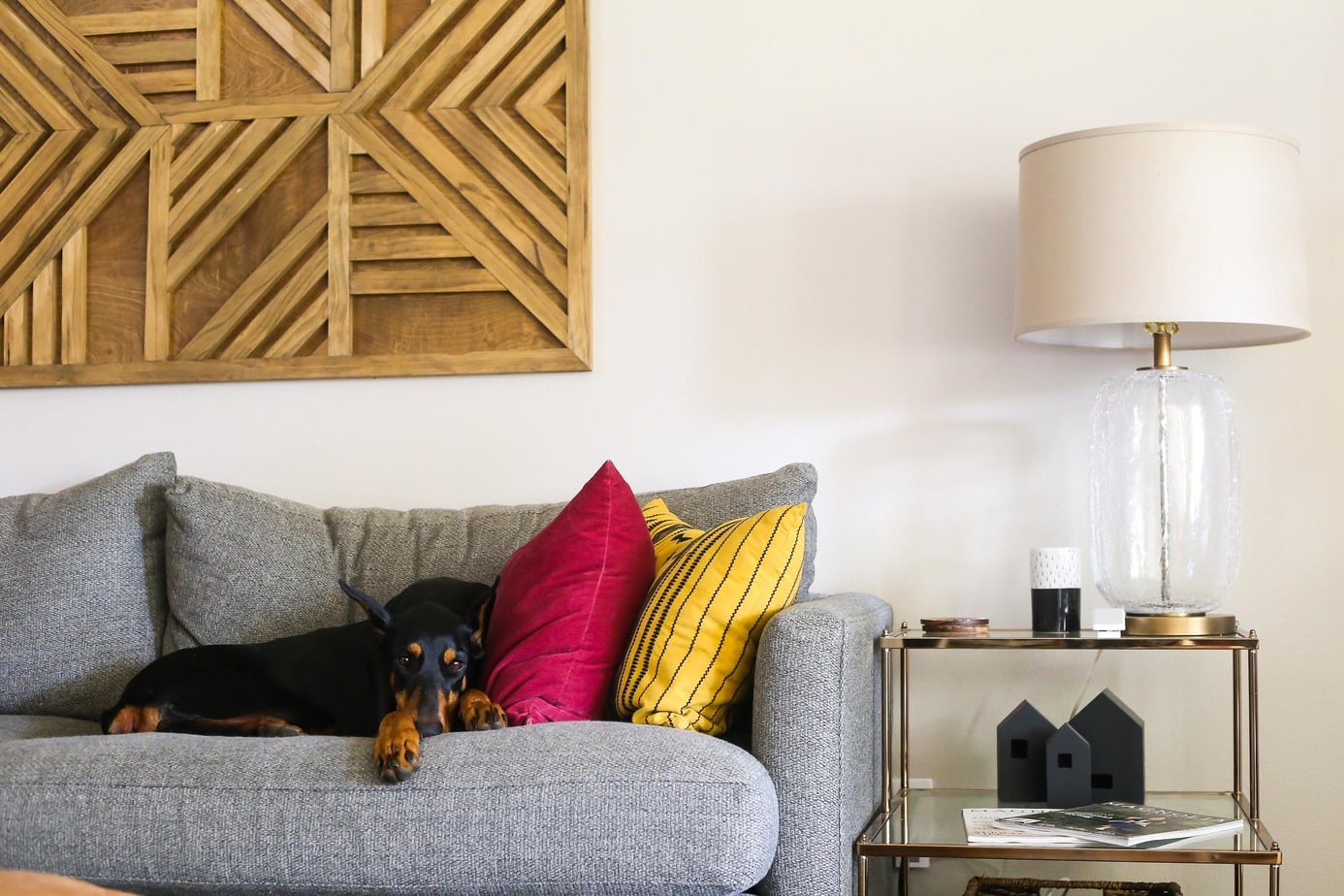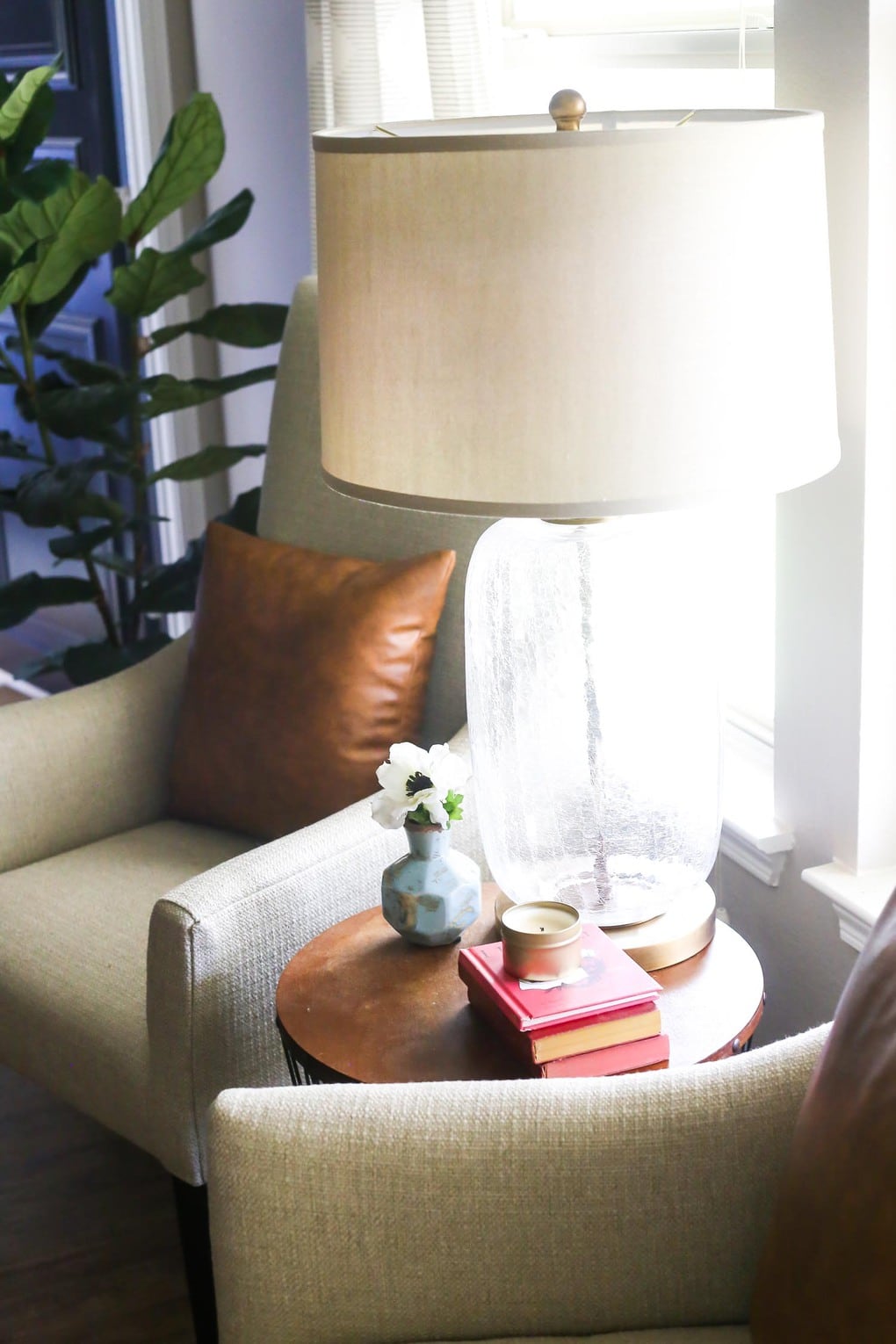 It's impossible to capture it on camera, but each night when the sun starts to go down I love to flip both of these lamps on and just sit and bask in the warm glow of our cozy little living room. It finally feels much closer to complete with the addition of these chairs, and it's really making me feel a bit more motivated to get going with the rest of our to-dos in here.
Before I go, I wanted to share a few quick small living room ideas to help you if you're struggling with decorating an awkward space in your home. I know it can feel so frustrating to stare at what feels like a too-small room and wonder how you'll ever make it look good, but I promise you can do it!
Tips for a Decorating Small Living Room 
Think outside the box! These chairs are technically dining chairs and I would never have thought to try them out in this space until I actually saw them in my home. They're perfect for a small living room because they're smaller than typical arm chairs would be but they don't look all that much like dining chairs when you don't have them pushed under a table.
Pay attention to details. When you are working with a tiny space, you need to make every inch count. Think about the functionality and design of every part of the room to help ensure the space feels finished and not cluttered. Add too much and it'll make the room feel even smaller, but if you don't decorate enough, then it can highlight the fact that the room just isn't big enough to hold more! It's a hard balance to strike, but you'll know when you find it.
Don't shy away from large-scale objects. The Thompson side lamps are significantly larger than most other lamps we've owned, but they really work in the space. Sometimes having a larger object within a small room can make actually the space feel a bit bigger – but use this tip sparingly! If you use all oversized furniture and accessories, the room will just feel too full.
Think about how you use the space. We love to entertain and want to be sure that we always have ample seating in our home. Before we added these chairs, the only real place for seating in our living room was the sofa – which meant that when we had people over, people often ended up either on the floor or pulling in chairs from the dining room. It's not a huge issue, but when you're designing a room you always want to make sure it works for you and your family. If we weren't big on entertaining, we probably would have figured out a different solution for this space that would serve a different function – it's all about what your family needs and what will make your life a little bit better!
Lamps and greenery are your best friends. If you have a small living room that is full of furniture but still feels unfinished, ask yourself if you could add some lamps or some plants. We added both to this room with our little refresh, and I can't even begin to tell you how much of a difference they made in helping this room feel more put together.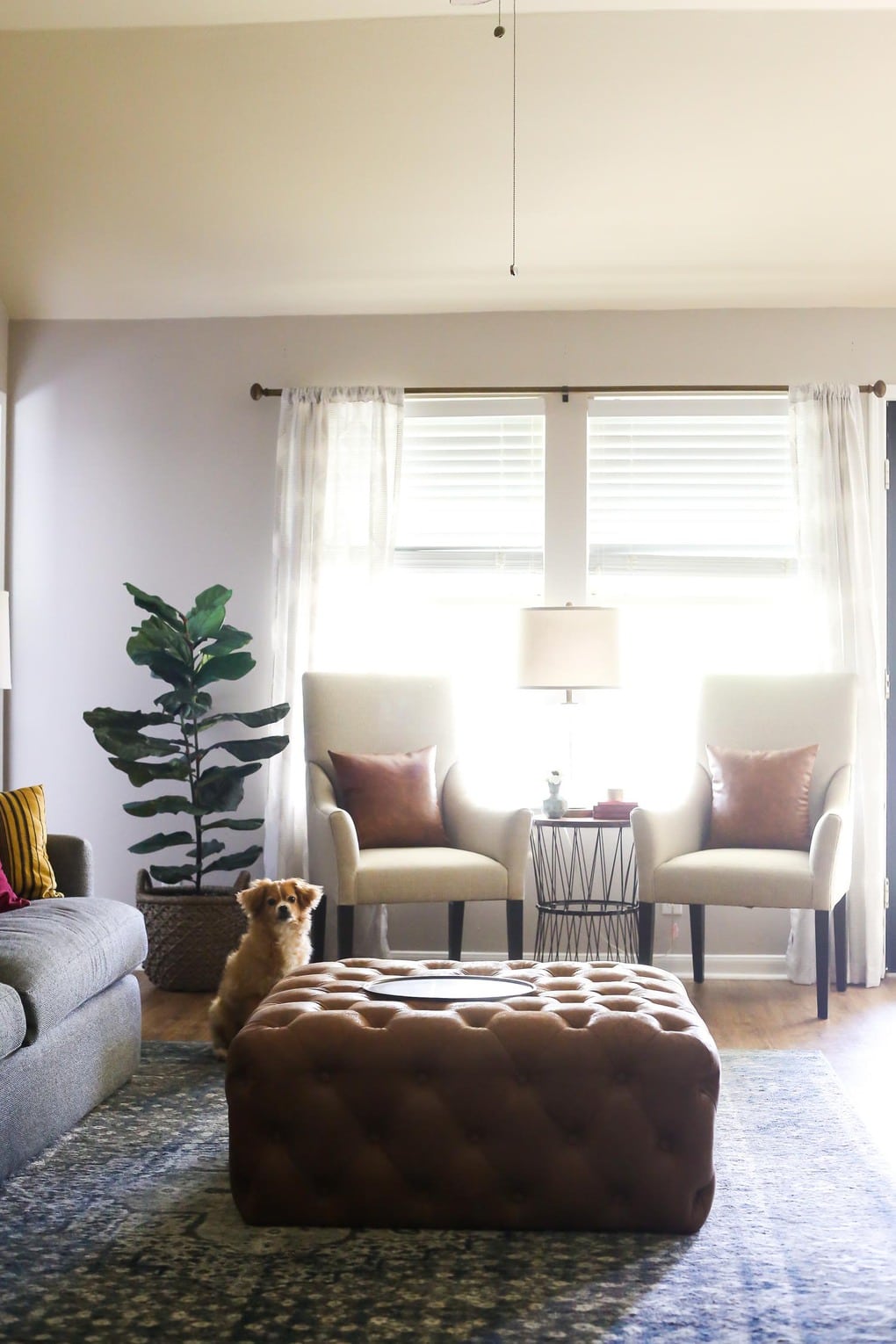 Be sure to check out Bassett's new MODERN Collection if you're in the market for some new furniture and want to invest in something that will stay with your family for a long time. And, as a bonus, if you're struggling to design a room you can book an appointment online with a professional designer for an in-store consultation to help you figure out how to solve the design dilemmas you have in your space.
Looking for more decorating tips and ideas? I've got you covered!
–  How to Fill that Awkward Corner in Your Home
– Designing a Room From Scratch (Part 1: Making a Plan)
– Designing a Room From Scratch (Part 2: Making a Mood Board)
– Ideas for a Gorgeous Entryway