This week, on Instagram stories, I've been working on organizing my garage and adding some cabinetry so that we can move our board games out there. It's kind of an out-of-the-box storage system for board games, but it has worked well for us in past houses so we're sticking with it! I got a flood of people asking "what are your top five board games?" and "what are your favorite board games for two players?", so I figured it was high time I did an updated post with a few of our favorites!
We love game nights for at home dates because it's a great way to connect and do something different that isn't just sitting on the couch watching television. Game nights are kind of magic for allowing us to connect, laugh, and have the best night even if it's just a random Tuesday.
Corey and I love to play board games and over the years we've amassed quite the collection. We've learned a ton about the kinds of games we like (and don't like) and you'll almost never find something as simple as Monopoly or Life on our table for game night.
So, let's jump right into the recommendations – I opened up questions on Instagram and got questions on a variety of topics, so we're going to cover a lot of ground today. Buckle up and get ready to hear all about the best board games we've got, with a special focus on the best two-player board games!
My Top 5 Board Games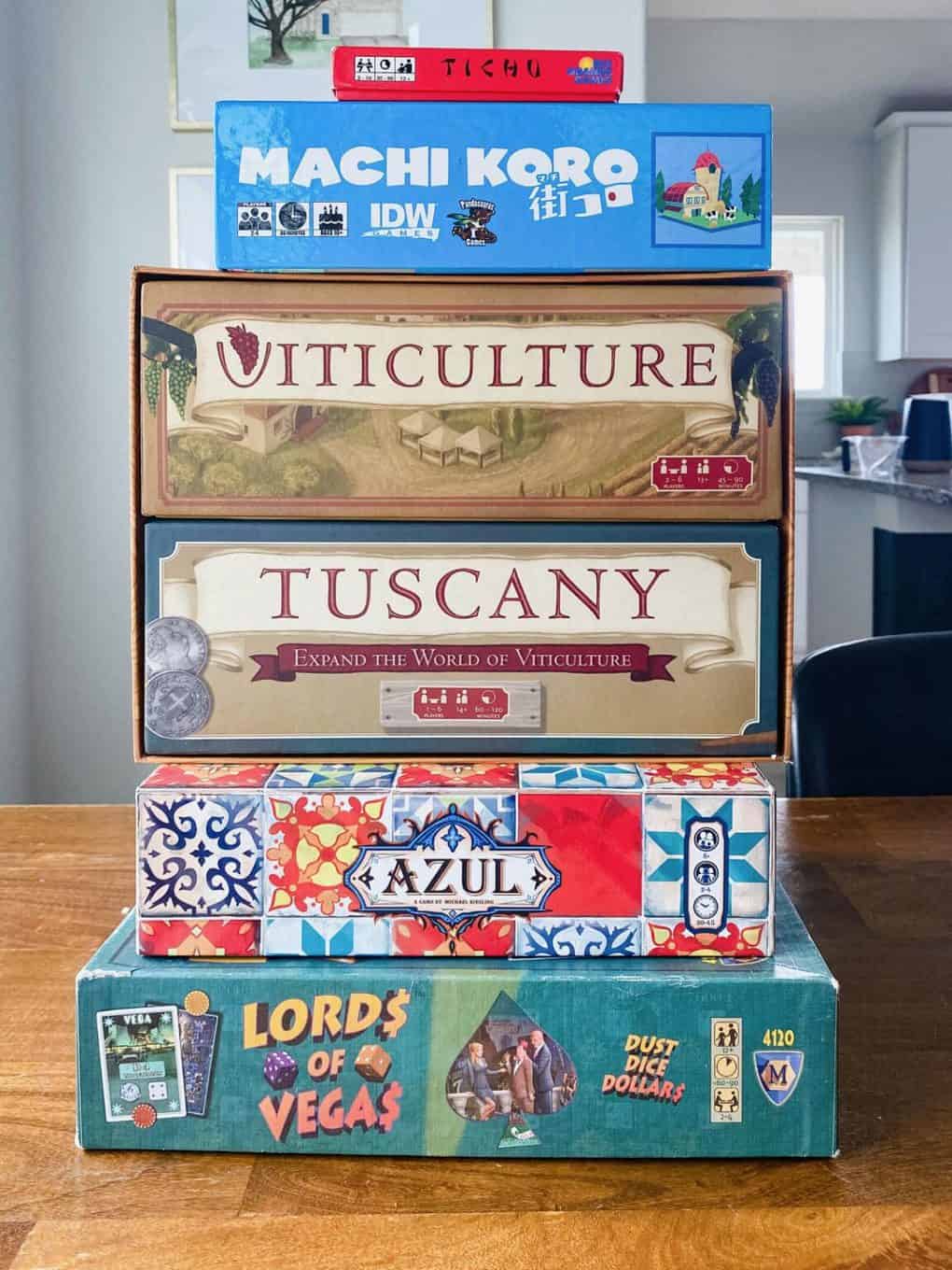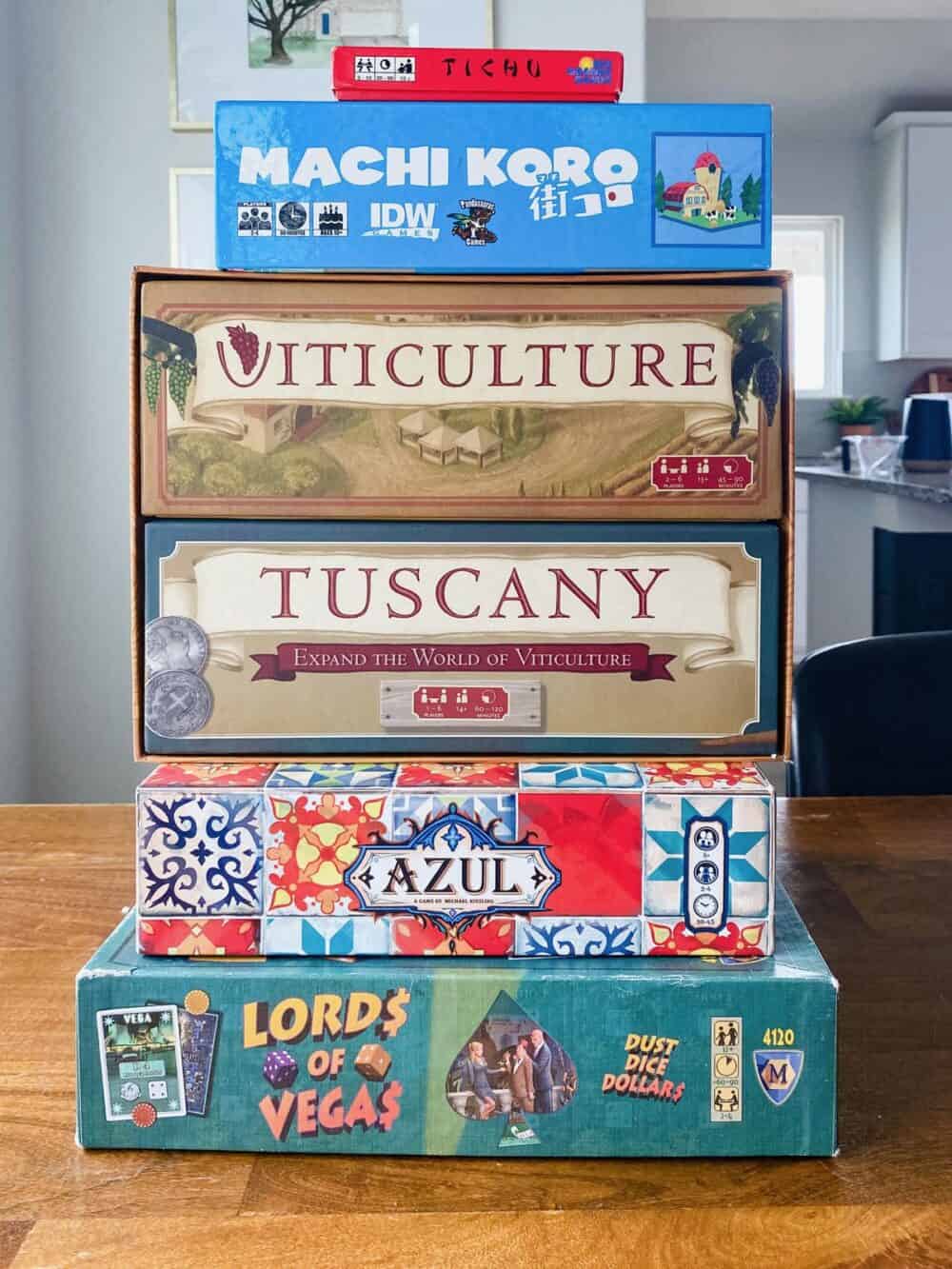 Let's start with the most asked question I got – what are my top board games? Picking a list of favorite games when you love as many as I do is hard, but I'll do my best to narrow it down. All of these games could easily be repeated in other categories (like two player games or games for the kids), but I'll do my best to not repeat games so you can get the widest variety of recommendations possible!
Viticulture. Corey and I would both agree this is our favorite board game of all time. I'd consider it a "heavy" game (meaning, it requires a fair amount of strategy and takes 1-2 hours to play), and it's one we pull out often for date night. In this game you're working to build the best winery, and you have to hire and train a crew, harvest the grapes, and make (and age) the wine! It's good for just two players or for more, and there are lots of expansions you can purchase which means you're pretty much guaranteed to never get tired of it!
Lords of Vegas (Sold out, will add a link when I can!). Think Monopoly but so much better. In this game, you play casino bosses trying to build out the Las Vegas strip – it's all about getting the best lots, building the biggest casinos, and making wise trades when you can. This game can get really cutthroat in our house and has been known to cause a fight or two. What can I say? I'm a tad competitive.
Tichu. This trick-taking game is so great for four players and is hiiiiigh on my list of favorites. This game is very similar to Spades or Hearts (or any other game that's played in tricks), but way (WAY!) better. The first time you read the directions, you'll be very confused and maybe a little frustrated. Just give it a shot anyways and you'll get the hang of it pretty quickly. My parents love this game and they don't like to play complex games, so I promise it's good for everyone once you wrap your head around the rules!
Azul. In this game you're working to collect tiles to fill in your board in a way that gives you the most possible points – it's fast to learn but the strategy takes a lot of finesse and I never get tired of playing with it! It's one that's great for two players but is also fun if you have up to four!
Machi Koro. I don't generally recommend expansions for games until you've played a game a lot, but this is one that I'd highly recommend you start with the game PLUS the expansion because it makes the game a lot better. If you have a group (or a partner) that you know you can play with a lot, the Legacy version is also really fun, and is our preferred way to play these days. You build up tiny towns that. expand as you go, and with the Legacy version you can let your town grow even bigger and better over multiple plays!
Favorite two-player games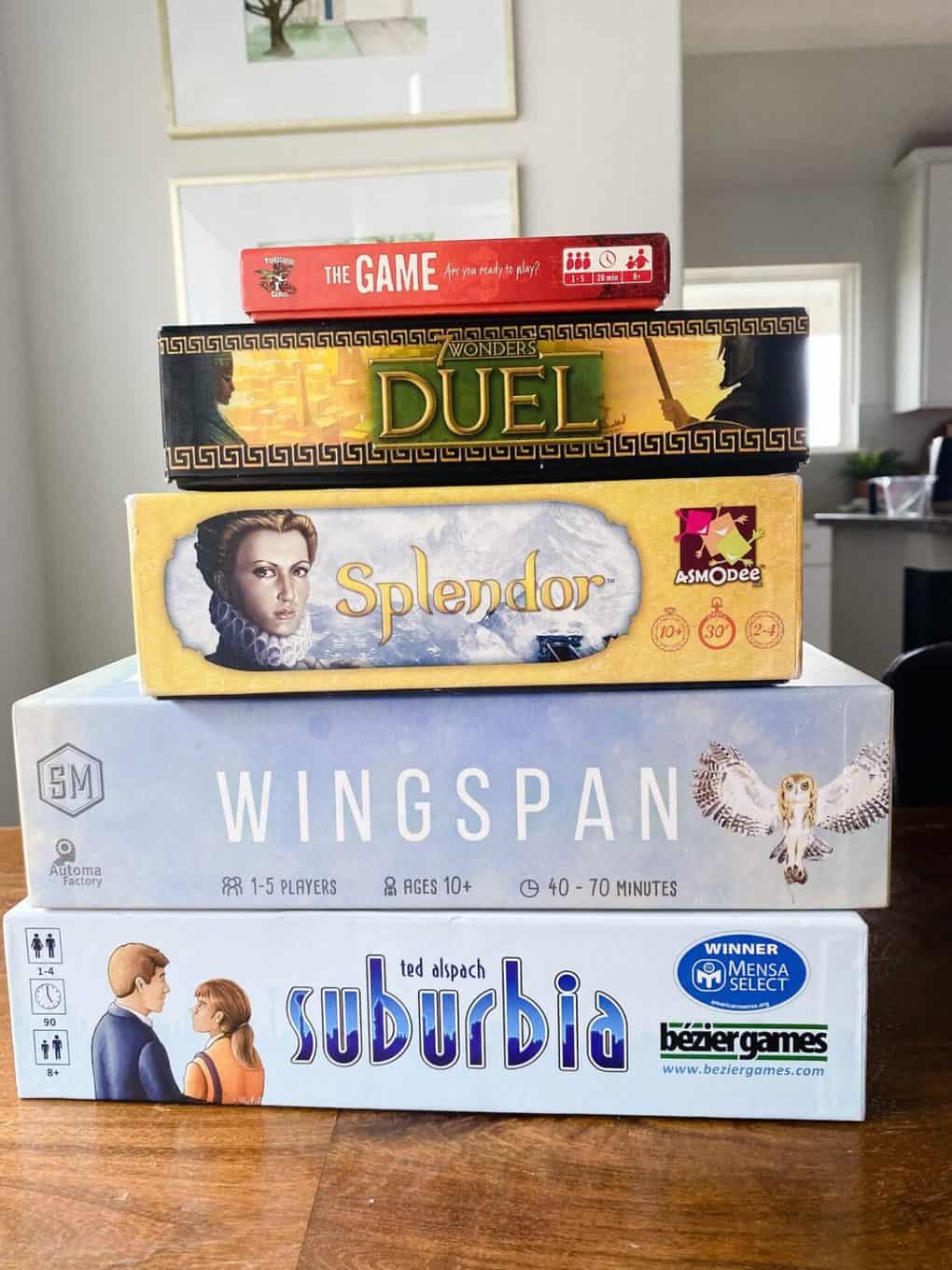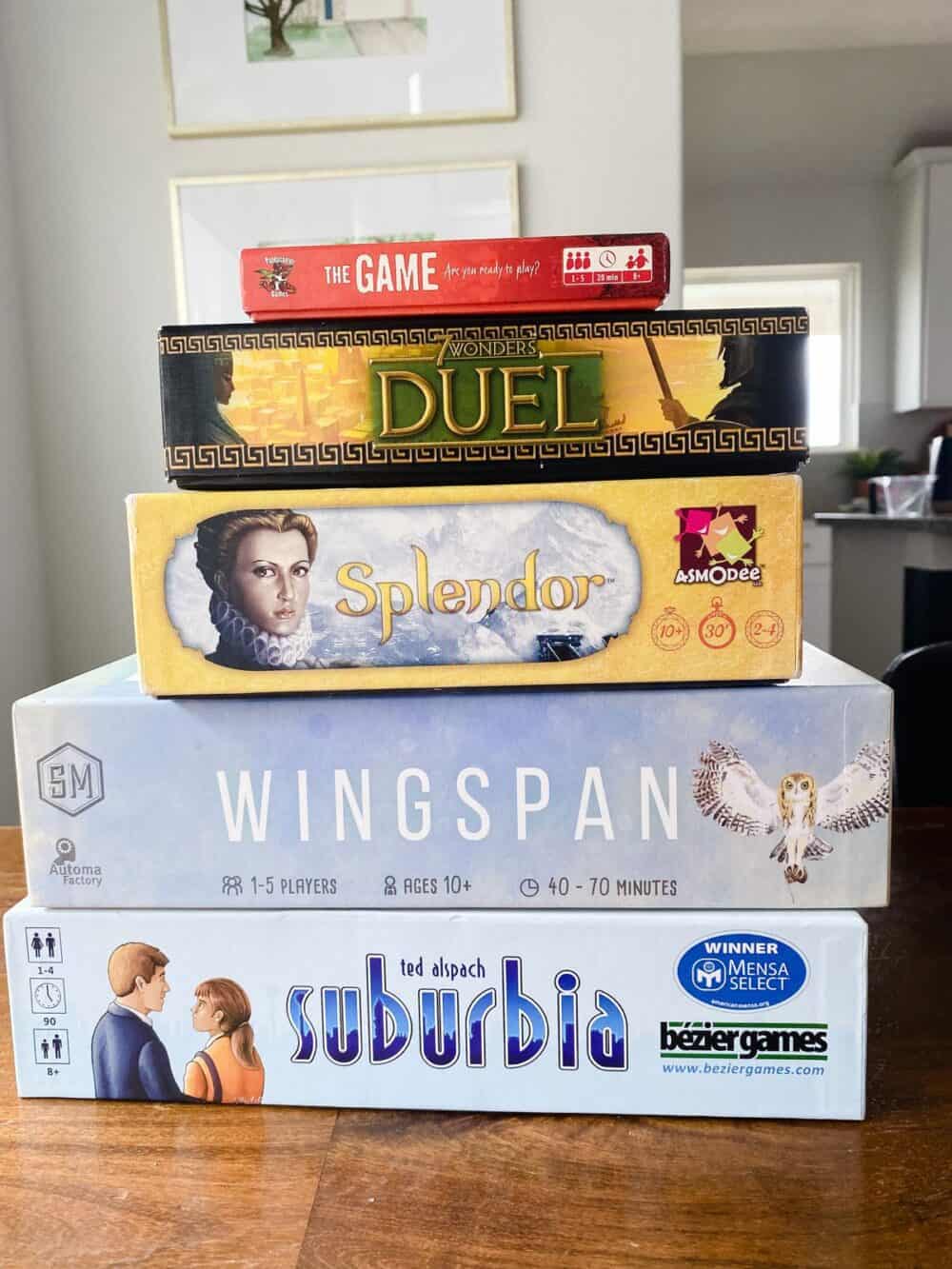 Many of the games I mentioned above are ones that can easily be played with two people (because that's how we play games most often!), but here are a few more that are regulars for us on date night in our house (and, of course, most of these can also be played with more than two players as well!).
A few other games that are really well-reviewed for two players (but aren't necessarily our personal favorites) are:
Board Games the Kids Can Play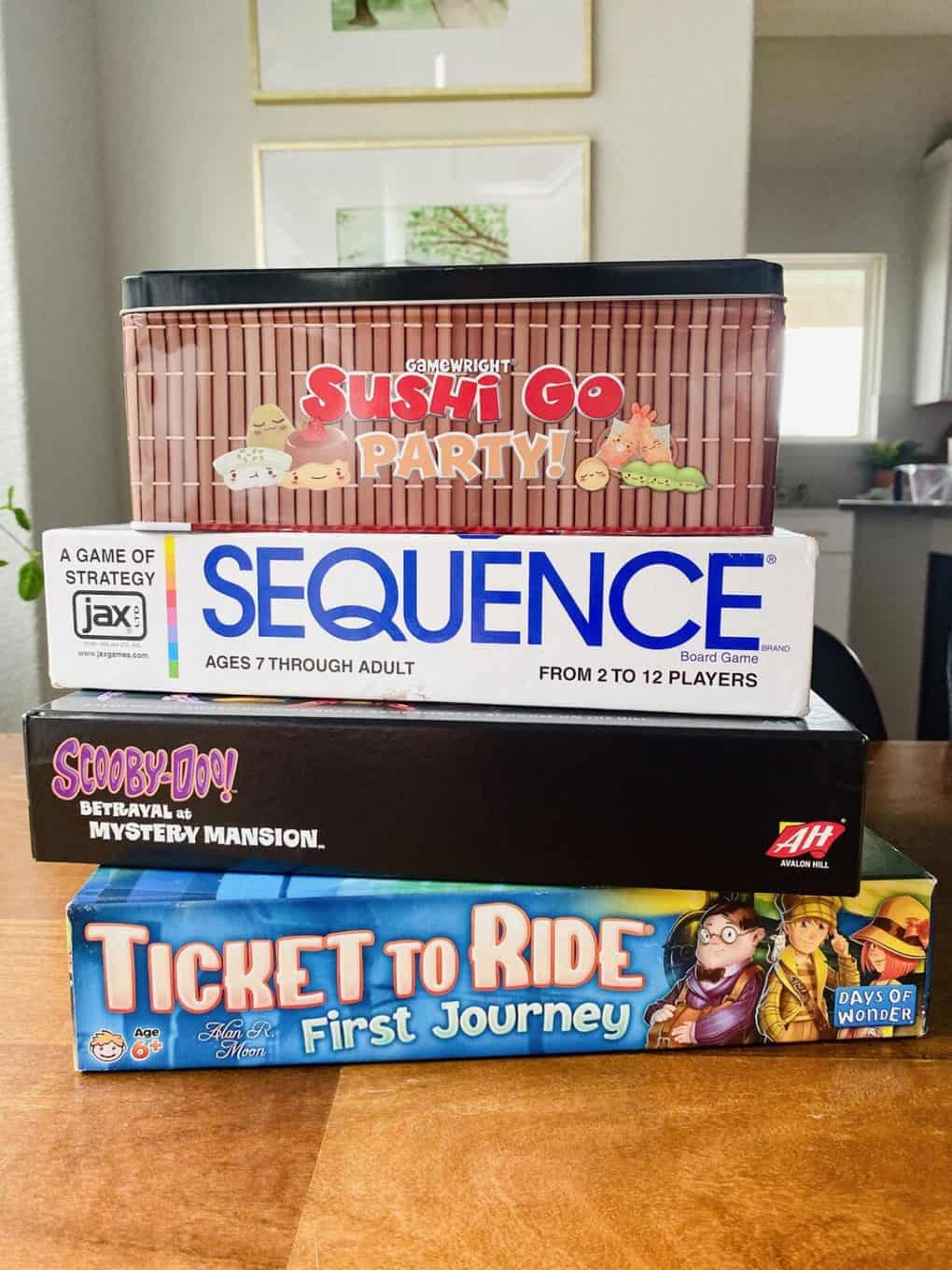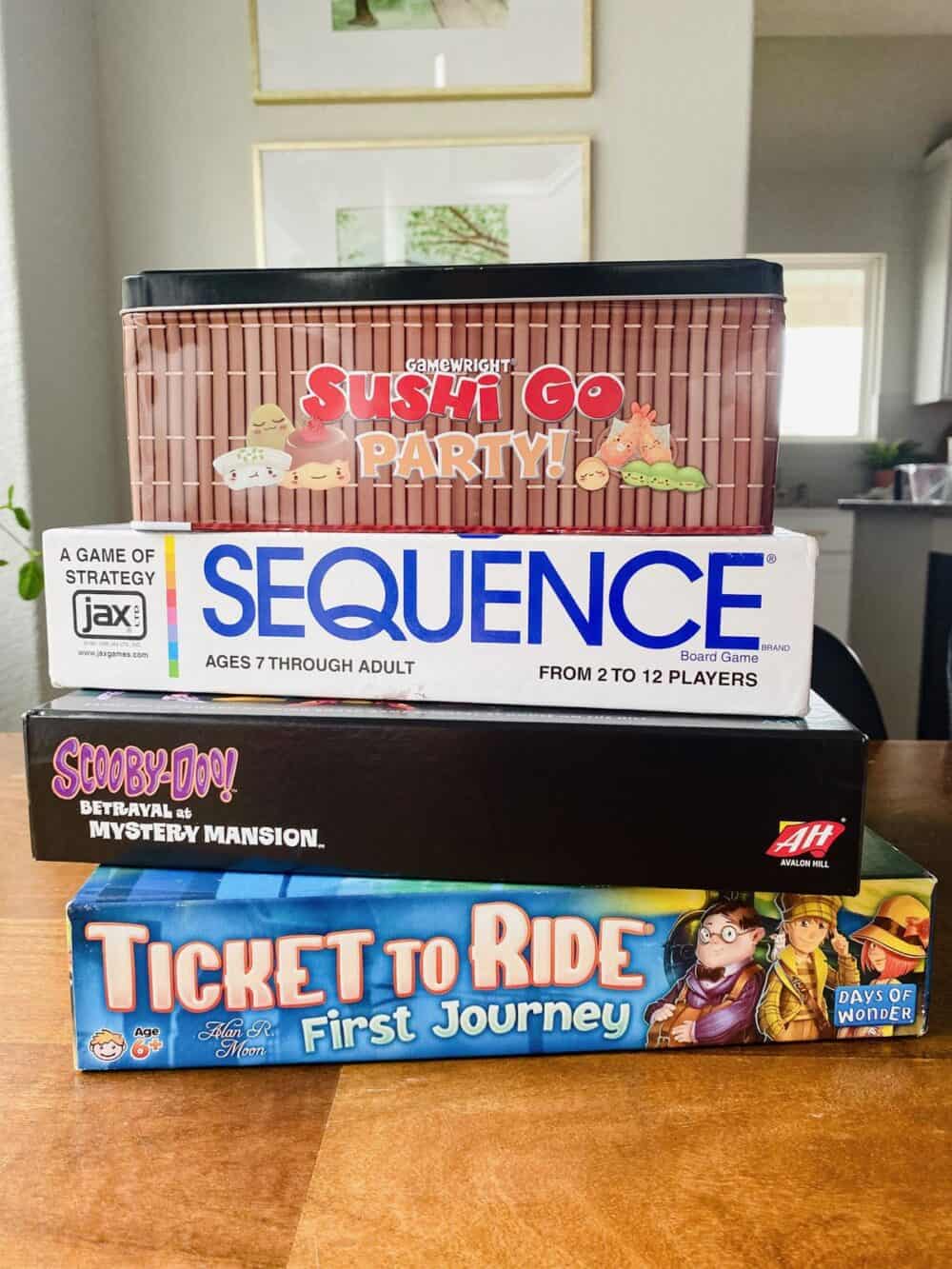 Jackson is 7 and has gotten really into playing board games with us lately. We're finally reaching the stage where he can handle some "adult" games and not strictly kid versions, which we're loving. But, kid games aren't all bad, so I'm including a couple of grown-up games that he can handle, along with a few kid versions of games that Corey and I really enjoy as well.
And, I'll also include a few bonus games for even younger kids – because you don't have to wait until they're this big to start board games!
A few more recommendations: Uno and Skip-Bo are classics, and Jackson is slowly starting to get the hang of Rummikub as well! As for the littles, Here Fishy Fishy and First Orchard are two favorites in our house for Grant – and I've got Dragon's Breath on my list of games to try when he's a tad older!
Big Game Night Games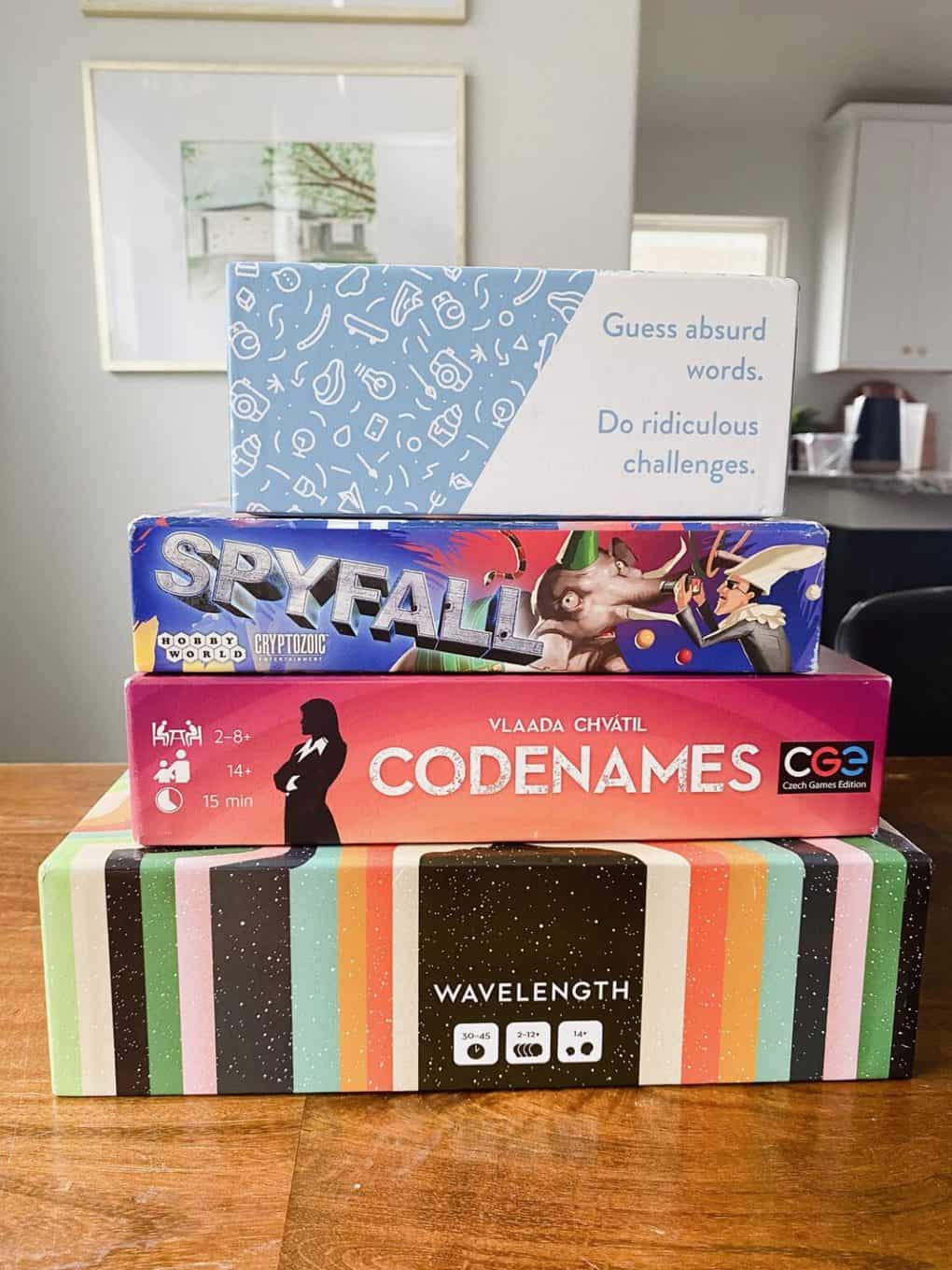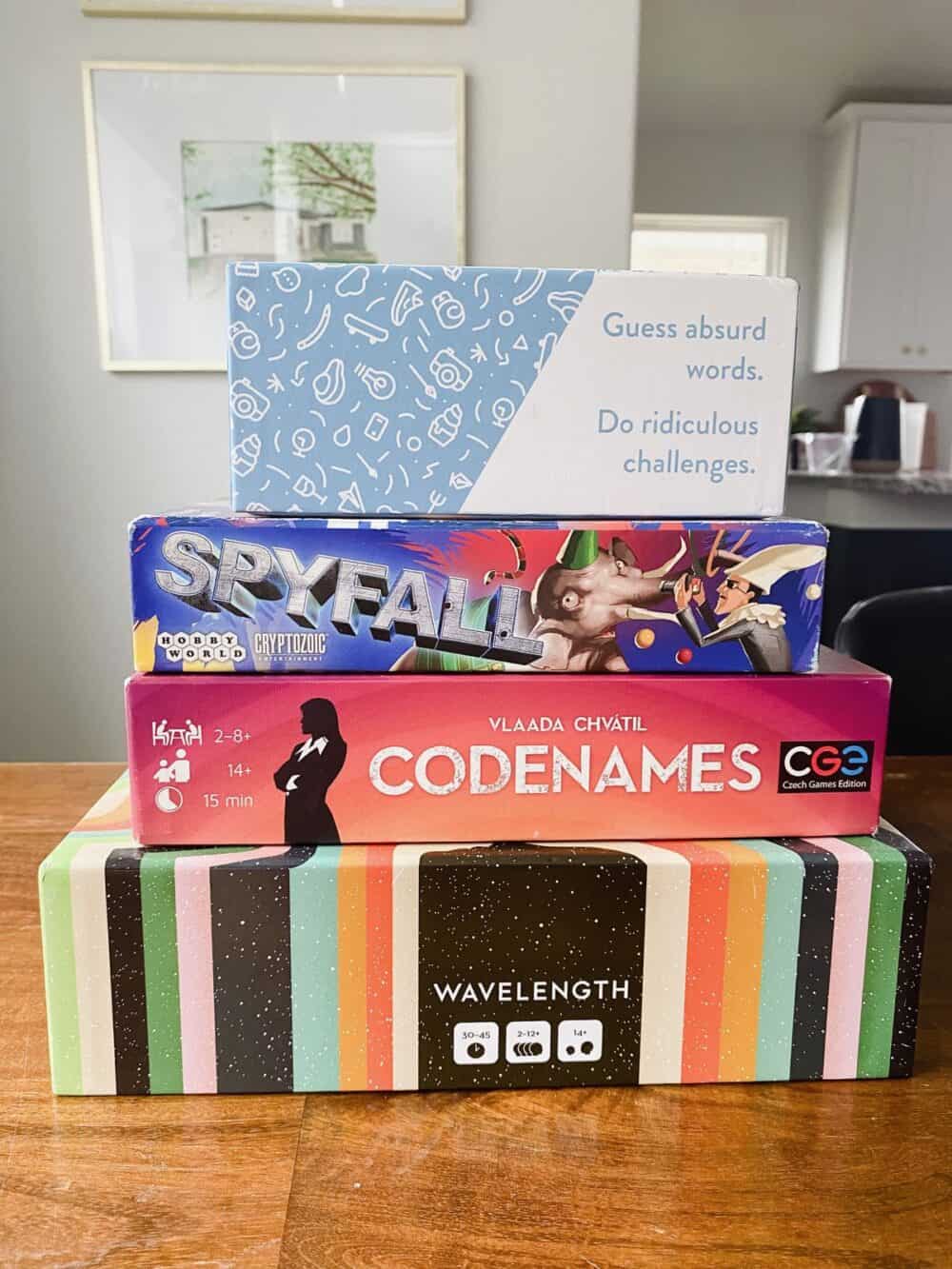 It's been a while since we've hosted a large game night for a group of friends (since, I don't know, March of 2020?!), but we used to have a big monthly game night that was always a huge hit. It can be hard to find good games for 8+ players, but we've found a collection of really great games that are always crowd pleasers.
The best "heavy" board games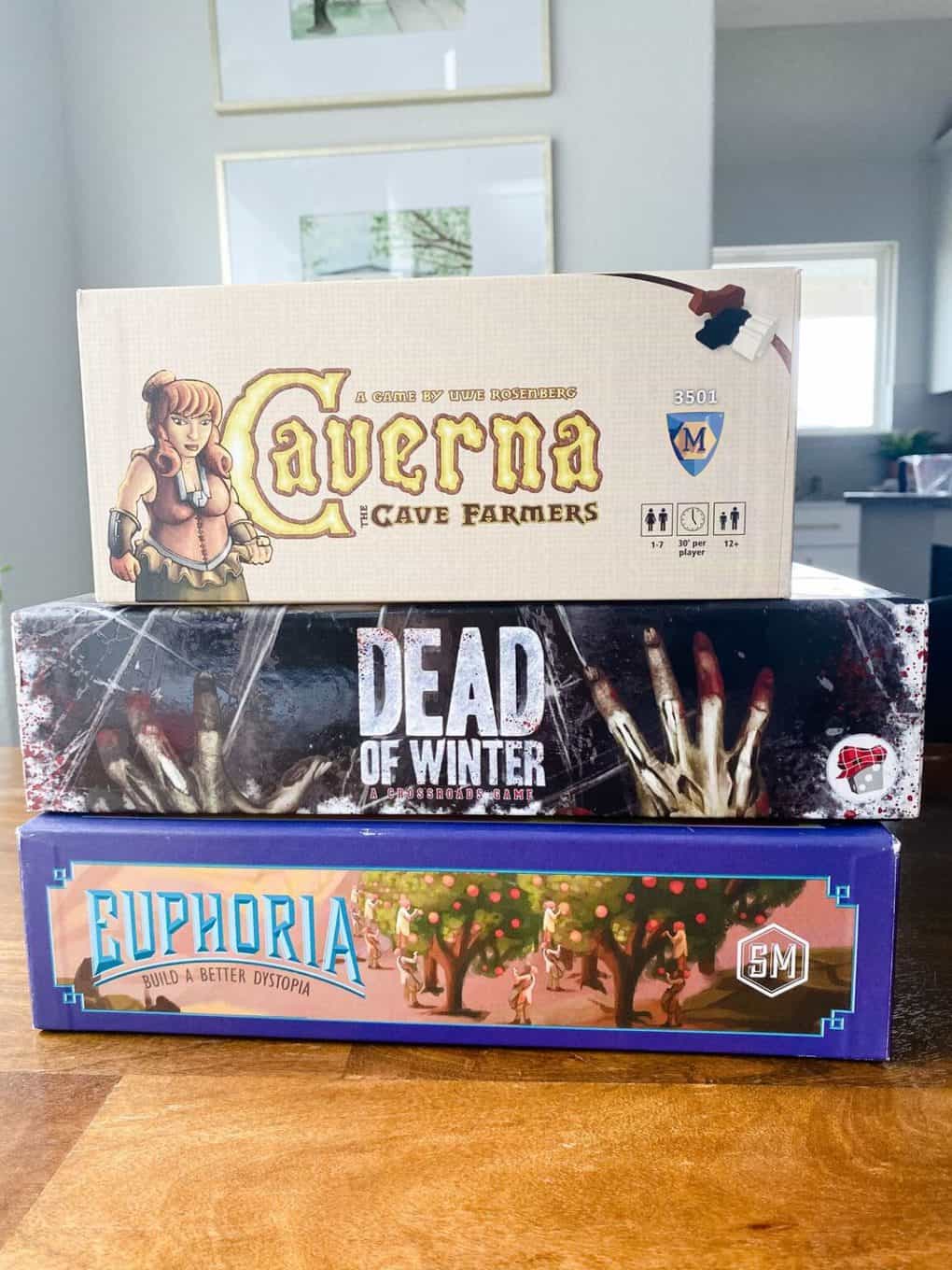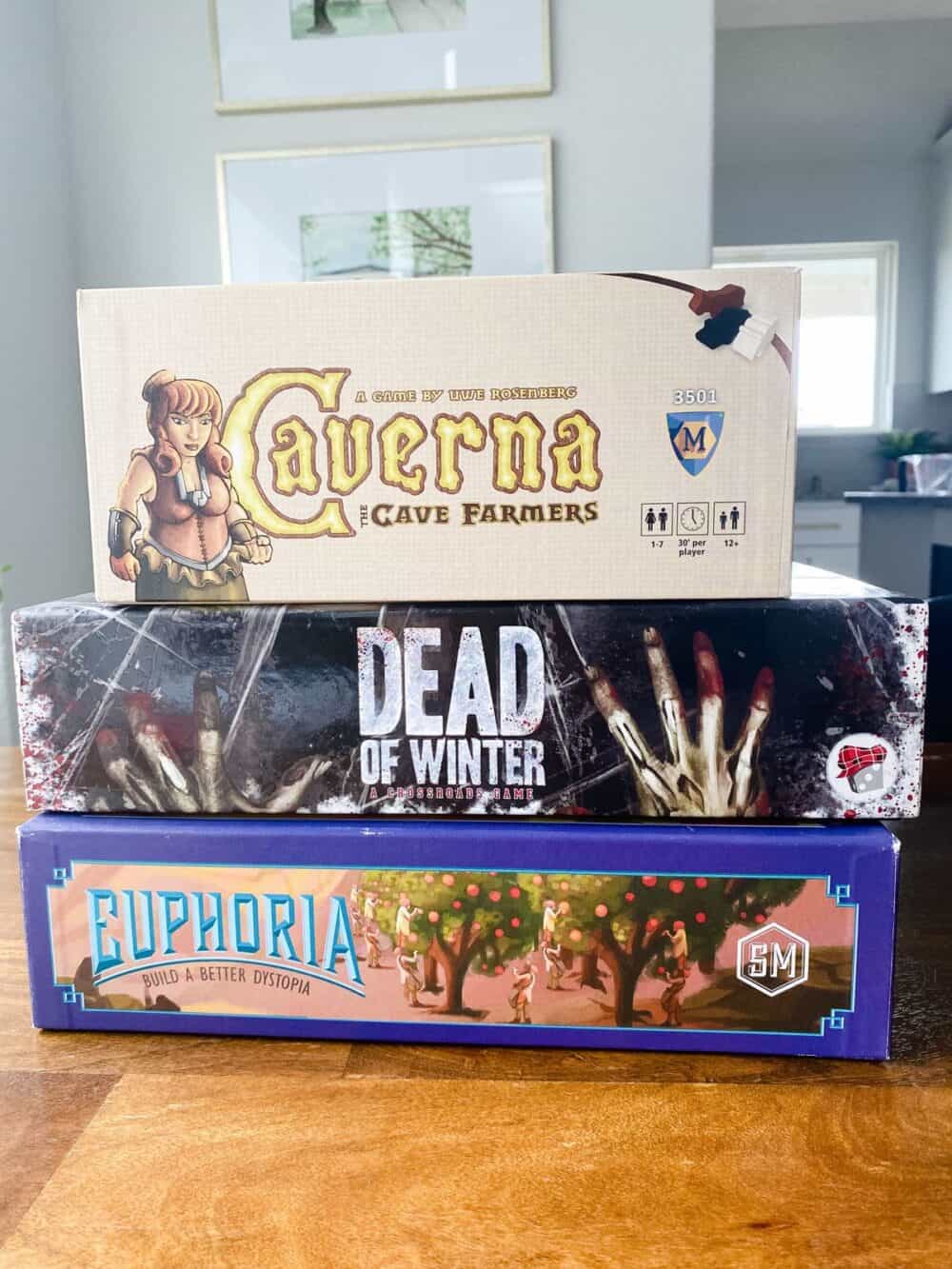 We don't play big, heavy games quite as much as we used to because it can be hard to find the time these days, but there's not much I love more than a big, strategy-heavy games that takes a few hours to get through! This category covers games that will take you more than an hour to play, and that require a lot of strategy. These are going to be best for people who have played a fair amount of lighter games first, but beginners could easily play any of them if you're willing to go through the learning curve!
Other Board Game Recommendations
I've written a lot of posts about board games over the years! You'll see some repeat games on these lists, but you'll also find some that don't appear in any of the lists above!