Board games are a great way to bond with your family, and perfect for a night with friends! We love playing games with our friends and I wanted to round up a few of the very best cooperative board games! 
If you've been reading here for any length of time, you've probably heard me chat about board games before. I love to share the board games that Corey and I are playing and share some of my favorite recommendations with you, and today I'm back with a list of our favorite cooperative board games.
What's a cooperative board game, you ask? It's a game where instead of playing against each other, everyone playing the game works as a team. It's great for groups that get overly competitive because either everyone wins or everyone loses – there's usually no one winner who can gloat over everyone else. Some of the games I've listed below are only partially collaborative – a couple of them have one person working against everyone else, or one person leading the game while everyone else works together. We really love this style of game as it always adds a really fun twist on our board game nights, and it's a fun way to play games that a lot of people aren't familiar with.
If you're not familiar with board games or my obsession with them, you might be side-eyeing me right now – why are we talking about board games on a home decor blog? Let me explain – I believe that making your home beautiful is important, but I believe it's even more important to enjoy the time you spend in it with the people you love the most. I'm all about making your home feel cozy and relaxing, and I love to share ways that we make the most of our time at home.
Corey and I are really into playing board games – we love to play on at-home date nights or when we have friends over, and as I've begun to share some of our favorite games I've learned that a lot of you are really avid board gamers too! I love hearing your recommendations and sharing the new games that we're playing, and I love when I have someone tell me that they're trying a new game because I suggested it. Especially those of you who don't normally play board games!
Basically, my mission in life might be to teach you that you don't have to be a pro to make your home beautiful but my other mission in life is to turn the entire world into board gamers. So that's what we're working on here.
Just try it. I promise you won't regret it.
Need more board game recommendations? Try these posts: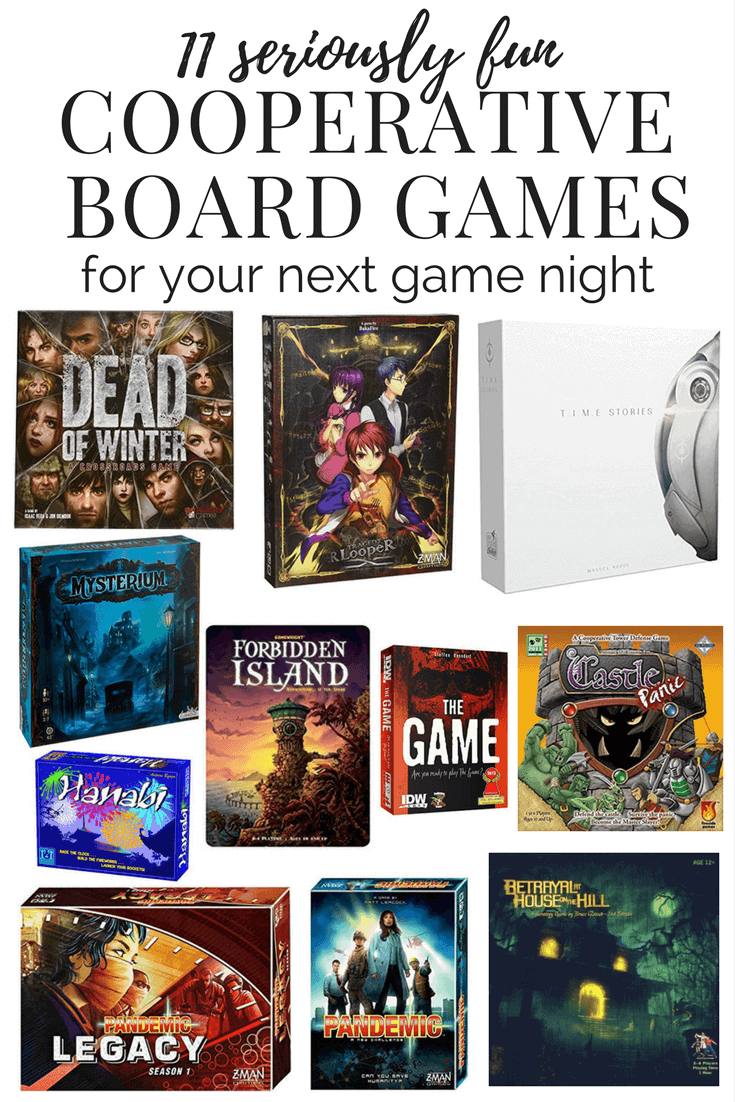 (This post contains affiliate links. Click here to see my full disclosure policy.)
Best Cooperative Board Games
Pandemic – This is a great introductory cooperative game if you aren't familiar with playing these types of games. You're playing a group of doctors and scientists who are trying to find the cures to four separate diseases before they cause mass panic and deaths around the world. It's really quick to learn, and even people who don't play board games at all tend to really enjoy this one!
Pandemic Legacy – No, I didn't include the same game on here twice. Pandemic Legacy is a variation on the basic Pandemic game, and it's so good. Legacy games are games that are played a certain number of times and then never again – as you play, you manipulate the board, add stickers, and destroy cards. The game evolves a bit every time you play, and it's SO GOOD. I had a hard time wrapping my brain around buying a game we were going to literally destroy as we played it, but it's one of our very favorite games to play. This game should be played with the same group of people each time you play (since each game is different depending on the one you played before), so Corey and I just play this one by ourselves.
Dead of Winter – This is one of my top three games I've ever played. I cannot get enough of it. It's a slightly more complex game, so I recommend it for people who are familiar with board games already or people who are patient and willing to learn something new. You're playing a group of people who are in the middle of the zombie apocalypse and as a group, you have a certain objective you're trying to meet (there are lots of different objectives, so your goal varies a bit each time you play). There are dozens of different characters you can be in the game, so you get to play around with different people each time – we always love seeing what people we'll end up with and Corey and I each have our favorites that have begun to feel like "ours". I promise, if you have the patience to learn a more complicated game this will end up being one of your very favorites!
Betrayal at House on the Hill – This is another of my top three (this is the third if you're curious) and it is so much fun. You play a group of people who have wandered into a haunted house and you're trying to find your way out. This game is structured loosely like a B-horror movie and is completely different every time you play (there are various "haunts" that can happen depending on how things play out in the game – we've only ended up repeating a haunt once and we've played this game dozens of times). Funny enough, literally as I was typing this my doorbell rang and the expansion for this game arrived on our doorstep…who wants to come to play with me?!
Tragedy Looper – Don't judge this one by the design, I promise it's not nearly as nerdy and cheesy as it looks (I was seriously skeptical the first time we played)! In this game, you have one person who is the "mastermind" and kind of leads the game while everyone else tries to figure out how to stop a tragedy from occurring. It's got kind of a Groundhog Day feel  – you're continually going through a "loop" of a few days where tragedies keep happening, and your goal is to figure out how to stop them. We always take lots of notes during this game and it always ends up turning into a giant logic puzzle – which has always been one of my favorite kinds of puzzles to figure out. This one is really unique, and it really makes you think!
 Castle Panic – This is another fantastic game for people who aren't really into board games or who haven't ever tried them before. It's pretty kid-friendly too, which is always a bonus! In this game, you're trying to defend the tower of a castle from various monsters that are attacking from the forest. You work as a team to defeat the monsters before they reach the castle – it's really simple to learn, but it's a ton of fun!
T.I.M.E. Stories – Corey and I have only played this one a couple of times but it's one of the most fun and challenging games we've ever played. It's another game that can only be played a set number of times (there are expansions you can buy with different "cases" to solve), but it's so much fun that it's totally worth not being able to play it over and over. Plus, you don't destroy the game as you play so it would be easy to pass on to a friend once you've solved all of the cases. You're playing time-travelers-in-training who go back in time to prevent catastrophic events from occurring. It's basically one big giant puzzle that you have to work together to solve – and it's so much fun. We've beaten the first one and have this expansion waiting for us to try next!
Mysterium – This is another game where you have one person kind of "leading" the game, and everyone else working together. You play a group of psychics who are in a house trying to solve the mystery of who committed a horrible crime in the house. It has a little bit of a Clue feel to it as you each have to figure out who did it, where, and with what. The person who is leading the game is playing the ghost and they use cards with abstract pictures on them to try to send messages to the psychics about how everything went down. It's really fun for a group of people you know really well (it helps if you know how the ghost thinks!) and it's really easy to learn.
Forbidden Island – This one is super simple and perfect for people who are new to board gaming. You play a group of adventurers trying to rescue priceless relics from an island that is quickly sinking into the sea. You have to work together to get each of the treasures before the island sinks – it's very quick to learn, doesn't take long to play, and is a really light game.
Hanabi – This game is so unique and is always a ton of fun to play because it's a simple game that's shockingly challenging to get through. It's a card game where you're working with everyone else to play sets of cards on the right spot and in the right order – the only problem is, you can't see what your hand is…everyone else can! You have to hold your hand facing outwards and you all have to work together to communicate what everyone has by only giving one piece of information at a time. It's really fun and is always really entertaining to play with people who are unfamiliar with it since it's so different than most card games.
The Game – I was only going to include 10 on here, but then I remembered this game and I could not leave it off. This is one of my very favorite games to play if we want something quick and easy, and Corey and I go through phases where we play this one multiple times a week. This game has a deck of cards marked 1-100 and you're working together to get rid of as many cards as you can by playing them on four different stacks of cards – two are counting up from 1 and two are counting down from 100. It sounds really easy, but you quickly realize that it's a lot more complicated than it seems and it's so much fun to see how far you can get before you run out of plays!
What are your favorite cooperative board games?