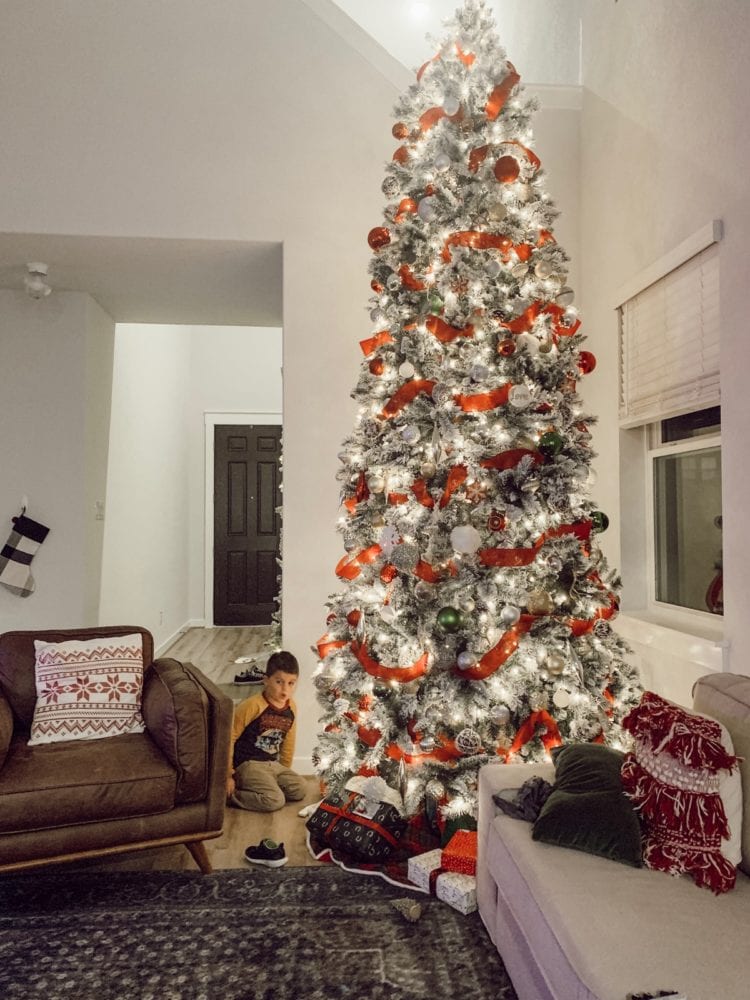 Happy weekend! I hope you're having a lovely December so far. We dove right into the celebrations for the holidays and we're having the best time. Jackson couldn't possibly be more excited, and Grant has no idea what's going on but he loves the twinkly lights. Plus, Jackson's enthusiasm is definitely contagious!
Now that the tree has started to fill up with presents, I regularly find Jackson sitting underneath it, quietly peeking to see which ones have his name on it. It's so sweet to see his excitement, and I'm almost as ready for Christmas as he is!
One thing we're really trying to push our entire family to focus on this year is service and giving to others. It's so easy to get caught up in the excitement of presents and new toys and we really want to be intentional about spending some time doing for others as well. I'd love to hear how your family balances things this time of year!
For us, we're starting with dedicating one day a week of our activity advent calendar to doing a random act of kindness for someone else. Yesterday we bought dinner for the family behind us at the drive-through, and it was so fun to watch the experience play out through Jackson's eyes. We're also planning on ding-dong-ditching our neighbors with some treats and cookies, buying some toys for Blue Santa, and a few other things. I'd like to make time to do more than just what's on our advent calendar, but it's a start!
In unrelated news, I recently shared some of the games that Corey and I love to play over on Instagram, and I had a few requests to share the games we play with Jackson. I shared a list when he was smaller right here (he was SO TINY), and it was high time for an update. So, here's a quick list of the games we love to play with Jackson (who is almost 6) now:

He also will often pop in and play on a "team" with Corey or I when we're playing games while he's up. He just likes to be involved, even if he's just placing a card out on the table or rolling the dice! You can click here to see even more suggestions for games to play with your family (and kids of all ages!)
ICYMI: This week on the blog
This was a week of reveals – I finally started to share some peeks at our home with furniture in it, and it was so fun to get to share more of the space with you! Here's what hit the blog this week:
Elsewhere on the internet
Have a lovely weekend!